Last Updated on August 17, 2023 by Soumya
This October, I took a short and quick trip to a relatively less popular destination in India, the Mangalajodi Bird Sanctuary in Odisha. Odisha is my home state and has some of the most beautiful nature reserves in the country. Apart from an illustrious history, of course.
This post on the Mangalajodi bird sanctuary is the first in my "Know My Odisha" series. In this series, I am going to take you through an insightful tour of Odisha, a state that is often referred to as India's Best Kept Secret. So much so that even some Indians on the west coast do not know of its existence!!! Mangalajodi thus becomes a double-offbeat – an offbeat destination within an offbeat state in India. Don't you want to be among the first few to get a sneak peek?
Come, let's explore the offbeat Mangalajodi Bird Sanctuary together.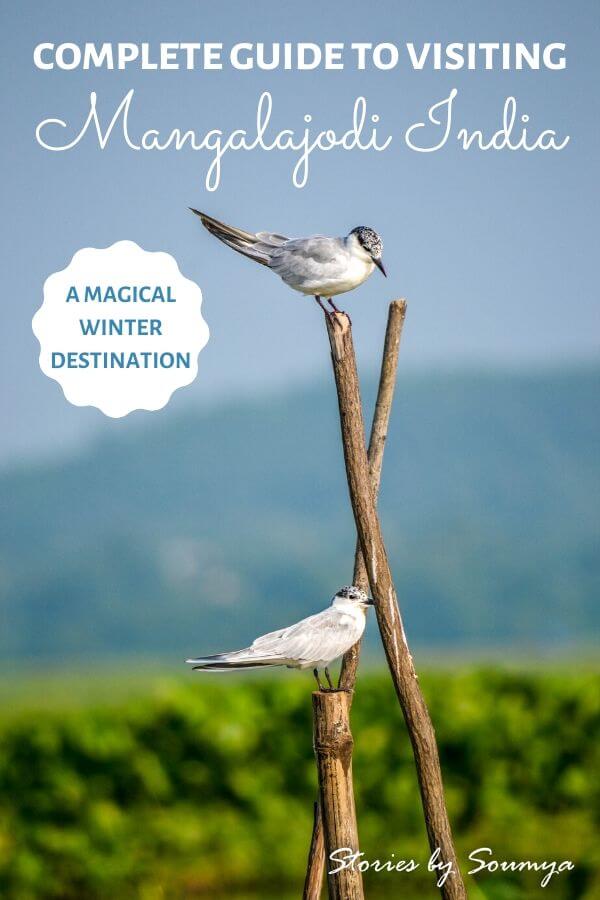 Please note: This post contains affiliate links which means I may earn a commission if you make a purchase by clicking a link on this post. This will be at no additional cost to you. Affiliate links help me keep this website up and running. Thanks for your support!
Where is the Mangalajodi Bird Sanctuary?
Mangalajodi is a small hamlet located on the northern shores of the Chilika Lake, the largest brackish water lake in Asia. It is a mere 70 km (1.5 hours drive) from Bhubaneswar, the capital city of Odisha. That makes it an easy getaway from the capital. Mangalajodi comes under the Tangi block of Odisha which is why you will notice your mobile location as Tangi all the time you are in Mangalajodi.
Why is Mangalajodi famous?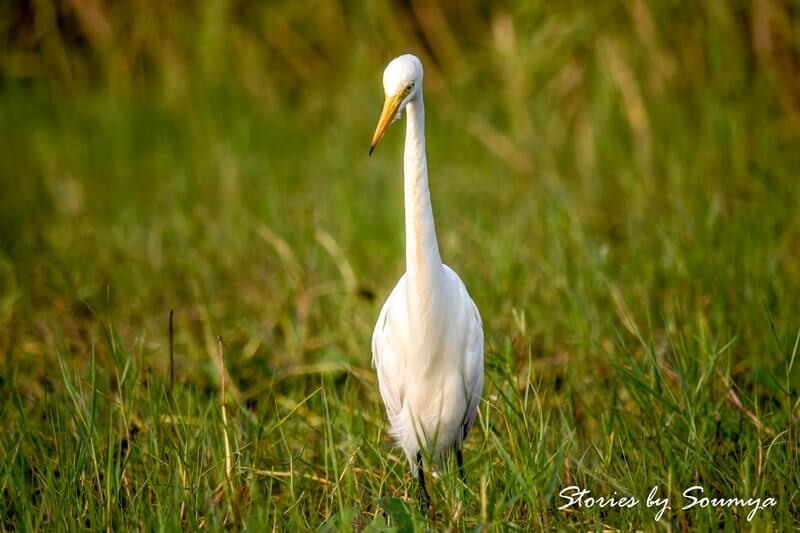 The Mangalajodi side of Chilika is filled with marshy wetlands. That makes this area a perfect spot for birds to fly in from all parts of the world, nest, and breed.
More than 230 species of birds live in Mangalajodi or call it their home during the winter months. It is also one of the largest wintering grounds in Asia. Over 100 exotic bird species fly in from Eurasia and the Arctic regions every November – February to escape the chilling cold of their home bases. Mangalajodi provides them with warmth and friendly environs.
You will have probably heard of the mighty Chilika Lake, the first Ramsar Site of India. However, Mangalajodi is much less-known except in the birdwatcher community. Hundreds of birdwatchers flock to this obscure village every year to get some gorgeous shots of their favorite feathered friends.
What to see at Mangalajodi?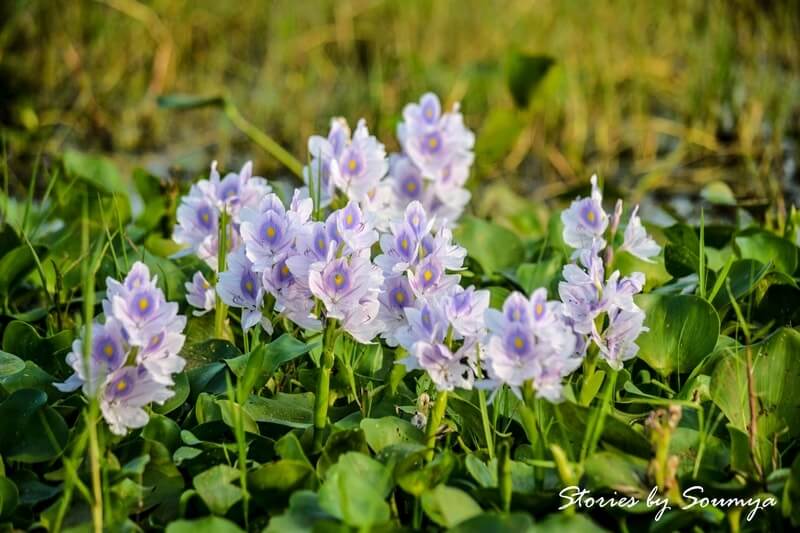 Birds, of course! When I traveled here at the end of October 2019, I saw plenty of egrets (both Great and Little varieties), Purple Moorhens, Whiskered Terns, Water Crows, Glossy Ibises, Purple Herons, Kingfishers, Pond Herons, and much more. And this was just the beginning of the migratory season. During peak migration in December and January, there will be more than 200 species. And it is an absolute delight to just sit and watch their antics. Here's a bird checklist that you could use. Otherwise, your hotel/tour guide should provide you with a better one.
You can also spot fishes as they jump in and out of water. Plus, an occasional snake (mostly non-poisonous) here and there. The purple heron is believed to feed solely on snakes.
Vegetation in Mangalajodi is quite unique. The wetlands are covered by Nala Dala (the common reed) that helps in nesting of birds and Chari Dala (pondweed) that are conducive for the proliferation of fish and prawns. The Nala Dala flower (pictured above) is an interesting one bearing within its petal the imprint of a peacock's feather. Water lilies are abundant.
What is Mangalajodi ecotourism?
Mangalajodi ecotourism in Odisha is a joint initiative by the Indian government and the people of the village to conserve the Chilika wetlands at Mangalajodi in a sustainable manner.
Only 20 years ago, Mangalajodi was rife with bird poachers. There were a mere 5,000 birds here in the peak season. Today, the situation has been reversed with the promise of a sustainable life for everyone. Poachers have turned protectors. They are actively involved in tracking and monitoring bird numbers.
Tourism holds great promise in this region. Villagers engage in guiding tourists through the brackish water lanes, enlightening them on bird species and origins, and helping them get the best shots.
Read my narration of the inspiring story of Mangalajodi's poachers-turned-protectors on The Pioneer.
What is the best time to visit the Mangalajodi bird sanctuary?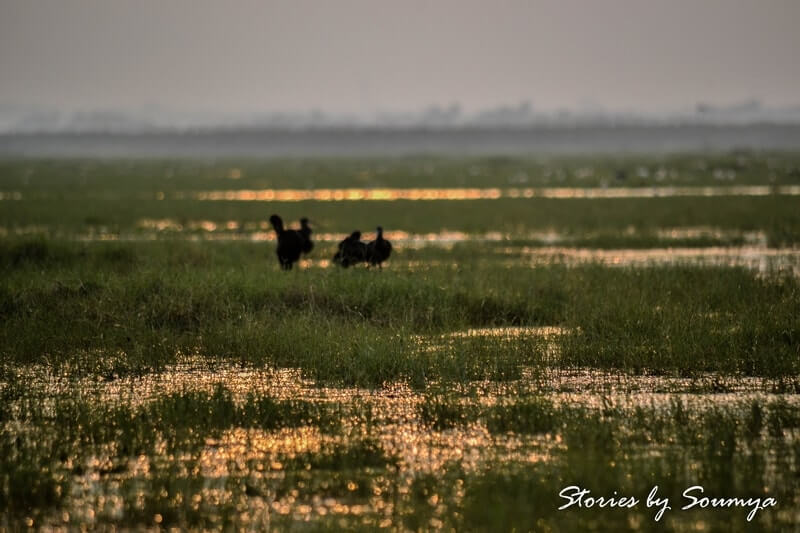 The best time during the year
November to March is considered to be a great time to visit the bird sanctuary at Mangalajodi. Birds start flying in from October and usually stick around until March.
However, the migration happens in phases and you can see the maximum number of birds and species in December and January. Temperatures are also the lowest during this time of the year which means you can spend more time on the lake.
The best time during the day
During the day, it is best to get out on the lake either early morning or late afternoon. Birds come out to feed during these times and it is easy to spot them. Evenings are especially great if you wish to see flocks returning to their folds. Tours start as early as 6 am with the last one leaving around 4 pm.
Lighting is also good in the morning and late afternoon – an added advantage for photographers. Middays are hot and sunny even during winters.
What is the best way to explore Mangalajodi?
The best way to explore the wetlands of Mangalajodi is on a small, flat-bottomed boat called a Nauka or Danga. These Naukas have been used in the estuary since ages because they can easily glide over the shallow waters. Also, they are quiet and do not disturb birds during your tour.
Do not take motorboats because they are noisy and will drive the birds away.
Fancy boat rides? Why not try out the unique coracle ride of Hampi?
You should also get a helpful tour guide, usually a villager with deep knowledge of the migratory and resident birds. He will be accompanied by an expert oarsman who can easily maneuver your Nauka through the shallow marshes. Hotels are more than happy to organize your tours for you. You just have to give them your chosen time and they will take care of the rest. Tours last for 2 hours.
I would highly recommend doing both an early morning tour and a late afternoon tour.
Birds are more active in the morning and you will see a lot of feeding activity. We encountered fights and scenes of camaraderie as well. Evenings, on the other hand, are more blissful with falling temperatures and a general lethargy kicking in. Birds start flying back to their nests, sometimes in cacophonous flocks. Sort of music to my ears.
Should you visit Mangalajodi Bird Sanctuary if you are not a bird-watcher or photographer?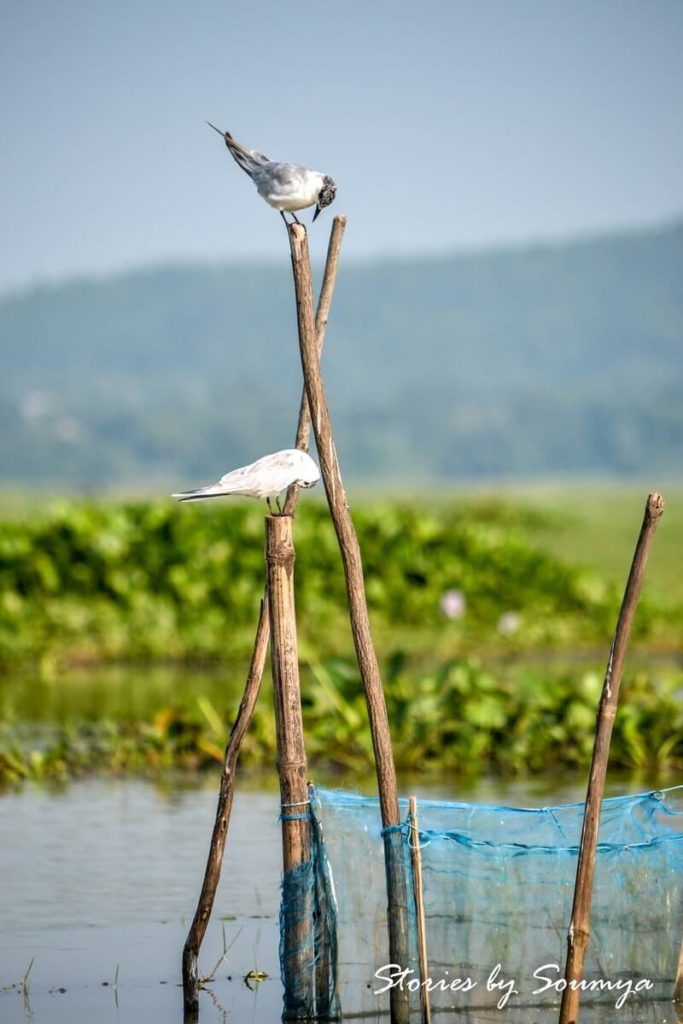 Absolutely, yes! While Mangalajodi is a wonderful destination for bird watchers and photographers, it is also the perfect winter destination in India for travelers of all other kinds. Simply watching those birds who come such a long way every year and yet find their destination without fail can give a new meaning to our lives.
Plus, Mangalajodi is such a wonderful place if you love to travel sustainably. By supporting tourism in Mangalajodi you can give back so much to the village community.
How to get to Mangalajodi?
Since Mangalajodi is pretty close to Bhubaneswar it is easy to get here by car. The drive takes less than 2 hours. You can also take one of the numerous trains available from Bhubaneswar and get down at the Mukteshwar train station. Mangalajodi is at a walking distance from the station.
It is easy, not advisable, to do a day trip from Bhubaneswar. However, if you are constrained by time, leave Bhubaneswar around 1 pm so that you can arrive at the wetlands between 3-4 pm and take the evening tour to experience the homecoming of birds at dusk. Head straight to the jetty and get on one of the available naukas for your tour.
Where to stay in Mangalajodi?
Since the village is trying to pave a path for sustainable tourism in Odisha, we decided to stay at The Ecotourism Resort in Mangalajodi. The resort is nestled at the base of a hill and is often referred to as the Mangalajodi Nature Camp. There are 12 cottages here and the entire facility is managed by villagers themselves. You can eat some delicious, homecooked food here.
Try their delectable crab curry (available upon request).
A couple of other preferred and highly recommended accommodation options here are the Godwit Eco Cottage (budget) and the Swosti Chilika Resort (luxury). I stayed at Swosti last year and can recommend it to anyone wishing to do so. Though Swosti is a little further away from the Mangalajodi swamps and it can take an hour to get to the swamps from the hotel.
I loved my two days at the Mangalajodi bird sanctuary. And I would love to go back there again. How about you?
Let me know if you need any more details about traveling to Mangalajodi and I will try to seek them out.
If you are planning a trip to India, do not forget to check out my other articles about other exciting places to visit in India.
Did you like our guide on visiting the Mangalajodi bird sanctuary? Why not pin it!