Last Updated on October 8, 2023 by Soumya
As I stir my pot of parippu curry to perfection at home in Mumbai, I am taken back to my trip in Sri Lanka where I traveled the length and breadth of the country trying out authentic Sri Lankan food. It was a unique and wonderful journey of flavors, often punctuated with an extra egg-hopper or an additional bowl of fiery pol sambol.
My foodie guide here is filled with food, of course! It has everything from savory to sweet, main course to snacks, and 5-star dining options to street food fun. Yet, what is unique about this guide is that it is packed with culinary experiences that you can have only in Sri Lanka.
Whether you wish to relish a good, old plate of rice and curry at a traditional Gami Gedara or lick your fingers after a hearty meal of pepper crabs at Colombo's Ministry of Crab, you will find Sri Lanka is filled with distinct foodie experiences. So let's get started with my ultimate guide to delicious Sri Lankan food!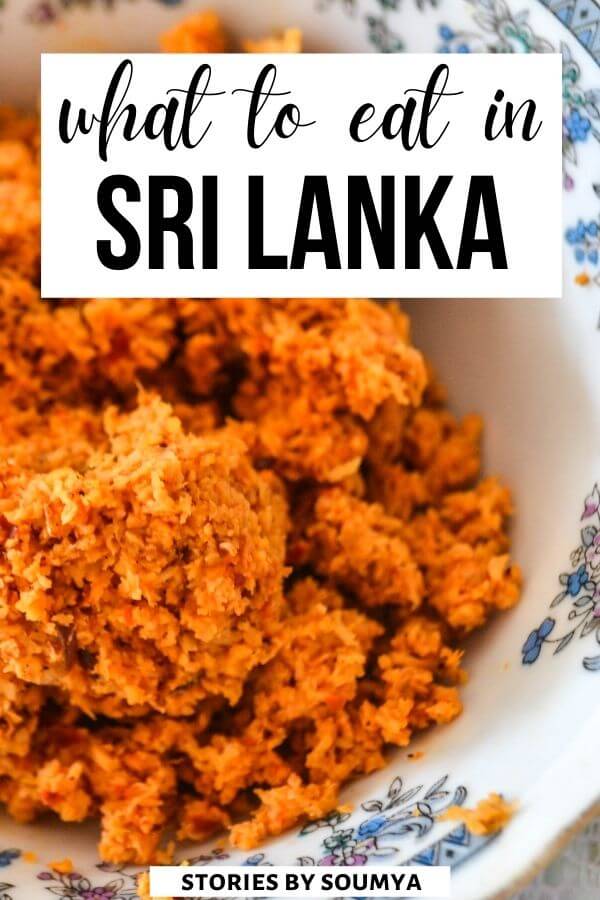 Please note: This post may contain affiliate links which means I may earn a commission if you make a purchase by clicking a link on this post. This will be at no additional cost to you. Affiliate links help me keep this website up and running. Thanks for your support!
Sri Lankan food is unique!
Before we begin, I would like to mention that Sri Lankan food is extremely vegan and vegetarian friendly. Probably why you will find more vegetarian/vegan food options in my guide than non-veg.
You must have heard that there are similarities between South Indian and Sri Lankan food.
This is true especially of the cuisines of the two southernmost Indian states – Tamil Nadu and Kerala. So, if you have ever eaten South Indian food, then you will not find it difficult to maneuver through Sri Lankan cuisine.
Having said that, I would also like to mention that there are scores of differences between the two.
Sri Lankan cuisine has a character of its own with many iconic dishes and styles of preparation that are distinctly Sri Lankan. Plus, there is a strong influence from Indonesia (the prevalence of sambol which is a distant cousin of the Indonesian sambal) and China (prevalence of rolls that are often referred to as Chinese!).
As you scroll through my guide, you will see what I am talking about.
Best Dishes from Sri Lankan Cuisine
Sri Lankan cuisine has many iconic dishes. I have listed down my favorites here.
Rice and curry
If there could be one national dish of Sri Lanka, then this would be it. Rice and curry. However, this is not just a single dish and more like a platter. It consists of a minimum of 3-4 dishes.
A typical Sri Lankan rice and curry contains boiled, fluffy rice and a minimum of three other side dishes many of which are curries. One is usually meat/fish but you can opt for all veggie ones too.
You will also find sambol (more on that below), pennywort salad (gotu kola sambol), and fried poppadams (usually Kerala-style papad) on top.
This is quite similar to an Indian lunch meal except for the fact that there is no daal/sambar/rasam to wet the rice. Dhal in Sri Lanka is usually drier than its Indian cousin. Note that drier does not mean unappetizing. It is just different but extremely flavorful.
You can find rice & curry at all local restaurants. Sometimes buffets are laid out and you can pick and choose what you want. One of my best buffet experiences was in Polonnaruwa where the local eatery overlooked a lush green paddy field! Check out more about it here.
Hoppers or Appa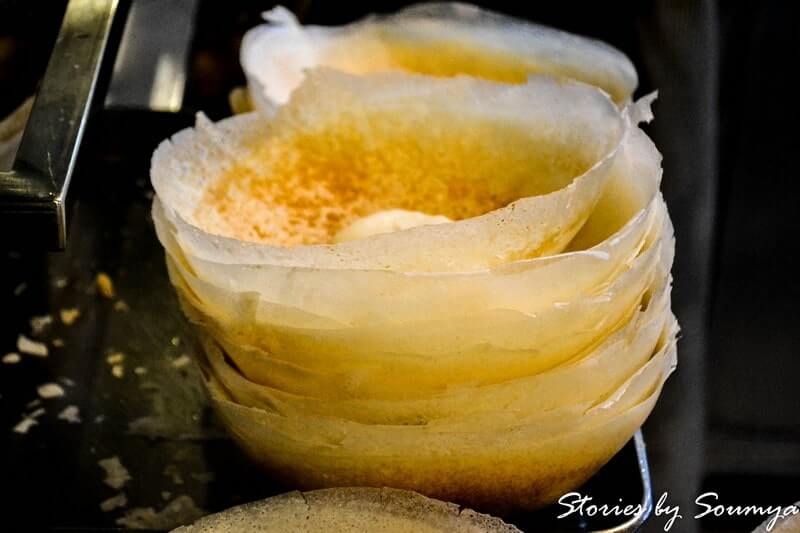 If you ask me what was my favorite food in Sri Lanka, something that I could have anytime of the day. Then that would definitely be a typical Sri Lankan hopper. Or an egg hopper. Even better!
Sri Lankan hoppers, or appa as they are locally known, are very similar to the Indian appam but thinner and crispier. They are bowl-shaped (deriving the appearance from the wok that they are cooked in) and made of rice batter flavored with coconut milk. While the side are crisp, the bottom is soft and airy.
You can eat hoppers for breakfast, dinner, or even lunch usually with a curry. My favorites were the egg hoppers which I could munch away very much on their own.
I know the name "hoppers" is quite funny especially when there's nothing hopping around. I asked many locals about the origins of the name but nobody seemed to know. If you know of an interesting story, drop me a comment below.
Pol Sambol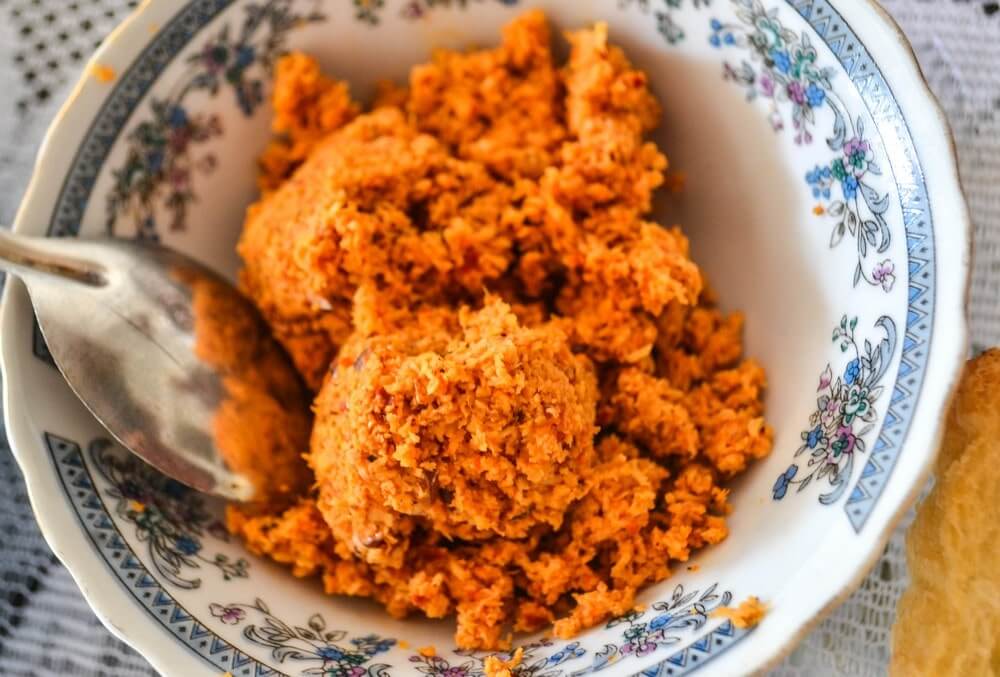 Now this is something you cannot avoid when in Sri Lanka. The ubiquitous Pol Sambol. A spicy relish made from freshly grated coconut, dried red chilies, shallots, and a few condiments, Pol Sambol makes an appearance at every meal in Sri Lanka.
Have it at breakfast with hoppers or parathas, at lunch with your hearty place of rice and curry, or at dinner with string hoppers. You are going to love it and want more. Yes, it is that good.
The best part is it is quite easy to make your own bowl of Pol Sambol. Just follow this simple recipe and you are done!
Paratha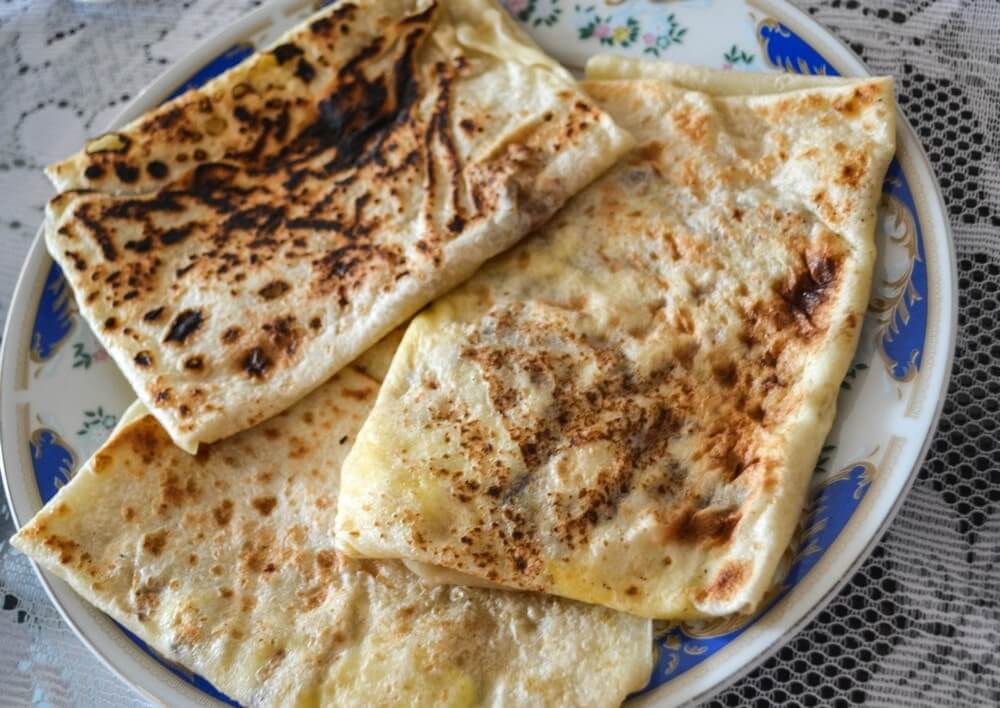 Call it the Sri Lankan Paratha, Ceylon Parotta, or Godamba Roti. All point to this amazingly soft, flaky, flat bread that is literally Sri Lanka's dinner and breakfast favorite.
Sri Lankan parathas are quite similar to the plain parathas of India except for the fact that these are made of maida (all purpose flour) and are more flaky. Legend has it that this flatbread originated in the island nation and was brought to India by travelers of those times. Interesting, isn't it?
You can find the best versions at roadside restaurants in Sri Lanka. Pair them up with a bowl of Sri Lankan Dhal or the delicious Kukul mas curry and you are sorted.
Check out this easy recipe to make your own Sri Lankan Godamba roti.
String hoppers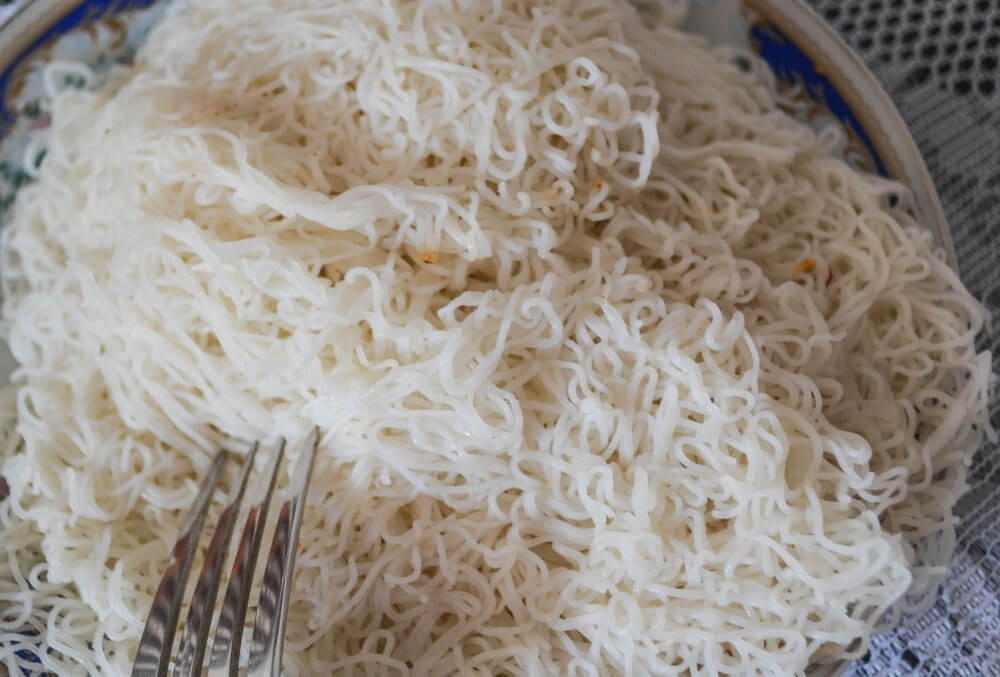 String hoppers, or idiyappam as they are referred to in the South Indian states of Kerala and Tamil Nadu, is a rice noodle dish.
Rice flour is pressed to form thin noodles which are then steamed and served with a variety of Sri Lankan curries. A serving of Pol Sambol alongside is highly recommended.
If you are looking for a recipe, this this easy one on 196 Flavors.
Parippu curry or Sri Lankan Dhal
Sri Lankans make their daal or lentils quite differently from how we make them in India. That is why Sri Lankan Dhal or Parippu curry is unique and one of my favorites, so much so that it has become a staple in our household ever since we came back.
Parippu curry is made with red lentils, coconut milk, curry leaves, and onions. The lentils are soaked and cooked to a creamy melt-in-the-mouth consistency. There are scores of recipes online but I love this one by 196 Flavors because it comes closest to the dhal I tasted in Sri Lanka.
Pair your dhal with parathas and pol sambol and you get a breakfast you will never forget.
Kukul mas curry
Like eenjaykitchen describes above, kukul mas curry is a popular dish of the Sinhalese cuisine.
Made up of tender chicken pieces and coconut milk and spiced with cardamom and cinnamon, kukul mas curry is the perfect dish to go with rice or parathas.
Kottu
Kottu is an iconic Sri Lankan dish made of godamba roti or paratha, meat, eggs, vegetables, and spices. The constituents are all mixed and chopped together while being sautéed on a hot iron girdle at the same time.
You can hear the sound of kottu being chopped from a mile away. And honestly, that is the biggest pleasure of eating kottu. Keep your ears when hungry. If you can hear a constant and rhythmic pounding of blades and spatula, then kottu is somewhere close by.
Pittu
Sri Lankan pittu is quite similar to puttu from Kerala. Usually eaten for breakfast, pittu is made up of ground rice and shredded coconut that is steamed together in a cylindrical tube.
You can eat pittu with warmed coconut milk, pol sambol, and/or meat or vegetable curry.
Click here for an easy recipe of Sri Lankan pittu.
Coconut roti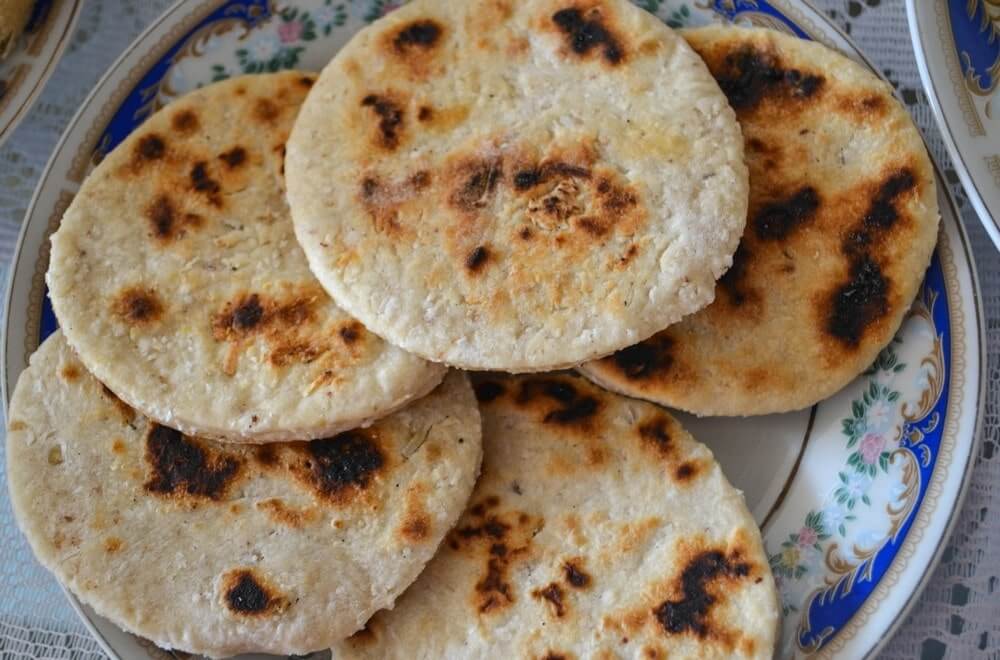 Coconut roti or Pol roti is one dish that I did not quite enjoy on my trip to Sri Lanka. I found it a little too hard and dry for my taste. But some of my other friends who have traveled here swear by it. And that is exactly why I have it on my list here.
Unlike what I would like to think, Pol roti is actually a pretty popular and versatile food item in Sri Lanka. Made up of flour, shredded coconut, and coconut milk, this unique flatbread can be eaten for breakfast, lunch, dinner or as a filling snack at any time of the day.
Kiribath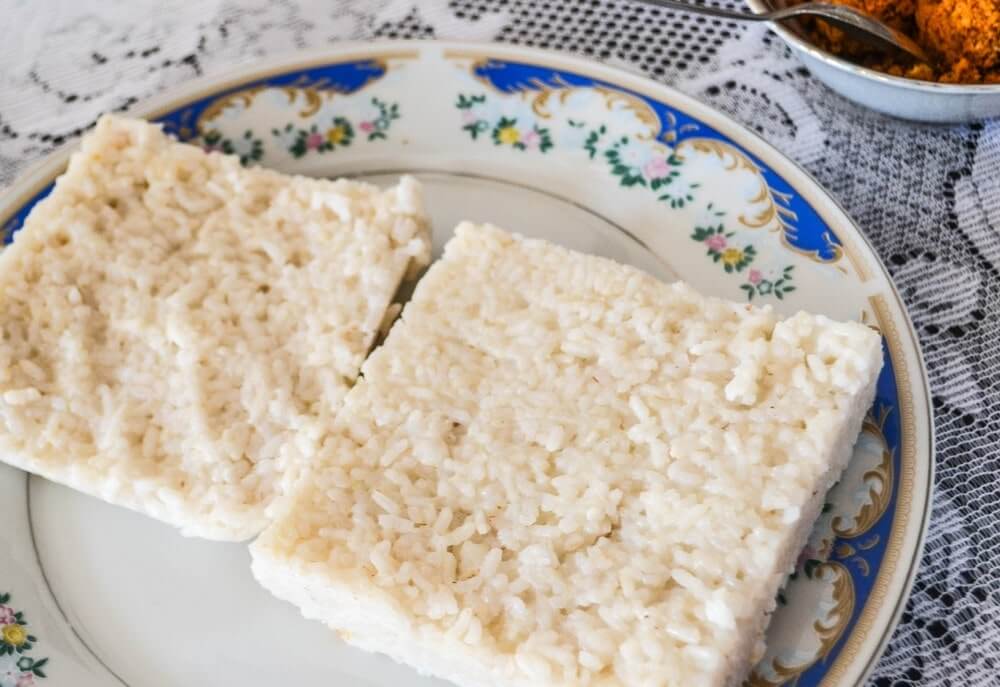 Kiribath is another traditional breakfast dish in Sri Lanka. It is made of rice and coconut milk and is very mildly flavored.
More than any other food item, kiribath in Sri Lanka has religious connotations attached to it.
The Sinhalese people begin every auspicious occasion by offering kiribath to Buddha. It is also the first meal that every Sinhalese eats on their New Year. Also, the first solid food of every infant!
Want to make your own kiribath? Try this simple recipe from 196 Flavors.
Best Sri Lankan Appetizers/Short Eats/Snacks
Vegetable roti
Fritters & Vadais
Sri Lankans love their snacks deep fried. Yes, they are quite similar to us Indians in that department. You will find fritters of all kinds at street food vendors as well as in restaurants. Banana and lentil fritters (vadai) are pretty common.
Chinese rolls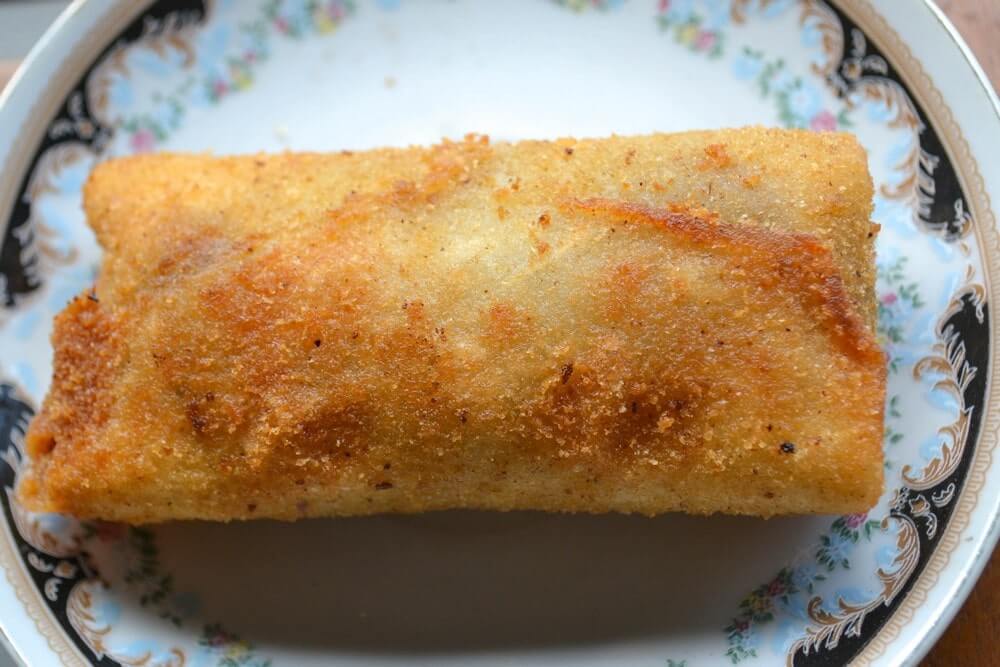 Fillings of all kinds (meat and veggies) are wrapped in a rice flour crepe which is then covered in batter, coated with bread crumbs, and deep fried. These are available in many varieties including egg, fish, chicken, and vegetarian.
Best Sri Lankan Desserts
Wattalapan
Watalappan is a Sri Lankan custard pudding made of coconut milk, jaggery, eggs, and spices such as cardamom and nutmeg.
Also known as the most famous Sri Lankan dessert, Watalappan is believed to have come to the island from Malaysia.
Today, it forms an essential part of the lives and celebrations of the Sri Lankan Muslim community.
Aluwa
A traditional Sri Lankan dessert usually served at Avurudu – the Sinhalese New Year, Aluwa is a flat cookie made out of roasted rice flour, sugar, ground cashews, and cardamom.
It can be white or brown in color depending upon what it contains: a abundance of treacle or just simple cashew. Aluwa is usually cut into squares or diamonds and resembles the Indian Barfi quite a bit except for the taste.
Wandu Appa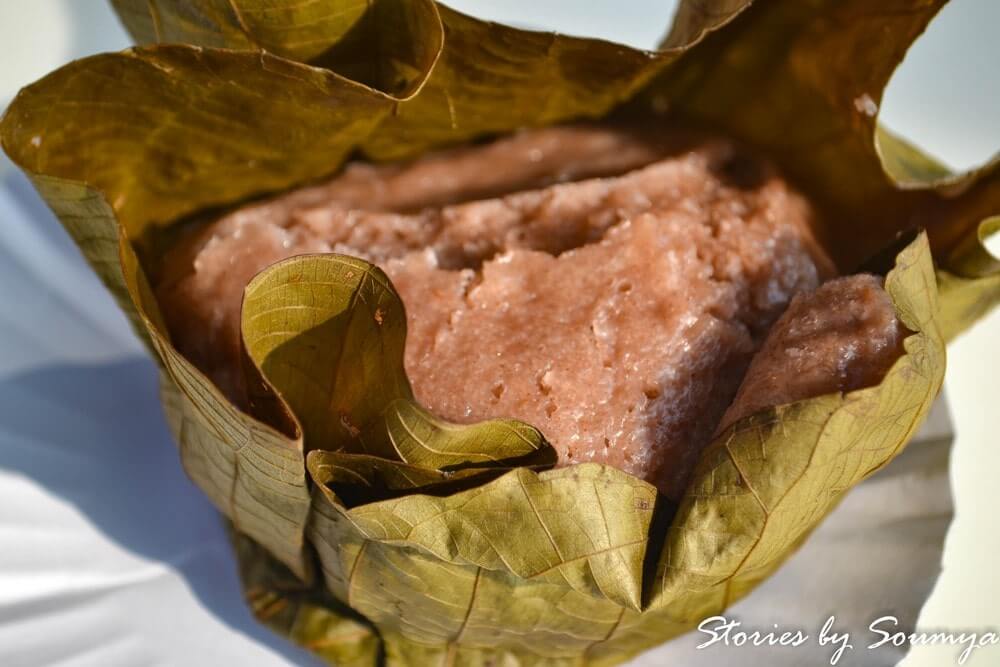 I was lucky to try some Wandu Appa at a on my way to Colombo from Dambulla at a highway rest area. It is a traditional Sri Lankan sweet made up of rice flour, jaggery, and coconut milk – all steamed together.
Wandu Appas are healthy and a good snacking item. They aren't very sweet either. You will usually find them wrapped in leaves. Just peel the leaves off and fill your tummy with these light, fluffy Sri Lankan desserts.
Lavariya
A traditional Sri Lankan sweet, Lavariya is wrapped dumpling popular among locals. Basically, it is caramelized coconut wrapped in string hoppers.
You can have this for breakfast or snacks. Even as a dessert at the end of your meal. We tried and tasted lots of lavariyas at the Hela Bhojhunhalas throughout the country (see below).
Though I will admit, this one is a little too sweet for my tastes. Also, I am not a big fan of caramelized coconut. But if you are, go for it.
Best Foodie Experiences in Sri Lanka
Apart from eating some of the best food in the Sri Lankan cuisine, I enjoyed many unique foodie experiences on the pearl island. I totally think you should experience these at least once when you are in Sri Lanka.
Enjoy lunch at a traditional Gami Gedara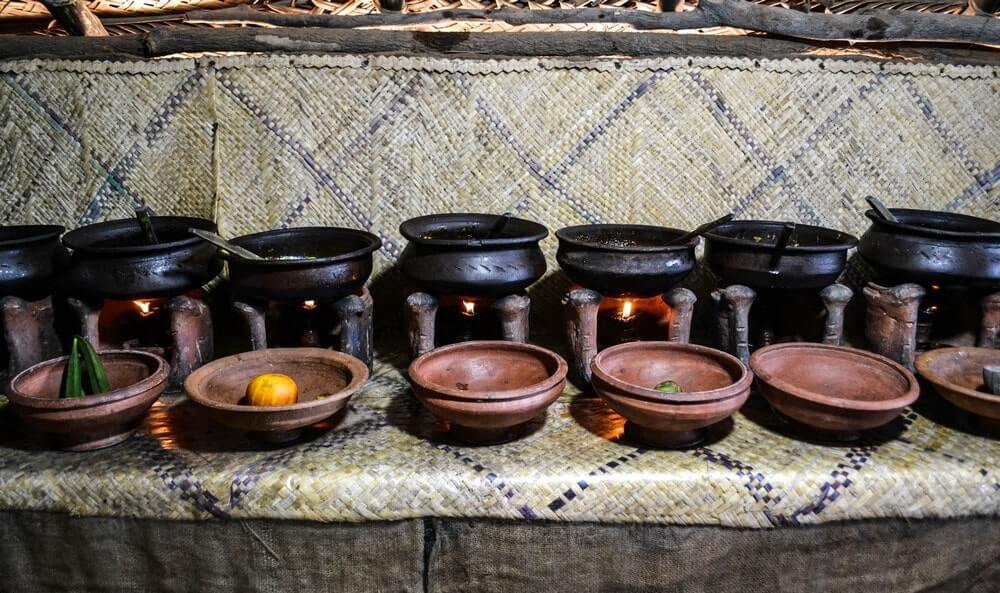 Gami Gedara is a local restaurant where you will find the best rice and curry spread in Sri Lanka. There is typically a buffet and you can pick and choose what you want to eat. And pay accordingly.
Rice is usually red or white. There are plenty of protein options like chicken, shrimp, fish, and pork. You can also opt for a completely vegetarian/vegan meal with a spread of multiple lentils, veg curries, and salads on offer.
You can find Gami Gedaras across cities and towns. Some of them have become popular with tourists while many others remain strictly local. The one at Polonnaruwa is definitely more tourist-friendly with spice levels toned down to suit the western palate. However, the Gami Gedara we ate at in Kurunegala was more local, flavorful, and spicy. Try their shrimp curry – finger-licking good.
Recommended: More authentic Sri Lankan cultural experiences
Relish some snacks at Hela Bhojunhala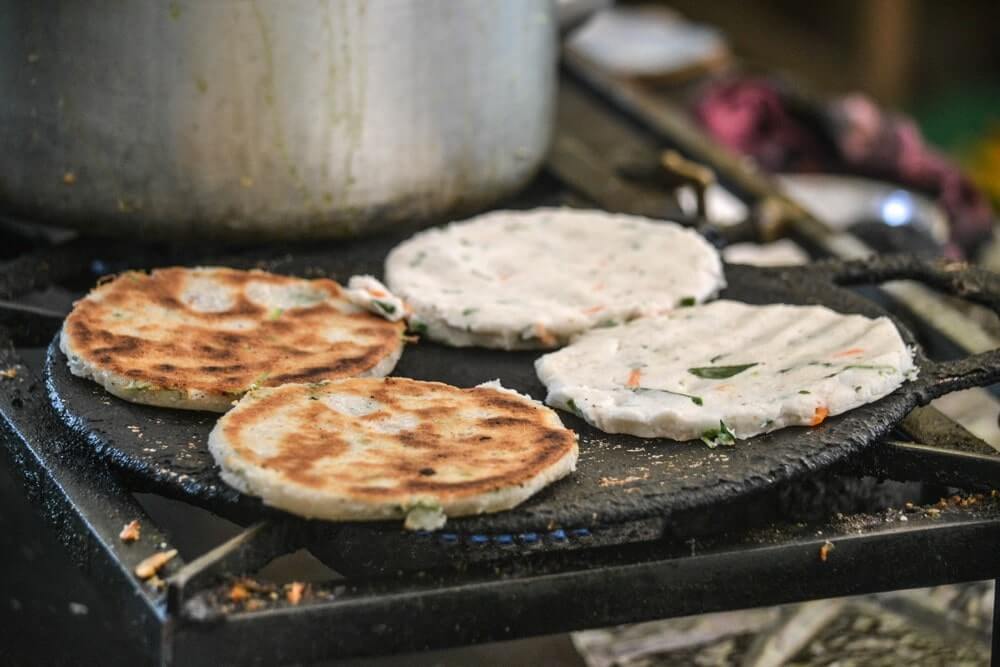 Another authentic Sri Lankan foodie experience is to try various short eats and Sri Lankan snacks at a Hela Bhojunhala. These are community kitchens run by local women for profit. You will find them in smaller towns, villages, and on connecting roads.
A big hall is lined by foodie counters owned by locals mostly women. They do all the cooking right in front of you. Food is on display – covered. You can pick what you want to eat, pay, and get your food from their counters.
There are many snack options here such as rolls, string hoppers, dosais, and vadais. Plus, authentic, locally-made Sri Lankan desserts. If you are longing for some fresh fruit juice and/or an ice cream, don't forget to ask here.
Have a deliciously crabby meal at Ministry of Crab, Colombo
One of the most interesting things to do in Colombo is to go, have a meal at the Ministry of Crab.
Ministry of Crab was the brainchild of Dharshan Munidasa, a renowned Sri Lankan chef and two famous cricketeers Mahela Jayawardena and Kumar Sangakkara, all of who wanted to pay homage to the legendary lagoon crab from Sri Lanka.
Today, the restaurant serves the freshest and juiciest (I can vouch for that) crabs in the world. The recipes are the most delectable and authentically Sri Lankan. Try their Pepper Crab and Curry Crab. If you are in the mood for some fusion cuisine, try the garlic chili and baked versions.
Remember to reserve a table before you get here because the place can get really crowded especially on weekends.
Recommended: 13 Interesting things to do in Colombo, Sri Lanka
Savor some street food along Galle Face Green, Colombo
When in Colombo, stroll down the promenade at Galle Face Green and enjoy the sunset while savoring some good, old Sri Lankan short eats. Prawn vadais, samosas, and kottu abound.
One of the most happening places of Colombo every evening, this place is abuzz with street food vendors and small shacks trying to lure you with their dishes. The best way to choose is to go to the one that is most packed.
Listen to the making of Kottu Roti
Like I already mentioned earlier, listening to the sounds of Kottu preparation is an even more enjoyable experience than just sitting and eating it.
The cook works two heavy iron blades/spatula in tandem on a hot iron girdle while chopping the parathas, meat, veggies, and spices for your kottu. The resulting noise is music – a continuous, rhythmic sound that can be heard for miles.
When in Sri Lanka, do not forget to check out how kottu is made once you order for it. That is an experience in itself.
Loved our Sri Lankan food blog? Pin it for later reference!