Last Updated on January 7, 2023 by Soumya
Have you heard of the unique coracle ride of Hampi? I am sure you have. After all, a coracle ride is one of the best things to do in Hampi.
We rode a coracle in Hampi right in front of the Kondandarama Temple and thoroughly enjoyed the experience. That's why I have this quick guide to take you through the process of riding a coracle on the calm waters of Tungabhadra.
You will learn
All about why you should ride a coracle especially in Hampi Karnataka.
Things to see and experience during the ride.
Practical information (prices, places, tips) to plan your Hampi coracle ride.
If you don't feel like going on a coracle ride in Hampi, feel free to check our other articles on Hampi including the one on the most attractive temples of Hampi.
If you are raring to go on an adventurous coracle tour, read on to craft your own coracle ride itinerary in Hampi.
Complete guide to the coracle ride of Hampi
When we started planning for our Hampi trip, my risk-taker husband included the coracle-ride in our Hampi itinerary.
Obviously, there were a hundred questions running through my mind because I have very basic swimming skills. Maybe they are running through your mind too. So, let's find out.
Is a Hampi coracle ride right for you?
I have often heard conflicting opinions on the coracle ride in Hampi. Many-a-time, people are scared. And that is normal.
Sitting and crossing a deep river on a rounded cane boat (God knows how stable is that!) can be scary.
At other times, people do not have much information. I did not either when I started planning for it. That is one of the most important reasons why I decided to have a separate post on the Hampi Coracle Ride.
I have provided here as much information I could gather on the ride. A lot of it is from my personal experience of riding a coracle in Hampi. The rest is from my personal research on the internet as well as from conversations with friends who have done it.
I hope this article will dispel your fears and clear all your doubts regarding this fun coracle ride in Hampi. If you still need some clarifications, please drop me a comment below and I will get back to you.
If you are visiting Hampi, do not forget to check out the 14 most beautiful temples of Hampi.
What is a coracle?
Coracles, also known as Dongis sometimes, are round boats traditionally used to ferry people and livestock across rivers. They have been used in many parts of Asia such as India and Vietnam as well as in parts of Europe such as Wales and Ireland. The name "coracle" actually comes from the original Welsh word for the boat, "cwrwgl".
The coracles of Hampi are made of bamboo and plastic. They are used to take tourists, max 6-8 people at a time, across the Tungabhadra river for an enjoyable ride.
Coracles have been used from the times of the Vijayanagara Empire to transport people. The ride may include stops at a few locations in order to explore the nearby temples. Let's have a look at the details.
Things to do and see during Hampi coracle ride
How to get started?
The ride involves getting into the coracle with the helmsman. He will hold the boat as you board it. You can also request for life jackets.
The boat was strong and stable and put an end to all my fears of overturning once I boarded it. Since, the river is flanked by boulders on both sides, it does not get very windy either.
And our helmsman was an expert. He asked us to arrange ourselves so that the weight was equally distributed.
What will you see during your coracle ride in Hampi?
As you glide through the waters, you will notice a number of rock-cut temples on your sides. Perched atop boulders or carved into caves, these temples make a pretty sight.
You will notice stairs at many places. Those are the spots where you can alight and explore. Some of the temples are still in use. You will see remains of worship and offerings lying around sometimes. I have a strong feeling there should be dustbins around, but sadly there aren't.
You will also notice big holes in the boulders as you cross them. These are the results of erosion when rainwater raises the levels of water in Tungabhadra. The rainy season is considered dangerous to ride a coracle and these services are closed at that time.
The best part of the trip is going beneath a huge boulder. At the end of the path, we noticed a huge rock with a small gap beneath it. The helmsman told us that we would be going underneath it. For a moment, we did not even think it was possible.
And when we got in there, it was so cool, almost like a natural air conditioner. It was such a welcome respite from the heat outside. We enjoyed a few minutes in the shade before turning back and resuming our return journey. The helmsman offered to click some pictures by climbing to a vantage point that he was aware of.
Then we made our journey back through the same way we had come. Our ride ended with a spinning of the coracle which was another amazing experience. If you get dizzy by spinning, ask your helmsman not to do it.
Hampi Coracle ride: Price + Duration
We arrived at the point (scroll below to see where you can ride a coracle in Hampi) for where we were supposed to get into our coracle around noon. A helmsman came over to us to negotiate on the rates.
There are two kinds of rides.
30-minute ride – includes a ride on the Tungabhadra. You get to see the important temples, go under the Big Boulder), and get a brief description of each rock-cut temple that you pass by. You may ask your helmsman for more details and he will be only too happy to elaborate. Cost – INR 450 per person, INR 800 for two.
1-hour ride – includes everything in the 30-minute ride as well as stopping at three different points to explore the temples in detail. The helmsman will accompany you and explain what each sculpture and carving stands for. Cost – INR 750 per person.
Lately, I have seen significantly lower prices online – INR 150 for 30 minutes and INR 300 for 1-hour. It also depends on how well you can bargain. Turns out I am pretty bad at it! 🙂
Try some amazing food in Hampi at the Mango Tree Restaurant.
Where to ride a coracle in Hampi?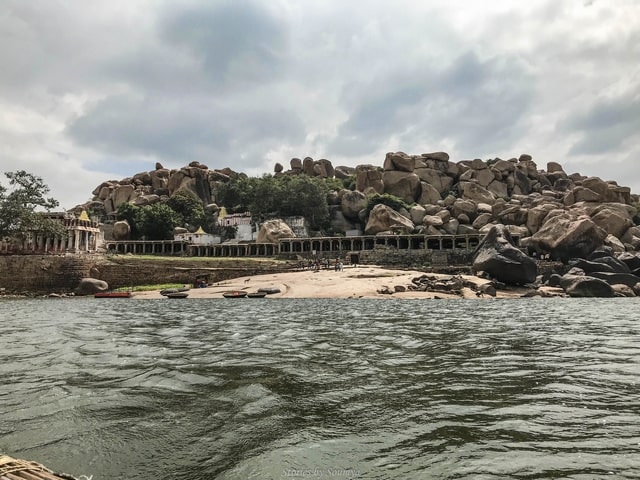 There are two popular spots to enjoy a coracle ride in Hampi.
We took the coracle ride right in front of the Kondanda Rama Temple in Hampi at the sacred swirl of Tungabhadra called the Chakratirtha. It is considered to be one of the most sacred spots in Hampi.
Chakratirtha is accessible by foot from the Hampi Bazaar, which is the ancient market right in front of the famous Virupaksha Temple. The walk lasts about 5 minutes.
Sanapur Lake is another popular spot for Hampi coracle rides. The charges range anywhere between INR 250 per person to INR 500 per boat. However, this spot is a little further away from the Hampi temple area.
How to get to your coracle spot?
In Hampi, you can either travel by foot, bicycle, tuk-tuk, or a private taxi. We had hired a tuk-tuk when we had arrived in Hampi. And that was our mode of transport for the next two days.
Our tuk-tuk driver, Ramu, was well aware of all points of interest in and around Hampi. So, it was a no-brainer when we wanted to get to the coracles. He knew exactly where to take us. But if you are doing it by yourself, follow the GPS to the Hampi Bazaar and then the Kodanda Rama Temple.
Best time to take a coracle ride
Coracles are available between 6 am – 6 pm every day of the week.
The best time to take a ride is either early in the day or later in the day towards dusk. The temperatures are lower during these times of the day and you will not have to suffer a bad suntan. Also, the breeze is cooler then, so the ride will be even more pleasant. However, there will be a decent crowd at these times and you may have to wait a few minutes for your turn.
We took our ride in the middle of the day. Even though it was in November, it was pretty hot. But we got a boat as soon as we got there since there were not many people around. Given a chance to repeat this ride, I would probably take it early in the morning.
Done with Hampi temples and coracles? Do not forget to explore the beautiful royal enclosures of Hampi.
Other helpful tips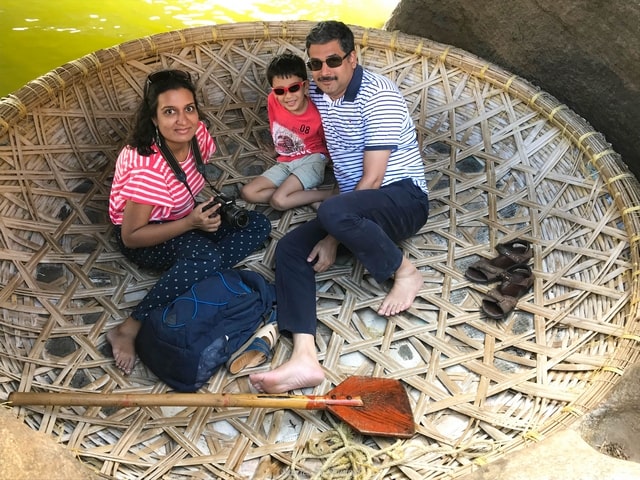 The walk from where your tuk-tuk drops you to Chakratirtha is filled with langurs. Sometimes they can get pretty close but as long as you don't have food or anything that looks like food hanging out of your bags, hands, hair you should be fine.
The water at Chakratirtha is about 30 feet deep and does not have crocodiles – conveyed to us by the helmsman.
The ride is pleasant in winter but gets dangerous during rains. No coracles ply during the monsoons, the official rainy season in India.
When you get under the boulder, the helmsman will ask you to bend or lie down. Lying down is better because that ensures you do not hurt yourself at all.
The helmsman will ask you if you want a spin at the end of the journey. It can be quite an exciting end to the already-fabulous ride. But if you are not feeling okay or usually get dizzy while spinning, feel free to say no.
I had an amazing experience at the coracle ride in Hampi. Have you tried it yet? If yes, how did you like it? If no, will you be interested in a bit of adventure? Feel free to drop me a comment below and let's get the conversation going.
Loved our guide for Hampi's coracle ride? Pin it for later!