Last Updated on March 22, 2021 by Soumya
Colors and India. Kind of synonymous, right? India has always been the land of colors. From colorful festivals to flamboyant architecture to vibrant markets, India has them all.
Every year, thousands of tourists throng the Indian shores to get a share of color in their lives. And for good reason. There are so many colorful experiences in India to choose from that you can spend a year hopping around the country and still not see it all.
Colors of India – 18 Ultimate Colorful Experiences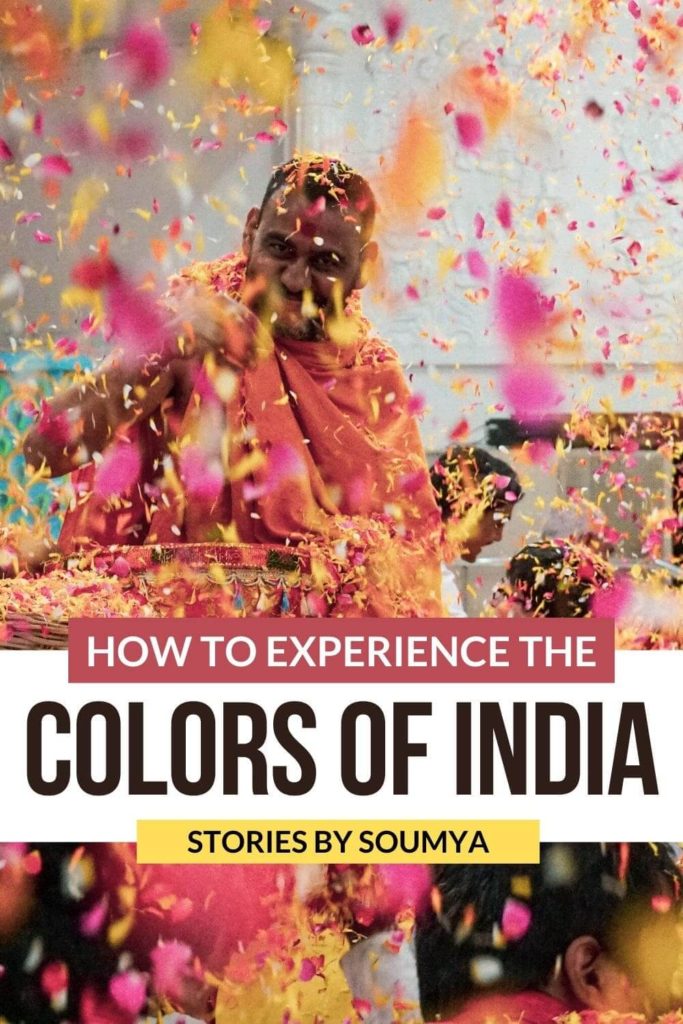 Please note: This post may contain affiliate links which means I may earn a commission if you make a purchase by clicking a link on this post. This will be at no additional cost to you. Affiliate links help me keep this website up and running. Thanks for your support!
Here are 18 insanely beautiful experiences to help you soak in the colors of India.
Here's my humble attempt to capture India's colors under one roof. Apart from listing down my own experiences, I reached out to some of my amazing travel buddies. And listened to what their favorite colorful experience in India was. The result was this epic list of the 18 most colorful experiences of India which I am leaving you to drool upon now.
Explore the interiors of the Mysore Palace
Editor's choice
Mysore Palace or the Amba Vilas Palace is one of the most opulently furnished royal residences in India. Built-in the Indo-Saracenic architectural style, it is definitely one of the most amazing places to visit in Mysore.
The palace is gorgeous in all its entirety. However, if you are looking for a true experience of the colors of India, you need to head to the massive audience hall which is breathtakingly beautiful.
Also known as the Durbar Hall, the audience gallery is traversed by several vibrantly-painted colonnades. Blues, yellows, reds, and greens dominate the scene. Add to it an ornately carved ceiling and a golden throne and you are probably looking at the most colorful scene in India.
Mysore is about 150 km (93 miles) away from Bangalore. And it is easily accessed by road and train. If you are based in Bangalore and looking for an awesome day trip, try this beautiful heritage tour of Mysore. You will get to see the Durbar Hall and more.
Recommended: Amazing things to do in Mysore
Walk down the colorful lanes of Siddhpur, Gujarat
Recommended by Mayuri from Fernwehrahee
India is the most colorful country in terms of shopping, festivals, and markets. But there is one town named Siddhpur in Gujarat famous for its colorful Vohrawad and empty Havelis. If you walk through the lanes of Vohrawad, you can feel the rich past of a bygone era.
Vohrawad is an area that has long been occupied by Bohras, a Shia Muslim community with a history that goes all the way back to Yemen. However, now many Bohras have migrated to different parts of India and abroad. So, the havelis are left to be looked after by caretakers.
Vohrawad is dotted ith multicolored havelis in pastel colors and ornate doors and windows built in Gothic and Colonial styles. A characteristic feature is that each house has monograms depicting the initials of owners. These regal homes make for amazing photo ops.
If you are visiting Ahmedabad, you can visit Siddhpur as a day trip by bus or train from Ahmedabad. You can also combine it with trips to Rani Ki Vav and the Modhera Sun Temple.
Recommended: Best day trip destinations from Ahmedabad
Celebrate Saraswati Puja in Varanasi
Recommended by Ellis from Backpack Adventures
India is such a colorful country that it would be difficult to choose the most colorful experience I have had after 5 amazing trips in both the north and the south. However, if I had to choose one it would be celebrating Saraswati Puja in Varanasi.
Varanasi itself is already a city of colors. Be it the colorful houses, buildings, the market, or the colorful clothes that the people wear when they come to do their prayers at the holy Ganges river. There are colors everywhere in Varanasi.
Varanasi, being one of the holiest cities, also celebrates Hindu festivals like no other place in India. On my second visit I happened to be there during Saraswati puja and that day there were even more colors in Varanasi than usual.
Saraswati puja is celebrated 40 days before the arrival of spring and the start of Holi. Traditionally it was a harvest festival, but in Varanasi most of the celebrations were focused on Saraswati, the goddess of knowledge, music and art.
During the day families and school children walked through the town with colorful, handmade dolls of Saraswati. Once at the Ganges, the Saraswati dolls were released into the river, often while singing and dancing. People believe the Ganges is the home of the gods.
The afternoon got a little rowdier with loud music and young men throwing colors at each other. As a solo female traveler, it felt safe watching and enjoying the festival from a distance.
Attend the Pushkar Fair
Recommended by Arv from Jaipur Thru My Lens
Of all the popular events in India, the Pushkar Fair is the one that attracts the highest number of visitors from across the world. A key reason being the plethora of colorful experiences that it has to offer.
Pushkar is a small town in Rajasthan, India. Centuries ago, the Pushkar Fair started as a market place for locals from surrounding villages to buy and sell cattle, horses, and camels.
Today, the festival is a riot of colors. Women wear colorful dresses. Men sport colorful turbans. Even the camels are decorated in vivid colors. India has always been associated with colors and Pushkar Fair offers you one of the most fantastic opportunities to experience them. Plus, it is a great place to experience local food, customs, and culture.
The Pushkar Fair is usually celebrated in the month of November for fourteen days. Weekends are generally crowded. So, the best time to visit the fair is during the week.
You can easily reach Pushkar from New Delhi via the Ajmer Shatabdi Express train. If you are in Ajmer, you can hire a cab or get on one of the many buses to get here.
Learn how to tie dye in Nawalgarh, Rajasthan
Recommended by James from Travel Collecting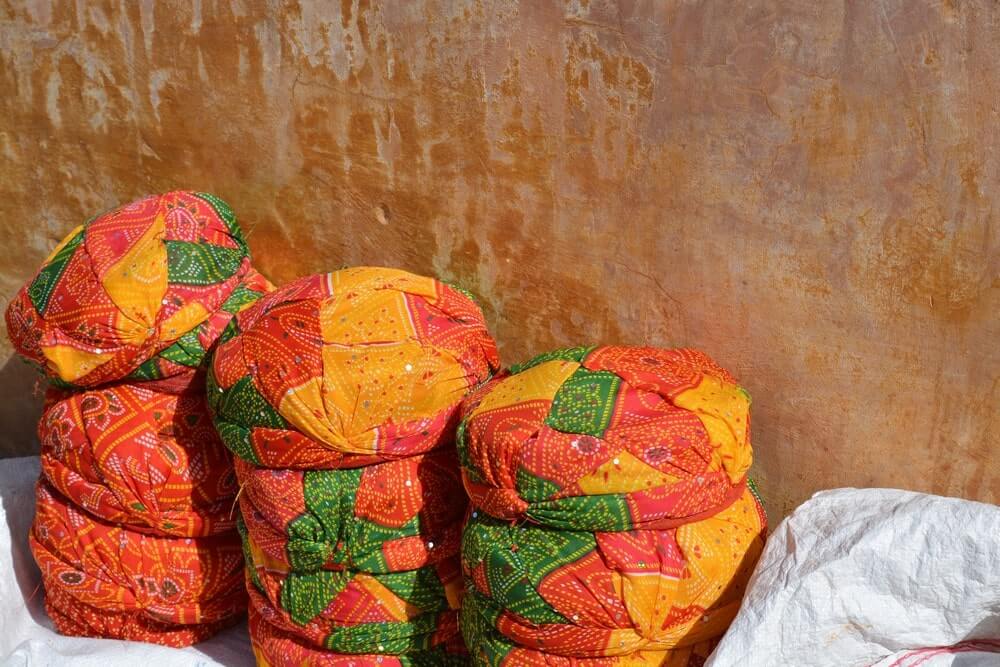 One of my favorite colorful experiences in India was learning how to tie dye. This is a traditional artform in India called bandhani and you can often see brightly colored fabrics festooning the tops of building and railings as they dry in the sun.
It is possible to buy colorful cloth, saris, and turbans in markets throughout Rajasthan that have been dyed using the tie-dye method. Even better, though, is learning how to do this yourself. So, when I visited Nawalgarh in the Shekhawati region of Rajasthan, I decided to take a tie-dye workshop.
The process involves tying thin thread around parts of a piece of fabric, then dying it. Parts of the fabric that are covered with the thread don't get dyed, so a pattern is formed. The dye is made by boiling a bright colored powder (say yellow) in a deep bowl over an open flame. Then more of the fabric is tied with threads and it is then dyed a second color (say red). Finally, two people pull hard on each side of the fabric. As if by magic, tiny bits of thread pop off, and a piece of incredibly colorful fabric is revealed.
The easiest way to get to Nawalgarh is by private car and driver from Jaipur. There are also buses from Jaipur several times a day. Nawalgarh is also famous for its colorful Havelis, so don't miss them when you are there.
Book your own tie-dye workshop here.
Visit Kolkata during Durga Puja
Recommended by Madhurima from Orange Wayfarer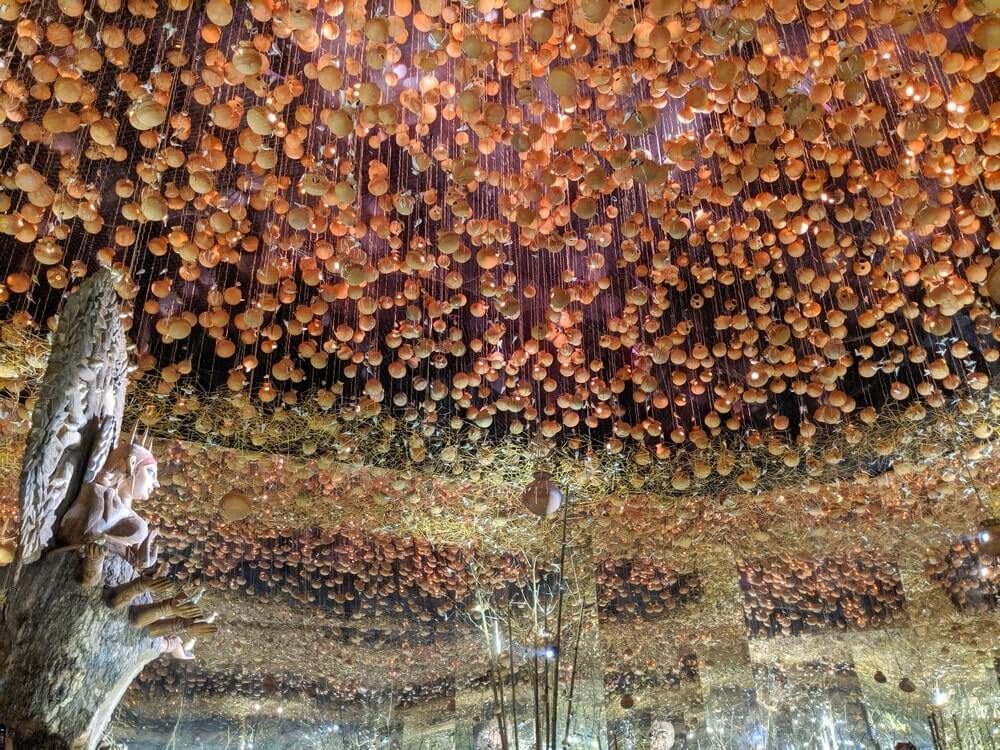 During the 7 days of Debipokkho or Durga Puja, Kolkata transforms into a fairyland. Lights, colors, and warm vignettes paired with vibrant faces dot the entire city.
Durgapuja is a Hindu festival. Debi Durga often referred to as the mother or the daughter of a Bengali household visits her paternal home with 4 children for 5 days. She is the epitome of "Shakti", the female power of creation and symbolically kills the Asur, the evil! Goddess Durga is seen riding a lion. She has 10 hands, each holding one weapon!
Durgapuja is celebrated across Bengal. But in Kolkata, the festivities reach a different scale altogether. From the Bonedi Bari hosting traditional ceremonies with century-old idols to Barowari clubs joining hands to showcase forgotten regional arts, Durgapuja is an exquisite artistic and spiritual experience.
The pandals are decked up with vibrant colors, often modeled after a particular theme. During the struggle for India's independence, the Asur was often shaped after the British rulers.
Visiting Kolkata during Durgapuja is an experience in itself. Arrive at the Netaji Subhas International Aiport and stay close to the Esplanade area. You can also choose to stay somewhere in Salt Lake or Park street. And plan to spend at least 3 days in Kolkata during Durgapuja.
Pick a souvenir at the Surajkund Crafts Mela
Recommended by Sundeep and Bedabrata from Delhi Fun Dos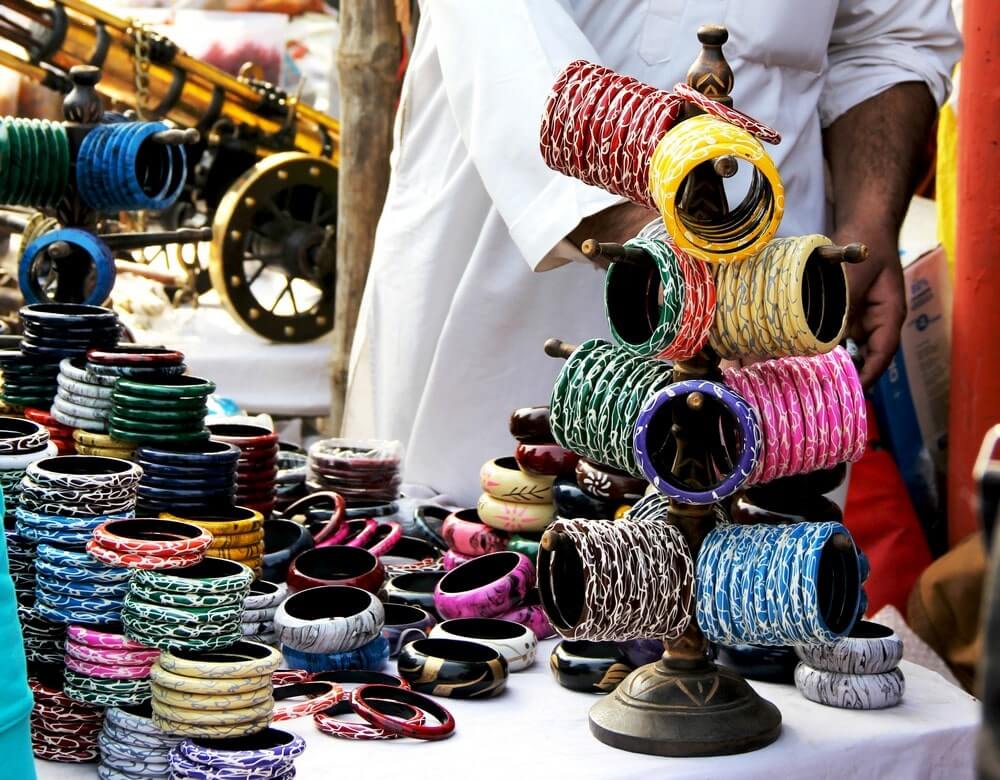 Surajkund Crafts Mela is an annual handicraft exhibition that is held in Surajkund, Haryana. Thousands of artisans from all over the country come with colorful products and assemble at Surajkund during the first fortnight of February every year. Colors are an inherent character of Indian art and craft.
The fairground is a dry hillock in shades of brown. Therefore, the colorful handicrafts and fabrics look brighter against the dull shades of the dry land. Plus, the fairground is also decorated for the occasion. Bright colored festoons hang from poles. Cutouts of peacocks, lotuses, and sunflowers are placed as photo booths. Bright appliqué umbrellas from Pipli in Odisha add to the drama. Folk dancers in colorful clothes and ornaments parade the fair and break into performances every now and then. Visitors often join them in boisterous revelry.
If you want to carry some hues of Indian color into your home or your life, Surajkund Crafts Mela is just the perfect source. Lamps, metalwork, carvings, sculptures, artifacts, mirrors in arty frames, cushions, and artificial flowers are great décor items that can be bought from here. The fair is also a treasure trove for textile aficionados. Handwoven, hand-dyed, and hand-printed fabrics, clothes, saris, and furnishing can bring joy to your lives.
Surajkund is very close to Delhi, Gurgaon, and Faridabad. The best way to reach Surajkund is to drive or take a taxi from any place in Delhi NCR. The nearest metro station is Badarpur Border, approximately a kilometer from the fairground.
Attend the Pang Lhabsol Festival in Sikkim
Recommended by Amrita and Agni from Tale of 2 Backpackers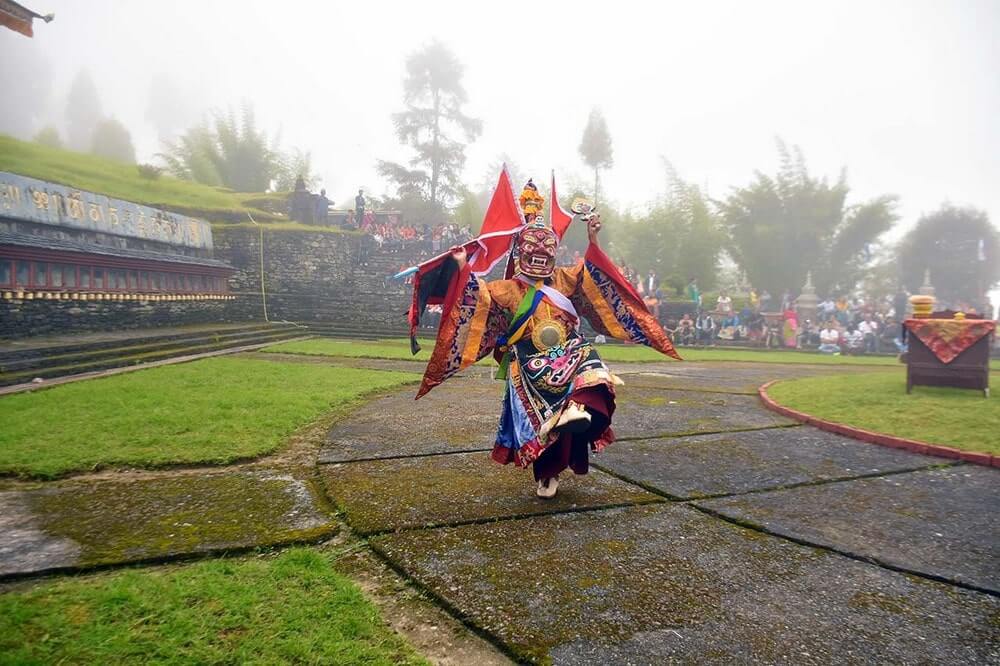 Festivals in India are undoubtedly the most colorful experiences you can ever have. One such vibrant and colorful festival that we attended was the Pang Lhabsol Festival in Sikkim.
Pang Lhabsol is one of the major festivals of Sikkim and its people. The festival is celebrated in the month of August or September and pays homage to all the guardian deities of Sikkim. According to Sikkimes traditions, Mount Kanchendzonga, Mahakaal and the Dragpo Deshi (guardians of the 4 directions) are the protectors of Sikkim, its king, and his people. In Pang Lhabsol, these deities are worshipped and venerated.
The main attraction of the festival is the masked dance performed by the monks of the monastery. Monks wearing vibrant masks and colorful robes perform acrobatic feats that are sure to raise eyebrows. Some monks are dressed as warriors who dance and pledge their allegiance to protect Sikkim from harm. The entire affair is a sight to behold.
Pang Lhabsol is celebrated in a number of monasteries in Sikkim. In Gangtok, you can see the festival at Tsuklakhang monastery. We had attended the Pang Lhabsol Festival at Rabong Monastery in Ravangla. You can reach Ravangla from Gangtok by taking shared sumo from the main Sumo stand in Gangtok. Take a good camera with you because you will get lots of moments to capture.
Attend the Dwijing Festival in Bodoland, Assam
Editor's choice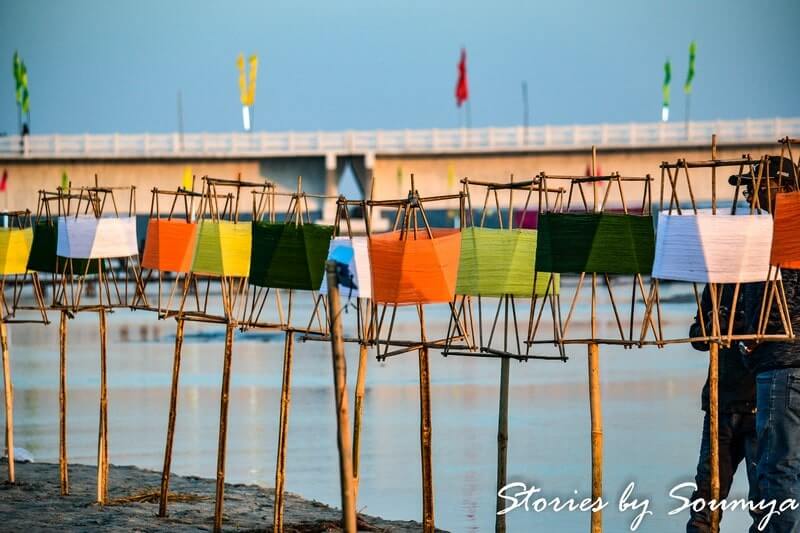 Now that we are on the topic of Indian festivals, it is only natural to bring up another very colorful festival from the northeastern part of India. The Dwijing Festival in Bodoland Assam.
Set on the banks of River Aie in Bongaigaon, Dwijing Festival is an absolute riot of colors. As soon as you enter the grounds, you can spot colorful flags and balloons fluttering in every direction. Beautiful Bodo women sport vibrant Bodo costumes. And kids run off to try bright pink candyfloss and eye-catching pinwheels.
However, the most colorful part of the festival awaits at the end of the fairground. An exotic display of contemporary art with a dash of the Bodo culture. You will numerous artworks symbolic of a tumultuous past and a hopeful present. These are colorful, artsy, and speak tonnes about an oft-misrepresented part of India. That, in my opinion, is the best experience of the varied colors of India.
Recommended: Celebrate art and culture at the Dwijing Festival in Bodoland, Assam
Click some amazing pictures at the Patrika Gate in Jaipur
Recommended by Merryl from Merryl's Travel and Tricks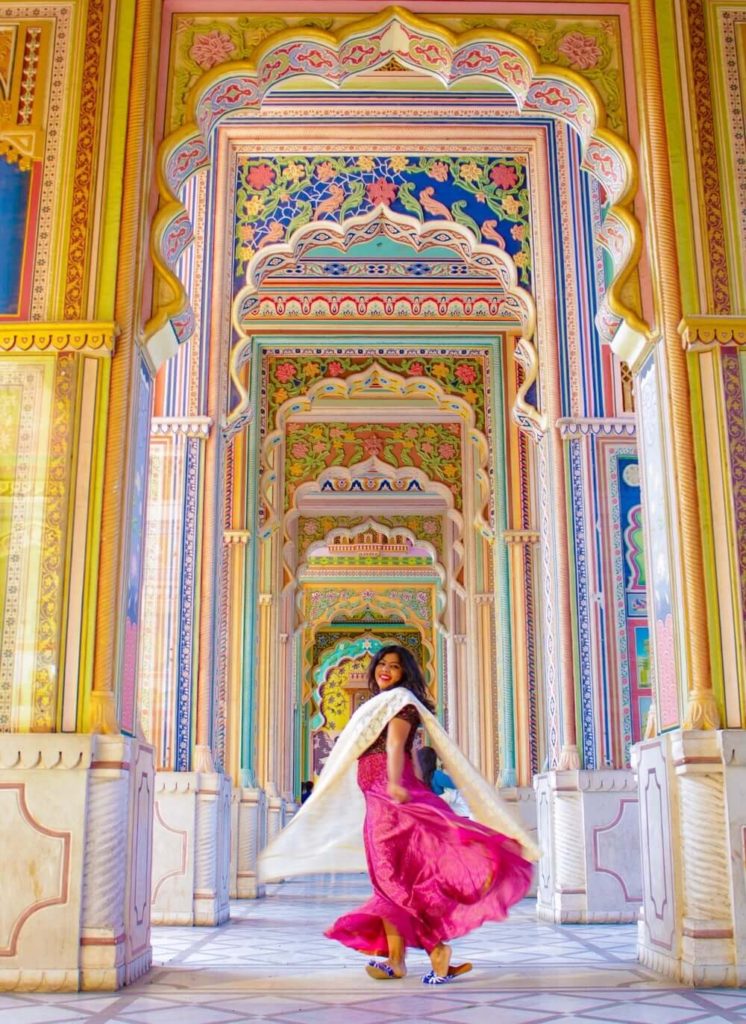 One of the best places to visit in Jaipur and certainly the most colorful of them all is the gorgeous Patrika Gate. The gate is located at the entrance of Jawahar Park close to the Jaipur Airport. Patrika Gate is popular among photographers and tourists who visit to get some colorful pictures on their visit to the city.
Once you reach the gate, you will see a huge pink structure with 9 arches with influences from local architecture. Once you enter through the arches you will be amazed. The entire inner surface of the monument is filled with colorful murals, each depicting stories of the Rajasthan's royalty.
Throughout the day, you will find the gate flooded with people entering the park or stopping by for a quick photo shoot. Early mornings are the quietest here and the best time for photoshoots. The monument is easily reachable from the city center of Jaipur by a cab or rickshaw. I recommend using apps like Uber and Ola to find the cheapest option to get here.
Patrika Gate is open to the public every day of the week. Currently, there is no ticket required to visit this colorful monument.
Click here to book your Instagram tour of the Best Photography Spots in Jaipur.
Visit Sri Krishnarajendra Market, Bangalore
Recommended by Wendi from The Nomadic Vegan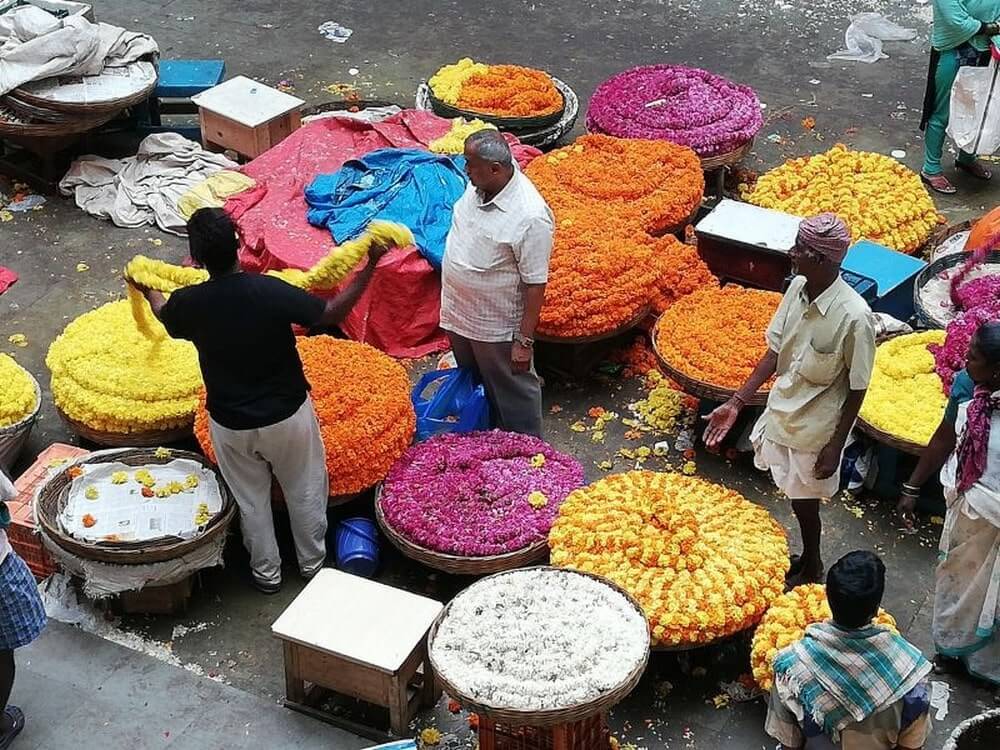 A visit to the City Market or KR Market, named in honor of Sri Krishnarajendra Wadiyar who was once the Maharajah of Mysore, is one of the most beautiful experiences in India.
The main colorful attraction is the flower market takes place right in the central courtyard of the market building. And you can get a great bird's-eye view of it from the upper level. You will also find some flower sellers peddling garlands outside the building as the market spreads out into the neighboring streets.
It's best to get to the flower market very early in the morning, especially if you want to see the flower garlands. This is because it's primarily a wholesale market, so retailers come here from other parts of the state first thing in the morning to buy fresh flowers and transport them back to their own places of business.
Even if you can't manage waking up in time for the flower show, there are plenty of other colorful things to see here. Take the case of tall red pyramids of kumkum — a powder used to make the dots on people's foreheads for social or religious reasons. Or the vegetables at the market that are almost as colorful as the saris worn by women selling them. Speaking of vegetables, you'll also find some great street food around here, including plenty of options for vegetarians and vegans in Bangalore.
Celebrate Diwali anywhere in India
Recommended by Lora from Explore with Lora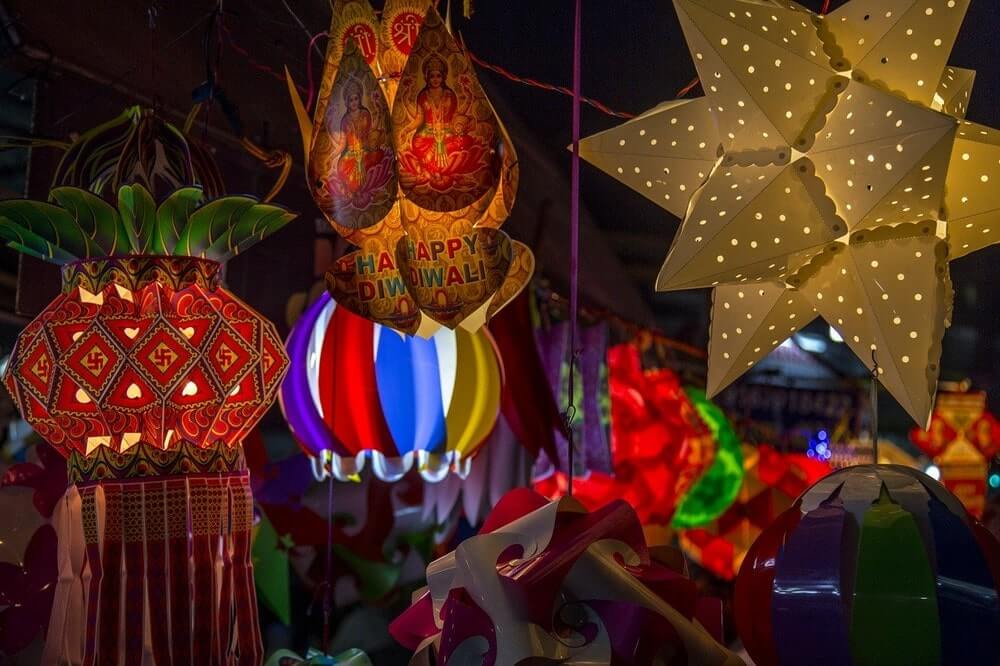 India is full of incredible colors but one of the most colorful experiences I had was during the week of Diwali.
Diwali, also known as the Festival of Lights, is one of the biggest celebrations in India. It brings families and friends together to celebrate, relax, pray, and eat. Even as a foreigner, getting to celebrate Diwali in India with locals was an amazing experience.
During the week of Diwali, markets are full of colorful decorations and clothing to buy. Huge amounts of goods are sold to make Rangolis, a beautiful art pattern made out of flowers and colored powder. These are put at the entrance of homes to welcome guests. In the evenings, locals shoot off fireworks in the streets which lights up the sky with color. Plus, there are colored lamps and chandeliers adorning every possible home. The entire festival is an explosion of colors.
Diwali either falls in October or November. The entire holiday takes place over five days with the main celebration on the third day, marking the New Year in the Hindu calendar.
The best way to celebrate Diwali is to either do a homestay with a family or stay at an accommodation that puts on Diwali celebrations for guests. Celebrations take place all over the country but Jaipur is one of the most popular cities to celebrate Diwali as the entire city gets lit up with decorations.
Try block printing in Jaipur
Recommended by Derek from Robe Trotting
When you visit any part of Rajasthan, India you'll notice brilliant colors and vibrant cities. Colors of local clothing stand in stark contrast to the desert region and lack of colorful vegetation.
One area where you will find bright colors and exaggerated prints is the gorgeous city of Jaipur. The city is known for its pink walls, colorful palaces, and jeweled Amer Fort. You can further dig into the colorful nature of Jaipur by experiencing a color-block printing session.
Color block printing was demonstrated to me using sustainable vegetable ink and in-house production. It involved an expert carving a stamp into the wood with a design that you would be lucky to find in any store. Then he used natural ink to dye a spot into the cloth which was laid out on a table. It was repeated over and over across long stretches of cloth. The handmade design was beautiful. Watching the ancient art of block color prints was an amazing experience and recommended to any who gets a chance.
There are private tours of fabric houses that can give you a chance to block-print your own cloth after a demonstration of the ancient technique. Many will encourage you to purchase their own goods after, but it's a low-pressure sale compared to surfing the markets. If you're seeking demonstrations, only go through a dedicated guide or reserved tour.
Get awed by the Durbar Hall at Maratha Palace, Thanjavur
Recommended by Mohana and Aninda from Two Together
Thanjavur isn't always at the top of everyone's bucket list but this temple town is beautiful. It is home to the UNESCO Heritage Site of Brihadeshwara Temple and was once the Maratha seat of power.
The Maratha Palace is one of the two important sights in Thanjavur and the palace's durbar hall is a hall of utmost beauty. Full of jewel-toned frescos that fill every inch of the wall and the ceiling, the durbar hall is a sight not to be missed. And if you love all things rainbow-hued, it is sure to set you off into a frenzy!
Wide fresco panels painted in vibrant pigments adorn the walls of the durbar hall. Besides depicting Hindu gods and goddesses, these frescoes also depict the lives of the rulers. Every inch of the ceiling displays colorful patterns and traditional motifs! A fresco of Raja Serfoji, known for their love of art and literature, looms above the throne.
The handsome octagonal pillars that support scalloped arches and floral ceilings are painted in alternating stripes of bright blue, yellow, and red. Then, they are topped with colorful figurines. Besides the durbar hall, the Saraswati Mahal Library, which houses rare Sanskrit manuscripts, also has colorful ceilings adorned with stuccowork.
Shop for a saree
Recommended by Julie from Wandering Sunsets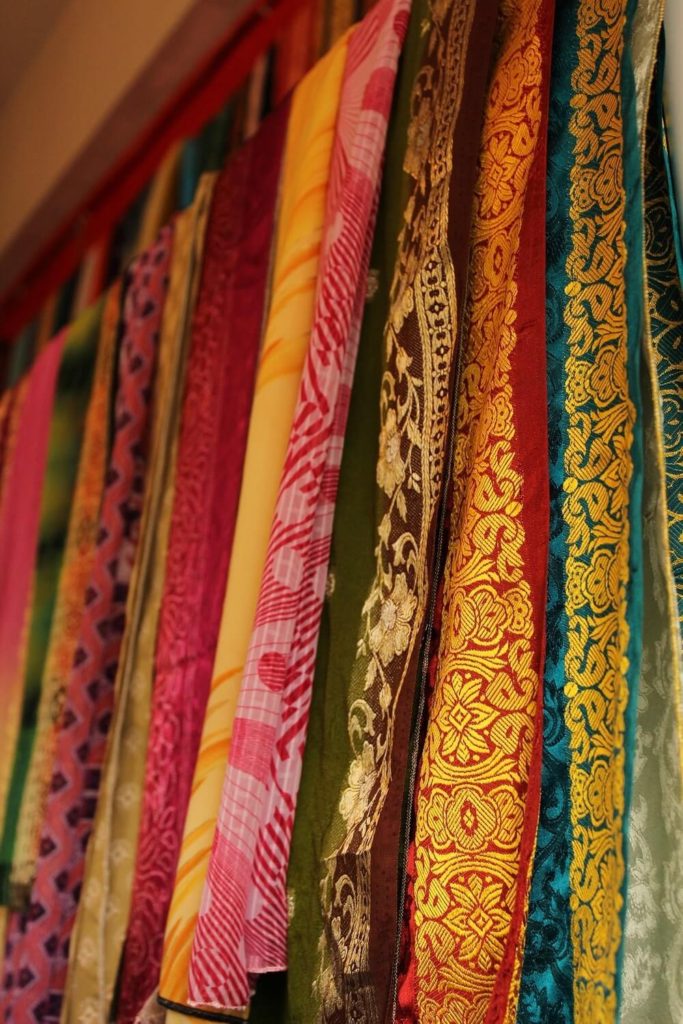 Shopping for a Sari is one of the most colorful experiences in India. The experience of entering a Sari shop and seeing hundreds of bright and colorful fabrics is an experience you absolutely cannot miss when visiting India.
A sari, which comes in many different fabrics and colors is a piece of traditional women's wear in India. Saris range from informal cotton type for daily wear to extremely elaborate and delicate wedding saris.
When you enter a Sari shop in India for the first time, you will most likely feel overwhelmed with all the choices! But no worries, you won't have to find the perfect sari all by yourself. The shopkeeper will usually bring you a back room where you will be served delicious tea. After answering a few questions on the type of sari you are looking for, you will get to try on a bunch of options! Taking all these gorgeous saris out of the bags and seeing the mix of colors and fabrics is such a unique experience.
As a Westerner, I was worried that wearing a Sari would be frowned upon in India, or worse seen as cultural appropriation. But every Indian person we asked was thrilled that I wanted to wear a Sari and insisted that we go try them on! It was hard not to buy too many but I finally settled on deep emerald green and gold sari that I totally fell in love with. If you are visiting India, make sure you visit a Sari shop for an experience you won't forget.
Explore the City Palace of Udaipur
Recommended by Jessica from Uprooted Traveler
Udaipur is known as the White City, thanks to the white Rajput-style palaces built around its many lakes. While the exterior of the town's palace, aptly named the City Palace, is consistent with the rest of the surrounding white facades, the interior of the palace is surprising bursting with colors. Seemingly every surface is dripping with glittering, vibrant color, from vibrant stained glass windows to sweeping walls fully covered in exquisite mosaics of peacocks and elephants.
The four-hundred-year-old City Palace in Udaipur has drawn millions of visitors over the years. And was even featured in the James Bond film "Octapussy"!. You can tour the stunning palace yourself for around 300 rupees.
If you want to learn more about the colorful structure's history, you can hire an English-speaking guide for an additional 300-500 rupees, depending upon the size of your group or an audio guide for 200 rupees. If you want to capture the colorful interior of the palace with your own camera, though, beware- there's technically a 250 rupee charge for every camera you use! Despite the camera fee, the City Palace is a do-not-miss colorful adventure during your exploration of India.
Editor's Recommendation: Looking for an amazing city tour of Udaipur that includes the City Palace? Try this highly-rated full-day city tour with an optional boat ride.
Adore the garland shops of Shirdi
Recommended by Yukti from Travel With Me 24*7
Shirdi located in Ahmednagar of Maharashtra is a day trip from Mumbai. This holy land is a famous pilgrimage site in India that attracts millions of devotees every day.
The small town of Shirdi is located in the middle of lush green farms. And it is filled with fragrance, colorful flowers (which are offered to deity inside the temple), sweets, devotion, and peace to soothe your mind and soul. The whole environment is fragrant and colorful. And has a unique vibe that is hard to describe in words. Devotees throng to Shirdi to get blessed by Lord Sai or Sai Baba.
The pretty rose flower grows abundantly near the fertile lands of Shirdi. It is believed that Sai Baba loved this flower. Therefore, devotees love to offer rose flower garlands in the temple. Everywhere in the town, you will find flower shops selling huge rose garlands.
According to the temple trust, after the flowers are offered to the deity, they are recycled to make rose essence, rose incense sticks, and many other traditional Indian art and craft products. The Temple of Shirdi uses the earnings from these products to run many philanthropic activities in Ahmednagar district. Now, that's such an altruistic experience of the colors of India.
Celebrate Holi in Varanasi
Recommended by Vanessa from Wanders Miles
There is no festival that screams more of color in India than Holi. This 'Festival of Colours' takes place over two days, and is a celebration of fertility, color, and love, as well as the triumph of good versus evil. The night before Holi is called Holika Dahan where huge bonfires are set alight to help burn away evil spirits.
Celebrating Holi in Varanasi, known as the spiritual capital of India, sure was a wild day. The city set on the sacred Ganges River literally comes alive with color being thrown from rooftops, alleyways, and along the Ghats. Everyone from all ages and races comes together in good spirits and collectively create a colorful paradise in Varanasi.
For first-timers to Holi on Indian soil, you need to be prepared with what to wear. A white Kurta is always a winner to show the colors off in full effect. Be careful to protect belongings such as cameras and phones in plastic coverings. There are street vendors all over the city for you to purchase your colors for the big day!
Varanasi is undeniably one of the best places to celebrate Holi and getting there couldn't be easier. Lal Bahadur Shastri International airport is well-linked with domestic and international flights. Trains connect to major cities in India and buses run from major cities of Uttar Pradesh and neighboring states. All I need to say now is 'Happy Holi' and enjoy the mind-blowing Festival of Colours!
There goes my ultimate guide on how to experience the myriad colors of India.
Have you had a colorful experience in India? Which was it? Do you want to come back to try some more. Let us know in the comments below.
Loved our post on Colors of India? Pin it for later reference!