Last Updated on May 15, 2019 by Soumya
Going to Hampi was my dream ever since I read about it in my middle-school history books. One picture of Hampi had stuck to me for my life. The picture of a stone chariot standing in an open courtyard. It vaguely reminded me of the temple of Konark but not exactly. This November, I was lucky enough to be able to fulfill my dream. I caught not only a glimpse of the exclusive chariot but also posed with it. And it all happened at the Vijaya Vittala Temple of Hampi.
Here's an account of my memorable trip to this remarkable temple – The Temple of Vijaya Vittala
Hampi is a UNESCO World Heritage Site in India located in east-central Karnataka. Hampi was a prosperous city and the capital of the Vijayanagara Empire in the 14th century. Vijayanagara was a rich kingdom and was frequented by traders from all over the world. As you read on, you will see evidence (in stone) substantiating this claim.
The Kingdom of Vijayanagara was defeated by Muslim Sultanates in the 16th century. The capital of Hampi was left in ruins after that. Ancient temples, royal enclosures, watch-towers, and remains of a palace dot the landscape of Hampi today. And the Vijaya Vittala Temple stands tall among all of them. It is one of the most iconic remains of the Vijayanagara legacy. Let's see what makes Vijaya Vittala special.
Why Is Vijaya Vittala Temple Unique?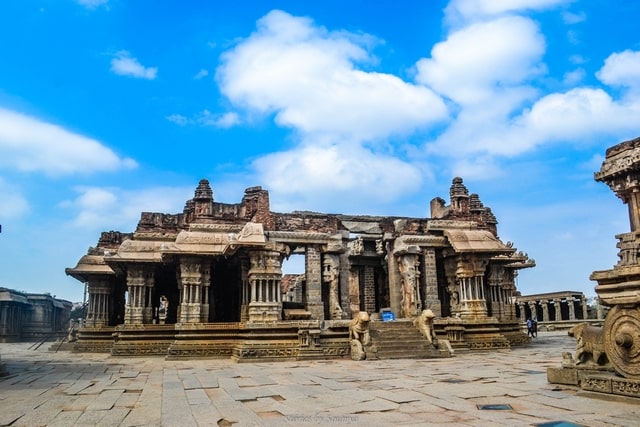 Vijaya Vittala is a temple dedicated to Lord Vishnu of the Hindu Trinity (Brahma-Vishnu-Shiva). It is built in the Dravidian architectural style.  No worship is offered at the temple now and there is no deity inside the inner sanctum. There are no written records on when and how the figure of Vishnu was removed from the temple. So, that aspect still remains a mystery.
The temple stands apart from the other temples in the complex of Hampi ruins. And I believe this is so because of three important factors that I list below. We took a guide inside the temple complex and I feel that was a very good thing to do. Lately, I have started appreciating the services of local tour guides. They may not always know everything but they do know some interesting bits and pieces that I will never figure out when I am on my own. Our guide was kind enough to point out a number of details that I will talk about below.
Chariot Temple
Vijaya Vittala is the only temple in Hampi that possesses a stone chariot in the front courtyard. In fact, it is one of the three temples in India that have stone chariots. The other two are in Konark and Mahabalipuram.  The stone chariot is a big attraction at the temple and draws tourists from near and far.
The chariot appears like a monolith but it actually isn't. It is built out of multiple stone slabs, carved and stacked on each other. The links are cleverly hidden. This is something your tour guide will point out the first thing as you enter the complex.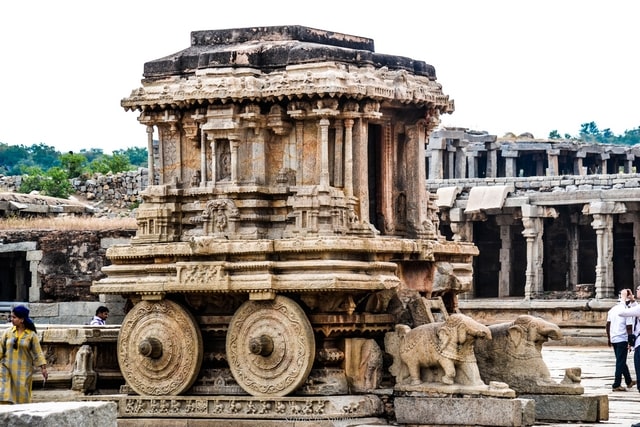 To understand better the importance of this chariot, let's take a small walk in history!
Persistent animosity between the Rayas of Vijayanagara and the Gajapatis of Kalinga (present state of Odisha) led to a war that was fought on the Kalinga soil. The Rayas came, fought, and left but not before being dazzled by the beauty of the Sun Temple at Konark. That is when Krishnadevaraya came back and decided to build a similar chariot-styled temple in Hampi. The chariot is actually a small shrine dedicated to the carrier bird of Lord Vishnu – Garuda. It is believed that there was a big statue of Garuda atop the chariot but it no longer exists.
An image of Garuda complete with wings stands inside the inner sanctum. Presence of this image confirms the fact that it was indeed a Vishnu temple and not a Shiva one. A stone ladder, that stands in front of the shrine, was used to climb up and offer worship to Garuda.
Carvings on the chariot are carved out of stone. They are intricate and beautiful. In the olden days, they were painted beautiful hues of red, yellow, and green. However, much of the color has been lost to the forces of nature. But if you have a tour guide or if you have read my travel guide, you will know where to still find some of the colors – after a whopping 500 years! Closely look underneath the hood of the chariot and you will see some beautifully colored patterns still visible. Look for any area that has not been affected by sun, wind, and rains and you will find exquisite colors from centuries ago.
Musical Pillars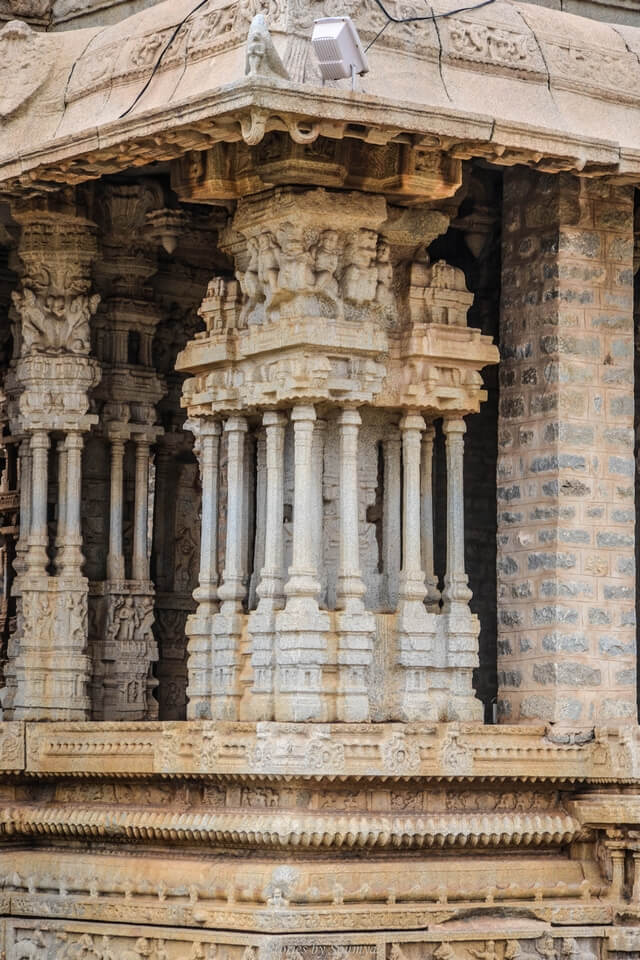 The Musical Pillars of Vijaya Vittala Temple are the next most famous thing inside the complex. I had heard quite a bit about them before traveling here. And I was excited to see them. The very fact that a set of pillars could produce music without any other instrument had perked my interests a great deal. But when I arrived at the temple, I was aghast to see the main temple closed to visitors for renovation. We could admire the pillars from outside as much as we wanted but we were not allowed to touch them or climb into the premises! I was disappointed. I was so looking forward to listening to some ancient music.
Obviously, our guide came to the rescue. He took us to another temple (mandapa) on the side and gave us a live music show at the pillars there. The guide knew exactly where to tap and out came the most appealing music I had ever heard. I was suddenly taken back 500 years when the all the pillars came to life together! Felt like a garden in springtime.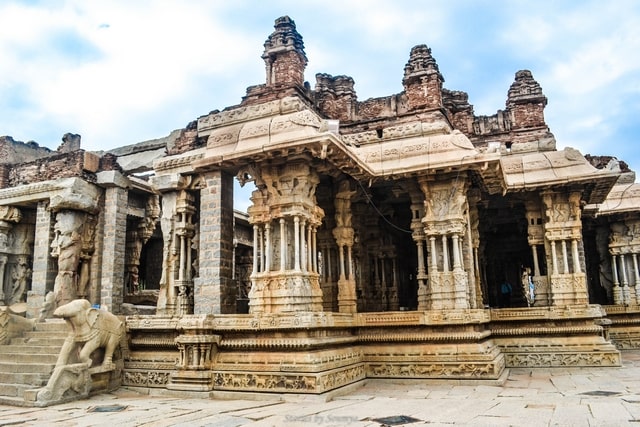 Vijaya Vittala Temple has 56 musical pillars and they are often called the Saregama Pillars. These pillars can be tapped with your thumb to generate music similar to the notes of Saregama. The concept of musical pillars is not new in South Indian architecture. They have been found in a number of other temples including the Nellaiappar Temple in Tirunelveli and Meenakshi Temple in Madurai. Research suggests that these pillars produce music because of the presence of metallic ore and large amounts of silica in the rocks used to carve the pillars.
Exquisite Carvings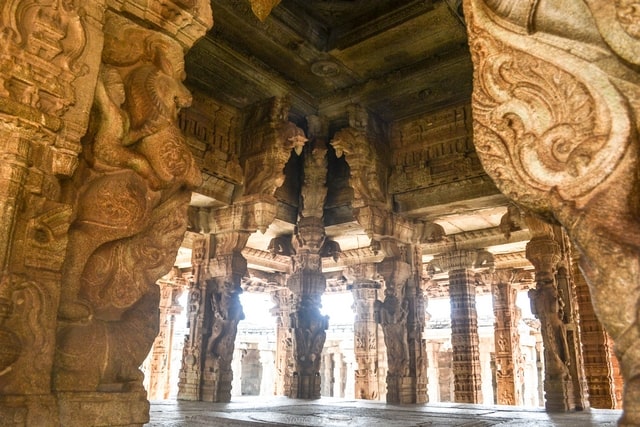 No temple in Hampi is as exquisitely carved as the Vittala temple. In fact, this temple is one of the finest examples of an ornately-carved-pillared Kalyanamantapa. Kalyanamantapa is a pillared hall used for weddings.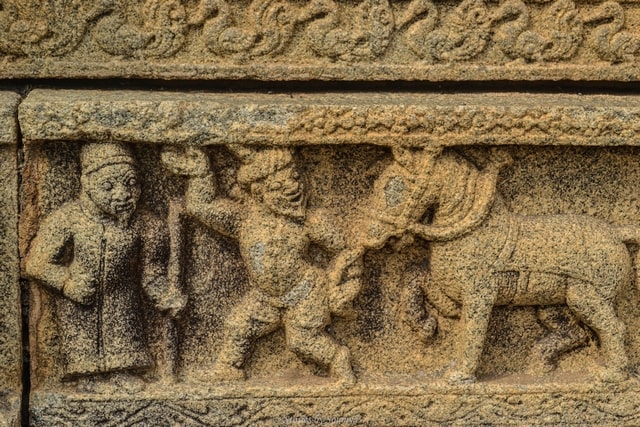 You will also find a number of carvings in the bottom part of the mantapa that depict life from 500 years ago. There are images of people buying the right kind of horses, traders coming in to trade their goods, and people going about their daily lives. You can see Chinese, Portuguese, and other European traders depicted in these friezes. This gives a clear indication of prosperous times and burgeoning trade relations of the Vijayanagara Empire with the rest of the world.
Tickets & Other Logistics
The majestic temple of Vijaya Vittala is open from 8:30 am – 5 pm every day of the week. Indians need to pay an entry fee of INR 40 while the amount is for foreigners is $8.5. Vehicles are not allowed to travel on the last one kilometer of the road leading to the temple which is why you either need to walk or take a ride in the golf cart provided at the front gate. That costs another INR 10 per person. Kids ride free.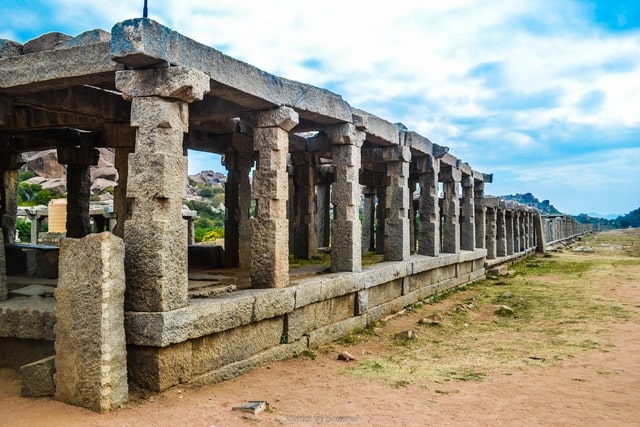 The walk is a pleasant one if your legs are good and the sun is not high up in the sky. It can really hot during the day and it is usually advisable to ride the golf cart if you are planning a midday visit. The road is dusty too. But the views are amazing. While walking on the path, you will notice many smaller temples and mantapas precariously balanced on huge boulders. You will also get a chance to see the remains of a Hampi market that used to congregate hundreds of years ago. Nearby is also a stepped well or Pushkarini that provided water for ablutions and other religious ceremonies.
Read more about Hampi's Pushkarinis here.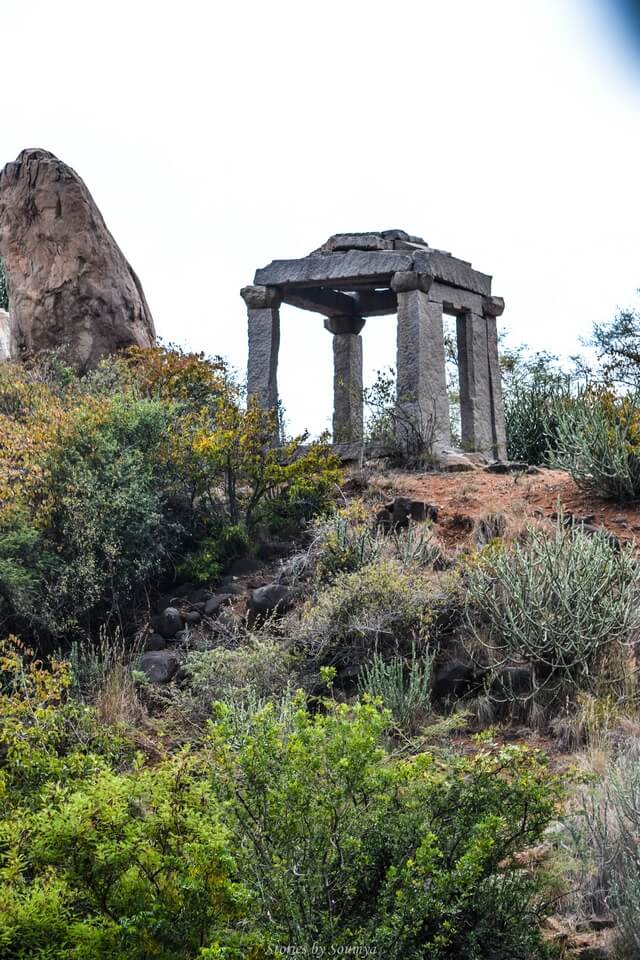 How To Get To Hampi
You can get to Hampi from Mumbai or Bangalore. We took a flight from Mumbai to Bangalore and then boarded the Hampi Express from Yelahanka Junction – Railway Station in Bangalore. That got us till Hospet and we stayed in Hospet a couple of days and explored Hampi. Hampi is about an hour's ride from Hospet. And Hospet provides better accommodation and eating options.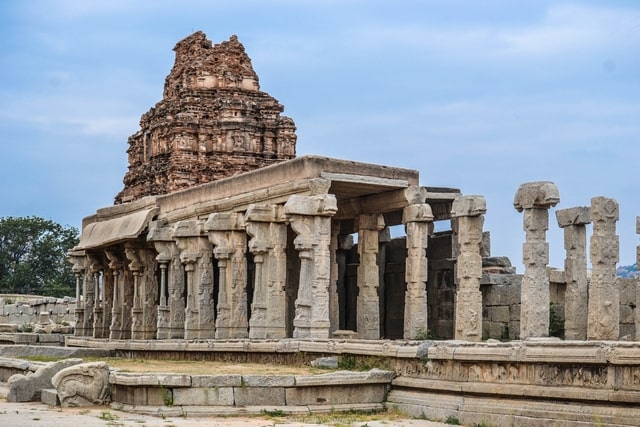 Best Time To Go
The best time to visit Hampi or anywhere close by is between November – February. December and January are the peak traffic months. It gets exceptionally hot in the summers and therefore, summer is definitely not a good time to visit. Even during winters, the sun can be harsh. Hampi is an open museum and there is not much cover from the heat. So, always carry sufficient water, sunscreen, and your hat if you wish to.
---
Hampi was a trip down the memory lane for me. And Vijaya Vittala Temple was the cherry on top. I would definitely want to go back there one day. Till then, the stone chariot and the musical pillars will be cherished memories.
 Pin It For Later!