Last Updated on October 11, 2023 by Soumya
Oh, the endless list of things to do in Ahmedabad, India! With so many amazing attractions and places to visit in Ahmedabad, it can be difficult to zero down on the perfect Ahmedabad bucket list.
That's why I have this humongous Ahmedabad travel guide for you that includes the best things to see and do in Ahmedabad, best places to stay, where to eat (Gujarati thali + street food), and the best day trips to take.
I have been to Ahmedabad multiple times and it is one of my favorite places to visit in Gujarat. I have done Ahmedabad sightseeing tours, taken heritage walks through the old city, eaten my way through the town, and ticked off several must visit places. Ahmedabad presents every traveler with hundreds of opportunities.
The truth is every time I travel to the Historic City of Ahmedabad, I find something new and unique to do. Be it watching the sunset at the stunning Modhera Sun Temple, exploring intricate Solanki architecture at Rani ki Vav, or taking a walk through the city's heritage pols and ols, I have seen and done it all. And that has resulted in this epic list of best things to do and see in Ahmedabad.
If you have been wondering what to see and what to do in Ahmedabad, then your search ends here. Just read through this travel guide and start planning for your Ahmedabad trip.
Quick links for your Ahmedabad trip
Please note: This post may contain affiliate links which means I may earn a commission if you make a purchase by clicking a link on this post. This will be at no additional cost to you. Affiliate links help me keep this website up and running. Thanks for your support!
Best things to see in Old Ahmedabad
Old Ahmedabad or the historic walled city is the most interesting part of Ahmedabad. It is over 600 years old and has always been home to people of different religions, caste, and occupations.
The old town was declared a UNESCO World Heritage Site in 2017 and as you can guess, is filled with tons and tons of history. And of course, a unique culture of its own.
Taking an early morning stroll through the old city is one of my favorite things to do in Ahmedabad. Old town lanes are filled with colorful doors, attractive monuments, aging homes, and fascinating stories. Honestly, the Ahmedabad Heritage Walk is one of the best I have ever done in India and I highly recommend it to anyone interested in history and culture.
Swaminarayan Temple, Kalupur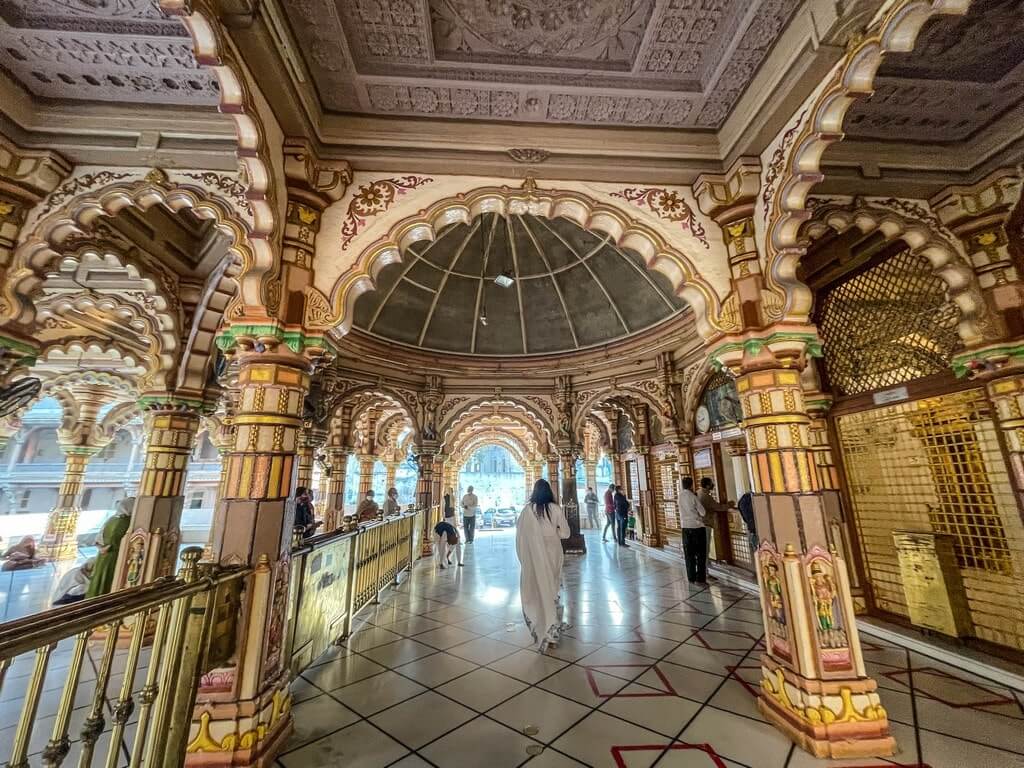 Start the walk at the beautiful Swaminarayan Temple in Kalupur, a richly-carved Hindu shrine that's an important pilgrimage center for the Swaminarayan Hindu sect.
The temple is nearly 200 years old and adorned with vibrantly-colored sculptures and intricate embellishments.
Take some time to wander the hallways of this stunning temple and walk under the arches decorated with torans. Gaze dumbstruck at some of the amazing reliefs that depict religious events, local life, and culture.
If you get here early in the morning (7:00 – 8:00am), you will also catch a string of devotees thronging the temple premises and pigeons fluttering all around. Temple bells ring to produce the most mellifluous background score.
Pols of Ahmedabad
One of the most iconic (but underrated) attractions of Ahmedabad are its pols.
Colorful, eclectic, and full of stories, Ahmedabad's pols are housing clusters that were home to specific communities or people. Several generations later, people of these communities still live here.
Each pol has an entrance and an exit gate plus several secret exits that only locals are aware of.
There's usually an open area where people gather to share news and gossip. You will also see a noticeboard in some pols with the latest updates in the community.
The houses or havelis that you will see here usually have colorful, wooden facades and quaint doors. I know what you are thinking. Yes, beautiful photo ops!
Old Ahmedabad has more than 300 pols with Mahurat Pol being the oldest one. During your heritage walk, you will enter some of these havelis, meet the locals, see how they live, worship, and communicate. A travel experience cannot get more immersive than this.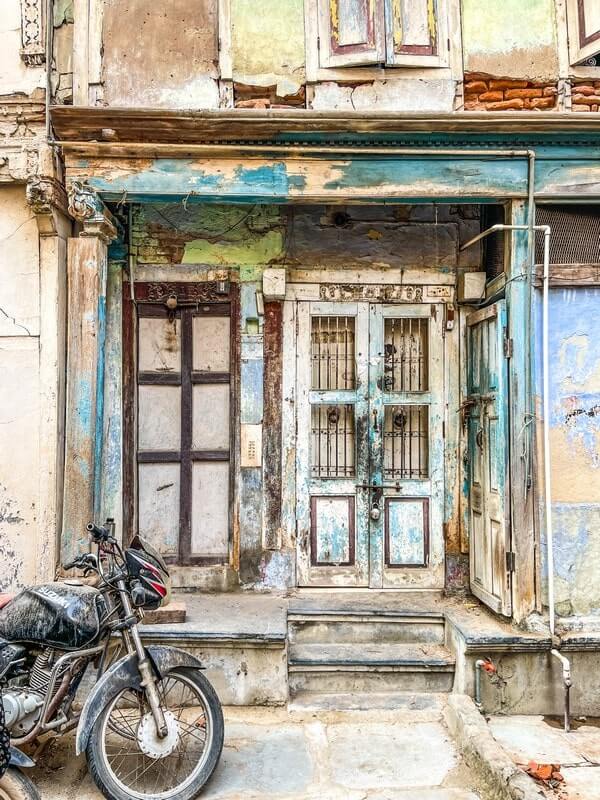 Ols of Ahmedabad
I had heard of pols but never knew of the ols of Ahmedabad. Ols are different from pols in the sense that ols have both commercial and residential properties whereas pols are only residential.
In the ols, you'll find shops and stores on the ground floor and homes on top of them. Ols usually take the name of the ware that is sold in it like chudi (wedding items) and chandla (prayer items).
While pols are numerous, ols are fewer in number. You will see a couple of them towards the end of your heritage walk.
SIDENOTE: While walking around Old Ahmedabad, be sure to notice ornamented bird-feeders that dot every lane. These are called the Chabutros and were built to attract birds and squirrels to these densely-packed human habitats. An old but assured way of maintaining the area's ecological balance.
Jama Masjid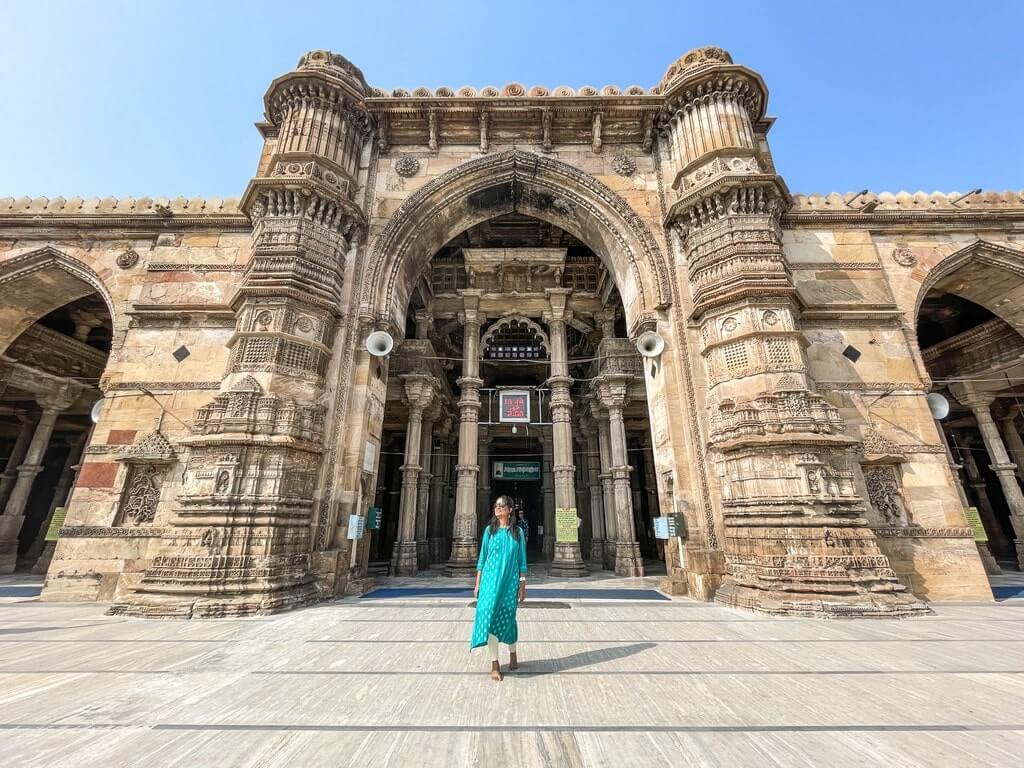 Towards the end of your heritage walk, you will arrive at a massive mosque known as the Jama Masjid of Ahmedabad.
Ahmed Shah I (after whom Ahmedabad was named) of the Gujarat Sultanate built Jama Masjid in the early 15th century. The mosque has a huge courtyard which has an ablution tank in the middle.
An arched gallery, with walls etched with teachings from the Quran, surrounds the courtyard. It was a wonderful feeling to take a walk through this archway as the breeze touched my face. Almost, reminded me of the Jama Masjid archway in Champaner Archaeological Park. Though that one was definitely prettier.
NOTE: Women are not allowed to enter the main mosque here but they can explore the courtyard and hallways.
Teen Darwaza
A quick walk from Jama Masjid and you'll arrive at Teen Darwaza. This historical gateway was built in 1415 and features triple arches.
In and around Teen Darwaza, you will find the most colorful shopping arcades. Jewelry, clothes, shoes, snacks, and everything else – you'll find everything here.
Sidi Sayyed Mosque
The last stop on the heritage trail is Sidi Sayyed Mosque, famous for its jaalis.
If you are an Indian citizen, you must have grown up seeing the latticework logo of the most iconic management school in India, IIM Ahmedabad. IIMA's logo is inspired by the jaali windows of Sidi Sayyed Mosque.
At first glance, Sidi Sayyed looks like a small, nondescript mosque in the Lal Darwaja area of Ahmedabad. It is only after your tour guide points out to the intricately-sculpted jaali windows behind each arched entrance that you realize the importance of this place. The jaalis are beautiful and definitely make for an interesting thing to see in Ahmedabad.
Manek Chowk Market
If you love shopping, you have to head to Manek Chowk Market in Ahmedabad. The streets are lined by vendors who sell everything from jewelry, shoes, dry snacks, to puja paraphernalia. An absolute haven for shoppers, this place is right at the end of Ahmedabad Heritage Walk. It is just so colorful and vibrant, you'll want to stay and click some pictures if not buy.
Best things to do in Ahmedabad city
Sabarmati Ashram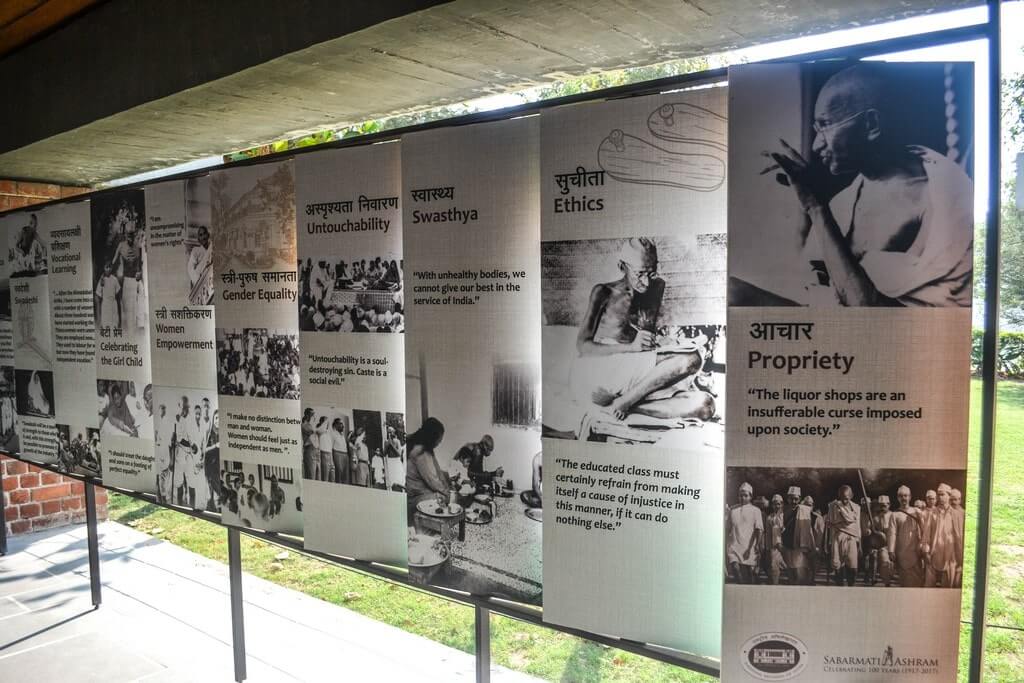 One of the best things to do in Ahmedabad is to visit Sabarmati Ashram, the very place where Mahatma Gandhi (fondly known as Bapu) spent 13 years of his life. It was from Sabarmati that Gandhiji launched the historic Dandi March in 1930.
Located on the banks of River Sabarmati, Gandhi Ashram played an important role in the history of India's freedom struggle. It was the humble abode of Mahatma Gandhi who stayed here from 1917 – 1930.
Today, the house is an engaging museum that depicts events and happenings from the life of the Mahatma and India's struggle for independence. Do not miss the white board that shows a personal note from Gandhiji that reads, "My life is my message". Outside the museum, you will see several house-museums such as Hriday Kunj, Vinoba-Mira Kutir, Magan Niwas, and more. The simplicity of the entire place takes you back to the non-violent days that got India its independence.
The museum is open from 8:30am – 6:30pm every day of the year. Admission is free. You can do a self-guided tour of the place or take a guided tour for deeper insights into the life of Bapu and history of India.
Sabarmati riverfront
After an immersive tour of the Sabarmati Ashram, you will love a relaxing walk along the Sabarmati River. The riverfront provides you with the perfect opportunity to do so.
Sabarmati Riverfront is a 7-mile (11 km) long promenade dotted with several recreational facilities. There are parks and gardens, markets, and boating areas. It is a good idea to come here for an evening stroll when the temperatures are mild and locals are out and about.
Calico Museum of Textiles
Did you know that Ahmedabad has a textile museum? I had no clue until I arrived in Ahmedabad for the first time.
Built in 1949 by the Sarabhai family, the Calico Textile Museum is one of the oldest museums in the country. Here, you will find an exquisite collection of traditional Indian textiles as well as Indian art and sculptures such as Jain art, miniature paintings, and South Indian bronzes.
The museum is open from 10:30am – 1:00pm and you can visit only through a guided tour that you can book on the museum website here. Note that the museum is closed on Mondays and other public holidays.
Dada Harir ni Vav
One of the most stunning stepwells in Gujarat is right in the middle of Ahmedabad. It is called Dada Harir ni Vav and has an interesting history behind it.
Also known as Bai Harir ni Vav, Dada Hari's stepwell is an ornate 5-level stepwell that is accompanied by an old mosque behind it. The stepwell was built by Bai Harir Sultani who was the superintendent of Sultan Mahmud Begada's royal harem. She built the stepwell in late 15th-century in the traditional Maru-Gurjara style (with Islamic influences) which you will also see in other stepwells like Rani ki Vav and Adalaj ni Vav.
The stepwell as well as the mosque have intricate details that are a sight for sore eyes. Delicately-carved walls, columns, and pillars dot the stepwell. You will see inscriptions in both Arabic and Sanskrit, that speak about history of the stepwell.
The site is usually open from 9:00am – 5:00pm and free to visit.
Chances are high that when you come here, you will find the entire stepwell to yourself except for the caretaker who is happy to answer your questions. Nobody else around to disturb your visit to this hidden gem in Ahmedabad.
Patang Kite Museum
Another unique museum in Ahmedabad is the Kite Museum, locally known as Patang Museum. It is India's first kite museum and one of its kind.
Every year, in the month of January, Ahmedabad plays host to the International Kite Festival or Uttarayan. The city's skies swell with colorful kites which are much loved by kids and adults alike.
The Kite Museum displays the essence of Ahmedabad's Kite Festival and India's love for kites. Here, you will see more than 100 varieties of kites, some as tall as 16 feet tall.
Science City
If you are a science nerd or traveling to Ahmedabad with someone who is, you will enjoy a trip to Gujarat Science City. Recently opened to the public, Science City features many interesting galleries including the Planet Earth Pavilion, Halls of Space and Science, Aquatic Gallery, Robotics Gallery, and a Nature Park. Check here for opening hours and admission fee.
Hutheesing Jain Temple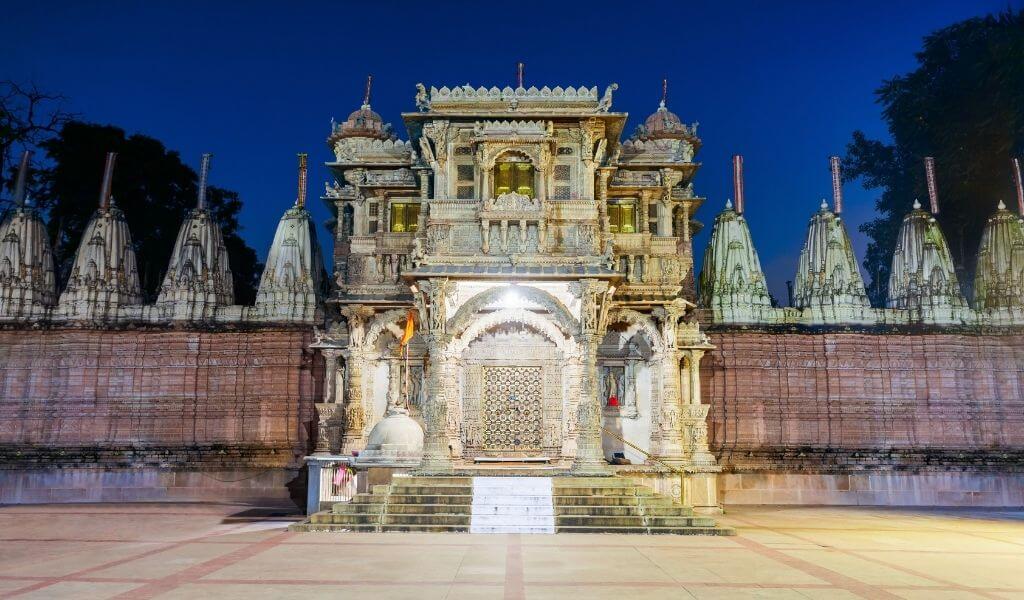 Hutheesing Temple is a beautiful Jain temple dedicated to the 15th Jain Tirthankara, Shri Dharmanatha. Built in 1848 CE, Hutheesing is a sprawling temple complex spread over a large courtyard.
The entrance archways remind me of Kalupur's Swaminarayan Temple and the intricate sculptures bring back memories of Modhera Sun Temple. The temple also has a special Mahavir Stambha that stands tall and impressive like the Kirti Torans of Vadnagar.
Best things to do near Ahmedabad
The best part about visiting this city is that there are several interesting places to visit near Ahmedabad. This means you can easily fill your Ahmedabad itinerary with scores of amazing day trips, each different and unique.
Adalaj ni Vav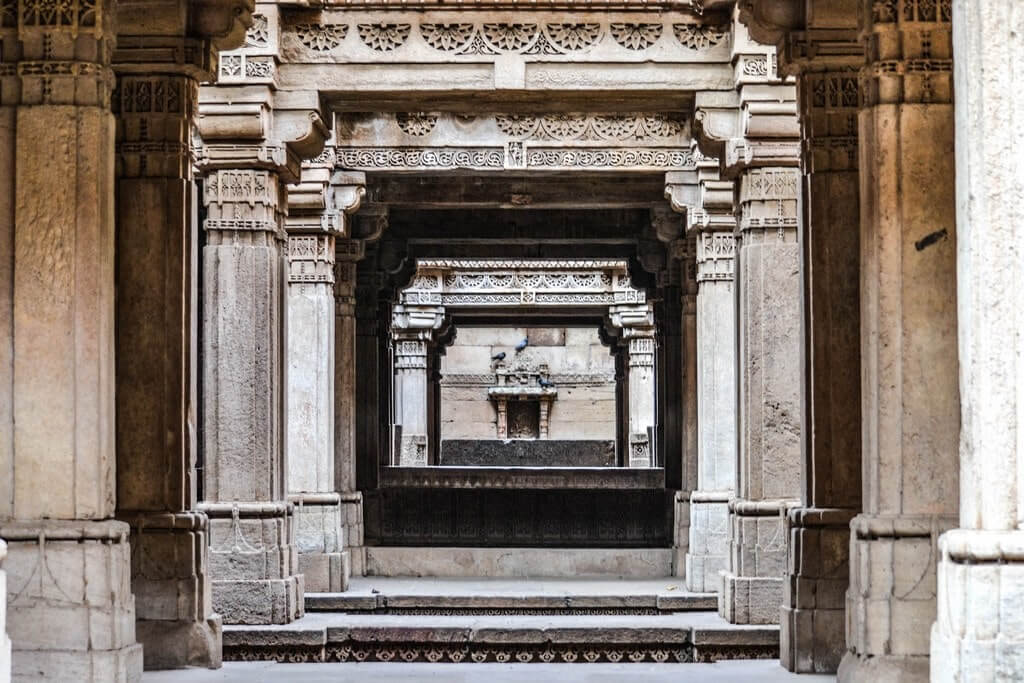 Stepwells are a must-visit when you are in Ahmedabad especially when they are so pretty as the Adalaj ni Vav.
Adalaj Stepwell was built in the 15th century in traditional Solanki or Maru-Gurjara style of architecture. It commemorates the tragic love story of Queen Rudabai and her husband, Rana Veer Singh.
The architecture of Adalaj ni Vav is stunning. It is 5 levels deep with walls and pillars filled with ornate carvings and sculptures. The patterns represent a blending of Islamic designs with Hindu and Jain architectural styles which makes it quite unique.
Located just 12 miles (20 km) from Ahmedabad, Adalaj ni Vav makes for an easy day trip. You can get here in less than 30 minutes (a little more with the traffic). Pay INR 25 (Indians and SAARC citizens) and INR 300 ($4) and explore this majestic stepwell on your own.
Swaminarayan Temple, Akshardham
The beautiful Akshardham Swaminarayan Temple is one of the best places to visit in Ahmedabad. Set amidst a sprawling garden in Gandhinagar, Swaminarayan Temple is a magnificent temple complex made of 6000 metric tons of pink sandstone. What's interesting is that no steel has been used to construct this masterpiece.
Inside the sanctum, you will find a 7-foot-tall statue of Lord Swaminarayan in the sitting posture. There is also an Abhishek Mandapam within the premises where devotees can perform abhishek, a sacred Hindu ritual. The temple is closed every Monday.
Adalaj and Akshardham Temple are closeby – just 9 miles (19 km) apart. You can easily club them together in full-day tour like this one or a half-day tour like this one.
Modhera Sun Temple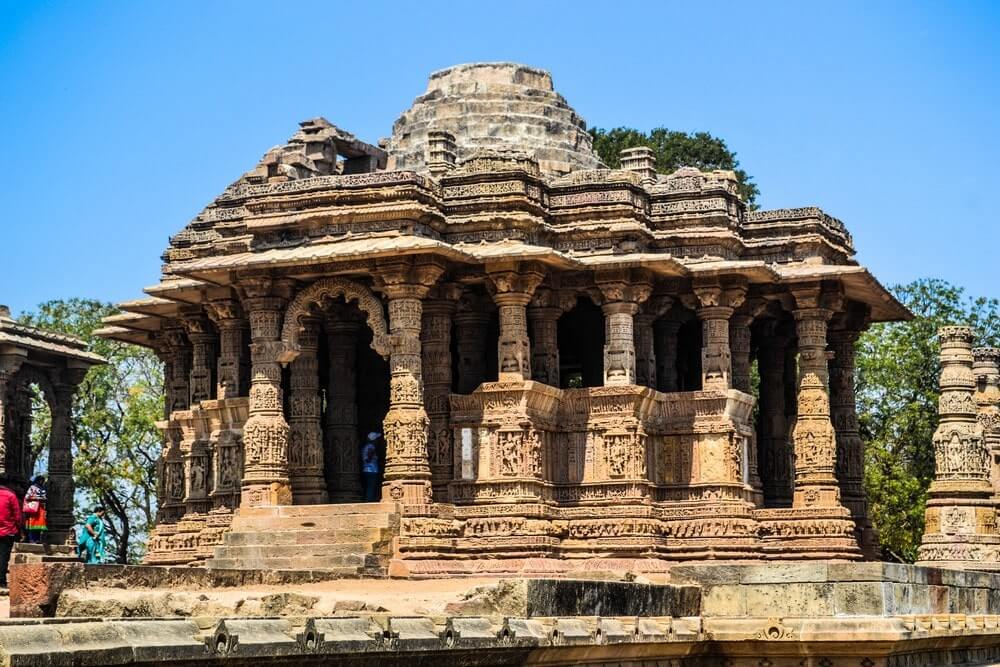 One of my favorite things to do in Ahmedabad, Gujarat is to visit Modhera Sun Temple in Mehsana. Located just 62 miles (100 km) from Ahmedabad, Modhera Surya Mandir makes for a wonderful getaway.
The Sun Temple in Modhera was built in the 11th century by Solanki King Bhimdev. It features three important monuments – a stepwell, an assembly hall, and an inner sanctum. There is also a museum in the premises.
Modhera Sun Temple is home to many interesting stories about its construction, destruction, and deities. Plus, the shrine is a testimony to the beautiful Solanki architecture that once prevailed all over Gujarat.
Pro tip: If possible, schedule your visit to Modhera later in the afternoon so that you can stay back to witness the lightning of the temple. The temple lights up every day after sunset and that is a breathtaking view to watch.
Read my complete Modhera Sun Temple guide to find more about this ancient temple and how to visit it.
Rani ki Vav & Patan Patola Museum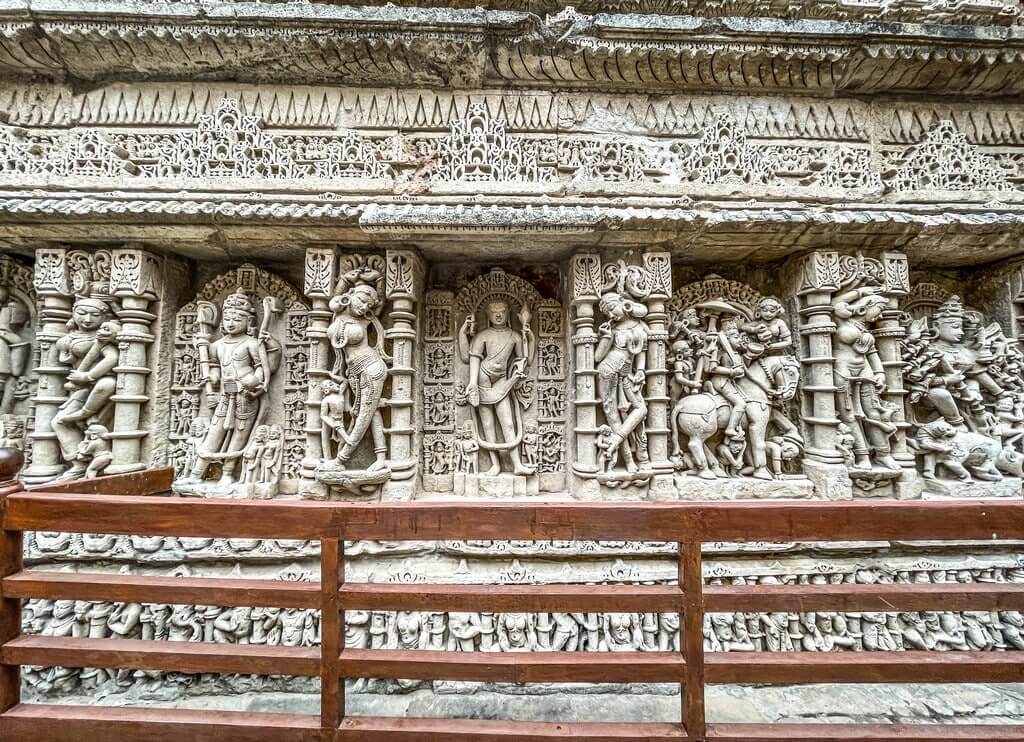 Head to Patan for a day and see the majestic Rani ki Vav (a UNESCO World Heritage Site) and one-of-its-kind Patola Museum.
The Queen's Stepwell or Rani ki Vav has a tragic story like the Adalaj stepwell. It was built by Queen Udayamati in memory of her husband, King Bhimdev I who was killed in a war.
Unlike the two other stepwells that we spoke about, Rani ki Vav has 7 levels – each adorned with hundreds of exquisite stone carvings. Apparently, there are 1500 sculptures in this stepwell including ones that represent the ten incarnations of Vishnu.
Head next to the Patan Patola Heritage Museum which is just 5 minutes away from the stepwell. This museum displays Patola (a silk weaving technique that is being carried forward by the Salvi family in India for the past 900 years) designs from across the world. You can also see a member of the Salvi family creating the weaves right in front of your eyes.
The best part is Patan and Modhera can be easily clubbed into one day trip from Ahmedabad. You just need to have a reliable chauffeur and professional tour guide with you. This highly-rated guided tour does exactly that – takes you around Rani ki Vav, Modhera Sun Temple, and Patan Patola Heritage Museum.
Siddhpur
Lanes filled with pastel-colored, Victorian mansions define the essence of Siddhpur in Gujarat. These mansions are the homes of Siddhpur's Bohra community and feature stunning woodwork and characteristic monograms.
Located just 2 hours away from Ahmedabad, the small town of Siddhpur is still a hidden gem. If you are looking for some tourist-free time and soulful wandering, add Siddhpur to your Ahmedabad bucket list. Trust me, you won't be disappointed.
Lothal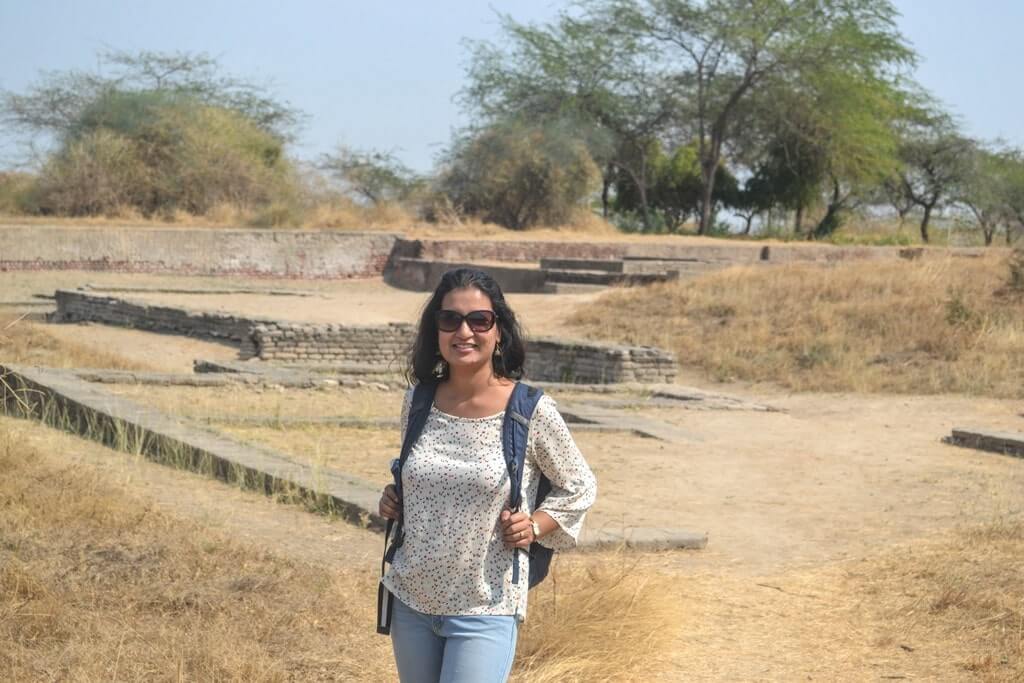 Interested in learning more about the Indus Valley Civilization? Experience the remnants of this old civilization at Lothal, an ancient Harappan city that dates back to 2400 BCE.
Like ever other Harappan township (such as Dholavira in Kutch, Gujarat), Lothal was a planned city with neatly laid out roads and an effective system for sewage disposal. One of the highlights here is the Lothal dockyard which once used to be a thriving port. The museum on site also makes for an informative stop.
Lothal is just 50 miles (80 km) away from Ahmedabad. You can get here in less than 2 hours by car.
Read my Lothal travel guide for more details.
Vadnagar
Probably, the most up and coming destination in Gujarat is the ancient city of Anartapura or Vadnagar.
It is the hometown of India's 14th Prime Minister, Narendra Modi. But apart from that, it is home to some stunning Maru-Gujara architecture, two intricate Kirti Torans, and a beautiful walled town that is dotted with colorful, crumbling havelis. Archeologists have recently discovered the remains of an old Buddhist monastery in Vadnagar – digging is still on.
Did you know that the Chinese explorer, Hiuen Tsang talks about Vadnagar or Anartapura in his India travel accounts from the 7th century? Super interesting, right?
I love to call Vadnagar "The City Lost in Time" because Vadnagar somehow vanished from history after being mentioned in Hiuen Tsang's accounts.
Also read: The Ultimate Travel Guide for Vadnagar Gujarat
Interactive map for Ahmedabad top attractions
Best places to eat in Ahmedabad
Looking for good food? Here are my favorite places to eat in Ahmedabad.
Gordhan Thal: One of the best Gujarati thalis (platters) I have ever eaten in Ahmedabad. Come here with an empty stomach because there's lots and lots to eat. Loved the preparation and flavors. Check here for more reviews.
Gopi Dining Hall: The best place to eat if you are looking for a sumptuous Gujarati thali at an affordable rate. I totally loved their service and the food was delicious. Read the reviews of Gopi Dining Hall before you go.
Agashiye: Agashiye is the in-house restaurant of the heritage hotel, The House of MG and is one of the best restaurants in Ahmedabad. The term "Agashiye" literally translates to "the terrace" in Gujarati language. Built on the terrace with an amazing ambience, Agashiye serves Gujarati thali in traditional silver and bell metal plates. If you are looking for a fine dining experience in Ahmedabad, then Agashiye is the place to be.
Manek Chowk: If you are a street food fan, don't worry. Ahmedabad has something special for you too – Manek Chowk. This street plaza which is a bustling market place by the day changes into a happening street food market at night. Come here to stuff yourself with delicious pav bhajis, kulfis, dosas, and sandwiches. Feeling adventurous? Try the chocolate sandwich and/or chocolate pizza which are much-loved dishes here.
NOTE: It is easy to get vegetarian food in Ahmedabad because locals here are usually vegetarian. I haven't tried much of non-veg food outside of the hotels that I stayed at. So, I can't really recommend a non-vegetarian restaurant in Ahmedabad. That said, the in-house restaurant at Fortune Landmark Hotel dishes out some really good non-veg food if you would like some.
Where to stay in Ahmedabad?
I have been to Ahmedabad several times and have the experience of staying at 5-star hotels as well as budget chains.
One of my favorite places to stay in Ahmedabad is Fortune Landmark Hotel, an ITC property, located minutes away from many Ahmedabad attractions. I love it not only for its comfortable rooms but also for the delicious breakfast spread they have. They also do great dinner buffets (non-vegetarian included) if you plan on eating here.
The House of MG is an iconic heritage located in the Historic City of Ahmedabad. I haven't had the chance to stay here yet but I have been dying to because of all the reviews that I have heard, read, and seen of the place. If you wouldn't mind splurging a little, stay at The House of MG for an immersive experience of Gujarat's history and culture.
On my first trip to Ahmedabad, I stayed at Holiday Inn Express which is more budget-friendly. They have spacious rooms and a decent breakfast spread.
If you plan to stay around Gandhinagar area, Fortune Inn Haveli is a decent choice. Staff is extremely friendly. If you need anything, just ask.
Practical information for visiting Ahmedabad
Best time to visit Ahmedabad
The best time to visit Ahmedabad is in the winters (November – February) because temperatures are low and the heat is bearable during the day. You might actually need a light jacket for the evenings.
After February, the mercury starts soaring and it gets unbearably hot in Ahmedabad. Beware, this is not the usually sultry heat that we experience in other parts of India. Summer in Ahmedabad is hot and dry. It quickly saps you of all energy and can make you dehydrated. Be sure to carry a bottle of water whenever you step out of your hotel.
Getting around Ahmedabad
My preferred way of getting around Ahmedabad is to just get into a tuk-tuk and ask the driver to take me wherever I wish to go. Most drivers understand English and can also speak a bit of it. However, not all of them go by the meter. Some of them do whereas others have flat rates for every destination. I always prefer a metered tuk-tuk. But if I don't get one, I agree on the price before getting into the tuk-tuk.
For day trips, you can hire a private taxi for the day (your hotel reception will usually have some reliable contacts) or get an Ola/Uber for the day.
Getting to Ahmedabad
You can get to Ahmedabad by air, rail, or road. Ahmedabad Airport or Sardar Vallabhbhai Patel International Airport has excellent connectivity with all major cities of India and some smaller ones too. You can check all the airlines that service Ahmedabad Airport here.
Ahmedabad Railway Station, also known as Kalupur Railway Station, is well connected with the rest of the country. You will need to book your train tickets on IRCTC website here.
Several buses also connect Ahmedabad from all major cities. They are more frequent and pocket friendly. A good choice if you are looking for a budget option to travel from Mumbai/Delhi to Ahmedabad. Book your bus tickets on redbus.
Ahmedabad travel FAQ
Is Ahmedabad worth visiting?
Ahmedabad is absolutely worth visiting. It is one of India's most historic cities and has a beautiful old town which is listed as a UNESCO World Heritage Site. Ahmedabad was also the birthplace of several freedom movements in India and is home to an eclectic collection of monuments and museums.
How can I spend my day in Ahmedabad?
If you have just one day in Ahmedabad, begin it with an early morning Ahmedabad Heritage Walk, visit Sidi Sayyed Mosque, eat lunch at Gordhan Thal, visit Sabarmati Ashram in the afternoon, and spend the evening at the riverfront.
What is Ahmedabad famous for?
Ahmedabad is famous for being India's first heritage city. A layered history, rich culture, and architectural magnificence make Ahmedabad one of the best places to visit in India. It is home to several famous monuments such as Sabarmati Ashram, Swaminarayan Temple, Jama Masjid, Sidi Sayyed Mosque, and Science City.
Loved our Things to do in Ahmedabad guide? Pin it for later!