Last Updated on October 9, 2022 by Soumya
If you are planning for a trip to Portugal and still wondering what your kids will do there, then plan away. Cause Portugal is the perfect place to take your little ones. There are hundreds of things to do on a family holiday in Portugal. Apart from building sandcastles on some of the world's prettiest beaches and biting into delectable desserts, you can do umpteen number of things in Portugal with kids. And we are here to tell you what some of the most interesting things are.
The stars on my list indicate how offbeat the attraction is. And I have so many of them here. So, happy discovering Portugal with your kids!
Busy now? Pin the post and come back later to plan your family holiday in Portugal.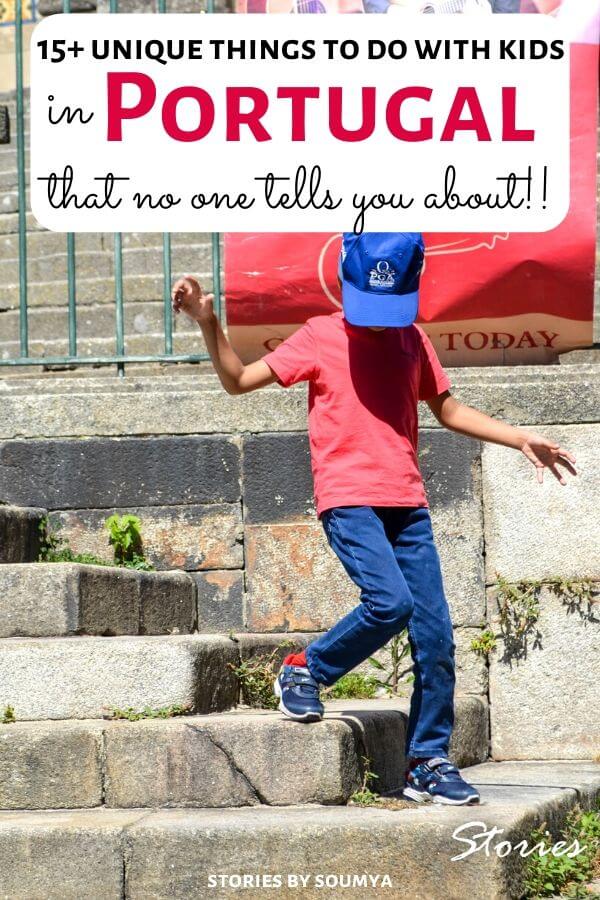 Please note: This post may contain affiliate links which means I may earn a commission if you make a purchase by clicking a link on this post. This will be at no additional cost to you. Affiliate links help me keep this website up and running. Thanks for your support!
In our post here, we have listed 16 unique activities that you can do a family holiday in Portugal. These activities are especially suitable for kids 10 years and younger. Quite a few may appeal to teenagers as well.
Take a Cable Car Ride in Porto
Our first stop in Portugal was Porto and the first thing we did here was to take the cable car ride in Porto Gaia (known as Teleférico de Gaia). The ride begins at Cais de Gaia and ends at the Metro Station on the top of the bridge.
It was a very different way of seeing Porto from above. We took a sneak peek at rooftop bars, viewed run-down azulejo-clad buildings, and gazed at the Porto Ribeira and beyond. My 6-year-old son A, enjoyed swinging high in the sky. The cable car ride in Porto was the perfect way of kickstarting our exciting 10-day Portuguese adventure.
You can get discounts on your cable car ride with the Porto Card. Check out my review of the Porto Card with transportation to find out how much you can save.
Buy your Porto Card with Transportation here.
*Visit the Tram Museum in Porto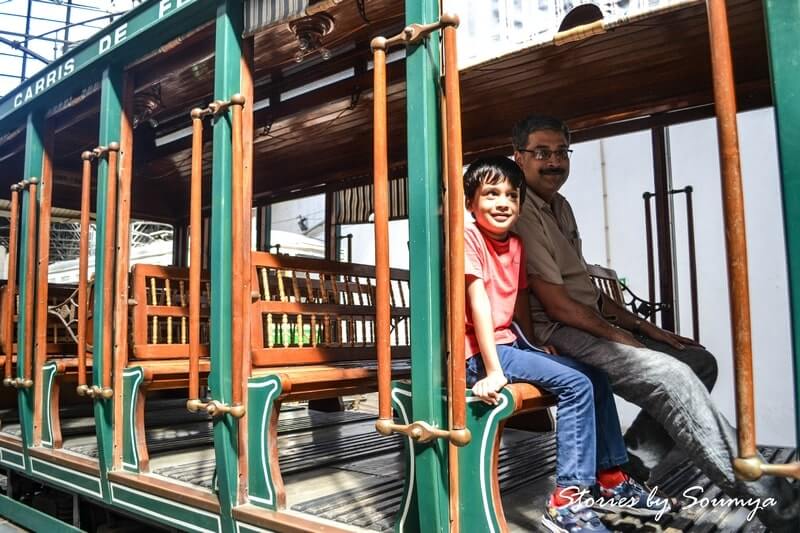 Since both K (the husband) and A (the son) are train lovers, we decided to go check out the lesser-known Tram Museum in Porto. Also known as Museu do Carro Eléctrico, the tram museum is never part of a typical Porto bucket list. And that is why it is such a great destination to visit.
Porto's tram museum is filled with vintage tramcars, a horsecart, a bus, and a couple of tram maintenance units. You can climb on them, check out the seats, and ring those antique bells. An absolute fun place for kids to be.
There were no visitors at the museum when we got there around 3 pm in the afternoon. It was peaceful, quiet, and cool in all that September heat. Just perfect to let the kids explore on their own.
Related Read: The Ultimate Bucketlist for Porto
Take a cruise on Rio Douro during your family holiday in Portugal
Taking a cruise on the Douro River in Porto is a fun-filled activity that you must do on a family holiday in Portugal. We did two cruises – a 6-Bridges Cruise in Porto and a short cruise at the Douro Valley.
The 6-Bridges cruise was very interesting for our kid who loved learning about and gliding under the 6 main bridges of Porto. And then we took a 1-hour guided tour of the stunning Douro Valley on a Rabelo boat. Terraced vineyards, a lonely bridge, charming white houses made our trip to the Douro Valley extremely memorable.
Want to take a Rabelo boat tour of the Douro Valley? Book your tour here.
**Visit the Miniature Wonderland in Coimbra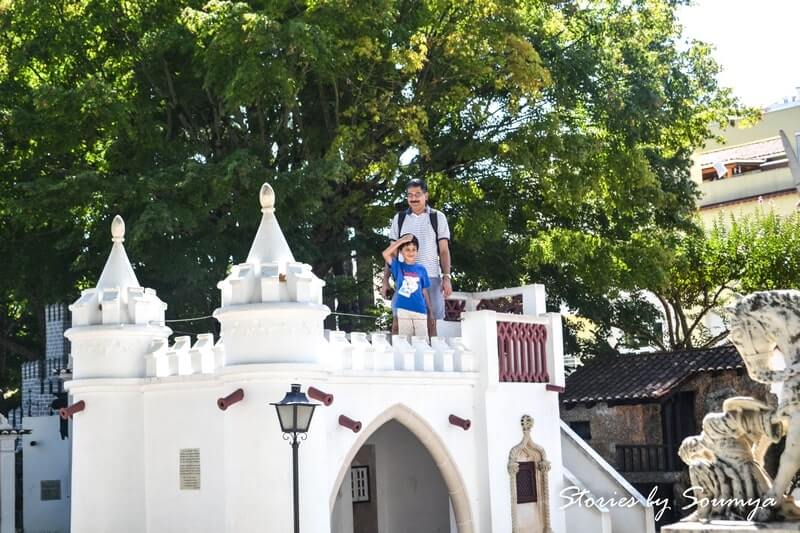 The Miniature Wonderland or Portugal dos Pequenitos in the university city of Coimbra is a true hidden gem. We would have never known about it had our pension owner not suggested it to us. For A, Portugal dos Pequenitos was the most exciting of all the things we did in Coimbra.
For the uninitiated, Portugal dos Pequenitos is a museum of sorts – stacked with sample artifacts from Portuguese colonies around the world. When you first enter, you will see a number of sections dedicated to these colonies. But the real treasure lies deeper, at the farthest end of the park.
A Miniature Town! Everything here – homes, churches, universities, pools, public squares, markets, farms, and even a pigsty – are shaped and created for kids. They can easily enter these places and pretend to live in their own fantasy, kid-sized land.
Related Read: What to do with one day in Coimbra?
*Watch the water fountains at Conimbriga go on and off
When in Coimbra, we decided to take a half-day trip to the Roman ruins of Conimbriga. It was just the perfect place for me because of its fabulous Roman mosaics. But I was apprehensive if the mosaics could hold the attention of A.
They did. For a bit, at least when he tried to spot animals and birds within the mosaics. But A found happiness in the water fountains at Casa dos Repuxos (The House of Fountains) in Conimbriga. And that was because we could turn them on whenever we wanted.
The fountains would start off in all glory when we inserted a 50 cent coin. They would die out after 2 minutes. And then spurt back to life again when another visitor contributed 50 cents. Turning the water fountains on seemed like the most plausible thing to do to get a picture of how life was in the richest house of Conimbriga. And it was such an exciting thing for young kids to watch. I still remember A's excited shrieks and smiles.
Related Read: How to visit the Roman ruins of Conimbriga from Coimbra?
Climb the city walls of Obidos on your family holiday in Portugal
The medieval town of Obidos with its whitewashed walls, cobblestoned lanes, and flower-laden homes is an absolute must-visit on your family holiday in Portugal. It can easily be done as a day trip from Lisbon though we decided to club Obidos with Batalha and Alcobaça.
Obidos has a medieval castle which has tall city walls going all around the town. You cannot miss the chance of taking a thrilling walk on the castle walls of Obidos pretending to be kings and queens from a bygone era. There are some stunning countryside views to enjoy during your walk. Bring comfortable shoes and be careful with your little ones at the narrower stretches of the wall cause there are no railings.
Climb a tower for some amazing views
There are so many towers to climb in Portugal. We did the Clerigos Tower in Porto and the Belem Tower, the Discovery Monument, and the National Pantheon in Lisbon. Plus, there are a host of miradouros (viewpoints) in every city that let you enjoy sweeping views.
Getting to the top of towers always fascinates kids especially as they count each and every step towards their final destination. After A started getting involved in our trip planning, we had to make sure we had at least one tower to climb on every trip! And during our 10 days in Portugal, we literally did one tower every day. Sometimes, even more! Portugal with all its towers and miradouros is definitely one of our favorite destinations for a family holiday.
*Learn about fables through azulejos at the Monastery of São Vicente de Fora
Honestly, by the time I had explored the azulejos of Porto, Coimbra, Batalha, Lisbon, and every other place we visited in Portugal, A was sick and tired of azulejos. He would make faces when I tried to pump him up for another round of the blue tiles.
That is why I was pleasantly surprised when I saw this kid-friendly azulejo treasure trove in Lisbon. An entire Gallery of Fables at the Monastery of São Vicente de Fora made out of azulejos. 18th century, blue tiles tell you numerous stories from The Fables of Jean de La Fontaine, a famous French poet. The Fox and the Bust, The Old Man and his Children, the Untrustworthy Guardian, and the Camel and the Floating Sticks are a few of what I remember. You could spend the whole day in this gallery going through each and every fable with your kids.
Related Read: Best places to spot Azulejos in Porto
Ride the tram and/or the funicular in Lisbon
You cannot miss taking the Lisbon tram ride – one of the most attractive things to do in Lisbon Portugal. Tram E28 that runs through the scenic Alfama district is the most popular one and hence, the most crowded.
Go ahead and book your historic Tram 28 tour here.
I would recommend doing an early morning tour of E28 or taking a less popular tram route such as the E12, E18, or E24. We did multiple and enjoyed each one of them.
The funiculars of Lisbon are also popular. And even if it requires some jostling around, riding a funicular is a fun experience in Portugal with kids. The best part is the ascent which seems so undoable for the common man and yet so easy for the rickety funicular.
Related Read: What to do in Lisbon – A list of Top 15 Lisbon Attractions!
**Walk over an aqueduct in Lisbon
This is another really offbeat experience we had in Lisbon – walking over an aqueduct. Previously, A and I had only looked at aqueducts and admired them from a distance. The prospect of walking on one excited us. The Águas Livres Aqueduct, a lesser-known UNESCO heritage site, can be accessed from its entrance in Armoreira.
We were thrilled to be able to walk the aqueduct and actually see the channel through which water flowed years ago. Add to that some wonderful panoramic views of Lisbon. And there were less than a couple of other visitors to share the aqueduct with us! It was a real, offbeat experience.
Related Read: 9 Offbeat experiences in Lisbon
And what if I say you can see a pizza slice of homes from the top of the aqueduct!! Would you believe me?? Your kids would jump with joy, I am sure. See below to believe your eyes!
Jump across the world map in front of the Discovery Monument in Lisbon
Visiting the Discovery Monument in Belem is an interesting addition in every Portugal itinerary. Here, you can view the figures of the 33 famous Portuguese discoverers and can go all the way up to the roof for a clear stunning view of the city and the bay.
However, what attracted our attention most was the Compass Rose right in front of the Discovery Monument. Inside the compass is a world map depicting Portuguese navigation routes. You can actually walk over the map, cross borders, jump over oceans, and create your own world tour. If your kid loves geography, this is going to be a fascinating experience for him. Even more than the scintillating views from the top!
*Light electric candles at the many churches in Portugal
This is something really interesting that my 6-year-old discovered in our first church visit in Portugal. And we were delighted to find it across churches. It not only kept the kiddo busy but also motivated him to seek out new churches and explore them.
Many churches in Portugal have electric candles in place of votives. You can simply put in a few cents in the box below and get one or many of them to glow. Some were a little pricey than others. In some places, A could light up as many as 32 candles with 1€. In few others, he could get only 1 for 20cents.
The prospect of lighting multiple candles with few coins excited A. It kept him busy and entertained while we explored the churches in peace. And since the candles were electric with no spilling over and were inside a box, the activity was absolutely safe.
Walk down the well in Quinta Regalaria in Sintra
Whether you traveling to Portugal with a toddler or teenager, you must visit the secret initiation well at Quinta da Regalaria in Sintra. Underneath the well is an intriguing maze of passageways and underground caverns that can be really exciting for kids to explore.
Make sure you climb down the well and into the secret path that leads to the bottom of a second secret initiation well, a few seconds away. It can be really dark inside. So, carry a torch or use the torch on your mobile phone to guide the kids.
The best part about visiting Sintra is that it can be easily done as a day trip from Lisbon. The train journey from Lisbon to Sintra takes less than an hour by train and about 30 minutes by car.
Book your Sintra and Quinta da Regalaria day tour here.
Experiment with Portuguese desserts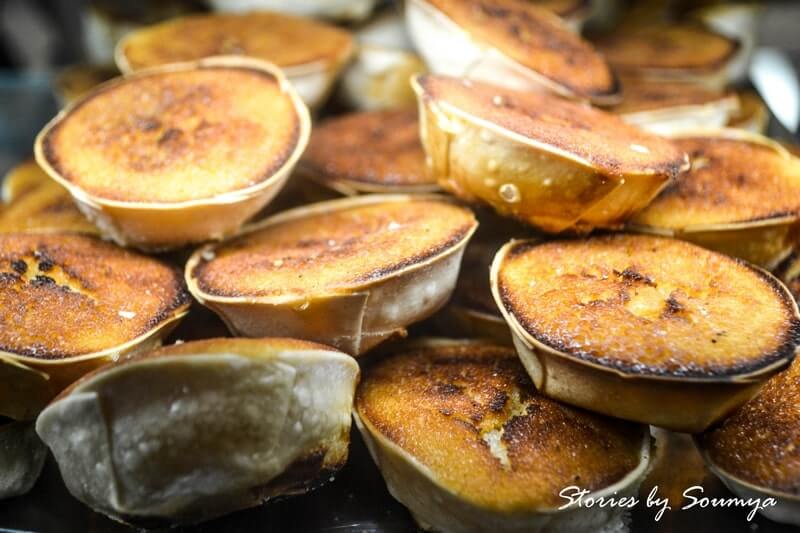 I encourage you to let your child experiment with Portuguese desserts because there are so many of them! Yes, apart from the usual touristy ones. Travel guides on Portugal typically recommend the Pastel de Nata and, to a lesser extent, the Travesseiros of Sintra.
Guess which dessert A ended up liking? The Queijadas of Sintra! Yes, the ones that no one talks about except for the official website of Case Piriquita. Queijadas go back longer than travesseiros and were King Carlos I's favorites. Could be yours too! Try them out.
Related Read: The best Portuguese desserts you have to try in Portugal
*Explore the miniature collections at the National Coach Museum in Lisbon
The National Coach Museum in Belem is another lesser-known gem in Lisbon that you would not find in the usual Lisbon itinerary. It has an exclusive collection of gilded horse-drawn carriages from different eras in Portuguese history. Including bogies used by little princes and princesses.
Deep within this exotic collection is a smaller, but temporary, exhibition usually geared towards kids. When we went in September 2019, there was a large collection of miniature cars depicting over 100 years of automobile history. Right now, they have on display the Little Carriages of José Cardoso Brito. Check out their official website before visiting.
Identify Portuguese pavement patterns – an enjoyable family activity in Portugal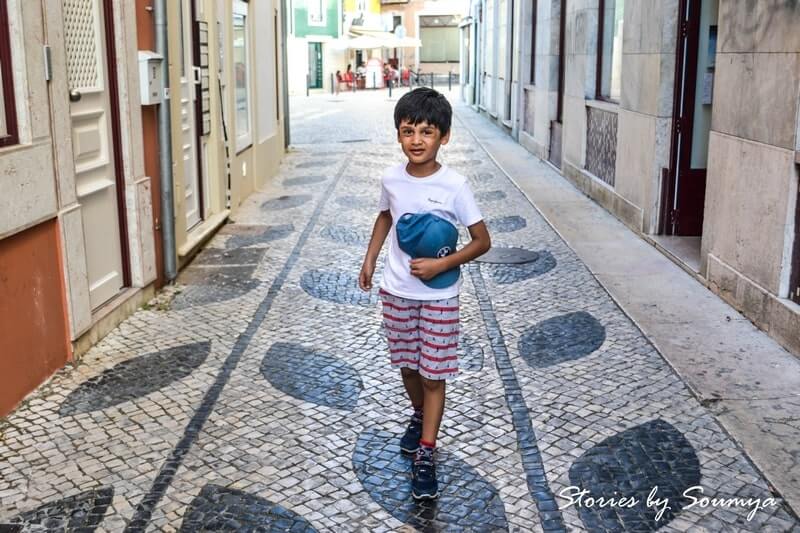 Identifying pavement patterns is a fun activity that you can do anywhere in Portugal with kids. A traditional cobblestone pavement, the calçada à Portuguesa (Portuguese Pavement) weaves in a number of designs and innovative patterns within itself.
Sometimes, it is just a combination of hundreds of waves like at the Rossio Square in Lisbon or two big fish looking at each other near the Jeronimos Monastery in Belem. Birds, animals, and plants abound. Try looking at them from close quarters and you may get dizzy. Go a little away and figure out the right pattern.
Head to the beach with your family
And last but not least, the best thing to do on a family holiday to Portugal is to head to one of the many beautiful beaches in the country. Home to the stunning Algarve and Lagos beaches, Portugal will spoil you for choices. Or you could do a smaller beach day trip to Carcavelos from Lisbon if you are short on time.
These were all the wonderful things we did on our family holiday in Portugal. And with so many hidden treasures on our itinerary, we sure had a great time.
Have you traveled to Portugal with your family?
If yes, what was your favorite activity here? What did you love doing in Portugal with your children? Do let us know in the comments below.
Portugal with kids can be so much fun!
There is a lot to do. Beaches, food, museums, towers, cruises, miniatures, and much more! Whether you are already planning a family trip to Portugal or just contemplating one, we hope our guide will help you fill in your itinerary with exciting activities.
More Portugal Resources
Loved our post on what to do on a Family Holiday in Portugal? Why not pin it!