Last Updated on September 21, 2023 by Soumya
Is Puebla Mexico worth visiting?
Yes, Puebla is absolutely worth visiting because it is one of prettiest colonial cities of Mexico with a well-preserved historic center that's a world heritage site. Puebla is also the birthplace of mole poblano, chiles en nogada, & Talavera pottery and is super close to the Great Pyramid of Cholula, the world's largest pyramid.
There are umpteen reasons to visit Puebla Mexico. The city has a long and interesting history. It is a thriving cultural center and an upcoming city of gastronomy.
Whether it is visiting the awe-inspiring Rosary Chapel, gazing at the imposing Puebla Cathedral, learning all about Talavera tile-making, digging into a plate of mole goodness, or going hiking in the nearby Izta-Popo National Park, Puebla is teeming with activities and attractions. With so many amazing things to do, Puebla can surely keep you occupied for days.
When chalking out your Mexico itinerary, it is natural to wonder if Puebla is worth visiting or not? Is Puebla worth a day trip from Mexico City? Should you visit Puebla or go somewhere else? I suggest you read the 10 best reasons that make Puebla absolutely special and then decide for yourself.
If you still have questions, do check out our FAQ section where we answer questions like Is Puebla worth a visit and Why should I visit Puebla?
Please note: This post may contain affiliate links which means I may earn a commission if you make a purchase by clicking a link on this post. This will be at no additional cost to you. Affiliate links help me keep this website up and running. Thanks for your support!
10 Reasons why Puebla is worth visiting?
1. Puebla is the Birthplace of Mole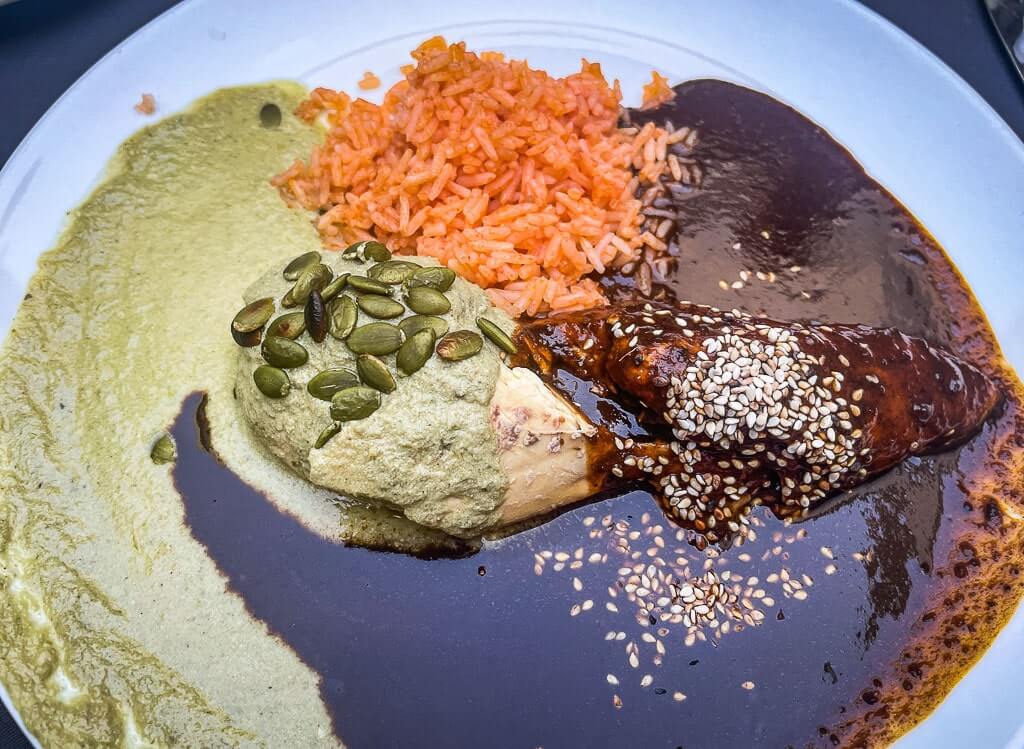 The iconic Mexican dish mole was born in Puebla. Made from nuts, chilis, and chocolate, the rich red or brown-colored mole poblano is the most popular version of mole and often called the National Dish of Mexico.
There are several legends surrounding the origins of mole sauce. One of the popular stories is that when the nuns of Santa Clara Convent in Puebla heard of the arrival of the archbishop, they panicked because they had no time to prepare anything fancy. Ultimately, they dished out a sauce mix from whatever little everyone had – a bit of nuts, chocolate, chilis, and fruits. The archbishop enjoyed the dish and it became a favorite among the people of Puebla, eventually gaining the national dish status.
If you're looking forward to having this legendary Mexican dish, then that is a big reason to visit Puebla because nobody does mole poblano better than the poblanos (people of Puebla) themselves!
2. Puebla's Culinary Scene is Fab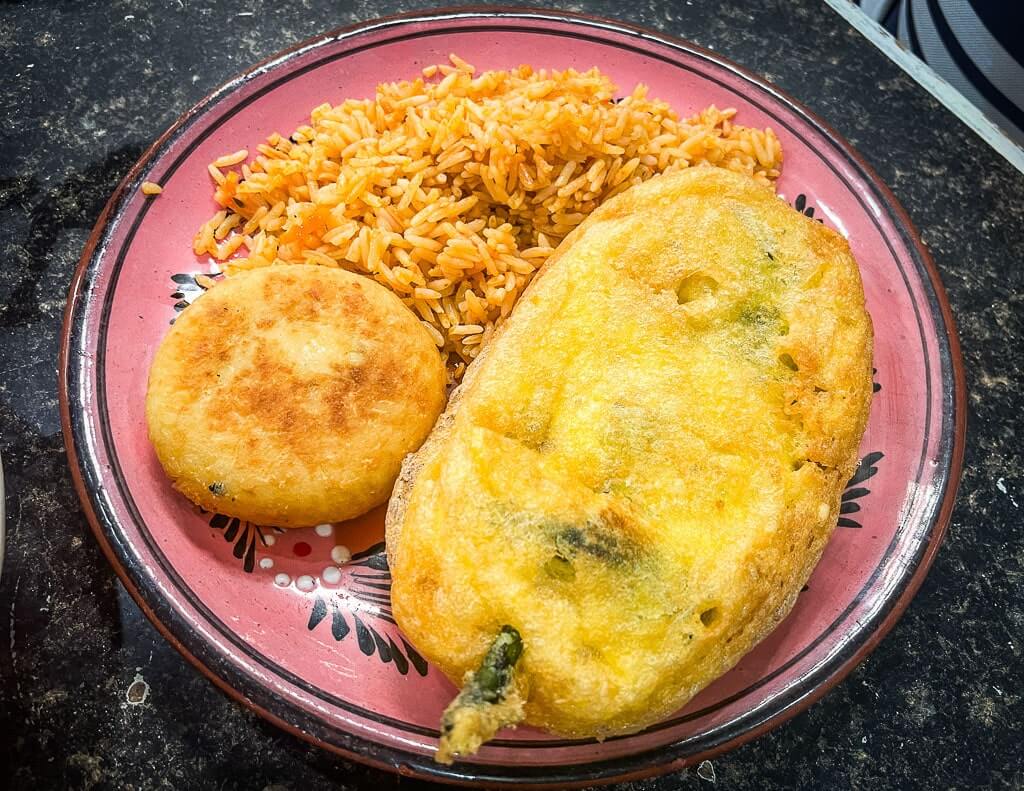 Not just mole poblano, Puebla is home to many more amazing dishes such as chiles en nogada, cemita sandwiches, dulces tipicos, and more. And Puebla has some fab places to eat. Honestly, Puebla is Mexico's most underrated culinary destination that is waiting to be discovered by foodies like you and me.
Trivia 1: Did you know that Puebla has an entire street dedicated to sweets? Yes, it is called Calle de los Dulce and is home to numerous shops selling all kinds of sweets.
Trivia 2: Mexico's most patriotic dish – chiles en nogada – originated in Puebla. Why is it patriotic? Because it features the exact colors of Mexican flag – green, white, and red!!! How cool is that!
One of the most popular things to do in Puebla is to take a Taste of Puebla tour and stuff yourself with all kinds of poblano delicacies. Cemita, mole, molotes, tacos, traditional poblano sweets – you name it and they have it on this tour!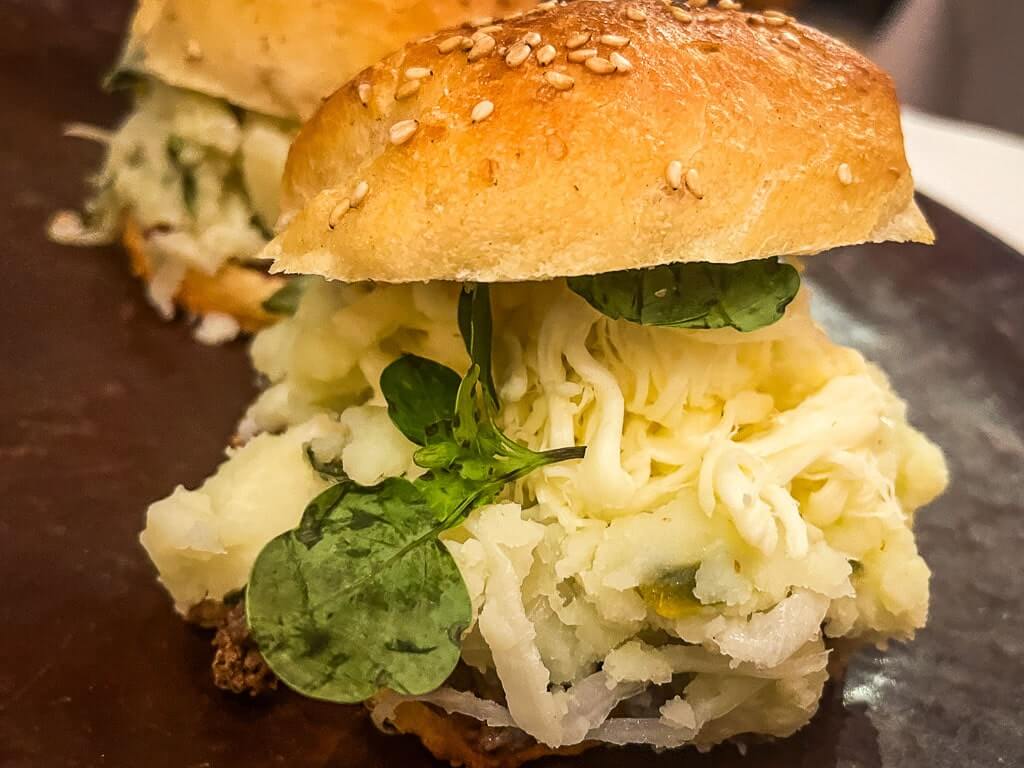 ✔️ Unlimited food tastings with an experienced local guide
✔️ 3 – 4 hours
---
3. The Historic Center of Puebla is a World Heritage Site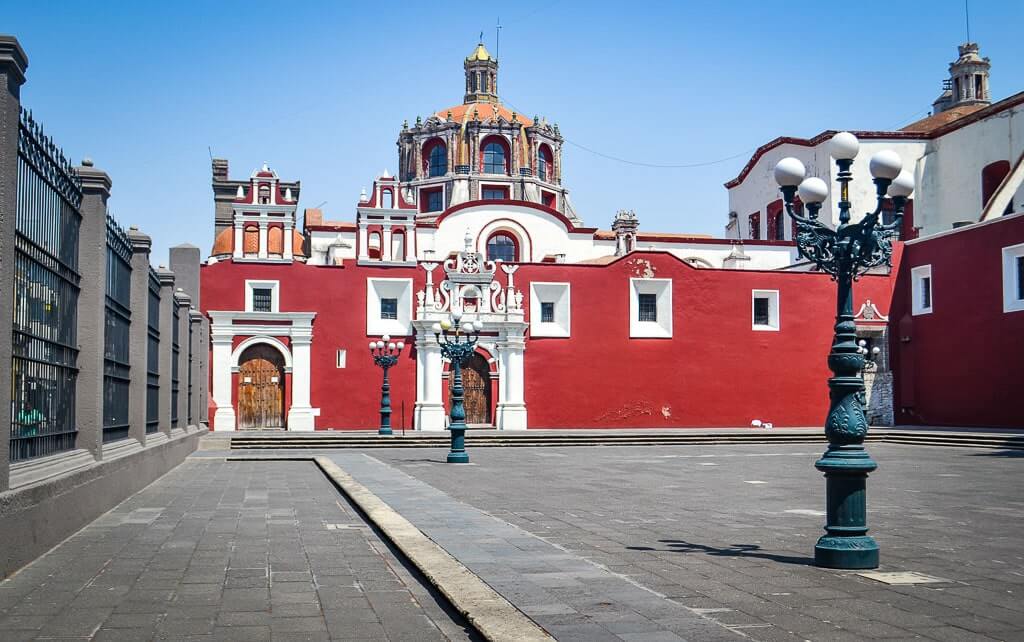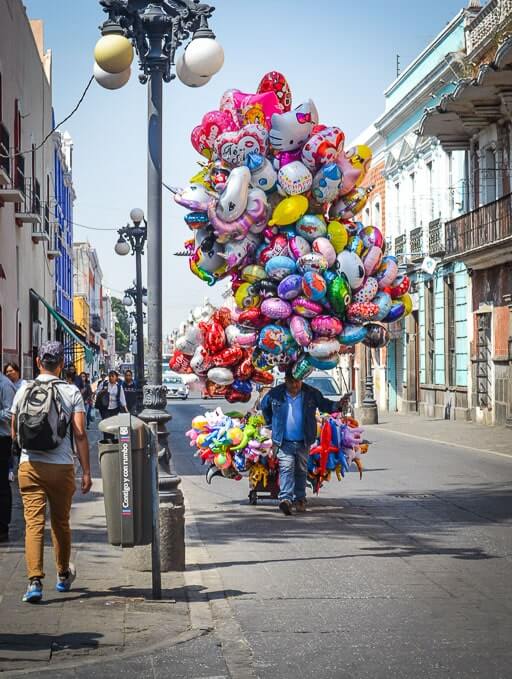 Downtown Puebla was declared a UNESCO world heritage site in 1987. That is because Puebla has a well-preserved historic district (laid out in a grid pattern) that is dotted with ornate baroque churches and colorful residential and official buildings, many of which have entire facades covered with Talavera tiles.
Puebla's churches showcase a unique mix of European and native American architectural styles and an abundant use of gold that the Spaniards recklessly plundered from Mexican mines. This resulted in the rise of the more ornate style of Mexican Baroque. The Rosary Chapel in the historic center is a stunning example of it.
Some of the other unmissable landmarks of Downtown Puebla are the Puebla Cathedral, the Palafox Library – Latin America's first ever library, Teatro Principal, and several historic buildings that have been converted into museums and boutique hotels.
4. You can stay in 16th-Century Colonial Mansions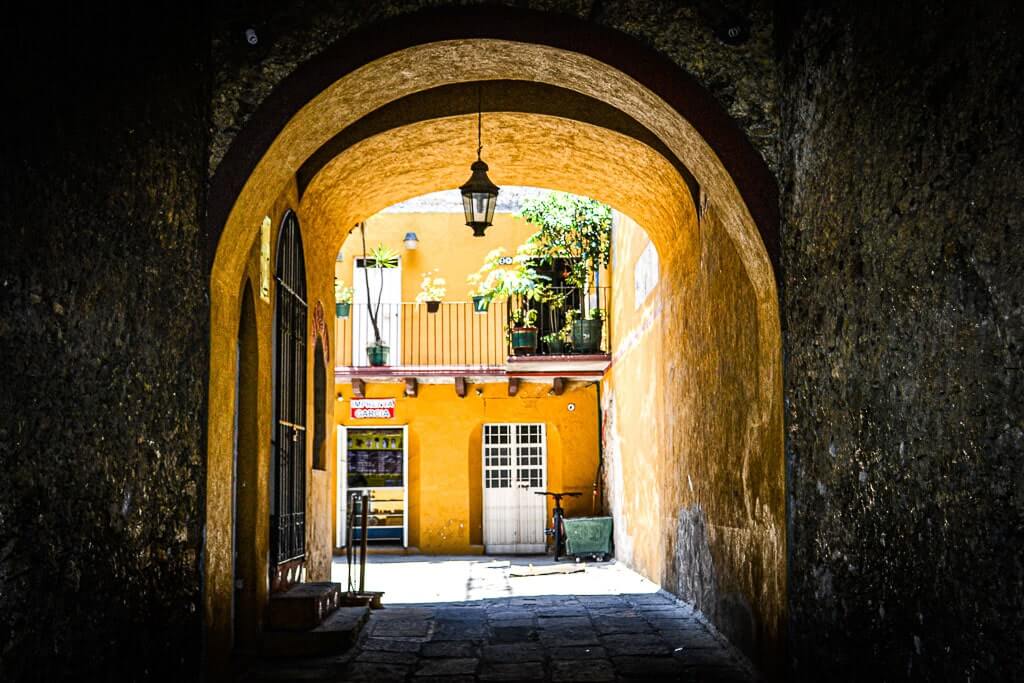 There are amazing boutique hotels in Puebla that are housed in all kinds of historic buildings dating to the 16th – 18th centuries. Old tile workshops, water purification factories, abandoned convents, residential mansions – there's something to cater to everyone's delight.
If you're planning to visit Puebla, here are a couple of great heritage hotels that you should definitely check out.
Cartesiano Wellness & Boutique Hotel: Dating to the 1600s, the Cartesiano Wellness & Boutique Hotel is spread over two colonial properties – a private home and an old tile factory. This luxurious hotel provides guests with the best amenities and comfort while retaining the original architectural elements including old stone walls, arches, columns, and stairs. Staying at Cartesiano is like stepping into a time warp and going back hundreds of years into the colonial era. ↳ Check Hotel Reviews on EXPEDIA | BOOKING
Quinta Real Puebla: The beautiful Quinta Real Hotel is housed in a 16th-century convent called the Convent of Immaculate Conception. With a huge courtyard, majestic arches, stone porticoes, wrought-iron balconies, and a striking red facade, the Quinta Real Hotel Puebla seamlessly merges the present with the past. ↳ Check Hotel Photos on EXPEDIA | BOOKING
5. Puebla is the Home of Talavera Pottery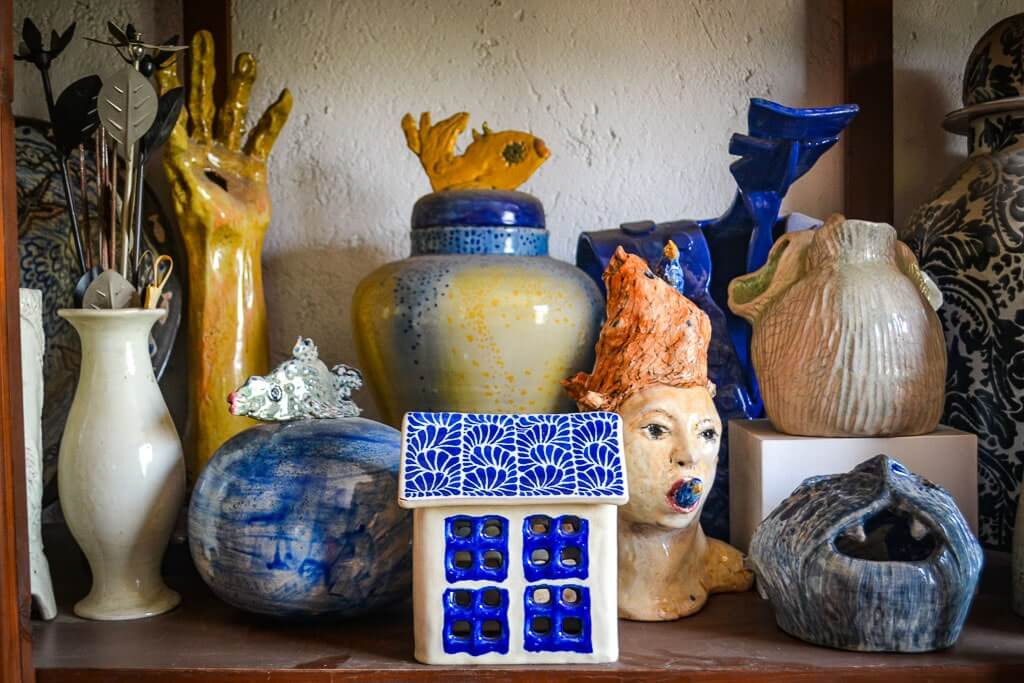 If you've researched for the best Mexican souvenirs, I am sure you've come across beautiful Talavera pottery items such as plates, vases, urns, and jars.
Talavera Poblana is the name given to the typical blue and white pottery that began to be made in Puebla in the 17th century. It was inspired by the ceramic industry of Talavera de la Reina in Spain but incorporated a plethora of native American designs. That gave Puebla Talavera a unique Mexican twist.
The art of Talavera pottery flourished in the 17th and 18th centuries. But it started declining with the arrival of cheap fakes.
Today, a few local companies – 9 to be precise – are trying hard to keep the art alive. Talavera Santa Cataria, Uniarte Talavera, and Talavera de la Reyna are a couple of renowned ones. One easy way to support this dying art is by taking a tour at their factories and buying authentic Talavera from them.
So, if buying authentic Talavera ceramics is on your list, then Puebla is the best place to get them!
✦ Pro Tip: If you're looking for the best things to buy in Mexico, check out our epic guide on the 27 best Mexican souvenirs.
6. This is where Cinco de Mayo Celebrations were born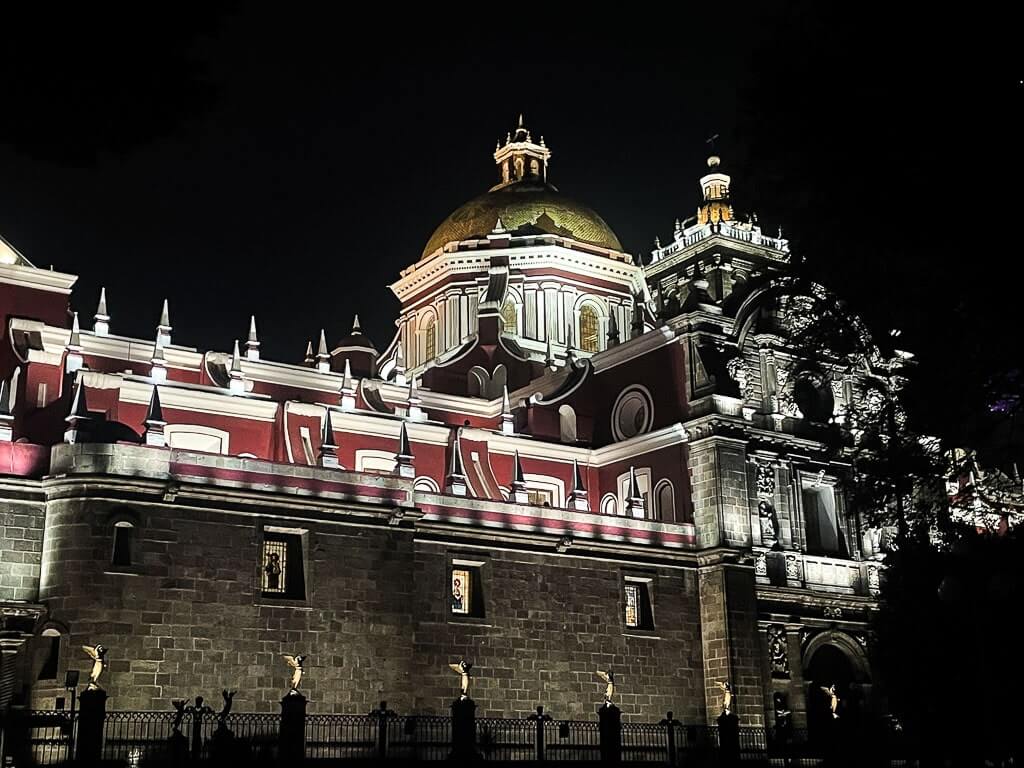 Puebla is one of the most historic cities of Mexico. That is because the Great Battle of Puebla was fought here on Cinco de Mayo, the 5th of May, 1862. Mexicans defeated the French at the Battle of Puebla and this victory led to the Cinco de Mayo celebrations.
Every year, Puebla celebrates Cinco de Mayo with great pomp and show. If you're here in May, you'll find that the Zocalo is all dressed up during this time of the year. A movie depicting the battle is played at the Zocalo in the evening and there's a festive mood all around.
7. Puebla has a RARE Railway Museum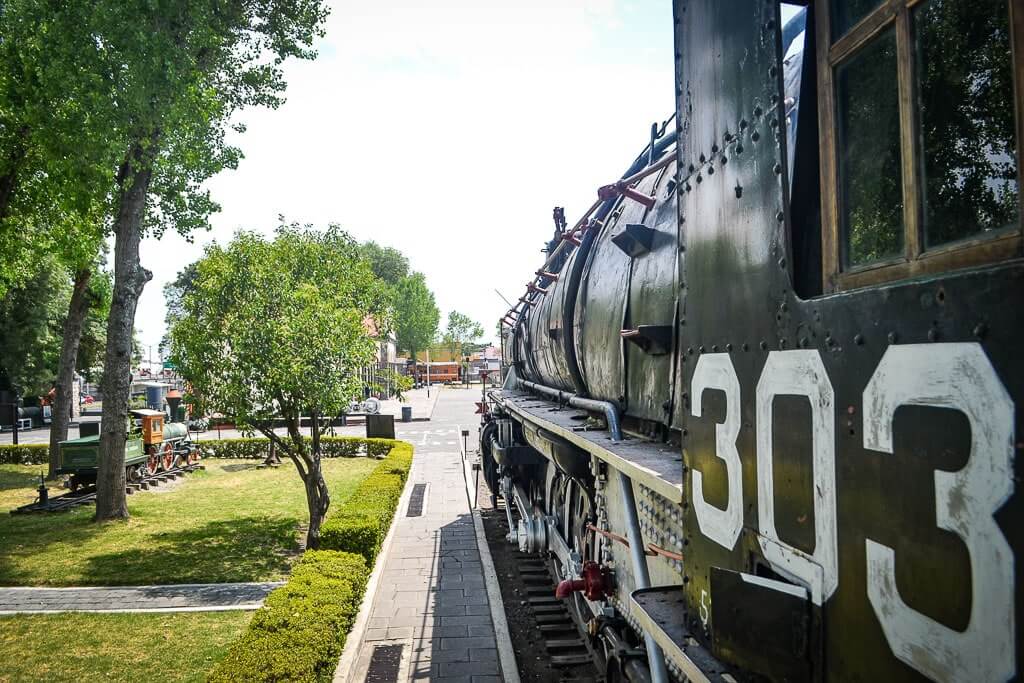 Railway Museums are RARE in Mexico. Even though the country has a long history of railways, there's barely any museum to showcase it. Puebla, thankfully, has one and a pretty good one at that.
The history of railways in Mexico dates to the 1860s when the first railroad was constructed between the port of Veracruz and Mexico City. After that, the Mexican Railroad project expanded significantly until Mexico's nationalized rail company, Ferrocarriles Nacionales (FNM) decided to suspend all passenger trains in 1997. Thankfully, the most scenic Copper Canyon or El Chepe is still running but everything else is gone!
The National Museum of Mexican Railroads (Google Maps) in Puebla showcases the history of Mexican railway in great detail. It is an open air museum that has all kinds of old coaches on display. Steam engines, freight cars, and passenger coaches of all kinds – you name it.
You can enter many of them and step into a historical era that was the railway era in Mexico. My son and husband, both locomotive fans, had the most exciting time exploring the treasures of the railway museum. If you're a rail enthusiast, then the National Museum of Mexican Railroads is a big reason why Puebla is worth visiting.
📖 Related Read: Visiting Puebla, Mexico? Then you've got to check our guide on 35 Best Things to do in Puebla.
8. The Great Pyramid of Cholula is just 30 mins away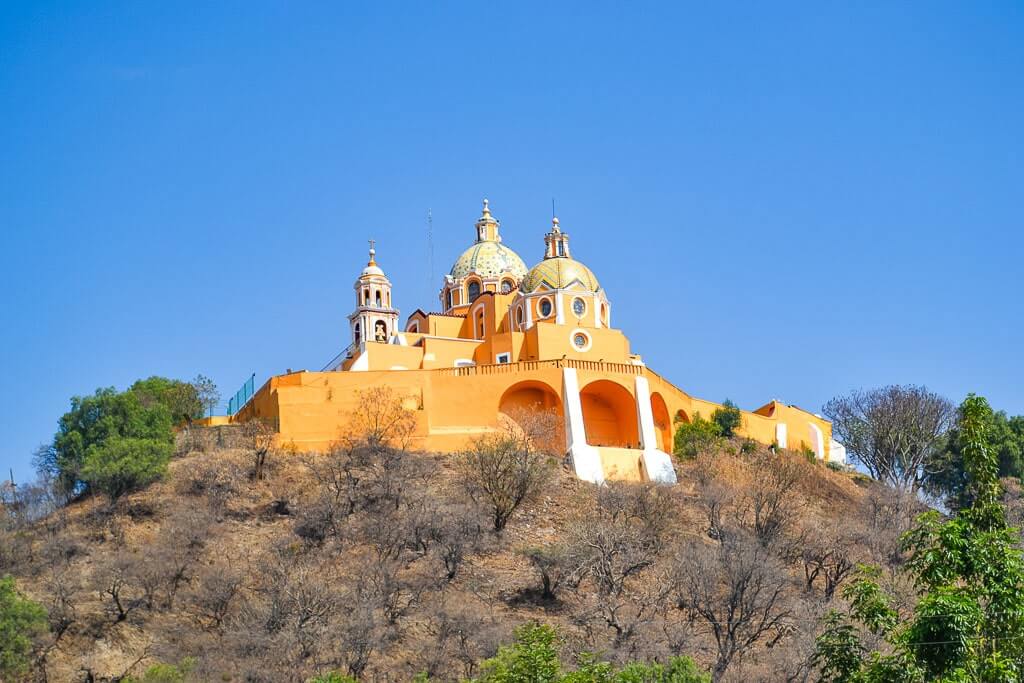 Have you heard of the Great Pyramid of Cholula that is literally the biggest pyramid in the world, bigger than the Giza Pyramid? Well, that is just 30 mins away from Puebla City.
The Great Pyramid of Cholula, dating to 300 BCE, is an intriguing structure. It has a base that's almost 4 times larger than that of the Pyramid of Giza. Imagine how huge it would have been in its heyday! This is apparently, the largest pyramid in the whole world, at least by volume and one of Mexico's most iconic pyramids.
The pyramid was never excavated and looks like a massive hill covered by vegetation. Reason? Spaniards built the beautiful Church of Our Lady of Remedies on top of the pyramid (which looked like a hill to them) in the 16th century. Today, excavating the pyramid would mean demolishing the church!
However, a walk through the archeological site reveals the scale of the structures that we're looking at.
With a local tour guide (and trust me, having a guide is so much more enlightening than exploring this place on your own), you'll be able to identify massive patios with mosaic floors and altars, numerous staircases that lead to nowhere, and sunken burial places.
People often visit Puebla on a day tour from Mexico City just to see the Great Pyramid. This is definitely one of Puebla's primary highlights.
9. Puebla is home to many Fascinating Churches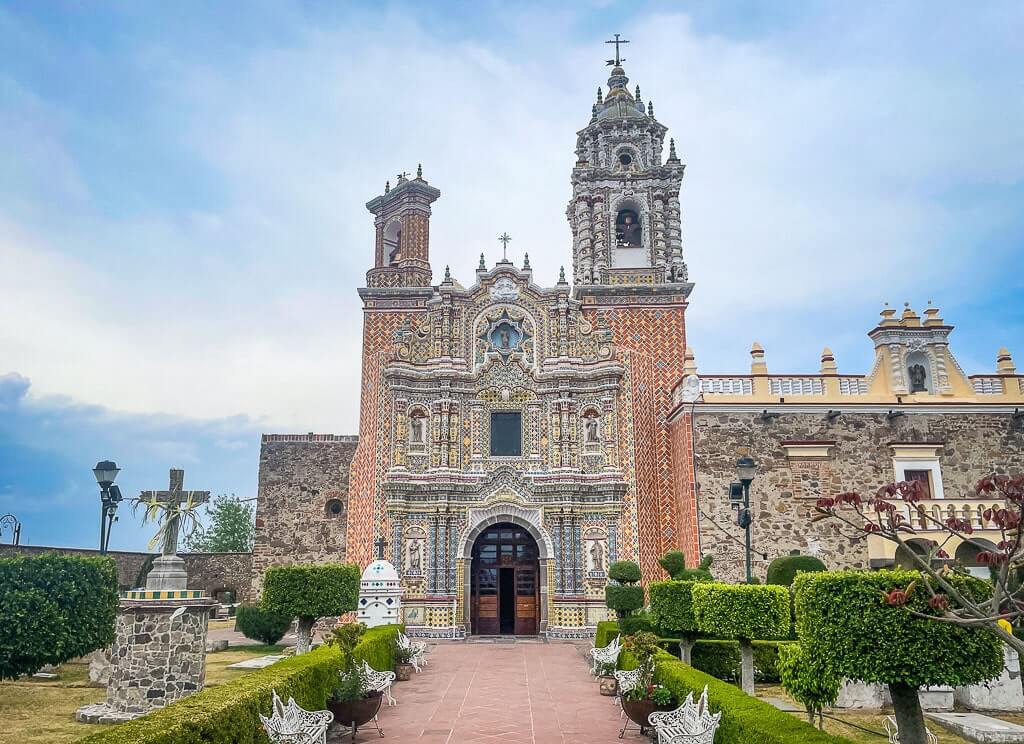 It is believed that Puebla was built by the angels. Therefore, there are hundreds of churches in and around Puebla.
Well, the truth is when Hernan Cortes conquered the area, he ordered the construction of 365 churches, one for each day. 365 churches weren't built but nearly 300 were. So, Puebla became Mexico's church capital with stunning baroque churches in every nook and corner.
Apart from the impressive Puebla Cathedral that stands right in the heart of the city, Puebla is home to the exquisite Rosary Chapel that's dripping in 24-karat gold leaf embellishments. Not to mention the scores of churches that line every nook and corner of Puebla's historic district.
Once you step out of the city, you'll see colorful Talavera-clad churches featuring unique Mexican Baroque elements. The Temple of Santa Maria Tonantzintla, San Francisco Acatepec, and Parroquia San Bernardino are the three most fascinating ones.
10. Puebla is only a day trip away from Mexico City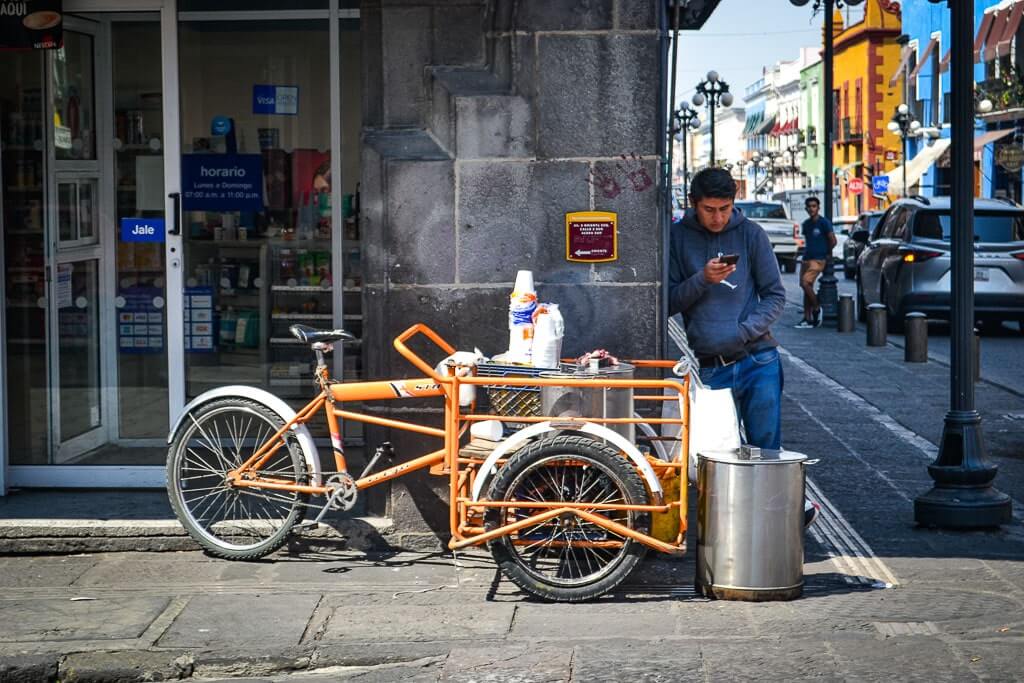 Now, this is the biggest reason why you must visit Puebla. And the easiest one to argue for. Puebla is just a day trip away from Mexico City! So, it is an easy addition to your Mexico City itinerary and not very expensive on the pocket.
I always recommend spending at least 2 days in Puebla. But if you're short on time, a day trip is good enough to see the highlights of both Puebla and Cholula.
The best way to do it is sign up for a guided tour like this highly-recommended excursion that'll take you to the Great Pyramid of Cholula, the Temple of Santa Maria Tonantzintla, as well as show you the jewels of Puebla's Historic Center. This tour is great value for money because it includes pick-up from a common point in CDMX and the services of a knowledgeable local guide.
✦ Pro Tip: Planning to travel to Puebla from Mexico City? Check out our detailed Mexico City to Puebla transportation guide.
---
Puebla Worth Visiting FAQ
What is Puebla Mexico known for?
Puebla Mexico is known for its food (mole poblano, chiles en nogada, cemita sandwiches, dulce tipicos), the art of Talavera pottery, its traditional dress called china poblana, gilded baroque churches, and its well-preserved historic district that's also a world heritage site.
Is Puebla Mexico safe?
Puebla Mexico is one of the safest places to visit in the country. In fact, latest data from the Mexican Govt. tells us that the crime rate in Puebla is relatively lower than in other states of Mexico. Also, the US Department of State has no travel restrictions for the state of Puebla.
However, please keep in mind the basic safety rules that you would follow anywhere else in the world. Avoid flashy jewelry, keep minimum cash on you, avoid dark streets, and just be aware of your surroundings.
Is Puebla a nice city?
Yes, Puebla is a nice city full of colorful buildings, a happening central plaza, lots of good food, and friendly locals. With so many historic monuments, ornate churches, quaint alleys, and cantinas full of people, Puebla is one of the nicest places to visit in Mexico.
Why should I visit Puebla?
You should visit Puebla to explore ornate Mexican Baroque churches dripping in 24-karat gold leaf, eat lots of mole poblano and cemita sandwiches, stuff yourself with special poblano sweet treats, visit the Great Pyramid of Cholula, and buy authentic Talavera pottery.
Is Puebla worth a day trip?
Puebla is absolutely worth a day trip from Mexico City because it is full of history, culture, and good food. Think world heritage sites, ornate churches, grand pyramids, and platefuls of mole – Puebla is all that and some more. The best part is that Puebla is only a couple of hours away (just 85 miles) from Mexico City making it a perfect day trip destination.
So, do you think Puebla is worth visiting?