Last Updated on April 14, 2021 by Soumya
Harry P. Leu Gardens! Honestly, I had not even heard about it.
Visiting Orlando in Florida had been on our cards for a long time. But it was never for this garden. It was for, as you must have guessed, the theme parks. We have a kiddo who is quite fanatic about Lego and mind-numbing rides.
To avoid getting over-saturated by Disney, I looked for fun things to do in Orlando besides theme parks . And that's how I stumbled upon the green and beautiful Leu Gardens in the middle of Orlando.
Harry Leu Gardens are not just pretty but have a history behind them. There is so much to do and explore here. Various types of gardens, birding opportunities, a pretty flower clock, and a museum will keep you busy.
No doubt, Leu Gardens in Orlando make for an interesting half-day getaway from the theme parks.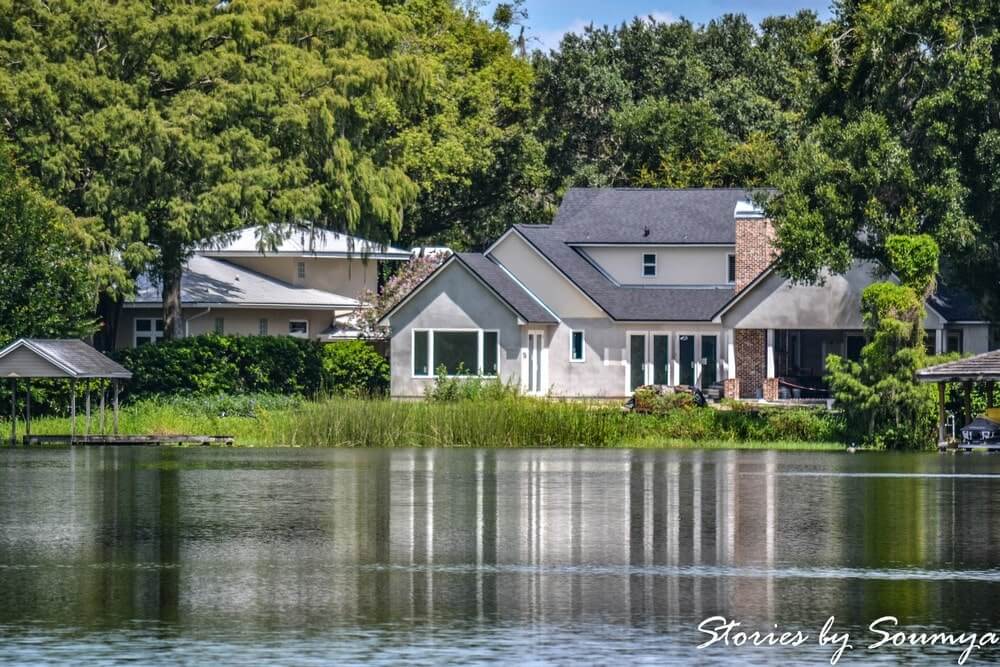 Please note: This post may contain affiliate links which means I may earn a commission if you make a purchase by clicking a link on this post. This will be at no additional cost to you. Affiliate links help me keep this website up and running. Thanks for your support!
Why you need to visit Leu Gardens in Orlando?
Harry P. Leu Gardens are one of the most beautiful gardens I have visited around the world.
Its lush green lawns and multiple artworks subtly reminded me of my trip to Storm King in the state of New York. While the Spanish moss and the historic home awakened my memories of the American South. And the whole ensemble evoked a nostalgia for the royal palaces of Europe be it Versailles, Potsdam, or Buckingham. Albeit on a much smaller scale.
Nonetheless, the Leu mansion was a royal home in its own right complete with its own water fountain, tea house, rose garden, and some resplendent history.
Harry P. Leu Gardens was like a green oasis in the middle of Orlando's theme park madness. And I absolutely loved it.
Brief History of Leu Gardens
The Leu Gardens and the Leu House Museum date back to 1858 when the land was first owned by the Mizell Family who farmed cotton, sugarcane, and corn here. It was then owned by actress Helen Gardner and her husband Duncan Pell. After which, it passed on to the Woodward family who brought the house to its present size.
The last owners were Harry P. Leu and Mary Jane after whom the mansion is named. The Leus were world travelers (yes, just like you and me).
And guess what did they love bringing back as souvenirs? Seeds and shoots from around the world for their lovely little garden which eventually blossomed into the magnificent Harry P. Leu Gardens. If you look closely, you will see flowers and plants from all over the world here.
What to see/do here?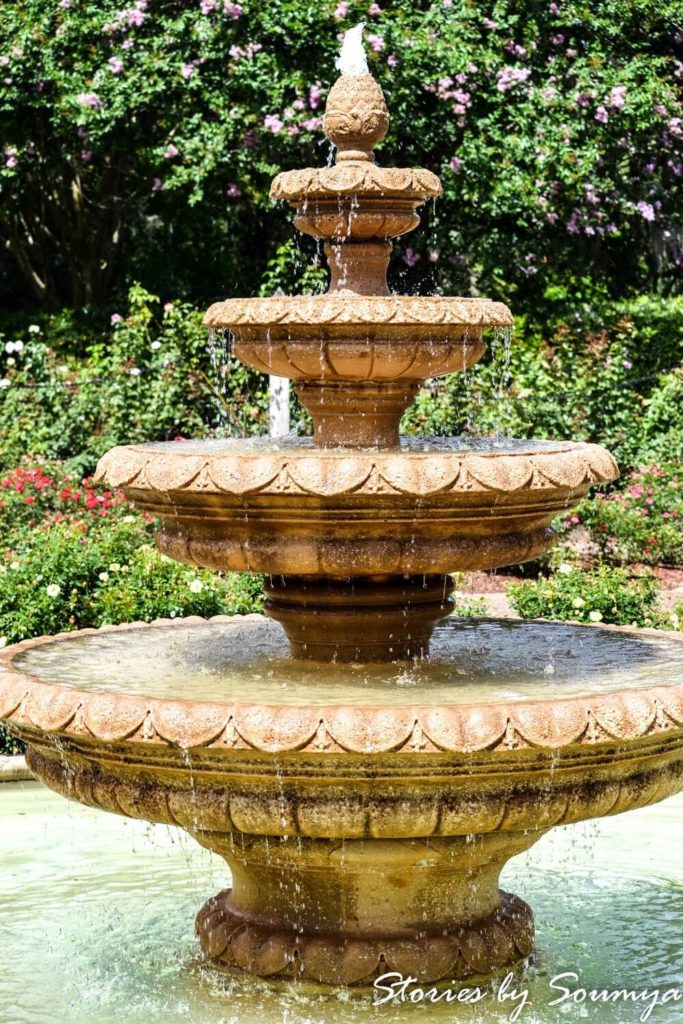 The Gardens
Well, the gardens are definitely the highlight of any visit here. There are 10 different kinds of smaller gardens within the whole ensemble called the Harry P. Leu Gardens. Rose garden, idea garden, white garden, tropical garden, and what not! You have step into each to believe it exists.
Leu Gardens has one of the largest collection of camellias in the whole of North America. These pretty flowers are in full bloom between October and March. You will also find a number of tropical flowers during summer. Hibiscuses and Gulmohars are abundant.
A butterfly garden in the center of the grounds right next to the vegetable garden is another favorite among kids and adults alike. Butterflies thronging the many flowering plants are a delight to watch. And you should not miss the famous flower clock (scroll down for image) which is a delight to watch!
Birds & Art
Harry P. Leu Gardens are spread over a space of more than 50 acres right next to a picturesque lake called Lake Rowena. There is a spot called the Lake Rowena Overlook where you can just stand and take in the beauty of it all.
Several birds flock to this region that you can watch and photograph on your trip. We spotted ducks, storks, and a couple of other varieties. Plus, there were a lot of fish and turtles swimming around. A great place to be with your kids in the lap of nature.
A number of artworks also dot the garden space. Some of the famous ones are "Doves of Peace", "Girl on a Scooter", and the "Citrus Worker". Additionally, there are always some beautiful pieces on display at the Leu House Museum. Some of them are permanent exhibits while many are rotating ones.
Recommended: Quirky and Eccentric Monster Garden of Italy – Park of Monsters in Bomarzo
Leu House Museum
The house of the Leu's has now been restored and converted into a museum. It is also listed on the US' National Register of Historic Places. The home features both permanent and temporary art exhibits for visitors to appreciate.
What I loved most about the home were its huge tall windows that opened up to lush green grounds. I could also see Lake Rowena beyond the tall trees laden with Spanish moss. And the sight was absolutely adorable. You can get some great pictures here.
Photo Shoots
Harry P. Leu Gardens are the perfect spot if you are looking for the most awesome photo shoot. Be it a family portrait, an engagement photo shoot, wedding photography, or some gorgeous maternity photographs, Leu Gardens is just the perfect place to do it.
Best time to visit Leu Gardens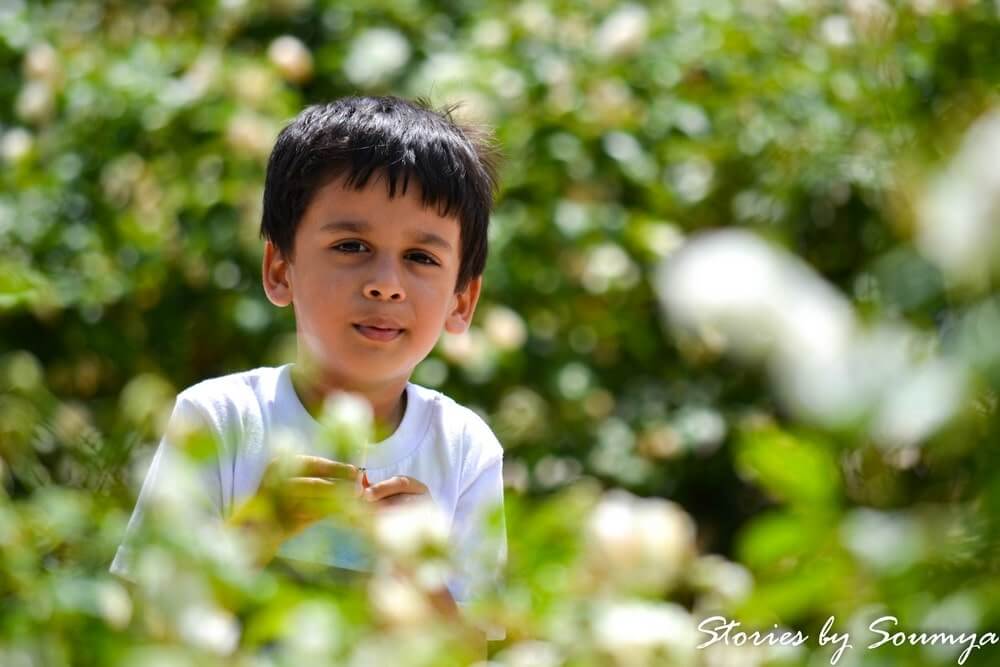 The best time to visit anywhere in Orlando or anywhere in Southern USA is springtime between March – May. Weather is pleasant and temperatures are not too high. Flowers are in full bloom. Just the perfect time to explore an outdoor garden.
Summers are hot and muggy. Orlando is crowded because of school breaks. Hotels are expensive. We went in July. But trust me, you don't want to do that. Unless, of course, you wish to see some of the tropical flowers that bloom during this time.
You would expect fall to be a good time to visit with falling temperatures and humidity levels. I thought so too. But later realized that fall is also the hurricane season in Florida and you don't want to get caught in one.
So, spring (March – May) is literally the best time to visit Leu Gardens in Orlando.
How to get to Leu Gardens in Orlando?
Leu Gardens are located in northeastern Orlando and can be easily accessed by car. They are 30 minutes away from the Orlando International Airport as well as from Universal Studios. And almost an hour away from Disneyland. Refer to the official website for detailed instructions on how to get to Orlando's Leu Gardens.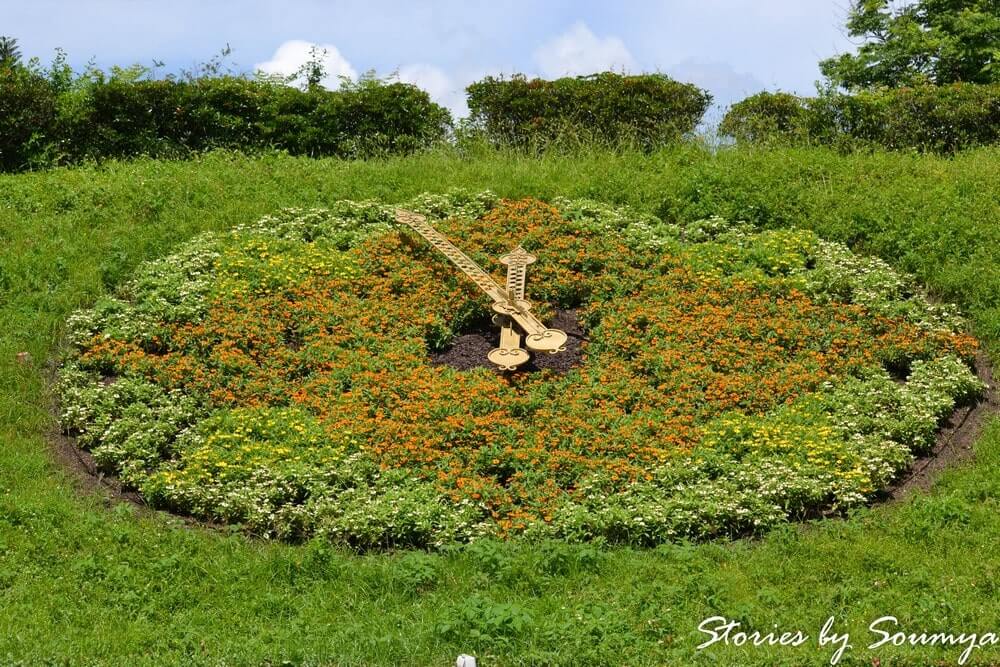 Helpful Information & Tips
The gardens are open from 9 am – 5 pm everyday. There is an admission fee to enter the gardens and the museum. Check out the hours and fee on their official website before planning your trip. Cause you need to take into account special holidays and hurricane damages. This is Florida, after all!
Spring is definitely the best time to visit the gardens. But get your hat and sunscreen nonetheless.
You can host meetings and birthday parties at Harry P. Leu Gardens. Can also have a garden wedding in the middle of white roses and camellias. Wow, isn't that a beautiful thought!
Once you get here, pick up a free map at the ticketing office so as to not get lost. There is an online map available here if you wish to have a quick peek.
Loved our guide to Harry P. Leu Gardens in Orlando? Pin it for later reference!