Last Updated on August 8, 2023 by Soumya
Are you looking for unique places to eat in Puebla, Mexico? Wondering what are the best Puebla restaurants? Searching for quaint eateries in the Historic Center of Puebla?
Well, look no further. Because this Puebla restaurant guide is perfect for you.
Puebla is one of Mexico's most beautiful cities, chockfull of colorful colonial mansions, beautiful baroque churches, and a thriving culinary scene.
Of the many wonderful things to do in Puebla, eating at these special Pueblan restaurants was my favorite. Whether it was relishing a plate of mole poblano at a restaurant filled with murals, tasting pipian verde over an ancient funeral site, or digging into molotes from a hole-in-the-wall place from the 1960s, I surely enjoyed eating at every single one of these eateries in Puebla.
I hope you'll also try these 10 unique Puebla restaurants and experience good Puebla food and hospitality at the same. Provecho!
Read next: 17 Best Foods to try in Puebla, Mexico
Please note: This post may contain affiliate links which means I may earn a commission if you make a purchase by clicking a link on this post. This will be at no additional cost to you. Affiliate links help me keep this website up and running. Thanks for your support!
10 Unique Restaurants in Puebla, Mexico
El Mural de los Poblanos – Puebla's Best Restaurant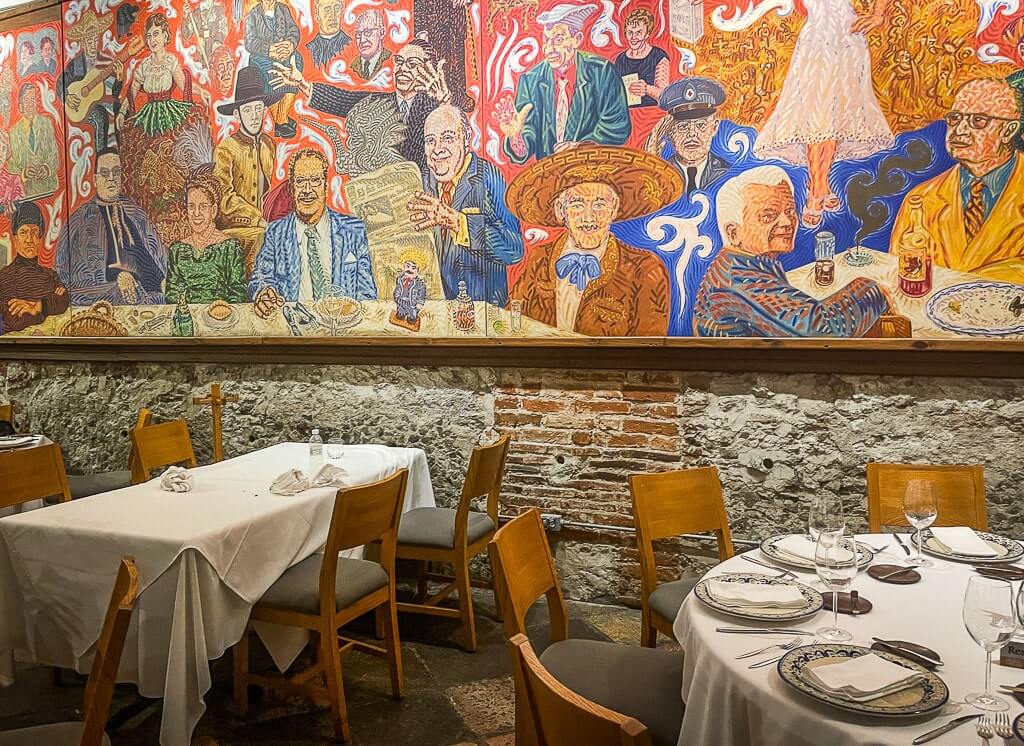 One of my favorites restaurants in Puebla is El Mural de los Poblanos, a beautiful place with walls covered all over with murals.
The murals were created by artist Antonio Alvarez Moran and depict important people who have shaped the history of Puebla. Some of the interesting characters include actress Maricruz Olivier, Mexican TV star Gaspar Henaine "Capulina", and the unforgettable Gustavo Diaz Ordaz. Find out more about the murals on the restaurant's homepage here.
El Mural de los Poblanos (Google Maps) sources most of its ingredients locally and the recipes that they follow are age-old recipes used by local Puebla families. In a way, it pays homage to the original Puebla cuisine.
I love that they have an extensive mole menu. Apart from mole poblano (which the restaurant is famous for), this Puebla restaurant also serves pipian verde, pipian rojo, adobo, and manchamanteles. And you cannot go wrong with any of them, really.
Located in the Historic Center of Puebla, El Mural de los Poblanos is an upscale Puebla restaurant serving the finest Mexican food in the city. If you're looking for a fine dining experience or just somewhere nice and cozy to have dinner, then I highly recommend El Mural de los Poblanos. Be sure to reserve a table before you get here because it can get really busy, especially in the evenings.
La Casa del Mendrugo – Puebla's Museum Restaurant
Fancy eating in a museum? Well, Puebla has a museum-cum-restaurant where you can eat to your fill and catch up on some history at the same time.
La Casa del Mendrugo (Google Maps) is a historic building built by the Jesuits in the 16th-17th centuries. It was, once, part of the Old Jesuit College of San Jeronimo. But long before that, it was a burial place of indigenous people (probably Olmecs) as the discovery of a 3500-year-old burial site here suggests.
Located just a block from the Puebla Cathedral, La Casa del Mendrugo is now a protected monument, an ethnographic museum, and a high-quality restaurant and coffee shop. Entry to the museum is free for guests at the restaurant.
At the Mendrugo Museum, you can see the remains of an adult woman, Chuchita, who we know as the oldest known human in the Puebla region. There are several other exhibitions at La Casa del Mendrugo including an interesting collection of Talavera pottery and an eerie display of carved human skulls from the Zapotec era.
This Puebla restaurant has a great menu featuring local delicacies such as mole poblano & pipian verde and seasonal dishes such as chiles en nogada and huaxmole. You can choose from a large variety of wines including red, white, rose, and cava as well as some good, old craft beer. They have an amazing variety of coffee too produced by the Tzeltal communities of Chiapas.
✦ Pro Tip: Visiting the Ethnographic Museum of La Casa del Mendrugo is a must do when visiting Puebla. Check out all 35 amazing things to do in Puebla, Mexico.
---
Antojitos Acapulco – Best Street Food Place in Puebla
One of my favorite places for street food in Puebla, Antojitos Acapulco (Google Maps) is a family-owned restaurant located just a few blocks from the Zocalo. It is a small, no-frills restaurant that's been around since the 1960s and still going strong.
The specialties at Antojitos Acapulco include molotes, pelonas, gorditas, flautas, and basket tacos. Their molotes are to die for – they have vegetarian varieties too.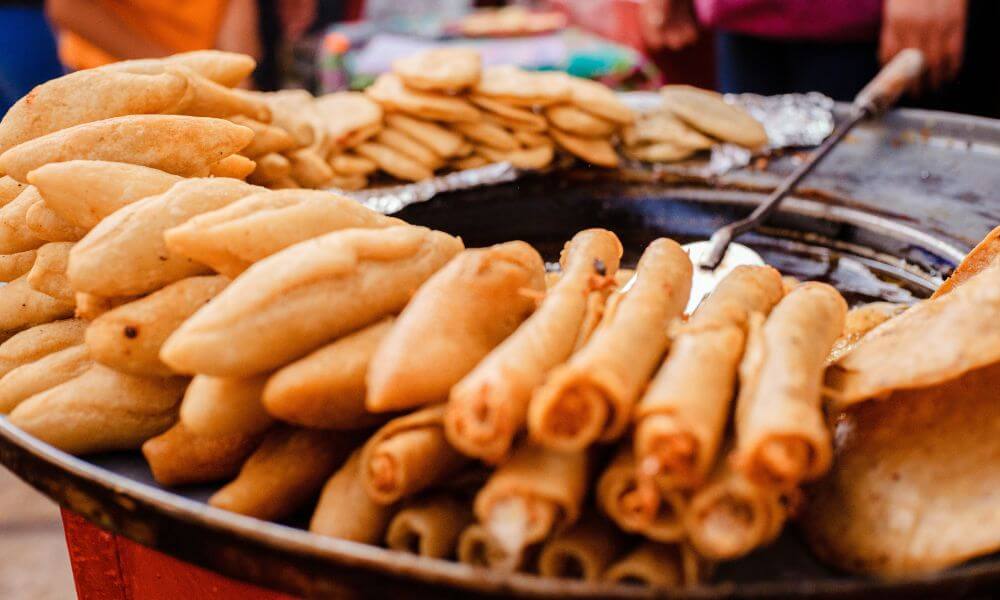 I am a big fan of basket tacos and I loved them here as well. Just a quick note – basket tacos or tacos de canasta are only available in the morning hours. You can have a look at the restaurant menu (Spanish + English) here.
This is not a fancy restaurant. So, don't expect to be seated and served. Just head to the counter, place your order, and get ready to be amazed by the unique street food of Puebla.
✦ Pro Tip: Puebla is the rising gastronomic capital of Central Mexico. Check out our list of all the amazing foods to try in Puebla.
Calle de los Dulces – A Sugar Lover's Paradise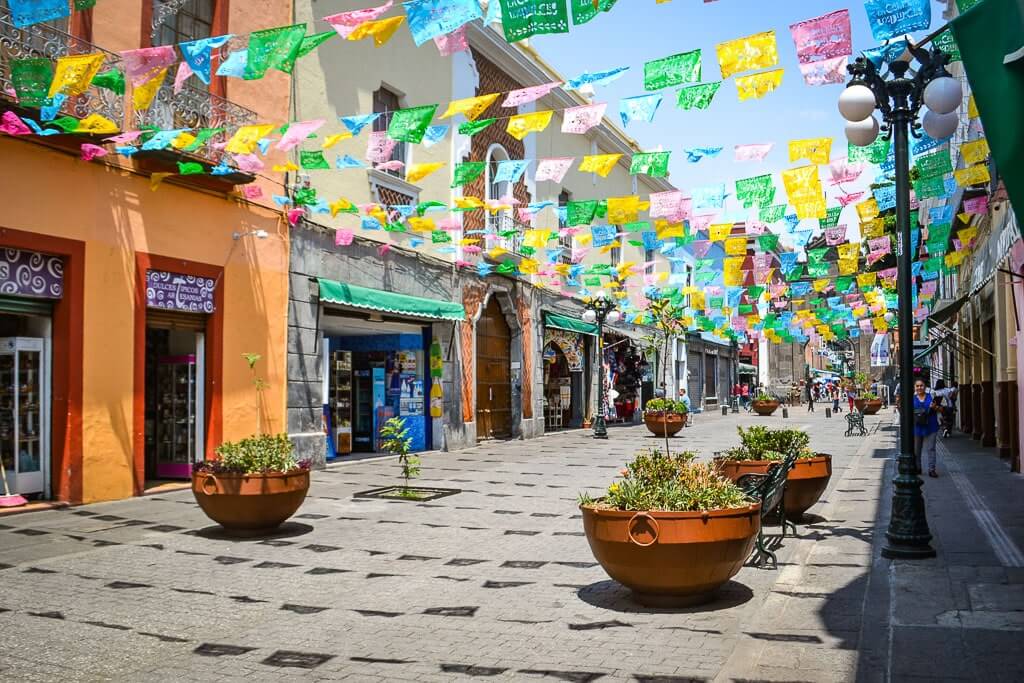 Next up on this list of places to eat in Puebla, we have an entire street. It is called Calle de los Dulces or the Candy Street and is a true haven for all sweet lovers.
Calle de los Dulces (Avenida 6 Oriente) is a colorful street packed with stores selling traditional Puebla sweets. These sweets are called dulce tipicos or typical sweets and come in all shapes, sizes, and kinds. Some of my favorite kinds are camotes, tortitas de Santa Clara, jamoncillos, and borrachitos. Read more about dulce tipicos here.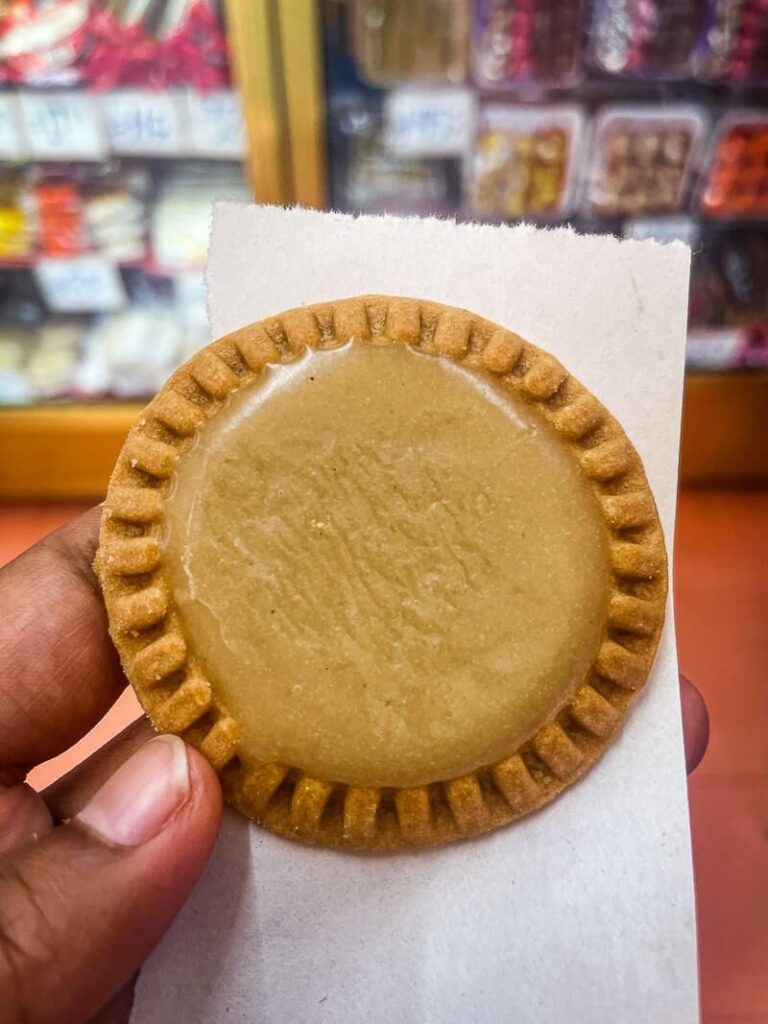 The best part these sweet, little things make excellent gifts from Mexico, if you're planning to buy some. Here are the best stores on Calle de los Dulces where you can get your stash of dulce tipicos.
La Gran Fama (Google Maps): An iconic sweets shop where you can find an array of nostalgic treats such as borrachitos, camotes, and tortitas de Santa Clara. Founded in 1860, La Gran Fama is the most popular place in Puebla for dulce tipicos. It is believed to be the pioneer of camotes or sweet potato candies in Puebla.
Dulces Tipicos Santa Monica (Google Maps): One of the oldest establishments in the city that sells a great variety of sweets including camotes and mazapanes.
Dulces Tipicos Mari Artesanias (Google Maps): The best place in Puebla to buy dulce tipicos at affordable rates. Plus, they stock up on excellent pieces of Talavera pottery.
✦ Pro Tip: Most food tours in Puebla include Calle de los Dulces in their itinerary. It is best to sign up for a Puebla tour if you wish to learn more about this incredible alley and the typical sweets that are sold here.
La Mexicana – For the Ambience & Service
The La Mexicana Restaurant is another quaint eating place in Puebla and one of my favorites.
Housed in a bright yellow colonial building from yesteryears, La Mexicana (Google Maps) serves some of the best poblano food in the town. Their must-try dishes include mole poblano, chiles en nogada, and chilaquiles. They serve some great cafe de olla (Mexican spiced coffee) too!
La Mexicana has 170 dishes on their menu and 85 drinks! Wow, that's quite a number to have!!!
What I thoroughly enjoyed at La Mexicana was their amazing service and the nice ambience. They have a nice little, yellow courtyard with hanging vines that creates a romantic ambience and gives you the vibes of dining in a colorful colonial town.
Los Vampiros Emparedados – Restaurant with a Twist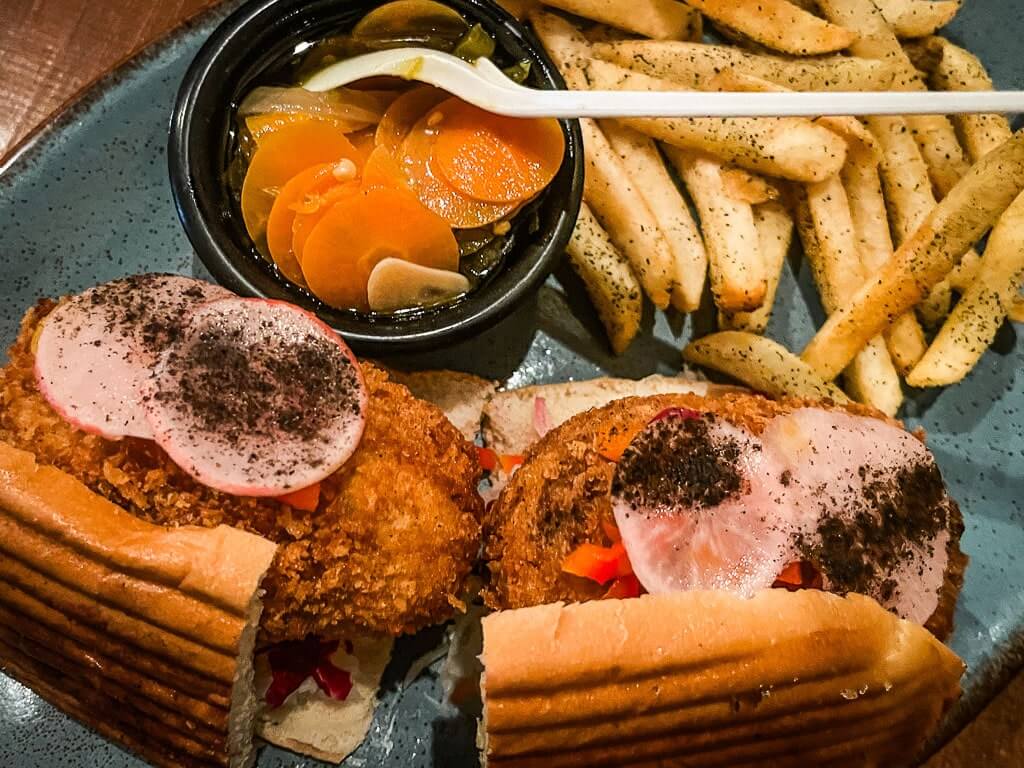 On our recent trip to Puebla, we decided to try a new place with a unique concept and absolutely loved it. This was Los Vampiros Emparedados (Google Maps), a restaurant in Puebla's historic center dishing out Mexican comfort food with a twist.
Los Vampiros is a small, intimate restaurant with a few tables, a cozy bar, and a tiny menu with just about 4-5 items on it. They serve the most amazing and filling sandwiches using the traditional torta de agua poblana or the water bread of Puebla. Each sandwich comes with fries, dressing, and pickles – all made in-house.
Their vegan sandwiches are delicious. We absolutely loved their falafel sandwich which had a rich tzatziki base coupled with hummus and tahini. The tofu sandwich is also pretty good. Plus, they have homemade juices, mezcal, rompope, and craft beers!
If you're looking for a nice place in Puebla to have non-traditional Mexican food, then head to Los Vampiros. This place won't disappoint you.
La Zanahoria – Best Vegan Place in Puebla
If you're looking for a great vegetarian/vegan place to eat in Puebla, then La Zanahoria (Google Maps) is the place to be.
The team at La Zanahoria believes in the concept of vegetarianism being a way of life instead of just a diet. Therefore, they have taken up the task of dishing out the best vegetarian/vegan food in Puebla. And, I am not talking just one or two vegetarian dishes but an extensive list of dishes including salads, soups, sandwiches, and desserts. Their vegan chilaquiles, enchiladas, and flautas are the most popular items on the list.
At La Zanahoria, you can choose between buffet and ala carte. They have different menus for breakfast and lunch. Have a look at the variety of options on their official website here.
La Pasita – Heritage Puebla Bar
If you're looking for a quaint, historic place in downtown Puebla to have traditional poblano drinks, head to La Pasita (Google Maps).
First, a little background on drinks. Puebla is known for its traditional drinks, some of them dating back centuries. Pasita is one such classic poblano drink that's a sweet liqueur flavored with raisins. Often served with a piece of raisin and a small piece of cheese, pasita is enjoyed by locals.
La Pasita is a quintessential Puebla bar (or cantina in the local language) that has been serving pasita since 1916. The bar gets its name from the drink which literally translates to "a small raisin".
La Pasita also serves other drinks with interesting names such as sangre de artista (blood of the artist), purgatorio (purgatory), cafe con cafe (coffee with coffee), and fatasma (ghost)! It is not just a favored bar in Puebla but also a heritage site, literally.
On this highly-recommended, group tour, you can enjoy visits to some of Puebla's cantinas that still retain the old-world charm. La Pasita is one of them. Stepping into La Pasita is like stepping into a historic Puebla from 100 years ago.
Mercado de Sabores Poblanos – Home to Hundreds of Puebla Restaurants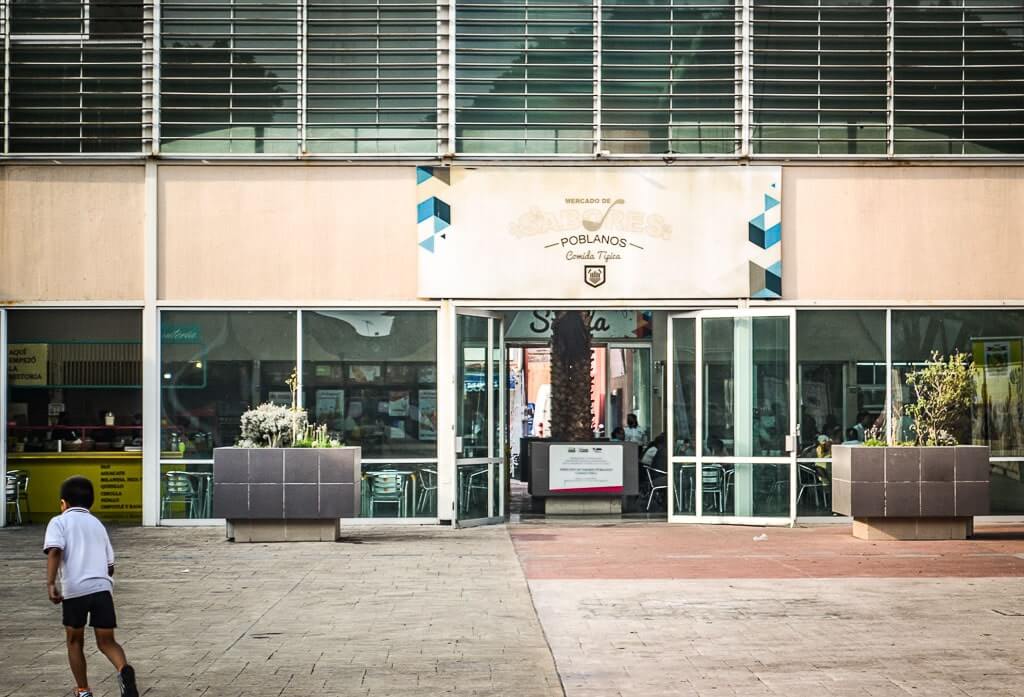 One of the most unique places to eat in Puebla is the Pueblan Flavors Market or "Mercado de Sabores Poblanos". This is a special initiative by the government to encourage locals to sell traditional poblano food and sweets.
Located a short walk away from the historic center, the Sabores Market (Google Maps) is an absolute treasure trove for people who wish to taste authentic local cuisine.
There are over 100 stalls here selling everything from the exotic mole to the more common tamales and quesadillas. The highlight, of course, is the cemita poblana sandwich which is like a Pueblan burger with a generous portion of avocado, stringy cheese, and fragrant papalo leaves. Super Cemitas El As de Oros is the most popular place to get your cemitas at the Sabores Market.
The market is spread out like a food court. You can stroll around the place, decide what to eat and where to eat it from, place your order, sit down at a table, and enjoy your meal. The best part is that the food here is not very expensive and you can sample all kinds of typical Puebla food under the same roof. And help some local entrepreneurs at the same time!
San Pedro Market, Cholula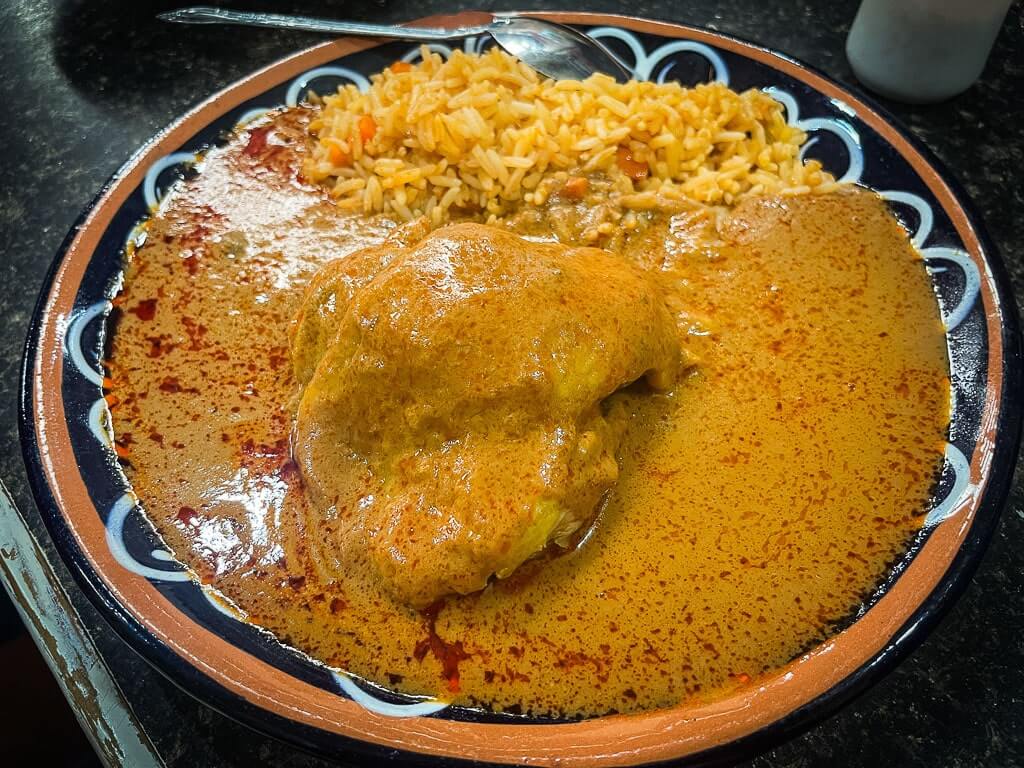 We always love eating at local markets and Puebla was no exception. However, the foodie market of our choice was located in the nearby town of Cholula. It was the San Pedro Market (Google Maps) or Cosme de Razo Municipal Market. Cholula's Market has a ton of small Puebla restaurants that serve the freshest local food.
Cemitas are popular but we were drawn to the myriad pipian sauces on display. I could not help but have chicken with pipian rojo with a side of rice and absolutely enjoyed the taste.
Another delicacy that you'll come across here is the squash flower quesadilla with lots of cheese inside. It tastes amazing. Around Dia de los Muertos or the Day of the Dead, you'll also find baskets full of pan de muerto, the sweet Mexican bread with a crucifix on the top.
Cholula's San Pedro Market is also a great place to pick up some foodie souvenirs from Mexico. Beans, spices, and sauces are available in plenty.
Loved this Best Puebla Restaurants Guide? Pin it for later!