Last Updated on November 28, 2023 by Soumya
Got 2 days in Mexico City and wondering what to do?
Well, I am glad that you're here because I have just the perfect Mexico City itinerary for you.
I have visited Mexico City several times. From living there for months to spending a packed 48 hours in Mexico City, I have done it all.
Ciudad de Mexico or CDMX or simply Mexico City is one of the best places to visit in Mexico.
With thousands of years of history and a rich culture, the list of things to see in Mexico City is endless.
You can explore the historic downtown, hop through museums, marvel at beautiful murals, ride in a colorful boat, eat good food, and learn all about Frida Kahlo – all with two days in Mexico City.
Let's check out this epic 2 days in Mexico City itinerary that allows you a pretty good glimpse into this mindboggling city.
---
Please note: This post may contain affiliate links which means I may earn a commission if you make a purchase by clicking a link on this post. This will be at no additional cost to you. Affiliate links help me keep this website up and running. Thanks for your support!
Planning your Mexico City 2-day itinerary last minute?
If you are booking your Mexico City itinerary last minute, don't worry. We have you covered. Here are some of the best tours and hotels in CDMX.
Top Experiences and Tours in Mexico City
Top Hotels in Mexico City
---
Day 1 in Mexico City: Historic Downtown & Zocalo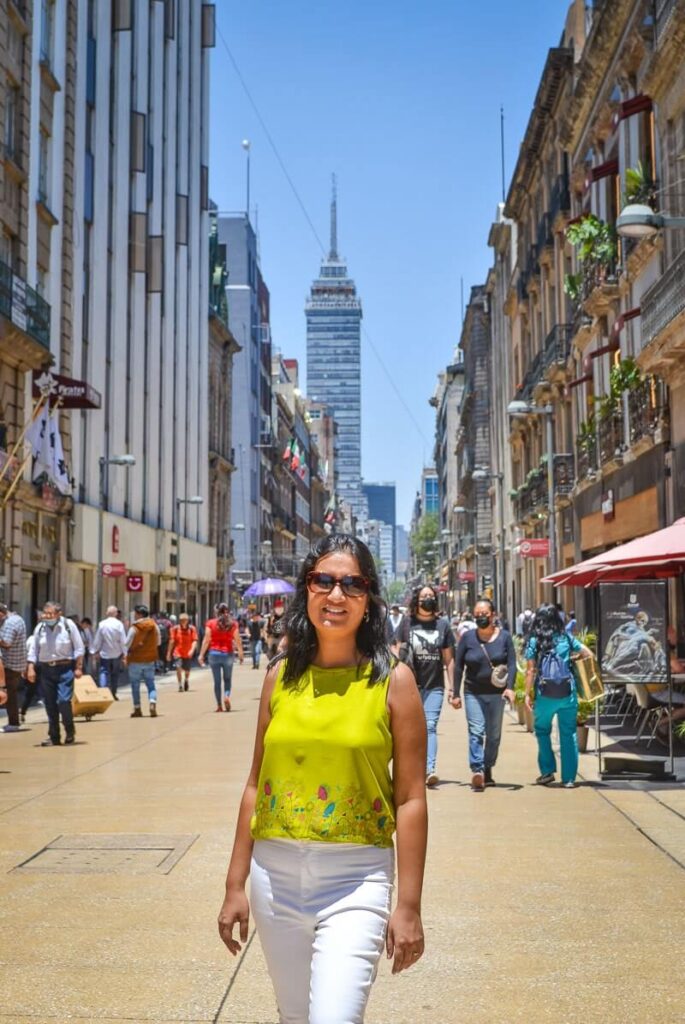 Spend the first day of your Mexico City 2-day itinerary at the Historic Center.
A famous UNESCO World Heritage site in Mexico, the Historic Downtown of Mexico City has tons of amazing things to do.
Morning – Historic Center of Mexico City
If you're not having breakfast in your Centro hotel, I highly recommend that you head to Cafe Tacuba for breakfast.
Over 100 years old and adorned in blue and yellow Talavera tiles, Cafe Tacuba is an institution in itself. I love their chilaquiles and tamales for breakfast.
After breakfast, explore the Zocalo and the historic landmarks surrounding it.
Here are the most unmissable attractions in the Mexico City center that you have to see.
Metropolitan Cathedral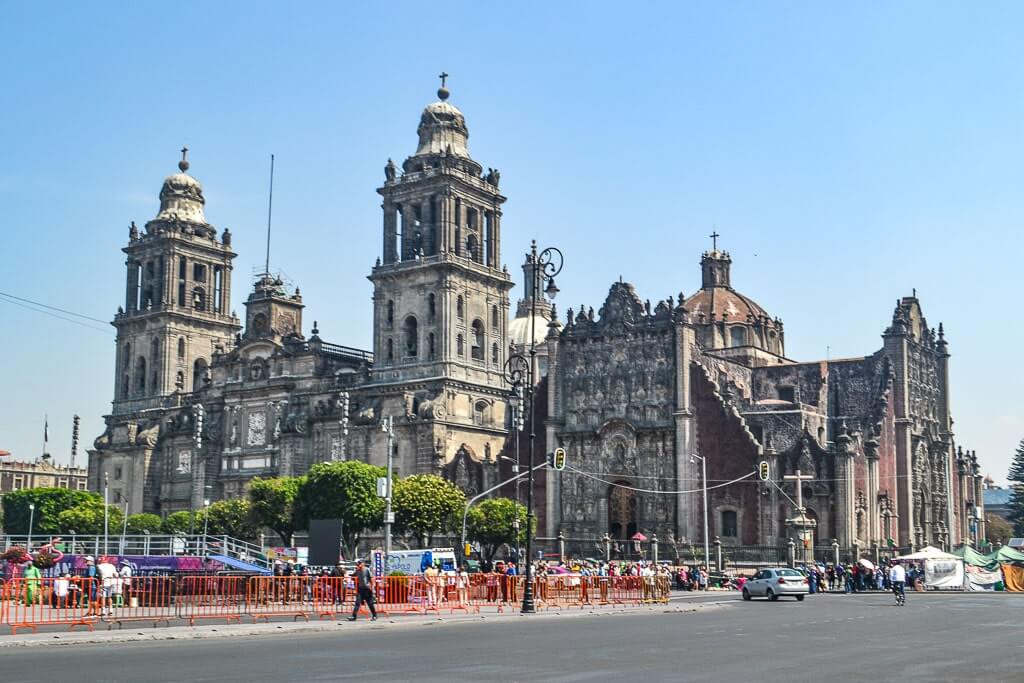 The Metropolitan Cathedral is an unmissable landmark in the Historic Center of Mexico City.
It was built by the Spaniards over the ruins of the ancient Aztec capital city of Tenochtitlan.
One of the oldest and the largest cathedral in the Americas, the Metropolitan Cathedral is a masterpiece combining different architectural styles, mainly Baroque, Neo-classical, and Churrigueresque.
The cathedral's interior also houses an impressive collection of artwork, breathtaking altars, and the crypt of former archbishops.
As you walk inside, you'll be greeted by an array of stunning chapels, each unique and richly embellished in the ornate Churrigueresque style.
The choir area, adorned with intricate wood carvings, is an unmissable sight.
Templo Mayor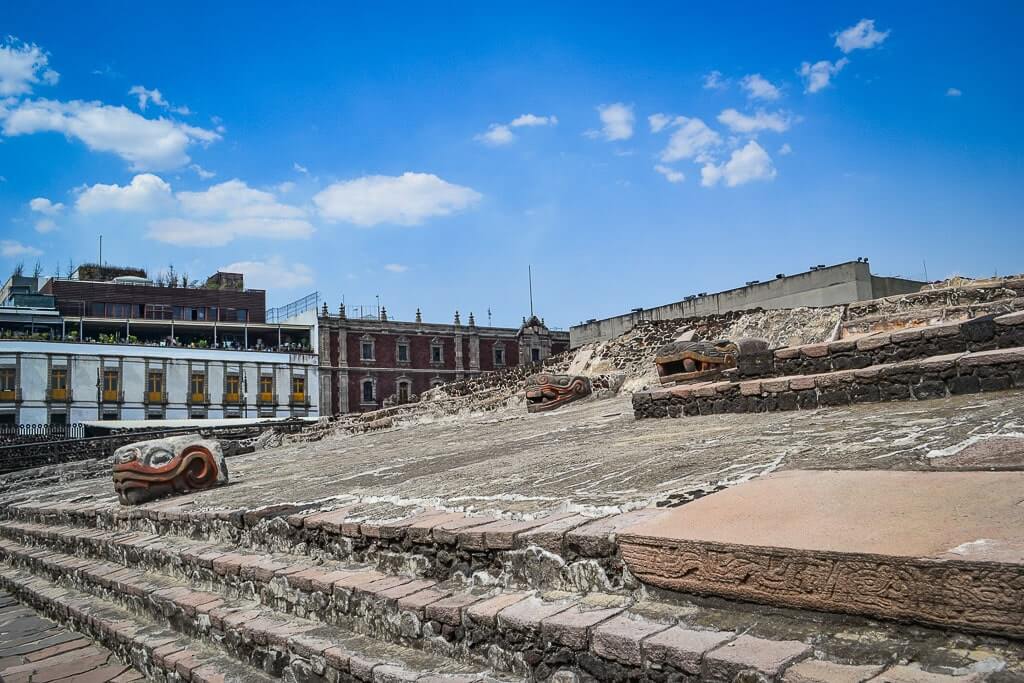 Just a stone's throw from the Metropolitan Cathedral, you'll find the remarkable Aztec ruins of Templo Mayor, another must-see spot on your 2-day Mexico City itinerary.
This important archaeological site was once the main temple of the Aztec city of Tenochtitlan.
At Templo Mayor, you can explore the ruins of the dual Aztec pyramid, age-old murals and serpent sculptures, an Altar of the Toads, a skull rack, and several palatial rooms.
The Dual Pyramid with its twin staircases was dedicated to two principal Aztec deities: the god of war, Huitzilopochtli, and the god of rain and agriculture, Tlaloc.
In addition to the ruins, the adjacent Templo Mayor Museum houses an impressive collection of artifacts found at the site, offering a deeper understanding of the Aztec civilization.
Exhibits include intricate stone carvings, religious objects, a replica of the pyramid, and an enormous disk depicting Goddess Coyolxauhqui.
Templo Mayor is best explored on this private tour that's led by an expert guide who's a true history buff and can give you an insider's perspective into the Aztec civilization.
✦ Pro Tip: Want to learn more about the Aztecs? Check out our article on the 8 best Aztec ruins in Mexico City.
National Palace of Mexico City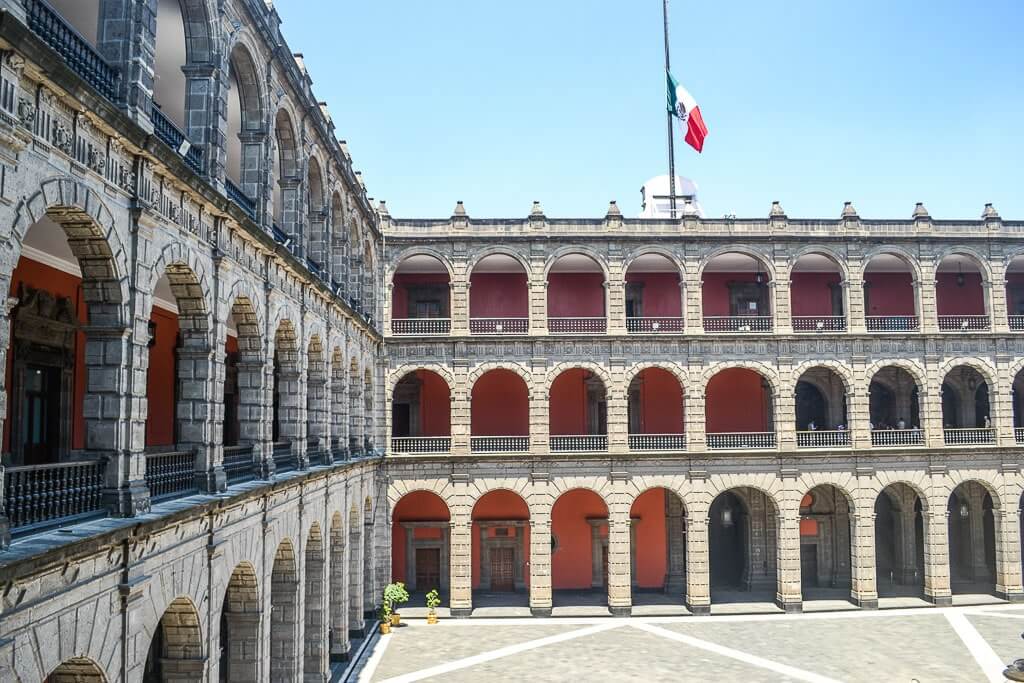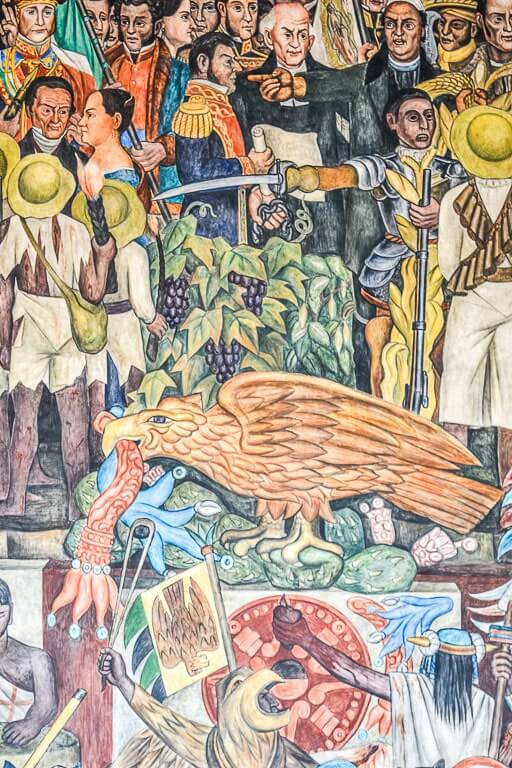 The National Palace (Palacio Nacional) is a historic building, located on Mexico City's main square, the Zocalo.
The palace is home to the offices of the President of Mexico and the Federal Treasury.
However, beyond its political significance, Palacio Nacional is known for its stunning architecture that blends colonial and Mexican baroque styles, its beautiful gardens filled with native plants, and its grand courtyards.
But perhaps the most compelling reason to visit the National Palace is the opportunity to admire the beautiful mural work by Diego Rivera on the courtyard walls.
His famous mural titled "History of Mexico" traces the country's history from ancient times to the post-revolutionary period, making it a must-see for art and history enthusiasts alike.
✦ Pro Tip: To visit the National Palace, you need to take a guided tour run by the ministry. Check out my detailed National Palace Guide to find out how to do that.
Palacio Bellas Artes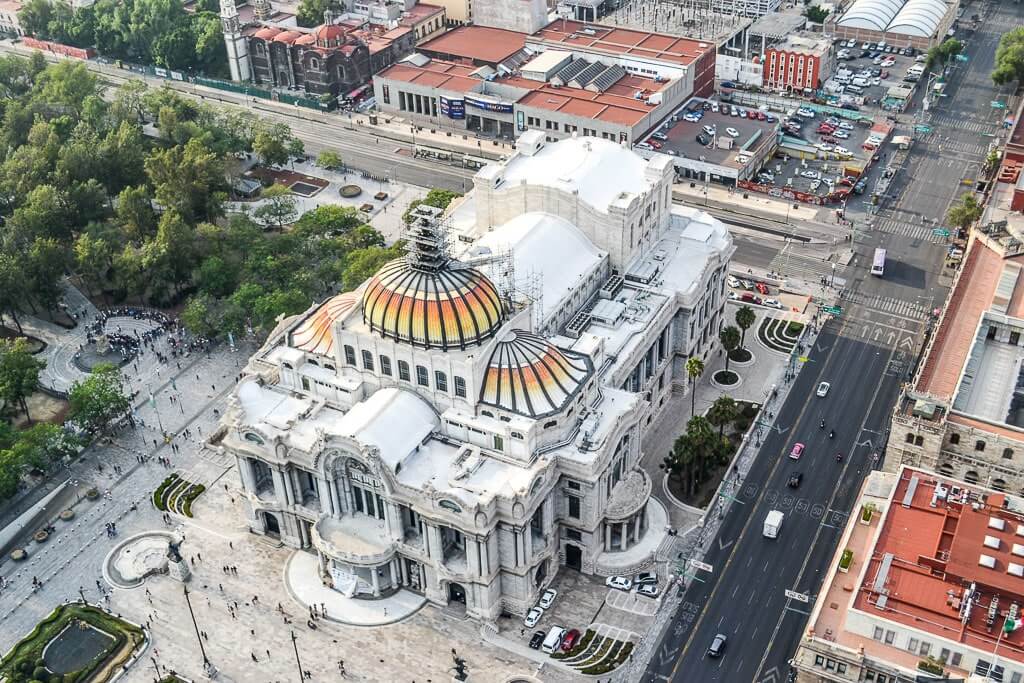 The iconic Palacio Bellas Artes or the Palace of Fine Arts is another must-visit attraction to add to your 2 days in Mexico City itinerary.
One of the city's most significant cultural landmarks, this exquisite building serves as a museum and a grand performance hall.
The stunning exterior, a blend of art nouveau and art deco architectural styles, is a testament to the city's rich artistic history.
Inside, you'll find magnificent murals by some of Mexico's greatest artists, such as Diego Rivera, Jose Clemente Orozco, and David Alfaro Siqueiros.
The palace is also renowned for hosting performances by the renowned Ballet Folklorico de Mexico. If you're in Mexico City on a Sunday or Wednesday, be sure to get a ticket to one of these captivating performances.
Palacio Postal
Just a short walk from Palacio Bellas Artes, you'll find the Palacio Postal, or the Postal Palace of Mexico City.
Built in the early 20th century, the Palacio Postal's stunning architecture is one of the best examples of the eclectic style that characterizes Mexico's post-colonial buildings.
Step inside, and you'll be greeted by a majestic interior that is a work of art in itself, featuring ornate brass work, intricate marble flooring, and a stunning glass ceiling.
Today, the Palacio Postal still functions as a working post office. It also houses a tiny Postal Museum, where you can learn about the history of Mexico's postal service.
Casa de los Azulejos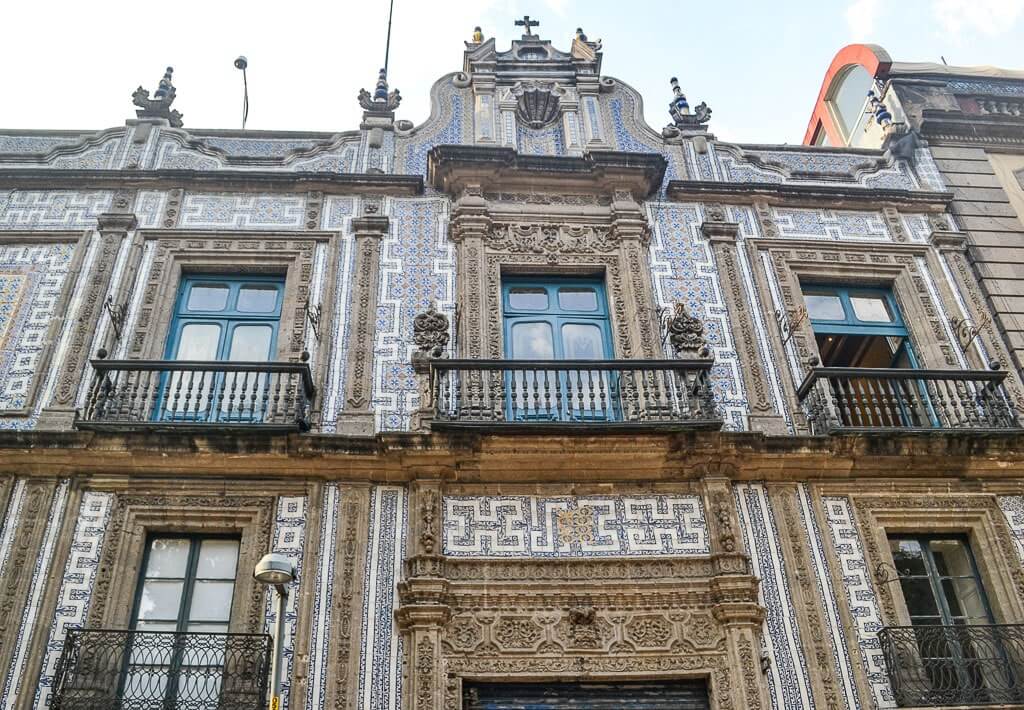 Casa de los Azulejos, or the House of Tiles, is a charming 18th-century palace, known for its distinctive blue-and-white talavera tile façade.
The palace's stunning architecture is a representation of the Baroque style, showcasing the extravagance of the colonial period.
The House of Tiles now functions as a grand restaurant owned by Sanborns, a famous Mexican retail company.
Step inside, and you'll be awe-struck by the opulent interiors and the remarkable murals, including the notable "Omnisciencia" by Jose Clemente Orozco.
Dining here allows you to bask in the city's rich history while enjoying traditional Mexican cuisine.
Torre Latinoamericana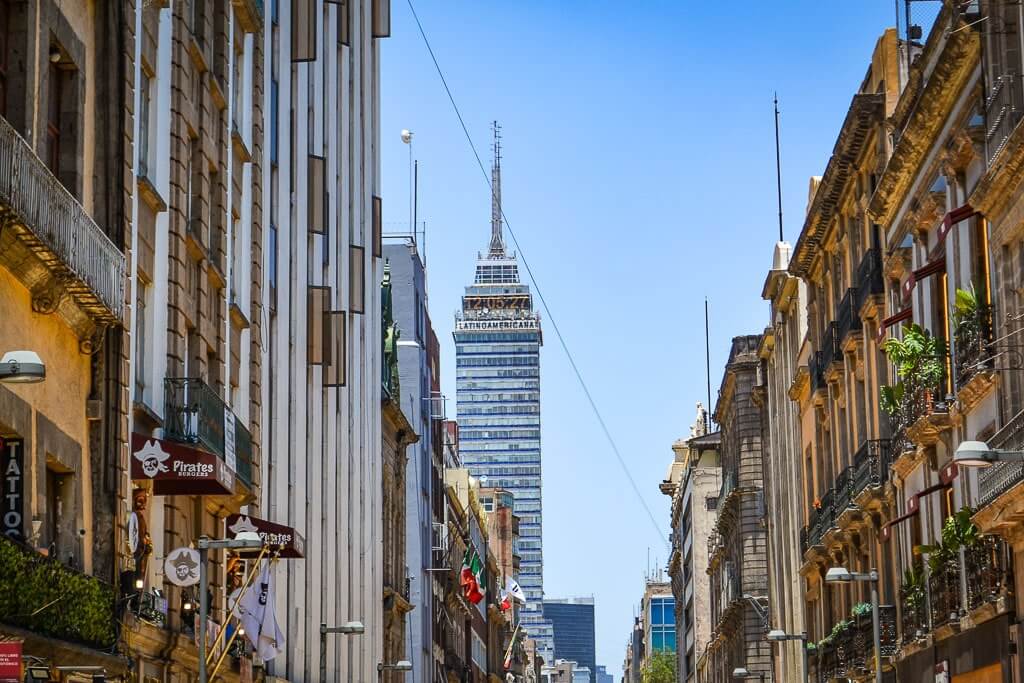 Dominating the Mexico City skyline is Torre Latinoamericana, a symbol of the city's modern architectural prowess.
Once the tallest building in the city, Torre Latinoamericana today stands as a testament to Mexico City's resilience because of its survival from numerous earthquakes.
The tower's observatory on the 44th floor offers an unparalleled 360-degree view of the sprawling cityscape, allowing you to spot the city's famous landmarks from an incredible vantage point.
By night, witness the city come alive with a mesmerizing display of lights.
There's also a museum within the tower which tells the story of the tower and its magical survival during earthquakes.
✦ Pro Tip: Prebook your tickets to the Torre Latinoamericana Observation Deck here.
Historic Center Guided Tour
If you'd like to see the Historic Center on a guided tour instead, here's a great walking tour that'll show you the best of the historic center.
The tour begins at 9:30 am and lasts 3 hours. Therefore, it is perfect to get an overview of the city after which you can explore in depth.
After the tour and lots of walking, I am sure you'll be famished.
A great place to have lunch in the Historic Center is La Casa de Tono which serves some great pozole.
✦ Related Read: Looking for more exciting things to do in downtown CDMX? Check out our epic bucket list of the 20 Best Things to Do in the Historic Center of Mexico City.
Evening – Mexican Culture
If you're wondering what to do on the first evening of your two days in Mexico City, then let me tell you that we have a plethora of cultural spectacles for you.
You can watch an exciting Lucha Libre wrestling match, join a night food tour, or watch a folkloric ballet in Mexico City.
Lucha Libre Match
Lucha Libre is a high-flying, theatrical form of Mexican wrestling.
Its roots trace back to the 19th century when Mexican wrestlers blended native traditions with international wrestling formats.
Lucha Libre is distinct from all other kinds of wrestling because of its use of vibrant masks and swift acrobatics by the wrestlers or "luchadors".
The best place to experience the adrenaline-fueled spectacle of Lucha Libre in Mexico City is the Arena Mexico often referred to as the "Cathedral of Lucha Libre."
If you're looking to do something exciting on your first day in Mexico City, I highly recommend watching a live Lucha Libre match at Arena Mexico and coupling it with mezcal tasting in a tour like this one.
Folkloric Ballet by Amalia Hernandez
The Folkloric Ballet is an enthralling dance performance that showcases Mexico's rich heritage and culture.
Conceived and choreographed by Amalia Hernandez, a pioneer in the field of dance in Mexico, the Folkloric Ballet is globally recognized for its traditional dance performances.
The performances are a colorful blend of traditional and contemporary elements, capturing the essence of Mexico's diverse cultural heritage.
In Mexico City, the best place to witness this stunning spectacle is Palacio de Bellas Artes.
Performances happen every Wednesday and Sunday and spaces tend to fill up fast. Be sure to book your tickets well in advance.
Night Street Food & Bike Tour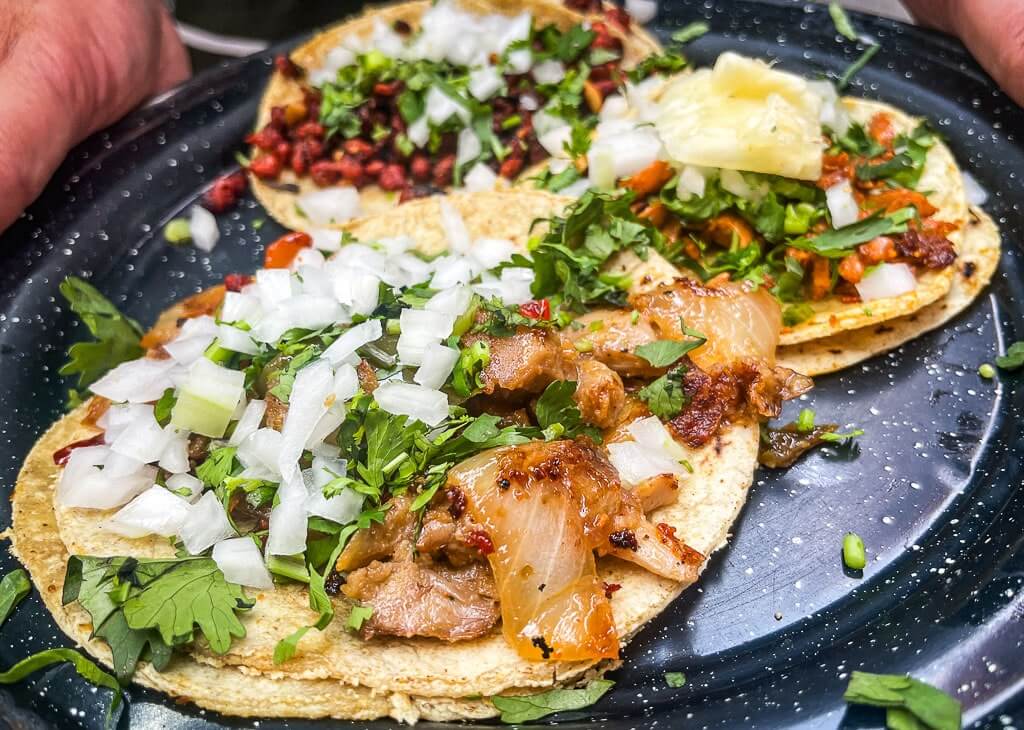 Foodies will love this night bike street food tour that takes you through some of the most beautiful parts of Mexico City such as Roma and Condesa while allowing you to taste some amazing local food.
Relish tacos al pastor at a local taqueria, dig into grilled corn "elotes", and taste some fried quesadillas on this night street food tour.
Day 2 in Mexico City Option 1: Xochimilco, Frida Kahlo Museum & Coyoacan
Morning – Xochimilco Floating Gardens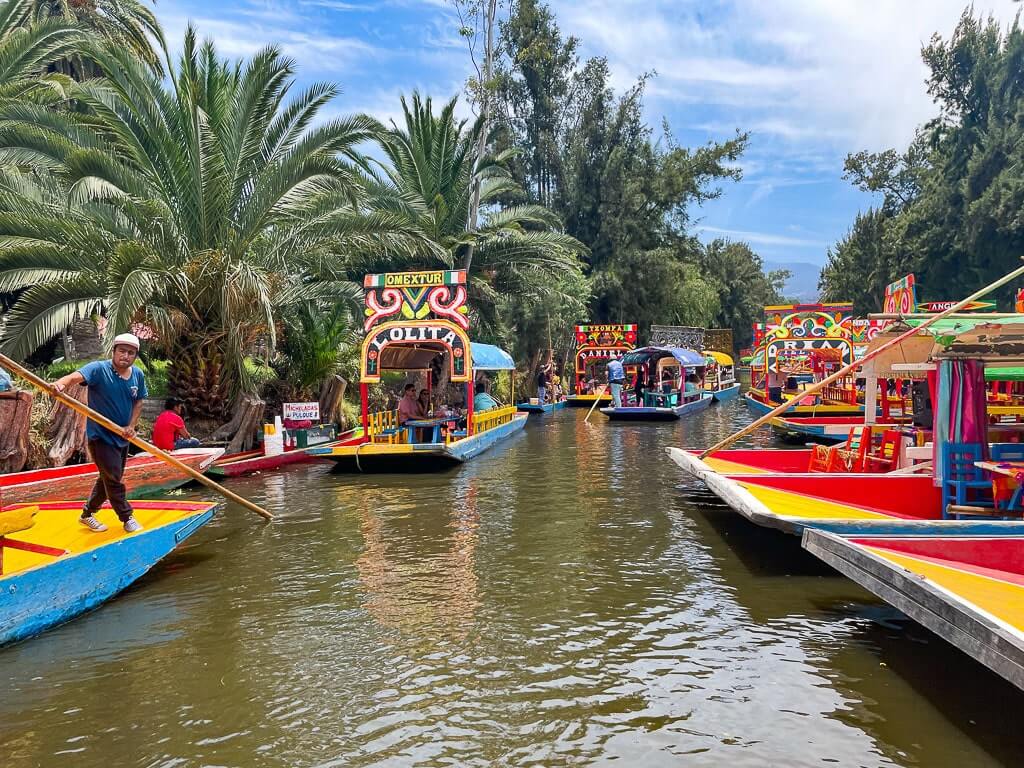 Begin Day 2 in Mexico City with a visit to the beautiful Floating Gardens of Xochimilco.
Known as "chinampas", these artificial islands are a unique display of the ingenuity of the ancient Aztec people. They are a true engineering wonder, of which I talk about in this article on BBC Travel.
The Chinampas, a UNESCO World Heritage Site, are famous for the network of canals and vibrantly colored boats called "trajineras".
As you float along these canals, you'll be immersed in a lively atmosphere, complete with floating mariachi bands and vendors selling food and souvenirs.
If you're someone who loves to explore the canals in quiet, I highly recommend taking a sunrise tour of the chinampas.
Sunrise tours like this one usually include traditional Mexican breakfast straight from the chinampa farms and a more intimate experience with the ancient gardens.
You can also add to it a kayaking experience on a guided tour like this one.
📖 Related Read: Xochimilco is often used synonymously with the Floating Gardens. However, there's so much more to do in this Mexican town beyond the chinampas. Check out Xochimilco Travel Guide for other epic things to do.
Getting to Xochimilco from Mexico City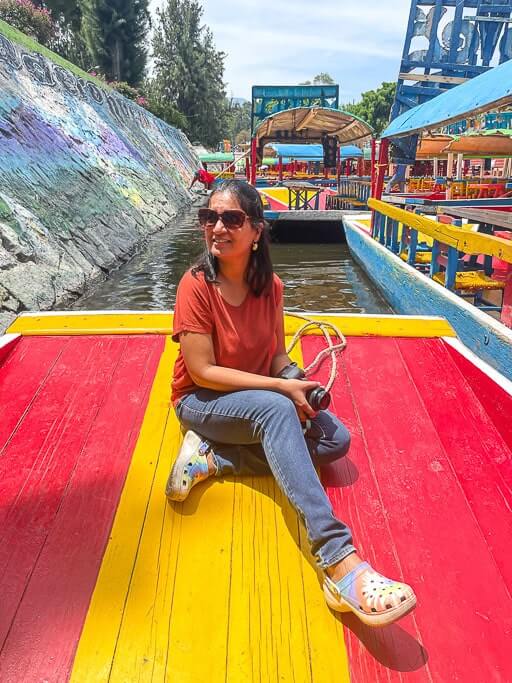 Getting to Xochimilco from Mexico City is fairly simple.
You can take Treno Ligero or the light rail train from Tasquena metro station straight to Xochimilco. The ride takes about 40 minutes.
Alternatively, you can take a taxi or an Uber.
Upon arrival, you can hire a "trajinera" for a leisurely ride through the canals. Trajineras cost about 600 pesos for a one-hour ride. If you want a longer ride, you can negotiate the rates a bit.
Recommended Guided Tours
To make the most out of your day, I recommend taking this guided tour that combines Xochimilco & Frida Kahlo Museum and includes transportation from Mexico City and a boat ride.
Guided tours are a convenient way to explore Xochimilco without the hassle of navigating public transportation or bargaining with boatmen.
Afternoon – Frida Kahlo Museum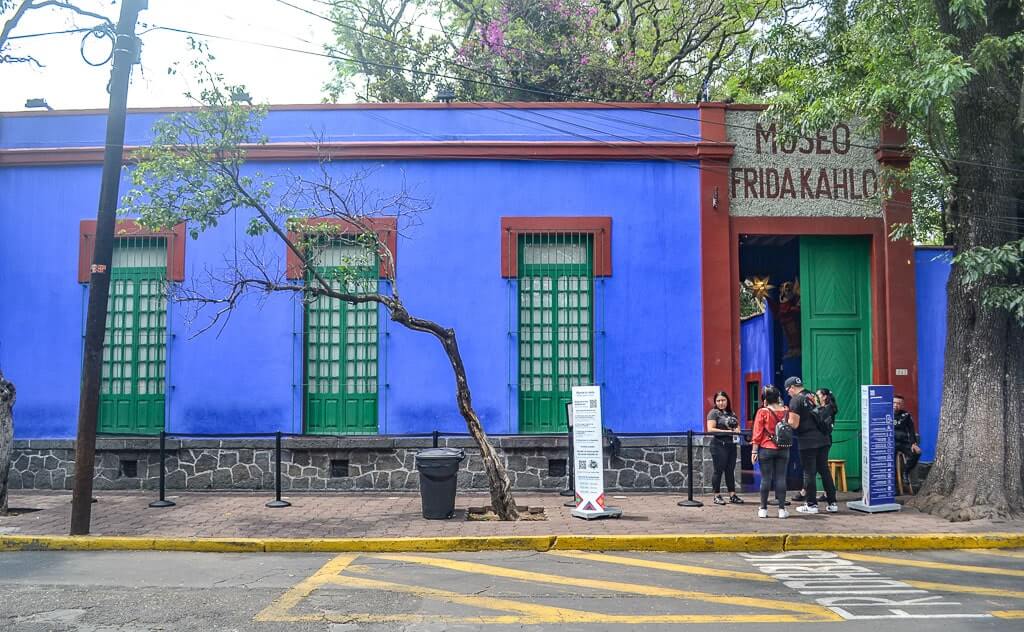 The Frida Kahlo Museum, also known as the Blue House, is an important historic landmark in Mexico City.
It's the birthplace of the globally renowned Mexican artist, Frida Kahlo. This is also where she spent her formative and later years.
At the museum, you can explore a collection of Kahlo's works, including some of her most famous paintings and personal artifacts. This includes her painting tools, vibrant costumes, and personal belongings that narrate her life story.
The exhibits portray her love for Mexico and its culture, her tumultuous relationship with Diego Rivera, and her unwavering strength in face of physical and emotional pain.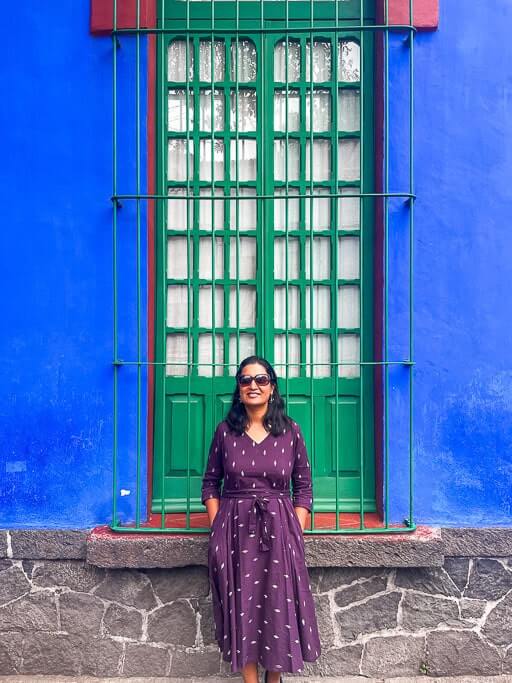 The beautiful gardens surrounding the Blue House display Frida's love for natural beauty and serve as a calm oasis in the midst of bustling Mexico City.
Tickets to Frida Kahlo Museum sell out pretty fast. Be sure to reserve them online on their official website here unless they are already booked through your guided tour.
✦ Pro Tip: In case tickets get sold out, you still have chances to get them through a couple of other reliable 3rd party marketplaces. I did the same. Find out how to do that if Frida Kahlo tickets get sold out.
Evening – Coyoacan Neighborhood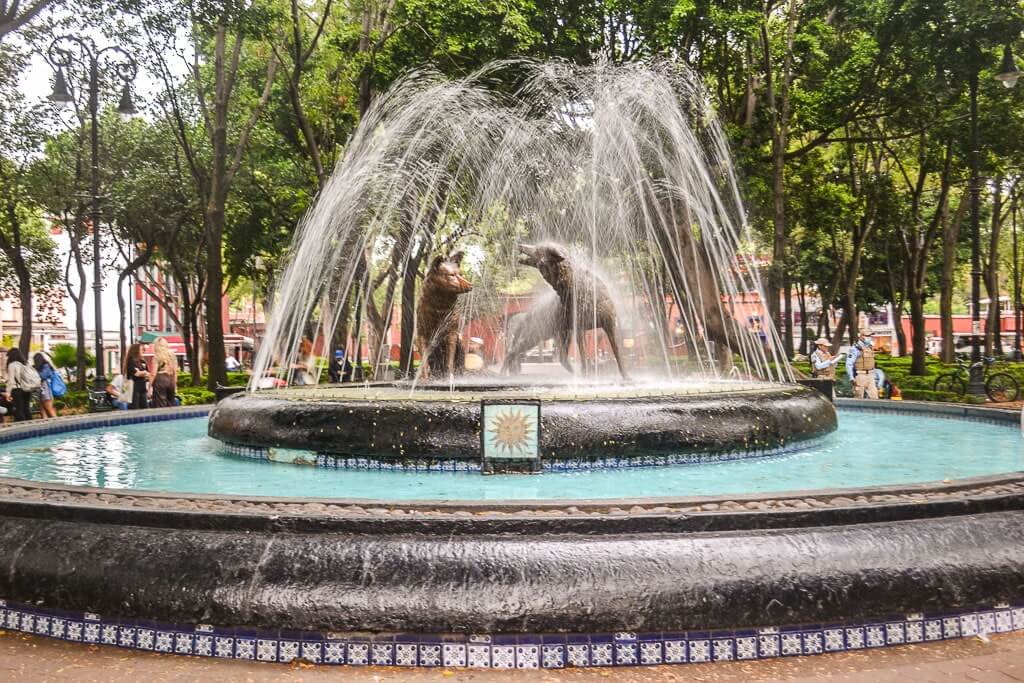 Once done with your Casa Azul visit, explore the vibrant neighborhood of Coyoacan.
Coyoacan is famous for its bohemian atmosphere and brightly colored colonial architecture.
Begin your evening with a visit to the bustling main plaza where you can enjoy local performances. Spend some time at the Fountain of the Coyotes.
View the stunning Parroquia San Juan Bautista, or just sit and soak in the lively atmosphere.
Be sure to visit the Mercado de Coyoacan, a local market where you can pick up traditional Mexican crafts, clothing, and tasty street food.
Be sure to try Coyoacan's churros rellenos, a stuffed variant of churros, that are absolutely divine. The best place to have them is Churreria General de la Republica.
📖 Related Read: For more enjoyable things to do, refer to our detailed Coyoacan Travel Guide.
Recommended Guided Tours for Mexico City Day 2
Both Xochimilco and the neighborhood of Coyoacan where Frida Kahlo Museum is located are situated on the southern fringes of Mexico City.
Therefore, it is easy to combine them into a single day trip.
Guided tours like this one do a pretty good job of managing the logistics and time at attractions.
Day 2 in Mexico City Option 2: Chapultepec & National Anthropology Museum
Morning – Chapultepec Park & Castle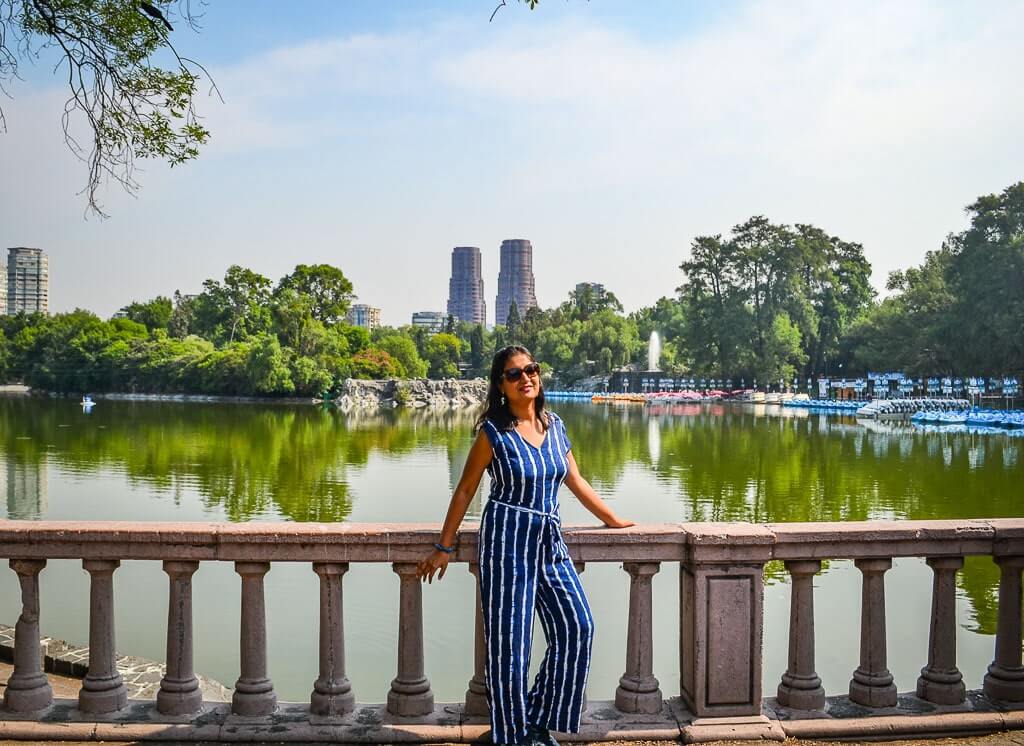 If you love both nature and history, then Bosque de Chapultepec, or the Chapultepec Park, is a must-have on your two days itinerary for Mexico City.
This massive urban park is one of the largest in the Western Hemisphere, almost twice the size of Central Park in NYC.
It is almost like a verdant oasis in the heart of the huge Mexican Capital.
The best part? Chapultepec Park is teeming with museums, tranquil pathways, lakes, a zoo, a castle, markets, and what not!
You can spend an entire day visiting all the amazing attractions of Chapultepec Park.
Do not miss the Monumento a los Ninos Heroes, a memorial to six young cadets who defended Chapultepec Castle during the Mexican-American War.
If you're traveling with kids, then you might want to visit the zoo which has two fluffy pandas and several other interesting animals like mandrils, ocelots, and jaguars.
Chapultepec Castle
One of the highlights is the impressive Chapultepec Castle.
Once a royal residence, this castle now houses the National Museum of History. It offers an interesting journey through the eras of Mexican history through its well-preserved artifacts, detailed exhibits, and grandiose staterooms.
But the cherry on top is the breathtaking panoramic view of Mexico City's skyline from the castle's terrace.
Afternoon – National Anthropology Museum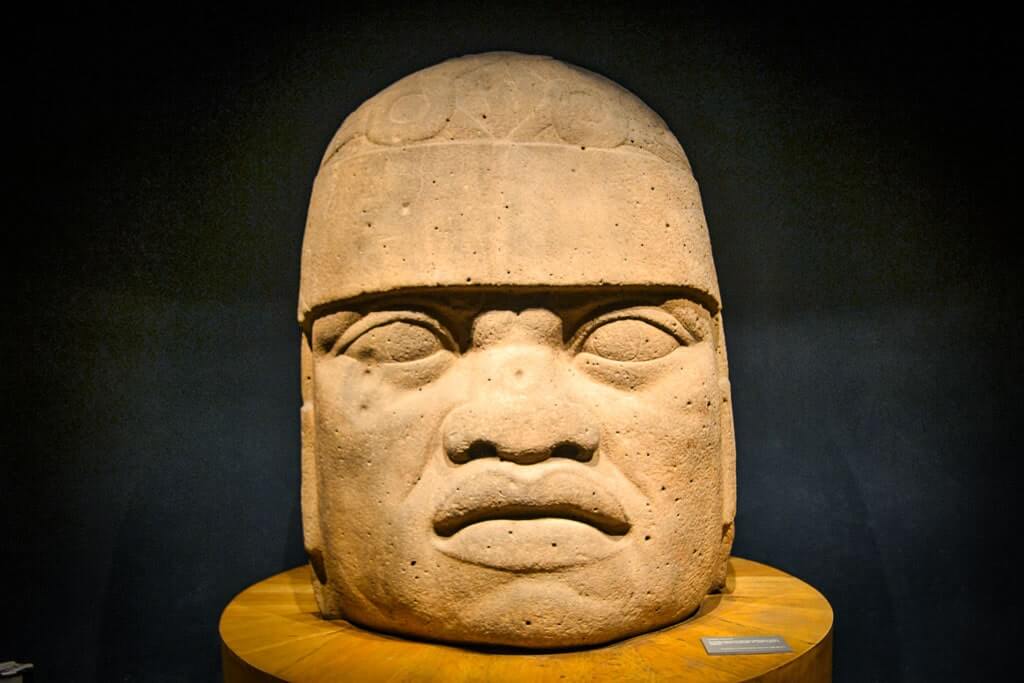 Located within the Chapultepec Park, the National Anthropology Museum is one of the best museums in Mexico City.
It is home to the world's largest collection of ancient Mexican art and ethnographic exhibits about Mexico's present-day indigenous groups. Therefore, the museum provides an in-depth exploration of the country's rich pre-Hispanic past.
Some of the museum's unmissable highlights include the famous Sun Stone or the Aztec Calendar Stone, the ceremonial headdress of Moctezuma, Jade mask of the Zapotec Bat God, massive Olmec heads, and a recreation of Pakal's Tomb.
For history buffs and culture enthusiasts, the National Anthropology Museum promises a fascinating and educational experience.
The best way to visit the National Anthropology Museum in Mexico City is on a highly-rated guided tour like this one.
The museum is huge and trust me, it is really helpful to have a professional guide through the exhibits.
But you can always do a self-guided tour. Purchase the tickets online here or at the box office.
✦ Pro Tip: Get a brief idea of Mexico's pre-Hispanic civilizations in our article on the 20 Ancient Pyramids that you need to visit in Mexico to appreciate the museum's displays better.
Evening – Dinner in Polanco
Located on the northwestern side of Chapultepec Park, Polanco is a fashionable and upscale neighborhood that's a culinary heaven for foodies.
Renowned for its wide array of gastronomic offerings, Polanco perfectly blends the elegance of high-end dining with the authenticity of local cuisine.
The popularity of this Polanco Food Tour is enough to tell you that Polanco is the best foodie place in Mexico City.
If you're seeking an upscale dining experience, Pujol is your place. Ranked amongst the world's best restaurants, Pujol offers an innovative take on traditional Mexican cuisine. Their signature "Mole Madre, Mole Nuevo" dish is an absolute must-try.
For a more down-to-earth experience, head over to El Turix. This humble taqueria, a hole-in-the-wall eatery, is a local favorite. With its delectable cochinita pibil tacos and panuchos, it offers a truly authentic local dining experience.
Go restaurant hopping in Polanco or sign up for this amazing Polanco Food Tour that begins at 5:30 pm in the evening.
Either way, have a foodilicious evening on your second day in Mexico City.
Recommended Guided Tours for Mexico City Day 2
Don't miss this Polanco Food Tour, one of Mexico City's best food tours. It takes you on a whirlwind ride through all kinds of Mexican cuisines.
More than 2 days in Mexico City?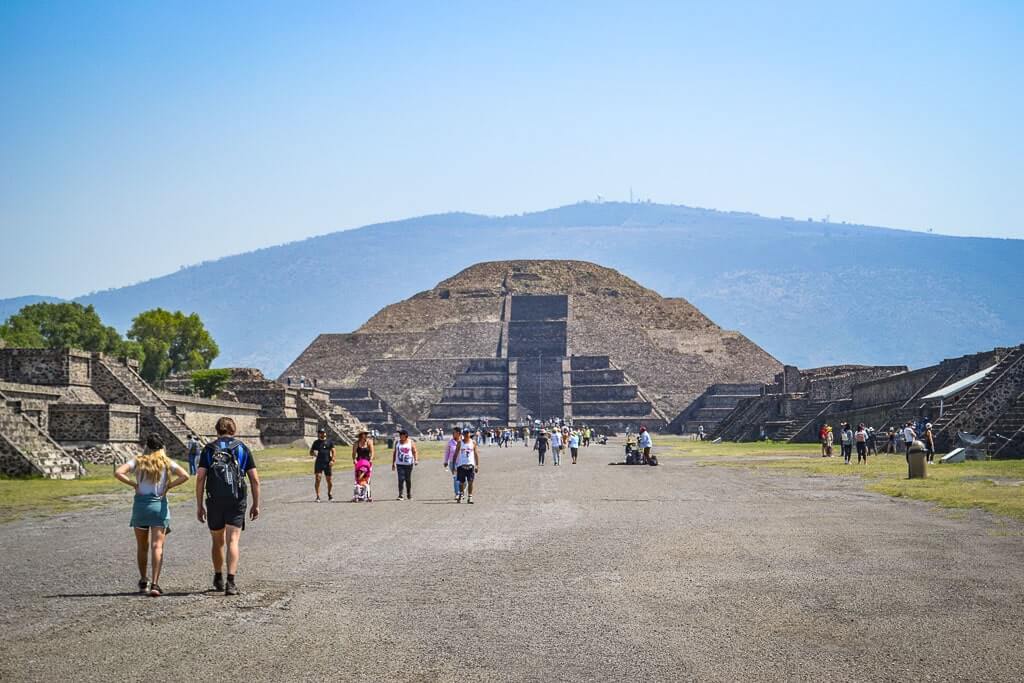 Do you have more than 2 days in Mexico City? Then, you can easily convert the above itinerary into a fantastic 3-day Mexico City itinerary.
We have a ton of other ideas if you have more days in CDMX.
Where to stay in Mexico City for 2 days?
My favorite areas to stay in Mexico City are the Centro Historico (Historic Center) and the bohemian neighborhoods of Roma, Condesa, and Polanco.
These areas are full of cultural attractions and hence, more touristy. Therefore, they are the safest places to stay in Mexico City.
Practical Information for Visiting Mexico City
Best time to visit Mexico City
The best time to visit Mexico City is between March and May during the spring season.
During these months, the city enjoys a mild climate with temperatures ranging from 68°F to 79°F, ideal for exploring the city and the many outdoor attractions.
Spring is also the time of the year when the city is filled with vibrant hues of jacaranda blooms.
October – November is also a great time to visit Mexico City for Day of the Dead celebrations.
How to get to Mexico City?
The best way to get to is by flying into the Benito Juarez International Airport (MEX), which is well connected with major cities worldwide.
If you're coming in from the US, direct flights from numerous American cities make Mexico City a convenient tourist destination.
Once at the airport, book a reliable private transfer or hire an Uber to get to the city.
How to get around Mexico City?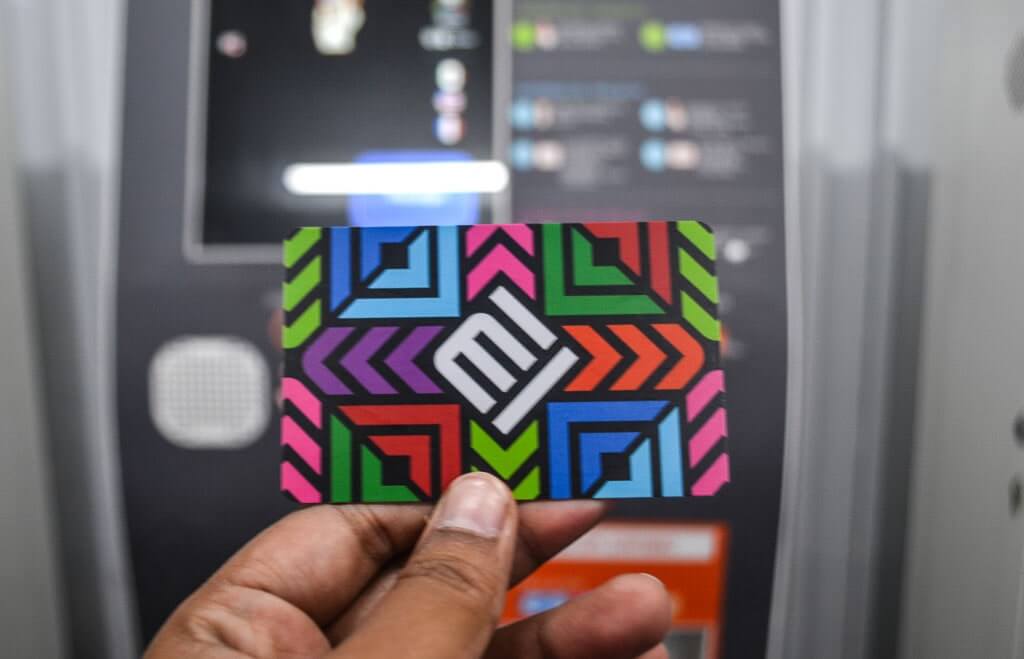 Mexico City has an extensive public transportation system which makes it easy to get to all the places listed in this 2-day itinerary.
The city's metro system is one of the largest in the world. It offers affordable and efficient travel throughout its 12 lines.
Keep in mind that the Mexico City metro can get very crowded during rush hours. So avoid those times.
CDMX also has the Metrobus, a bus rapid transit system, which operates on dedicated bus lanes across the city.
Taxis and ride-sharing apps like Uber and DiDi are also readily available and are a safe means of travel.
2 Days in Mexico City Travel FAQ
Is 2 days enough in Mexico City?
Yes, 2 days in Mexico City is enough to see the highlights including the major landmarks of the Historic Center, Frida Kahlo Museum, and Floating Gardens of Xochimilco, and indulge in food tours and cultural experiences such as folklore ballets and lucha libre matches.
What to do in Mexico City in 48 hours?
With 48 hours in Mexico City, you can check out the historic downtown and visit the Metropolitan Cathedral, Templo Mayor ruins, Palacio Bellas Artes, and the National Palace. You can also head to the bohemian neighborhood of Coyoacan and visit the famous Frida Kahlo Museum.
What to see in Mexico City in two days?
With two days in Mexico City, you can actually see a lot. Take a walking tour through the historic center and see Mexico City's most famous landmarks, visit Frida Kahlo Museum in Coyoacan, ride a trajinera through the Floating Gardens of Xochimilco, or enjoy a day out in the massive Chapultepec Park.
Loved this 2 Days in Mexico City Itinerary? Pin it for later!