Last Updated on August 23, 2023 by Soumya
Do you want to go on the best tours in Mexico City? Are you looking for the finest method to experience everything Mexico City has to offer? Is it feasible to get a local's perspective on Mexico City's history and culture?
The history buff in me will tell you that guided tours are the best way to start your Mexico City exploration.
I adore everything about Mexico City. It is one of my favorite places in the world. The Mexican capital is not only brimming with delicious food, art, and museums, but it also has layers upon layers of fascinating history. And guided tours of Mexico City are a fantastic way to peel back the layers of this historic place.
There are hundreds of fun tours in Mexico City that you can easily add to your itinerary of Mexico City. Sightseeing tours, free walking tours, food excursions and cooking classes, historical day trips and visits to ruins – you'll find several activities to choose from. I understand that this can be a little perplexing especially if you are visiting Mexico City for the first time.
Therefore, I have put together this fantastic guide of the 13 best Mexico City tours to help you make your pick. Whether you are a culture-vulture, a foodie, a nature-seeker, or a history-buff like me, you'll find the best tour for yourself listed here.
Most popular Mexico City tours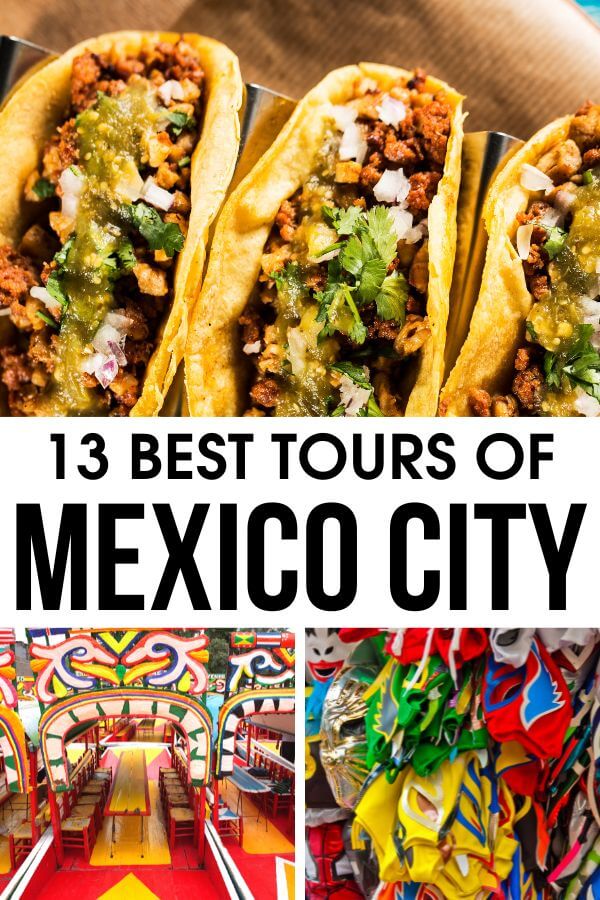 Please note: This post may contain affiliate links which means I may earn a commission if you make a purchase by clicking a link on this post. This will be at no additional cost to you. Affiliate links help me keep this website up and running. Thanks for your support!
I have linked to both Viator and Get Your Guide for the tours that I have recommended so that you can make your booking on your preferred platform. Personally, I use both quite frequently and pick whichever has a lower price. So, be sure to check the prices on both Viator and GYG before making your booking.
Teotihuacan early access tour with tequila tasting
This is one of my favorite tours in Mexico City that is equally loved by my readers. It is the super popular full-day Teotihuacan day tour from Mexico City that includes early access to the archaeological site + tequila tasting.
The tour (Viator | Get Your Guide) begins around 6:30am in the morning (their private version includes hotel pickup too). You'll first head to Teotihuacan and enter the gates before anyone else has come in. Discover the magnificent pyramids of Teotihuacan and take unobstructed photographs. Learn all about the mural trail and latest discoveries that unravel the mysteries of Teotihuacan. You'll also get a chance to climb the Sun and the Moon pyramids.
After soaking in all that history, you'll head to obsidian workshop operated by a local family. There, you'll learn about this ancient volcanic rock that has been used since the time of ancient Teotihuacanos. You'll also taste some local liqueurs such as mezcal, tequila, and pulque. The tour includes entrance to Teotihuacan, liqueur samplings, and round-trip transfer from the meeting point. It does not include lunch though they stop at a place where you can buy traditional Mexican food.
This early access Teotihuacan tour from Mexico City comes highly recommended because it gets you early access, offers tequila samplings, and is budget-friendly.
→ BOOK NOW
What guests love about this tour
The fact that you can explore the ancient city of Teotihuacan without any crowds because you'll get there super early – right when the gates are opening.
An expert tour guide who knows his archaeology well and that's what makes this tour extra special. History buffs and archaeology lovers absolutely enjoy this tour.
This tour exceeded my expectations! It's well planned and executed! The best part was the tour guide, Gerson who was very knowledgeable, charismatic and funny! !

Judith. More reviews here.
Xochimilco, Coyoacan, Frida Kahlo & UNAM
Visiting the Floating Gardens of Xochimilco from CDMX is one of the best things to do in Mexico. Why not do it with this highly recommended tour from Mexico City that shows you a couple of other iconic attractions too?
This full-day tour from Mexico City (Viator | Get Your Guide) includes floating down the canals of Xochimilco in a colorful gondola, strolling through the colonial streets of Coyoacan, exploring the campus and murals of UNAM, and a visit to Frida Kahlo's La Casa Azul if you select that option. The tour includes two UNESCO heritage sites – Xochimilco and UNAM. Plus, the colonial district of Coyoacan is so quaint and charming. You'll also visit a local cooperative shop that sells Mexican handicrafts.
This is one of the most popular, highest rated tours available in Mexico City. Curated by Amigo Tours LATAM, the tour has rave reviews and is excellent value for money.
What guests love about the Xochimilco tour
The experience is fun and unique because of the variety of destinations that you see in one day. The ancient Aztec canals are quite different from the colonial architecture of Coyoacan which are, in turn, different from the modern Mexican murals of UNAM. In short, you are literally transiting from one Mexican era to another on this tour.
Knowledgeable and experienced guides and impeccable organization make the tour stress free and amazing.
Glad we did it! I was a bit skeptical but it was a lot of fun. Great guides and very punctual! Food on the boat was awesome too!

Taruna_R. More reviews here.
Full-day hop-on hop-off bus tour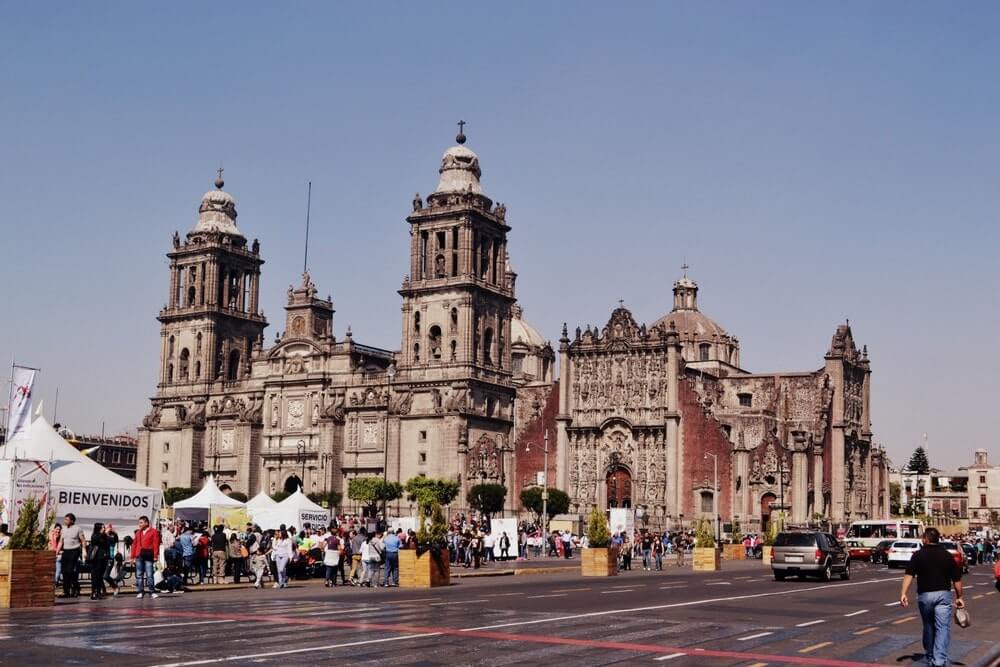 If you are looking for an inexpensive and convenient way to see the best of Mexico City, check out this full-day hop-on hop-off bus tour. Explore the city at your own pace with added flexibility to plan your own itinerary.
The hop-on/hop-off bus tour has 4 different routes and you can pick anyone depending on your interests. The Historic Center Circuit takes you to the heart of the city – into its architecture, monuments, and museums. The Coyoacan Circuit connects you with the city's most artistic neighborhoods. Polanco Route is perfect for shopping while the Basilica Route takes you to the most holy worship centers in Mexico. → READ MORE
Ride these beautiful double-decker, open-top buses and be rewarded with incredible views of the city. Your ticket is valid for the entire day between 9:00am – 7:00pm and includes a multilingual digital audio guide available in 9 languages. And surprise! There's a special channel for kids too!
Guests absolutely love the comfort that comes with a bus tour in Mexico City. No doubt, this tour has some of the highest ratings in safety and transportation and is considered good value for money.
What guests love about this tour
The ease and flexibility. You can just hop-on and hop-off wherever you want and plan your day according to what you want to see.
The price and comfort. The bus tour is not just friendly for our pockets but also for our feet.
Best Mexico City walking tours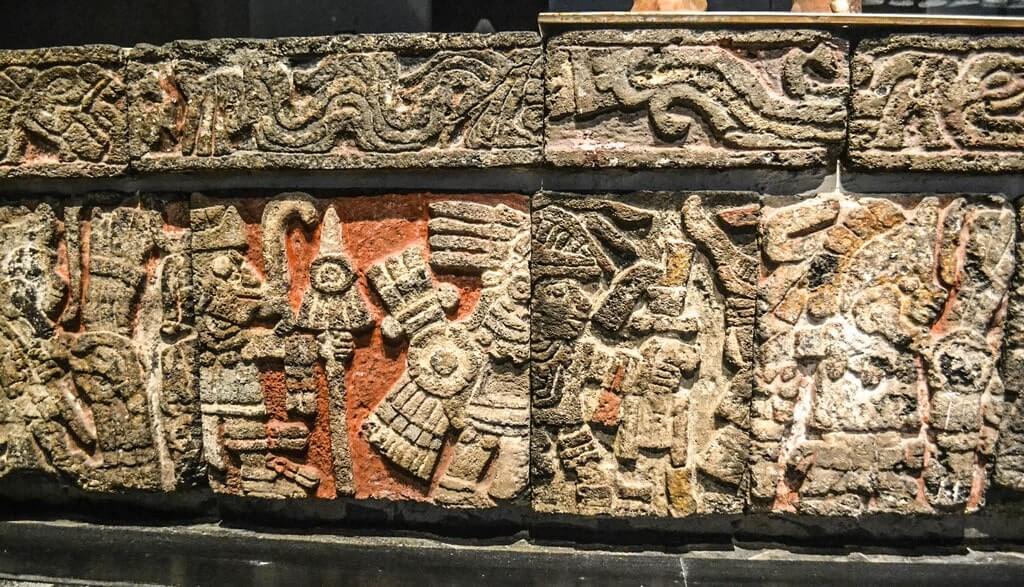 Free walking tour of Mexico City
Who doesn't love free tours? Especially when it is a free walking tour of Mexico City's historic center?
I always jump at the opportunity of doing a free walking tour with locals because they are usually curated with a lot of love by people who are passionate about their cities. I feel the same about this Mexico City free walking tour on Civitatis that shows you all the highlights of the historic center.
You'll begin at the Palace of Fine Arts, a wonderful mix of Art Nouveau and Art Deco architecture. Next, you'll explore the Postal Palace and the National Art Museum after which you'll head to the Tiled House, an 18th-century Baroque palace that is adorned with blue and white Talavera tiles called Azulejos. You'll end the tour at the iconic Metropolitan Cathedral on Zocalo Square and Templo Mayor, the last remaining vestiges of Tenochtitlan, the Aztec capital city.
Guests love the knowledge of the tour guide and the amount of passion he brings to the tour. Read all reviews here.
At the end of the tour, tip the tour guide an amount you deem fit depending on how much you have enjoyed the tour and how long the tour was. It is common to tip anywhere between $5-$15 per person. Even though free walking tours are not really free, they will still cost you less than the paid tours. Have a look at the paid group walking tours on Viator and Get Your Guide to get an idea of how much paid walking tours cost in Mexico City.
Private walking tour of Mexico City
Looking for privacy and space on your tour but constrained for money? Don't worry. We have just the perfect Mexico City sightseeing tour for you.
This historic private walking tour with a professional tour guide allows you to explore downtown Mexico City at a very reasonable price. Starting at $35+, this is one of the most budget-friendly private tours in the market right now. It needs a minimum of 3 participants and the number can go up to 15.
You'll begin your excursion at the Palace of Fine Arts where the guide will introduce you to Mexico City – its history, culture, and traditions. Then, you'll head to Torre Latinoamericana, one of the tallest skyscrapers in Latin America. The next stops are Postal Palace for the most gorgeous staircase and Mining Palace for a deep dive into Mexico's mining history. [If you wish to learn more about Mexican mining, you can head to the magical mining towns of Hidalgo, an excellent day trip from Mexico City.] The tour ends at the Zocalo where you'll learn about Mexico's ancient Aztec history at Templo Mayor and colonial past at the Metropolitan Cathedral.
What guests love about this private Mexico City tour
The best part about this private walking tour is that it shows you a lot in a very short time. So, it is best for travelers who do not have a lot of time to spare.
The tour is budget-friendly given that it is a private tour and only your group will be part of it.
You can do the tour anywhere between 8:00am – 6:00pm which makes it easier for you to plan your day.
Special mural art walking tour
Are you an art connoisseur or a culture vulture like me? Then, you'll love this Mexico City mural art walking tour that shows you an absolutely different side of CDMX.
It is a small group tour that takes you to some of the most iconic mural spots in Mexico City. We are not talking CDMX landmarks here, rather more hidden gems that you would not see in usual Mexico City tours. The tour lasts for 4 hours and includes a certified bilingual guide and entrance tickets to all museums.
The three main stops on this tour are the Ministry of Education which has an extensive collection of murals by Diego Rivera, San Ildefonso College which is considered to be the birthplace of Mexican muralism, and the Palace of Fine Arts that features some of the most spectacular paintings by Rivera, Orozco, Siqueiros, and Montenegro.
The mural tour is one of the most loved art and culture tours in Mexico City. With almost all 5-star reviews, it has earned the Viator Badge of Excellence and keeps garnering more wonderful reviews like the one below.
What a wonderful experience the mural walking tour was!

Lisa_J. More reviews here.
What guests love about this mural tour
This muralist tour is a great way to learn about the history of Mexico City through evocative murals. The tour guides really bring the murals to life. It is so easy to miss these things when we are looking at paintings on our own. On this muralist tour, the guide ensures that we deep dive into the thoughts that went behind painting those canvases.
You get to see murals at unusual places such as the Ministry of Education and San Ildefonso College which you would not see normally.
Best Mexico City food tours
Food is, truly, one of the best ways to feel the pulse of a city and its people. And Mexico City does not disappoint you in that aspect.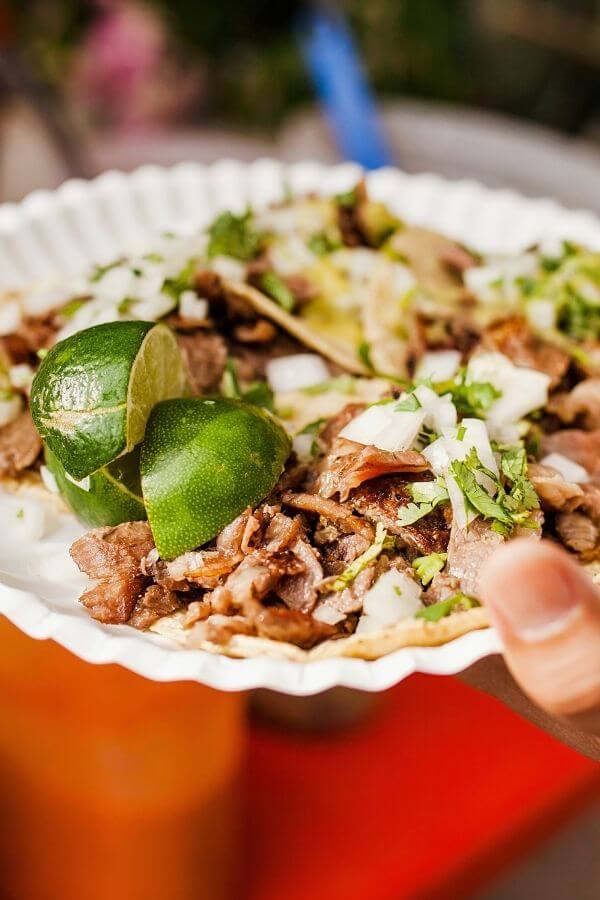 Historic center food tour in Mexico City
The Historic Center of Mexico City is full of interesting things to do. But did you know that it is full of delicious food and secret eateries? Well, this historic center food tour in Mexico City takes you to the best restaurants with the most amazing food.
On this half-day walking food tour in downtown Mexico City, you'll visit a traditional Mexican market and enjoy tastings at restaurants, cantinas, and street food stalls. You'll learn all about the history of Mexican food, stories, and legends from your passionate tour guide who will also take you to secret local eateries.
With more than 250 5-star reviews, this food tour is a clear winner and has a Viator Badge of Excellence. Guests love how well the tour is designed. The tour guide possesses exceptional knowledge about the history and legends behind Mexican cuisine.
What guests love about this historic center food tour
This tour allows guests to try different kinds of Mexican food in different settings such as street food stalls, traditional canteens, and local restaurants. That makes the food tour pretty unique.
The tour guide is extremely knowledgeable about Mexican history and cuisine and does an amazing job.
The tour was amazing. You not only taste the great food but also get the inside stories and sightseeing of the historic centre.

Manca. More reviews here.
Market secrets and cooking class with local family
Isn't a cooking class with a local family the best way to discover the culinary secrets of Mexico City? Tours like this one (Viator | Get Your Guide) give you a deep insight into local practices and provide an immersive experience of Mexican culture and cuisine.
On this highly recommended food tour, you'll learn how to navigate bustling street markets of Mexico on your own. Visit two offbeat markets, the Mural & the Flower Markets with your guide who will pepper your visit with local tales and historical anecdotes.
On your way through these markets, you'll taste iconic street foods like tacos and tamales. Then, you'll buy fresh produce and prepare your own salsa with a local family. Next, you'll taste your own salsa along with some delicious huaraches.
What guests love about this food tour in Mexico City
The best part about this food tour in CDMX is that it is infused with historical & cultural narrations along with good food. That makes it a uniquely immersive experience.
Additionally, guests love the fact that the tour takes them to some hidden gems of Mexico City and shows a bit of real Mexico.
The guide's enthusiasm for the history of Mexico City, and the clever ways he tied it to the food made this an unforgettable educational experience.

Jesse_M. More reviews here.
Taco night private food tour
A good taco can take you to beautiful places.

Taco Chronicles
Do you love tacos? I absolutely adore them. So, there's no way I am ever going to miss this wonderful taco night food tour in Mexico City.
On this private taco night tour, you'll eat a lot of tacos [no-brainer!] and taste some mezcal and local craft beer. Mezcal is a smoky-flavored alcoholic beverage made from the agave plant. You'll explore two happening neighborhoods in Mexico City – Colonia Roma and Mercado de Jamaica. Colonia Roma is one of CDMX's hippest neighborhoods while Mercado de Jaimaica is a traditional public market known for its flower and plant collection.
The tour is fun and educational because it combines taco eating with cultural snippets and a visit to a traditional flower market. It includes hotel pick-up and drop-off, all food tastings and drinks, and the services of a professional local guide.
→ READ MORE
With all 5-star reviews and only a couple of 4-star ones, this is one of the best taco tours in Mexico City. It is so loved that many guests promise to come back to CDMX and do it again. Here's what Jeffrey had to say about the tour guides and the taco joints.
Roberto and Carlos took us around to some of the most amazing taco places in Mexico City. Every bite at every place was worth the travel. Will definitely do it again.

Jeffrey_N. More reviews here.
Best Teotihuacan tours from Mexico City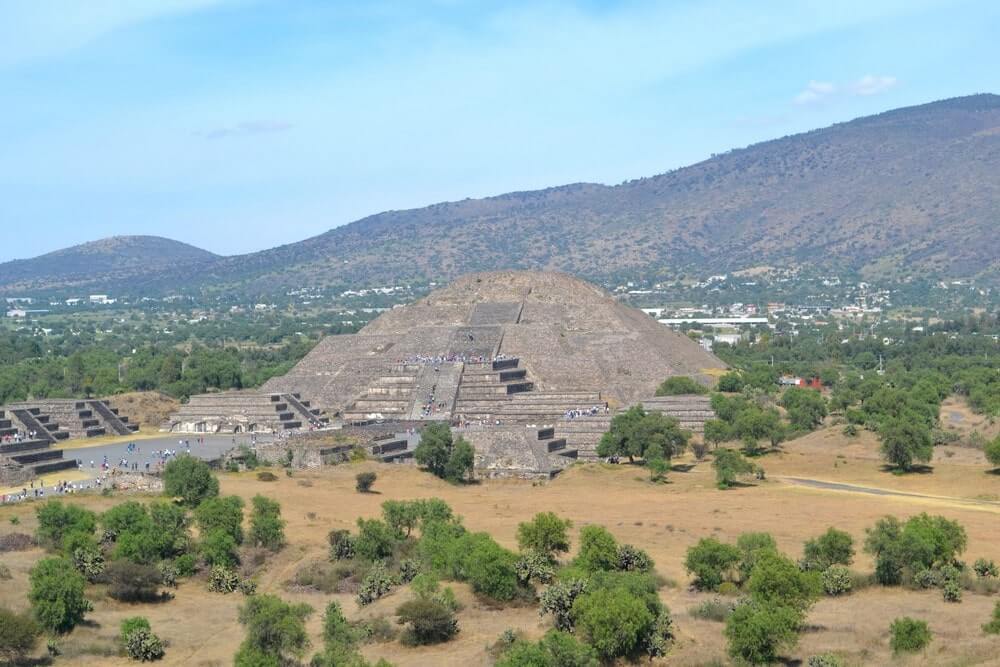 Mexico City day tour to Teotihuacan, Guadalupe, & Tlateloco
This popular day tour from Mexico City includes not just Teotihuacan but two more iconic sites – the Basilica of Our Lady of Guadalupe and Tlateloco (home to Aztec ruins and the Three Cultures Plaza). So, you will see 3 famous landmarks at a price of just $45+.
The tour begins at the world heritage site of Teotihuacan where you'll walk down the Avenue of the Dead and see some of most famous pyramids of the ancient world. Next, you'll visit the Basilica of Our Lady of Guadalupe, Mexico's most important religious site where people come to pay homage. The third stop is at Tlateloco which is home to the Plaza of Three Cultures. It is named so because here, you'll find architecture from 3 different eras – Aztec, Spanish, and modern Mexican.
The tour includes hotel pick-up and drop-off and the services of a bilingual guide. Quite unbelievably they include entrance fees to the sites too. At just $45+, this tour is amazing value for money. With more than 1800 wonderful reviews and counting, the tour operators are surely doing a great job.
The tour was absolutely amazing! As announced, we were picked up punctually from our accommodation and the 3 sights were impressive.

Get Your Guide traveler from Germany. More reviews here.
Teotihuacan hot air balloon ride
Mexico City hot air balloons are absolutely divine. Tours that offer balloon rides over the majestic Teotihuacan pyramids are numerous but good ones are rare. That's why, I highly recommend you book this highest-rated Teotihuacan hot air balloon flight operated by Volare.
On this best balloon tour from Mexico City [Viator | Get Your Guide], you'll fly over the magnificent pyramids of Teotihuacan for 45 minutes and enjoy an unforgettable sunrise ride with certified pilots. After the flight, you'll receive an honor toast and flying certificates before enjoying a delicious buffet breakfast. You can opt to stay back after that and explore the archaeological zone for a small fee.
The tour includes coffee and buffet breakfast. If you choose the transfer option, they will pick you up from a common meeting point in Mexico City.
This is one of the most popular Teotihuacan tours from Mexico City with many 5-stars to its credit.
What guests love about this balloon tour
Absolutely stunning views from above – monumental pyramids that look even more beautiful at sunrise with mountains in the backdrop.
Impeccable planning, smooth organization of the tour, and well-trained pilots.
Incredible adventure, amazing views and a very smooth experience from shuttle pickup, check in, takeoff, landing, and return to the ruins and city. Highly recommend.

Kelsey_M. More reviews here.
---
If you are looking for more immersive experiences at Teotihuacan, do check out my article on the 10 best teotihuacan tours and pick your favorite.
Special Mexico City tours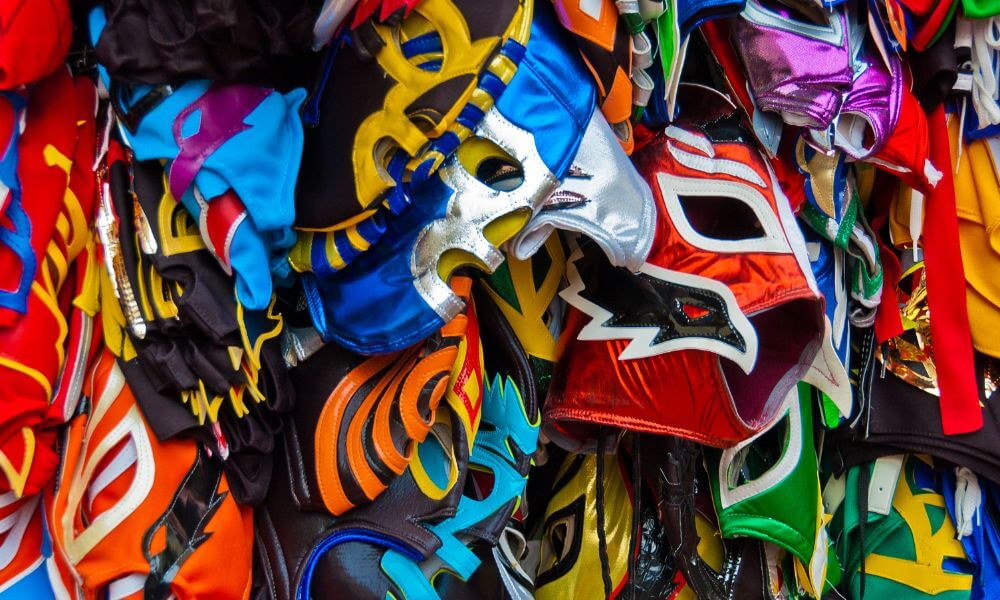 Lucha Libre experience
If you are looking to try something new on your next visit to Mexico City, join this half-day lucha libre tour. Lucha libre is a unique form of Mexican wrestling where contestants wear masks and fight it out with rapid, acrobatic techniques. The wrestlers are known as luchadors.
On this exciting lucha libre tour, you'll enjoy a lucha libre show at Arena Mexico, literally the Mecca of Lucha Libre. The best part is that you'll be attending this tour with a luchador who will tell you all about the fascinating history of lucha libre. You'll visit a local mezcal bar where you'll taste various handcrafted mezcals. The tour also includes a souvenir luchador mask! Yayy!
Guests love everything about the tour – the knowledgeable luchador guide, mezcal tasting, and the lucha libre show which is fun to watch. No doubt this tour in Mexico City has some of the best reviews in town and a large number of 5-stars. Check out all reviews here.
Two important things to remember are that the tour is available only on Tuesdays, Fridays, and Sundays. Be sure to factor that into your Mexico City itinerary. Additionally, this is a non-refundable tour. So, book it only if you are very sure of attending.
Nevado de Toluca climb
If you are looking to do something thrilling in Mexico City, then this volcano climbing tour is perfect for you.
On this exciting adventure tour, you'll climb Nevado de Toluca, one of Mexico's highest volcanoes. Located just 50 miles west of Mexico City, Nevado de Toluca makes for an amazing day trip from CDMX for adventure tourists. You'll climb the volcano with professional guides and all necessary equipment will be provided. Once you get to the summit, you'll be awed by the panoramic views of valleys and forests around you. Plus, you'll see some incredible lakes inside the crater. Now doesn't that sound supremely exciting?
The tour includes transportation, guide services, technical equipment, food, insurance, mountain fees, as well as a backpack on loan. Basically, they will have you all covered. You just have to show up and start climbing. Remember to carry your hiking shoes and rain gear.
Loved this list of best Mexico City tours? Pin it for later!