Last Updated on August 26, 2023 by Soumya
Traveling to Cancun, Mexico and wondering what to do? Looking for the best things to see and do in Cancun? Keen to find out what the best Cancun attractions that you could add to your bucket list? Well, we have just the perfect travel guide for you.
Cancun is one of the best places to visit in Mexico's Yucatan Peninsula. Because of its location on the Caribbean coast, Cancun is filled with amazing white sand beaches and stunning beach resorts. You can pretty much chill at the beach the entire day but there's a good deal of other fun things to do in Cancun.
One of the main reasons this coastal town is so popular is because of the endless list of activities in Cancun. You can go sightseeing in the Cancun hotel zone, visit Mayan ruins, swim in cenotes, take several Cancun day trips, swim and dive – and still not see it all. Honestly, you can spend a week in Cancun and just about scratch the surface.
If you are first-timer visit Cancun, choosing the best attractions can be a little overwhelming. That's why I have this ultimate travel guide for you where I cover the top things to do in Cancun Mexico, excursions and tours to take, best places to stay, and so much more. I have categorized this bucket list of Cancun activities by culture, nature, and fun so that it is easier for you to pick what you love.
Quick links for your Cancun trip
Please note: This post may contain affiliate links which means I may earn a commission if you make a purchase by clicking a link on this post. This will be at no additional cost to you. Affiliate links help me keep this website up and running. Thanks for your support!
Best cultural things to do in Cancun
Chichen Itza
Editor's choice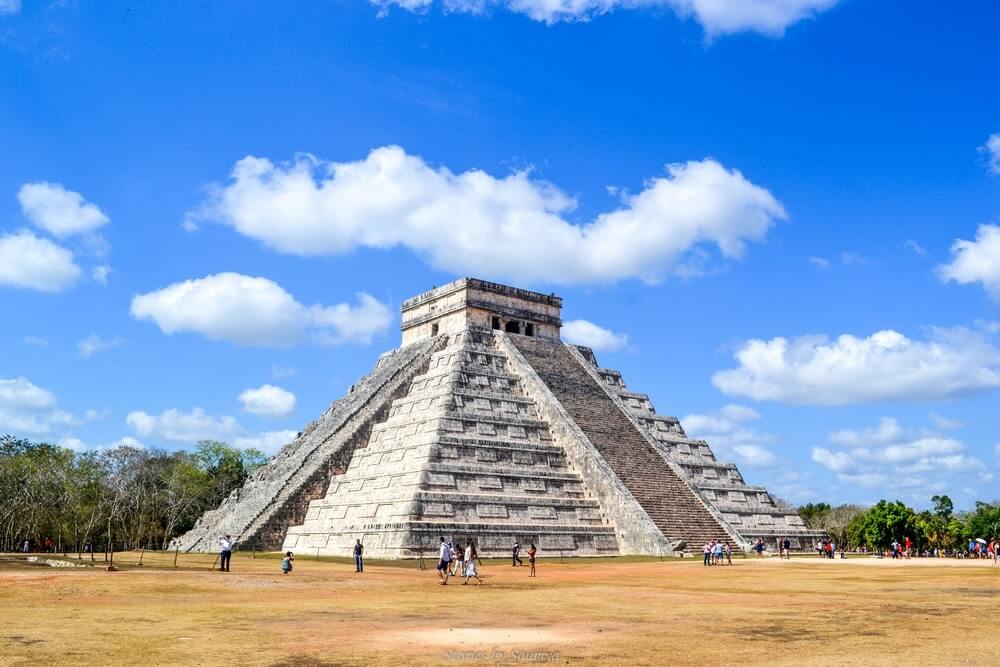 One of the best things to do in Cancun (and the most popular attraction in Mexico) is to visit Chichen Itza, one of the Seven Wonders of the World. If you have time to do just one thing when in Cancun, I would highly recommend this.
Chichen Itza is an ancient Mayan ruin in the Yucatan Peninsula and features a majestic Mesoamerican step pyramid called the Temple of Kukulkan. The pyramid is steeped in mystery (read my post on 11 incredible facts about Chichen Itza) and makes for a wonderful tourist destination in Mexico's Yucatan Peninsula.
The distance between Cancun and Chichen Itza is under 125 miles (200 kms) which means you can get here under 3 hours.
Some travelers jump in for a longer day by coupling Chichen Itza with Ek Balam. I did the same on my first trip. Honestly, it was quite a fulfilling trip for the history buff in me. If you are planning for something similar, read my complete guide to visiting Chichen Itza and Ek Balam in one day here.
When you are here, do not miss the Kukulkan Pyramid, Temple of Warriors, a huge ball court, the observatory, and the Sacred Cenote. And do not forget to add a cenote swim to your itinerary like this popular Chichen Itza tour does. If you would like to see the ruins without crowds, go ahead and book this Chichen Itza early access tour with a professional tour guide.
Recommended: 8 Best Chichen Itza tours that totally deserve your time and money.
El Rey ruins
Editor's choice
Contrary to what most of us believe, Downtown Cancun is not just hotels and beaches. It has some pretty interesting Mayan ruins too. And a well-curated Mayan Museum.
Among the best Mayan ruins in Cancun Hotel Zone, perhaps the most popular one is El Rey. El Rey locally translates to "The King" and is one of the oldest archaeological sites in the region. It was once a trading hub and therefore, one of the most prosperous coastal towns in ancient Quintana Roo.
At El Rey, you'll see ruins of a pyramid temple, walls, platforms, columns, and large audience halls dating back to the 3rd century.
The site is not very large, so you can easily couple it with a visit to Museo Maya de Cancun, a museum filled with ancient Mayan artefacts and tons of history.
Magical town of Izamal
Recommended by Shelley from Travel Mexico Solo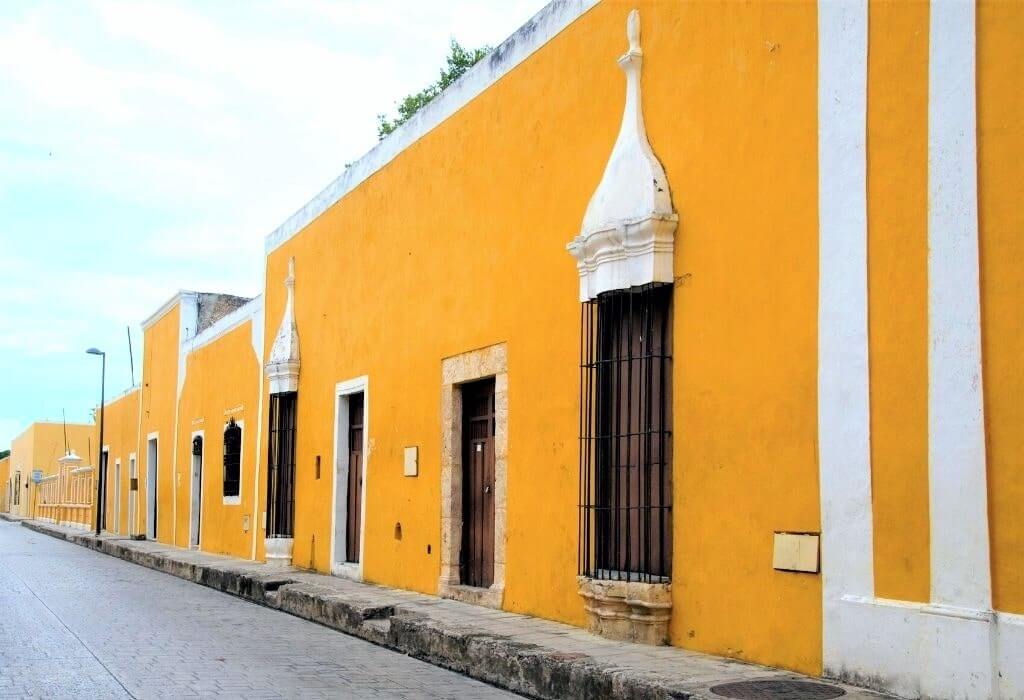 Izamal, Mexico, is one of the country's 135 pueblos magicos, which means "magic towns." In Mexico, the Secretary of Tourism has designated certain cities as magical for their unique and noteworthy characteristics. In the case of Izamal, the Yellow City, it's because all buildings in the downtown area are painted a bright yellow color.
While no one knows for certain exactly why this town is completely yellow, it's quite the site to see. Izamal is one of only a handful of monochromatic cities on Earth, along with the Blue City of Chefchaouen, Morocco.
It is a bit of a drive from Cancun to Izamal, at about three hours each way. However, Izamal is a smaller town, and you can see it all in four hours, then head back to Cancun. While there are buses, they take too long for this to be a day trip, so you'll want to rent a car.
One you arrive in Izamal, spend some time walking the streets and enjoying the colors. Enjoy a nice meal at Kinich El Sabor de Izamal, considered the best Izamal restaurant, or the local Mercado Municipal market, where all the locals go to eat.
The highlight in Izamal is the 16th Century Convento de San Antonio de Padua. This yellow church is one of the oldest Franciscan convents on the entire Americas Continent. There's also the Kinich Kakmó Pyramid, a Mayan Ruins site with a large pyramid you can climb, located a few blocks from downtown.
Tulum ruins
Editor's choice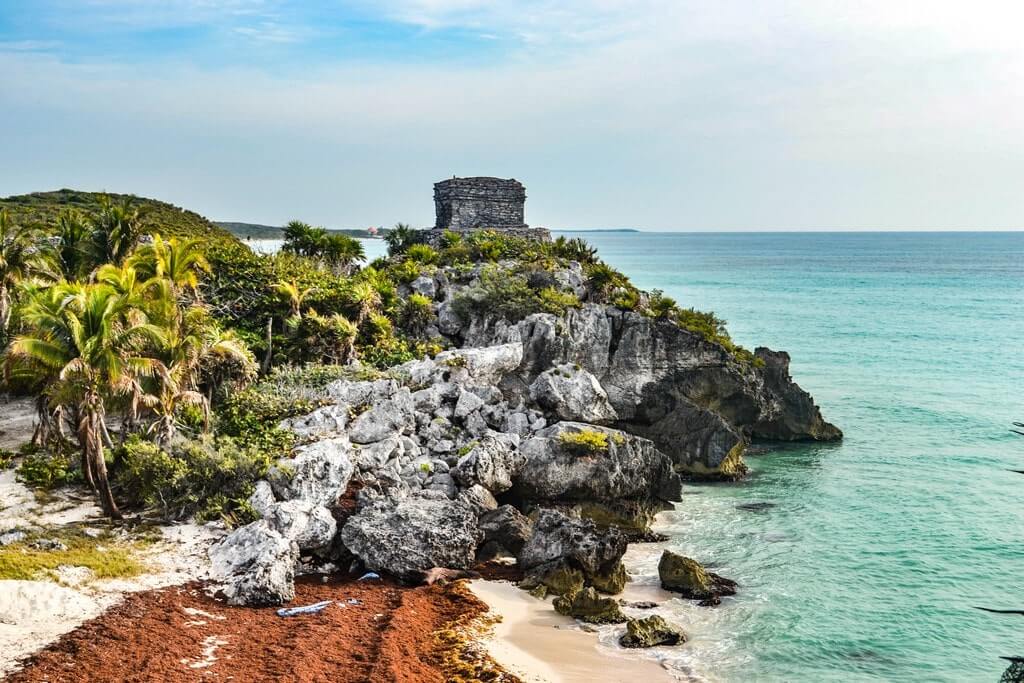 Yet another amazing place to visit near Cancun is the ensemble of Mayan ruins in Tulum.
Perched on a small cliff by a white sand beach on the Caribbean Coast, the location of Tulum is nothing short of dramatic. Tulum was once an important port city of the Mayan civilization. Between the 13th – 16th centuries, Tulum was a prosperous coastal town trading cotton, metals, and food.
Wealth flowed and important buildings came up, the ruins of which you can see today. El Castillo or the main pyramid is definitely a highlight. Even though it is not as big as the ones in Chichen Itza or Coba, the pyramid is interesting because it seems to have served the dual purpose of a shrine and a lighthouse once upon a time.
Other important attractions to see at the Tulum ruins are the Temple of the Descending God and the Temple of Frescoes. You can also climb down to the beach if you wish to spend some time in the water and of course, the pretty beach. Remember to carry your swimsuit.
Tulum ruins are best visited as a day tour from Cancun which usually includes a cenote swim too. Or, you could sign up for this highly-recommended archaeological tour that shows you the best of both Tulum and Coba.
Coba ruins
Recommended by Claudia from My Adventures Across The World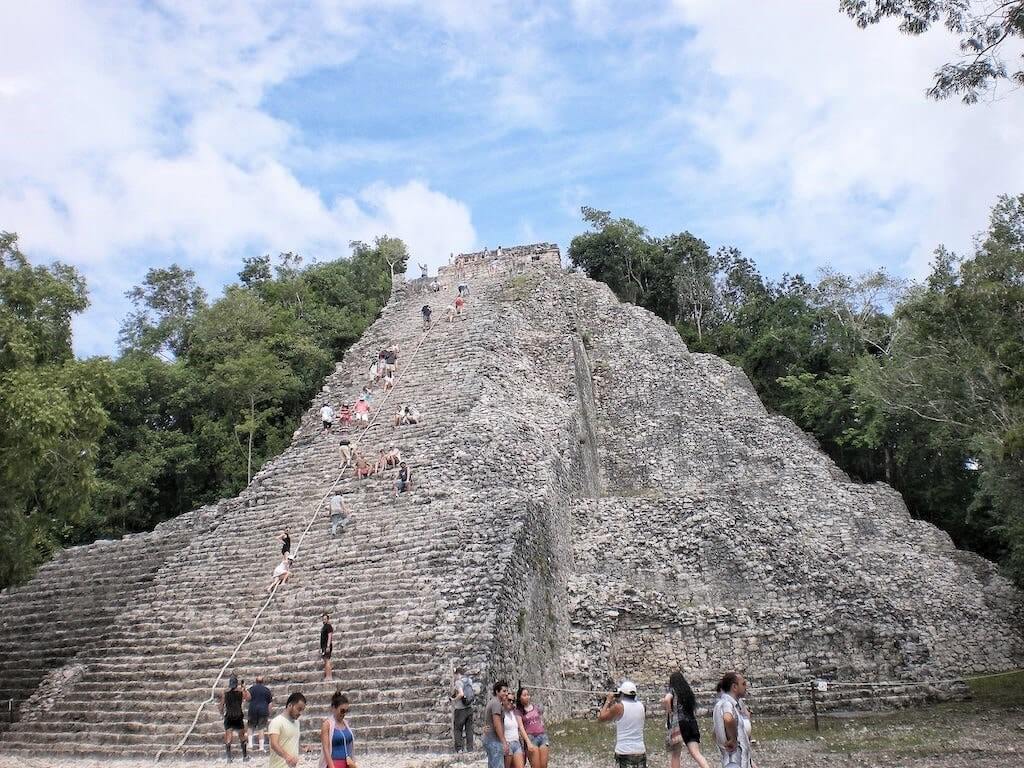 Coba ruins are among the most interesting Mayan sites in Mexico. Contrary to all other places in the Yucatan Peninsula, visitors in Coba are still allowed to walk up the pyramids. It's a great experience, as you'll get to admire the surrounding landscape – a lush, thick forest that is typical of this part of Mexico.
In its heyday, between 600 and 900 AD, Coba was an important city. In fact, it was the main in the area, and the one for which Tulum was used as a port.
The ruins of Coba are spread across a wide area, and though walking through the forest to reach the various landmarks is a pleasant experience (you will need good walking shoes for that). You may want to consider renting a bike for your visit, or hiring a bici-taxi to take you around – both are available right by the entrance. A guided tour may also be a good idea to make the most of the site.
The best way of getting to Coba Ruins from Cancun is by car – it's about a two-hour drive. If you don't want to drive, you'll have to get an ADO bus to Tulum, and from there hop on a colectivo (shared minivan) that will take you to the entrance of the ruins. Alternatively, you can join a guided tour from Cancun – most of them also stop at nearby cenotes.
Magical town of Valladolid
Editor's choice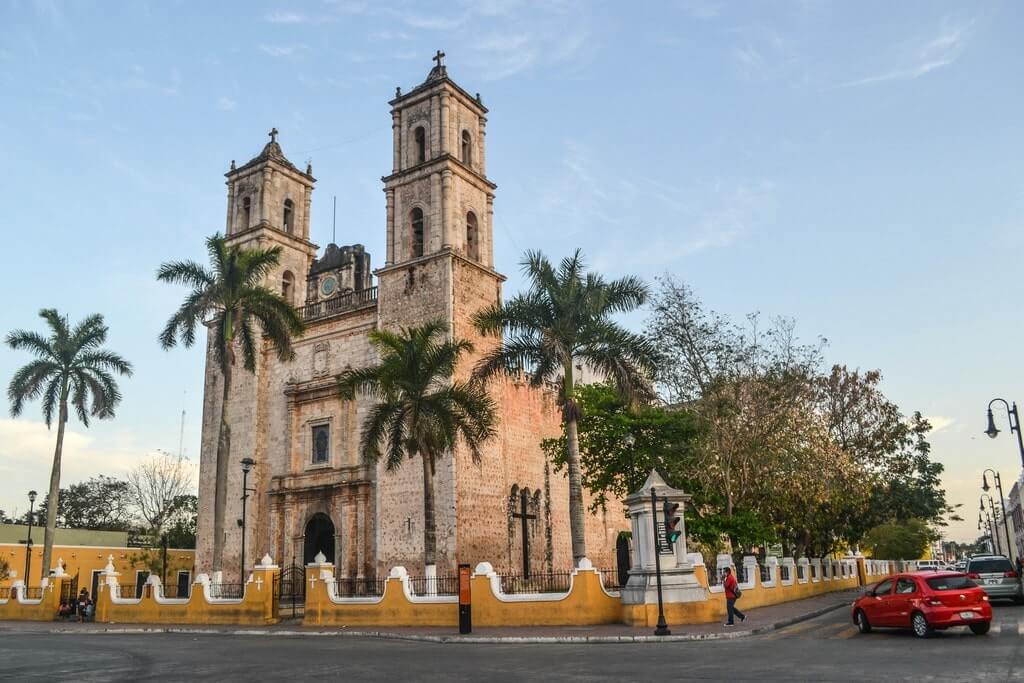 Valladolid is yet another magical town that you need to visit when in Cancun. The city has managed to preserve its beautiful colonial architecture and ambling through Valldolid's colorful streets is an experience in itself.
Be sure to stop by the majestic Iglesia de San Servacio, Convento de San Bernardino with its beautiful Franciscan style and feel of a fortress, and the postcard-pretty La Calzada de los Frailes. Also remember to try some Yucatan delicacies at Bazar Municipal. This is where locals eat and the food is delicious and cheap.
I am sure you are planning to stop at Valladolid on your Chichen Itza day tour from Cancun. But why not stay here for a night and experience all the wonderful things that Valladolid has to offer. Additionally, Valladolid makes for the perfect springboard to visit the ruins of Chichen Itza and Ek Balam.
Best things to do in nature in Cancun
Whale shark tour
Recommended by Paulina from Ukeveryday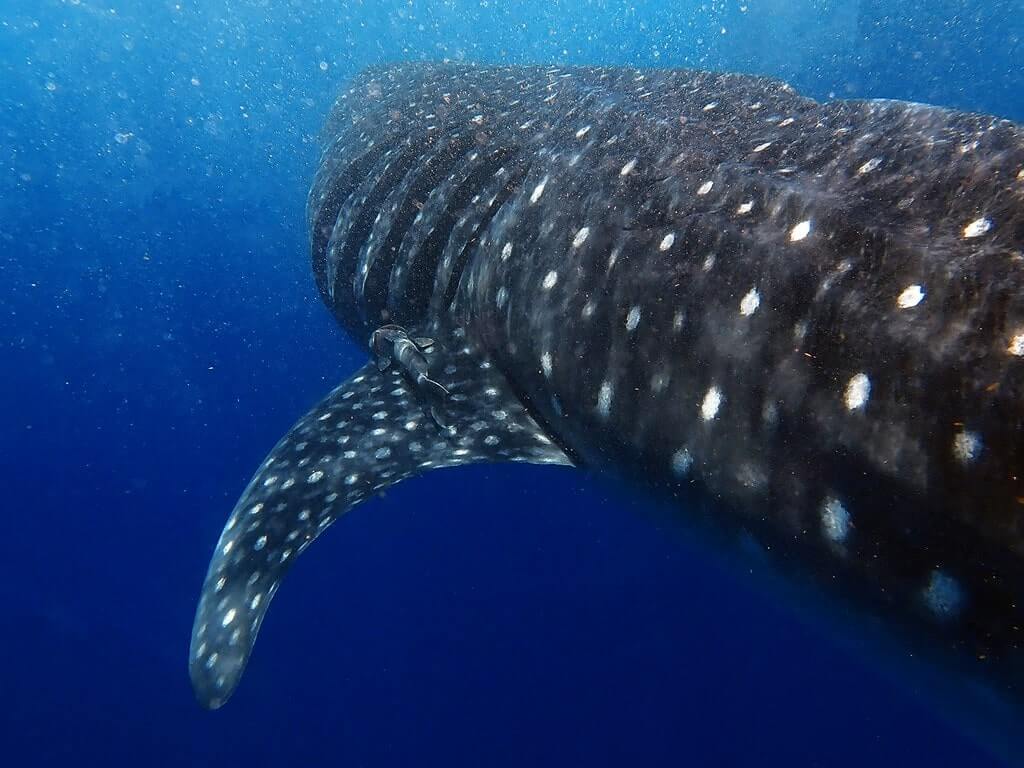 One of the very few locations on the planet where you can swim with whale sharks is Mexico. You can book a Whale Shark Tour in many places during your stay in Cancun. Most of travel companies will pick you up from the hotel and take you to the marina.
During a boat trip look for whale sharks in the water. Put on your snorkeling fins and jump into Caribbean Sea to swim alongside these giant fishes. Watch them feeding plankton while swimming and taking incredible underwater pictures.
Whale Shark tour in Cancun can be booked between June and September. Every year, whale sharks migrate to Mexico for food. During summer, the Caribbean Sea provide ideal feeding conditions. On a typical day, you can expect more than 100 whale sharks in this region.
These giant fishes are not dangerous to humans. If you decide to swim with this gentle creature make sure to avoid using sunscreen before you jump to the sea. All chemicals remain in the water long after you leave. Instead, you can wear long-sleeve top during boat trip. This way, you will not affect wonderful marine life.
Cenote Suytun
Recommended by Shelley from Travel Mexico Solo
There's no shortage of amazing cenotes near Cancun, Mexico. In fact, estimates say there are more than 6,000 cenotes in Mexico's Yucatan Peninsula, which is the largest amount of cenotes found anywhere on the planet!
With so many options to choose from, you might be wondering how to pick the perfect cenotes to visit on your Cancun trip. While all of Mexico's cenotes are beautiful in their own way, Cenote Suytun has a unique look that's made it one of the most Instagrammable cenotes in Mexico.
Located about two hours minutes from Cancun by car, Cenote Suytun is located underground in a cave. There is a small hole at the top of the cenote so a single light beam gets inside, and a platform in the center of the cenote that makes Cenote Suytun an ideal place for taking photos.
As with most great photo spots in Mexico, if you want to get those coveted photos without crowds of people in them, you'll need to arrive by about 10am — which means leaving Cancun by 8am. Cenote Suytun is on the small side, so with even 20 other people in it, it starts feeling a bit crowded.
Cenote Suytun is also located just 45 minutes from Chichen Itza, and many combine the cenote and Mayan Ruins on a Cancun day trip. If ruins aren't your thing, head to the other nearby cenotes, including Cenote Zaci and Cenote San Lorenzo Oxman.
Cancun beaches
Recommended by Isabella from Boundless Roads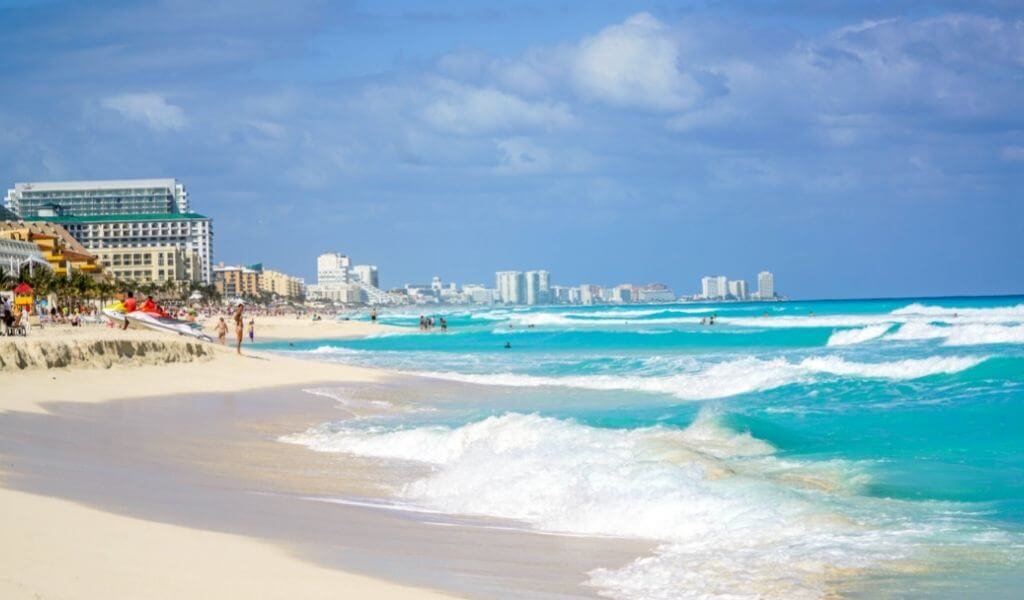 Basking in the sun on Cancun's spectacular white sand beaches is for sure among the top travelers' favorite things to do in Cancun.
Imagine miles and miles of soft powdery sand washed by turquoise crystal clear water and lined with the popular world-class hotels. And that's why it is called Cancun Hotel Zone.
Mind that although Cancun beaches are public, in order to get in you must either go through a hotel or know where the best beach entrances are located.
The most popular one and best located is Playa Chac Mol, close to the Cancun nightlife zone. At this point, though the sea is pretty much often rough and surfers and bodyboarders have a blast. If you love calm swimmable water you should walk further north until you reach a curve right in front of Crystal Palace hotel. There is a protected bay which makes it perfect for swimming.
Playa Delfine is another popular beach, where you can also find a lookout point where the colorful Cancun sign is located. Perfect for stunning selfies. Here the beach is wide and well equipped with showers and toilet facilities. However the sea is rough most of the time so much so that is the perfect place for pro surfers.
Keep in mind that you can find the most accessible beaches between km 3 and 9, approximately. Read this detailed guide to the beaches in Cancun for further information.
Snorkeling boat trip
Recommended by Yulia from Miss Tourist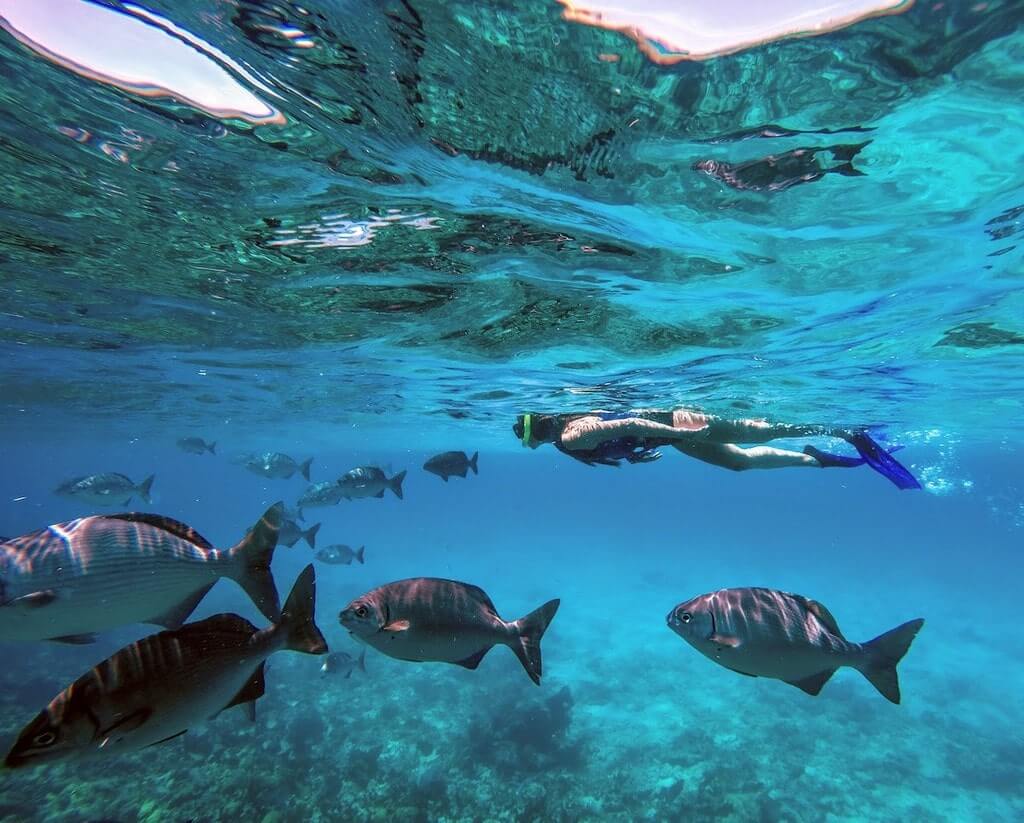 One of the most unmissable things to do in Cancun, if not in the entire Riviera Maya, is taking a snorkeling boat trip to visit the Cancun underwater museum of art. With options for all abilities, beginner snorkelers to experienced free divers can enjoy a fun day of exploring these unique underwater sculptures, coral reefs and colorful fish!
Aqua World runs all types of boat trips so you can easily pick the level at which you feel most comfortable. Departing from Aquaworld in Cancun, Mexico. Boulevard. Kukulcan km. 15.2, you will be transported out to the reef on a motor boat and dropped off on a floating platform which provides a shaded rest area and refreshments as well as easy entry and exit to the water.
From here you can explore 16 statues and surrounding area for as long as you like. The best bit about this tour is that it is extremely flexible. Each circuit takes around 40 mins in total however, you are free to stay longer and catch a later boat back.
Cenote Ik Kil
Recommended by Dan from Backpacking Latin America
One of the best things to do in Cancun for anyone who wants to escape the hotel strip or the hectic downtown area of the city is to head to one of the many cenotes. Located on the highway to Valladolid, Cenote Ik kil is popular with tourists who love taking day trips from Cancun.
Whether backpacking Mexico with little time in Cancun, or on a family vacation, there are many ways visitors can enjoy a trip to Cenote Ik kil.
Expect to go swimming in crystal clear waters which are around 25 meters below ground level. Life jackets are obligatory and there is a lifeguard present for safety.
One way to get here is by visiting as part of a tour, the other is by taking local transport (colectivo) or by driving in a rental car. You can also do a DIY tour. For $150MXN ($7.5) visitors can get entrance to the cenote with parking included as well as a locker to secure any belongings whilst swimming.
Cavern dive in a Yucatan cenote
Recommended by Campbell and Alya from Stingy Nomads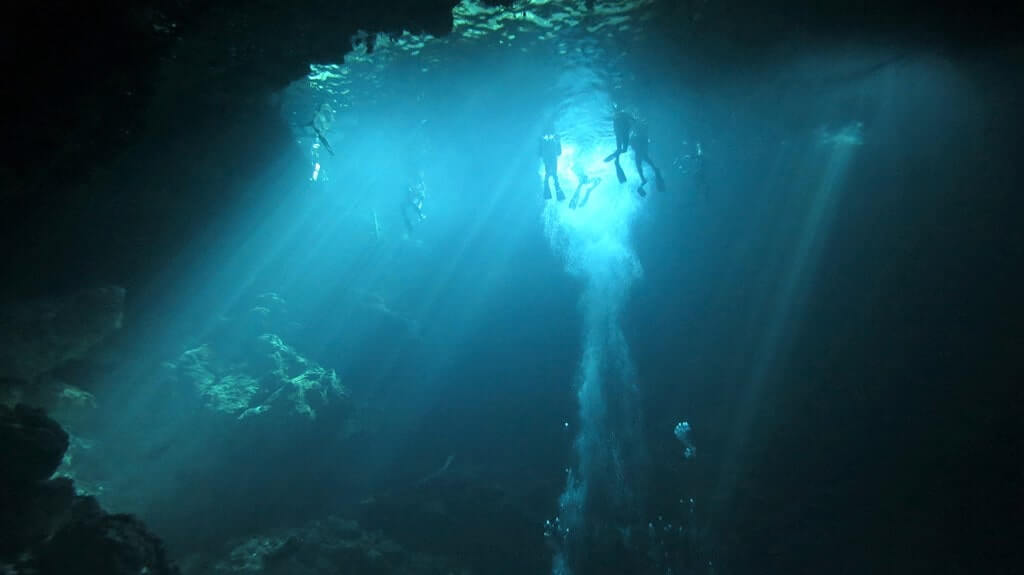 Doing a cavern dive in the cenotes of the Yucatan peninsula is an amazing bucket list dive experience close to Cancun.
Like we have discussed above, cenotes are sinkholes filled with crystal clear water. They are formed when the roof of a limestone cavern collapses. The Yucatan peninsula is home to a massive network of underground rivers, caves, and caverns. These spectacular caves make fantastic scuba diving spots.
Rain water that filters through the ground into the cave system results in water with unreal visibility, up to 50 meters. There are some interesting geological formations like pillars and stalactites formed over millions of years to be seen while diving in the cenotes.
It is an amazing experience to drive through the jungle with a jeep packed with dive gear to enter this spectacular underwater world through a hole in the jungle floor.
Diving in many of the cenotes are classified as cavern dives and special cave diving training is not required to dive here. The cenote, Dos Ojos, located near Tulum is extremely popular for scuba diving and snorkeling. You can dive here with an open water qualification.
In the same area, Cenote El Pit and Cenote Angelica are deeper dives requiring an advanced open water dive qualification. Diving in the cenotes are available as day trips from Cancun with most local dive operators.
Visit Sian Ka'an Biosphere Reserve
Recommended by Daria from The Discovery Nut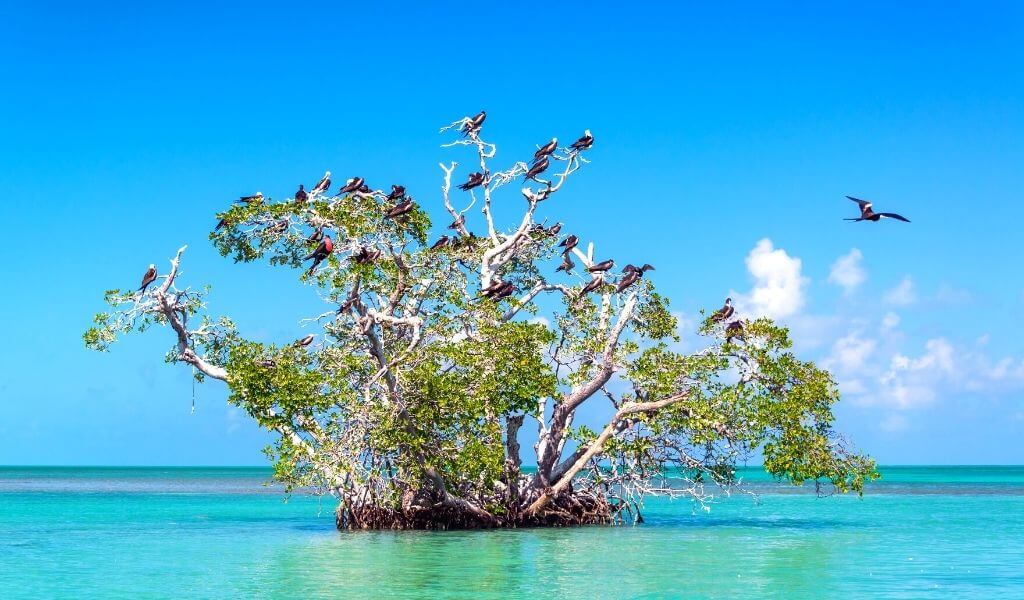 Located just outside of Tulum, Sian Ka'an Biosphere Reserve is a perfect place to escape touristy places and immerse yourself in nature in the middle of Mexico's Riviera Maya.
Encompassing 528,000 hectares, Sian Ka'an is the second largest biosphere reserve in Mexico.
A designated UNESCO World Heritage Site, and one of the biggest protected habitats in Mexico's Riviera Maya, Sian Ka'an means "Entrance to the Sky" in the Mayan language. It's home to an incredible array of biodiversity where you can see monkeys, dolphins, all sorts of birds and fish.
If you want to visit Sian Ka'an on your own, drive south on Highway 307 toward Bacalar and make a stop at Muyil Mayan ruins (If you don't have a car, you can also catch a colectivo). The easiest way to reach Muyil is by renting a car because it will allow you to travel at your own pace.
Muyil is a small archeological site with several ruins that sees few visitors. From there, take a walk along the wooden boardwalk that leads to the observation tower and a small pier from where you can catch a boat to Sian Ka'an with a local guide.
If you don't have a car, it's also possible to visit Sian Ka'an with a guided tour from Cancun. Tours depart early morning and include many stops in the biosphere.
Fun things to do in Cancun
Luxury spa treatment
Recommended by Charles from McCool Travel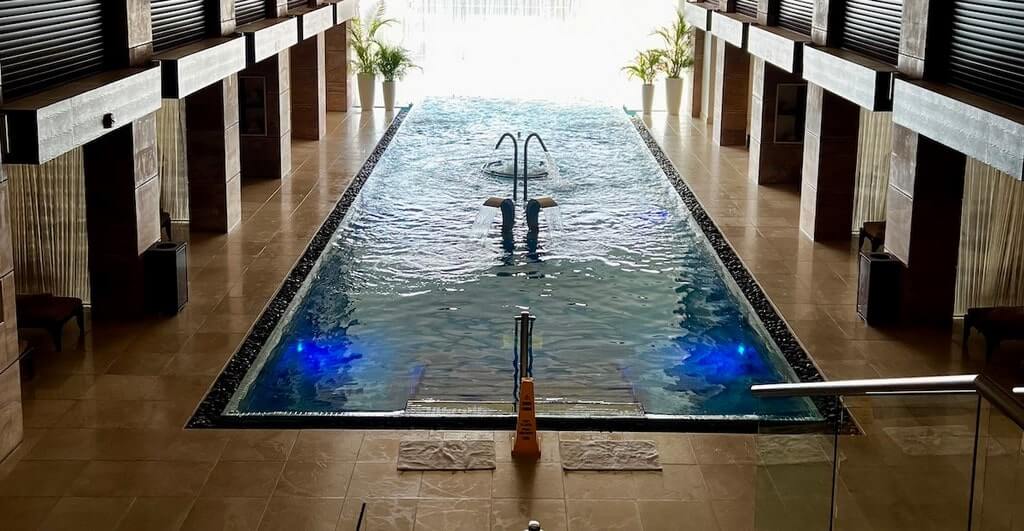 For ultimate relaxation, book a spa treatment at Grand Fiesta Americana Coral Beach Cancun All Inclusive Spa Resort. This luxury resort occupies an enviable spot on Coral Beach in the heart of Cancun's Hotel Zone. While the property features Cancun's only five-star restaurant and the original "old school" beach, let's talk about the spa.
The Gem Spa at Grand Fiesta Americana Coral Beach Cancun is one of the top-rated spas in Latin America. Indulge in a full menu of treatments (the deep tissue massage is amazing) or specialty treatments like Chocolate Body Wrap, Bamboo Massage, or Seventh Wonder (uses seven different massage techniques).
Whichever treatment(s) you book, you will have the pleasure of experiencing the ten-step hydrotherapy circuit prior to your appointment. Allow at least an hour for this phenomenal and unforgettable wellness activity. A staff member guides you through the steam room, ice room, clay room, hot tub, and six other sensory awakening and soothing stations. Note, allow extra time for the last station, the hydrotherapy pool jets. They are magnificent.
Mercado 28
Recommended by Michelle from That Texas Couple
After deciding where to stay in Cancun, your next planning piece will be to determine the things to do in Cancun that interest you. If you are a shopper, then Mercado 28 will definitely be on your list.
Mercado 28 is a shopper's paradise in Cancun. Here you can find all sort of fun food, local goods and great bargains (just be ready to negotiate).
Getting to Mercado 28 is quite simple. From the Cancun hotel zone, you take the R-2 bus. Do not be fooled though, the bus does not drop you off at Mercado 28. The bus does drop you in front of several legit looking stores, but these are not where you want to be. Just keep walking about six blocks up the street and you will see the archway for Mercado 28. This is where you will find the best deals!
While shopping Mercado 28, do not buy the first thing you see. I guarantee you will see this item again, so be sure and browse around before committing. Once you are ready to make a purchase, negotiate! I cannot stress this enough. Negotiate! While you are here, be sure to visit some of the food vendors and restaurants in the area as well!
Isla Mujeres day trip
Recommended by Brodi of Our Offbeat Life
Located just 13 kilometers off the coast of Cancun, Isla Mujeres is a perfect day trip from the mainland. The island's name translates to "Island of Women," after the temple to the Mayan fertility goddess located at the southern point of the island.
Visitors can take the fast ferry from Cancun to Isla Mujeres. The entire ride is only 20 minutes. There are several ferry terminal locations, including in the hotel zone. However, the hotel ferry terminals have significantly fewer departure times. Most people arrive and depart from Puerto Juarez, just north of the hotel zone.
Most day-trip visitors rent a golf cart to tour the 8-kilometer-long island. The going rate for golf cart rentals is typically 1,100 pesos (approximately $55). With no stops, the drive from Centro to Punta Sur is only 20 minutes.
After seeing the sights, you usually have time to lounge on the pristine beaches of Playa Norte (North Beach) or enjoy a cold beverage at a swing bar. The most popular things to do on the island are visiting the Mayan ruins on Punta Sur, snorkeling at a nearby reef, doing a street art tour, and eating at one of the many restaurants. Stopping by the Ice Bar is also a lot of fun!
Playa del Carmen
Recommended by Agnes from The Van Escape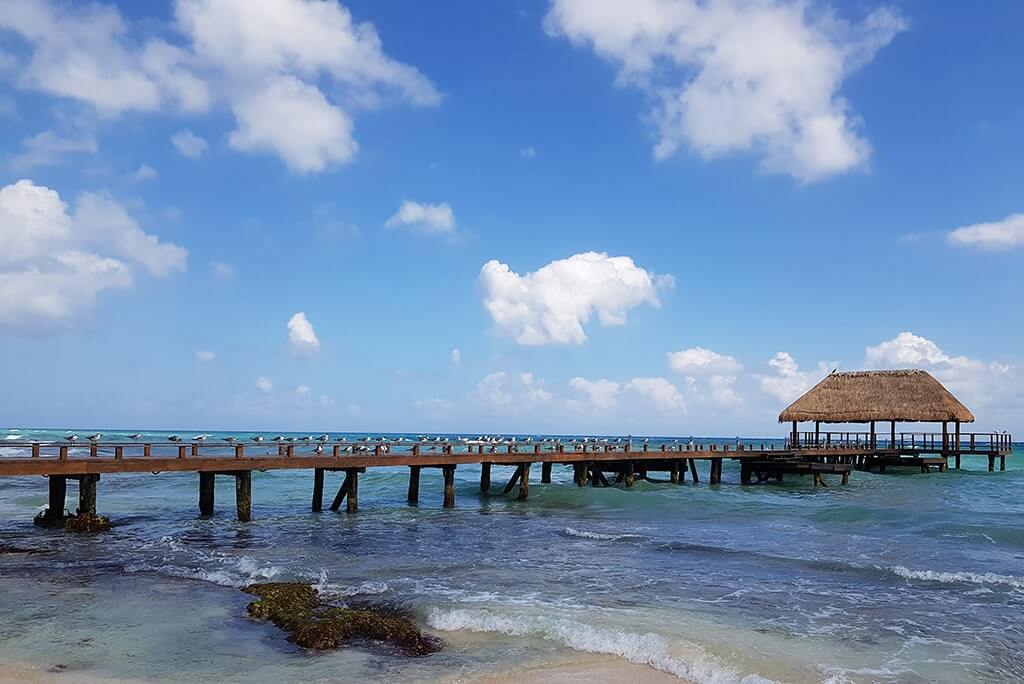 Playa del Carmen is a coastal resort town, along the Yucatán Peninsula's Riviera Maya strip of Caribbean shoreline. It's only 45 minutes from Cancun, so it's a perfect location for a day trip. You can get there by local transport, regular buses from Cancun (also ADO) or by taxi. The fastest, and most comfortable options are to take private transportation to Playa, or a shared shuttle (for just $25).
Playa del Carmen is known for its palm-lined beaches and coral reefs. Its Quinta Avenida pedestrian thoroughfare runs parallel to the beach, with blocks of shops, restaurants, and nightspots ranging from laid-back bars to dance clubs. It's a perfect place for nightlife with fabulous cocktails. It's also a great place to try traditional Mayan food for lunch or dinner. Visit El Fogon and La Perla Pixan Cuisine to try great food.
What's more, just offshore you'll find the Meso-American Barrier Reef, one of the longest coral reef in the world. It is a wonderland for snorkelers and divers alike. In Punta Esmeralda, where there is a very well-kept public beach, you can find a cenote or even two. It is from Playa del Carmen that ferries depart for the famous island of Cozumel. You can also get there on a sightseeing flight organized in the town.
One of the most popular things to do in Playa del Carmen is to visit the stylish Frida Kahlo Museum and amazing Parque Fundadores, where you'll find the Portal Maya Statue, a sculpture depicting two figures rising up to touch each other.
✦ Pro Tip: Looking for the best attractions in Playa del Carmen? Check out our epic guide for the best things to do in Playa del Carmen in 3 days.
Xcaret Park
Recommended by Melissa from The Family Voyage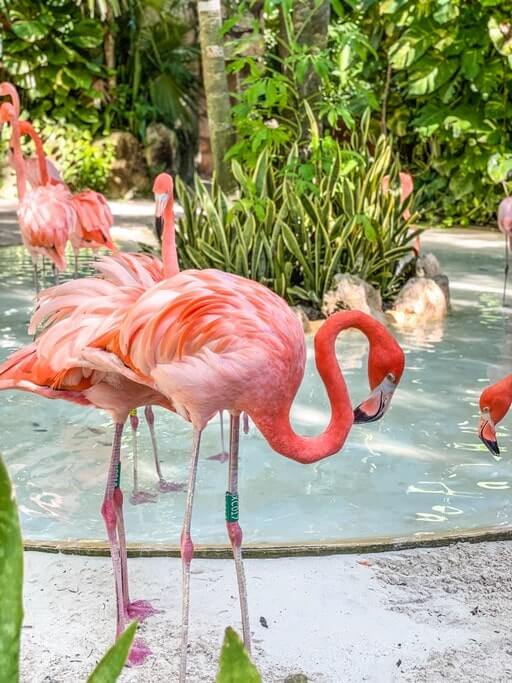 If you're eager for a fun and easy day trip from Cancun, head south to the world-famous Xcaret Park. This eco-park has more than 50 attractions ranging from outdoor adventure to Mayan culture to wildlife viewing in its 200 acres. Throughout the day there are performances around the park, culminating with the evening show.
You won't want to miss swimming across the park in the underground river or the immersive, multi-tiered spiral aviary! If time permits, there are 45-60 minute workshops throughout the day exploring traditional Mayan food and crafts. The park even has several areas of ancient ruins from the days when it was a bustling seaport.
Because there are more activities than you can realistically explore in a single day, you'll want to decide on your priorities and have a strategy for visiting the park. Be sure to read these Xcaret Park tips before your visit to make the most of your day.
Like so many activities in the Yucatan Peninsula, virtually everything at Xcaret Park is outdoors and there is a lot of walking involved. Be prepared! You'll want to wear water-friendly clothing and comfortable shoes or sandals. Don't forget to bring sunscreen and even mosquito repellent, especially for the evening.
Getting to Xcaret Park is easy, as the park offers the option to take their dedicated bus from Cancun for $30 round-trip per person. If you're on a tighter budget you can also take the ADO bus for around $10 per person round trip. Drivers are in luck, as it's easy to drive to Xcaret and parking is free.
Practical information for visiting Cancun
Best time to visit Cancun
The best time to visit Cancun is between December – April when temperatures are refreshingly mild and weather is just perfect to walk around and explore. Also the best time if you are planning to climb one or more Mayan pyramid. However, remember that Cancun gets pretty busy from mid-March to early-April because of spring break holidays.
Between June – November is the rainy summer season. The days are humid, hot, and wet. Therefore, this is not a great time to visit Cancun. September, October, and November are especially unpopular because that is also the time for hurricanes. However, as you must have already guessed this is also the time for great deals on hotels, flights, and tours.
Where to stay in Cancun
It is a good idea to stay in the Cancun Hotel Zone or Zona Hotelera because that is where majority of the accommodations are. Hotel Zone is a 14-mile-long island that is the hub of all activity – beaches, shopping, nightlife, and some Mayan ruins too. It features several all-inclusive resorts and family-friendly hotels.
Located on a secluded beach, Nizuc Resort & Spa is one of the best-rated resorts in Cancun. They have 6 on-site restaurants that serve everything starting from Mexican to Peruvian and Asian. Nizuc's luxury spa is one of its kind. And those views of the ocean are simply gorgeous. Check out the pictures here for some stunning views of the Caribbean Sea.
Estudio Playa Mujeres is an all-inclusive, family-friendly resort that has some rave reviews. Not only is the property beautiful but they have a ton of activities for kids including a kids club with nature, art, and fun activities, a planetarium, and a waterpark featuring amazing experiences for kids.
If you are looking for a budget-friendly option in the Hotel Zone, Residence Inn by Marriott is the perfect choice. They have clean big studios that are well equipped with kitchens and comfy beds. Guests love their extensive breakfast buffet, room views, and rooftop swimming pools.
If you are looking for something cheaper or wish to avoid the hubbub of Cancun's Hotel Zone, try Downtown Cancun. Here are some great options.
The Quetzal is a warm, cozy place to stay. It features large rooms, an outdoor swimming pool, garden, and a terrace. Guests love their service, delicious breakfast, and warm, homelike feeling. Read more amazing reviews of The Quetzal here.
Casa Soliman is a comfortable apartment that is perfect for a family. It has 2 bedrooms, one bathroom, a kitchenette, a microwave, and a minibar. The apartment has exceptional reviews from its guests who love the location, the snug beds, and the friendly owners.
Getting to Cancun
You'll need to fly in to the Cancun International Airport. Check here for the all the airlines that fly into Cancun.
If you have already planned your trip, book a private transport from the Cancun Airport here.
Getting around Cancun
Buses are a popular way of getting in and around Cancun. Local public transportation buses shuttle around the Hotel Zone and Downtown and have convenient stops at popular restaurants, malls, hotels, and beaches. Buses are quite frequent and cost around 12 MXN per ride.
For day trips to Playa del Carmen, Chichen Itza, and others, we regularly used ADO Buses – super convenient and clean. Colectivos are another popular option for commuting between towns on the Riviera Maya.
Taxis are available in plenty in and around Cancun Hotel Zone. Uber also operates in Cancun but there are times when ridesharing companies get into trouble with taxi unions, thus leading to suspension of services.
Loved the best things to do in Cancun Mexico? Pin it for later!