Last Updated on April 15, 2020 by Soumya
Ever since I came back from Portugal, I have been swooning over the country. Those cobblestone streets, sweeping vistas, unending facades of Portuguese blue tiles, and a bunch of delectable Pasteis de Nata – Portugal was no less than a love affair for me! I knew immediately that I had to keep this love going by visiting Portugal virtually. Literally, like every day. So, I decided to carve an armchair travel guide to Portugal. If you are not able to travel to the real Portugal for whatever reasons, then this guide will keep you going. Travel to Portugal virtually and keep up the wanderlust.
Busy now? Pin our post now and virtually travel to Portugal later!
I am not necessarily an armchair traveler. I love to be in the thick of things. Yes, right at the destination. But, let's accept it. All of us have had to cancel/postpone our trips at some time or the other. Health issues, office work, personal matters, and even global problems have led to cancellations.
Last year, we had to cancel our spring trip to Europe on the very last day. Reason? I got really sick and had to head to the hospital! But how to deal with wanderlust when you are stuck at home? Of course, travel vicariously and virtually. And that is exactly what I am going to do in this Armchair Travel Guide to Portugal.
Traveling virtually is an easy thing if you know of the right resources. In this virtual travel guide to Portugal, I will point out various 360-degree tours and videos of Portuguese cities that you can access from home.
Here is a list of Virtual Travel Resources that I typically use.
Google Arts and Culture App is an excellent travel resource and features more than 2000 museums from around the world. The good news is they keep adding and updating. If you do not find something in there today, come back tomorrow. It might just be there!
I love YouTube. Videos, coupled with the right music, have a powerful effect on me. And Rick Steves is my go-to-guy whenever I think of any place in Europe. Further, some tourism boards also have YouTube channels and videos that actually transport you to their destinations.
Interactive content websites such as You Visit and Samsung XR are not as extensive but have amazing 360-degree tours of cities, museums, and attractions.
Social media can help sometimes. Museums/tourism boards with active pages on Facebook and Instagram post videos and virtual tours regularly. For example, the guys at Prado Madrid have been doing regular videos on Facebook lately.
There are so many Portuguese Museums that provide virtual tours. You will see a consolidated list at the end of this post.
See Also: The Most Beautiful Cultural Cities in Europe and How to Travel to them Virtually
Now, let's travel to Portugal from the comfort of our homes.
Just click on the bold highlighted links and get transported to Portugal! From home!!!
1. Visit Lisbon from home
If you have chalked out a Portugal itinerary, I am sure you have Lisbon in there. So, that is where we will begin. In the colorful capital city of Portugal. In Lisbon. Lisbon is often called the city of 7 hills. And nestled within them are quaint, charming neighborhoods.
Alfama is one of the most picturesque neighborhoods in Lisbon. And Sao Jorge Castle located here is the oldest fortress. In this panoramic tour of Lisbon, you can climb the Sao Jorge for stunning views of the city, visit Lisbon's main cathedral, the Se, and walk down some of those narrow Alfama streets. While you are at it, also visit the National Pantheon and take a virtual stroll through the galleries of the National Tile Museum. Make sure you get up to the top floor to view the grand panorama of Lisbon before the 1755 earthquake.
Here are a few more virtual tours that are very well done and provide a deep understanding of the kind of European city Lisbon is.
Lisbon is filled with street art of all kinds – quirky, evocative, and practical. Here is a nice collection if you are a fan. And there are some more on this page if you would like to explore more.
Explore Europe's richest collection of musical instruments at the National Music Museum.
If you are keen on religious art, then you have to take a tour of the online collection of the Museum of Sao Roque. They have a treasure there. Underneath, you will also find virtual tours of the opulently-gilded Church of Sao Roque, one of Lisbon's must-visit attractions.
2. Visit Belem from home
If you are in Lisbon, you should definitely spend a day in Belem – Portugal's gateway to the world. Yes, it is from Belem that navigators took off to explore the world. Belem was the center of Portugal's Age of Discoveries.
In Belem, you will find the iconic Jeronimos Monastery and the Belem Tower. While the former served as a rest house for navigators before they embarked on their journeys, the latter served as a lighthouse/watchtower. It is known that the famous explorer, Vasco da Gama, spent his last night at Jeronimos before leaving for his discovery of the Orient.
You can do easy tours of the Jeronimos Monastery and the Tower of Belem right from your home. There are interesting stories, online picture galleries, and 360-degree views. You can also visit the National Coach Museum, a hidden gem in Belem. Saunter through the galleries and watch how opulent carriages could get in the olden days.
3. Visit Sintra from home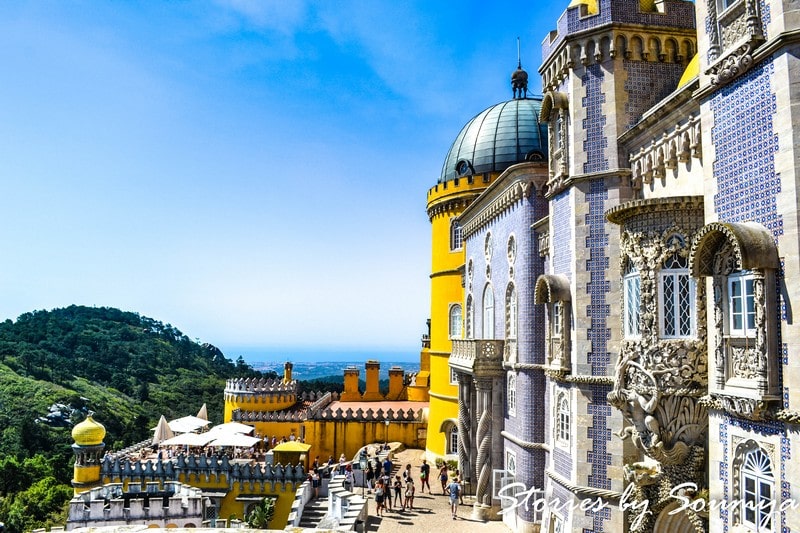 Anyone traveling to Portugal usually takes a day trip to Sintra from Lisbon. Sintra is Portugal's fairytale town filled with magical castles and out-of-the-world palaces. The Pena Palace, Moorish Castle, National Palace of Sintra, and Quinta da Regaleira are the most interesting and popular ones. Here are a couple of online tours of Sintra that I absolutely love.
An incredibly photogenic tour of the Pena Palace on AirPano. Check out the bird's eye views and the closeups of various parts of the palace. I could almost feel like I was back in Sintra.
And, Pena Palace is usually pretty crowded. So, I would never give up a chance to visit it virtually.
Google Arts and Culture have amazing online exhibits of the National Palace of Sintra as well as a great 360-degree tour. Click here for the tour.
Also, check out the striking interiors of the palatial mansion, the Monserrate Palace. So much Moorish influence in there.
4. Visit Coimbra from home
Coimbra houses one of the oldest universities in Europe which is a UNESCO Heritage Site. It is also a charming, riverside city with great views. And walking through the old town which has very visible Moorish influences is an experience in itself. This video, below, by the Coimbra Municipality is a great first step to exploring Coimbra virtually.
It is believed that a lot of what we read and saw in Harry Potter was inspired by the University of Coimbra. For example the black cape and the Hogwarts Library. Do not believe me? Check out the small presentation video here. And then come back and tell me.
A short detour to Conimbriga
And while you are in Coimbra, I strongly recommend taking a tour of the Roman ruins of Conimbriga. They are located a stone's throw away from the Coimbra city center. Well, not really a stone's throw away! But very close. 30 minutes by car. And with virtual travel, just a click away.
Conimbriga has some of the best-preserved mosaics from the Roman times. And the best part is you can zoom in on these mosaics right from your armchair on this virtual tour. You can also take an online tour of the Conimbriga Monographic Museum where a lot of Roman antiquities and beautiful mosaics are stored.
Visit Obidos from home
Well, this is the heart of Portugal. And a very pretty one at that. Obidos is an adorable medieval town in central Portugal. You got to spend at least a day in Obidos when you travel to Portugal. And that is because it is so pretty.
Obidos is exactly what picture postcards are made up of. A medieval castle, vibrantly-painted homes, narrow cobblestone streets, and colorful flowering plants everywhere – you cannot stop clicking pictures. Even if I cannot visit here every day, I don't mind taking this panoramic tour up the fort walls for a stunning view of the town and valley below. Be careful! Those fort walls may make you dizzy.
Visit Batalha and Alcobaca from home
Two other important towns in Central Portugal, Batalha and Alcobaca are well known for their huge imposing monasteries. The Batalha and Alcobaca monasteries are both outstanding examples of Manueline architecture and hence, are UNESCO World Heritage Sites. Here are a few virtual tours that I take when I crave for Manueline ornaments, stone ropes, and vaulted arches.
A tour of the Monastery of Alcobaca on Google Arts and Culture. You can explore the chapel, the sacristy, and the cloisters.
A similar tour of the Monastery of Batalha where you can check out the main cathedral, the beautiful cloisters, and views from the 1st floor.
I discovered this channel called Portugal in 150 seconds and I am so loving their videos. They have one on the Alcobaca town which is outstanding and lets you see much more than just the monastery.
Visit Porto from home
Porto, the second-largest city of Portugal, is home to some of the prettiest azulejo facades in the world. Yes, Porto was my favorite city for azulejo-spotting. Azulejos are exquisite blue tiles (sometimes colorful too) that decorate almost every other building across many cities in Portugal. And they tell many stories. In Lisbon, you have the Azulejo Museum (listed below) that you can take a virtual tour of.
I love this Porto 360-degree Virtual Tour. They literally show you the entire historic center in 4 and a half minutes. And you can catch some of my favorite blue-tiled walls in there. On Google Arts and Culture, you will find an interesting online exhibition. Of Porto's Piano Tradition at the Porto Music Conservatory. Equally thrilling for music, culture, and history lovers.
Other places to travel to in Portugal from home
There are so many other places and sights in Portugal that you can travel to from home. With so much history, culture, and natural beauty in there, it is but obvious that you have so many choices. Here are some of my favorite ones.
A beautiful video of the Fatima Sanctuary, one of the most important Catholic pilgrimage sites in the world.
Gorgeous aerial videos of Elvas and Evora. And a really adorable one of Portugal's Venice, Aveiro.
All about Portugal's unique decorative element – The Azulejo
Spotlight on two masterpieces by Grão Vasco, Portugal's Renaissance master painter – The Last Supper and The Crucification of Christ
A virtual tour of Portugal's most iconic monuments.
Here's a list of popular Portuguese Museums with Virtual Tours
This is by no means a complete list. I have compiled this based on my research and an unending desire for everything Portuguese. However, I might have missed some important ones. Do let me know if I have. I would love to explore them.
These are some of the resources that I use to satiate my wanderlust for Portugal.
Do you do the same too? What are your favorite virtual tours to travel to Portugal? Do let me know in the comments below. But don't leave without viewing this adorable video by Rick Steves where he talks about so many different places in Portugal's heartland including Nazare, Batalha, Coimbra, and Porto. If nothing else, it will definitely inspire you to plan your next trip.
If you decide (or have already decided) to travel to Portugal sometime in the future, then do check out our other posts on the country. We loved Portugal so much that we have written extensively about it!
Loved our post on how to travel to Portugal from home? Pin it!