Last Updated on February 14, 2023 by Soumya
Wondering what are the best things to buy in Sri Lanka? Looking for the best Sri Lanka souvenirs? What gifts from Sri Lanka will appeal to your family and friends?
Well, well, well. We are here to answer all your Sri Lanka shopping questions. And some more!
Checking out local markets and picking authentic local souvenirs is my favorite part of every trip. Souvenirs in Sri Lanka are colorful and full of history and are wonderful gifts for friends back home. Whether it is a packet of Ceylon Tea, a bag of fragrant spices, batik-printed sarongs, or a tiny fridge magnet featuring an elephant, Sri Lanka's gifts will remind you of the amazing times you have had in this beautiful country.
So, if you are looking for that perfect gift for yourself or your loved one, check out this comprehensive Sri Lanka souvenir shopping guide. I have listed 16 things that are totally the best buys in the pearl island. If you think that your favorite Sri Lankan gift item is not listed here, then do let me know in the comments below.
Please note: This post may contain affiliate links which means I may earn a commission if you make a purchase by clicking a link on this post. This will be at no additional cost to you. Affiliate links help me keep this website up and running. Thanks for your support!
Best Foodie Souvenirs from Sri Lanka
Spices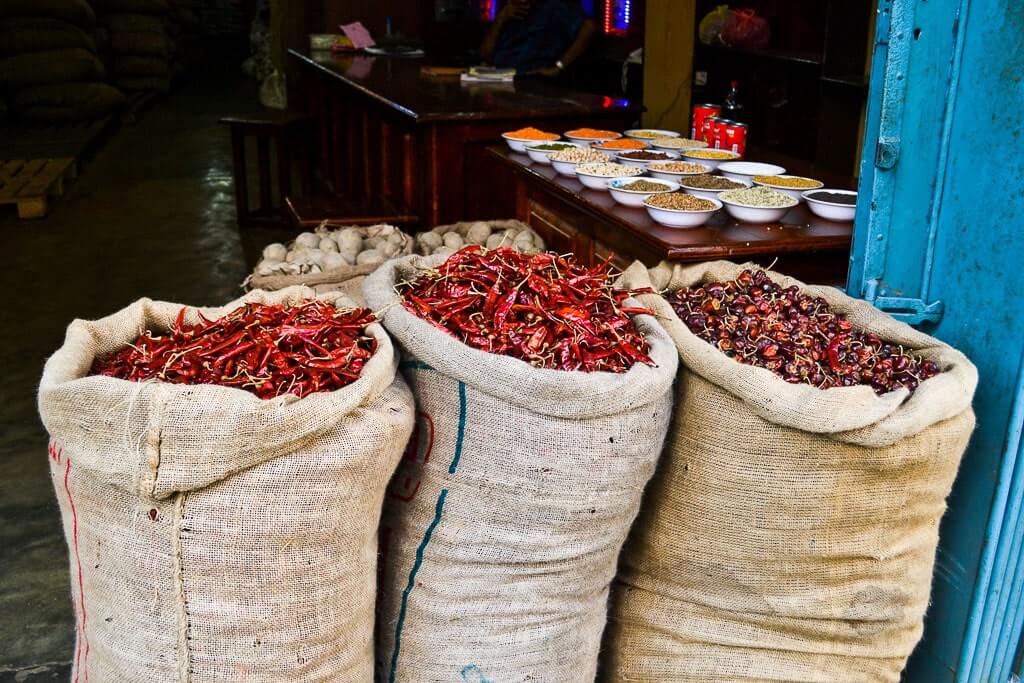 Among all the wonderful things to buy in Sri Lanka, spices are one of my favorites. They are light, available in small packets, and easy to carry home.
Like you know, Sri Lankan cuisine uses a lot of spices, all of which add amazing flavors to their food. If you have ever enjoyed a good Sri Lankan rice and curry, felt the tingle of pol sambol on your tongue, or sat down to lunch at a local Gami Gedara, you'll know what I am talking about. If you are foodie and looking for the perfect Sri Lankan souvenir to bring home, then go ahead with spices. They are absolutely the best!
There are lots of different spices to choose from. You can pick cinnamon, black pepper, cardamom, cloves, nutmeg, and definitely some red chillies. The best place to get authentic and cheap Sri Lankan spices is the Pettah Market in Colombo. If you are traveling in northern Sri Lanka, be sure to pick some Jaffna curry powder which makes your mutton curry absolutely heavenly.
Ceylon Tea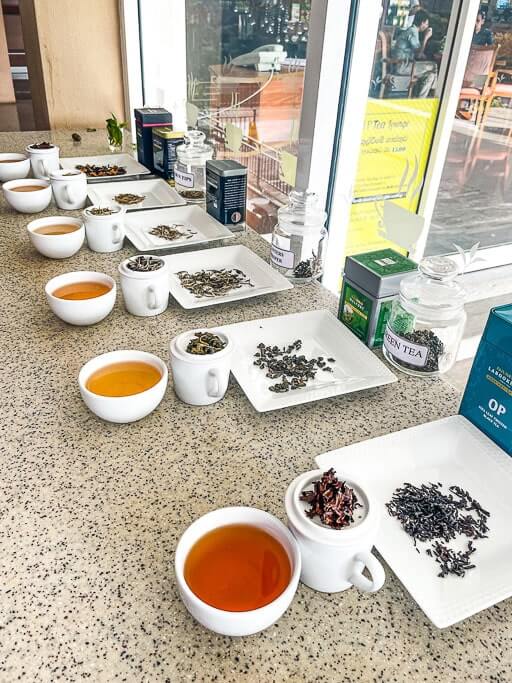 One of the best souvenirs from Sri Lanka is of course, Ceylon Tea.
The pearl island is famous for its Ceylon Tea, the history of which goes back more than 150 years. It grows in the hills of Sri Lanka's Central Highlands, especially around the towns of Nuwara Eliya, Ella, and Kandy. When you are in these towns, tea factory tours and walking tours of tea gardens are regular things to do. After the tour, you can always pick your favorite tea packet as a souvenir. Here are a couple of good tea tours if you are looking for one.
Tea is not just a drink in Sri Lanka. It is an inherent part of Sri Lankan culture and heritage. Ceylon tea is bold and flavorful. Most Ceylon teas are black but now, you can easily find green tea flavors.
The best tea is found at the highest elevation, in the Nuwara Eliya and Uva regions. Therefore, when you are in the highlands, a tea factory visit is a must. Damro Labookellie Tea Factory has been my go-to place since forever. They sell an exotic white tea flavor which is definitely worth a try.
Ceylon Coffee
You have probably heard of Ceylon tea but have you heard of Ceylon coffee? Do you know that the history of coffee predates that of tea in Sri Lanka?
Unfortunately, a massive coffee rust struck the Sri Lankan highlands in the late 1800s and that destroyed most coffee farms in Sri Lanka. Tea took over after that but people continued to cultivate coffee in small patches. So even though tea is the most popular drink in Sri Lanka, coffee is the rarer one.
I am no coffee connoisseur but I know that the highlands of Sri Lanka give Ceylon coffee some unique flavors. Different microclimates within the highlands result in the coffee having citrusy, floral, and honey notes.
Therefore, if you are a coffee lover and not a tea enthusiast, Sri Lanka won't disappoint you. You can buy good, local coffee in the markets of Colombo or in Kandy. Some of the popular coffee brands are Harishchandra Coffee and Soul Coffee.
Tropical fruits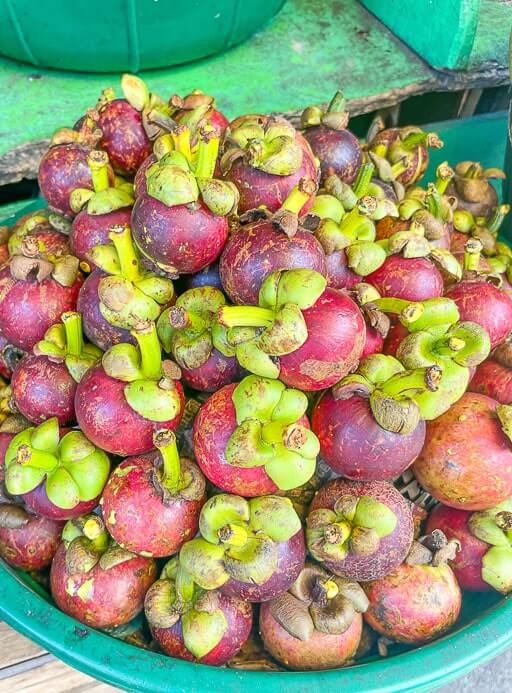 Love tropical fruits? Well, you are going to find lots of them in Sri Lanka.
Available in all colors and varieties, fruits are something I love to pick every time I visit Sri Lanka. Some of my favorite exotic fruits are mangoes, rambutans, mangosteens, star fruits, passion fruits, soursops, and Ceylon olives.
Trivia. Did you know that you can get mangoes in Sri Lanka throughout the year? Sounds crazy, but this is true! As an Indian who grew up in India, I always knew that mangoes were available in summer. But Sri Lanka has them all the time! I can travel to Sri Lanka only for this!!!
The only issue with tropical fruits is that they do not last very long. So, it maybe an issue to carry them home especially if you have a long flight back. But they are the perfect souvenirs if you have shorter flights or just want to pick something when traveling between cities. Fruit shops are abundant on the highways!
Lentils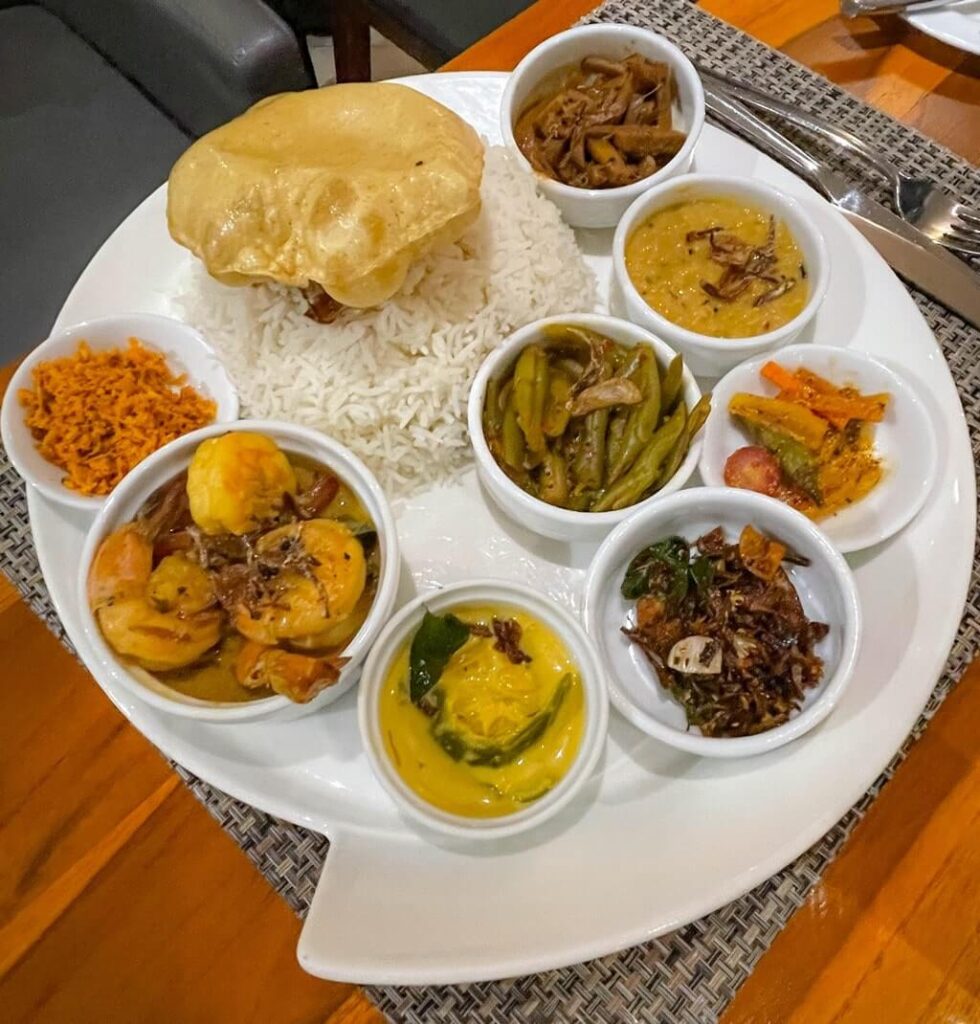 Another food item that I love to shop in Sri Lanka is lentils. I have always been a big fan of Sri Lankan dhal or parippu curry and obviously, wanted to recreate the popular parippu at home. That's why I always pick a packet of red lentils on my way back home. You'll get one anywhere in Sri Lanka, the mom-and-pop stores or Cargills or Keells.
On my last trip, I discovered my love for yet another Sri Lankan lentil i.e. the kollu dal. Better known as horsegram, kollu dal is a super food and contains the highest amount of protein in any lentil. Further, it has got a more earthy taste when compared to the more refined taste of other lentils. And that's what makes kollu an interesting addition to your Sri Lanka gift kitty. If you have some health-conscious friends out there or just someone who loves to try new food items, gift them a packet of kollu dal.
Collectibles to buy in Sri Lanka
Raksha masks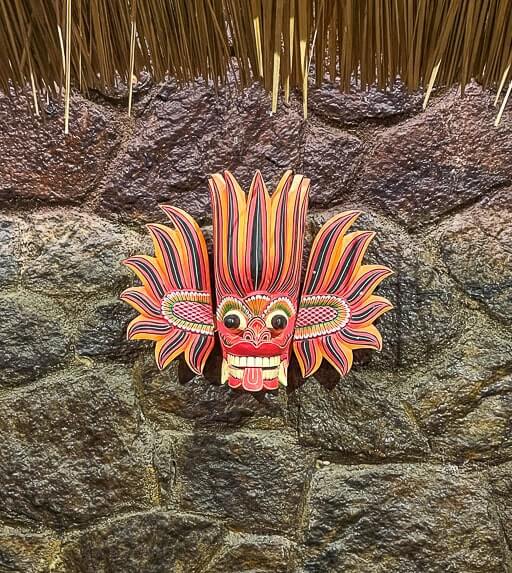 Traditional Raksha masks are the perfect gifts from Sri Lanka for your friend who adores cultural knick-knacks.
Sri Lanka's raksha masks look like weird demons. It is believed that these masks drive away bad luck and protect you from the evil eye much like the nazar boncuk in Turkey. The word "raksha" literally translates to protection in the local language.
Raksha masks are available in different forms such as cobra, eagle, peacock, and fire. The Fire Devil mask is probably the most popular. I have seen it everywhere! You can hang these masks on your wall. Or buy a mask fridge magnet if you want a cheaper version.
Batik paintings
Java, Indonesia is probably where batik painting first originated. However, it spread to everywhere in South Asia and beyond including Sri Lanka through maritime trade routes. Now, batik painting is a thoroughly established industry in Sri Lanka and a major tourism revenue earner.
Batik paintings are one of the most sought-after gifts from Sri Lanka. Handmade in a unique process that involves a copper stylus and beeswax, batik pieces usually feature nature-inspired designs in beautiful colors. In Sri Lanka, be ready to expect lots and lots of elephants. These paintings make the perfect wall decor for your room. Or maybe a good evening dress?
Some of the best places to buy batik are Lakpahana in Colombo and Prestige Selections in Kandy.
Elephant statues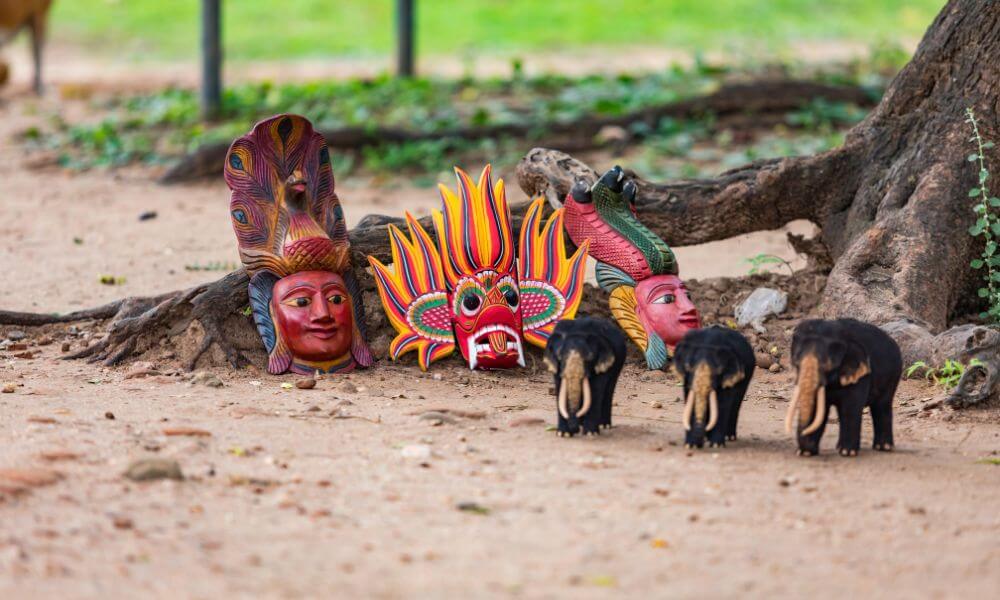 You cannot miss the elephant in Sri Lanka. They are everywhere – in the jungles of Yala and on the shelves of literally every souvenir shop in the country.
Pick cute elephant statues to bring back home with you. You can get handmade ones at souvenir stalls. They are usually made of wood and colored in bright hues.
Palmyra baskets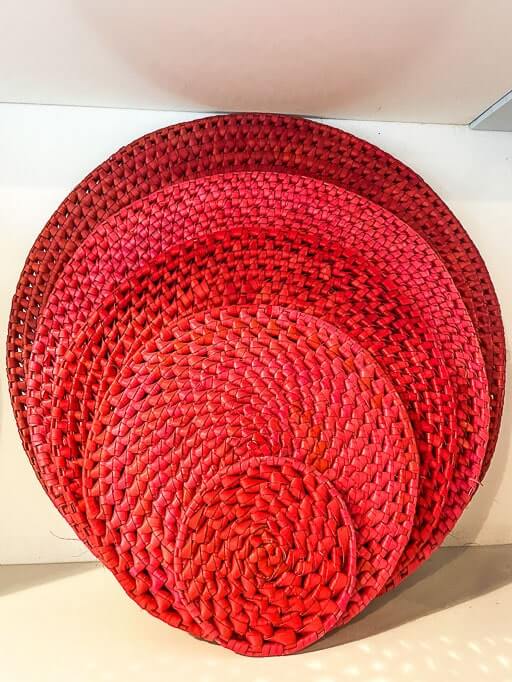 One of the best things that I picked up in the local market in Jaffna was a colorful palmyra basket.
Palmyra is a big industry in Sri Lanka and palmyra products are all over the place. Local artisans use both young and mature palmyra leaves to weave mats, baskets, trays, and storage boxes. These items are wonderful souvenirs to buy in Sri Lanka. They are beautiful, light in weight, and a great way to support local community.
So, if you are ever in a fix about what to buy in Sri Lanka, then go check out a palmyra handicraft in a local market. I found some of the best palmyra baskets at the Yalpanam Market in Jaffna.
Moonstone carvings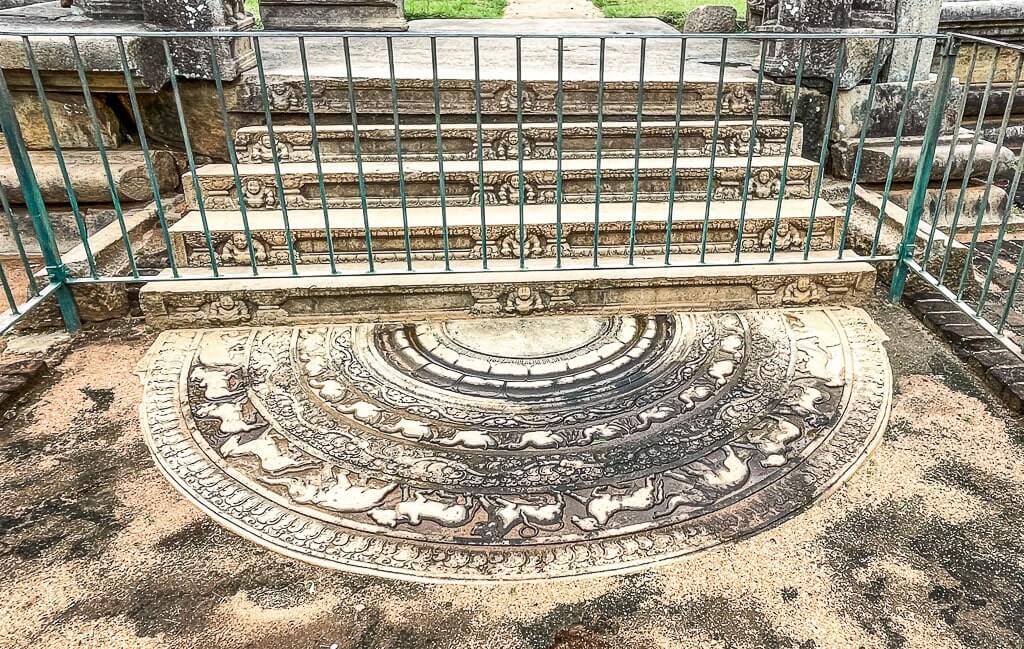 If you are searching for a really unique souvenir from Sri Lanka, then look out for a traditional moonstone carving. I am not talking about the gemstone here, rather a beautiful stone carving that you'll find at the beginning of the steps of stupas in Sri Lanka. The stone carving is called a moonstone or "sandakada pahana". There are plenty of them all over the country including two very iconic ones in the ancient cities of Anuradhapura and Polonnaruwa.
The good news is that you can find hand-carved wood and stone sandakada pahana in the souvenir shops of Colombo and Kandy. Buying one of these is almost like taking a bit of Sri Lanka's history home!
Best Sri Lanka Souvenirs to wear
Dresses & Sarongs
The tropical climate of Sri Lanka gets you craving for airy, cotton clothes. What if I told you that you'll find plenty of them for cheap prices, especially in the beach towns of Sri Lanka?
Negombo and Bentota are my favorite places to get my annual stash of dresses, pants, and sarongs in Sri Lanka. These dresses are light and airy and not very expensive. In short, they are perfect for the beach and the sultry heat of Sri Lanka. Plus, sarongs are much needed in stupas and other religious places where you need to cover your knees. It is always handy to have one in your bag.
On my last trip, I got dresses worth $20-$30 and pants worth $10-$15. All of them have elephants and coconut trees printed on them. And, I so love them!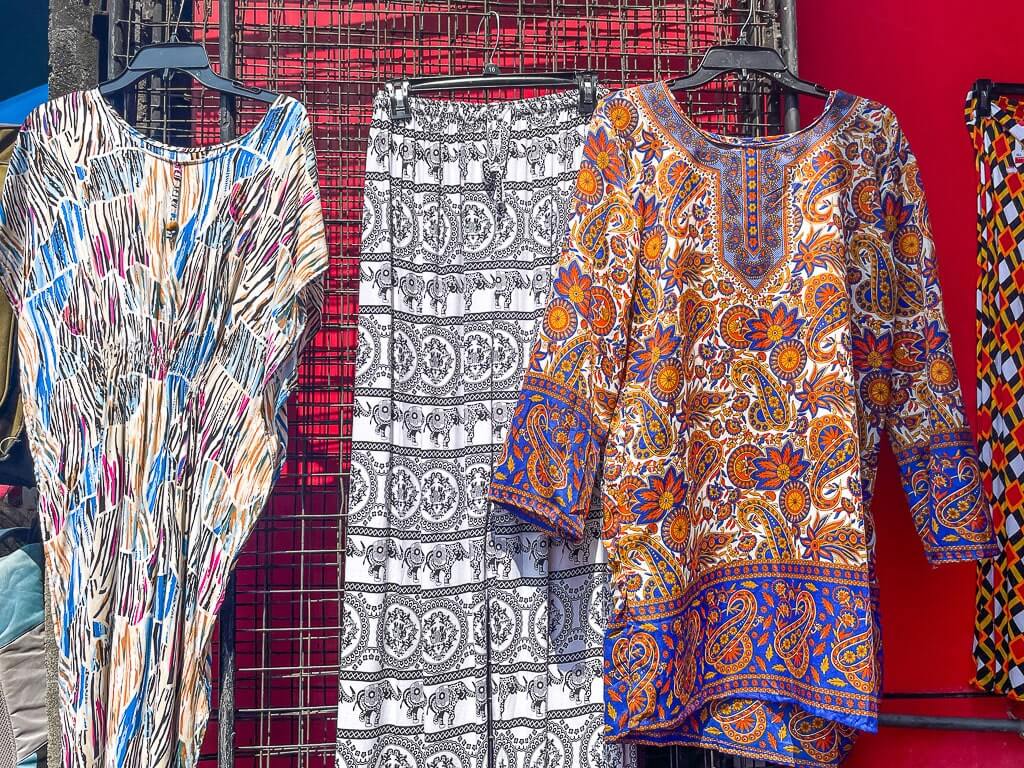 Sri Lankan saree or Osariya
Do you love Indian sarees? Then, I am sure you'll drool over osariyas.
Osariya or the Kandyan saree is the traditional attire of Sri Lankan women. It is quite similar to the Indian saree in the fact that it is a single piece of cloth of about the same length. But the way in which the osariya is worn is different. There are frills around the waist and no pleats. That gives osariyas a pretty unique look.
Osariyas come in all kinds – cotton, batik-printed, and hand painted. Traditional osariyas can range between $10 – $1000 depending on the quality that you are looking for. I wouldn't recommend getting the cheapest ones since the quality is not great and authenticity can be dubious.
Wear the osariya with a shirt/blouse and an underskirt and pair it with some regal Kandyan jewelry for the authentic Sri Lankan look.
Precious gems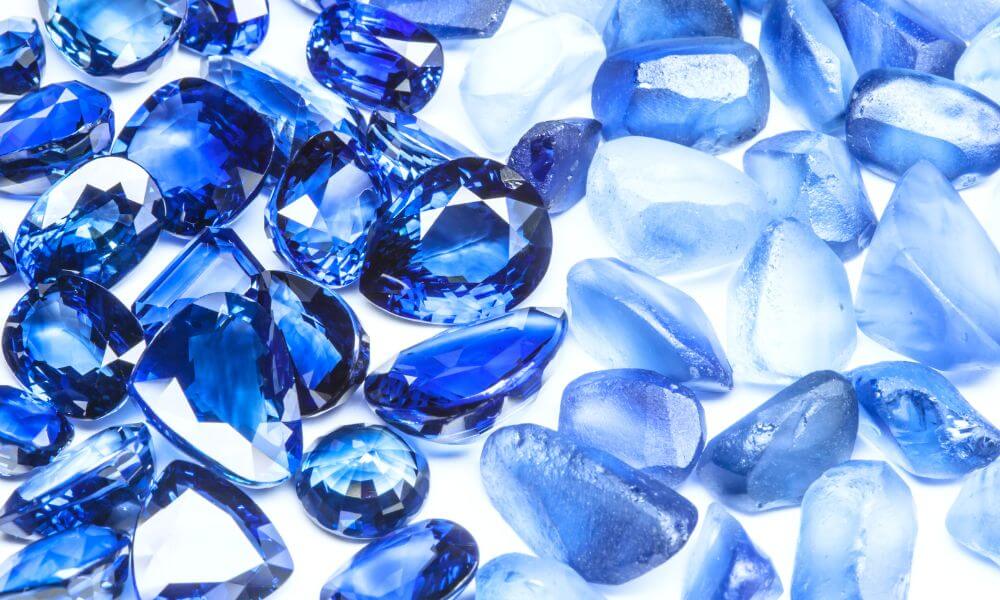 Sri Lanka is famous for its gems and precious stones. Apparently, Sri Lanka is the top supplier of blue sapphires, rubies, cat's eye, and garnet stones in the world today. No doubt, this tiny nation in the Indian ocean was once called the Ratna Dwipa or the Gem Island. So, it goes without saying that gemstones and jewelry are one of the best souvenirs to buy in Sri Lanka.
You'll find gem stores in all Sri Lankan cities. Prestige Gems – Ceylon Sapphires and Salie's Fine Jewelry & Gem Stones are a couple of renowned gem brands in Colombo. It is important to evaluate the authenticity of the product before buying. Be sure to ask for the Sri Lankan Gem Corporation certificate for every item that you decide to purchase.
Cheap things to buy in Sri Lanka
Fridge magnets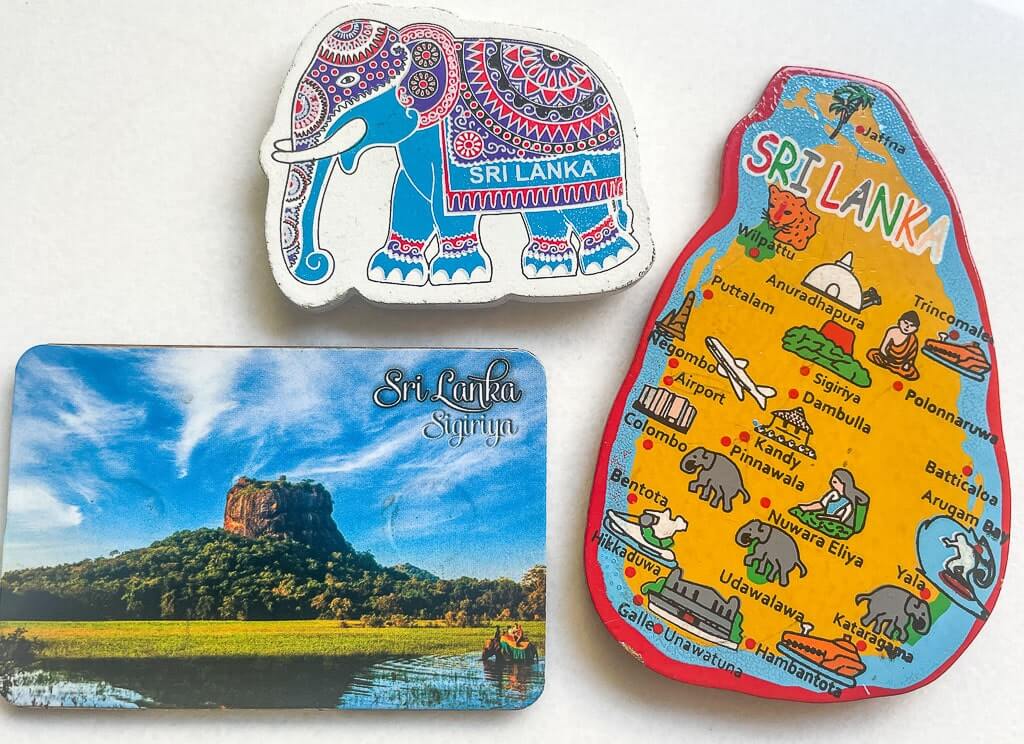 If you are confused about what to buy in Sri Lanka, I suggest you start with a fridge magnet. Easy to carry and easy on the pocket, fridge magnets are the cheapest things to buy in Sri Lanka.
And guess what? They are available literally everywhere on the island – outside every possible Sri Lankan landmark.
Postcards & stamps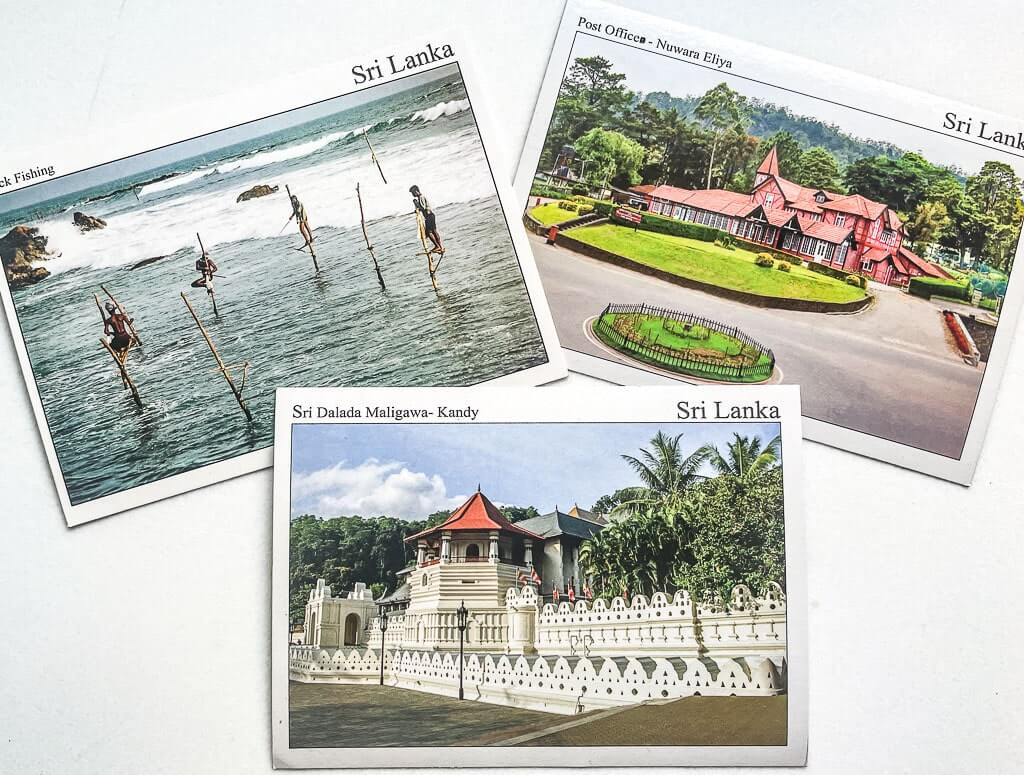 Other inexpensive things to buy in Sri Lanka are postcards and stamps. If you are the kind that likes to send postcards to friends and family from faraway lands, then walk into the world's cutest post office in Nuwara Eliya and choose from their amazing collection of postcards.
The Nuwara Eliya post office also has a good collection of vintage stamps if philately is your thing. The best part is that both postcards and stamps are cheap to buy but make your trip so memorable.
Pots, pans, and ladles for your kitchen
Do you love collecting cooking vessels from around the globe? I do too. So every time, I am visiting a local market, I make sure I check out what the locals use to cook – their pots & pans, their ladles, and their trays & plates.
Kitchen items are extremely reasonably priced in Sri Lanka which makes it all the more exciting to shop here. You'll find aluminum pots of all sizes and shapes. I totally adore their hopper-makers which are so easy to use.
I also love their wooden ladles (made of wood and coconut shells – see picture below). These are a regular feature in my kitchen these days.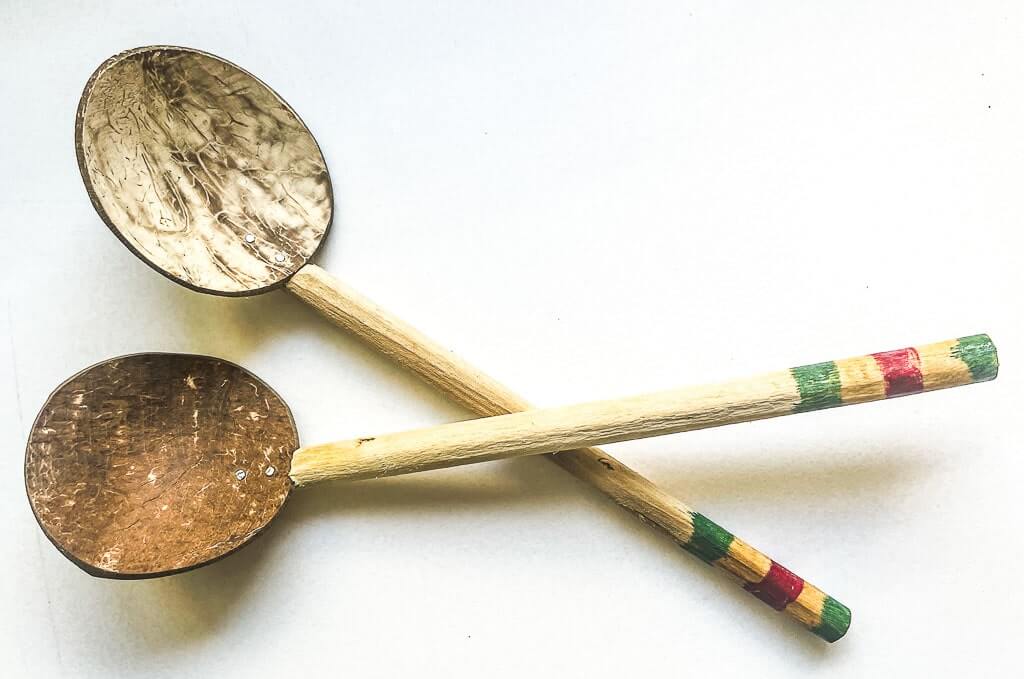 Tips for shopping in Sri Lanka
If you are looking for a wholesome Sri Lankan souvenir shopping experience, head to Lakpahana in Colombo. Lakpahana employs local artisans and stocks some of the best quality souvenirs in the country. You'll find everything here starting from raksha masks and Buddha statues to palmyra handicrafts and batik paintings. Laksala is another such store in Colombo.
For a more immersive experience, I would recommend heading to local markets in Colombo, Kandy, Nuwara Eliya, and Jaffna for gift shopping. The Pettah Market in Colombo and the Yalpanam Market in Jaffna are my all-time favorites.
Sri Lanka is famous for precious gems. In ancient times, it was called the Gem Island. If you're looking for the best blue sapphires, rubies, and garnets, then it is a good idea to buy them in Sri Lanka. But remember to ask for the Sri Lanka Gem Corporation authenticity certificate before purchasing.
Sri Lanka souvenirs FAQ
What is famous to buy in Sri Lanka?
The most famous thing to buy in Sri Lanka is Ceylon Tea that is one of the best teas produced in the entire world. You can also buy an amazing variety of Sri Lankan spices and Ceylon sapphires for taking home as gifts from Sri Lanka.
What should I bring back from Sri Lanka?
You should definitely bring back Ceylon tea, spices, raksha masks, palmyra handicrafts, and elephant statues from Sri Lanka. If you're willing to splurge, purchasing blue sapphires is a great idea.
What are the best products from Sri Lanka?
Some of the best products from Sri Lanka are homegrown spices such as cinnamon, black pepper, and red chilies, highland tea called the Ceylon tea, and world class gems such as blue sapphires, cat's eye, rubies, and garnets.
Loved our Sri Lanka souvenirs guide? Pin it for later!