Last Updated on January 21, 2023 by Soumya
Are you visiting Kandy, Sri Lanka and wondering what to do? Looking for the best things to do in Kandy and unmissable attractions? Curious about Kandy City and its best places? Sweat not. Here's the perfect Kandy travel blog to answer all your burning questions.
Kandy, the last royal capital of the Sri Lankan monarchy, is the second largest city in the country. It is home to one of Sri Lanka's most important UNESCO heritage sites that includes Sri Dalada Maligawa or the Temple of the Sacred Tooth Relic. Every year, Kandy plays host to an important religious festival called the Esala Perahera.
Apart from being Sri Lanka's prime cultural destination, Kandy is also a nature lover's delight. Because of its location in the mountains, there are several beautiful places to visit in Kandy including the Kandy Lake and the Royal Botanical Gardens of Peradeniya. The mountainous towns of Nuwara Eliya and Ella are not very far away. No doubt, there are umpteen attractions in Kandy that totally deserve a place in your bucket list.
I have traveled to Kandy a few times already and it is one of my favorite places to visit in Sri Lanka. Here's my ultimate Kandy travel guide that includes the very best things to do in Kandy, best tours, day trips, and great places to stay. If you think I have missed your favorite Kandy highlight, do let me know in the comments below.
Please note: This post may contain affiliate links which means I may earn a commission if you make a purchase by clicking a link on this post. This will be at no additional cost to you. Affiliate links help me keep this website up and running. Thanks for your support!
Planning your trip to Kandy, Sri Lanka last minute?
If you are booking your trip to Kandy last minute, don't worry. We have you covered. Here are some of the best tours and hotels in Kandy, Sri Lanka.
Top Experiences and Tours in Kandy
Top Hotels in Kandy
---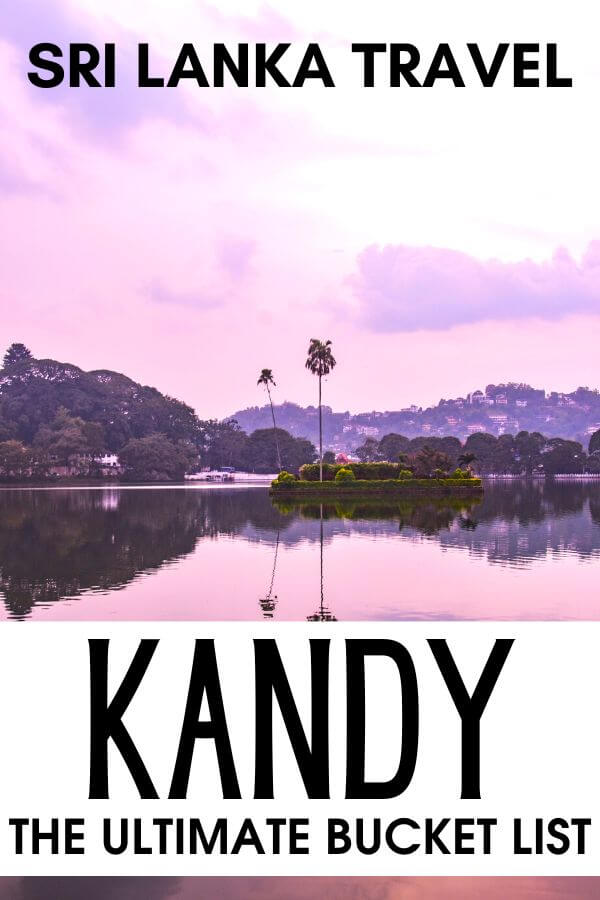 Best cultural things to do in Kandy, Sri Lanka
Visit the sacred Temple of the Tooth Relic
One of the must visit places in Kandy, Sri Lanka is the Temple of the Tooth Relic.
Sri Dalada Maligawa or the Temple of the Sacred Tooth Relic is the most important Buddhist temple in Sri Lanka. And that is because it houses the tooth relic of Lord Buddha – one of the major reasons why Kandy is a UNESCO World Heritage Site today.
The temple was consecrated in late 16th century and is housed in the royal palace complex of the erstwhile Kandyan Dynasty. Devotees throng to the temple throughout the year. Rituals happen thrice during the day – at dawn (5:30am – 7:00am), morning (9:30am – 11:00am), and evening (6:30pm – 7:30pm). The temple is also the place where the annual procession of Kandy Esala Perahera starts every year.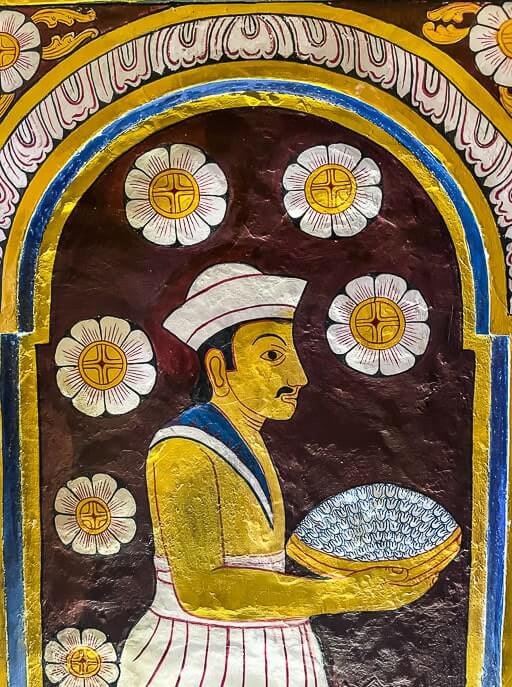 Apart from being a strong religious symbol, Sri Dalada Maligawa holds great cultural significance too. The architecture of the temple is stunning whereas the wall frescoes are simply mind-blowing. The temple's Audience Hall, also known as Magul Maduwa, is what inspired the Independence Monument in Colombo. This is where the Kandyan kings held court as well as the place where the ill-fated Kandyan Convention was signed.
Since this is a holy place, you are expected to dress modestly. Women must cover their shoulders and knees. Men cannot wear shorts or hats/caps. Wear light colors (white is the preferred color) to blend with the locals. You can buy some flowers at the entrance to offer to the gods.
The temple is open from 5:30am – 7:30pm every day.
Explore the World Buddhism Museum
The World Buddhism Museum or the International Buddhist Museum is located in the premises of the Temple of the Tooth Relic. It is kind of a hidden gem in Kandy because rarely people venture out of the temple to see what other attractions the place holds.
Housed in a former palace of the erstwhile Kandyan monarch, the Buddhism Museum is one of its kind. It traces the history of Buddhism right from its origins in India to its spread around the world.
Rooms are divided by countries and the role they played in the spread of Buddhism. I love how their official website also helps you trace the history of Buddhism in different countries of East, South, and Southeast Asia. The museum is amazing for anyone in love with the history of religion and civilizations.
Entrance is included in the temple ticket. Once you are done exploring the temple and paying your respects, you really must check out this unique museum in Sri Lanka.
The International Buddhist Museum is open from 7:00am – 7:30pm every day.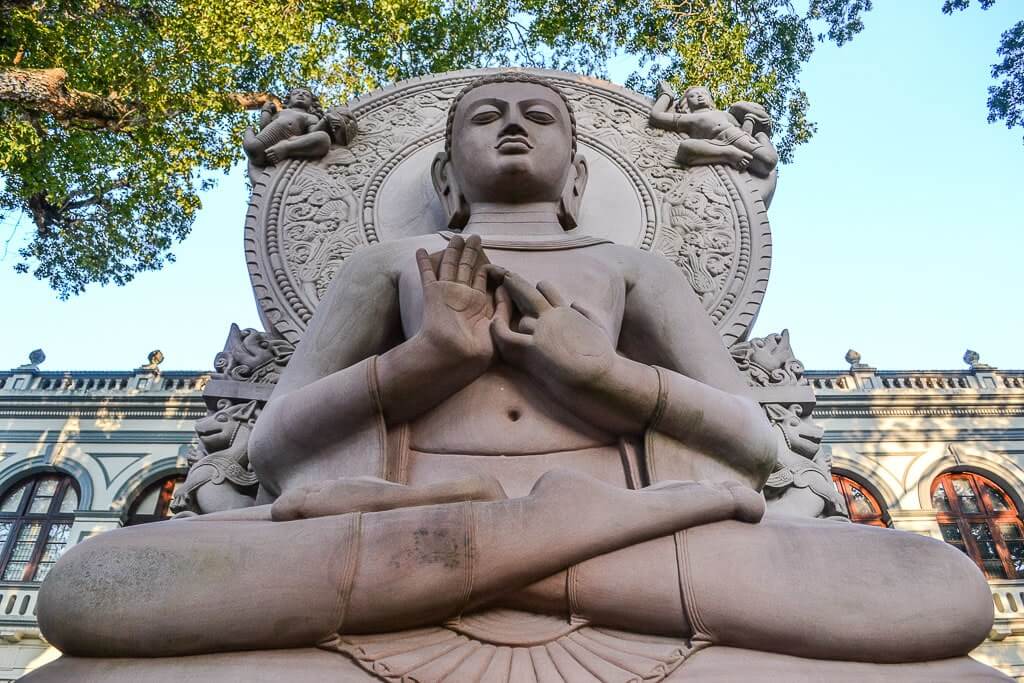 Check out the National Museum of Kandy
Right next to the World Buddhism Museum is the National Museum of Kandy which is a beautiful chronicler of the city's history.
The Kandy National Museum is not as elaborate as the National Museum in Colombo but it is a charming addition to your Kandy itinerary. The museum is housed in a palace called the "Palle Vahala" or the "lower palace" built by Sri Wickrama Rajasinha of the Kandy Dynasty. Apparently, the Palle Vahala was home to the queens of the Kandyan kings.
The museum is home to more than 5000 artifacts from the Kandyan era.
Attend the annual Esala Perahera festival in August
If you are in Sri Lanka in July-August, it is a great idea to head to Kandy for the Esala Perahera – a religious and cultural extravaganza filled with colors, music, and dance.
The Esala Perahera is a grand Buddhist festival that is celebrated every year in Kandy in the months of July – August. The festival pays homage to Lord Buddha and his Sacred Tooth Relic that is housed in the Kandy Temple of the Tooth.
The festival is a 10-day extravaganza of festivities filled with traditional music, dance, and acrobatics. Perhaps the most iconic event is the parade of the ceremonial elephant who carries the relic casket. He is followed by Kandyan dancers and musicians who perform to enthral the audience. Experiencing the Esala Perahera in Kandy is an absolutely must-have cultural experience in Sri Lanka.
Watch an enthralling Kandyan dance performance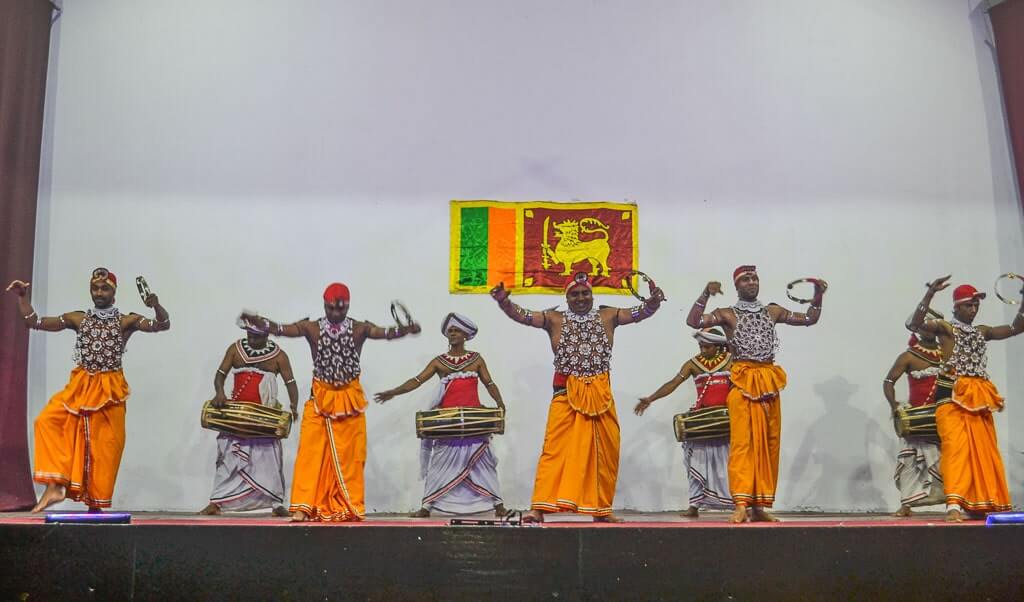 One of the most enthralling things to do in Kandy is to watch a Kandyan dance performance. It is probably the most unadulterated way of immersing in the local culture.
Kandyan Dance is a traditional dance form of Sri Lanka that originated in the Central Highlands. The performance is usually a combination of 5-6 dances that include masked dances, acrobatics, plate spinning, jokers, and other folklores. The fire dance at the end of the show is absolutely thrilling. I am wondering if it has any connection with the fire dance of Kecak performances in Bali – definitely something for me to dig deeper into.
Traditionally, Kandyan dances were performed by male dancers but have now become more inclusive with a couple of female sequences as well.
One place in Kandy where you can enjoy a one-hour Kandyan dance is the Red Cross Society Hall (please find directions in our interactive map below). Every day, the show begins at 5:00pm and gets done by 6:00pm. Please book ahead of time to get the prime front row seats – your tour guide or hotel should be able to help you with that. While entering the hall, be sure to grab a leaflet that explains the significance of every dance sequence.
Hike to the Big Buddha Statue of Kandy
Bahirawakanda Vihara Buddha Statue or the Big Buddha is one of Kandy's most iconic attractions. Located atop a hill, the Big Buddha is white in color and nearly 88ft tall. The temple that houses the statue is called Sri Maha Bodhi Vihara.
Apart from being a religious site in Kandy, the Big Buddha is also the best place to get some stunning views of the Kandy city and the hills that surround it. It is also one of Kandy's most Instagrammable locations.
Visit the British Garrison Cemetery
The British Garrison Cemetery is a small, European-styled graveyard dating back to the 19th century. This was the main burial spot for British nationals who died from tropical diseases during the British colonization of Sri Lanka. It is home to nearly 200 graves.
The cemetery is located very close to the Temple of the Tooth, which means you can easily club it with your temple visit. It is open from 8:30am – 5:00pm every day.
Day trip to Sigiriya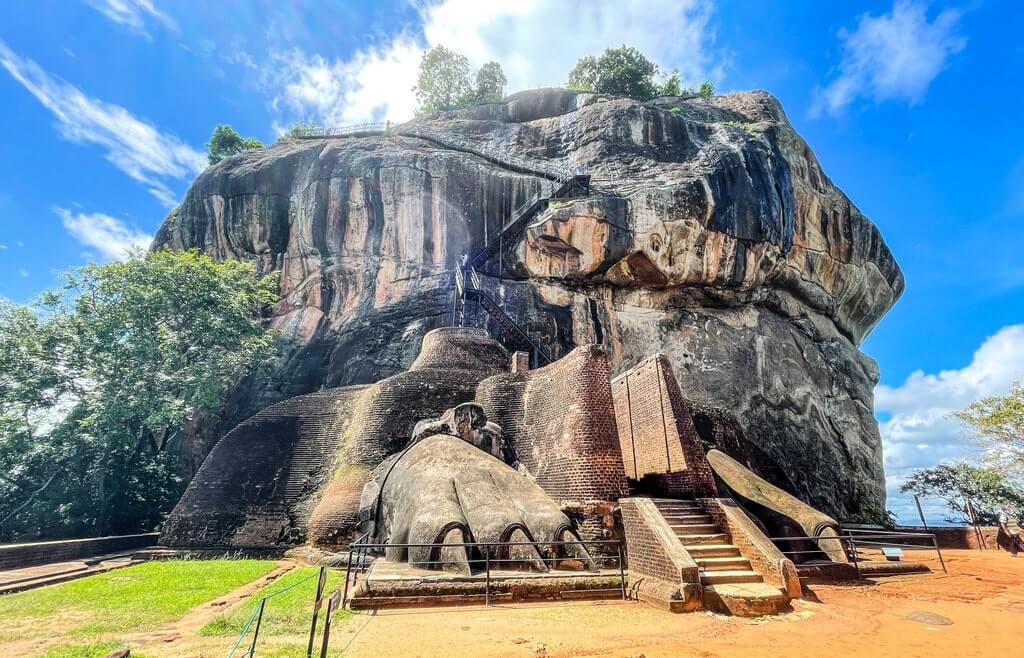 If you are in Kandy, be sure to head to the Lion Rock in Sigiriya for a day trip. Sigiriya Lion Rock, or Sinhagiri, was once home to a rogue king of the Sinhala Dynasty. His name was Kashyapa I and he had risen to power by killing his father and banishing his half-brother.
Because power was so dear to him, Kashyapa I built his fortress on top of the invincible Sigiriya rock and made it look like a crouching lion to scare off his enemies. This unique world heritage site has a fascinating history (you can read all about it on my Sigiriya travel guide here) and 1200+ steps to climb.
The best part is that Sigiriya can be easily visited on a day trip from Kandy. You can do it on a day tour from Kandy or ask your hotel to arrange for a taxi and a driver. Tours usually combine it with a visit to the Dambulla Cave Temples to make for a fruitful day out.
Fun things to do in Kandy, Sri Lanka
Stroll through Peradeniya Botanical Gardens
If there is one thing to do in Kandy apart from visiting the Sacred Temple of the Tooth, it has to be taking a stroll through the Royal Botanical Gardens of Peradeniya.
As you travel to Kandy from Colombo, you'll come across the Royal Botanical Gardens on the outskirts of the ancient city. Located near Mahaweli River, the longest river in Sri Lanka, the botanical gardens have a rich collection of palm trees, medicinal plants, and orchids. There are more than 4000 plants species here and some of them date back to the 19th century.
Taking a stroll through the garden's Avenue of Royal Palms is a beautiful experience. Do not forget to walk on the hanging bridge to add some thrill to your Kandy trip. Also, be sure to check out the double coconut palm trees and the awesome bamboo collection. Running on the Great Lawn is something every kid would love to do.
Peradeniya Botanical Gardens are open every day, 7:30am – 6:00pm. Walking is the best way to explore the park. Since the garden is huge, you can also hire a golf cart for a few hours to show you the highlights. It costs LKR 2000 ($5) for foreigners to enter the park.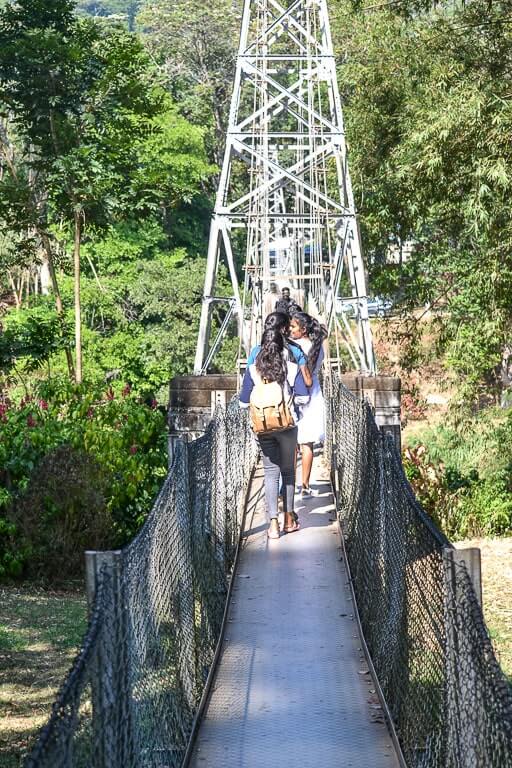 Spend some time at Kandy Lake
One of the best free things to do in Kandy is to spend some quality time at the Kandy Lake.
Located in the heart of Kandy city, this enormous lake is too beautiful to miss. The real name of the lake is Kiri Muhuda or the Sea of Milk and is right in front of the Temple of the Tooth. Taking a walk around this stunning lake or riding around it in a tuk-tuk is a great way to experience the true vibes of Kandy.
I have been to the lake several times but my favorite visiting time is in the spring (months of Feb and March) when pink trumpet flowers are in full bloom around the lake. Come here then to capture some of the best shots for your Gram!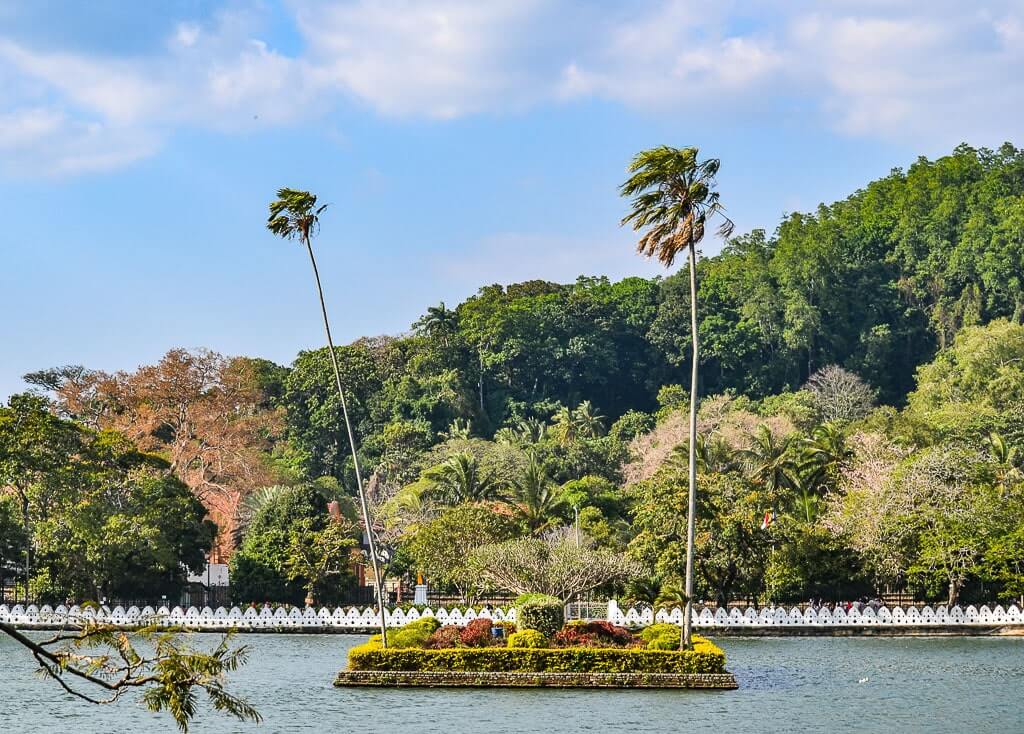 Head to Arthur's Seat
Arthur's Seat is one of Kandy's most popular attractions because it is the best lookout point in the city. Located on the southwestern banks of Kandy Lake, Arthur's Seat offers unparalleled views of the lake and city. It is a great photo spot in the city.
Ride the scenic Kandy to Ella train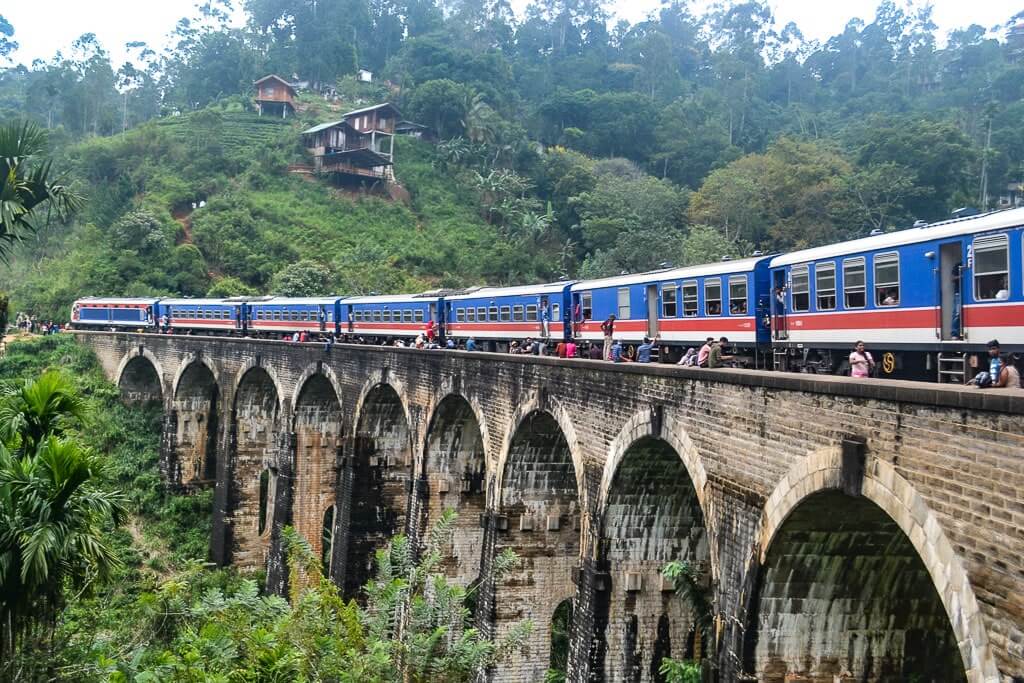 Have you seen the pictures of a romantic, blue Sri Lankan train chugging along a rickety, old bridge in the middle of lush green tea gardens? Well, that's none other than the classical Ella Odyssey Train that passes over the Nine Arches Bridge in Sri Lanka. And, the good news is that you can board this train in Kandy and go all the way to Ella and beyond.
I recommend boarding the Ella Odyssey at Kandy and getting off at Demodara because you'll find the best attractions between these two stations. You can get the best views of Adam's Peak, Elgin Waterfalls, and St. Clair's Falls from the train. Plus, you'll get a chance to get off the train on the Nine Arches Bridge and get some wonderful pictures.
Even though the Ella Odyssey is a major attraction in Sri Lanka, it is hard to get the tickets on your own. You cannot purchase them online (at least not yet!). You'll need to get the tickets through a local travel agent or book a reserved tour like this one.
Join a street food tour of Kandy
I love Sri Lankan food. In fact, I love food! Everywhere! Quite naturally, I am always drawn to food tours across Sri Lanka. Kandy was no exception.
It was fun trying the local food in Kandy. Whether it was the vadai at the Hela Bojun Hala or drinking a king coconut from the street vendors, I always made sure that I had a taste of Kandy on my lips. And you should too, if you are a foodie like me.
This highly-rated, private street food excursion of Kandy takes you on an interesting tour of Kandy's exotic cuisine. You'll try unique fruits, traditional buffalo yoghurt, cassava chips, vegetable rotis, and sip some famous Ceylon tea. You'll also stop at a Hela Bojun Hala (community restaurants run by local women who serve tasty food at affordable prices) and try Sri Lankan snacks such as lentil doughnuts, pancakes, and cutlets.
Sign up for a cooking class in Kandy, Sri Lanka
If you want to take your love for Sri Lankan food a notch higher, sign up for a cooking class in Kandy and learn how to cook Sri Lankan rice and curry as well as some salads and sambol.
Here's a popular cooking class that includes a visit to the Kandy Central Market where you'll purchase fresh ingredients and then cook your own meal with them. The host is extremely knowledgeable and will give you snippets of Sri Lankan culture alongside traditional cooking practices and procedures.
Stay in a hilltop hotel in Kandy
If you are planning to spend at least a day (which you should) in Kandy, I highly recommend staying in a hilltop hotel just for the views.
Kandy is a very picturesque town. Built around the beautiful Kandy Lake, the city has grown over hills and cliff tops surrounding this water body. Therefore, it is a good idea to stay in a hilltop hotel for some gorgeous views.
If you are willing to splurge on a luxurious room with an ensuite bath tub that overlooks the hills, nothing better than that. My personal favorite Kandy hotel is the Theva Residency which has some of the most stunning views of the valley. Book their uber-luxurious rooms (Rooms #1 and #2) because they are spacious, equipped with in-room jacuzzis, and boast of splendid views. Plus, they have all the privacy you'd ever need.
If you are looking for budget hotels in the Kandy hills, then Pine Hill Residence and Kandy Hills are both great options.
Day trip to Nuwara Eliya
When in Kandy, you can also do a quick day trip to Nuwara Eliya, the famous tea estate town of Sri Lanka. It has got a age-old colonial feel about it and is often called the Little England of Sri Lanka.
There are so many amazing things to do in Nuwara Eliya that you'll find a day too short to see all of its attractions. But a day is better than none, of course. I highly recommend visiting Lake Gregory for thrilling water activities, checking out colonial mansions and the cute post office, and shopping at the Central Market when visiting Nuwara Eliya.
Here's an awesome Kandy to Nuwara Eliya day tour that you can book. It includes pick-up and drop at your Kandy hotel.
Top adventure things to do in Kandy, Sri Lanka
Try the Knuckles mountain trail trek
One of the top things to do near Kandy, Sri Lanka is to head to the Knuckles Mountain Range for an energizing trek.
Filled with impressive peaks and stunning montane forests, Knuckles Mountain is a hiker's paradise. There are as many as 34 mountains with 9 iconic peaks. Additionally, the mountain range is home to a large percentage of Sri Lanka's biodiversity.
There are 30+ hiking trails in the Knuckles Range and the best way to access them is by joining a trekking tour with a knowledgeable local guide. On this private tour that includes round-trip transportation from Kandy, you'll trek through gorgeous montane jungles, walk over wooden bridges, and gasp at panoramic views. The tour also includes a picnic lunch that you'll enjoy in the middle of nature.
Ride a mountain bike through Hanthana tea trails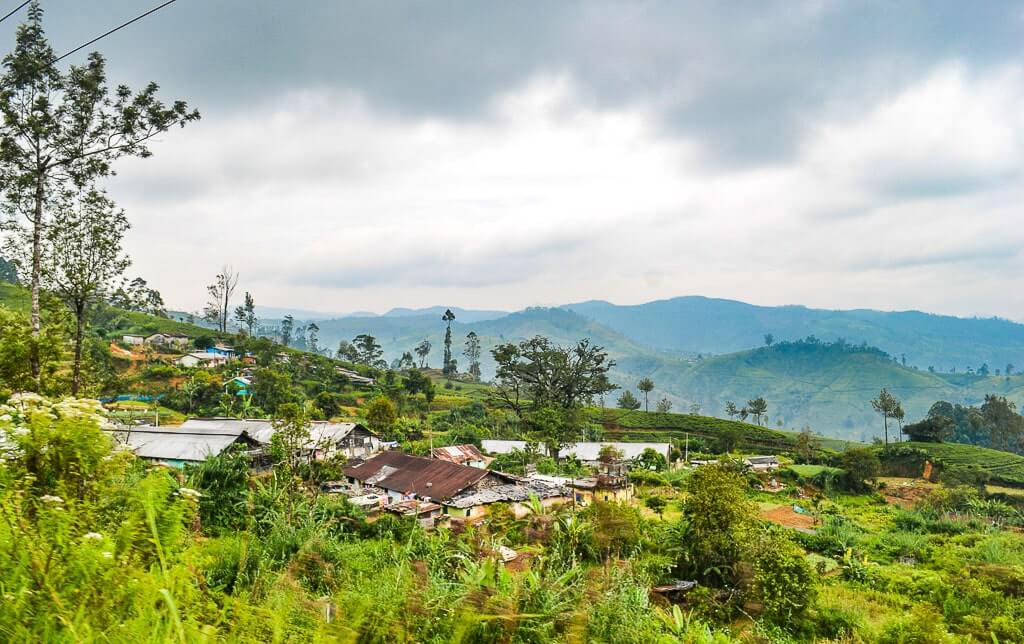 The Hanthana Tea Plantation is just 15 mins to the south of Kandy and this is the perfect place for avid cyclists.
The cycling trail in Hanthana takes you through the pretty tea plantations of Kandy that are blessed with some of the most stunning views on the island. You can couple your tour with visits to local tea-planters' villages that provide an immersive experience into the tea culture of Sri Lanka.
Spend a day hopping through waterfalls
The Central Highlands of Sri Lanka are full of scenic waterfalls and gorgeous rapids. One of the most amazing things to do in Kandy is to spend a day hopping through multiple waterfalls in the region.
On this highly-rated guided tour, you'll travel by tuk-tuk and see 3 beautiful waterfalls near Kandy. These are all impressive cascades near Kandy and offer you a truly immersive experience in Sri Lanka's natural beauty.
Get your adrenaline rush at Kitulgala
If you're an adrenaline junkie and looking for extreme adventure sports in and around Kandy, head to Kitulgala for a day.
Located only 2 hours southwest of Kandy city, Kitugala is an absolute haven for adventure lovers. It is the most popular for white-water rafting on the Kelaniya River near Kitulgala. Did you know the famous movie, The Bridge on the River Kwai, was filmed on this river? Isn't that interesting?
Here's an interesting adventure tour in Kitugala where you can go hiking, swimming, and try jumping off rocks into the Kelaniya River.
Interactive map of Kandy attractions
Where to stay in Kandy?
One of my favorite places to stay in Kandy is the Theva Residency, a 5-star luxury hotel that features an outdoor pool and a terrace. Their rooms are gorgeous with the most stunning views of the mountains. Plus, some of them feature in-room jacuzzis with a view!
Have a look at the picture below. It is not a great picture because I arrived in the evening and my camera wasn't suited for low light photography but you get the gist. An in-room jacuzzi with the best views during the day.
The setting is also quite romantic if you are traveling to Kandy with your better-half. No doubt, couples particularly like the Theva Residency. Also, the food at the Theva Residency is delicious, especially if you love local Sri Lankan delicacies.
There are several other amazing hotels in Kandy including the highly-rated Flame Tea Estate & Hotel. The Flame Tree is a 5-star, sustainable property that is well known for its hospitality and world-class service. Their outdoor pool is stunning and decor is too warm to ignore. → Click here to see some stunning pictures of Flame Tea Estate & Hotel.
You can also stay at Cinnamon Citadel in Kandy that is only 20-mins away from the Temple of the Tooth. Cinnamon is Sri Lanka's flagship luxury hotel chain and you can never go wrong with them.
If you are looking for a good budget hotel to stay in Kandy, both Pine Hill Residence and Kandy Hills are great options.
Practical information for visiting Kandy, Sri Lanka
Best time to visit Kandy
The best time to visit Kandy, Sri Lanka is from December – March when the weather is dry and the temperatures are mild. Kandy is always a little colder than the rest of the country. So, get a light jacket with you or prepare to layer up.
I personally like going to Kandy in February – March because that is the spring season in Kandy. You'll find all kinds of flowers in full bloom. Kandy Lake looks incredible with loaded pink trumpet trees serenading its shores.
July – August is also a wonderful time to visit because this is when the annual festival of Esala Perahera takes place every year. So, if you are a bit of a culture vulture like me, then you'll want to visit Kandy during that time.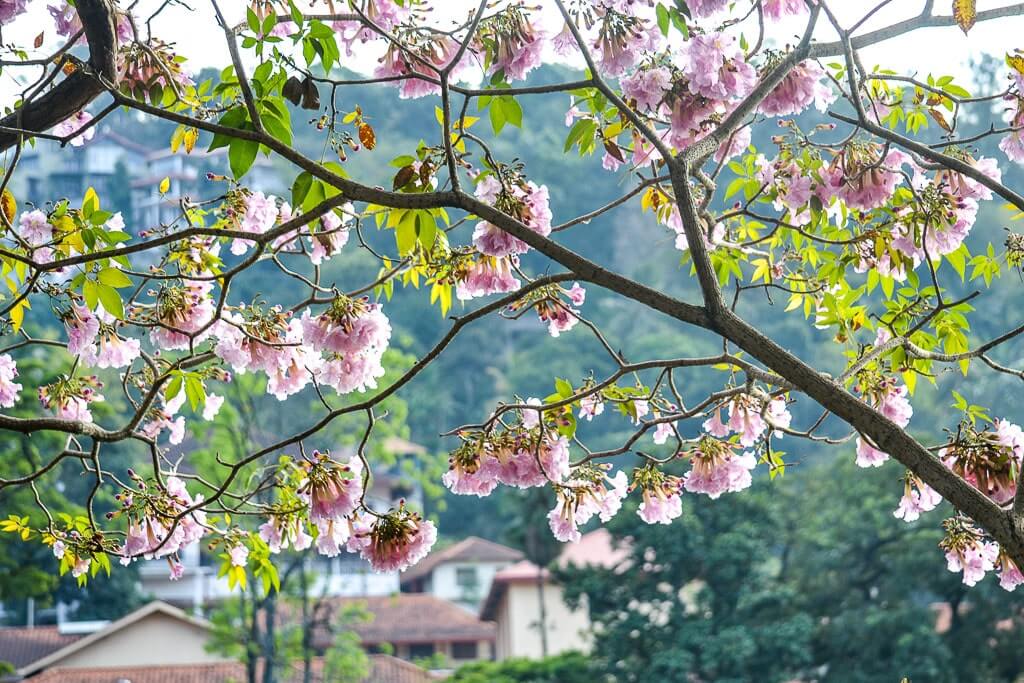 How to get to Kandy in Sri Lanka?
In order to get to Kandy in Sri Lanka, you'll first need to get to Colombo and then take a taxi from Colombo to Kandy. The closest airport to Kandy is the Bandaranaike International Airport in Colombo.
Driving time from Colombo Airport to Kandy is 3 hours and from Colombo city to Kandy is around 3.5 hours. Be prepared for some traffic along the way. The drive can easily stretch to 4 hours.
If you want to visit Kandy on a day trip from Colombo, be prepared to start early. Here's a highly-rated day tour that will take you to the Temple of the Sacred Tooth Relic, the Kandy Lake, a tea factory, the Gem Museum, and a spice garden.
How to get around Kandy?
The easiest way to get around Kandy is by tuk-tuk. Tuk-tuks are easily available and cheap to hire. You can even rent one with a driver for the day and go sightseeing in Kandy.
If you are not very keen on the tuk-tuk, I recommend signing up for a tour with a chauffeur-cum-guide and checking items off your Kandy bucket list. Here's a tour guide in Kandy who has some amazing reviews. Guests absolutely love Praboda's knowledge about everything Sri Lankan and usually hire him for multiple days. → Check out all of Praboda's reviews here.
Kandy Travel FAQ
What is Kandy known for?
Kandy is known for being home to the Temple of the Sacred Tooth Relic which is the most important pilgrimage site for Buddhists in Sri Lanka. Also known as the Sacred City, Kandy is a cultural hotspot that is famous for its annual Esala Perahera Festival and the unique Kandyan dance.
Is one day in Kandy enough?
One day in Kandy is enough to visit the Temple of the Tooth Relic, World Buddhism Museum, the Kandy Lake, the city, and the Peradeniya Botanical Gardens. If you wish to see more, then you'll need to spend at least a couple of days in Kandy.
What is the best time to visit Kandy?
The best time to visit Kandy is from the months of December – March when the weather is just perfect to explore. I personally love the spring season (Feb – March) when the flowers are in full bloom and that makes walking around the lake and the botanical gardens a magical experience.
Loved our guide for best things to do in Kandy? Pin it for later!