Last Updated on November 21, 2023 by Soumya
Ah, all the amazing things to do in Negombo, Sri Lanka! Who knew Negombo would be such a great travel destination for a culture vulture like me!
Only a stone's throw away from the Colombo airport, Negombo is often just a pit stop for travelers who are headed to the famous historical sites of Central Sri Lanka or the stunning beaches of the south. But do you know that there are so many fun things to do in Negombo and nearby that you can easily spend a couple of days here?
Honestly, Negombo is a lot more than just beaches. Of course, you can chill at the beach all day long but who wants to do that when there are so many beautiful places to visit in Negombo.
With an endless list of tourist attractions, Negombo is an absolute must-have in every Sri Lankan itinerary.
You can check out a lively fish market, step into stunning Gothic cathedrals, visit a verdant lagoon teeming with wildlife, get an Ayurvedic treatment, and so much more.
When someone asks me what to do in Negombo, I go on and on about the city's wonderful attractions. And that's exactly why I created this comprehensive Negombo travel guide so that you don't miss out on anything when visiting this underrated Sri Lankan city.
Quick links for your Negombo trip
Since I am obsessed with local culture, you will find a ton of interesting cultural attractions in this huge Negombo bucket list.
You'll find more details and several options as you read through this Negombo sightseeing guide. If you have any questions, please feel free to drop me a comment at the end of this post.
Please note: This post may contain affiliate links which means I may earn a commission if you make a purchase by clicking a link on this post. This will be at no additional cost to you. Affiliate links help me keep this website up and running. Thanks for your support!
14 Amazing things to do in Negombo, Sri Lanka
Let's check out the absolute best things to do in Negombo and nearby.
Hit the beach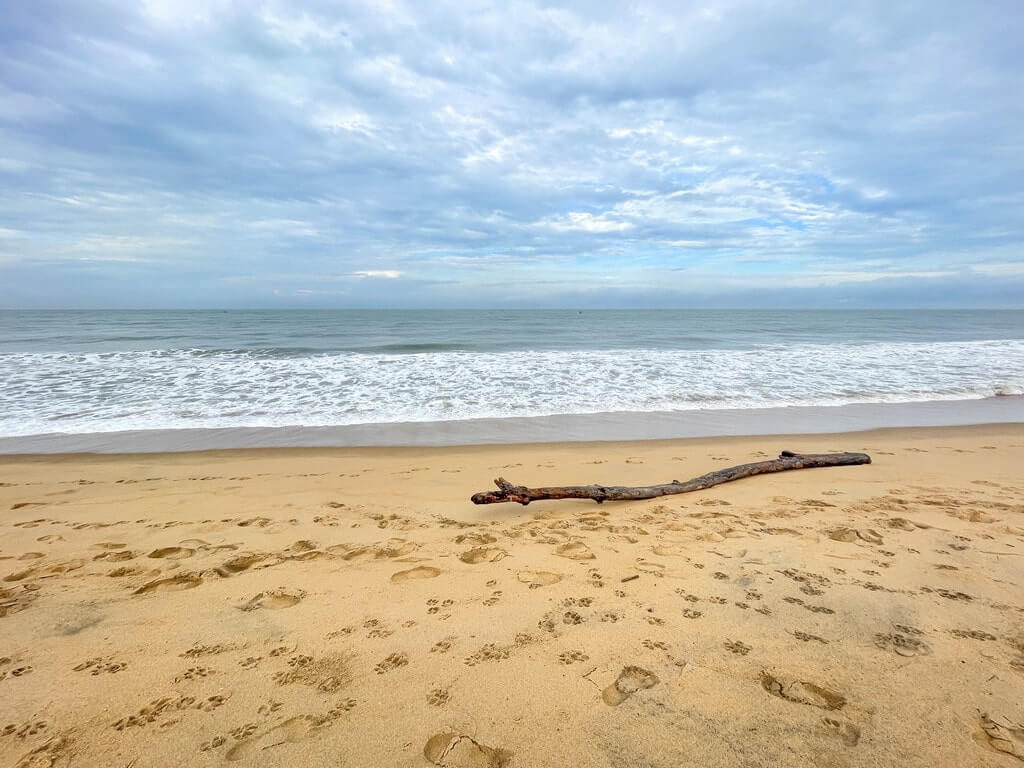 One of the best things to do in Negombo is to hit the beach. Negombo is a beach town after all and has one of the best beaches in Sri Lanka.
Negombo earned its reputation as a beach destination long time ago. Amazing beach resorts cropped up and travelers usually spent a couple of days at the end of their Sri Lankan journey lounging on Negombo's long sandy beaches fringed by palm trees.
There are several wonderful beaches in Negombo. Browns Beach and Negombo Beach are the most popular ones. Morawala Beach is extremely scenic.
Usually, when you stay at a resort in Negombo, you will have access to their private beaches where you can swim, surf, sail, and watch stunning sunsets.
Also see: 11 Best beaches in Sri Lanka.
Take a tour of Negombo fish market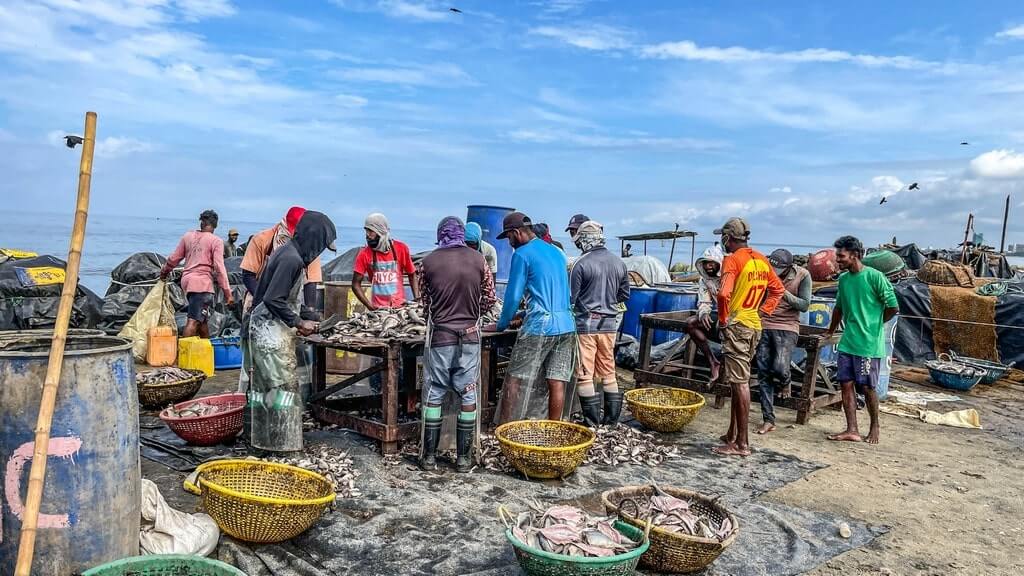 One of my favorite places to visit in Negombo is their main fish market.
Always a busy fishing town, Negombo is at the core of Sri Lankan fishing industry. Fishermen and women still practice traditional netting and fish drying methods in many parts of the city.
The fish market in Negombo not only gives you insights into these old techniques but also helps you deep dive into local culture and customs of the area.
Come here to experience a riot of colors, smells, and smiles and go back enthralled by the Negombo fish market which is a true overdose of emotions.
Find out how and when to visit the Negombo fish market here.
Take a boat ride on Negombo Lagoon
Now that there are so many fishes in Negombo, I was pretty sure there would be a lagoon too. Well, I know it's actually the other way round.
Because of a teeming, biodiverse lagoon in Negombo, the city is full of vibrant fish markets. So, you have to go and check out Negombo's majestic lagoon.
One of the most exciting things to do is to take a relaxing boat ride on the Negombo lagoon. Just hop on a boat tour and glide through the lagoon waters spotting dense mangrove swamps, rare birds, and locals going about their lives. Also get a peek into Sri Lanka's fishing culture here.
Cruise down Hamilton Canal
Built by the British in the 19th century, the Hamilton Canal is an incredible Negombo attraction. It is 9 miles (14 km) long and used to be the main route for transfer goods to the harbor during colonial times.
The Hamilton Canal is often referred to as the Dutch Canal because the Dutch had started a series of waterways that connected Sri Lankan ports with inland Dutch territory in the 18th century. Hamilton Canal was part of it. However, a formal canal was built much later by the British.
Cruising down Hamilton Canal is a fun thing to do in Negombo. You will watch life along the river, spot birds, and see fishermen coming back with their morning catch.
Bird watch in Muthurajawela
I had no clue that the wetlands of Muthurajawela were so close to Negombo. They are just 15.5 miles (25 km) away and it takes approximately 40 minutes to get there.
Muthurajawela is an absolute heaven for anyone who loves nature. Located south of Negombo Lagoon, it makes for a peaceful getaway from the hustle of Negombo City.
The wetlands are perfect for birding (the only other place where I have really birded in Sri Lanka is on my way to Nainativu Island from Jaffna). You'll see herons, egrets, waders, kingfishers, and cormorants in plenty here. And there are some exotic reptiles too. Think crocodiles and monitor lizards.
This amazing boat tour through Negombo's waterways takes you on a ride of Muthurajawela wetlands and gives you a chance to experience remarkable tropical flora and fauna.
Visit pretty churches in Negombo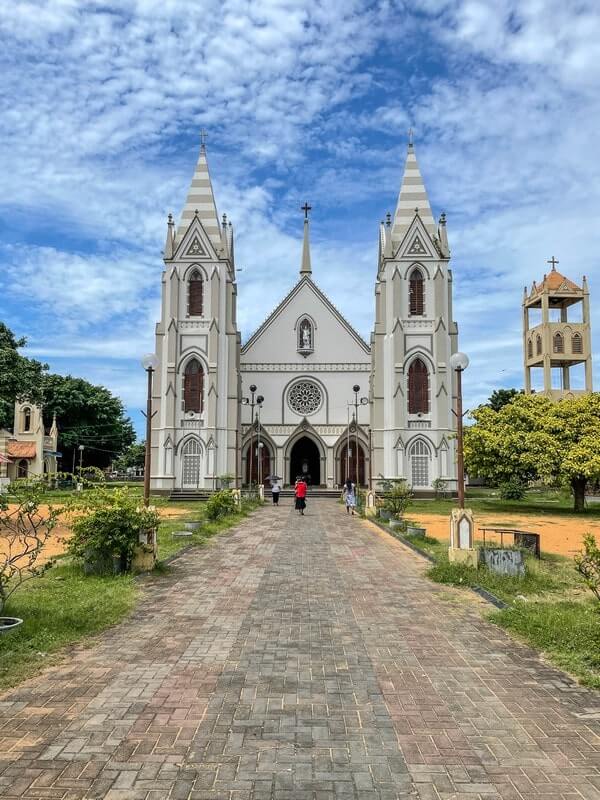 One of my favorite things to do in Negombo is to hop through its beautiful churches. And trust me when I say that Negombo is a church-lover's delight. No doubt, it is often called "The Little Rome of Sri Lanka".
Majestic, European-styled churches dot the city of Negombo. They come in various shapes and colors and are a treat for sore eyes.
Here are a couple of my favorite churches that totally need to be on your Negombo things to do list.
St. Mary's Church is located on the Main Street of Negombo. It is one of the largest churches in Sri Lanka and displays a strong, neo-classic flair. What is amazing about St. Mary's Church is its pastel blue façade and the stunning ceiling murals which were painted by a local artist named N.S. Godammane.
St. Sebastian's Church at Wellaweediya is a stunning Roman Catholic church in Negombo. Modeled after Paris' Notre Dame Cathedral, the beautiful church is an absolute masterpiece of Gothic Revival architecture.
St. Stephen's Anglican Church is a small, white-washed church set in the middle of lush green gardens overlooking Negombo's old Dutch fort. Built in Gothic style, the church features many arched windows.
St. Sebastian's Church in Katuwapitiya became famous in April 2019 when it became the target of a series of bomb blasts on Easter Sunday. Nearly 100 people were killed here. Even today, signs of the massacre remain and the mood here is solemn. Please be respectful and do not click pictures without permission.
Please note that churches in Negombo are sacred spaces. Dress respectfully and ask for permission before clicking pictures.
Explore the old Dutch fort
You can't miss the old Dutch fort on a Negombo sightseeing tour. Crumbling and dilapidated, this is an important vestige of Negombo's colonial past.
There isn't much to see here except for some fort ramparts and an old clock tower. The fort is not well-maintained as the fort in Jaffna or the one in Galle. But it makes for an interesting tourist attraction in Negombo especially for history buffs.
A short walk away is the St. Stephen's Anglican Church. So, you can easily combine seeing the two together.
Pay your respects at Angurukaramulla Temple
Angurukaramulla Temple is one of the oldest and most sacred Buddhist temples in Negombo. It features a massive Buddha statue that can be seen from a distance. Inside, you'll find beautiful murals that depict tales from the life of Buddha.
Tour Negombo city by tuk-tuk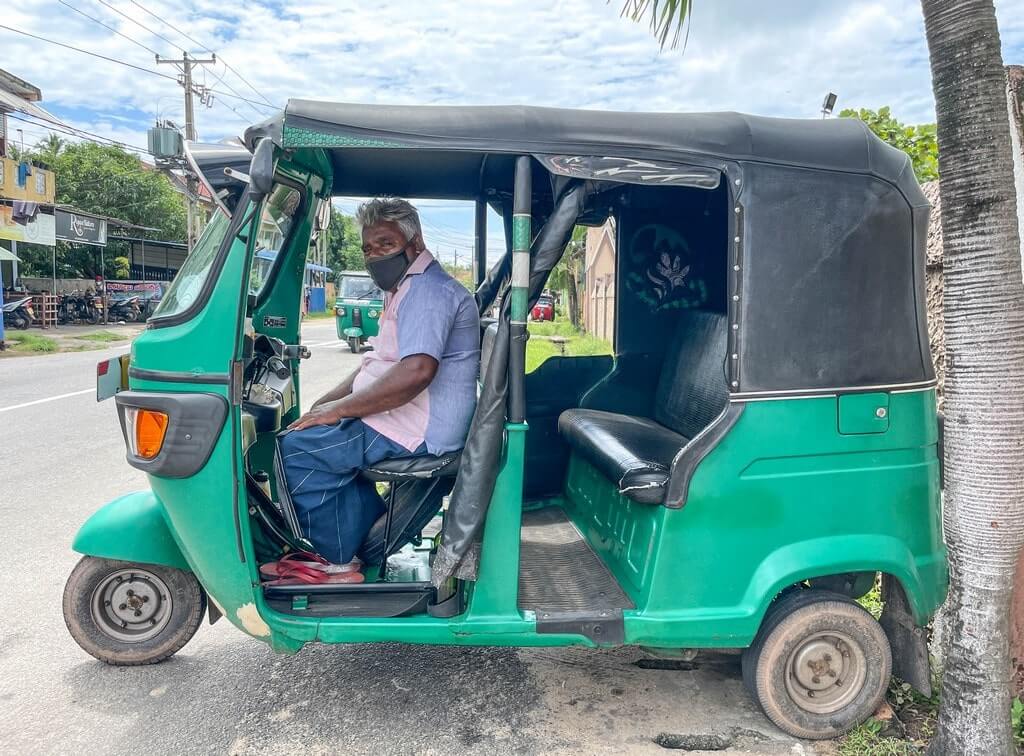 Can't leave Sri Lanka without a tuk-tuk ride, can we? What's better than seeing all the Negombo attractions on a tuk-tuk tour like this one?
On a Negombo tuk-tuk tour, you'll see all the best places in Negombo including the fish market, the lagoon, the fort, St. Mary's Church, and the Angurukaramulla Temple.
A tuk-tuk ride is a very efficient way of seeing the best that Negombo has to offer especially if you are short on time.
Get an Ayurvedic massage
If you have Ayurveda on your mind, you know where to go. It is either India or Sri Lanka. And since you are in Sri Lanka already, why not experience the wonders of Ayurveda in Negombo?
I was lucky to enjoy a relaxing Ayurvedic massage at Jetwing Ayurveda Pavilions in Negombo and thoroughly enjoyed the experience. The team at Jetwing Ayurveda practices ancient healing traditions in the middle of lush green environs and comfortable accommodation. They have therapy centers, Ayurvedic doctors, and an Ayurvedic pharmacy, and serve vegetarian and vegan food.
If you are looking to indulge in Ayurvedic therapies in the midst of sustainable luxury, then Jetwing Ayurveda Pavilions is the place to be.
Taste delicious Sri Lankan cuisine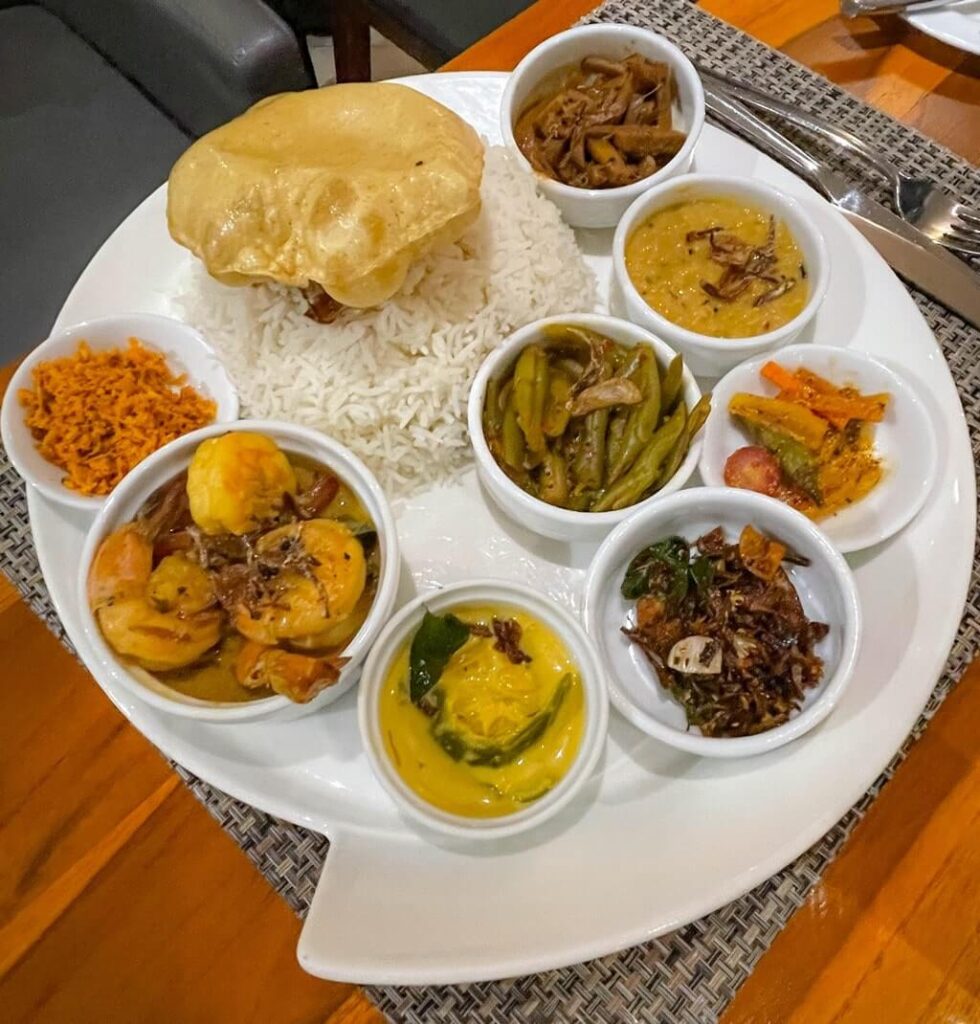 You know how I love food and Sri Lankan cuisine is one of my favorites. In Negombo, you'll find some great Sri Lankan food plus amazing seafood options because of its proximity to the sea.
Head to Lords Restaurant Complex for some authentic Sri Lankan curry and delicious sambols. Try a traditional platter and some seafood at Queen's Restaurant. Or relish a scrumptious Sri Lankan buffet at a local's home on this guided food tour in Negombo.
If you wish, you could opt for this highly-rated cooking class in Negombo which has got some rave reviews and Viator's Badge of Excellence. Here, you'll learn all about Sri Lankan spices and herbs, make your own coconut milk, pick your own vegetables, and cook the curry you want. You'll cook 9-12 authentic dishes with a local Sri Lankan family in Negombo. Now, isn't that super exciting?
Take a day trip to Bentota
The best bit about Negombo is that it is the perfect springboard for many amazing day trips nearby. One of the best places that you can visit from Negombo on a day trip is the coastal town of Bentota.
Bentota is a beach town and has some of the most popular beach resorts in Sri Lanka. You can spend some time at the beach, visit a turtle hatchery, or explore the Cinnamon Island nearby.
Even better sign up for a unique river boat safari on Bentota River and spot exotic wildlife such as water monitors, fruit bats, monkeys, bee-eaters, and eagles.
In Bentota, you will also find some of the finest creations by Geoffrey Bawa, a famous Sri Lankan architect who invented the concept of tropical modernism. Lunuganga Estate, which was Geoffrey Bawa's country home, is located right here in Bentota.
Do a city tour of Colombo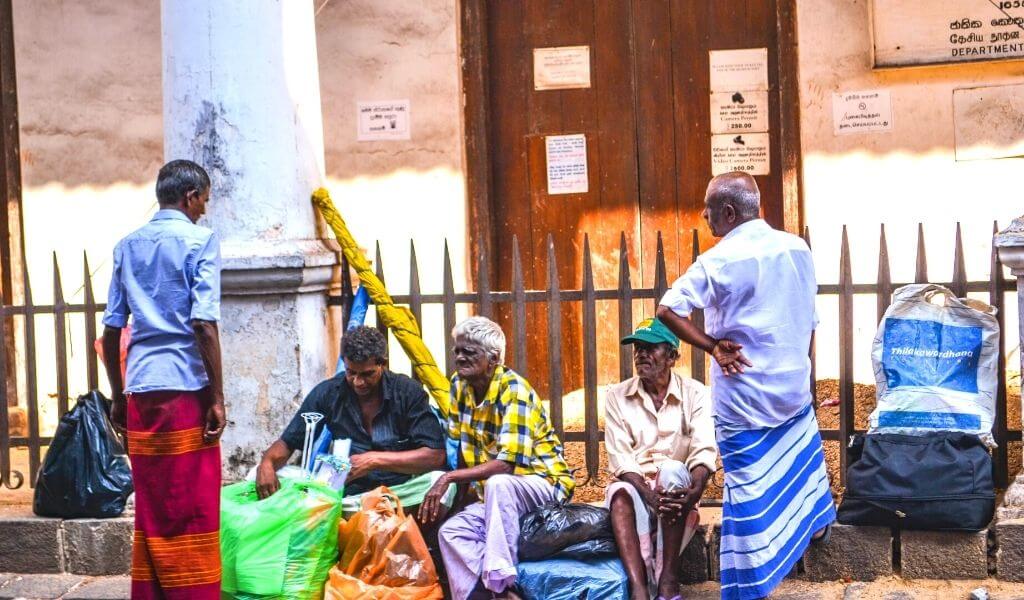 One of my favorite places to visit in Sri Lanka is its underrated capital city of Colombo.
Colombo is full of history, culture, and stunning monuments. There are so many wonderful things to do in Colombo that you can easily spend a few days here and still not see it all.
Colombo National Museum is amazing and so is the Gangaramaya Temple which is filled with colorful murals. At Pettah Market, you'll step into a world full of colors, noise, and organized chaos while the Dutch Hospital will give you an idea of Sri Lanka's colonial past. And the Red Mosque is so beautiful and unique.
I would highly recommend that you spend at least 2 days in Colombo and see all that it has to offer. But if that isn't possible, it is not hard to visit Colombo on a day trip from Negombo. This Colombo city tour from Negombo makes sure you get to see all the highlights.
Also read: 13 Incredible things to do in Colombo, Sri Lanka.
Head to Wilpattu National Park for a wildlife safari
If you are in the mood for a wildlife safari, then head to Wilpattu National Park, located 3 hours north of Negombo.
One of the largest and oldest national parks in Sri Lanka, Wilpattu is popular because of its large leopard population. It is also home to sloth bears, many different kinds of birds such as the painted stork and the little cormorant, and reptiles such as mugger crocodile and pond turtle.
This highly-rated day tour to Wilpattu National Park from Negombo includes pick up and drop-off at your accommodation, entrance to the national park, and the services of a local tour guide. Guests totally enjoy the well-planned itinerary.
Practical information for visiting Negombo
Best places to stay in Negombo, Sri Lanka
I stayed at the sprawling, luxurious property of Heritance Negombo and loved every bit of my stay here. I had a sea-facing room with a balcony from where I could listen to and watch the waves crashing on the shore.
Their rooms have interesting designs and beautiful colors that can brighten anyone's heart. Check Heritance Negombo rooms here.
Heritance has an awesome pool where you can swim, sip a drink, and watch the sun go down behind the sea. Plus, their restaurant is amazing with a ton of different options for breakfast, lunch, and dinner. Try their traditional Sri Lankan platter because that is delicious.
Some of the other properties that caught my eye were Jetwing Lagoon (luxury – they are known for their pretty rooms, lagoon view, and delicious food) and Serendib Village Guest House (budget – friendly staff, big and clean rooms, and breakfast with a view).
If you are looking for more options, check out all Negombo hotels here.
Best time to visit Negombo
Sri Lanka's weather always confuses me. This tiny island in the Indian Ocean has a huge variation in weather from north to south and east to west.
The best time to visit Negombo is either between Jan – April or July – August when the rainfall is less and temperatures are bearable.
However, note that because of its proximity to the equator and the sea, Negombo is pretty hot and humid throughout the year. Be sure to pack some sunscreen and a hat. And drink lots and lots of water.
That said, the sea water is pleasant all year round make it perfect for early morning dips or late evening swims.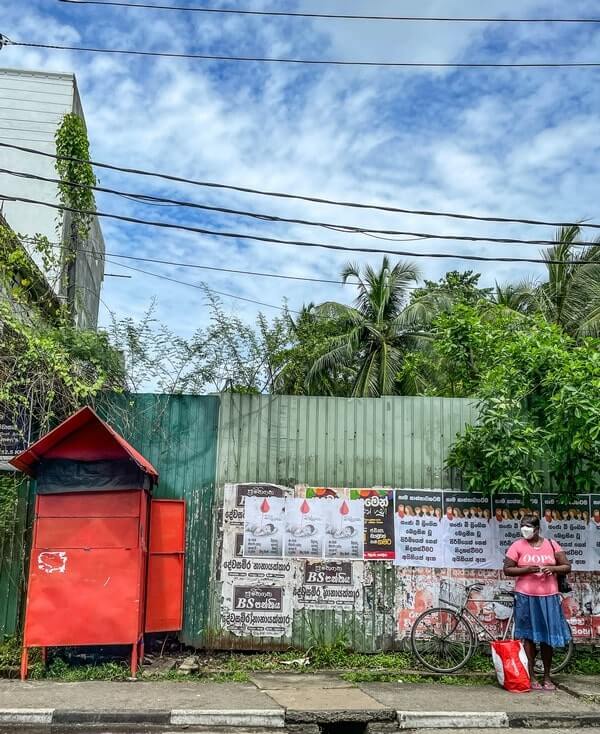 Getting to Negombo, Sri Lanka
One great thing about Negombo is that it is located super close to the Bandaranaike International Airport in Colombo.
It takes about 20 minutes to get to Negombo from the airport by car. That is lower than the time taken to reach Colombo city which is 1 hour away from the airport. That's why Negombo is often the preferred arrival and/or departure destination for travelers coming to Sri Lanka.
Have a look at this highly-rated, private airport transfer to Negombo for a seamless arrival experience.
Getting around Negombo, Sri Lanka
The best way to get around Negombo is by tuk-tuk. They are cheap and hassle-free. Just get on to the road and signal one with a wave.
Tuk-tuk drivers are usually happy to take you around. They may suggest a day-long tour of Negombo's tourist attractions.
If you want to go ahead with that, I suggest you agree on a price before starting the tour. Have a look at this Negombo city tour by tuk-tuk to get an idea of the prices.
You can also hire a taxi for the day(s) and ask your chauffeur to take you around. Check out this multi-day, multi-city car hire in Sri Lanka that comes with an English-speaking driver-guide and has some of the best reviews.
Loved this Negombo things to do guide? Pin it for later!