Last Updated on December 23, 2021 by Soumya
Honestly, when I started packing my bags for Sri Lanka (on the very same day that we flew – yes we decided on the day of our 11th wedding anniversary that we were going to spend the night in Sri Lanka), I had no clue about what to do in Colombo.
Colombo has no famous monuments or easy-to-pick attractions like other capital cities around the world. Kind of makes it easy for Colombo to get into the underrated category. And underexplored! No doubt, many travelers often use Colombo as a mere thoroughfare. Only to get into the country. And skip seeing it all.
I am glad we did not do that. We were kind of planning to. But, I managed to jostle out 1.5 days for Colombo from our totally-packed Sri Lankan itinerary. And, I am so glad I did.
Why Colombo is not a mere pit-stop!
Please note: This post may contain affiliate links which means I may earn a commission if you make a purchase by clicking a link on this post. This will be at no additional cost to you. Affiliate links help me keep this website up and running. Thanks for your support!
In this post, you will find everything you need to plan your trip to this coastal city including the best things to do in Colombo, Sri Lanka.
Top 13 Things to do in Colombo, Sri Lanka
Colombo charmed me in a way that other bigger cities never have. Three things appealed to me. The people, the food, and Colombo's unique vibe!
It was the same city that had been wracked by Easter blasts less than a year ago. Yet, it was back on its feet. Raring to go. Reminded me of Mumbai, a city I have called home for many years now, and its resilience.
In fact, there were so many similarities between Colombo and Mumbai. One was the fact that both are pretty underrated tourist spots. I guess that is because the heart of both cities lives in its people and not in tourist attractions.
So, here we go. My favorite things to do in Colombo.
Visit the Colombo National Museum
The National Museum of Colombo was one of the best museums we visited in Sri Lanka. Another was the World Buddhist Museum in Kandy. But let's focus on this one for now.
Established in 1877, the Colombo Museum was founded by the then British Governor. And today it is one of the biggest storehouses of historical Sri Lankan artifacts. Galleries are neatly organized by different time periods. The ones for Anuradhapura Period, the Polonnaruwa Period, and the Kandy period are impressive.
Look out for the throne and the crown of the last King of Kandy, absolutely the highlights of your museum tour.
If you love history and have a decent appetite for museums, then you will love the Colombo National Museum. It requires a lot of walking through the galleries though.
Entry fee is LKR 1000 for adults. The museum is open from 9am – 5pm every day except on public holidays.
When we visited the museum, there was a note stating that after 4 pm, you will be allowed to tour only the ground floor galleries. Another reason why my tip below works so well.
Tip: Plan to visit the museum in the afternoon when it is scorching hot outside. The cool corridors will give you some respite from Sri Lanka's sweltering heat.
Pay your respects at the Gangaramaya Temple
One of the most important religious places in Colombo, Gangaramaya Temple is an essential item on your Colombo bucket list. It is located by the Beira Lake and has an eclectic mix of Sri Lankan, Chinese, Indian, and Thai architectural styles.
A number of small temples fill-up the complex. Within each of these temples, are numerous statues of Buddha. Gangaramaya is also the proud owner of the smallest Buddha statue in Sri Lanka, only visible with a magnifying glass.
Along with the Buddha statues, take time to notice the beautiful frescoes that adorn the temple walls. The murals were definitely the highlight of my temple tour.
Entry to the temple costs LKR 400 per adult. Children enter for free.
Explore the Rundown Old Town Hall
Rundown and old. You may ask me if you really need to go there. And, my answer would be a resounding YES!
A prominent official building from the British Era, the Old Town Hall dates back to the late 19th century or early 20th (I found like 3 different dates on the internet). Sadly, the building is hardly prominent now, in the middle of all that traffic, color, and noise on Colombo's Main Street. We just chanced upon it while finishing our Pettah Market walk (more on that below).
The building is an archetypical display of neoclassical architecture. Filled in with old trucks and engineering machines (I, finally, put my engineering degree to some use).
As you enter the gate, you almost step back in time.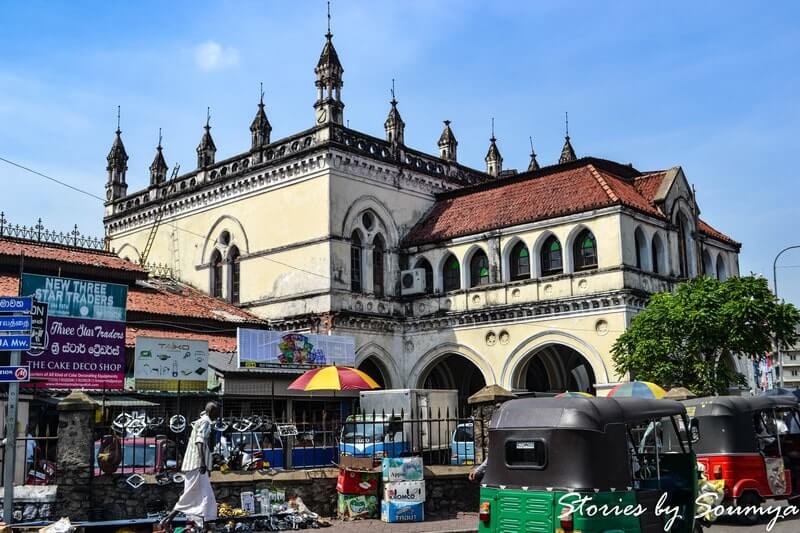 You might want to abandon your hunt here. But I would say go ahead. Climb those creaking mahogany stairs (I thought they were a great photo op) at the top of which you will find a smiling tour guide. Who will take you through the rooms and give you a bit of history.
The highlight (also the most creepy part) of the visit is getting into the old council chambers and seeing 15 men conferring around a round table.
I freaked out because I was not expecting a meeting in progress. But wait, these were wax models of Colombo's first councilors. Strangely lifelike. And somewhat ghoulish. There's a spare chair where you can sit and be part of it.
Ramble through the clogged streets of the Pettah Market
Honestly, this was my favorite thing to do in Colombo. Walking through the crowded streets of the colorful and lively Pettah Market. If you love people watching as much as I do, you will enjoy this.
Pettah Market is a busy, open-air shopping complex and a true adventure. This is possibly the best place to experience life in Colombo. Colors, smells, and sounds come to life here.
You can find everything in Pettah. Electronics, apparel, utensils, food – you name it. This is where locals come to shop. The amount of noise and frenzy that you will experience on an early morning trip is mindboggling.
Tips: A great place for photographers. Come here for ultimate portrait shots. Locals are only too happy to pose.
Female safety: There were a couple of spots in the market where I felt like I was being leered at. It could be just a feeling but I encourage you to exercise caution. Or do a tour with a friendly local. I have heard great things about Colombo City Walks with Mark Forbes.
P.S. This was the only place in Sri Lanka where I had such a feeling.
Take a Food Tour
I am sure you will feel extremely hungry after taking a walk through the Pettah Market. With all that fresh food and fragrance assaulting your senses, it is quite natural.
What if you could combine a market tour with a hands-on cooking class? That would be awesome, right? Pick your own veggies, herbs, and spices from a local market. Then spend the next 3 hours cooking a hearty Sri Lankan meal for yourself. Sounds like a great plan.
Ride on a Colorful Tuk-Tuk or Pose with One
If you think you have ridden the cutest tuk-tuks in India or Bangkok, then you are in for a surprise. The tuk-tuks (also called trishaws) of Colombo are definitely the cutest. Especially because of their colors.
You will find them in greens, blues, reds, and yellows. Even a pretty pink one sometimes. Tuk-tuks are all over Colombo spread out like pretty confetti zig-zagging the roads at, well, speeds just short of manic! But that is a given pretty much in every Asian country. Isn't it?
The tuk-tuk drivers of Colombo are experts in gliding swiftly through the busy roads and getting you where you want to be. And then they are only too happy to pose for a picture.
If you are more comfortable on a guided tour, try this small group, fun tuk-tuk tour with a local guide. It has some rave reviews on Get Your Guide.
Tip: Negotiate the fare before you get into the tuk-tuk. Most of these 3-wheeler cabs are non-metered. Or metered but the meter is never used!
Visit the Red Mosque
The Red Mosque or the Jami Ul-Alfar Mosque is another iconic attraction in Colombo. Built-in the Indo-Saracenic style by an unqualified architect who managed to throw in some Gothic and Neoclassical elements too, this mosque looks more like a fairytale castle from afar.
Dating back to 1908, the mosque was often used as a landmark for sailors approaching the port of Colombo. Quite believable. The incredible red color and chequered patterns all over it make the mosque extremely prominent. Even in the middle of Colombo's chaos.
I would have expected this beautiful mosque to be somewhere more isolated. But since this was Colombo, it was just right there. At one of the busiest corners of Pettah. Surrounded by shops, hawkers, and people.
I was amused by how each of Colombo's tourist attractions was just part of the scene. Never the scene by itself. And that's why Colombo was such a unique experience.
Tips: If you wish to enter the mosque, please cover your hands, legs, and head. Also, the mosque may not be open to visitors at all times. We were there around 10 am but could not enter. Do your research before you go.
Have lunch at the Ministry of Crab
Now, this was something I was looking forward to when I left the Indian shores and landed in Colombo. Eating at the Ministry of Crab. You will find here everything deliciously crustacean.
But crabs are definitely the showstoppers.
The menu is entire crabilicious with a ton of spicy and non-spicy options. Garlic Chilli Crab is a favorite. Honestly, you can just pick any. You can't really go wrong at the Ministry of Crab.
Tip: Make a reservation before you go. We actually reserved a table 3-4 days before we got to Colombo at the end of our trip.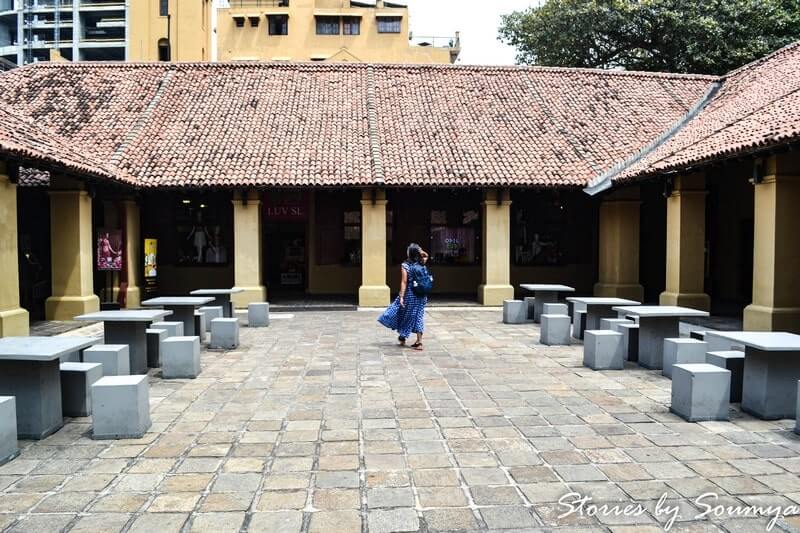 Explore by foot the beautiful Colonial Architecture of the Fort District
Once you are done with the hustle and bustle of the Pettah neighborhood, it is time to head to the quieter (more upmarket) neighborhood of Fort. Where you will see a lot of colonial architecture.
The colonial buildings here are still fully functional and house government offices and shopping complexes. Bank of Ceylon, Ceylon Stock Exchange, and the Cargill building are some of the famous ones.
The architecture is not entirely British. You will find many Dutch colonial buildings too. One of the most conspicuous ones is the Old Colombo Dutch Hospital where the Ministry of Crab is located.
Wandering through these places is like taking a step back in time!
Tip: Do not (and I really mean it) take this walk in the afternoon. It is unbearably hot at that time. I almost fainted! Do it early morning or late afternoon, if possible. Or take a tuk-tuk.
Savor a moment at the Independence Memorial Hall
Sri Lanka achieved independence from the British on the 4th of February, 1948. A year later, the Independence Memorial Hall was built to commemorate that historic day.
The hall is designed keeping in mind the Royal Audience Hall of the The Kingdom of Kandy. And that makes it even more fascinating. It was Sri Lanka's way of going back to their roots and freeing themselves from the shackles of the British reign.
Today, the memorial hall is a quiet and relaxing spot to contemplate a moment in peace. There is what you would call a small crowd but there is no noise. Just the silence and stillness you would need after a long day of ticking off exciting things to do in Colombo.
Visit Colombo's Cricket Museum
Located right next to the Sinhalese Sports Club, is Colombo's shiny, bright, new Cricket Museum. It recently opened its doors to the public, in February 2019 to be precise. A true haven for all cricket lovers!
It is a small museum but it has dedicated sections for test cricket, one-days, and T20s. You will find, here, glorious moments in Sri Lanka's cricket history. If nothing else, the cricket museum will give you an idea about how every country in the subcontinent breathes, feels, and lives cricket!
Entry fee is LKR 500 for adults and LKR 300 for children. When we went in 2020, they weren't accepting cards. So, be sure to have the required amount of cash on you.
Spend the evening at Galle Face Green
Watching the sunset at Galle Face Green is truly one of the most unbeatable things to do in Colombo, Sri Lanka. So, you need to spend at least one evening in Colombo. Cause this sight is unmissable.
Galle Face Green is to Colombo what Marine Drive is to Mumbai. An open promenade that faces the Indian Ocean on one side, Galle Face Green is Colombo's largest urban park. And so full of life.
Locals flock here to enjoy the short stretch of Sri Lankan beach available to them. It is breezy in the evenings and the sunsets are beautiful.
Street food is abundant. You will find the choicest small plates – isso vadei, kottu, samosas, and ice cream.
Recommended: Sri Lanka's Best Beach Destinations
Have Dinner at Upali's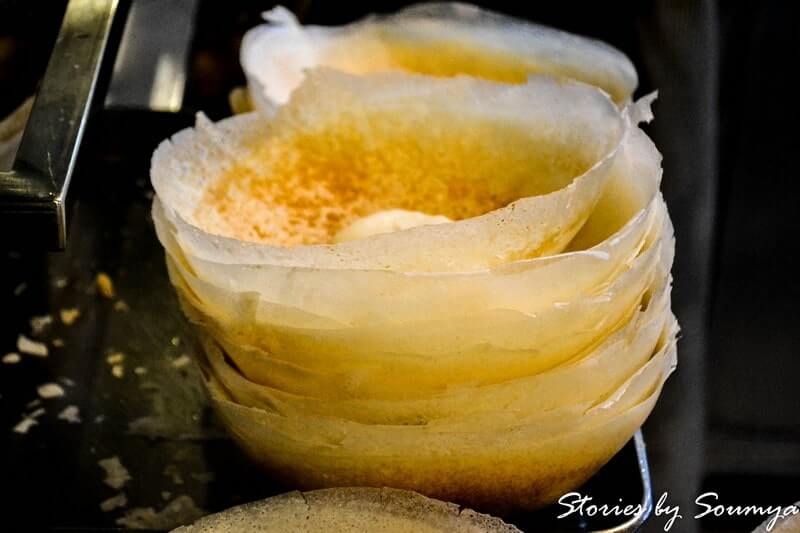 While traveling in Sri Lanka, I fell totally in love with Sri Lankan food. The head-over-heels kind!
Therefore, wrapping up a busy Colombo day with an authentic Sri Lankan dinner at Upali's seemed like the perfect thing to do. We tried their hoppers (egg hoppers are delicious), string hoppers, and Pol Sambol. We tried some Pittu as well. Though I did enjoy it as much as I enjoyed hoppers (but that's just me)!
Recommended: 20+ Must-have food and foodie experiences in Sri Lanka
If you wish to do a food tour with all the Sri Lankan classics, try this highly-rated rustic food tour of Colombo. Includes short eats, street food, Sri Lankan immigrant food, and traditional dishes.
Best Time to Visit Colombo
Among other things to know about Sri Lanka when planning your trip, you should also be aware that Sri Lanka is extremely hot. Round the year. Because of its obvious location near the equator.
The best time to visit Colombo is between November to February when Colombo experiences winter. Or rather a little less heat than other times. This is also the dry season for Colombo.
Best Places to Stay in Colombo
Colombo has great places to stay for every taste and budget. You need to figure out where exactly you want to stay. And then choosing the hotel becomes a breeze.
Some of the preferred neighborhoods are the Fort District, Bambalapitiya (overlooking the sea), and Cinnamon Gardens.
We stayed at Fairway Colombo right next to the old Dutch Hospital in the historic Fort district. The rooms were spacious and neat, complete with a microwave and a kitchen sink. Buffet breakfast was included in the price. The staff was quite friendly too. I would highly recommend it for a short stay in Colombo.
If you are looking for a beachfront property, try The Ocean Front, a boutique hotel with views of the Indian Ocean. Breakfast includes both Sri Lankan and Western food. And you can enjoy glorious sunset views from the roof deck. Taj Samudra is another great beachfront option. Open airy rooms, classic wooden furnishings, and world-class service make it one of the most preferred stays in Colombo.
And if you wish to live like royalty in Colombo and are okay with splurging, you should totally book Ishq Colombo, a luxury villa. The villa offers continental à la carte breakfast. And has a spa center and a terrace. Get ready to get pampered.
Note: This is a relatively new property. Hence, I could not find any reviews for it online.
Getting around Colombo
Getting around Colombo is easy and cheap. The most popular and convenient way to go from one place to another is to hire a tuk-tuk. You can simply hail one on the road, agree on a rate, and get into it. The important bit is negotiating a price before getting in. Rates average at LKR 100 for a km.
Taxis are also easy to hail. Pick Me is the most popular taxi app in Sri Lanka. We used Uber and that was convenient too. However, keep in mind that these ride-hailing services may be pretty expensive during rush hours.
You can also ask your hotel guys to arrange for a cab. Cab drivers are pretty happy to take you around the entire day. For an agreed price. Or for day trips outside Colombo.
You can ride the bus too. The only thing that I can say about riding one is that it is the highest degree of adventure in Colombo. If you still want to indulge in it, here are some excellent tips.
Helpful tips to visit Colombo
Since it is going to be hot in Colombo, do not forget to pack your sunglasses, sunscreen, and hat.
People in Sri Lanka are extremely friendly, photogenic, and ready to pose. So keep that shutter clicking.
You can access public toilets for a small fee. They are pretty neat. Some actually surpassed my expectations.
We covered all these sights in 1.5 days with a little bit of planning. However, if you wish to take the stress of planning out of your vacation, I highly recommend doing a sightseeing tour of Colombo. With all the logistics taken care of, you can truly enjoy your day in Colombo.
Loved our post on the best things to do in Colombo? Pin if for later reference!