Last Updated on February 7, 2023 by Soumya
Looking for the most beautiful towns in Sicily? Wondering which are the prettiest Sicilian cities? Keen to have the best Sicily small towns checked off your bucket list? Don't worry. We have you covered.
The island of Sicily is full of amazing things to do, one of the best being strolling down the lanes of charming towns and cities. Sicily is so full of them. Whether it is walking through the atmospheric lanes of Palermo, admiring the baroque architecture of Val di Noto, tasting authentic Aztec chocolate in Modica, or swimming in the gorgeous beaches of Mondello, the small towns of Sicily have a lot to offer.
With an endless list of beautiful towns and villages, Sicily makes for an amazing travel destination in Italy. The sheer variety of attractions here is mind-boggling. There are beaches, UNESCO cities, Greek ruins, Roman temples, and what not! Don't even get me started on Sicilian food and markets!
In this travel blog, we talk about the best cities and towns in Sicily that you totally need to check out. We will talk about the attractions and highlights of these towns and what not to miss.
Please note: This post may contain affiliate links which means I may earn a commission if you make a purchase by clicking a link on this post. This will be at no additional cost to you. Affiliate links help me keep this website up and running. Thanks for your support!
17 Best cities and towns in Sicily
Palermo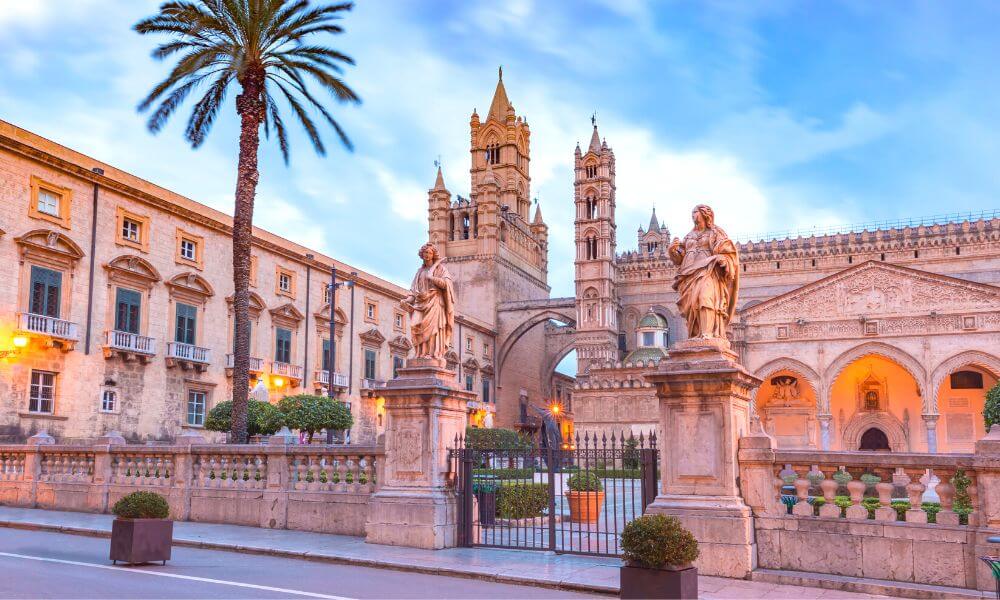 One of the most beautiful cities to visit in Sicily is Palermo. A city filled with history, architecture, culture, and food, Palermo is a must-have destination on every Sicilian itinerary.
The city of Palermo dates back to 8th century BCE. It is obvious that there are tons of interesting things to do in Palermo including visiting the Palermo Cathedral, marveling at the mosaics of the Palatine Chapel, checking out the Capuchin Catacombs, and spending some time at the beautiful piazza of Quattro Canti also known as Piazza Vigliena.
Palermo's bustling markets, delicious street food, and gorgeous street art is too hard to ignore. The city is best seen on a historic walking tour with a local tour guide.
Palermo is often referred to as the gateway of Sicily – chances are high that you'll either arrive here or depart from here. And of course, it is a wonderful springboard for some exciting day trips around the island. The most popular day trips from Palermo are to Segesta and Monreale.
Ragusa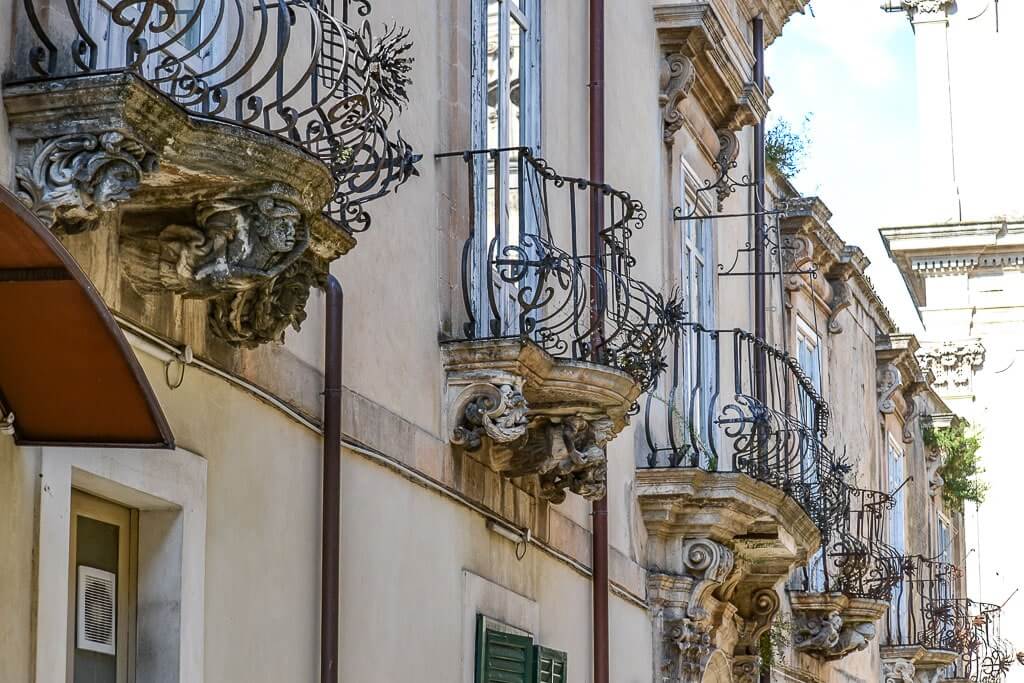 One of the prettiest Sicily towns that I absolutely love is the town of Ragusa in the island's southeast. I landed here to catch a Montalbano tour (remember the famous Italian detective series that was shot in amazing locales?) but stayed longer to admire the rugged baroqueness of Ragusa. The city was too charming to not deserve at least a couple of days!
Ragusa is one of the 8 Late Baroque Towns of Val di Noto that are listed as a UNESCO world heritage site. The old town of Ragusa, also known as Ragusa Ibla, is full of Sicilian Baroque buildings that date to the late 17th century. Highlights of Ragusa include the Cathedral of San Giorgio, the Church of San Giuseppe, and the Ragusa Cathedral. All of them are baroque masterpieces with ornate designs and lots of local elements.
But my favorite architectural delight in Ragusa is its unique collection of balconies that come with grotesque masks and monstrous faces. You can simply stroll the streets of Ragusa and find tons of special balconies, each with a story of its own. Ragusa is divided into two parts – the lower and older town of Ragusa Ibla and the upper and more modern town of Ragusa Superiore. The two towns are located on cliffs separated by a deep ravine. You can get gorgeous views of Ragusa Ibla from the stairs of Superiore. Or stay in San Giorgio Palace Hotel, one of the highest-rated in Ragusa, for panoramic views of the Santa Domenica Valley.
Modica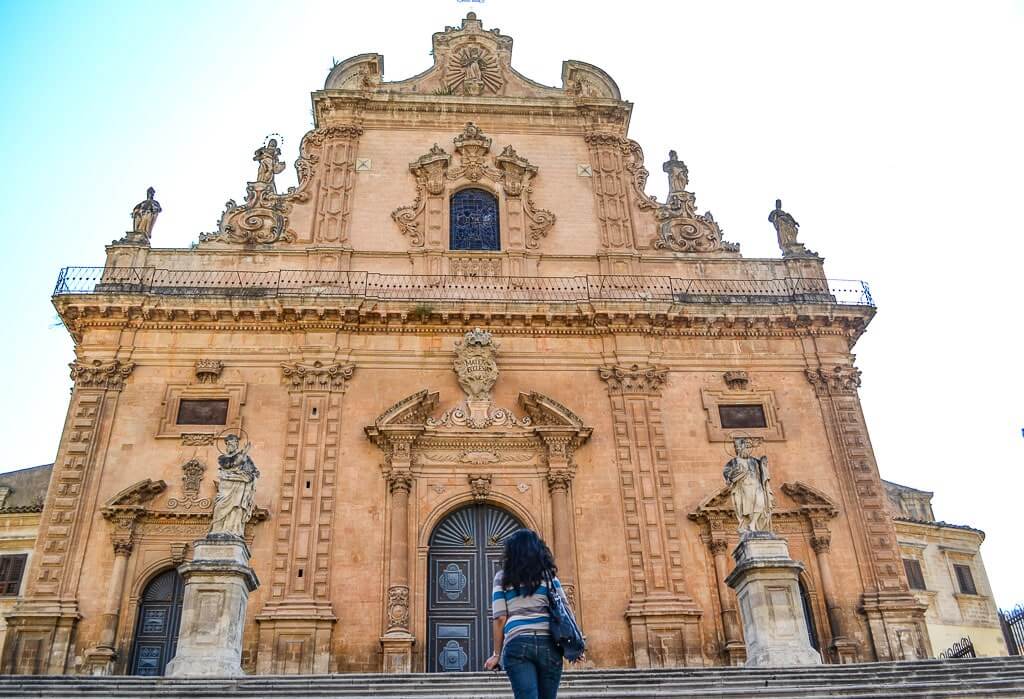 Looking for charming towns in Sicily? Head to Modica, another Baroque favorite. But the city is better known for its special Modica chocolate than baroque architecture. You'll be surprised to learn that Modica is the birthplace of the exclusive Modica chocolate that was brought here by the Spanish from Latin America and is still prepared the Aztec way. So, it goes without saying that when you are in Modica, you have to taste some authentic Aztec chocolate.
There are several other interesting things to do in Modica. From visiting the majestic Duomo of San Giorgio, stepping into St. Peter's Cathedral to strolling through Corso Umberto and enjoying the daily Italian passeggiata, the list of Modica attractions is endless.
Modica is just a day trip away from Ragusa and can be easily seen visited by car. It is often a part of popular Montalbano tours along with Ragusa.
Agrigento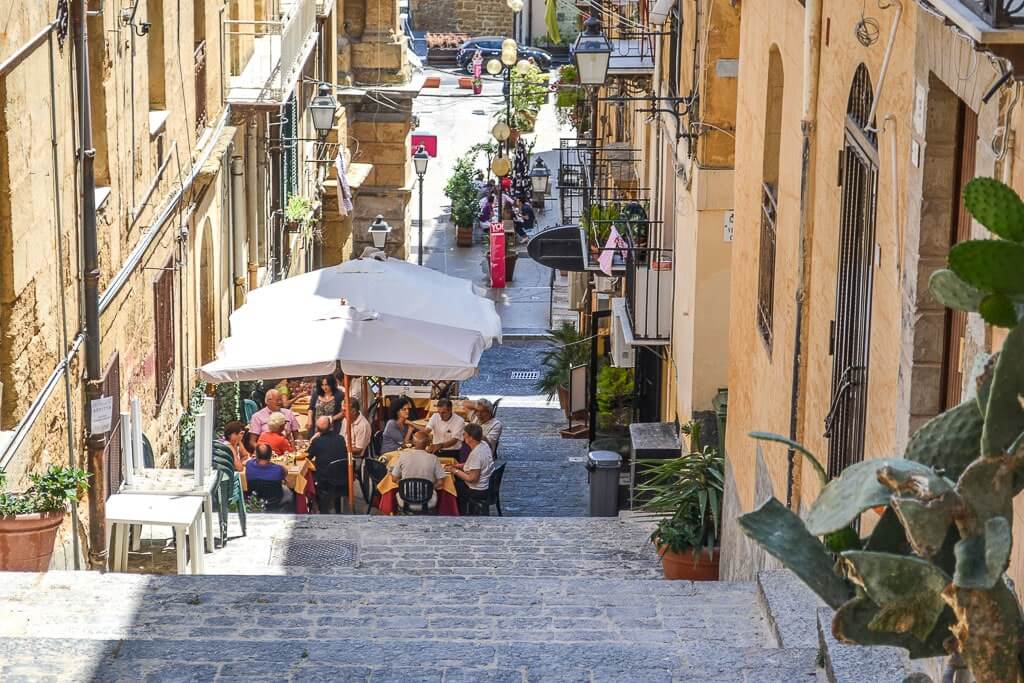 A beautiful town in Sicily that is often ignored is Agrigento. Travelers flock to Agrigento to see the imposing Valley of the Temples, a UNESCO heritage site but they always miss checking out Agrigento Old Town that is a treasure in itself.
When you are done visiting the Greek temples of Valle dei Templi, be sure to head to the quaint Sicilian town of Agrigento and roam the streets of the historic center. Via Atenea is the main street that is dotted with old-style palaces and alfresco restaurants.
Check out Agrigento Cathedral and visit the Monastery of the Holy Spirit. At the monastery, you can taste original pistachio couscous that nuns have been making here for centuries. The recipe? Well, that's top secret! Shhhh!
It is a good idea to stay in Agrigento for the night, even it is to catch a glimpse of the marvelous Greek temples at sunrise. Hotel Villa Athena is the best place to do that.
Syracuse
Recommended by Tamar from World by Weekend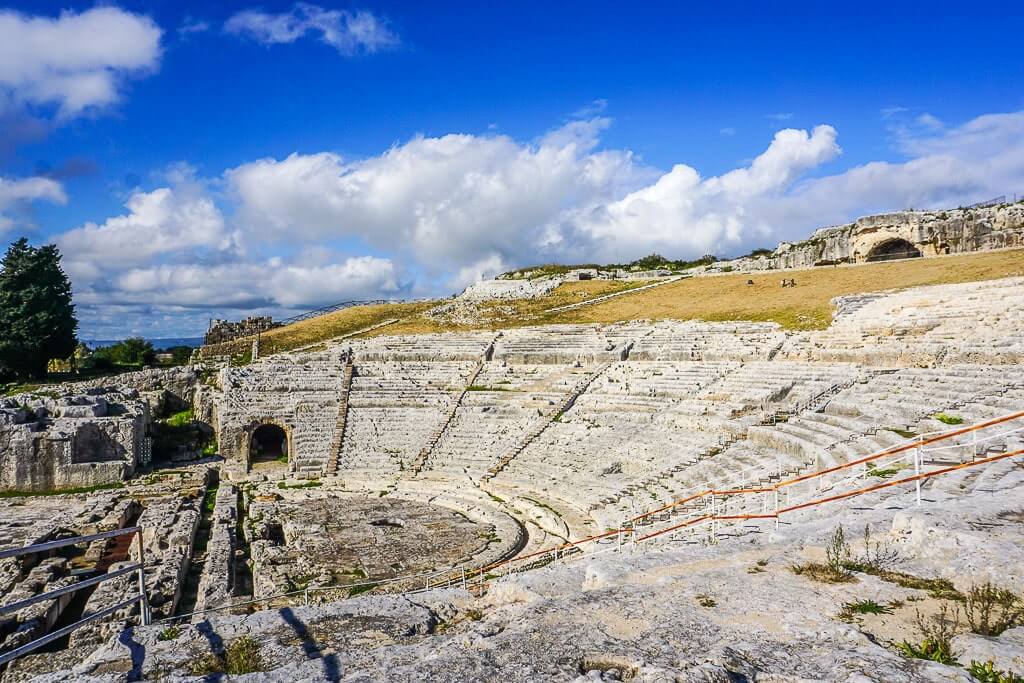 The beautiful Sicilian town of Syracuse (or Siracusa), situated along the Ionian Sea, is steeped in history. Over 2,700 years old, the city was once the economic and political powerhouse of Greater Greece. To fully appreciate the importance of this ancient city, head to the Neapolis Archaeological Park. There you'll see many well-preserved Greek and Roman ruins. Most notably, the Greek Theater is one of the largest ever built and once held 15,000 spectators.
The cultural center of modern Syracuse is the small island of Ortigia. While currently a trendy enclave full of cafes and restaurants, Ortigia's maze of narrow streets is the historic core of Syracuse. Here, you'll find the Cathedral of Syracuse, built upon the remains of an ancient Roman temple. The original temple columns were incorporated into the walls of the church and are visible inside.
While you could plan on driving in Sicily, you'll need to explore Ortigia on foot. Note that you will need a car to get to the Archaeological Park. Ortigia's charm is amplified at night, so try your best to stay at the Algila Ortigia Charme Hotel in the center of the island.
Erice
Recommended by Maura of TravelKiwis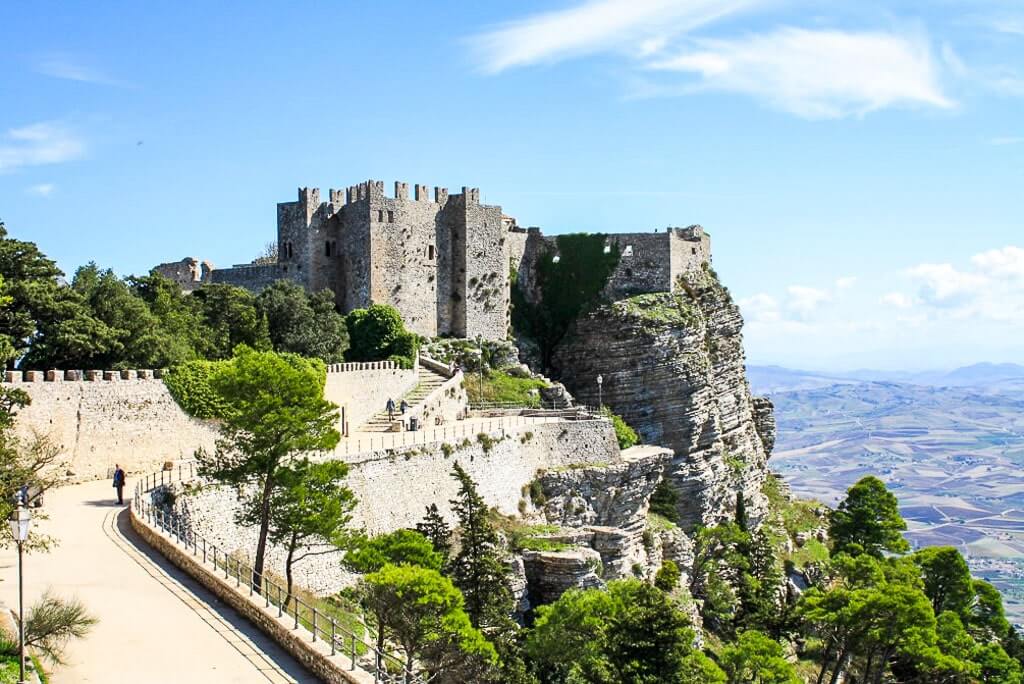 The ancient hilltop village of Erice is a genuine hidden gem of Sicily, the island region just off the 'toe' of the 'boot' of Italy. Erice sits high above the harbour town of Trapani on the west side of the island. Its strategic position was a stronghold and a sacred site for Greeks, Carthaginians, Romans, and Arabs.
To get to Erice from Trapani, you can take a 45-minute bus ride which climbs 800 metres from sea level to Porta Trapani. But the best way to get up the hill is by the Trapani-Erice Funivia (cableway). The eight-seat cable cars take just 10 minutes to cover 3kms, and the views are spectacular.
Whichever way you travel, you will arrive at the beautiful medieval gate, Porta Trapani. When you pass through the gate you will wander the narrow cobblestoned streets that make up the village. It's here you will want to stop at La Pasticceria Maria Grammatico to try one of the decorative marzipan pastries.
The highlight of Erice is the Peploi Castle (now a hotel) and the Castle of Venus. The tranquil Garden Balio below Venus Castle has panoramic views out across the island. A stay at Bella Vista B&B also has beautiful seascape views.
Taormina
Recommended by Veronika from Travel Geekery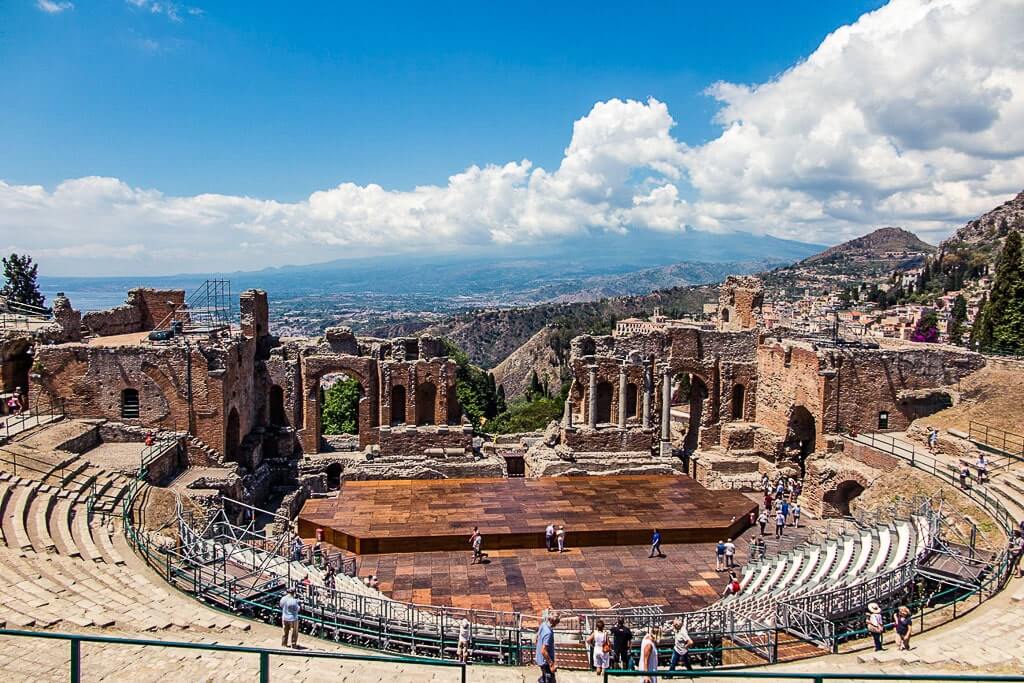 While Sicily has many enchanting towns, Taormina more than stands out. The city's hillside position, above the pretty Ionian Sea and with Mount Etna directly in view, grants it a unique charm.
The ancient Greek Theatre is the no. 1 place to visit in town, not just for the history but also for the most stunning views of the island.
But it's not just about historical sights and the Sicilian old town magic in Taormina. You can engage in many other activities. For example, if you take a cable car from the center, you'll arrive at the beach area. There are a few beaches to choose from, including one that has a little islet you can walk to and explore.
You can get to Taormina easily from Catania. There are both bus and train connections. If arriving by car, you'll need to leave the vehicle at a large parking outside the city limits and then get a free shuttle to town.
Taormina can be visited on a day trip from Catania. If you choose to stay overnight, you may consider staying at a high-rated B&B a' Coffa right at Corso Umberto, the main boulevard running through Taormina's center.
Trapani
Recommended by Becki from Meet Me In Departures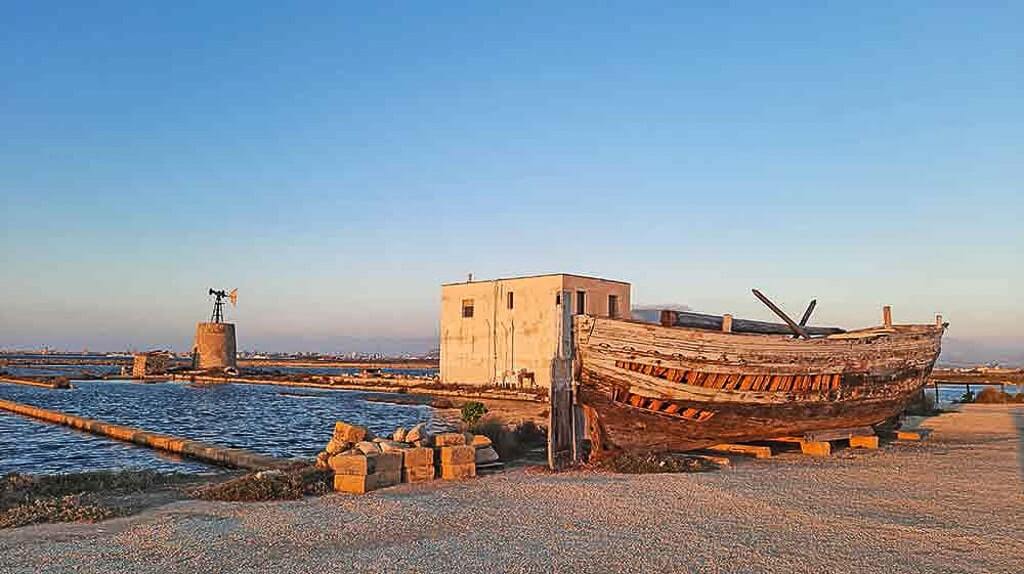 The little city of Trapani in northwest of Sicily is less visited than the likes of Catania and Palmero but it is a great place to base yourself to explore the stunning countryside and go island hopping.
There are numerous things to see in Trapani. Interesting architecture can be found along Via Garibaldi, Corso Italia, and Corso Vittorio Emanuele. You'll see a mix of Baroque and Art Nouveau-style buildings. The historical center is perfect for exploring on foot and getting lost in the little alleyways.
Another place to explore is the sea wall that runs along the northern edge of the city. You can start at the old fish market square and walk all the way to the old Bastion.
Trapani is famed for its salt pans, and just outside the city, you'll find one of the oldest of its kind still producing salt. At the peak of this industry, in the mid-1800s, there were over 31 salt pans in the region. On your journey out, keep an eye out for wild flamingoes.
Another easy day trip from Trapani is to the medieval hilltop town of Erice (take the cable car up from just outside of Trapani city). If you're looking for a pristine beach, then hop over to Favignana. Regular ferries and hydrofoils leave from Trapani port and the journey takes about 30 minutes.
Trapani has an airport which makes it easy to get to. Otherwise, catch a bus from Palermo.
Ortigia
Recommended by Sarah from Life Part 2 And Beyond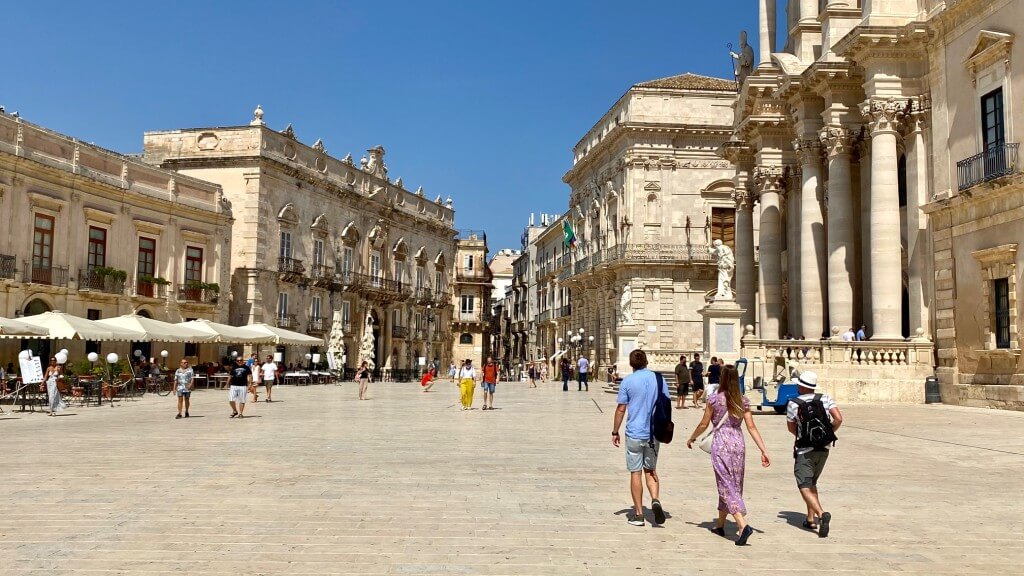 The beautiful, tiny island of Ortigia, attached to the mainland by a short bridge. Just slightly larger than one square kilometre, this island has been inhabited for over 3,000 years and is famous for its Greek heritage. Even though it is the historic centre of Siracusa in Sicily, Ortigia is so much a destination on its own.
Just as you cross into Ortigia, you'll come across the remains of the Temple of Apollo, dating from the 6th century BC. It is believed to be the oldest Doric temple in Sicily.
But it's not just Greek heritage. This stunning isle is jam-packed with Baroque piazzas, impressive church facades, an ancient castle, lively outdoor bars, and restaurants serving delicious Sicilian food. The Piazza Duomo in Ortigia is a must-visit. It's one of Italy's most beautiful piazzas.
The only beach on Ortigia is the petite, pebbled Spiaggia di Cala Rossa located at the island's southern end.
Getting to Ortigia is easy. Although having a car is fun for exploring Sicily, parking is difficult on the island, and all the sites can easily be explored on foot. The closest airport is Catania. From there, take a train to Siracusa Station and a five-minute taxi ride to Ortigia.
Cefalu
Recommended by Jolene from Wanderlust Storytellers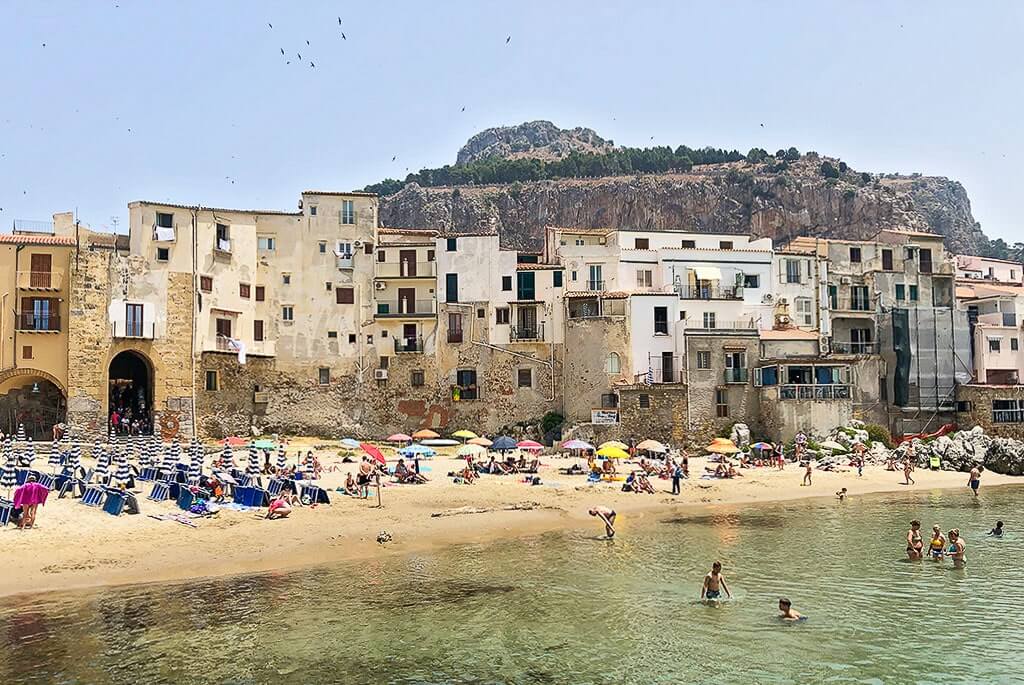 When visiting Sicily, one seaside town that you must visit is Cefalu. The town offers sparkling ocean waters, delicious food, dramatic stone cliffs, vibrant culture, and is steeped in history.
Cefalu is situated on the northern part of Sicily. Travel by train or car makes the journey easy. The trains from Palermo to Cefalu run roughly every hour and the journey lasts about 50 minutes. If you are exploring Sicily in a car, then driving to Cefalu is also easy. However if you are traveling during July, the peak month, parking might be a challenge.
Although Cefalu is a reasonably small town, there is still an abundance of things to see and do when traveling Cefalu. When you are not relaxing on the stunning Cefalu beaches, visiting the Cefalu Cathedral, Tempio di Diana, and Piazza del Duomo, or hiking up La Rocca are just a few of the incredible things to do.
Whether you are traveling as a couple or a family, there are accommodations to suit. Hotel Kalura boasts panoramic views of Caldera Bay, with a private beach, pool, and tennis court. For families or larger groups, rent an entire apartment at Casanova Rooms and Apartments. They are fully kitted out and perfectly located with amazing views and are close to the beach.
Noto
Recommended by Merry Allison from Virginia Vacation Guide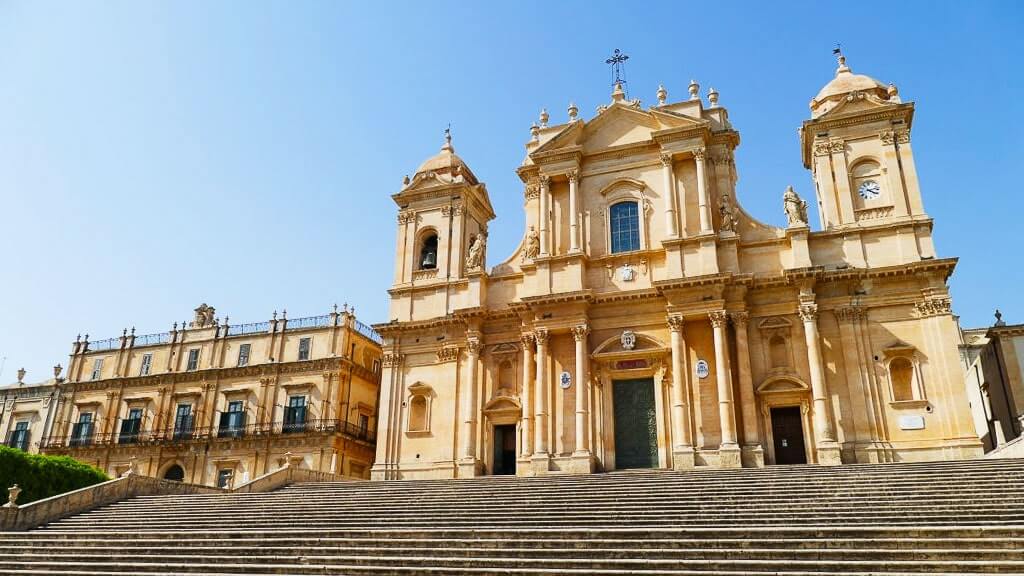 Noto is a small historic town located in southern Sicily. It offers visitors a quieter retreat from larger nearby cities like Syracuse and Catania.
Noto is noted for its distinctly Baroque architecture dating back to the 17th and the 18th centuries. The churches, theaters, palaces, and other buildings are decorated with a high degree of ornamentation and decoration, including flourishes and flowers.
Many of the main attractions in Noto can be easily visited by traveling along Corso Emanuele Vittorio III, which is the historic walking street that runs through the middle of the town.
As you make your way down the corso, you will immediately see many of the major attractions in town, including St. Nicholas Cathedral, the Church of Santa Chiara, and Palazzo Nicolaci. There is also a lovely park and grand arch at one end of the corso.
Noto can be reached by train, bus, or car from Syracuse, which is 37 kilometers away, or Catania, which is 92 kilometers away. You can also book a guided tour from Catania.
When staying in Noto, you can book accommodations at the Gagliardi Boutique Hotel. It is located within easy walking distance to many of the main attractions, and it features big spacious rooms with classic designs.
Lipari
Recommended by Emily from Wander-Lush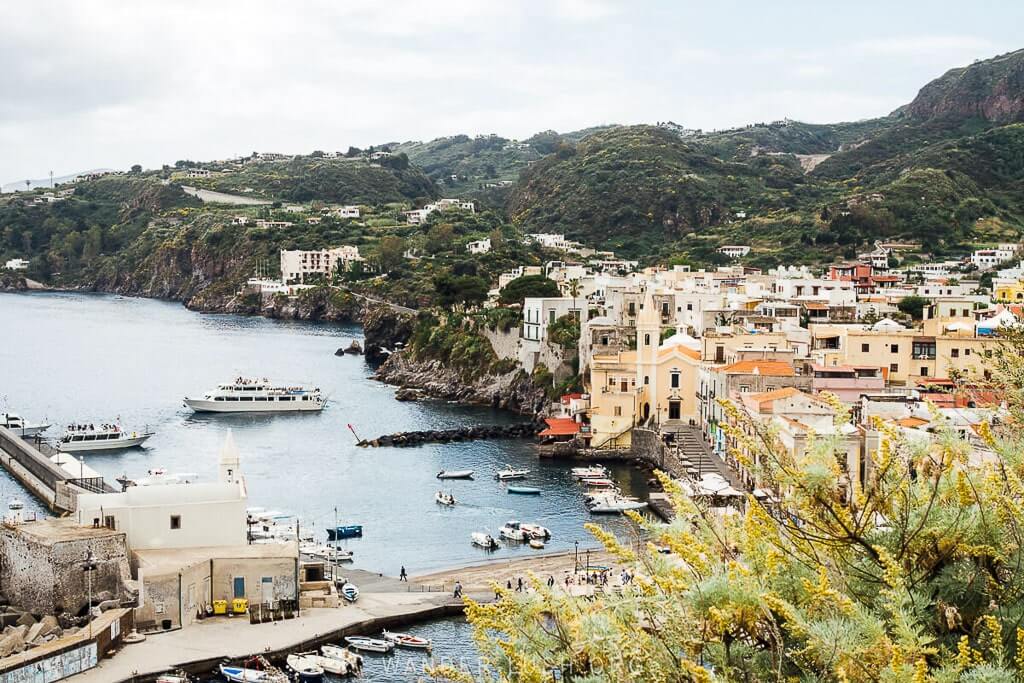 The biggest town on the largest of the seven Aeolian Islands, Lipari is about as charming as Sicilian coastal towns can get. Lipari's harbor is easy to reach by hydrofoil from Milazzo, making it an ideal island detour from the Sicilian mainland.
As you pull up to the dock, a picture-perfect vignette of the towering Lipari Castle greets you. Climb the stairs to the top to visit the Archaeological Museum, where a collection of clay amphora and objects crafted from obsidian volcanic glass recall the island's rich history.
Back down near the port, rows of cute pastel-coloured buildings house ceramic ateliers where artisans throw shapely pots and vases and hand-paint iconic Testi di Moro 'Moors head' sculptures. Find an open-air trattoria for lunch, then wander the backstreets and choose your favourite cannoli shop for a sweet treat.
Hotel Villa Enrica – Aeolian Charme is set on a hill amongst groves of fruit trees. It commands beautiful views of the port and town from both the pool and the private terrace.
Mazara del Vallo
Recommended by Anita from Anita Beyond The Sea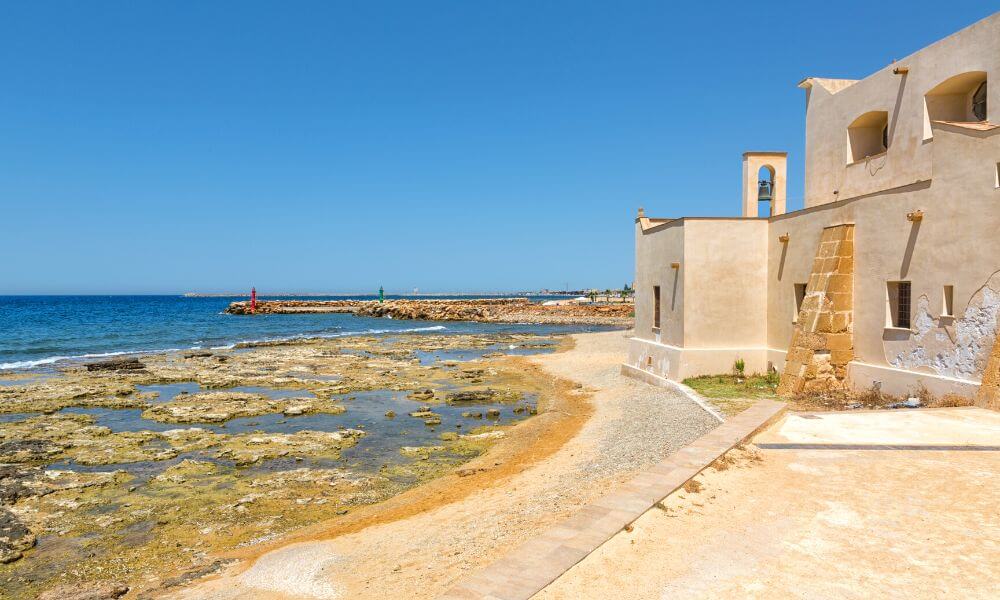 Mazara del Vallo is a lovely coastal town in Sicily, known as one the largest fishing centers in Italy. With a history that goes back to the Greek era, Mazara del Vallo has lots to interest the discerning traveler.
Be sure to head to the Republic Square where you'll find the Bishop's Palace, the Cathedral, and the Seminary of the Clerics. The Museum of the Satyr with its dancing Greek statue is an absolute highlight. Do not miss the beautiful frescoes inside the baroque Church of San Francesco. And be sure to check out the ancient Kasbah neighborhood which still maintains a true Arabic vibe.
In addition to the town's ancient history, Mazara del Vallo benefits from some of the most beautiful beaches in Sicily. Don't hesitate to explore around. There are many private beaches that rent umbrellas and sunbeds for a few euros per day.
The closest airport is Trapani Birgi Airport, only 40 minutes away. But Mazara is also well connected to the other Sicilian cities via the regional train and the highway.
If you are looking for a charming experience, you should definitely stay at Sant'Agostino suites. This charming mansion in the town's center is full of vibrant colors and beautiful tiles.
Gibellina Nuova
Recommended by Katie from KatieCafTravel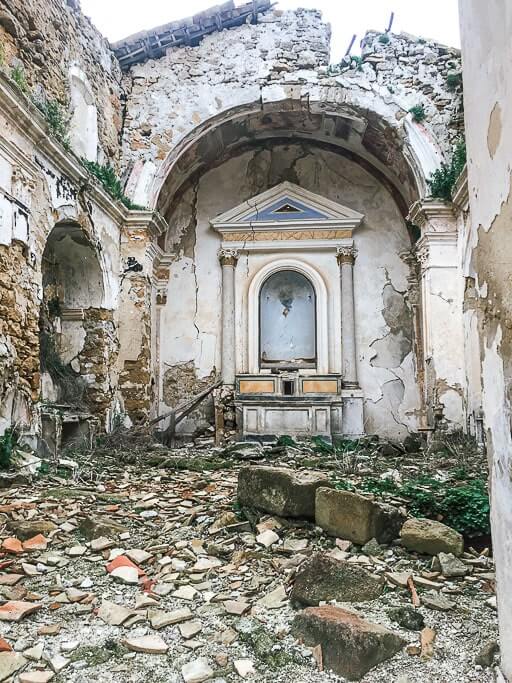 In 1968 the Belice Earthquake destroyed the small village of Gibellina, in central Sicily. The earthquake was a tremendous tragedy, killing a record 400 Italians and destroying the village. The Sicilians rebuilt and as a symbol of their creativity and resilience, Gibellina Nuova (New Gibellina) was founded in 1970 for the victims of the original quake.
Half modern-art installation, half city, Gibellina Nuova is an extremely interesting tourist attraction in central Sicily that you can visit today. The town has many large-scale modern art monuments.
The crown jewel of Gibellina Nuova's art installations is the "Cretto Di Burri". 15 years after the initial quake struck Gibellina, Italian modernist Alberto Burri took inspiration and erected a memorial over the original site of the Belice earthquake.
The Cretto Di Burri, also called Cretto Di Gibellina (Crack of Gibellina), is a mass memorial made of concrete – half sculpture, half tomb, that traces the city streets which once comprised the bustling village of Gibellina.
Gibellina is a more somber attraction than visiting the famous beaches, beach clubs, and medieval villages of Sicily, but a worthwhile one!
Mondello
Recommended by Catrina from 24 Hours Layover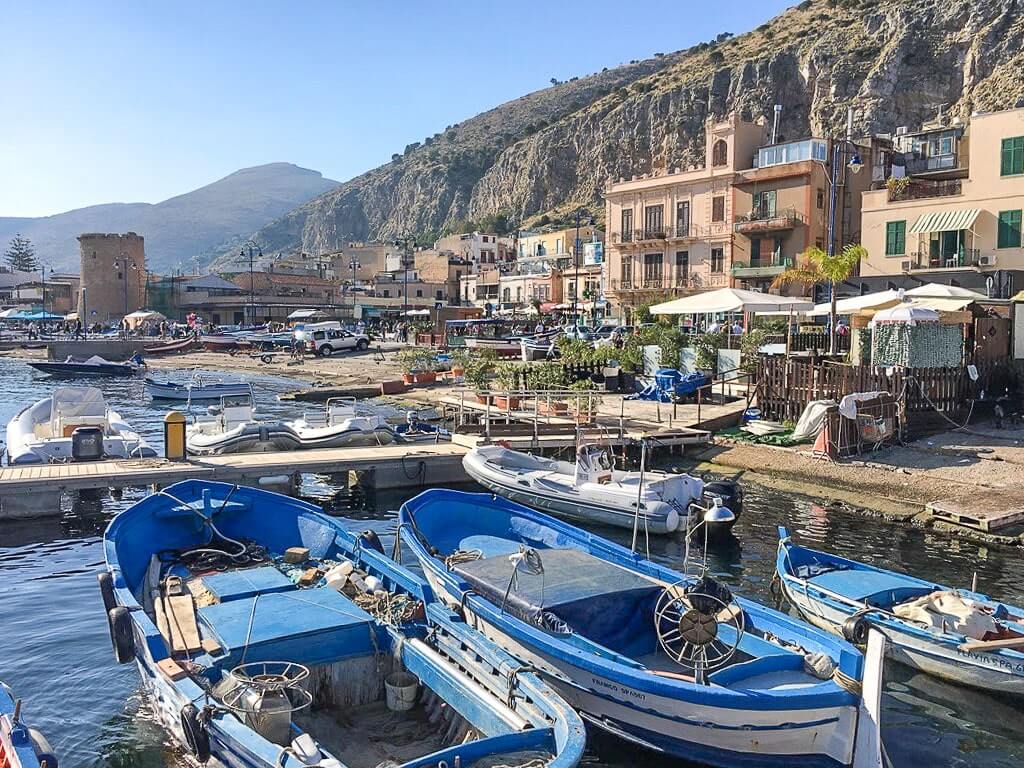 One of Sicily's most picturesque beachside towns is Mondello – located 10 kilometres from Palermo. Once a fishing village, Mondello has blossomed into an elegant and desirable seaside town, full of gorgeous panoramas, eye-catching Liberty Style Villas and an idyllic 1.5km white sandy beach surrounded by calm shallow turquoise waters.
Mondello is a great hidden gem where you'll find far more locals than international tourists. There are lots of things to do, such as strolling along the Art Nouveau pier, visiting the nearby Capo Gallo Nature Reserve or going for a dip in idyllic secluded coves, or going up Monte Pellegrino ('Pilgrims Mountain') – the imposing promontory that separates Palermo from Mondello.
Monte Pellegrino is the best place to watch the sunset near Mondello – the views are out of this world!
The 806 bus from Via della Libertà in Palermo will take you to Mondello Beach in 30 minutes. If coming from Palermo Airport, Mondello is just a 20-minute drive. A great place to stay is Splendid Hotel la Torre; it's in the perfect location in Mondello with fantastic views of the sea and Monte Pellegrino.
Castellammare del Golf
Recommended by Marianne from PastaPretzels&Passports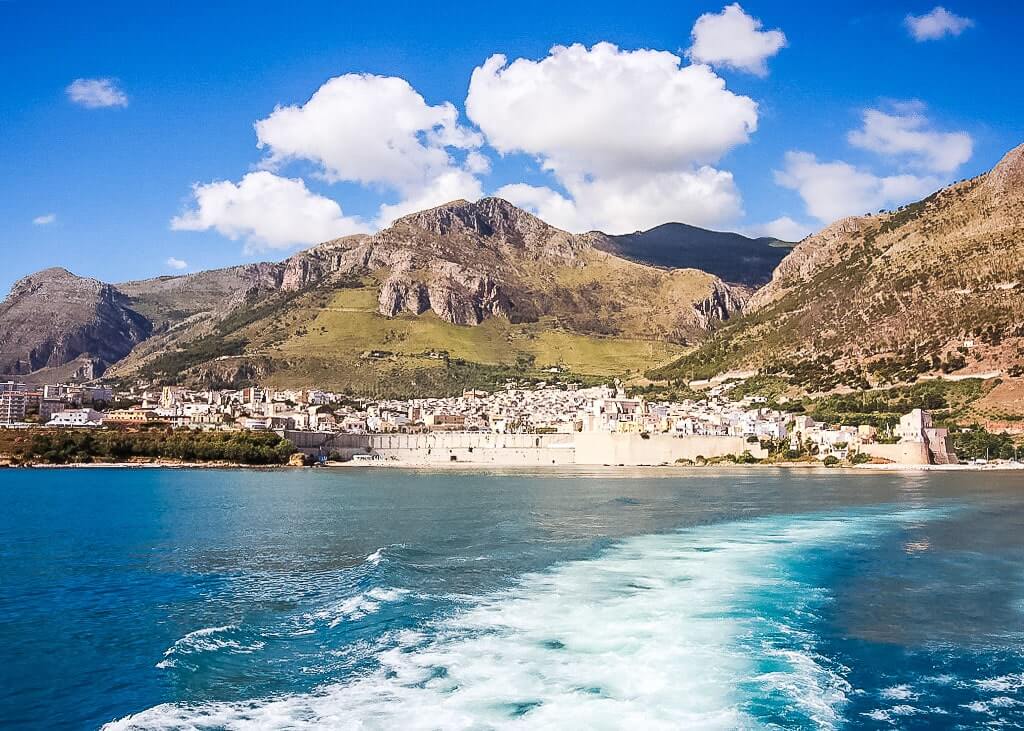 Located on the northwestern coast of Sicily, Castellammare del Golfo is a hidden gem that is often overlooked by tourists. This scenic town is steeped in history and culture and offers a wide range of activities and attractions for visitors to enjoy.
If you are a history buff, you'll love the waterfront Arab-Norman Castle from the 12th century or one of the town's lovely historic churches.
Take a stroll along the waterfront or visit one of several beaches located nearby. The popular Spiaggia Plaja, a 6-mile-long strip of beach, is a great spot for swimming, sunbathing, snorkeling, and is lined with a ton of shops, cafés, and restaurants.
Be sure to take a boat cruise to Zingaro Nature Reserve where you can explore the grottos, or snorkel and swim in the incredible turquoise waters. Zingaro is also home to several hiking trails in the surrounding hills, which offer beautiful views of the town and the sea.
For foodies, Castellammare del Golfo is a paradise. Famous for its seafood, the town offers everything from fresh fish to octopus, shrimp, clams, and mussels, as well as squid and sea urchins. Don't forget to explore the excellent restaurants and cafés, where you can enjoy delicious Sicilian specialties like cannoli, gelato, cassata, and of course, plenty of pizza and pasta.
And if you are looking for somewhere nice to stay, Castellammare del Golfo is home to many amazing hotels, vacation rentals, and B&Bs. Hotel Punta Nord – Est is an awesome choice for families or couples looking for a luxury hotel in the heart of town.
Catania
Recommended by Dymphe from Dymabroad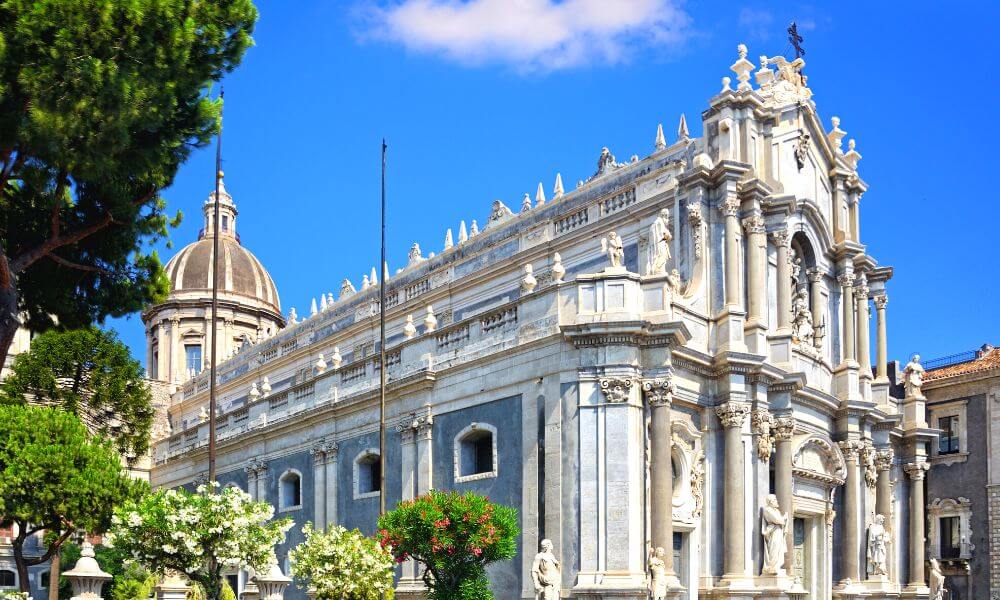 One of the best cities in Sicily is the city of Catania. A prime reason why Catania is a special place to visit is its proximity to Mount Etna, which is an active volcano. From Catania, it is possible to do a guided tour to the volcano.
There are many historic buildings in the city, which make Catania very beautiful. You can see Teatro Massimo Bellini here, a historic opera house. Also, there is an interesting Roman theatre nearby. Furthermore, Catania has a beautiful coastline.
Catania is the second-largest city of Sicily and has good connectivity. You can get to Catania by airplane, as there is an international airport in the city. Furthermore, there are good train connections to other parts of Italy.
The bus network in the city is pretty good. So getting around in Catania is very easy, and the city is very walkable too. If you are looking for a great place to stay, check out the Liberty Hotel.
Loved our Sicily towns bucket list? Pin it for later!