Last Updated on November 20, 2021 by Soumya
To climb to the top of Sigiriya rock in Sri Lanka was always my dream. To be able to visualize a lost kingdom that was built on the top of a steep, inaccessible rock was always a fantasy for the history nerd in me. I am glad I was finally able to do it on my recent 10-day trip to Sri Lanka.
Sigiriya rock fortress has more than 1200 steps. Climbing the steps of Sigiriya rock or simply preparing for the climb can be an unnerving experience for many. It was for me.
I am 37 and I don't work out daily. I have knee pain when I climb down stairs. For days before the trip, I was quite apprehensive if I should even attempt the Sigiriya rock climb. However, I did climb Sri Lanka's Lion Rock and completed it in less than 60 minutes. And that was with multiple stops en-route for taking photographs and gaping at the scenery and the history that surrounded me.
Climbing Sigiriya rock fortress is hard but not impossible. If I could do it, you can do it too.
Here's my personal experience of the Sigiriya hike and a bunch of helpful tips to help you scale the steps of the mighty Sigiriya rock.
Climbing the steps of Sigiriya rock fortress: My experience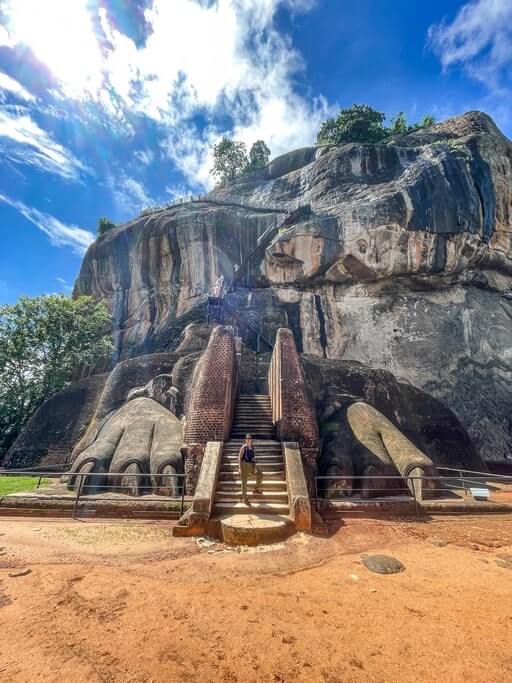 Sigiriya, Sinhagiri, or the Lion Rock of Sri Lanka is an ancient rock fortress from the 5th century AD. It was that the infamous Sinhala King, Kashyapa I, built his citadel after overthrowing his father by not-so-rightful means. I talk all about Sigiriya's intriguing history as well as things to see here in my ultimate travel guide to visiting Sigiriya.
Grab my Sigiriya rock fortress guide to plan the most memorable trip.
In this post, I talk all about my experience of climbing Sigiriya rock and if it is really worth the climb.
Please note: This post may contain affiliate links which means I may earn a commission if you make a purchase by clicking a link on this post. This will be at no additional cost to you. Affiliate links help me keep this website up and running. Thanks for your support!
Sigiriya rock steps
Sigiriya Rock has more than 1200 steps. I have heard of numbers anywhere between 1210 – 1300.
However, the best part is that these 1200 stairs are not all clamped up together. I would divide the steps into 3 categories – main gate and water gardens, boulder gardens to Lion's Paw, and Lion's Paw to the top of the citadel.
There are a few steps between the main gate and the water gardens – about 100 I would say. But they are all spread over a large area and do not give you the feel of a climb.
The 2nd flight of stairs is between the boulder gardens (where you literally enter the rock fortress) and the Lion's Paw which is a platform at the middle level of the rock. Again, there are many things to stop and see on this stretch such as boulder arches, frescoed-caves, army pavilions, etc. Plus, a lot of shade on this stretch.
From the Lion's Paw to the top of the Sigiriya rock is, in my opinion, the most difficult part of the climb. It is steep and without any shade. And there are no breaks in between. It was a sunny, hot day when I climbed. Thankfully, I had two bottles of water with me and a sort of mild breeze was blowing to keep me company. I took multiple breaks and focused on the stair in front of me while climbing. Looking down always makes me feel dizzy. So, I avoided doing that. There are handrails to hold on to and ample space to step aside and let others pass.
To get to the Fresco Gallery, you need to climb some 20-30 spiral steps. Even though this looks tough from faraway, it is not and gets done in no time.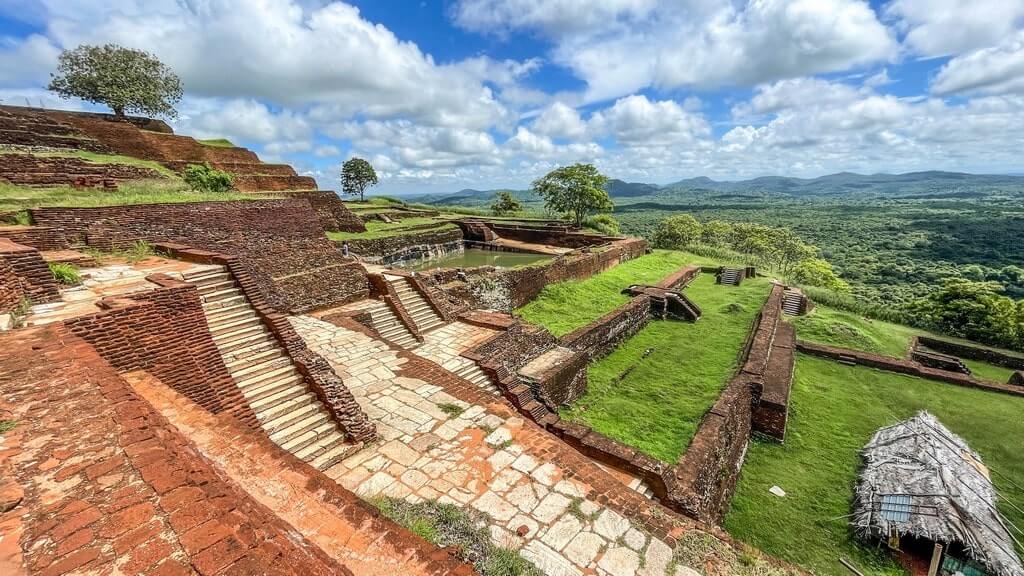 Time taken to climb Sigiriya rock
I took about an hour to climb to the top of Sigiriya rock fortress. That includes considerable time spent in the water and boulder gardens as well as at the Lion's Paw for photo shoots.
Honestly, I did not even realize that I was climbing until the last stretch which I mention was the toughest stretch for me. The rest of the climb was more like a leisurely hike with multiple stops on the way.
For the last leg of the climb (between Lion's Paw to the top), I took about 15 minutes. One of my friends sprinted to the top in like 5 minutes. Once on the top, there is ample space to sit down and catch your breath if you need to.
I had a bit of an issue with my knees while climbing down but that was at the end of the hike, near the boulder gardens. Remember that I suffer from knee pain while climbing down which is why I was also using knee caps all the time. In case you have a similar problem, please use knee caps. They are a great help.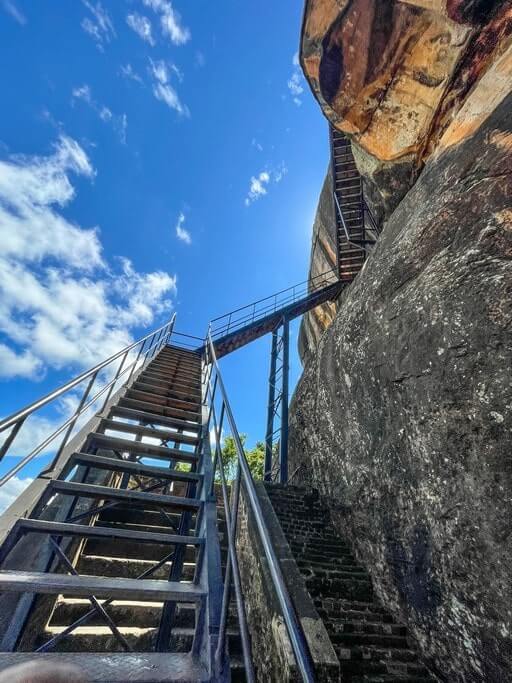 Where to stop and what to see?
I talk in great length about all the amazing things to do and see in my Sigiriya travel guide.
The citadel on the top is where you will be spending most of your time (45-60 minutes).
Then there is the Lion's Paw which is a great photo op. Plus, it gives you the perfect opportunity to visualize how the lion face of Sigiriya would have looked like.
You will spend about 15-20 minutes at the Mirror Wall and Fresco Gallery on your way down the stairs.
These are the 3 main points of interest at Sigiriya. Apart from these, there are several niches, frescoed-caves, pools, and strategic boulder arches that you will want to see. If you have a good tour guide, he will point them out to you.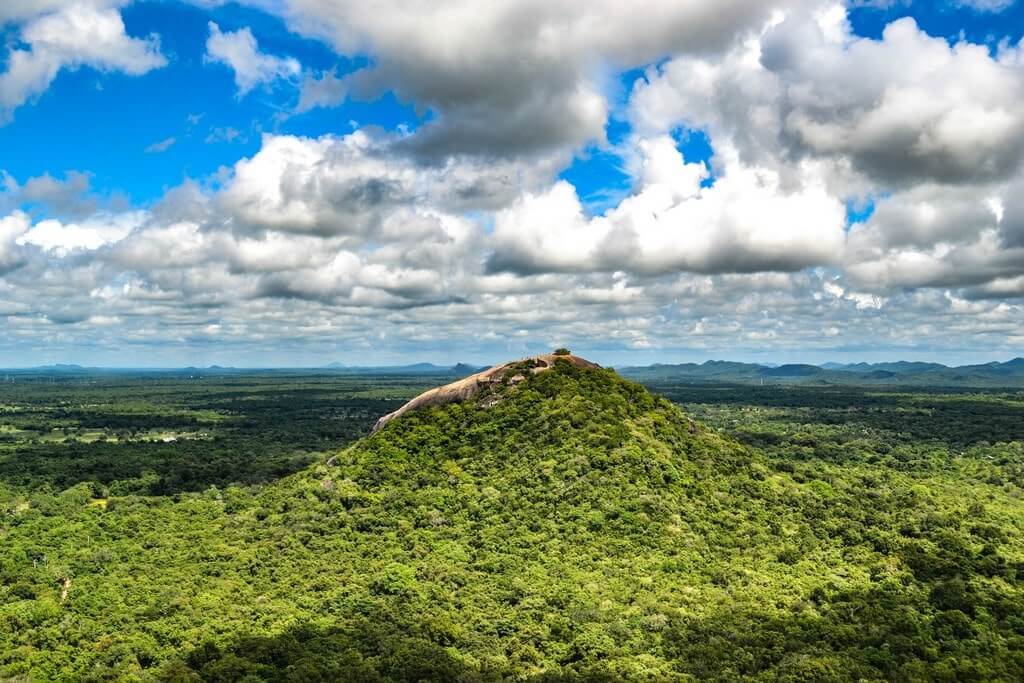 Helpful tips to climb Sigiriya rock
Start early. I cannot stress this enough. The archaeological site opens at 7 am every day. If you can get here as early as 7, nothing better. You will not only beat the heat but also get some amazing pictures without the crowds.
Wear comfortable cotton clothes – ideally something that will let your body breathe. Remember that the citadel on the top is out in the open, no shade. Plus, you will be doing a lot of climbing in the heat. All that is equal to a lot of sweating.
Carry enough water with you. By enough, I mean at least 1-2 liters of water. Once you start climbing the stairs, you won't find vendors selling water bottles.
If you need an energy drink or protein bar, carry that too. Be sure not to litter the premises. Please use trash cans available at several points throughout the climb.
Wear good climbing shoes.
Finish your pee business either at the museum or at the toilets near the boulder gardens. There are no toilets once you begin the climb.
If you need some moral support, climb with a group. I had an amazing group of friends who motivated me by their sprinting skills and animated chatter.
Focus on one flight of stairs at a time. Do that, take a short break, and start with the next. Honestly, this tip helped me a great deal in my Sigiriya climb.
Getting a tour guide helps. Guides pepper the climb with interesting stories, myths, and legends – a helpful distraction from the massive hike in front of you.
Sigiriya rock climb FAQ
Can you climb Sigiriya?
Yes, you can climb Sigiriya. The climb takes anywhere between 30 minutes to 1.5 hours depending on your fitness levels.
How many steps is Sigiriya rock?
Sigiriya rock has more than 1200 steps. I have heard of numbers between 1210 – 1300. I am not quite sure of the exact number. However, what I am sure is that the number is above 1200 and less than 1300.
How many feet is Sigiriya?
The height of Sigiriya is 1144 feet (350 meters) above sea level and 600 feet (180 meters) above the land surrounding it.
How hard is it to climb Sigiriya rock?
It is not very hard to climb Sigiriya rock. People with moderate fitness levels like me can also do it easily. There are several breaks in between which make the entire climb easier that it is thought to be.
Is it worth climbing Sigiriya rock?
Climbing Sigiriya rock in Sri Lanka is absolutely worth it. The Ancient City of Sigiriya which lies on the top of the rock is a UNESCO World Heritage Site and totally worth a climb. The archaeological site reminded me on Machu Picchu, only on a much smaller scale. It is fascinating how an entire kingdom was built on the top of a virtually inaccessible, gigantic rock. You need to climb it to believe it.
How long does it take to climb Sigiriya rock?
It takes anywhere between 30 minutes to 1.5 hours to climb Sigiriya depending on your fitness levels. There are several things on the way that you can stop and see such as water and boulder gardens, ancient caves, and the iconic Lion's Paw. Depending on how much time you spend at each of these spots, you may take longer to reach the top. But trust me, these stops along the way are totally worth it.
What is the best time to climb Sigiriya?
The best time to climb Sigiriya is early in the morning when the weather is mild and the sun isn't bright hot. That is also the best time to get good pictures. It gets really hot here between 11am – 2pm.The ruins at the top of the hill and many of the steps are out in the open. You would want to avoid midday for climbing.
Is it safe to climb Sigiriya?
Yes, it is absolutely safe to climb Sigiriya. The steps of Sigiriya are sturdy and clearly marked. There are no falling rocks or false steps. Additionally, there is adequate security at different points in case you need any help.
Loved our Sigiriya rock climbing guide? Pin it for later!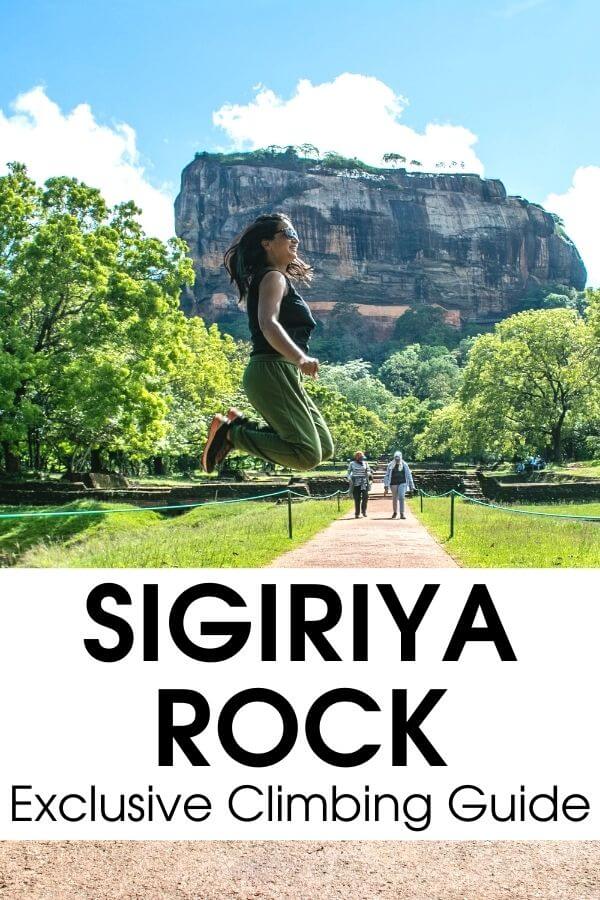 Disclaimer: I was invited by Sri Lanka Tourism to experience Sri Lanka as part of their 10-day media trip. However, the opinions expressed in this post are solely my own.