Last Updated on August 14, 2023 by Soumya
Looking for the perfect 4-day Dubai itinerary? Wondering what to do in Dubai in less than 100 hours? Looking for the best places to visit in Dubai in 4 days?
So many questions, right? I totally get it because when you are planning that long-awaited Dubai trip, you have to do it right! And, I am here to help you do that.
Dubai is a destination that should be on everyone's travel radar for its surreal cityscape, intricate architecture, astonishing sights, and of course, a myriad shopping, dining and recreation choices.
Now if you are wondering how many things you can do with just 4 days in Dubai, then don't worry. Even though it won't be possible to see and do everything in just 4 days, Dubai will still charm and woo you with its best. From seeing the touristy landmarks such as the Dubai Mall, the Burj Khalifa, Museum of the Future, and Madame Tussauds, you'll also discover the rustic side of Dubai on a desert safari that also includes learning about the Bedouin culture.
Here's a perfect 4-day itinerary for Dubai that will give you a slice of all that this wonderful emirate in the UAE has to offer.
Please note: This post may contain affiliate links which means I may earn a commission if you make a purchase by clicking a link on this post. This will be at no additional cost to you. Affiliate links help me keep this website up and running. Thanks for your support!
Planning your Dubai itinerary last minute?
If you are booking your Dubai trip last minute, don't worry. We have you covered. Here are some of the best tours, hotels, and travel tips.
Top Experiences and Tours in Dubai
Must-Have Entry Tickets
Top Hotels in Dubai
Perfect Dubai itinerary for 4 days
This 4 days in Dubai itinerary has been designed to help you make the most of your time in the city.
It takes you beyond the usual Dubai attractions and also covers the region's historical and traditional landmarks. You also get to participate in cultural experiences such as a dhow cruise and a desert safari. It further allows you to discover the city's rich culinary scene and check out its shopping and entertainment attractions.
Day 1 of 4 days in Dubai: Overview of the city
Highlights of the Day: Old Dubai Tour and Downtown Dubai
Morning: Explore Old Dubai
It may not to be easy to see Old Dubai's staggering array of attractions all on your own. But, a fully guided city tour like this one arranged through an experienced service provider will make that possible for you.
Starting off with a pick up from your hotel, your guide will take you to city's iconic and classic attractions plus hidden gems. Pass through the pulsating Sheikh Zayed Road, visit Old Dubai and make a stop at points of interest like the Dubai Museum and the 19th-century Al Fahidi Historical Neighbourhood, also called the Bastakiya.
Head next to the coin museum where you can catch up on the history of Arabia and Dubai. Then, go on retail therapy at the traditional Arabian bazaars called the souks. Be sure to explore the famous Gold Souk and the Spice Bazaar. Get some amazing views of the Bastakiya neighborhood while you go on an exciting Abra boat ride.
You also get to enjoy plenty of photo ops at the top city sights including Jumeirah Mosque, Jumeirah Beach, Atlantis, The Palm, and Dubai Marina to name a few.
Afternoon: The Dubai Mall
After your city tour, head to the glamorous Dubai Mall in Downtown Dubai. Dine at one of its 200 dining venues or grab a bite at its massive food court before you wander through its over 1200 outlets. Even better, get the best out of its numerous amusement attractions.
The Dubai Mall is so vast that it is more than just a place to shop or dine. You can see up-close over 33,000 marine creatures in the 10 million-liter tank of Dubai Aquarium and Underwater Zoo, try ice skating at Dubai Ice Rink, and ride the cutting-edge at go-karts at Ekart Zabeel.
The mall has an exclusive facility for kids from 2 to 16 years, namely, KidZania Dubai. Art lovers can opt for an immersive digital art experience at Infinity des Lumières while thrill seekers can find their way to the Play DXB with the ultimate in VR and gaming experiences.  
Evening: Burj Khalifa
The world's tallest building, Burj Khalifa, is located near the Dubai Mall. So why not go all the way to the top and catch a glorious sunset on the first evening of your 4 days in Dubai?
Burj Khalifa, at a height of over 828 meters, is the world's tallest building and a very impressive one. Be sure to reach Burj Khalifa right in time (check sunset times here) to capture the fantastic sunset views. To catch this view, simply ascend to the observation deck at its 124th level. ▶️ BOOK YOUR BURJ KHALIFA LEVEL 124 TICKETS HERE.
Burj Khalifa also has an ultimate Sky Deck on its 148th level, which is the world's highest observation deck at a height of over 555 meters.
See the sun fading away as you absorb the illuminated sights of fast-paced Dubai through its high-end telescopes or floor to ceiling windows. Other perks include riding one of the fastest elevators in the world and enjoying a multimedia presentation on Dubai's journey from a fishing village to an internationally acclaimed world city.
Night: The Dubai Fountain Show
Once you are back on ground, head to Burj Khalifa Lake with the Dubai Fountain in the vicinity. Grab a convenient spot to see the Dubai Fountain Show where bursts of water sprout out in perfect synchronization with music and light.
You don't have to pay anything to watch this breathtaking water dancing show. But, if you wish to admire it in detail from an exclusive standpoint, go on an evening abra ride along the lake or get your tickets to the Dubai Fountain Boardwalk.
Before you return to the hotel, you can choose to relish dinner at one of the cafes or restaurants overlooking the fountain.
Day 2 of 4 days in Dubai: Fun & Adventure
Highlights of the Day: IMG Worlds of Adventure and Desert Safari
Morning: IMG Worlds of Adventure
After breakfast, start the day by visiting one of Middle East's best theme parks. We recommend that you drop in at the region's largest indoor theme park – the IMG Worlds of Adventure. IMG has 5 amazing zones, packed with a spectrum of rides, games and experiences inspired by cartoon characters, Marvel superheroes, and dinosaurs. ▶️ BOOK YOUR IMG THEME PARK TICKET HERE.
If these don't excite you, visit Ski Dubai at the Mall of the Emirates instead. You can ski and snowboard for as long as you want at the first ever indoor ski resort in the Middle East. This is a great place to escape the heat of Dubai, especially if you are visiting in summer. ▶️ CHECK OUT SKI DUBAI TICKETS HERE.
Or spend a day at the ultimate Dubai Parks and Resorts with four parks – Motiongate Dubai, Bollywood Parks Dubai, LEGOLAND Dubai and LEGOLAND Water Park.
Evening: Desert Safari
Following lunch, be ready for a thrilling session of desert safari, an absolute must-do when in Dubai.
A desert safari booked through a professional travel company usually includes roundtrip transfers (to and from your desired Dubai location.) This allows you to delight in the pristine beauty and quietude of the Arabian Desert without any hassle.
One of the major attractions of any desert safari is the 4X4 dune bash which takes you on a terrific ride over the colossal sand dunes. That is sure to get your adrenalin pumping!
Continue your one-of-its-kind desert trip with a truck-load of Bedouin-inspired activities. You'll experience camel riding, sand-boarding, sheesha smoking, falconry and henna tattooing. Enjoy a traditional BBQ dinner and watch cultural shows including belly dance and a tanoura performance before you wind up your desert safari.
Day 3 of 4 days in Dubai: The city's newest attractions
Highlights of the Day: The View at the Palm, Inside Burj Al Arab Tour, Ain Dubai, Madame Tussauds, and Museum of the Future
On Day 3 of your 4 days in Dubai, check out some brand-new attractions in Dubai.
The View at the Palm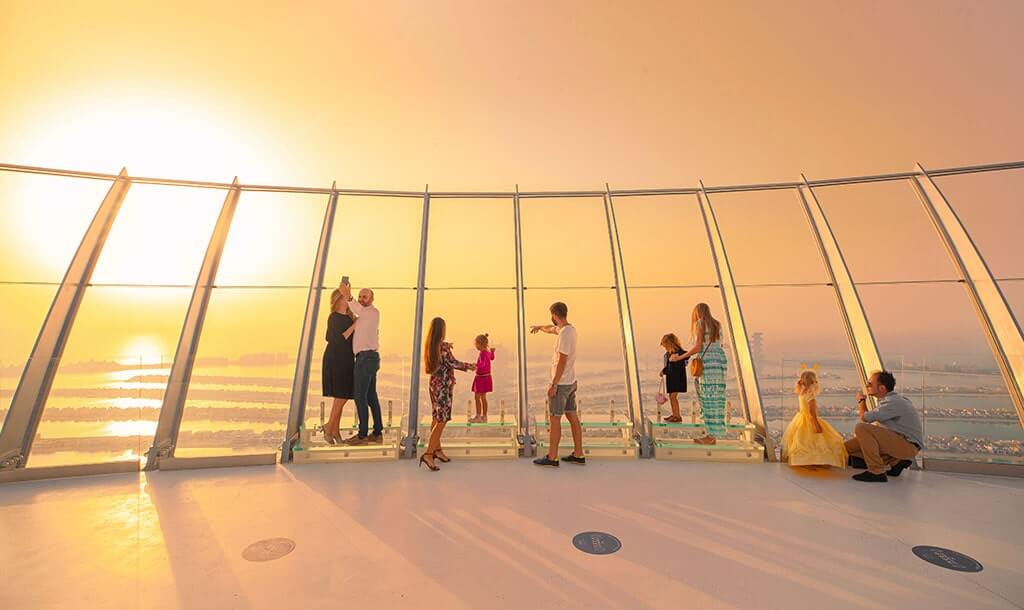 One of Dubai's prime attractions is the man-made island of Palm Jumeirah that is easily recognizable and celebrated for its grandiose palm-tree-like design complemented by a crescent.
If you are looking for an inexpensive way to see the full view of Palm Jumeirah, all you have to do is to book your entry tickets to the View at the Palm. This observation deck on the 52nd level of Palm Towers is dedicated to treat you with the most unparalleled 360 degree views over the island as well as the Arabian Gulf.
Burj Al Arab Tour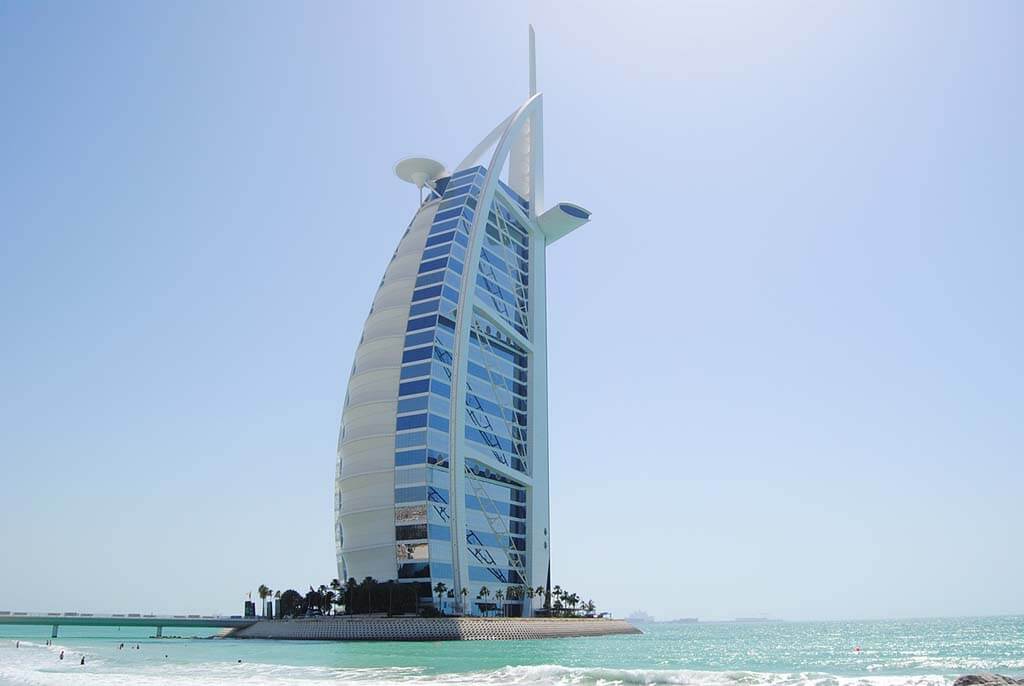 The timeless billow-shaped hotel of Burj Al Arab is another attraction that is on every traveler's bucket list and for all the right reasons.
A stay at the Burj Al Arab may strain your wallet, but a tour will not. You can now catch an insider's view at some of its most premium segments without ever staying here.
Simply sign up for a guided tour inside Burj Al Arab. This newly introduced tour is a butler-guided session that lets you enjoy a look at the hotel's most expensive accommodation – the Royal Suite, along with its atrium which is the tallest of its kind and UMA lounge. ▶️ CLICK HERE TO CHECK OUT THE BURJ AL ARAB TOUR NOW.
Ain Dubai
A short drive (less than 20 minutes) from Burj Al Arab or Jumeirah will take you to one of the city's latest and most magnificent waterfront neighborhoods, the Bluewaters Dubai.
The island's pièce de résistance is undoubtedly the recently unveiled Ain Dubai. It is the world's largest and highest observation wheel that will take you to a height of over 250 meters during its 38 minutes ride.
The Ain Dubai experience is ideal for every age and ability since the cabins used for the ride are fully enclosed and air-conditioned. And did we say that the views that you get to admire on this ride are simply out of the world? ▶️ CLICK HERE TO BOOK YOUR TICKETS FOR AIN DUBAI.
Madame Tussauds Dubai
Madame Tussauds on Bluewaters Island is unmissable for its unique theme and amazing displays. It is the Middle East's first Madame Tussauds Museum. Here you will find larger than life wax images of celebrities and personalities representing sports, music, movies, fashion, politics, and media.
It goes without saying that you can pose for some striking pictures as you enjoy tea with Queen Elizabeth II, attend A List Party, and shake your legs on dance floor, among others. ▶️ BOOK YOUR MADAME TUSSAUDS TICKET HERE.
Museum of the Future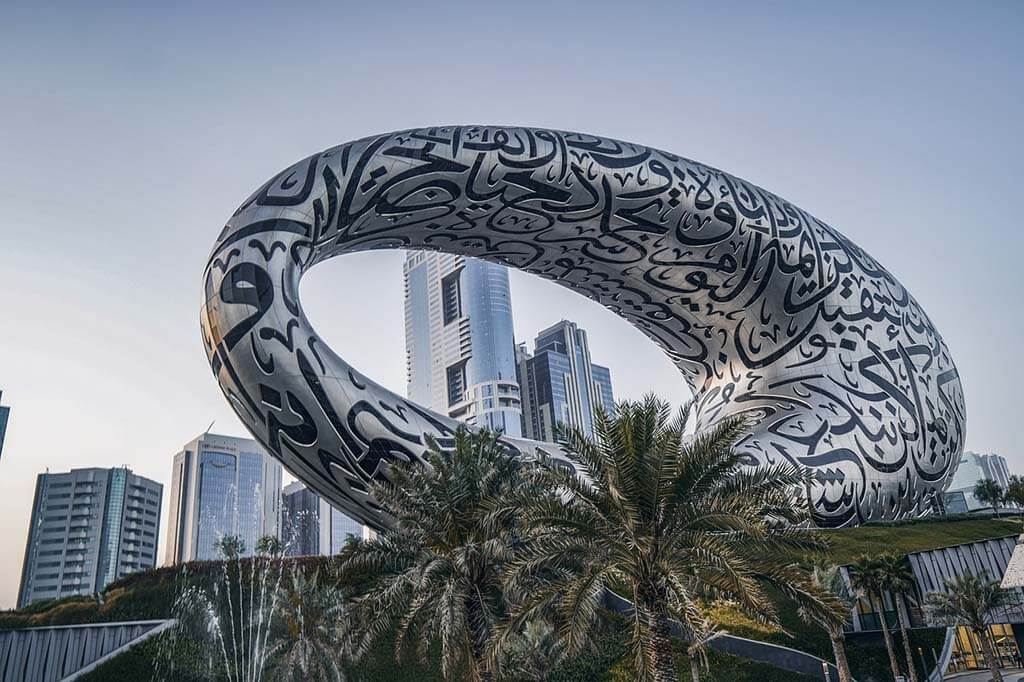 Dubai's Museum of the Future is different from other museums and hence an absolute must-have on your Dubai itinerary. This museum is a hub of creativity and innovation. It will whisk you 50 years forward as you explore its diverse levels and exhibits. Apart from these, the Museum of Future boasts of an architectural masterpiece that resembles a huge silver ring. ▶️ CHECK OUT MUSEUM OF FUTURE TICKETS HERE.
Day 4 in Dubai: Pampering & Relaxation
Highlights of the Day: Shopping / Spa Treatment and Dhow Cruise at Dubai Marina
Morning
Spend the morning hours of Day 4 in Dubai at your leisure. Relax in your room or embark on a last minute shopping trip by browsing the region's traditional souks or all-inclusive malls.
If it is absolute relaxation that you are seeking, the city has some amazing, award-winning spa facilities where you can rejuvenate and relax both your body and soul.
Evening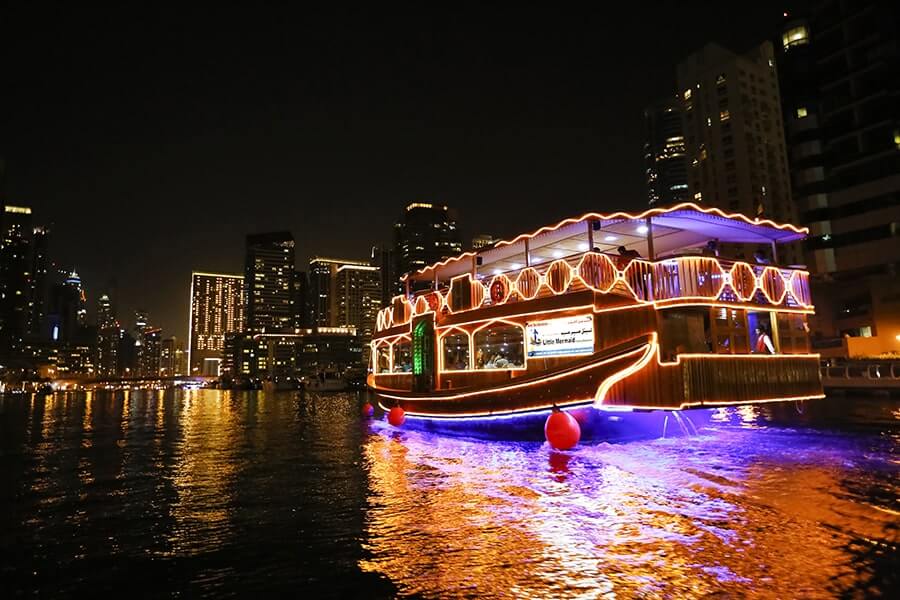 Travel to the dhow cruise embankment point at the stylish waterfront destination of Dubai Marina. Board your dhow that will sail you down the marina for about two hours. ▶️ CHECK OUT A POPULAR DHOW CRUISE HERE.
A dhow is a laid-back cruise that allows you to relish the gorgeous modern views that surround the region with good food, unlimited refreshments, and traditional shows like a tanoura dance onboard. If you are looking for a more refined cruise alternative, there is the Dubai yacht cruise with dinner and live music.
Whichever cruise option you choose, it serves as a perfect way to end your Dubai holiday on an unperturbed note.
Interactive map for Dubai itinerary planning
Tips for visiting Dubai
Book in advance for your 4-day Dubai holiday, especially accommodation, airport transfers, sightseeing tours etc. Things can get really pricey if you wait until the last minute. It is Dubai, after all!
With limited time in Dubai, it is recommended to get the services of a vehicle with driver.
You can drive in Dubai, but you must possess an international driving license.
If you plan to use public transport extensively, choose an accommodation that is conveniently located close to a metro station or a bus station.
Loved our 4-day Dubai itinerary? Pin it for later!