Last Updated on January 10, 2023 by Soumya
An ancient city located in the heart of Sri Lanka, Polonnaruwa forms an important part of Sri Lanka's Cultural Triangle. It is one of the best places to visit in Sri Lanka if you love history and culture. Or are even vaguely interested in learning how Sri Lanka's history evolved over the years. Wandering through the ancient ruins of Polonnaruwa is enlightening.
Ultimate Travel Guide to Polonnaruwa Sri Lanka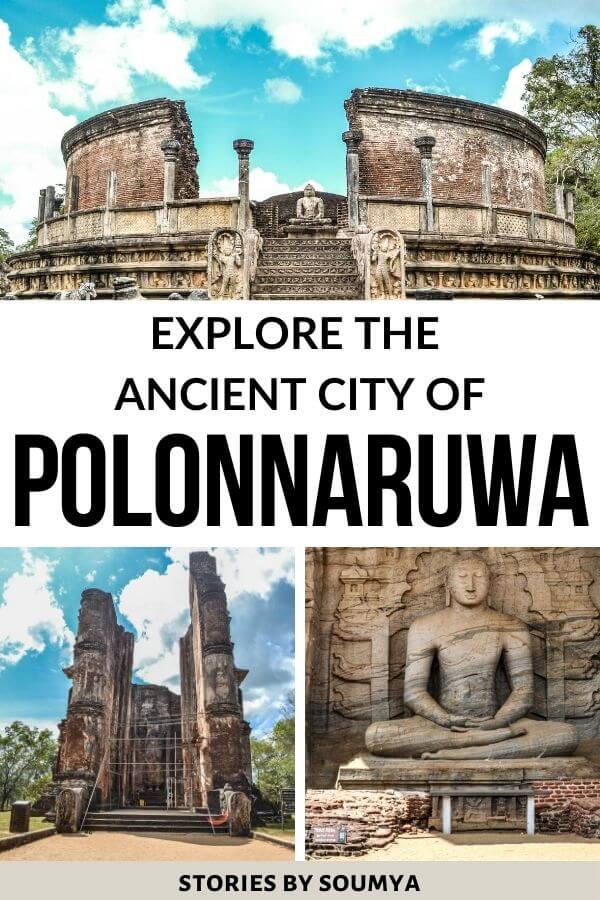 I love history as much as you do. So, it was a given that I had to visit Polonnaruwa when traveling in Sri Lanka.
But there was a personal connection too. And that beckoned me stronger to the ruined capital city of Polonnaruwa.
Apart from being a beautiful UNESCO World Heritage Site (tiny Sri Lanka has 8 of them!), Polonnaruwa is inextricably linked with the history of Odisha (erstwhile Kalinga), an Indian state that I call home.
The founder king, Vijayabahu was married to a princess from the Kalinga royal family. Later, two Polonnaruwa kings hailed from Kalinga. Nissanka Malla (a benevolent ruler who cause prosperity) and Kalinga Magha (an usurper who caused the final fall of Polonnaruwa).
So, exploring Polonnaruwa was not just a historical expedition for me. It was also about discovering some of my lost roots.
Please note: This post may contain affiliate links which means I may earn a commission if you make a purchase by clicking a link on this post. This will be at no additional cost to you. Affiliate links help me keep this website up and running. Thanks for your support!
Polonnaruwa History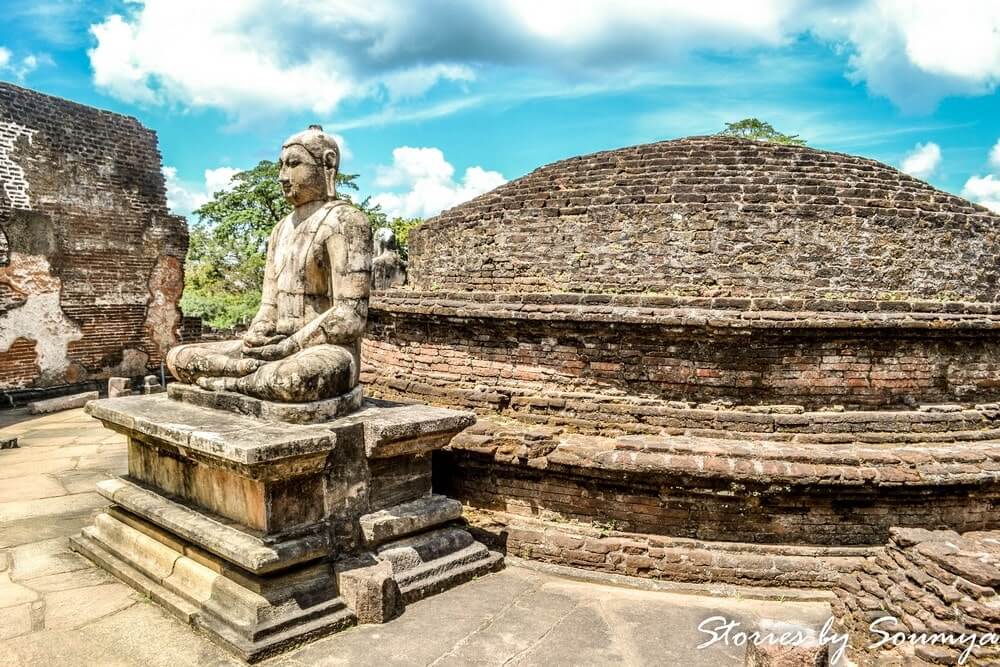 Polonnaruwa was established as the capital of the Kingdom of Polonnaruwa by King Vijayabahu in the late 11th century. He had just recaptured the island of Ceylon from the Cholas of South India. Subsequently, Polonnaruwa was ruled by three illustrious Sri Lankan Sinhalese monarchs: Vijayabahu, Parakramabahu I, and Nissanka Malla.
The period under Parakramabahu was the most glorious one. Huge investments were made in irrigation. And a massive water tank called the Parakrama Samudra was created to deal with Central Sri Lanka's enduring water crisis.
Great irrigation -> surplus grains -> prosperity everywhere.
Money flowed in and beautiful temples and palaces were constructed. You can still see the remains of this glorious era in the ancient city of Polonnaruwa in Sri Lanka. And I hope this post will help you plan a trip to this amazing historical city including figuring out the best things to do in Polonnaruwa.
Top 12 Things to do in Polonnaruwa, Sri Lanka.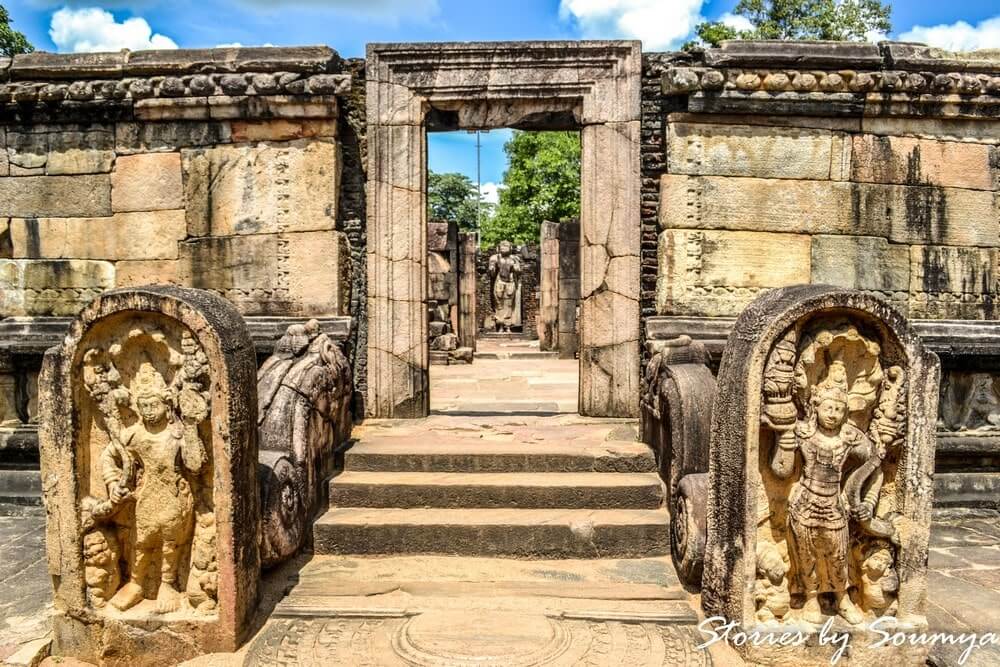 We spent a day exploring the ruins of Polonnaruwa in Sri Lanka. And covered a lot.
Here is a list of the 10 best things to do in Polonnaruwa that can be easily covered in a day. If you plan to spend more than a day, then, of course, you can wander more and discover more.
Archaeological Museum of Polonnaruwa
As we entered the gates of the ancient city of Polonnaruwa, we were greeted by a small, one-storeyed building. This was the Archaeological Museum of Polonnaruwa.
From the outside, it did not look like much. Therefore, I can understand why it is easy to give the museum a miss.
But I strongly encourage you to go in. This is also where you will be purchasing your tickets to the ruins (more about that later).
Because on the inside, it is a historical treasure trove. There are rooms dedicated to the citadel, the outer city, and the monastery filled with well-preserved artifacts. Honestly, taking a tour of the museum helps you appreciate the real ruins far better.
You cannot take photographs inside the museum. But make sure you use the toilets at the end of the museum tour. They are pretty scattered in the ancient city. And you may not find one when you need one.
Pro Tip: Hire a tour guide right before getting into the museum. There will be a few standing outside. They will approach you. Our guide was really knowledgeable and charged us LKR 3000 (USD 16). I thoroughly enjoyed my discussions with him.
Royal Palace of Polonnaruwa
Visiting the ruins of the Royal Palace is one of the best things to do in Polonnaruwa.
The Royal Palace was home to Parakramabahu I. It is believed to have been a 7-storied mansion in the 12th century. That would make it one of the tallest buildings of those times.
However, not much remains today.
What you see today is a stub in the place of a glorious palace. About 2-3 stories of brick walls with holes in them. I believe wooden beams must have gone into those holes to hold up higher floors.
Imagine Parakramabahu going up to the 7th floor and appreciating all that he had created. Including the Parakrama Samudra! Yes, he could see his entire kingdom from here.
A little reading tells me that the palace contained 1000 rooms. Well, that's hard to believe based on what you see today. But a bit of imagination never did anyone harm.
Pro Tip: The Royal Palace is extremely crowded all the time. Go really early if you wish to get a good picture of the ruins without the people.
The Audience Hall
Our next stop was the Audience Hall, right next to the Royal Palace. This is where the king used to hold his important meetings.
The Audience Hall is an impressive structure with stone elephants and lions carved into it. A few stairs lead you to the top from where you can enjoy a vantage view of the Royal Complex and official quarters. A beautiful moonstone adorns the foot of the stairs.
Pro Tip: The Audience Hall with its pillars, stairs, and moonstone makes for a great photo op. You won't find it very crowded on the top because people usually wait at the stairs for their turn to go up.
Kumara Pokuna or the Royal Bathing Pool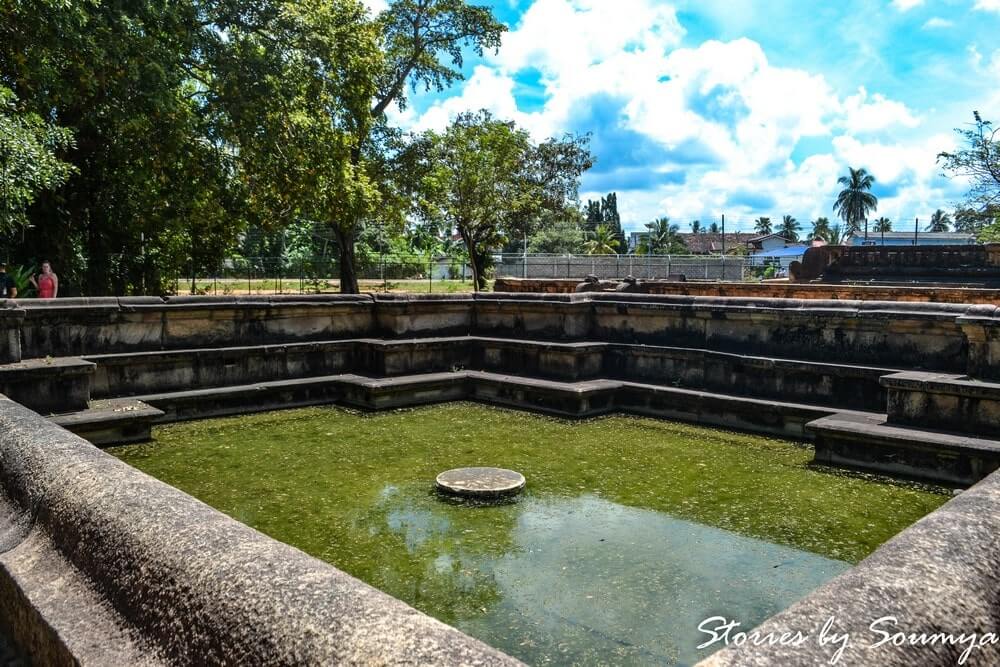 Another important stop on our Polonnaruwa tour was the Royal Bathing Pool. This is located right next to the Audience Hall.
You will need to take a flight of stairs down to where the pool is. As soon as I approached the bathing area, I was reminded of my trip to Queen's bathing complex at the royal enclosures of Hampi. That one was more regal and covered but this one was open, bigger, and deeper.
The pool was filled with moss green water due to lack of use. But it is easy to imagine how inviting that pool would have been hundreds of years ago when filled with cool water. In the scorching heat of Sri Lanka.
Luckily, there is an ice cream shop right next to the pool now. I am sure you are going to love this shop more than the pool by the time you get here.
Recommended: Take a tour of the Royal Quarters of Hampi, India
Potgul Vihara
You won't find Potgul Vihara in most Polonnaruwa travel guides. It is one of the least explored structures in the ancient city. Mostly because of its location at the southern end of Polonnaruwa.
However, I found it quite unique and definitely worth a mention. Potgul Vihara is circular and hollow inside.
It is believed that this was a royal library that housed several books and religious texts. The inner walls were decorated with paintings. Easy to visualize how pretty this place would have in its heyday.
Pro Tip: Potgul Vihara hardly sees any tourists. So, this is a great spot for getting those awesome pictures for your gram.
Dalada Maluva or The Sacred Quadrangle of Polonnaruwa
Dalada Maluva is one of the most important spots on any tour of the Polonnaruwa ruins. If you are running short of time and have less than half-a-day, I would suggest you visit Dalada Maluva and Gal Vihara, the two most sacred places in Polonnaruwa.
Dalada Maluva is the sacred quadrangle of Polonnaruwa and contains 12 key buildings. Visiting here is a must for a deep dive into understanding the role of Buddhism in Sri Lankan culture.
Vatadage
The most magnificent is the vatadage, a circular shrine unique to Sri Lanka. It had a stupa in the middle surrounded by four Buddha statues facing the cardinal directions. The structure is exquisitely carved and one of the best representations of Sri Lankan stonework. Do not forget to notice the gorgeous moonstones that adorn the entrances to the stairs.
Built in the time of Polonnaruwa's illustrious kings, the vatadage is believed to have held the tooth relic of Buddha (now housed at the Temple of Tooth in Kandy).
Apart from the Vatadage,
Dalada Maluva is also home to a huge slab of rock (Gal Pota) covered in inscriptions from the era of Nissanka Malla. There is also a ruined pyramid-shaped temple (reminded me of the temples of Koh Ker in Cambodia) known as Stamahal Prasada. And the Hatadage which was used to store Buddha's tooth relic for some time.
Pro Tip: You need to cover your shoulders and legs when you enter Dalada Maluva. Carry a scarf/sarong if you are wearing sleeveless/shorts because you won't find them on rent here.
Recommended: 9 Must-have cultural experiences in Sri Lanka
Rankot Vihara
Rankot Vihara is the largest stupa in Polonnaruwa and the 4th largest on the island. It imitates the architectural style of Anuradhapura, the previous capital and was built by King Nissanka Malla in the late 12th century.
"Ran" means gold in the local language. And, Rankot refers to the golden pinnacle on top of the stupa. It is believed that originally the stupa was white in color but now it stands as a rather uninteresting mound of black rock. But the walk around the stupa is engrossing especially when you peep into the little shrines around it.
You will have to remove your shoes for the walk. But remember, it can be exceedingly hot during daytime. And since walking barefoot can actually be torturous, I would probably skip this circumambulation the next time I am there.
Lankatilaka Vihara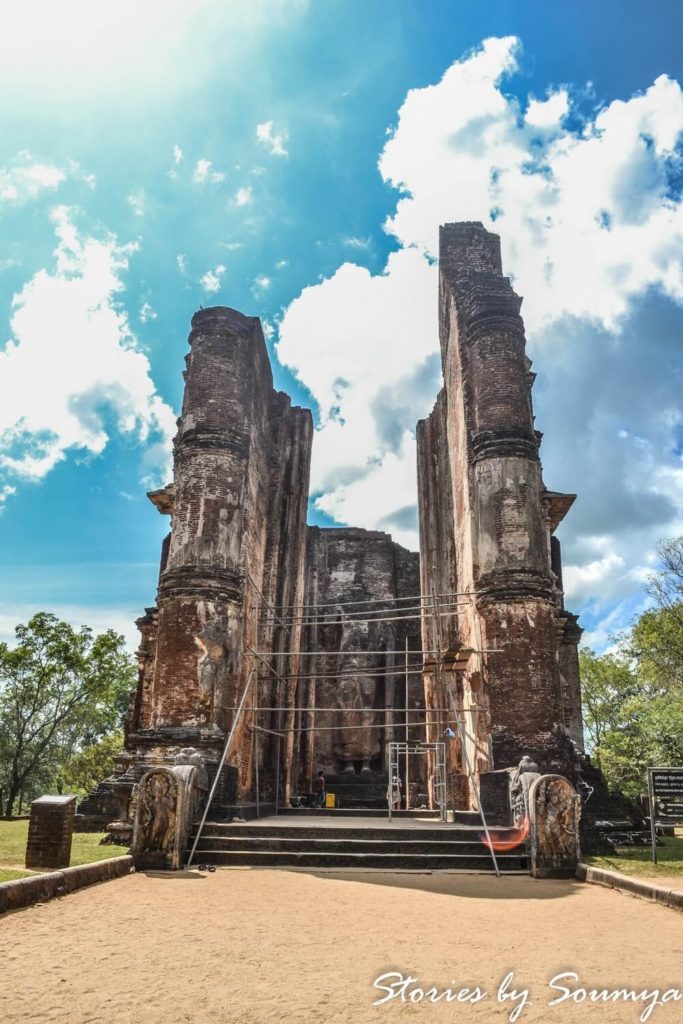 This is one of the most stunning remnants of the glorious days of Polonnaruwa and an absolute must-visit when you are here. It was built by the Great Parakramabahu and surely deserves a place in your Polonnaruwa itinerary.
The best part is that this shrine is pretty different from the other stupas that you will see in the ancient city. You can see the remains of pillars and two walls almost 17 m high that form a cathedral-like structure. At the far end of the shrine stands a tall, headless Buddha statue. The interiors are adorned with colorful murals. You can spot some of them on the exterior wall of the side entrance too.
Alahana Pirivena
On our way to the Lankatilaka Vihara, we came across Alahana Pirivena in Polonnaruwa. The Pirivena was a Buddhist university founded by Parakramabahu I. It was one of the largest monastic complexes in whole of medieval Sri Lanka. Even today, the remains of it are spread over more than 80 hectares of land.
As we reached the complex, huffing and puffing on that hot summer day, I stared in front of me with disbelief. Monk homes, stupas, bathing areas, and chapter houses stood neatly organized over an 80-hectare space.
Surely, I did not see the entire 80 hectares. But it felt like I did. I could see the buildings until what seemed like the end of the world.
One of the most impressive buildings in the complex is called Baddhasima Pasada – a meeting hall for senior monks and the king. Don't miss seeing that one.
Buddha Statues at Gal Vihara
The Gal Vihara is the other important sacred site (apart from Dalada Maluva) in the ancient city of Polonnaruwa in Sri Lanka. It is actually an enclosure with open/nearly open shrines.
The highlight of this complex is the collection of 4 impressive Buddha statues that were created at the epitome of Sinhalese carving history. There are two images of seated Buddha, one standing, and one reclining.
Your guide will point out how the standing image is the most beautiful of them all and displays Buddha in a thoughtful position. It is also unique because it shows Buddha's arms in a very uncommon crossed pose. The reclining Buddha depicts nirvana after death.
You will need to show your ticket here again. So make sure you don't lose it.
Pro tip: Cover your shoulders and legs before entering the sacred enclosure. Also, remove your shoes to visit these temples though it can be really hot to walk barefoot on the rocks and the sand. I would advise you to keep your socks on.
Shiva Devalaya
The Shiva Develaya (Shiva temple) is special because it is one of the oldest Hindu shrines in Polonnaruwa ancient city. It was constructed during the reign of the Cholas from India who ruled Polonnaruwa for a brief period before the coming of Vijayabahu. Look closely to see Tamil inscriptions on the temple that speak of the Chola rule.
Parakrama Samudra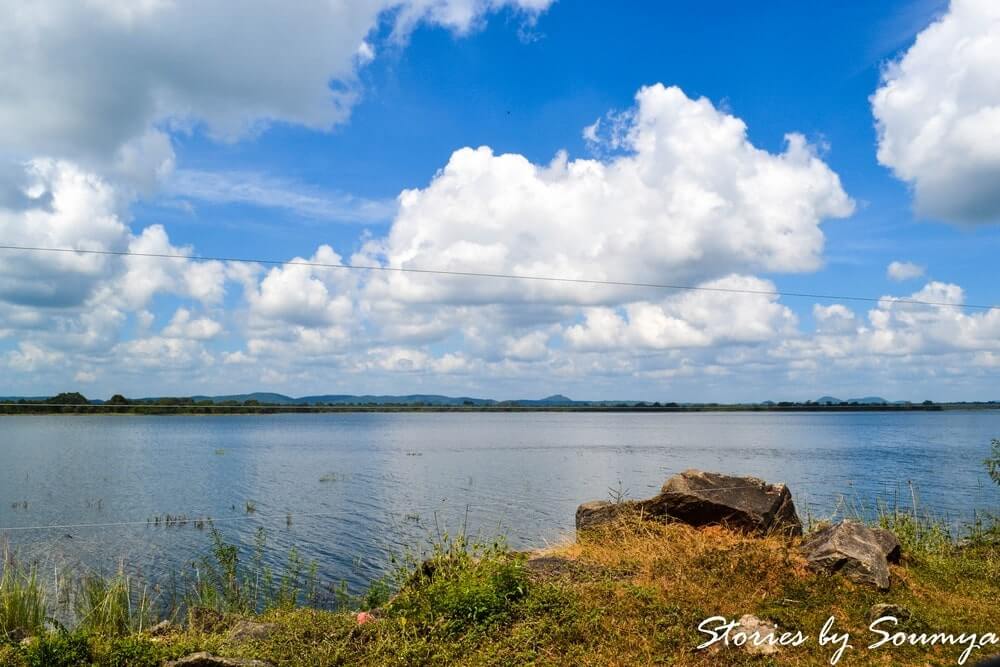 Parakrama Samudra is a large water reservoir that was built by King Parakramabahu in the 12th century. Polonnaruwa always suffered severe water crises. Apart from the short monsoon spells, the city was mostly dry. This hampered cultivation and trade. Parakramabahu was a visionary king who envisaged that building a huge water reservoir would solve the city's problems.
Parakrama Samudra still functions as the primary water storage for Polonnaruwa. It is not a ruined monument but definitely an important part of the whole Polonnaruwa ensemble. Because this is literally where the golden reign of Parakramabahu began. And this is why Polonnaruwa prospered as the capital.
Polonnaruwa Entrance Fee
Tickets to the ancient city of Polonnaruwa are priced at approx 4500 LKR (USD 25) for foreigners. SAARC citizens usually need to pay half (be ready to produce your passport to confirm your SAARC identity). Sri Lankan citizens pay considerably lower. You will find both tickets and maps right at the entrance of the archaeological museum.
We felt the fee was a little too high compared to the fees that we have paid for other UNESCO Heritage Sites around the world. In fact, entrance tickets to most attractions in Sri Lanka are on the higher side of what you would normally expect. But if you are really interested in Sri Lankan culture and history and the spread of Buddhism in the subcontinent, you should definitely visit this place.
Best Time to Visit Polonnaruwa Sri Lanka
Opening hours: 7 am – 5:30 pm
When planning for your trip to Sri Lanka, be aware that the country is extremely hot round the year. And that is because of its location close to the equator.
That being said, winter (November – February) is the best time to visit this ancient city. Temperatures are bearable and humidity is not too high. During the day, try to get here as early as possible in the morning. Or try to stay until later in the afternoon. There will be fewer tourist buses during this time.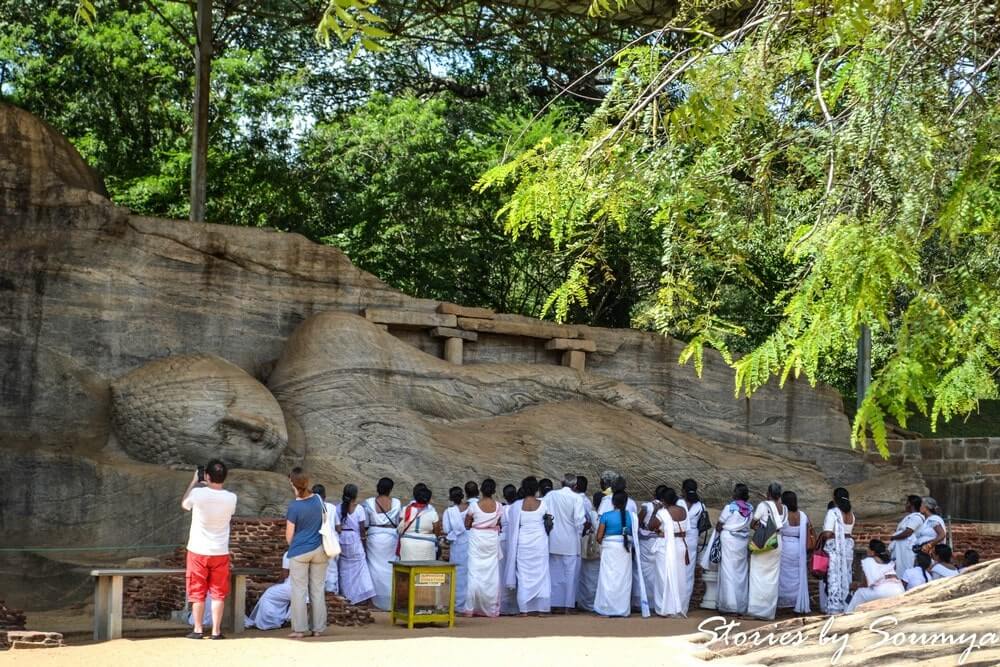 Key Consideration
I thought the museum was at a disadvantageous location in the archaeological park. It was right at the entrance which means I had to finish it first before checking out the ruins. Ideally, I would have wanted to enjoy the cool museum it in the afternoon when the heat was unbearable.
Alternately, you can come here around noon, spend the hottest time inside the museum, and then head out to the ruins. However, in that case, you will not see a lot. Since the tickets are valid only for one day, I would advise against doing this.
Hotels in Polonnaruwa Sri Lanka
It is easy to find good accommodation at decent prices literally anywhere in Sri Lanka. In Polonnaruwa, you can stay at guest houses for as low as $10. And of course, you can enjoy luxury for as little at $100. Plus, you can stay literally anywhere inside the Sri Lankan Cultural Triangle (Sigiriya, Dambulla, and Anuradhapura) and do an easy day trip to Polonnaruwa.
We stayed in Dambulla for a couple of days. I wasn't very impressed with the place I stayed in, so I won't recommend it here. But, if I had to stay in Polonnaruwa, these were my top choices.
Luxury Accommodation in Polonnaruwa
Ekho Lake House: Overlooking the mighty Parakrama Samudra, Ekho Lake House is one of the best places to get pampered in Sri Lanka. They are known best for their hospitality and stunning lake views. And of course, for their infinity pool that overlooks Parakrama Samudra.
Click here to book your stay at Ekho Lake House in Polonnaruwa.
Budget Accommodation in Polonnaruwa
Summer Village Resort: This village resort in Polonnaruwa is one of the highest rated properties in the area. It is located pretty close to the ancient city and has guests swooning over its food and hospitality. The host is extremely friendly and helpful. And all this at a really attractive price!
Reserve you stay at Summer Village Resort.
Sun Guest House: Attractively priced, Sun Guest House in Polonnaruwa has the cleanest rooms, a friendly host, and amazing breakfast. It is at a walking distance from the ruins.
Click here to book your rooms at Sun Guest House, Polonnaruwa.
Planning a beach getaway after Polonnaruwa? Check out our incredible list of beautiful beaches and attractive beach resorts across Sri Lanka.
Getting around Polonnaruwa
The best way to explore Polonnaruwa is on a bicycle. You can hire a bicycle near the bus stop in town and explore the ancient city at your own pace. You can also walk but that can be exhausting in all the Sri Lankan heat.
If you are not staying in Polonnaruwa (like we did – we were staying in Dambulla) and are a group of 3-4, it is not very expensive to hire a car or book a guided tour for your trip. There are tonnes of tour options available from both Colombo and Kandy. Plus, there is plenty of parking within the archaeological park. Plus, it is much cooler to travel in a car. And you can do a lot without getting exhausted.
Recommended guided tours
Guided tour to Polonnaruwa from Colombo
Usually these guided tours come with an English-speaking driver, bottled water, and an AC car. They may not include a local guide for the ruins. You will still have to hire one in front of the museum. We paid USD 16 for ours (Feb 2020).
Where to eat in Polonnaruwa?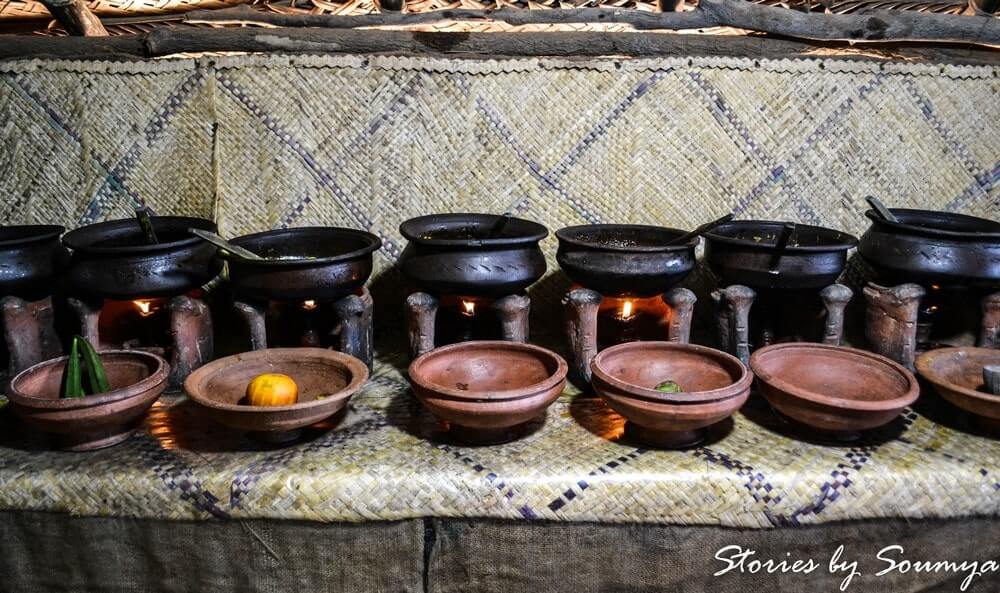 I would highly recommend the place where we had lunch in Polonnaruwa in a traditional Sri Lankan setting. The restaurant was called Gami Gedara (a traditional Sri Lankan restaurant). It was located in the middle of sprawling green paddy fields and the views were absolutely great.
The food was amazing. It was a typical Sri Lankan buffet with both vegetarian and non-vegetarian options. The best part was that a sample vegetable was kept near every buffet item to avoid confusion. And Sri Lankan food is extremely vegan-friendly.
Recommended: Must-try food and foodie experiences in Sri Lanka
Helpful Tips for Visiting Polonnaruwa
Try to get here early in the morning or later in the day to avoid crowds and the heat.
Get your hat, sunscreen, umbrellas, and lots of water.
Wear socks if possible. There are so many places where you will have to remove your shoes in order to get a closer view of the temples. Ideal to have your socks on cause the rocks and sand are going to be hot.
Wearing shoes is also hassle though. I had to take them off and wear them back again at so many points, so that took up some time. You could wear sandals to avoid the trouble.
Many tourists love to do a day trip to Polonnaruwa from Colombo. Ideal if you are short on time. But if you are history/culture lover, I strongly encourage you to spend 1-2 days in Polonnaruwa.
If you have kids with you and are wondering if they will be bored, let me tell you that is a lot of local wildlife here to keep them entertained. Butterflies, monitor lizards, monkeys, birds, and peacocks abound!
Loved our post on Polonnaruwa? Pin it for later reference.