Last Updated on February 15, 2023 by Soumya
Is Sri Lanka on your mind? Well, if you are planning a trip to Sri Lanka, you must spend some time at one or more of the gorgeous beaches in Sri Lanka. Despite being a tiny nation, Sri Lanka is blessed with tonnes of natural beauty. And by virtue of being an island country, it has some of the most wonderful beaches in the whole world. Golden sands, crystal clear waters, great surf, and amicable people – Sri Lanka's beaches will get you hooked.
I was in Sri Lanka for a week earlier this year and really loved my beach stay at Weligama. When we got started, it was so hard to decide from among the many exotic beaches in Sri Lanka. I wanted you to have an easier time planning your Sri Lanka trip. So, I reached out to my seasoned traveler friends from around the world and asked them what their favorite beach in Sri Lanka was! And added them to my favorite. Lo and behold!!!
I got this exhaustive list of The 11 Very Best Beaches in Sri Lanka. For travelers of all kinds! Come, let's explore. And find your best fit. Whether you are traveling to Sri Lanka for culture or adventure, you should definitely have a beach or two in your Sri Lankan itinerary!
Busy now? Pin this amazing collection of Sri Lankan beaches and read it later!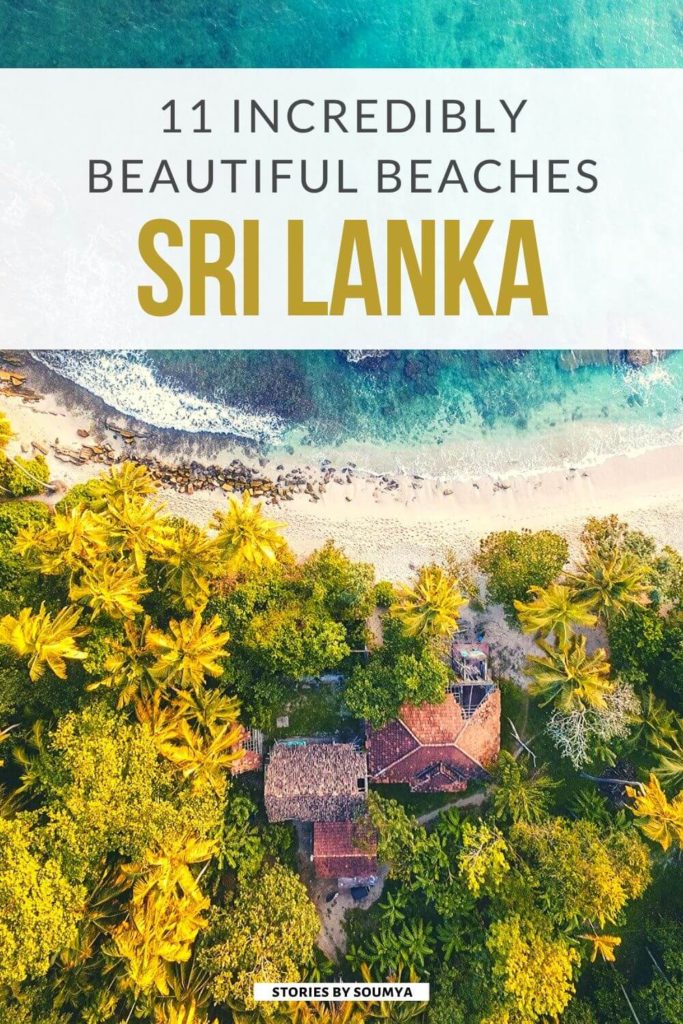 Please note: This post may contain affiliate links which means I may earn a commission if you make a purchase by clicking a link on this post. This will be at no additional cost to you. Affiliate links help me keep this website up and running. Thanks for your support!
The 11 Best Beaches in Sri Lanka
The south coast has the most popular beaches in Sri Lanka. The east coast has more pristine ones. Let's not forget the west coast which has some of the most accessible beaches from Colombo.
In this list of the 11 most fascinating beaches in Sri Lanka, you will find options from across the country, along all the three coasts. Choose what suits you best. Or whatever flares up your imagination just like those inspirational beach quotes do. Trust, me you will never go wrong with Sri Lankan beaches.
We have also listed the best beach resorts on these beaches to help you find the best accommodation while traveling in Sri Lanka.
Weligama | The Sandy Village of Sri Lanka
Editor's choice
Location: South coast of Sri Lanka
Time from Colombo: 2.5 hours by car
After much consideration, we zeroed down on Weligama, a small town on the southern coast of Sri Lanka, for our beach stay. Weligama is a charming combination of a quaint fishing village and a white sand beach. You can swim, surf, lounge, or simply walk the streets of Weligama and stuff yourself with delicious Sri Lankan food. Or capture some great shots of yourself in palm-fringed frames! Weligama has something for everyone.
There are several pretty beaches in Weligama including a few secret coves to the west. Beaches of Weligama are popular surfing spots both for amateur and expert surfers. It is definitely one of the best places to learn how to ride the waves. Try this 1-hour beginner, value for money, surfing lesson to master your basics.
In Weligama, you can also see the famous stilt fishermen of Sri Lanka. Capture some great photographs as these fishermen perch on poles erected in the sea and wait for their catch. As you approach Weligama, you can explore the tiny island of Taprobane with its colonial-era mansion and colorful history. This is Sri Lanka's only privately-owned island!
Best Beach Resorts in Weligama
Cape Weligama is among the most picturesque beachfront resorts in the world. The resort is set atop a cliff facing the Indian Ocean and everything about it boasts of luxury. Stunning panoramas are the most common thing at Cape Weligama.
Click here to book your stay at Cape Weligama.
Weligama Bay Marriott Resort & Spa: This is where we stayed in for two days and the resort was just wonderful. The rooms are spacious and extremely comfortable. Breakfast is a luxurious affair. And the service is unbeatable. There are a couple of swimming pools for adults and one for kids. And the seafood restaurant, Big Fish, serves fresh seafood. If you plan to stay here, ask for a room on the higher floors so that you have some great views from your balcony.
Find the best rates at Weligama Bay Marriott Resort & Spa.
Hikkaduwa | A Snorkeler's Paradise
Recommended by Jenn and Ed from Coleman Concierge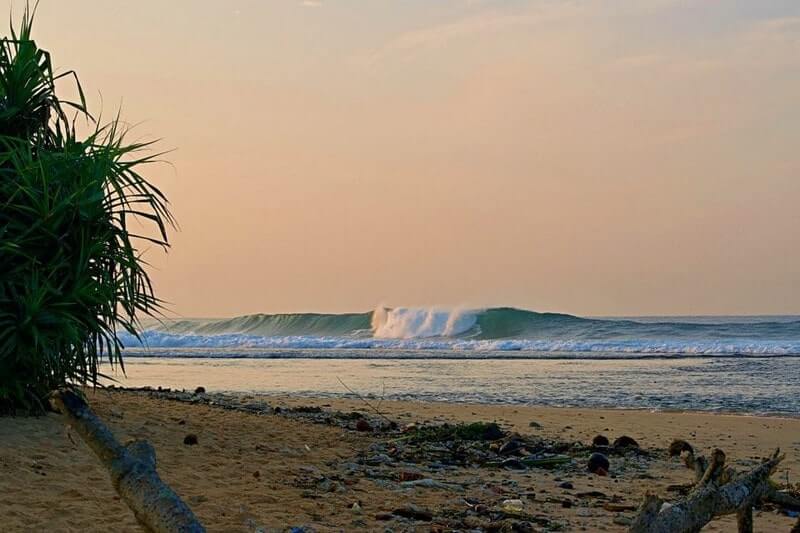 Location: Southwest coast of Sri Lanka
Time from Colombo: 2 hours by car
Hikkaduwa is a beach town about 100 km south of Colombo on the south-west coast of Sri Lanka. It's easily accessible by a passenger train on a modern track with plenty of ocean views along the way. Once you arrive in town, it's an easy walk or tuk-tuk ride to accommodations ranging from beach hotels to hostels.
We stayed at the Coral Sands, a beachfront hotel with direct access to Hikkaduwa's coral reef. You could stand in knee-deep water and be surrounded by tropical fish. Another popular beach hotel is the elegant Hikka Tranz by Cinnamon, which where the sea turtles feed in the early morning and where you'll find the surf breaks. Both resorts feature dive shops on the premises.
Apart from the beach and the ocean, there are several interesting things to do in Hikkaduwa. There's the Tsunami Memorial commemorating the epicenter of the devastating Christmas Tsunami and the Ariyapala Mask Museum, which tells the story of this particular Sri Lankan craft as well as offering masks produced by local artists. Hikkaduwa makes a wonderful addition to a beach-hopping holiday or a home base to explore the region.
Best Beach Resorts in Hikkaduwa
Riff Hikkaduwa: One of the most popular beach resorts in Hikkaduwa, the Riff is well-known for its excellent customer service. Guests concur that the resort has an amazing location and serves delicious food.
Click here to find the best rates at Riff Hikkaduwa.
Hikka Tranz by Cinnamon is another luxurious property located in Hikkaduwa, one of the most popular beaches in Sri Lanka. Stay here for amazing views, a relaxing pool, or delicious food.
Find the best rates at Hikka Tranz by Cinnamon.
Tangalle | An Old Fishing Port
Recommended by Claire from Stoked to Travel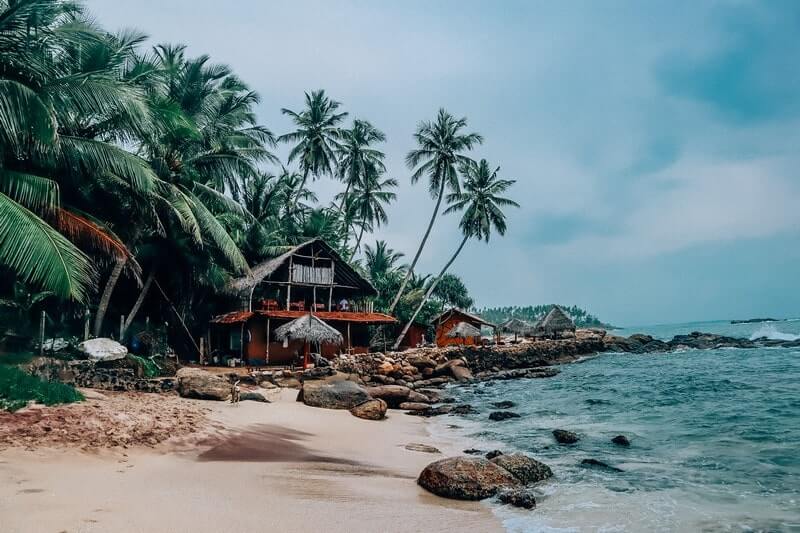 Location: South coast of Sri Lanka
Time from Colombo: 3 hours by car
The beautiful old fishing port of Tangalle is, in my opinion, home to some of Sri Lanka's very best beaches. This palm-fringed slice of paradise is well away from the better-known tourist areas in Sri Lanka, and although the traveling time from Colombo is noticeably longer than the more popular towns of Mirissa and Hikkaduwa, visitors who make the journey to Tangalle will not regret it.
Tangalle is a beautiful collection of bays and beaches, some with accommodation nestled deep in amongst the palm trees, and some totally untouched and unspoiled. Whilst there isn't much in the way of nightlife or bars in Tangalle, it is home to some of Sri Lanka's best luxury hotels, including the beautiful Anantara Peace Haven Tangalle Resort.
Not only is Tangalle home to picture-perfect paradise beaches with huge sweeping bays of golden sand, backed by walls of dense palm trees, but Tangalle is also conveniently close to Yala National Park. This means Tangalle can make for a perfect twin-center adventure, taking in the awesome safari experience on offer in Yala and a relaxing beach stay. Plus, the wildlife spotting needn't stop in Tangalle, as Rekawa Beach is an excellent spot to see marine turtles lay their eggs at night and a wonderful location in which to snorkel during the day.
Best Beach Resorts/Hotels in Tangalle
Anantara Peace Haven Tangalle Resort: Located on a cliff amidst a large coconut plantation, Anantara Peace Haven Resort is Claire's favorite place to stay in Tangalle. And it can be yours too. Private villas, individual plunge pools, and dedicated butlers – what else are can you ask for!
Click here to reserve your stay at Anantara Peace Haven Tangalle Resort.
Ananya Beach Resort: One of our top picks in Tangalle, Ananya Beach Resort is located on a beautiful, secluded stretch of the beach, away from the maddening crowds. Every room has a private balcony from where you can enjoy gorgeous, uninterrupted views of the Indian Ocean.
Find the best rates at Ananya Beach Resort.
Yala National Park is one of the best places to spot leopards in the wild. Click here to book your full-day leopard safari at Yala.
Negombo | An Age Old Trading Port
Recommended by Anjali from Travel Melodies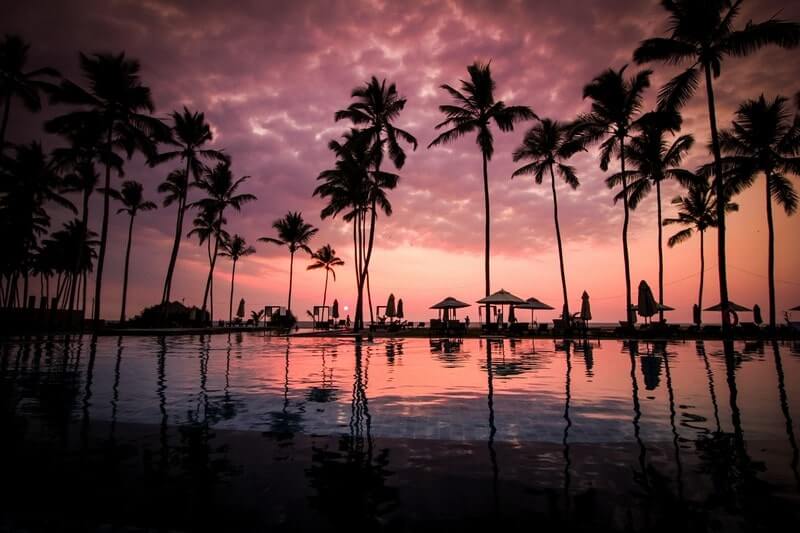 Location: West coast of Sri Lanka
Time from Colombo: 1 hour by car
Negombo is a tiny fishing town in the Northern Province of Sri Lanka. It's a delight to stroll its narrow streets lined with boutiques, Sri Lankan souvenir shops, restaurants, and many historic churches. The major attraction, of course, is its sun-kissed golden sandy beaches. Negombo beach is one of the best beaches in Sri Lanka and is quite famous among locals and travelers alike.
The main road (hotel strip) in Negombo is lined with big hotels and resorts and runs parallel to the beach. You can easily access the beach in front of your hotel. We stayed at the Jetwing Beach Hotel located right onto the Negombo Beach. It gave us enough time to drink in the views of the Indian Ocean from our room window.
If you're not planning to stay in Negombo, you can access the beach from Negombo Beach Park. It offers a more vibrant and traditional Sri Lankan beach experience. Negombo Beach Park is always alive with activity as locals flock here in the evening. There's a range of beach sports available here. The long and uninterrupted stretch of beach is inviting enough to indulge in a sunset stroll.
Make sure to add Negombo to your Sri Lanka itinerary. If you don't have enough time to spend a night here, you can tick it off your list while waiting for your flight back home as it's a stone throw away from the Bandaranaike International Airport.
Also read: 14 Best things to do in Negombo, Sri Lanka.
Best Beach Resorts in Negombo
Heritance Negombo is one of our top picks for Negombo. It has an outdoor pool and offers iconic views of the Indian Ocean. The resort has 7 dining options and is only 5 minutes away from the Negombo beach park.
Click here to find the best rates at Heritance Negombo.
Pledge Scape: Spacious modern rooms, friendly staff, and stunning views of the sea. Pledge Scape in Negombo is definitely making heads turn with its modern decor.
Click here to book your stay at Pledge Scape.
Peanut Farm Beach | Arugam Bay
Recommended by Jenny from TraveLynn Family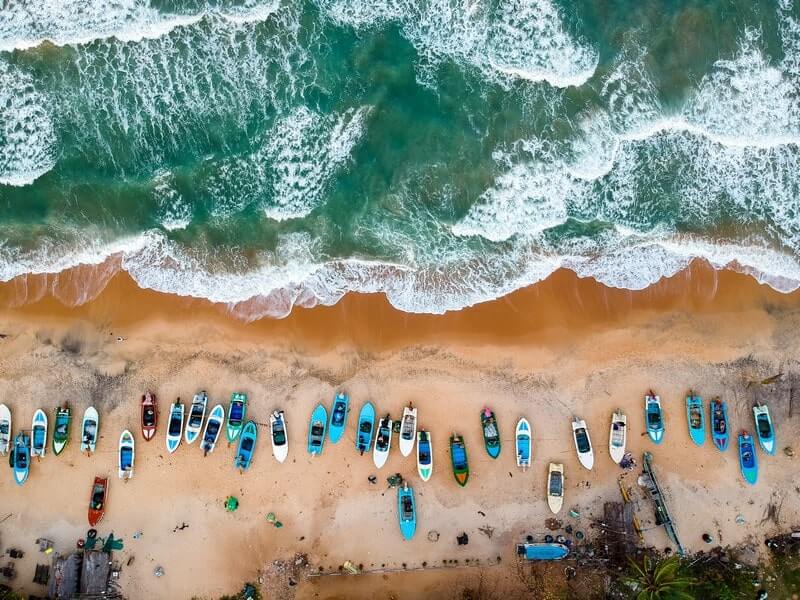 Location: East Coast of Sri Lanka
Time from Colombo: 6.5 hours by car
Arugam Bay is the surf mecca of Sri Lanka. Epic waves crash on the crescent shoreline and the town is buzzing with bars, restaurants and surf shops. It is the place to come when the monsoon season hits the South West coast of Sri Lanka between the months of April to October. Because that is when the East Coast experiences a totally different climate with dry, sunny days.
However, the actual beach of Arugam Bay may be rather disappointing for travelers who have ventured to the East Coast for pristine escapism as it gets rather crowded. Instead, use Arugam Bay as a base to explore the surrounding beaches that are virtually empty. Our favorite is Peanut Farm Beach and the only way to get there is by flagging down a tuk-tuk and agreeing on a rate for the driver to take you there, hang around for you, and bring you back.
It's a ten-minute tuk-tuk ride from Arugam Bay, down a bumpy, sandy path. On arrival, you will be met with a clean sweep of white sand and a small shack serving cold drinks and noodles. There is no shade here at all, so don't forget your hat. We were traveling Sri Lanka with kids and stayed at Elephant Road Resort, a lovely low key surf retreat set away from the buzz of Arugam Bay.
Best Beach Resorts in Arugam Bay
Aprota Villas, Arugam Bay is believed to be the first luxury resort in Arugam Bay. It is a beachfront boutique hotel with private villas and chalets. Guests love the location as well as the delicious crab curry here.
Click here to book your stay at the Aprota Villas, Arugam Bay.
Babar Point, Arugam Bay: Pool facing villas, outdoor showers, and close proximity to the virgin beach of Whiskey Point – Babar Point is everything you could dream for. The resort offers only six spacious private bungalows that tend to get filled up soon.
So click here to book your stay at Babar Point, Arugam Bay right away.
Unawatuna | A Popular Beach Destination
Recommended by Oksana & Max from Drink Tea & Travel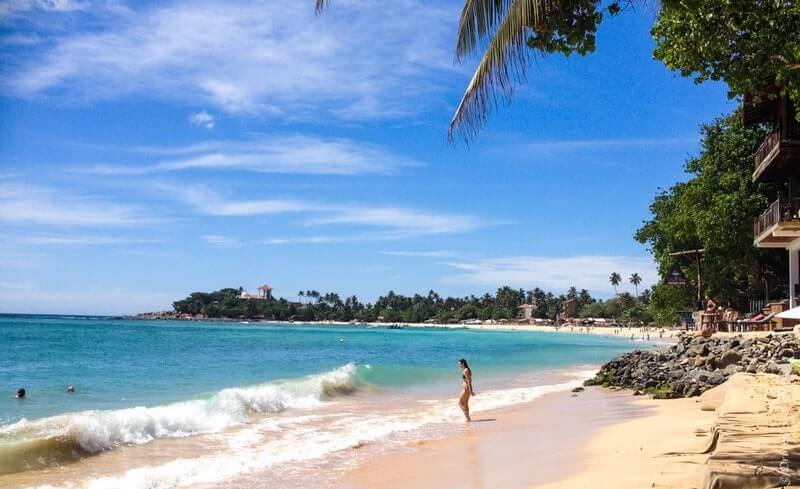 Location: Southwest Coast of Sri Lanka
Time from Colombo: 2 hours by car
Unawatuna Beach is a popular beach destination located in South Western Sri Lanka. Both tourists and nationals frequent the white sand beach known as a popular swimming and sunbathing spot.
There are lots of nearby restaurants and sunbeds for rent on the beach, and some shops will even deliver food to your chair on the beach. This palm tree-fringed beach has become a popular spot with backpackers as well. So you can often find a party on the beach in the evenings.
If you are looking for something a little more adventurous you can book surf lessons or a scuba diving trip in town. Sri Lankan beaches are known for their great surf and warm waters.
A little down the beach out front of Dream Cabanas is Sri Lanka's famous rope swing. Technically located on Dalawella beach, this swing is an Instagramers dream. It costs 500LKR for a few swings but even if you're not taking pictures it's a lot of fun to give it a go.
Unawatuna Beach is located in close proximity to one of Sri Lanka's most impressive sites – the Galle Fort. So if for whatever reason you have had enough beach for one day, you'll love exploring the cobbled streets of Galle Fort. The sunsets at both Unawatuna Beach and Galle Fort are unforgettable!
Best Beach Resorts in Unawatuna
Thaproban Pavilion Resort and Spa is of the best beach resorts in Unawatuna. Located on the main beach of Unawatuna, Thaproban Pavilion Resorts features an outdoor pool and an elegant spa. Also, it is only 10 minutes away from the Galle Fort.
Find the best rates at Thaproban Pavilion Resort and Spa here.
Tartaruga Beach Resort: Considered to be one of the best picks in Unawatuna, Tartaruga Resort boasts of a great location, immaculate rooms, and a good breakfast spread. Great value for money.
Click here to book your stay at Tartaruga Beach Resort.
Trincomalee | A Hidden Gem
Recommended by Lora from Explore with Lora
Location: Northeast Coast of Sri Lanka
Time from Colombo: 6 hours by car
Trincomalee is a beautiful, small town on the northeastern coast of Sri Lanka that boats some of the best beaches in the country. This part of the country is much quieter than the south coast of Sri Lanka, which is the perfect reason to visit.
Uppuveli is the beach closest to town, where you can find great restaurants and beach bars. Fernandos is one of the best spots to enjoy a drink and fresh seafood with your feet in the sand. At Uppuveli beach, you can also do many fun activities including whale watching during the high season (April-September). The ocean surrounding Trincomalee is beaming with underwater marine life, making it a popular spot for snorkeling and diving. Nearby Pigeon Island has some of the clearest water in the country where you swim along with reef sharks and sea turtles.
There are also several quieter beaches nearby if you want to get away from the crowds. The best way to do that is by renting a motorbike, which allows the freedom to go and explore when you want. Nivali beach is one of the prettiest beaches to visit, which has miles of perfect white sand to sunbathe on. Whether you want to relax or explore the underwater world, the beaches around Trincomalee are an excellent addition to any Sri Lanka itinerary.
Best Beach Resorts in Trincomalee
Trinco Blu by Cinnamon: Spacious accommodation, close proximity to the sea, and a great in-house restaurant make Trinco Blu by Cinnamon one of the most favored properties in Trincomalee.
Click here to reserve your stay at Trinco Blu.
Interested in whale watching? Click here for an interesting whale and dolphin watching experience.
Wild Beach Midigama | Secluded & Quiet
Recommended by Breanna from Chalkie and The Chippy
Location: South Coast of Sri Lanka
Time from Colombo: 2.5 hours by car
Midigama is a surf town between Weligama and Unawatuna on the south coast of Sri Lanka. The popular Midigama Beach in the town sees many beachgoers and surfers alike. However, if you are after a more secluded beach, then Wild Beach (just 750m down the road) is a perfect spot to relax and escape the tourists. You can easily access Wild Beach from the road, as it runs adjacent to the main road. The beach is located on Google Maps under "Wild Beach Café Food and Drinks".
The small local café on the beachfront is the only café on this small beach, and they offer sunbeds free with a purchase from their shop. The beach is small with the whitest sand we have seen in Sri Lanka, and the water is bright blue and perfect for swimming. The waves aren't big, but there is a steep drop-off, so the water gets deep very quickly. The beach is divided in two by a breakwater, and you can easily find a spot for yourself under a coconut tree or on the sand. Besides swimming, there is also a small island just out from the west of the beach, where you can walk out to when the tide is low in the early mornings.
Best Beach Resorts in Midigama
If you are looking for luxury resorts, then the best ones near the Midigama beach are located in Habaraduwa and Ahangama. However, if you are not hunting for luxury, we highly recommend Plantation Surf Inn & Restaurant which has some of the best reviews on lodging sites. They have great food, amazing service, and a wonderful location.
Kalpitiya | Top Kiteboarding Destination
Recommended by Patricia from Ze Wandering Frogs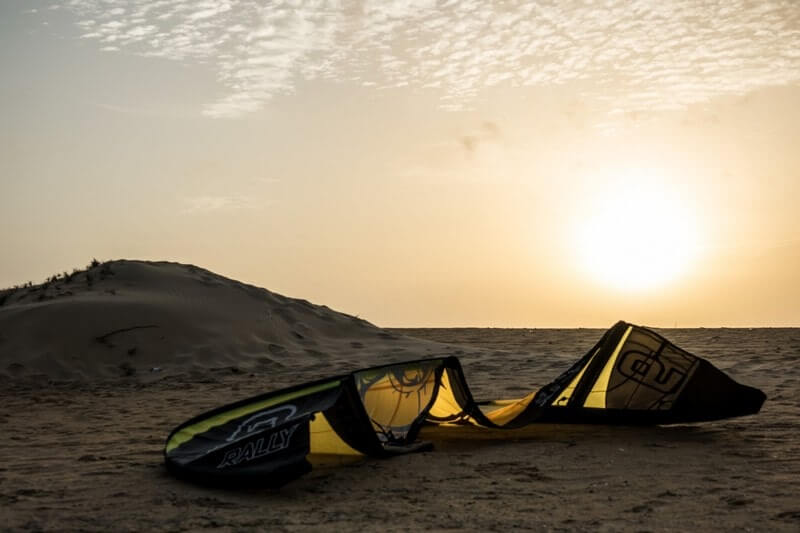 Location: Northwest coast of Sri Lanka
Time from Colombo: 4 hours by car
Sri Lanka's famous beaches usually list Arugam Bay or Unawatuna beach by Galle. For us, the best beach on the island was Kalpitiya, in the Puttalam Peninsula, about 100 miles and four hours north of Colombo. The little village of Kalpitiya stands by the Kalpitiya lagoon, sand dunes separating the calm water from the waves of the Indian Ocean.
One of the reasons we enjoyed Kalpitiya is the strong winds that blow twice a year, making the lagoon one of the top kiteboarding destinations in Sri Lanka. Summer season runs from May to October, winter winds blow from December through February. During the kitesurfing months, dozens of kiteboarders ride the lagoon, from people learning to kite to advanced kiters jumping and playing tricks.
In the off-wind season, the lagoon is quieter, with fishermen busy from dawn to dusk. Several smaller islands like Vellai Island, or Ippantivu Island, are scattered through Dutch Bay, where small boats can take you to relax on white-sand surrounded by turquoise water. These months are also perfect for scuba-diving in the calmer water.
The village and the area around Kalpitiya is an excellent destination for those looking to enjoy water sports in a chilled outdoor environment. There is limited nightlife, but the village is the ideal hub for day trips to see wildlife in Wilpattu National Park or explore the UNESCO World Heritage site of Anuradhapura, the ancient Buddhist capitals of Sri Lanka. So if you are looking for a quiet beach destination in Sri Lanka, Kalpitiya is the place to go!
Best Beach Resorts in Kalpitiya
Dolphin Beach: Dolphin Beach is an eco-friendly resort on Alankuda beach near Kalpitiya. The property features luxurious tents with spacious verandahs, an Ayurveda Spa, and an in-house kitesurfing school. Just the perfect plan to relax and unwind.
Book your stay at Dolphin Beach here.
Udekki: Located on the Alankuda Beach, Udekki is yet another great place to spend a few days in. There are garden-view villas and sea-view loft suites. Guests enjoy the food and the untouched beach.
Click here to find the best rates at Udekki.
Koggala | Lesser-known & Pristine
Recommended by Bernara from In Her Stories
Location: South Coast of Sri Lanka
Time from Colombo: 2.5 hours by car
If you were to choose one of the most beautiful sunset spots in Sri Lanka, that would be Koggala beach. Tucked halfway between the more famous Unawatuna and Mirissa beaches, Koggala is a slightly less touristy destination. You will find surfers and adrenalin junkies testing waters, endless palm trees dotting the wide stretch of white sand and plenty of spots to witness stilt fishing. The latter is a unique fishing style that originated in Sri Lanka.
If you get hungry, several local eateries are serving delicious fresh seafood for affordable prices right on the beach. However, if you fancy something different, there are private resorts and lounges overlooking pristine waters of the Indian Ocean. Water near the shore can be quite rough with a strong under-current and picturesque but dangerous waves. I'd not recommend swimming there, you may opt for a chill sunbath instead and sunset walks along the beach. As Koggala Beach is not as crowded as others, you will have plenty of space to enjoy some "me" time, connect with nature and witness one of the most beautiful sunsets in Sri Lanka.
Koggala Beach is a gem, where you can surf, dive, snorkel and culturally enrich yourself by visiting Martin Wickramasinghe Folk Art Museum. The best time to visit this beach would be between the months of May and December when the weather is pleasant and rain won't ruin your trip.
Best Beach Resorts in Koggala
The Fortress Resort & Spa is a luxurious property featuring an eclectic mix of modern and colonial architecture. The resort has both Sri Lankan and Mediterranean restaurants. Guests love coming back here.
Click here to book your stay at The Fortress Resort & Spa.
The Beach Cabanas Retreat & Spa: Private beach, gorgeous location, and a huge breakfast spread make The Beach Cabanas Retreat an excellent accommodation option in Koggala.
Find the best rates at The Beach Cabanas Retreat & Spa here.
Galle Beach | Lively & Local
Recommended by Anwesha from Going Places with Anwesha
Location: South Coast of Sri Lanka
Time from Colombo: 2.5 hours by car
Only 126 km away from Colombo, Galle is one of the most famous tourist spots in Sri Lanka due to its 17th-century fort built by Dutch colonists on the peninsula overlooking the Indian Ocean. Galle town has an old-world charm with its glamourous boutique hotels, cobbled streets, and a heterogeneous mix of shops and cafes. It is a must-have on your Sri Lanka itinerary.
The beach near Galle fort is one of my favorites due to its surroundings and lively nature. It's a favorite among locals too for pre-wedding photoshoots. There are a couple of lovely spots here to sit and enjoy a beautiful sunset. One at the Lighthouse beach and another by the main working Lighthouse in the Fort. There is also the Lady Sea bath where you find local women swimming and enjoying the waters.
You get a wonderful view of the Ocean from the Galle Fort bastions – the Clippenberg Bastion and the Flag Rock Bastion. If you like some adventure, there's a tourist spot called Galle Fort jumpers where people jump atop the historic walls of the fort and plunge into the ocean every day. But be cautious, many of the jumpers manage to survive these precarious leaps by landing flat on their chests, an art that only a few have mastered. I have been told that others who haven't been able to navigate the shallow, 4ft-deep water, have ended up with broken ribs. Exciting to watch if you are not keen on taking the leap yourself.
Best Beach Resorts in Galle
Le Grand Galle by Asia Leisure is located right next to the Galle town and features lavish suites with private plunge pools. Stay here for spectacular views of the Indian Ocean as well as that of the historic town of Galle.
You can book your stay at Le Grand Galle by Asia Leisure here.
Jetwing Lighthouse is a restored colonial-style hotel located on a hilltop overlooking the sea. Guests love the panoramic views and comfortable beds.
Click here to book your stay at Jetwing Lighthouse.
These are some of the very best beaches in Sri Lanka tried and tested by travelers from around the world. Which one do you want to visit? Let me know in the comments below.
Loved our post on the best beaches in Sri Lanka? Pin it to your Sri Lanka Travel Board!