Last Updated on January 10, 2023 by Soumya
Traveling to Nuwara Eliya in Sri Lanka? Looking for the best things to do in Nuwara Eliya? Wondering what are the must see attractions in Nuwara Eliya? Don't worry, we have just the perfect travel guide for you here.
Often called the Little England of Sri Lanka, Nuwara Eliya is a city located at a height of more than 6000 ft. Therefore, it is blessed with temperate climate and beautiful alpine scenery that consists of misty mountain ranges, gurgling waterfalls, and stunning lakes. The climate also makes Nuwara Eliya the best place for tea production in the Sri Lankan highlands. No doubt, there are tons of interesting things to do in Nuwara Eliya.
Whether it is paddling a swan boat on Lake Gregory, marveling at the city's colonial architecture, hopping through tea gardens, or riding the iconic Ella Odyssey train, the list of attractions in Nuwara Eliya is endless. An attractive resemblance with the mountain towns of Europe combined with tropical food and culture of South Asia make Nuwara Eliya a unique travel destination in Sri Lanka.
In this ultimate Nuwara Eliya travel guide, I talk about the top things to do in Nuwara Eliya, places to see, where to stay, and all kinds of travel tips.
Please note: This post may contain affiliate links which means I may earn a commission if you make a purchase by clicking a link on this post. This will be at no additional cost to you. Affiliate links help me keep this website up and running. Thanks for your support!
Planning your Nuwara Eliya trip last minute?
If you are booking your trip to Nuwara Eliya, Sri Lanka last minute, don't worry. We have you covered. Here are some of the best tours, hotels, and travel tips.
Top Experiences and Tours in Nuwara Eliya
Top Hotels in Nuwara Eliya, Sri Lanka
Best things to do in Nuwara Eliya, Sri Lanka
Spend some time at Lake Gregory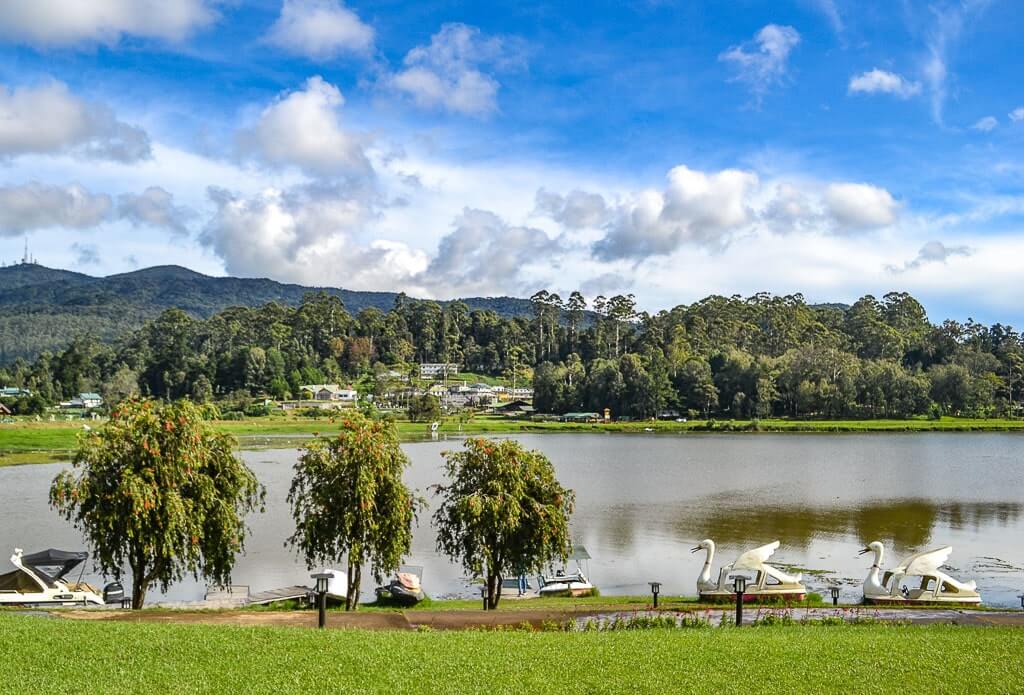 Lake Gregory is one of the best places to visit in Nuwara Eliya. It is a beautiful, alpine lake that was built in the late 19th century by a British Governor called William Gregory. Back then, the lake was used as a breeding center for trouts apart from being a place for recreation.
Even today, you'll find a number of water sport activities at Lake Gregory. Paddling a swan-shaped boat is one of the most popular things to do here. You can also enjoy speed boating and water scooter rides here.
I love to simply walk along the trails surrounding Lake Gregory. The water is so clean and the landscape so serene that honestly, it takes all my stress away. The lake is a must-visit attraction in Nuwara Eliya.
Visit Nuwara Eliya's cute post office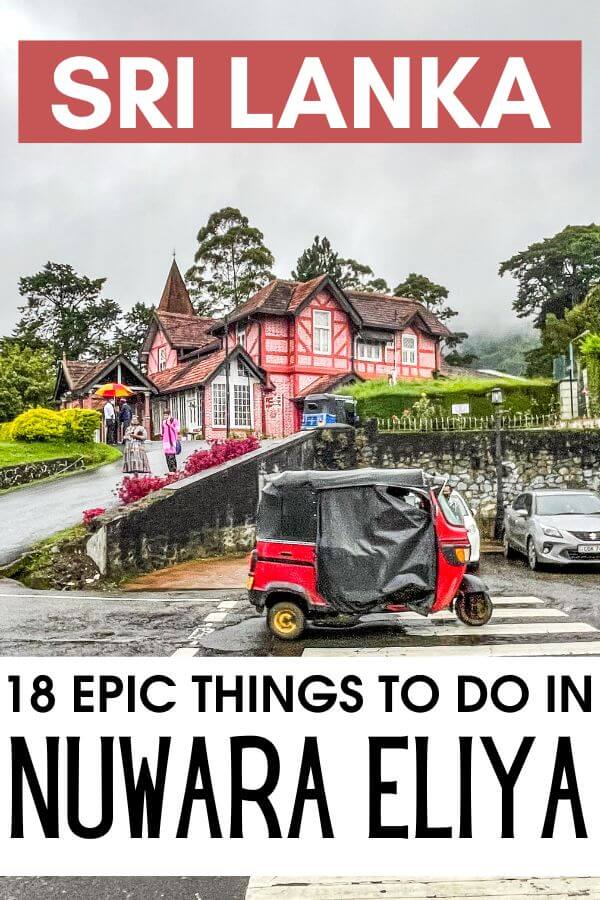 An unmissable tourist attraction in Nuwara Eliya is the cute, red post office that dates back to the 19th century. That makes it one of the oldest post offices in Sri Lanka. It is still functional and you can send postcards to your loved ones from here.
The British commissioned the Nuwara Eliya Post Office in 1894. It was built in the traditional Tudor Revival architecture of those times and is characterized by half-timbering (like the houses you see in Bavaria, Germany) and pitched roofs.
The light coral shade of the building makes it extremely attractive and therefore, an Instagram sensation. Come here early in the morning to get some good pictures. You can also enter the premises and see how it looks from inside.
Marvel at Nuwara Eliya's colonial architecture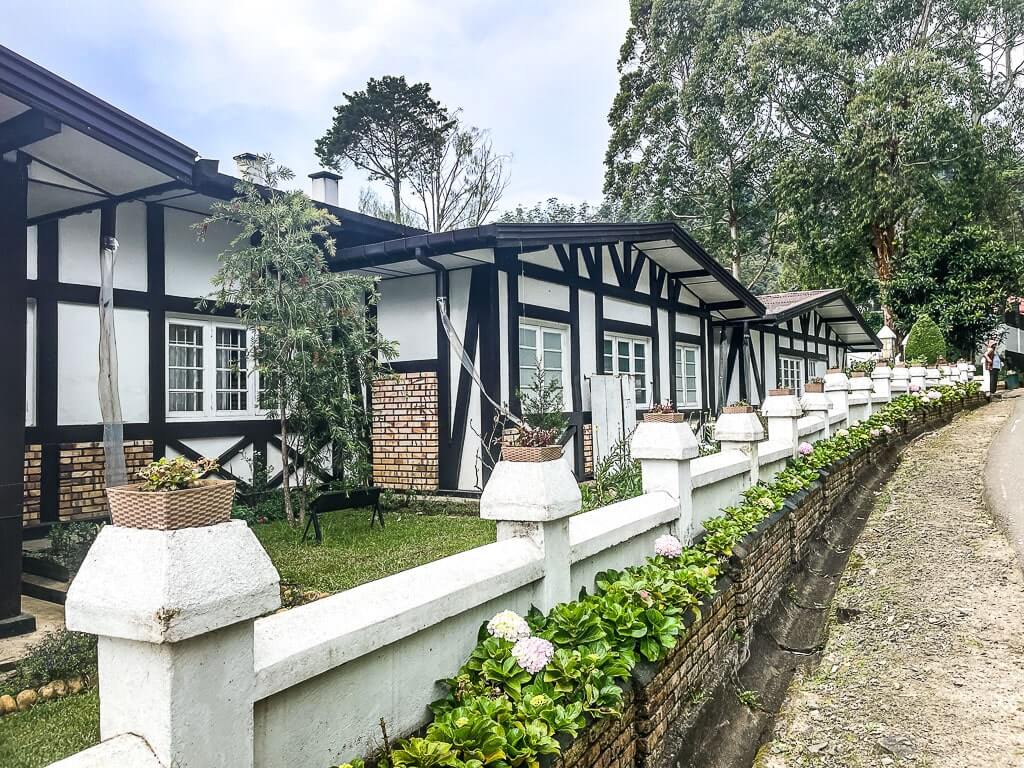 Once upon a time, Nuwara Eliya was home to British planters who owned large tea estates in the hills. They lived and worked in colonial buildings that still form the backdrop of every picture shot in Nuwara Eliya, apart from the hills and the tea gardens, of course.
One of my favorite things to do in Nuwara Eliya is to stroll through the town and marvel at the gorgeous colonial buildings of a bygone era. What's better is that the new hotels and restaurants are also styled similarly. So you totally get the feel of Europe here.
Play some golf
Nuwara Eliya has a beautiful golf club. It is called the Nuwara Eliya Golf Club and is one of the oldest golf clubs in Asia. Built in 1889 for the recreation of British tea garden owners, this place still delights avid golfers and visitors who would like to try their hands at this sport.
The golfcourse is more than 6000 yards long and is surrounded by tall eucalyptus trees and gorgeous cypresses. Visitors with reservations are always welcome. Check out visitor rates and reservation procedures here.
Stroll through Victoria Park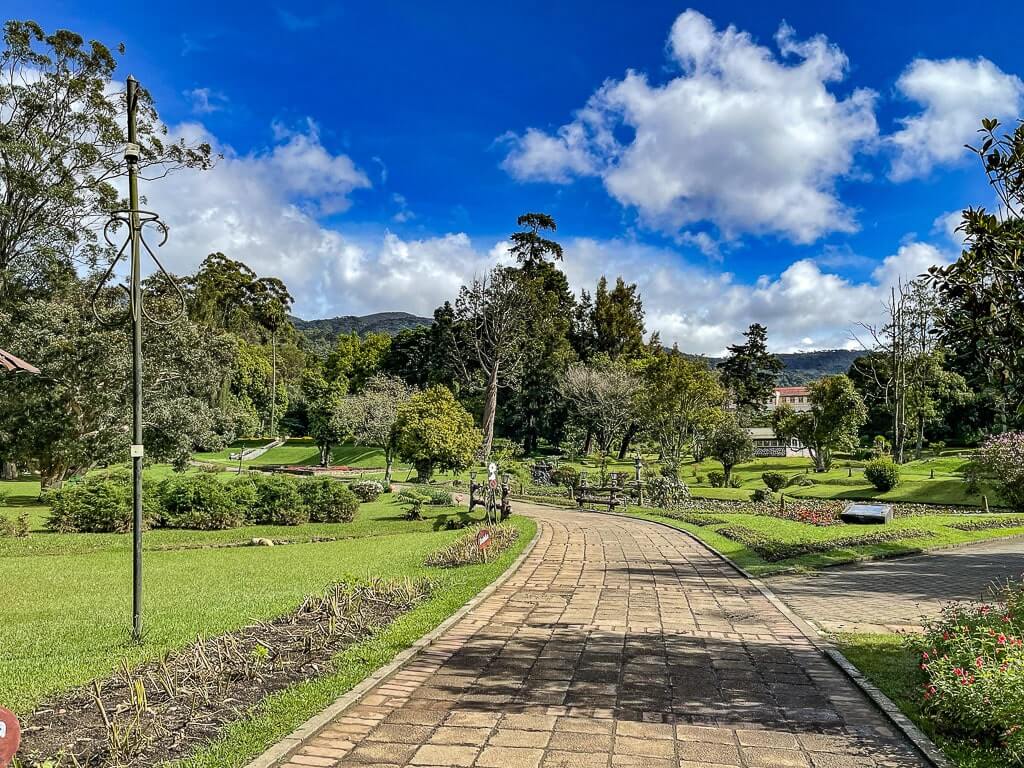 Need some relaxing time in nature? Looking to run, jog, or walk? Head to Nuwara Eliya's largest public park called the Victoria Park.
Verdant and green, the Victoria Park features hundreds of oaks and cypresses and a number of lakes created by the Nanu Oya River. It is landscaped beautifully and usually in full bloom during spring and summer. There is a small museum in the premises and you can do some birdwatching too.
The park is open from 7:00am – 6:00pm. It has an entrance fee of 400 LKR which is pretty reasonable if you convert it into $. Turns out it is only $1 to enter.
Take a walk around the happening city center
The best way to know the pulse of a city is to take a walk around the city center. And Nuwara Eliya has got a really happening one.
Filled with all kinds of shops and mom-n-pop stores, Nuwara Eliya's city center is throbbing with life. You can buy anything here, starting from mouthwatering street food to essential winter wear – all at very cheap prices.
The city center is located right next to the red brick post office. So, it should not be very difficult to get to.
Shop at the Central Market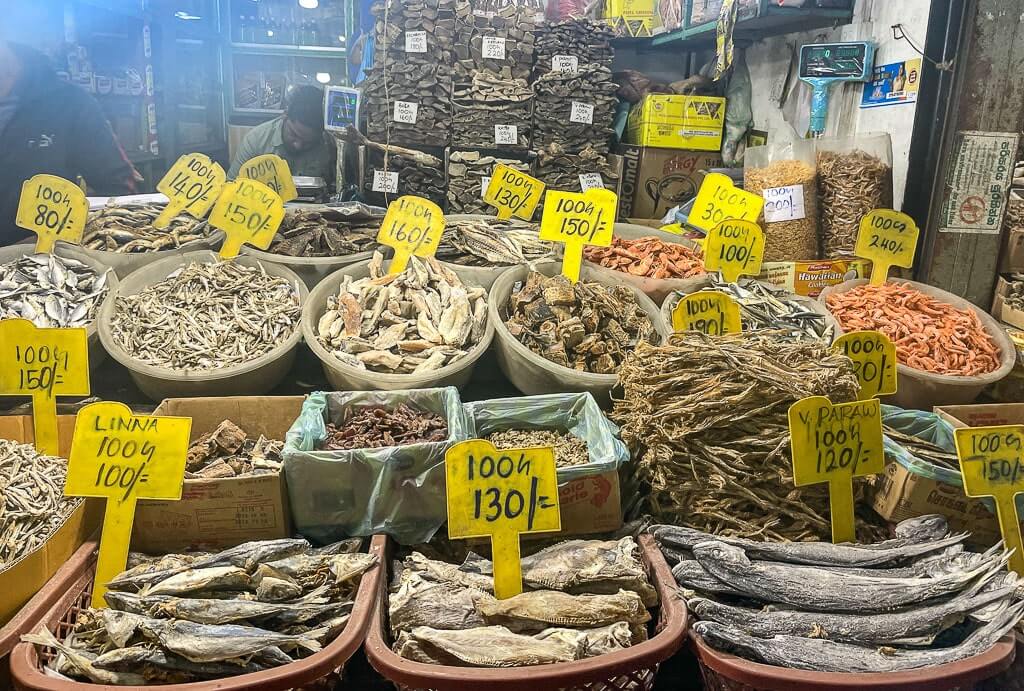 If you are planning to buy local spices, grains, and lentils to cook the best Sri Lankan food back at home, try the Central Market in Nuwara Eliya.
Located on Badulla Road, right across the street from the Golf Club, the Central Market is a covered shopping center that has some of the best quality food available for cheap prices. Everything that you'll find here, including grains, lentils, whole and ground spices, and tropical fruits are fresh and authentic.
Because this is a local market, the prices are not hiked up for tourists. People understand English and it is fun to go around, checking the local fare, and chatting with the store owners. They are keen to show you their food and honestly, the experience is quite immersive.
Visit St. Francis Xavier's Church in the city
There's a beautiful church in Nuwara Eliya, a little further away from the center. It is called St. Francis Xavier's Church and dates back to 1838.
St. Francis Xavier's Church was the first ever church to come up in the city and is, therefore, sacred to believers. It is built in the Gothic style and features an opulent interior.
Mass happens in Sinhala, Tamil, and English. You can find the mass schedule on the official website here. Christmas is a nice time to visit the church and soak it all in.
Enjoy high tea at the Grand Hotel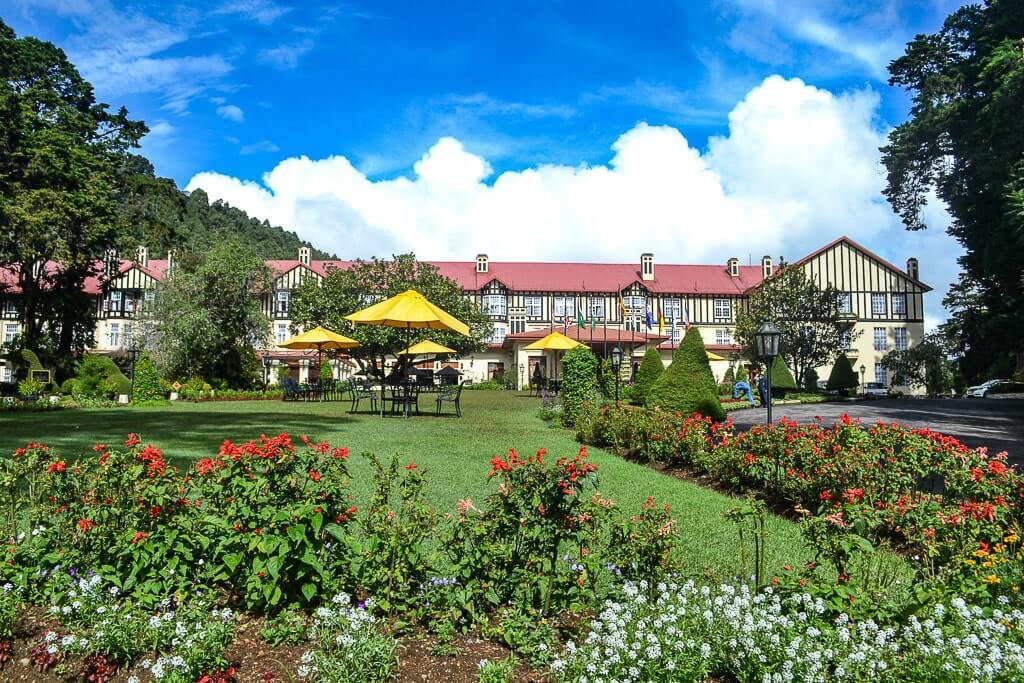 Looking for the best place to enjoy English high tea? Try it at the Grand Hotel in Nuwara Eliya.
Visit the Tea Lounge at the Grand Hotel in Nuwara Eliya between 3:00pm – 6:00pm for an enjoyable high tea experience. The ritual has continued since the early 19th century when the mansion was built as a holiday home for Sri Edward Barnes. You'll be served with an interesting spread of cakes and savories along with your choice of tea. Wrapping your day in Nuwara Eliya with the high tea experience at Grand Hotel gives you a true feel of "Little England".
The building, itself, is a national heritage property and makes for a luxurious stay if you are willing to spend some $$ on your Nuwara Eliya trip. Click here to have a look at the property and the various amenities it offers.
Pay your respects at the Seetha Amman Temple
Seetha Amman Temple is one of the most famous Hindu shrines near Nuwara Eliya. It is located just 3 miles (5km) from the city center and is easy to get to by car.
The Seetha Amman Kovil or the Temple of Goddess Sita is built on the exact spot where Sita was believed to have been held captive by Ravana, a demon in Hindu mythology. Therefore, this place is very sacred for Hindu devotees and features on the Ramayana trail of Sri Lanka. [Ramayana is a famous Hindu epic.] Here, you'll also find the [supposed] footprint of Lord Hanuman, who played a major role in rescuing Sita.
If you are not the religious kind, I am sure you'll enjoy the pristine environs of the temple and its location in the middle of the Nuwara Eliya hills. A small stream nearby and a waterfall make the landscape even more scenic.
Visit Hakgala Botanical Gardens
Five mins south of the Seetha Amman Temple, you'll find the Hakgala Botanical Gardens that is one of the most beautiful botanical gardens in Sri Lanka. Another one that totally floored me was the Peradeniya Botanical Garden in Kandy.
Hakgala is a charming example of the temperate vegetation of Sri Lankan highlands and is a wonderful place to soak in nature and just relax. You'll find more than 10,000 species of plants here and the best time to visit is in spring when the place is in full bloom. The garden is open from 8:00am – 5:00am every day.
Hike to World's End at Horton Plains
The best thing about Nuwara Eliya is that it is not just a cultural hub of colonial architecture but also one of the best places to go hiking and wildlife spotting in Sri Lanka. And the best place to do that is at the Horton Plains, a part of the UNESCO-inscribed Central Highlands of Sri Lanka.
The Horton Plains, covered with montane forests, and are home to a wide variety of wildlife including the leopard and Sri Lankan sambar deer. However, the highlight of a Horton Plains trek is a point called World's End where literally the trail comes to a stop and you are staring into nothingness from a height of 4000ft.
World's End is a sheer cliff (with a 4000ft drop) that marks one end of the Horton Plains hiking trail. At this point, you'll get some stunning panoramic views of the hills and sleepy hamlets.
Helpful tips about Horton Plains
Note that you'll be able to enjoy this view only if you arrive here between 6:00am – 10:00am. If you get late, the place is usually covered with a cloud of mist and you might have to wait a while for that to clear up.
The hiking trail at Horton Plains is a loop that takes you first to the World's End (4km from the starting point), then to Baker's Falls (2km), and back to the entrance (3km). The total trail is about 10km. Plus, there is a small museum at the entrance to learn a bit of the history of Central Highlands.
You can easily plan to spend a day at the Horton Plains or half-a-day if you manage to arrive early. Remember that it takes about 1.5 hours to get to Horton Plains from Nuwara Eliya. The easiest way to get there is by rental car, taxi, or a guided tour like this one.
Go waterfall hopping
The hills of Nuwara Eliya are a paradise for waterfall hoppers. There are just so many cascades that you'll run out of days chasing them all.
The most popular waterfall to visit near Nuwara Eliya is the Lover's Leap Waterfall which is just 15mins from the city. Glen Falls, Devon Falls, and St. Clair's Falls are a couple of other nice ones that can be reached within an hour of driving.
The Baker's Fall within the Horton Plains National Park is absolutely stunning. And so are the Ramboda Falls which are one of the highest in the world. Elgin Falls, which you can see while riding the Ella Odyssey train, is another beautiful cascade that is located with the Elgin tea estate.
The best way to get to the waterfalls in Nuwara Eliya is to by car or by hiring a tuk-tuk for the day. The tuk-tuk drivers are happy to show you around and will also provide interesting information about the falls.
Visit a tea factory
One of the best things to do in Nuwara Eliya, Sri Lanka is to visit a tea factory and learn all about the process of tea making.
The city of Nuwara Eliya is nestled in the middle of hundreds of tea plantations. So, the easiest thing you can do here is to pay a visit to a tea factory and learn how tea is made. Right from how the tea is grown on the terraced farms of Nuwara Eliya, to how it is harvested, and then processed into different kinds of tea – you'll get a wholesome idea during the tea factory tour.
At the end of the tour, most plantations offer a taste of their tea. You can select from white, green, and black and decide to buy some if you like. The best places where you can do a tea factory tour are the Damro Labookellie Tea Center, Pedro Tea Factory, and Dambatenne Tea Factory.
Click some gorgeous pictures in the tea gardens of Sri Lanka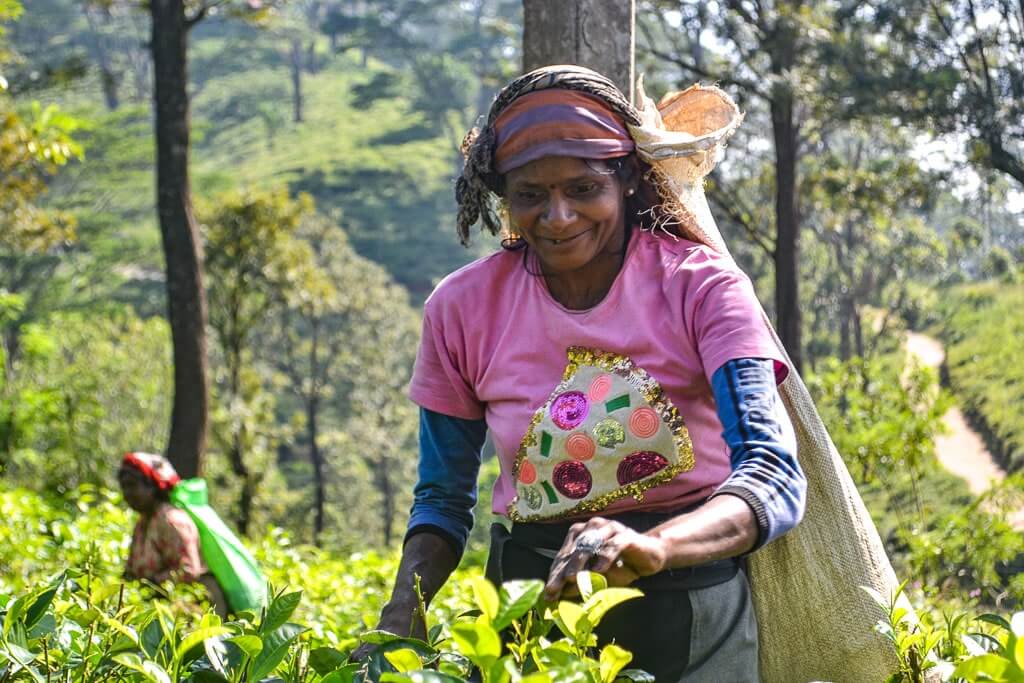 If you do not wish to go on a full-fledged tea factory tour, no worries. You can still click gorgeous pictures of the tea gardens which literally stretch as far as your eyes can see. Find a good space to park on the road and climb to the nearest tea garden and get some stunning pictures of yourself among the tea plants.
If you wish, you can schedule a photoshoot and get your snaps done by a professional. Here's a private photoshoot experience that you can reserve in Nuwara Eliya.
If you want to click some with the tea plantation workers, then early morning (between 7:00am – 9:00am) is a good time to go. That is because plucking rounds start early in the morning.
Be mindful not to trample upon any plants when you are exploring the gardens. Also, don't venture too deep into the plantations. The deeper you go, the higher the chances of getting bitten by leeches. Check out our Travel Tips Section for tips on how to avoid leech bites.
Climb Adam's Peak
Hikers will be happy to know that the famous and sacred Adam's Peak, or Sri Pada as it is locally known, is not very far away from Nuwara Eliya.
Adam's Peak is a religious site for Buddhists, Hindus, and Christians because it is believed the mountain has the footprint of Buddha/Shiva/Adam on the top. You'll need to climb more than 5500 steps to get to the top. Adam's Peak is both adventure and culture put together.
A lot of travelers do Adam's Peak as a day trip from Nuwara Eliya. You can go by taxi (2.5 hours) or take the bus (3.5hours). A better option is to stay near Adam's Peak, at Dalhousie (or Nallathanniya) so that you can begin your climb early.
Ride the iconic Ella Odyssey train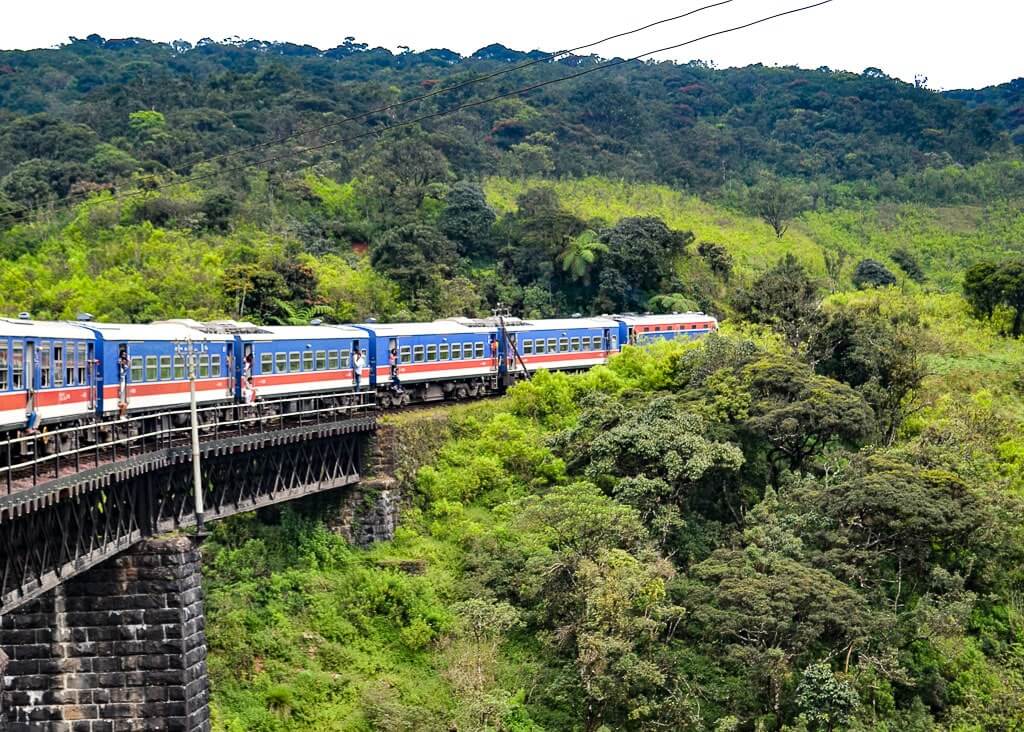 One of the my favorite things to do in Nuwara Eliya was to ride the iconic Ella Odyssey train.
The Ella Odyssey is a special train that runs between Colombo and Badulla and passes through the scenic Central Highlands of Sri Lanka. The best views of the train journey include those of Adam Peak, St. Clair's Waterfall, and the Elgin Falls. The train slows down at these places so that you can capture great pictures right from the comfort of your seat.
The highlight of the journey is the Nine Arches Bridge where the train stops for 10mins so that you can get down and get loads of amazing pictures.
The train takes a good 10 hours to cover the distance between Colombo and Badulla. However, the best scenes are visible between Kandy and Demodara. Sit on the right side of the train (Colombo to Badulla train) to get the best views.
Getting a 2nd class seat is better than the 1st class because you'll have open windows and you can get clear views and good pictures. Unfortunately, you cannot book tickets for this train online. At least, not yet. So, you'll have to ask your travel agent or hotel to do that for you. Or you can check out the train tickets available on Viator here.
If you are in Nuwara Eliya, board the train from Nanu Oya station and get down at Demodara. You'll get the best views.
Try the thrilling Ravana Zipline
Well, I have to talk about the Ravana Zipline in this Nuwara Eliya guide because I would not be doing justice to this article otherwise.
I am not an adventure person but I really wanted to try the Flying Ravana Mega Zipline which is more than half a kilometer long and slides at 80 kmph. The best part – it offers some of the best views of Nuwara Eliya's mountains and lush green tea gardens. Sliding down this mega zipline was one of the most adventurous things I have ever done in my life. You should try it too if you are into adventure tourism and looking for a good adrenalin rush.
Apart from the zipline, they have other adventures too such as abseiling, archery, mountain biking, and ATV riding. Flying Ravana Zipline is open every day from 9:00am – 5:00pm. You can book your tickets on the official website here.
Interactive map for Nuwara Eliya attractions
Where to stay in Nuwara Eliya?
Nuwara Eliya has some of the best hotels in Sri Lanka. You can choose to stay in colonial mansions, rustic cottages, or swanky modern buildings. Whatever you choose, you'll not be disappointed.
My favorite places to stay in Nuwara Eliya are the Araliya Green City Hotel and the BlackPool Hotel.
Araliya Green City is located right in the city center with plush rooms facing the golf course. They have an indoor swimming pool which means you can swim here even in winters. Their food is amazing with so many options for breakfast and dinner. Plus, they have a mini supermarket if you ever need anything. →Book your stay at Araliya Green City here.
Blackpool, on the other hand, is located a little further from the city center but is surrounded by panoramic views of never-ending tea estates and vegetable plantations. This is just the perfect place to step away from city life and unwind. Ride a bicycle or go for a long walk along the tea gardens to begin your day on a positive note. →Book your stay at the Blackpool here.
If you are looking for a luxurious stay in Nuwara Eliya, then the Grand Hotel is the best choice. Opulent rooms, a 19th-century mansion, and age-old high tea ceremony – this hotel will definitely take you to back to the Victorian times in England. →Book your stay at the Grand Hotel here.
Practical information for visiting Nuwara Eliya
Best time to visit Nuwara Eliya
The best time to visit Nuwara Eliya is from June – August when the weather is warmer and chance of rain is lower. Jan – Feb is good too if you are okay with slightly colder weather. November and December, on the other hand, are rainy and can get muggy and uncomfortable.
How to get to Nuwara Eliya in Sri Lanka?
The closest airport for Nuwara Eliya is the Bandaranaike International Airport located in Colombo. From Colombo, you can either take the road (via Kandy) to get to Nuwara Eliya or ride the train from Colombo to Nanuoya.
Nanuoya is the closest train station to Nuwara Eliya and you can get tuk-tuks or taxis from Nanuoya to your hotel in Nuwara Eliya. The train journey from Colombo to Nuwara Eliya takes about 7.5 hours. Check for train schedules and fares on the official website here. As far as I am aware, there's no online booking platform for trains in Sri Lanka. You'll need to go the station in order to book your tickets. You can book in advance also at any station.
A car journey to Nuwara Eliya from Colombo takes around 4.5 hours and from Kandy around 2.5 hours. The drive is very scenic. In case you are renting your own car, remember that, you'll need to drive through a long network of narrow, winding roads to get to Nuwara Eliya.
How to get around Nuwara Eliya?
It is easy to explore the city center of Nuwara Eliya on foot. The major attractions such as the Post Office, the Golf Course, Victoria Park, and the local market are not very far from each other.
If you are planning to visit Lake Gregory, the Seetha Amman Temple, or just go waterfall hopping, hire a tuk-tuk for the day and the driver will be happy to take you around.
Travel tips for Nuwara Eliya, Sri Lanka
Since Nuwara Eliya is in the mountains, it can get pretty cold up here even if it is sweltering hot on Sri Lankan beaches. Be sure to pack at least a light jacket for your travels.
Leech bites are pretty common in the area especially during the rainy seasons and near the waterfalls. Be sure to get your anti-leech socks or get a salt spray, especially if you plan to go hiking in the mountains. Do not stay too long in any damp area – keep moving.
Tuk-tuks are a great way of getting in and around Nuwara Eliya. They are cheap and the drivers are friendly & helpful.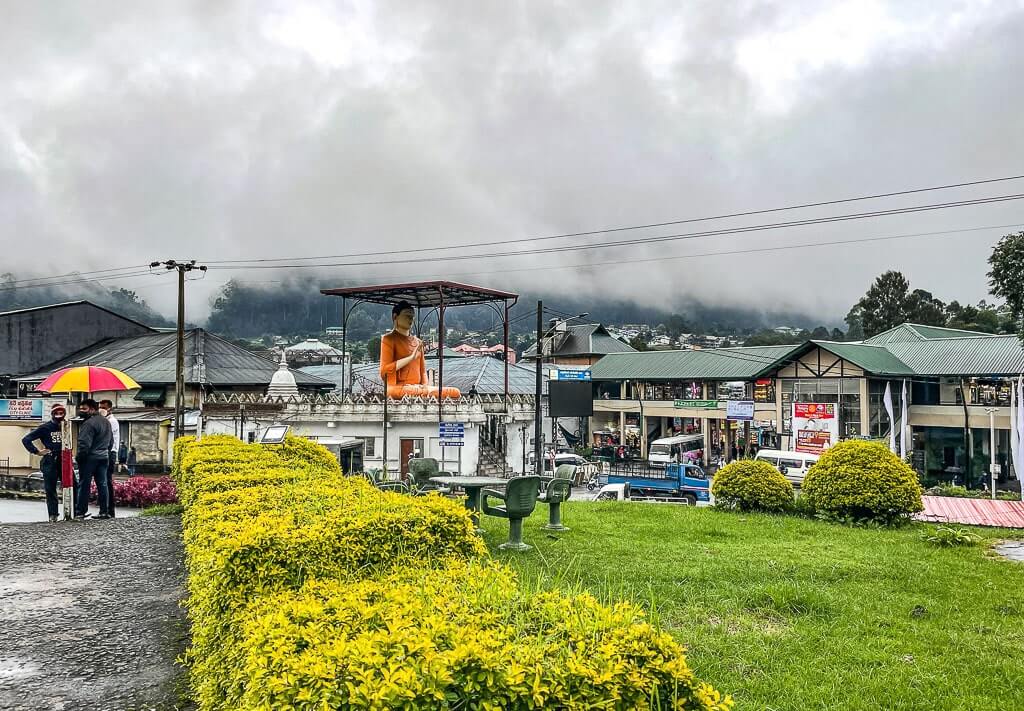 Nuwara Eliya Travel FAQ
Why is Nuwara Eliya famous?
Nuwara Eliya is famous for producing the world class, Ceylon Tea, in massive tea plantations that dot the city and its surroundings. It is also famous for its stunning vistas, gorgeous waterfalls, and colonial mansions that give the city the perfect moniker "Little England".
Is Nuwara Eliya worth visiting?
Yes, Nuwara Eliya is totally worth visiting for its fine colonial architecture, cool and temperate climate, lush green tea gardens, and stunning waterfalls. Visiting Nuwara Eliya is almost like visiting a beautiful hilltop town in Europe.
Why is Nuwara Eliya called Little England?
Nuwara Eliya is called Little England because of its cool climate and pretty colonial houses that resemble Victorian-era mansions from England. While walking through the streets of Nuwara Eliya, you'll almost feel like you are in England.
How many days are enough for Nuwara Eliya?
Two days are enough for Nuwara Eliya. On Day 1, you can explore the attractions in the city center, visit Victoria Garden, spend some time at Lake Gregory, and end it with high tea at the Grand Hotel. On Day 2, you can either visit the World's End at Horton Plains, check out more waterfalls, or visit a tea factory in Nuwara Eliya.
What is the best month to visit Nuwara Eliya?
The best months to visit Nuwara Eliya are June – August when the weather is warm and dry and it is just the perfect time to be out and about, exploring nature.
How do I travel around Nuwara Eliya?
The best way to travel around Nuwara Eliya is by tuk-tuk. Tuk-tuks are cheap, easy to hail, and extremely convenient. In the city center, you can explore by foot.
Loved our Nuwara Eliya travel guide? Pin it for later!