Last Updated on April 22, 2023 by Soumya
Traveling to the island of Buyukada in Istanbul? Wondering what to do in Buyukada? Should you visit Buyukada or any of the other Princes Islands?
Well, well, well! This Buyukada travel guide will answer all your questions and some more.
Buyukada is a sunny, beautiful island off the coast of Istanbul in Turkey. It is blessed with unique flora and fauna and a history that dates back to the times of the Byzantine Empire.
Once a place of exile for kings and queens and later a summer party destination for Istanbul's rich, Buyukada boasts of architectural delights unseen anywhere else in Turkey. The grand, Victorian mansions of Buyukada make it one of the prettiest places to visit in Istanbul. In fact, it is one of my favorite day trip destinations from Istanbul. Just hop on a ferry and get to Buyukada in less than 90 minutes.
It goes without saying that there are lots of amazing things to do in Buyukada. And you must totally include it in your Istanbul itinerary. Visiting Buyukada is a whole new experience and shows you a completely different side of Istanbul.
---
Please note: This post may contain affiliate links which means I may earn a commission if you make a purchase by clicking a link on this post. This will be at no additional cost to you. Affiliate links help me keep this website up and running. Thanks for your support!
Planning your Buyukada trip last minute?
If you are booking your trip to Buyukada, Istanbul last minute, don't worry. We have you covered. Here are some of the best tours and hotels.
Top Experiences and Tours in Buyukada, Istanbul
Top Hotels in Buyukada, Istanbul
---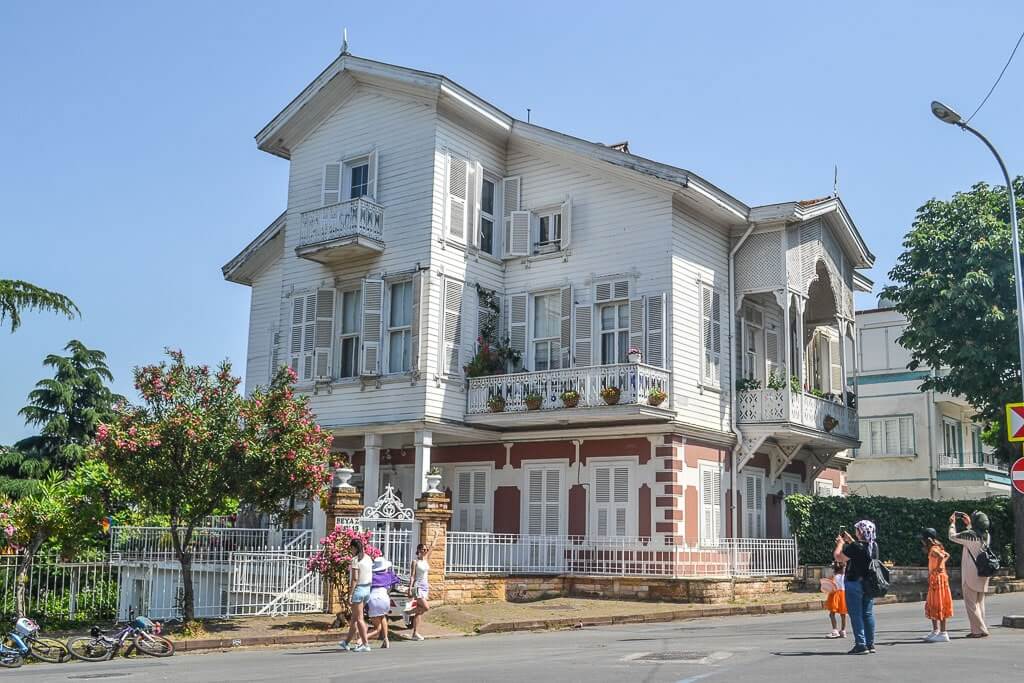 About Buyukada, Istanbul
Buyukada is the largest of the 9 Princes' Islands near Istanbul. It is also the most popular among both tourists and locals.
The name Buyukada literally translates to "Big Island". The isle is spread over more than 2 square miles and is also home to two mountain peaks which you can scale for stunning views of the Marmara Sea.
Buyukada has an interesting history. Byzantine emperors used the island to build monasteries and churches as well as to imprison their deadliest enemies. Later, a large Greek population (most left during the Great Population Exchange between Greece and Turkey) settled here during Ottoman rule.
As Istanbul amassed great wealth, Buyukada became a summer destination for the rich, leading to the building of hundreds of ornate Victorian mansions in the 20th century.
In 1929, Leon Trotsky, one of Soviet's famous revolutionaries, spent 4 years of exile on the island. His house, the Trotsky Mansion, still exists and is up for sale, if you are keen to buy.
Fuel-consuming vehicles are not allowed on Buyukada or any of the Princes' Islands. That makes these islands an unpolluted and pristine heaven to visit.
Horse-drawn carriages are no longer available on the island of Buyukada near Istanbul. This ended a long time ago when authorities realized that carriage tours were causing premature death of many horses. Now, you can ride an electric bus or an electric taxi when visiting Buyukada. Better still, rent a bicycle for the day and explore the island on two wheels.
Cultural things to do in Buyukada Istanbul
Check out Buyukada's historic wooden houses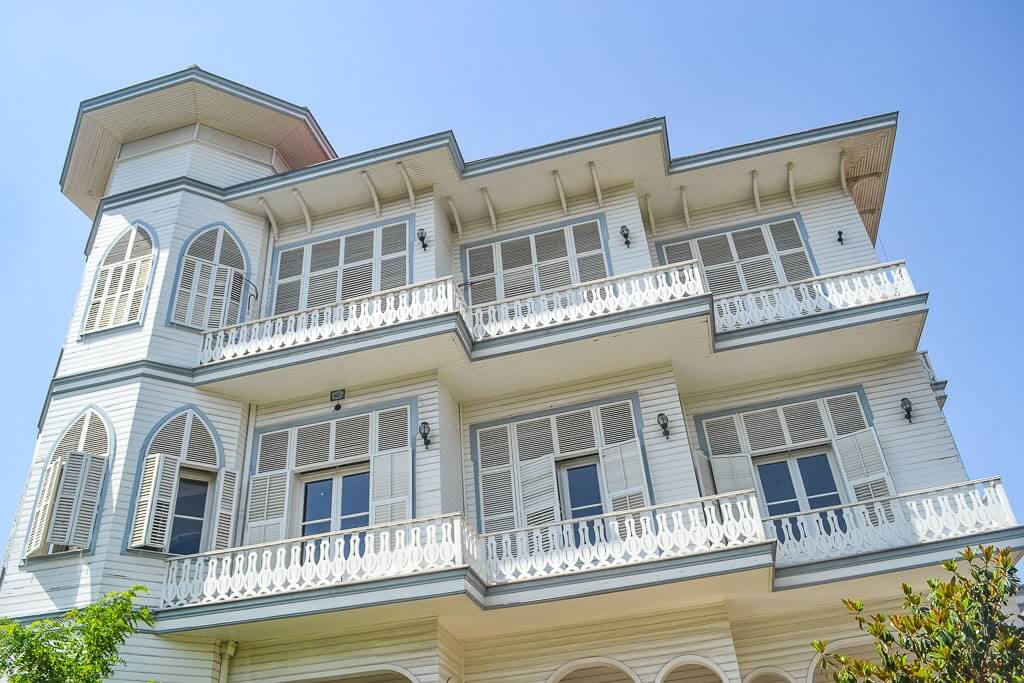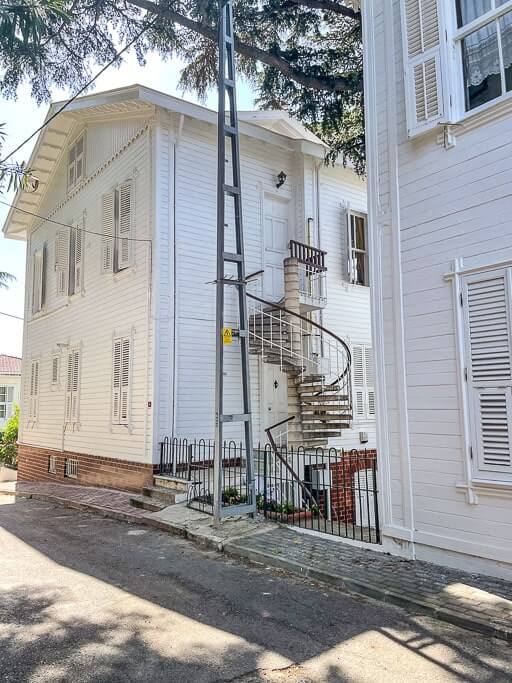 The Princes' Islands are chock-full of historic wooden houses, some of which date back 300+ years. These are old Victorian-style mansions, called the kosku, that line every street and corner of Buyukada Island.
In the prosperous times of the Ottoman Empire, several residents of Istanbul built resplendent villas on the island of Buyukada. They used these as summer homes and spent balmy, hot days relaxing in their orchards and sprawling mansions. These houses also came to be known as the "resort houses".
Most houses were built in the 19th century and were inspired by the lifestyle of the rich in Europe. You'll notice that these houses feature ornate pediments & decorated banisters and boast of intricate lacework on their iron grills. They were quite similar to the Victorian British houses of their times. Some of the most notable mansions are the Agasi Efendi House, Trotsky Mansion, and Con Pasha Mansion.
Even though you cannot enter into any of Buyukada's historic homes (they are mostly private property) today, you can check out the stunning architecture of these buildings and their verdant gardens from outside. Walking through the streets of Buyukada and clicking gorgeous pictures of wooden houses is one of my favorite things to do.
Head to the quirky Mizzi Kosku
As we explored the island of Buyukada, we came across an interesting house called the Mizzi Kosku or the Mizzi Mansion.
Also known as the Al Palas, the Mizzi Mansion dates to the late 1800s. An Italian architect, Raimondo D'Aronco designed the beautiful house with a red facade and an impressive clock tower, quite an unusual addition to houses in those days.
A note on the building tells us that a local attorney called Lewis Mizzi once lived in this house. He loved astronomy and spent hours watching stars and planets from the tower, through his telescope. Later, a famous astronomer, Evgenios Andoniadis, spent some time at this Buyukada observatory and named a couple of Martian craters from here. Wow! Isn't that interesting?
✦ Pro Tip: Do you love unusual and secret places as much as we do? Check out our guide on the 23 hidden gems of Istanbul.
Stroll the charming streets of Buyukada
No plans in Buyukada? Wondering what to do? The best answer – stroll through Buyukada's picturesque streets.
Buyukada is really not a place where you have a list of things to see. Rather, it is a destination where you can take it easy and slow, just walk through the bougainvillea-studded lanes, and amaze yourself at every nook and corner.
Buyukada has totally got the Mediterranean island vibe. And, it was once the playground of Istanbul's rich. Therefore, the streets are literally overflowing with opulent Victorian mansions that take you to a completely different world. Cankaya Caddesi and Yirmiuc Caddesi are two extremely popular streets in Buyukada.
Click some stunning photographs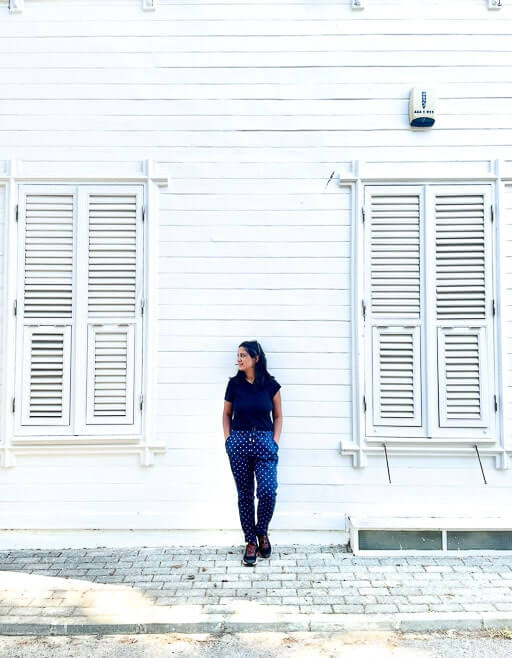 Of course, as you saunter along the charming streets of Buyukada in Turkey, you'll find yourself reaching for your camera more often than anywhere else. The Princes' Islands are, after all, one of the most beautiful places in Istanbul.
Buyukada's adorable mansions, lush green gardens, and cafe-lined streets make the island a photographer's paradise.
I implore you get off the touristy trails and explore hidden alleys and sidelanes so that you can get the best pictures there, without the crowds.
📖 Related Read: Buyukada Island is one of the prettiest places to visit in Istanbul and all of Turkey. In fact, Istanbul is full of stunning locales and attractions. Find the 16 most beautiful places in Istanbul here.
Head to the old town center
The old town center of Buyukada is a hub of activity with many shops and boutiques surrounding an early 20th century clock tower. It is also the main square of the island and is called Iskele Meydani or the Dock Square. Here, you'll find lots of amazing cafes, restaurants, and dondurma places to grab a bite.
Just a couple of blocks away from the Dock Square is the bus stop from where you can ride an electric bus or taxi to the heart of Buyukada. Cars and motorized vehicles are not allowed on the Princes' Islands.
Learn all about Buyukada's history at the Adalar Museum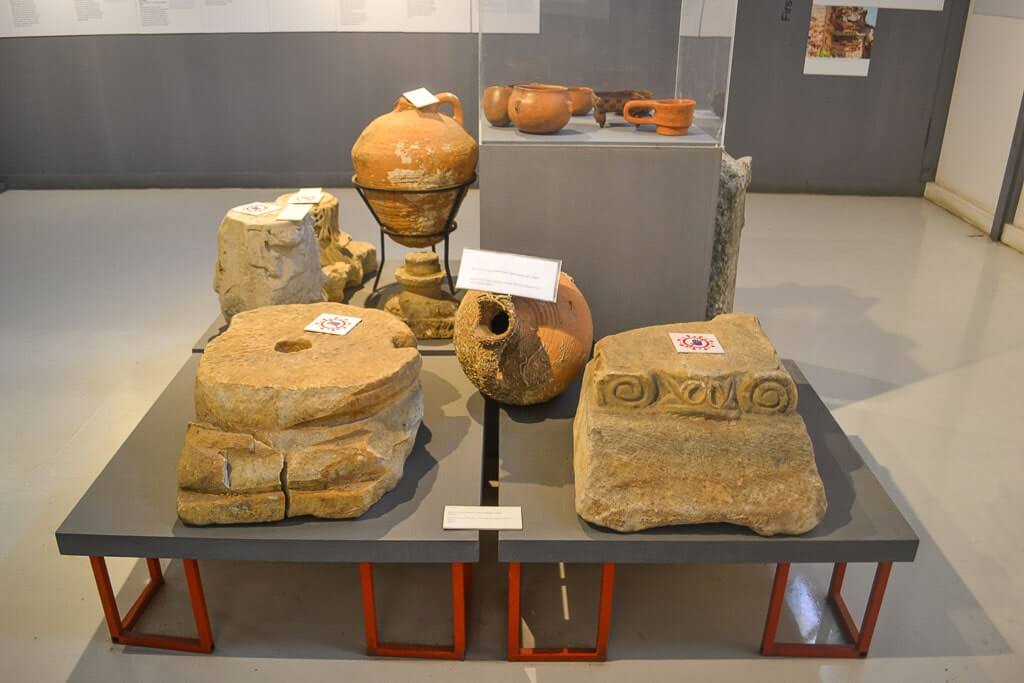 I loved visiting the Princes' Island Museum also called the Adalar Museum in Buyukada.
It is an interesting museum that tells the story of Istanbul's Princes Islands, right from when they were formed to their current state. Several hundred artefacts depict the history of the islands and that of the people that lived here.
Some of the permanent exhibitions include ones on the island's architecture and gardens, traditions and ceremonies, and the first inhabitants among many others. There are details on all monasteries that have existed on the Princes' Islands and the burials that happened here including that of Emperor Irene from the Athenian noble family.
The Museum of the Princes Islands is open from 10:30am – 6:00pm, Tuesday – Sunday. It is closed on Mondays. Admission is 20 TL per visitor. Check out details on the official website here before visiting.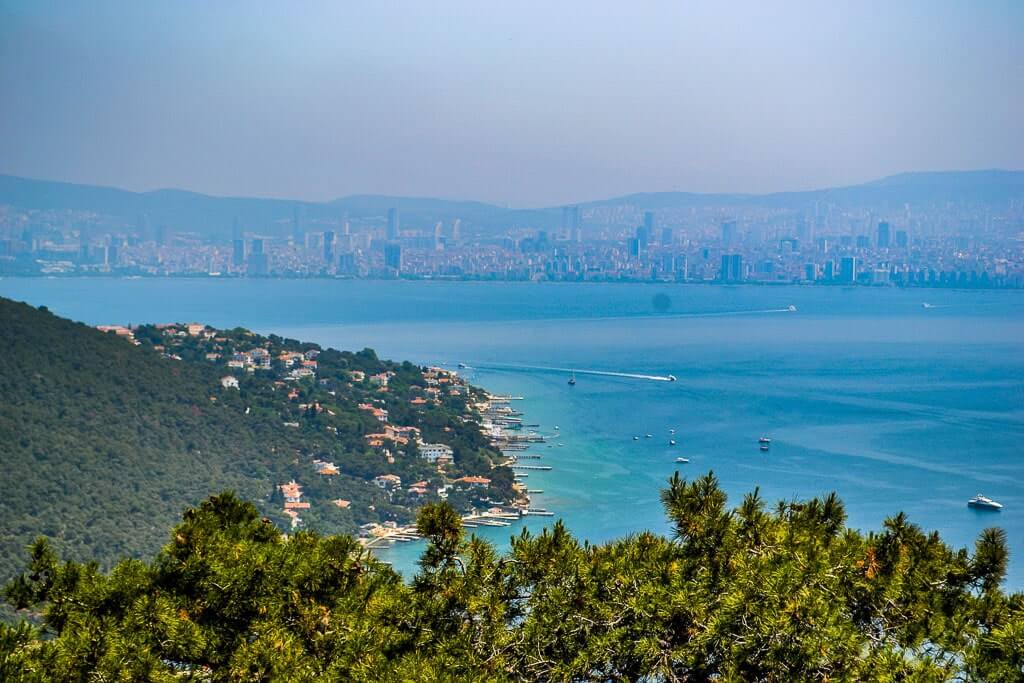 Visit the old Greek orphanage
One of the best things to do in Buyukada, Istanbul is to visit the old Greek Orphanage that is also the largest wooden building in all of Europe.
The magnificent 5-story building (most of which lies in ruins now) was built in the late 19th century as a luxury hotel and casino – plans for which never materialized. Later, it was converted into an orphanage for Greek Orthodox children. It had 200+ beds, a large theater, a massive dining hall, and an impressive library. If you ask me, this could easily have been a Harry Potter location in its prime!
The orphanage lies in dilapidated state today, inaccessible to visitors. However, if you decide to hike up to the hill where the orphanage is located, you'll be rewarded with stunning views of the Marmara Sea.
Fun things to do in Buyukada Istanbul
Explore the island on a bicycle
One of the fun things to do in Buyukada is to rent a bicycle and explore the island on that. You will not see motorized vehicles on the Princes Islands because they were banned long ago. So, the only ways to commute within the island are electric buggies, bicycles, and your feet. Horse-drawn carriages (phaetons) were a favorite earlier but got banned recently in 2020.
A great choice, of course, is to rent a bicycle on your visit or book an e-bike tour of the island. There are a few bike shops around the old town square.
Remember to get your bike as soon as you arrive on the island because they tend to sell out fast. We checked at a couple of bicycle shops around 1:00pm in the afternoon and there were no bikes left. It is best to prebook an e-bike here.
Hike up to the old monastery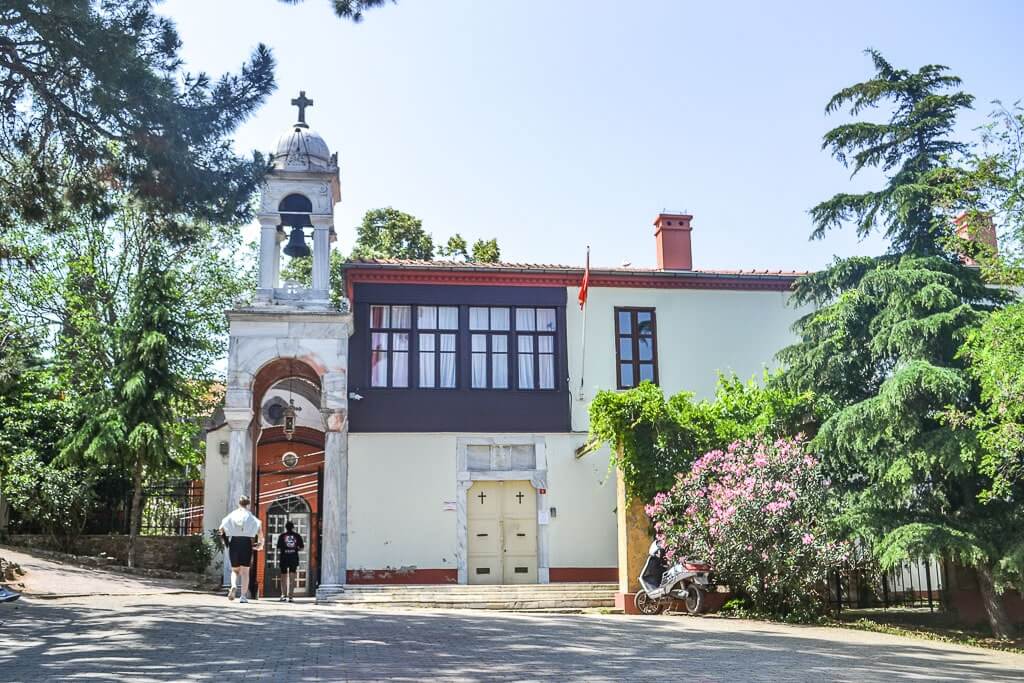 A fun thing to do in Buyukada is to hike up the hill to get to the Aya Yorgi Monastery. The monastery is not just a place to learn about the early Christian history of the island but also a great spot to enjoy panoramic views of the Sea of Marmara.
Buyukada has been home to several monasteries in the ancient past including a woman's monastery built in the 8th century. The Aya Yorgi Monastery or the Monastery of St. George dates back to the 17th century. It was built on the remains of an early Byzantine church after a painting of St. George was discovered here.
It is a small, quiet church with a plain exterior and an interesting interior. The main attraction, however, is the stunning view that you get from the top. It is the perfect place to get some amazing pictures. There's also a small restaurant with outdoor seating where you can enjoy a sumptuous meal with gorgeous views.
Beware the hike to Aya Yorgi can be tiring, especially if you are visiting in spring and summer. Carry water with you and take lots of breaks. It is not very helpful to get a bicycle on the trail because the trail is filled with gravel. We saw many bikers actually pushing their cycles all the way up, which was not very helpful!
Go swimming
Buyukada has small beachy stretches where you can go swimming. Most beaches are private or belong to beach clubs. I have heard that some public beaches usually charge a small entrance fee. But I am highly doubtful of that. All the beaches that I saw were manned by beach clubs.
The Blue Beach (Google Maps) is one of the most popular places to be. There's a beach club with loungers and a restaurant. Some of the other popular beaches are Aya Nicola (Google Maps), and Halik Cove (Google Maps).
Try some local food
I visited Buyukada on a day trip from Istanbul. So, I cannot say that I tasted all local food that the island had to offer. But, I surely got the taste of local seafood and Turkish dondurma, both of which were amazing.
Seafood is amazingly fresh here – this is an island, after all! A couple of best Buyukada restaurants for fish are the Balikci Suleyman (the name literally translates to "Fishermen of Buyukada") and Nissi Restaurant. One of the best places to get some good ice cream is Prinkipo Dondurma & Cafe, where you'll always see a long line like this.
I could have easily stayed in Buyukada for a day only for the food. So, if you are spending a night or two in Buyukada, be sure to try out more fish and desserts.
📖 Related Read: If you're planning your Istanbul trip and still wondering what to eat there, check out our ultimate guide on the best foods and foodie experiences in Istanbul.
Visit the Buyukada Nature Park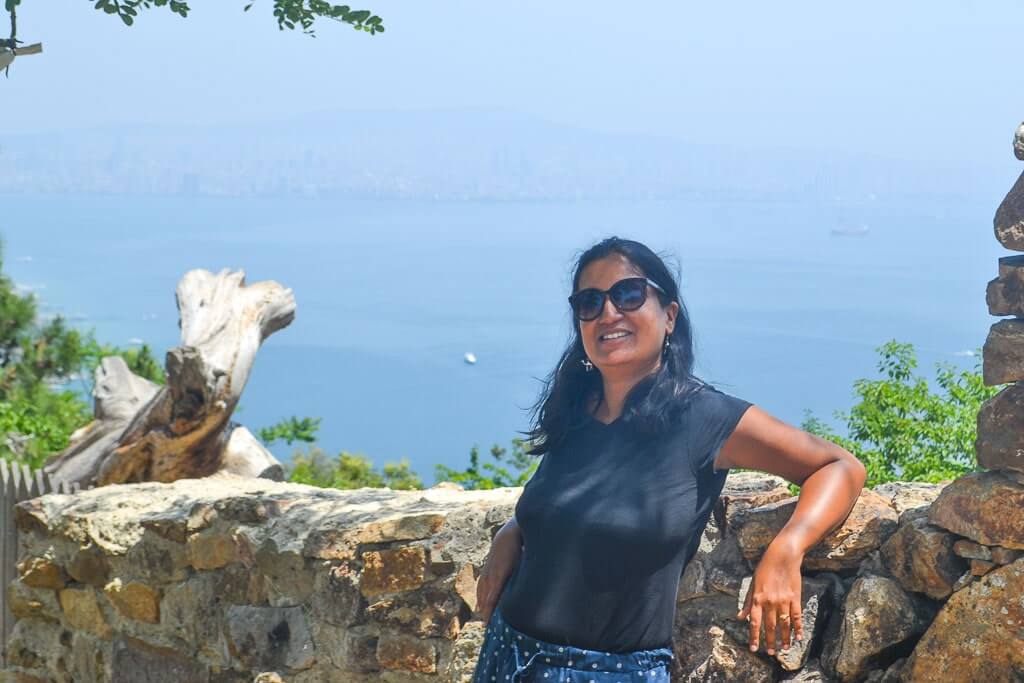 If you're looking to relax in the nature, head to the Buyukada Nature (or National Park) located in the south of the island.
The nature park is spread over an area of 4.5 hectares and is home to some of the most exotic flora and fauna. Red pine and oak trees dot the nature reserve while squirrels, foxes, and hedgehogs scuttle away in good numbers. This is a great place to visit in Buyukada if you're planning a trip with your family or wish to spend some quiet moments with your loved one.
There are a couple other smaller nature parks on the Buyukada island – Dilburnu and Degirmenburnu.
Stay in an old mansion hotel
If you wish to spend longer than a day trip in Buyukada, then the best place to stay is an old mansion hotel. Instead of just admiring them from the outside, you'll be actually staying in one of Buyukada's wooden villas. Nothing can beat that, right?
Splendid Palace Hotel is one of the best places to stay in Buyukada, Istanbul. The red and white building totally stands out on the island and I have heard that they serve great breakfast apart from being the most Istagram-friendly place on the island. ▶️ FIND MORE ABOUT SPLENDID PALACE HOTEL HERE
Ada Palas and Mavi Palas hotels are other beautiful mansion hotels to check out if you are planning to stay for a while in Buyukada. ▶️ CHECK OUT MORE BUYUKADA HOTELS HERE
Interactive map for Buyukada attractions
Practical information for visiting Buyukada, Istanbul
Best time to visit Buyukada
Summer is the best time to visit Buyukada because days are warm and dry. It is the perfect time to explore nature and the outdoors of the Princes' Islands.
However, summer is also the busiest season with both domestic and international tourists arriving on the island in hordes. Therefore, my favorite time to visit Buyukada is in the shoulder months of May – June or September – October. Even though temperatures are a little lower and there might be some rain, these months are relatively calmer times to visit the islands near Istanbul.
One quick tip: If you can visit Buyukada during the week, please do that. Weekends are super crowded because locals also throng to the islands and it might be difficult to get seats at restaurants/cafes.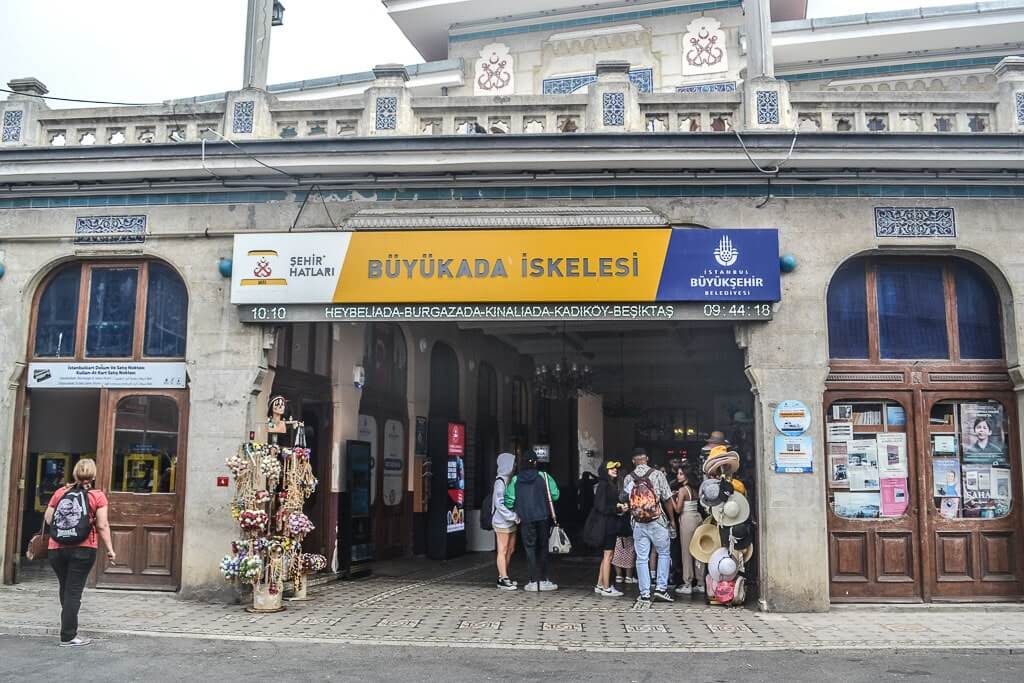 How to get to Buyukada from Istanbul?
The best way to get to Buyukada from Istanbul is by ferry. Sehir Hatlari ferries run from different points on both European and Asian sides of Istanbul. You'll find the ferry timetables here. The ride takes around 90 minutes and costs about 30 TL one way. I Refer to my transport guide on how to travel to the Princes Islands from Istanbul for details.
If you do not wish to plan your own day trip to Buyukada from Istanbul, I recommend signing up for this highly-recommended guided tour of the Princes Islands. The tour not just includes sightseeing in Buyukada and Kinaliada but also comes with free hotel pick-up and drop and a buffet lunch.
How to get around Buyukada?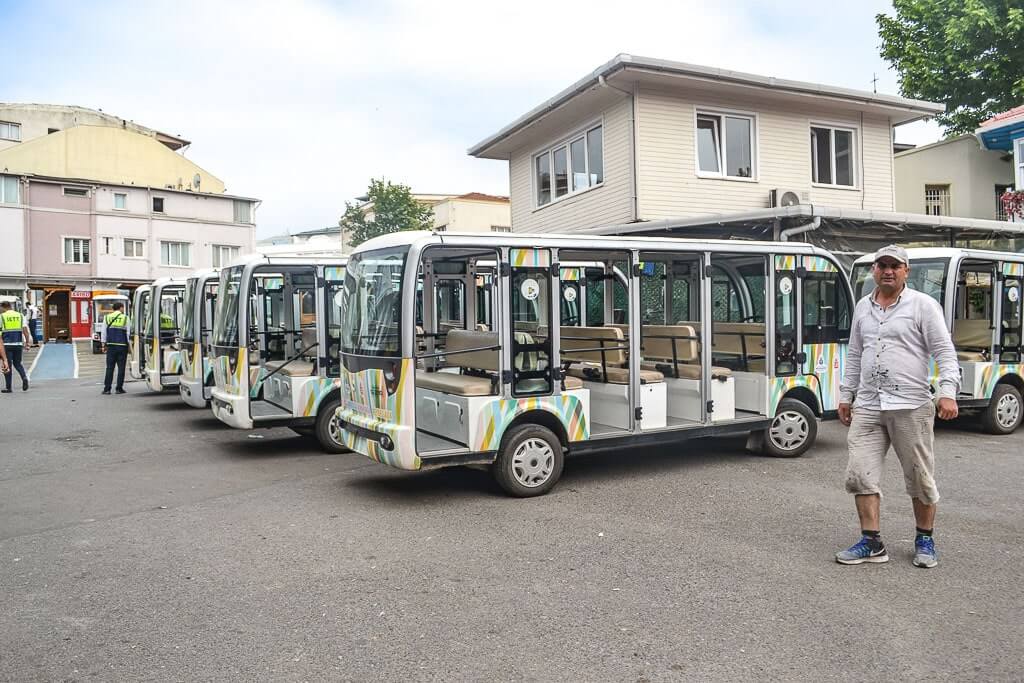 There are 3 ways to get around Buyukada island – by electric buggy, by bicycle, and by feet.
The electric buggy station is near the ferry terminal (a 5-min walk, ask anyone and they will be able to guide you). There'll be a long line here, especially on weekends. You can take the electric bus (carries 20 passengers) or hire a private electric taxi. As far as I remember, the bus ride cost us around 25 TL each way.
I recommend taking the buggy to the farthest end of the island which is basically the point where you can start hiking to the Aya Yorgi Church. Once done with that, you can walk back to the city center or take another electric buggy back to the center. The city center and nearby streets with mansions are easily explored on feet.
Renting a bicycle for the day is also a good idea. There are several shops in the city center where you can rent a bike or reserve one with this e-bike guided tour of Buyukada.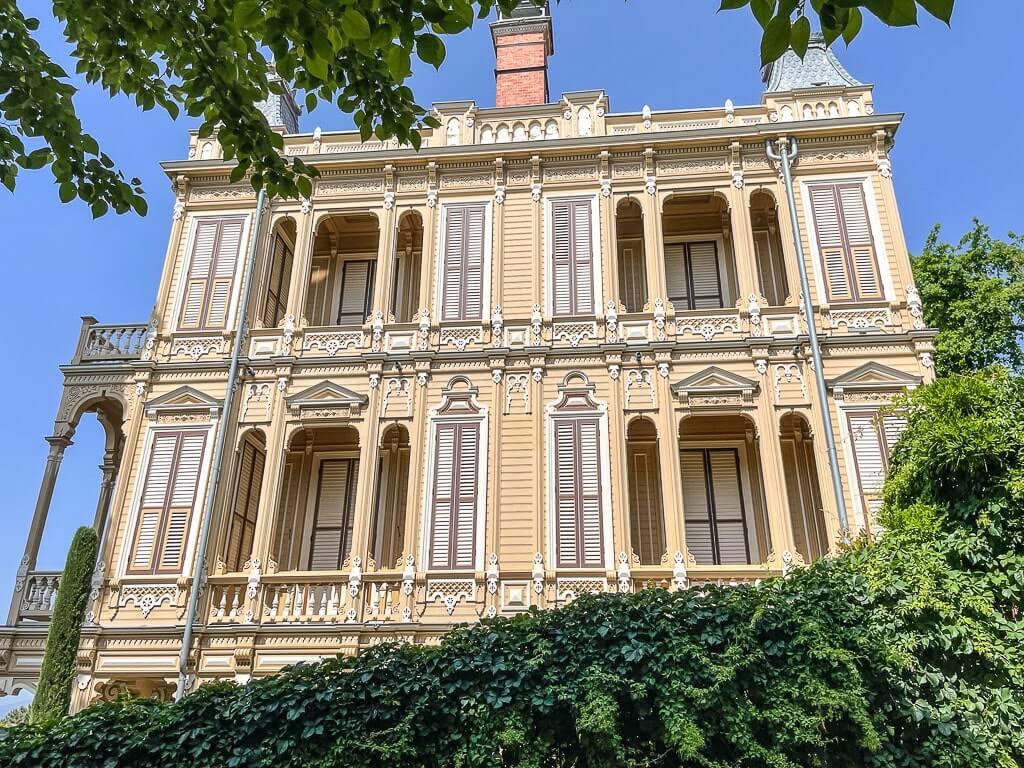 Buyukada Istanbul Travel FAQ
Where is Buyukada in Istanbul?
Buyukada is located off the southeastern coast of Istanbul, in the Sea of Marmara. It takes about 90 minutes to get to Buyukada from Istanbul by ferry.
How can we go to Buyukada?
You can go to Buyukada by taking a ferry from Istanbul. Regular ferries run from the European (Kabatas, Besiktas) and Asian (Bostanci, Maltepe) sides of Istanbul and will get you to Buyukada in under 100 minutes.
How long is the ferry from Istanbul to Buyukada?
The ferry ride from Istanbul to Buyukada takes about 90 minutes or 1.5 hours.
Which is the best princes island in Istanbul?
The best and the largest princes island in Istanbul is Buyukada which boasts of hundreds of ornate wooden mansions, an old Christian monastery, the Princes Island museum, a happening town square, nature trails, beaches, and so much more.
How much is bike rental in Buyukada?
Bike rental can cost anywhere between 30 – 100 TL for one bike per day. The bicycles are more expensive at the city center than in the city but there are more options in the center, of course. If you wish to prebook a bike, then check out this full-day e-bike tour of Buyukada.
How can I get from Taksim to Buyukada Island?
In order to get to Buyukada Island from Taksim, first take the funicular to the Kabatas station (you can also walk or take a taxi) and then take the Sehir Hatlari ferry from Kabatas to Buyukada.
Are there cars on Buyukada?
No, there are no cars on Buyukada. Car and all other kinds of motorized vehicles are banned on the Princes' Islands.
How big is Buyukada?
Buyukada is the largest Princes Island in Istanbul. It is spread over more than 2 square miles and contains a large Buyukada National Park, two small mountain peaks, and several charming streets with quaint Victorian mansions.
What is the history of Buyukada?
Buyukada has an interesting history. It was first used as a place of exile for kings and queens during the reign of the Byzantine Empire. In the Ottoman times, it became a summer resort of the rich families of Istanbul. In the 1930s, it became an exile location again for Leon Trotsky, a Soviet revolutionary.
Loved our travel guide for Buyukada Istanbul? Pin it for later!