Last Updated on September 22, 2022 by Soumya
Looking for the best things to do in Pamukkale, Turkey? Wondering what are the best Pamukkale attractions that you need to add to your bucket list? How many days in Pamukkale is really enough?
In this complete travel guide for Pamukkale, we will answer all your questions and some more.
Honestly, Pamukkale is magical. It is one of the most beautiful places to visit in Turkey and has tons of amazing things to do. Pamukkale's sparkling white travertines, shallow milky-blue pools, and petrified waterfalls make this place a unique natural wonder. The ruins of an ancient Greco-Roman spa town and a colossal Roman amphitheater adorn the Pamukkale plateau top. Laodicea, a Biblical town, and Lake Salda are not very far away.
In this comprehensive Pamukkale travel guide, you'll find everything you need to plan your visit to Pamukkale including the best places to visit, best hotels, how to get to Pamukkale, how many days to spend, as well as a sample one day in Pamukkale itinerary.
Quick links to visit pamukkale
To help you quickly plan your Pammukale trip, here's a list of the best things to do, highly-recommended tours, and great places to stay. Do have a look at our interactive map to access directions to all Pamukkale attractions.
Top things to do
Best tours
Best hotels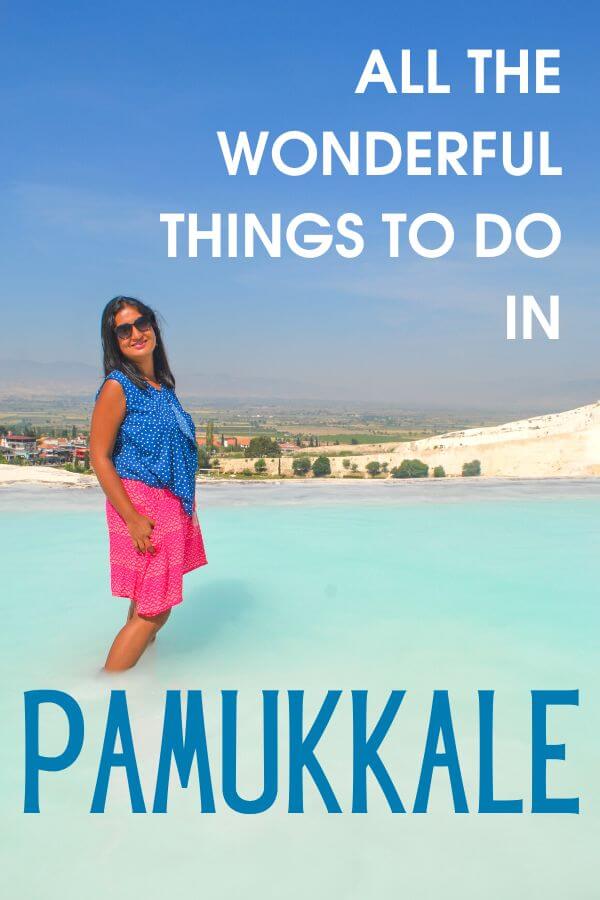 Please note: This post may contain affiliate links which means I may earn a commission if you make a purchase by clicking a link on this post. This will be at no additional cost to you. Affiliate links help me keep this website up and running. Thanks for your support!
Where and what is Pamukkale?
The word Pamukkale literally translates to "cotton castle" in Turkish. Pamukkale is a unique natural site in southwestern Turkey that actually looks like a giant cotton ball left to dry in the sun. Only this cotton ball is hard and tessellated into small travertine pools filled with turquoise blue water. The result is an absolutely stunning landscape that is not to be found anywhere else in the world.
Pamukkale's unique landscape is attributed to ongoing geological processes under the earth surface. This area is earthquake prone and has a vast reserve of hot volcanic lava deep inside. The lava heats water which then dissolves with calcium and spurts outside through several fault lines on the Pamukkale plateau. The calcium-rich water then flows down the hill and eventually cools down to form beautiful travertine terraces and calcium cascades.
When the Greeks, and then the Romans, spotted the thermal pools of Pamukkale, they had their moment of epiphany. They decided to build a sprawling spa town here so that people could come and soak in the medicinal waters of Pamukkale. The town was called Hierapolis.
Hierapolis and Pamukkale became a famous attraction in the ancient times. They drew traders, travelers, pilgrims, and the diseased. More recently, in 1988, they were both inscribed on the UNESCO world heritage list. Today, the Hierapolis-Pamukkale duo is one of the most popular places to visit in Turkey.
Pamukkale has had its ups and downs. It has flourished as a healing center, seen many earthquakes in antiquity, and has been damaged by over-tourism. But now, there are a few checks and balances in place and the rest is up to us to give Pamukkale the respect it deserves. Have a look at our travel tips section to know how to visit Pamukkale sustainably.
Best things to do in Pamukkale Turkey
Soak in Pamukkale's travertine pools
One of the best things to do in Pamukkale is soak in the milky white pools of Pamukkale. The huge limestone hill has hundreds of pools filled with sparkling turquoise water. The water is luke warm and perfect to soak in and relax. Apparently, it has got healing properties too.
These pools dot the travertine cliffs of Pamukkale. Usually the ones at the top are the most crowded. As you go down the cliff, you will find emptier pools and more space to relax and click your own pictures.
Many of the pools have now been cordoned off in order to preserve them. Only one section of the cliff is open to visitors. You can climb this section from Pamukkale's town entrance. If you are coming in from the North or South Gates, you will need to climb down from the top. It takes about 20-30 minutes to finish the climbing up/down.
Remember to take your shoes off before you start walking on the travertine. Some places can be slippery. So, be careful while walking because there is nothing to hold on to.
Visit the archaeological site of Hierapolis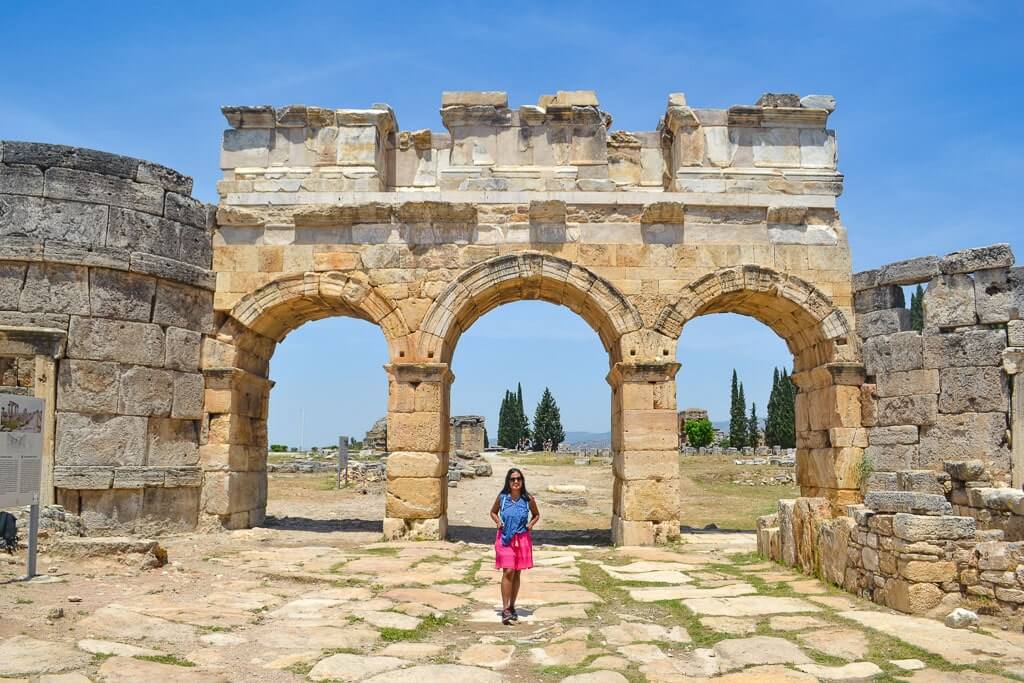 At the end of 2nd century BC, the Attalid kings of Pergamon built a spa town in ancient Pamukkale. The town revolved around the ancient cult of Goddess Leto and was called Hierapolis. It was home to Roman public baths, a gym, an agora, a sprawling necropolis, and an ancient theater – the ruins of which we can see today.
Later, Hierapolis became an important center for Christianity during the Byzantine Empire. That's why, you will see the Martyrium of St. Phillippus commemorating St. Philip's martyrdom here.
The Greco-Roman city of Hierapolis and the unusual landscape of Pamukkale are one of Turkey's most visited world heritage sites.
It is interesting to walk through the ruins of Hierapolis and understand how this ancient City of Water and Faith functioned. Two main gates controlled the inflow and outflow or people. At the gate, visitors had to wash up and use the loo (you can still see the latrines today). Outside the gate, you'll find a sprawling necropolis with some amazingly-preserved sarcophagi. If you are a history buff, then Hierapolis will enthral you.
Check out the massive Hierapolis theater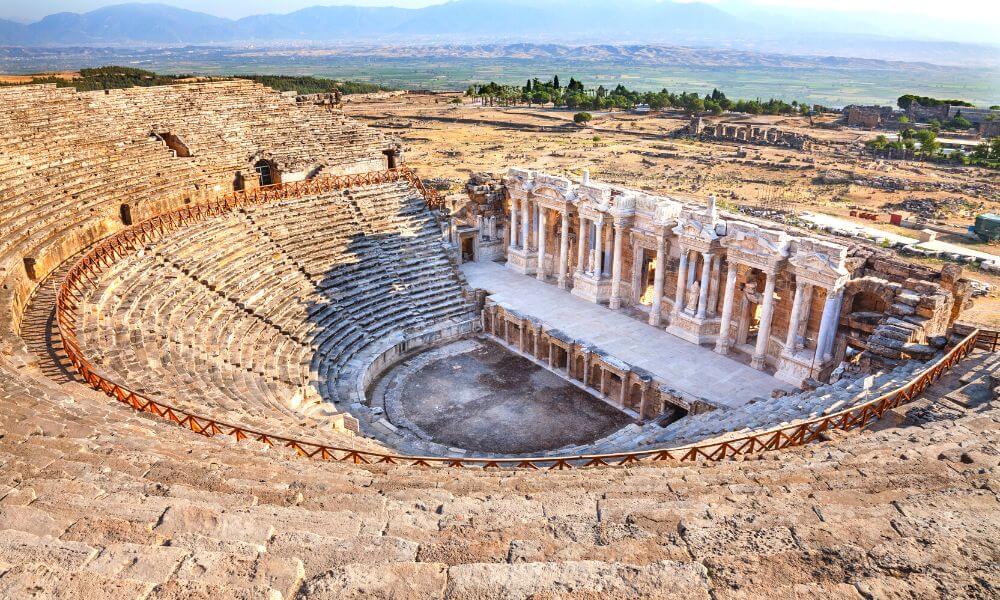 One of the most iconic Pamukkale attractions is the Hierapolis Ancient Theater that could once seat more than 10,000 people. The theater is more than 1800 years old and is built on the site of an old, Greek theater than was destroyed during the earthquake of 60 CE.
The most fascinating thing about the Hierapolis Ancient Theater is that it is the only one that is preserved with all original architectural materials.
The entire theater is an architectural masterpiece. I especially loved the stage with its restored columns that featured the most marvelous stone friezes.
Visit the ancient Gate of Hell at the Ploutonium
The ancient city of Hierapolis has an interesting legend associated with it. It was once the location of a rather infamous gateway to the underworld – a deadly "Gate to Hell".
Hierapolis had a cave that was always shrouded with haze. Animals would mysteriously drop to death here. This Gateway to Hell gained popularity throughout the Roman Empire. People from far and near came here to sacrifice their animals in order to please God Pluto, who they believed was behind the deaths.
Guess what? Hierapolis' "Gate to Hell" still exists. And the reason behind all those animal deaths has now been discovered. A recent report by BBC tells us that a supremely high concentration of noxious carbon dioxide (and not the breath of some displeased God) was the reason behind these deaths.
Today, you can still view this legendary area, albeit from a safe distance.
Swim in Cleopatra's antique pool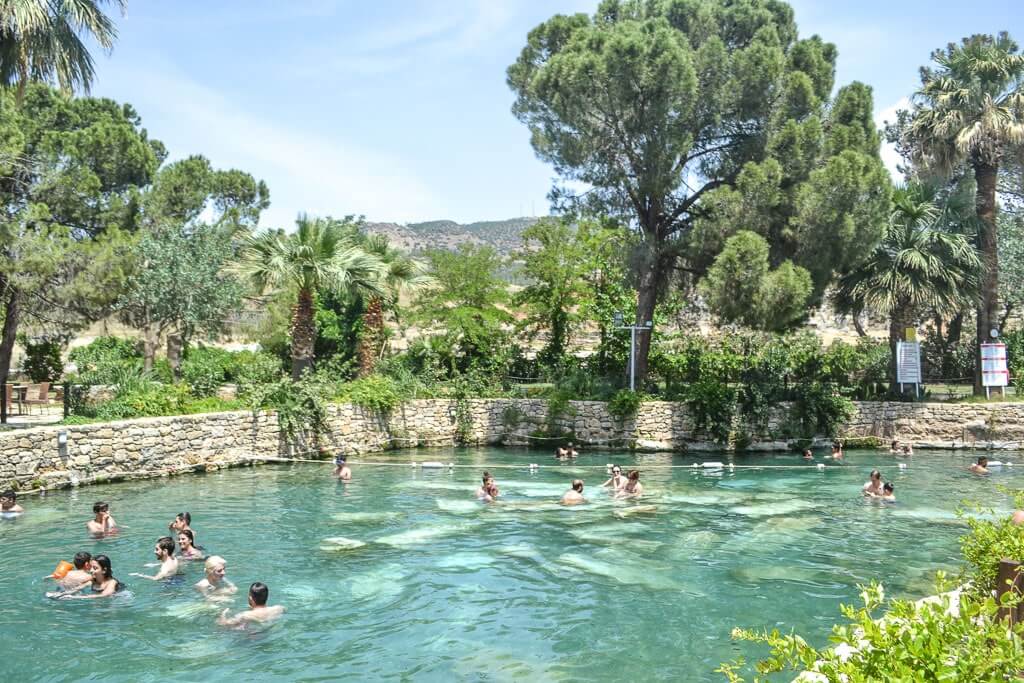 Within the heritage site, there is an enclosed section that has warm pools where you can go for a swim. Unlike the bluish-white waters of the travertine, these pools are crystal clear and said to possess medicinal properties. It is believed the Cleopatra once swam in these pools, hence the name.
There is a separate entrance fee for the pools that is not included in your Pamukkale-Hierapolis ticket. The ticket costs around 100 TL and includes the use of changing rooms. If you need towels or a locker, you'll need to pay separately. Another 10 TL, I believe. Get your own towel if you are planning to take a dip. Find the opening hours of the antique pools here.
There are small gardens and walkways around Cleopatra's pool that you can access for free. A small hand-pump at the far end gives out medicinal water apparently, though I did not like the taste of it at all. The water was too sour and salty for me – probably filled with minerals!
But I loved the food at the cafe right by the pool. It is more like a food court where there are separate counters for burges, pizza, corn, and ice cream. In case you are hungry with all the walking around, you can stop for a quick meal here. There are washrooms here too.
Step into the Archaeology Museum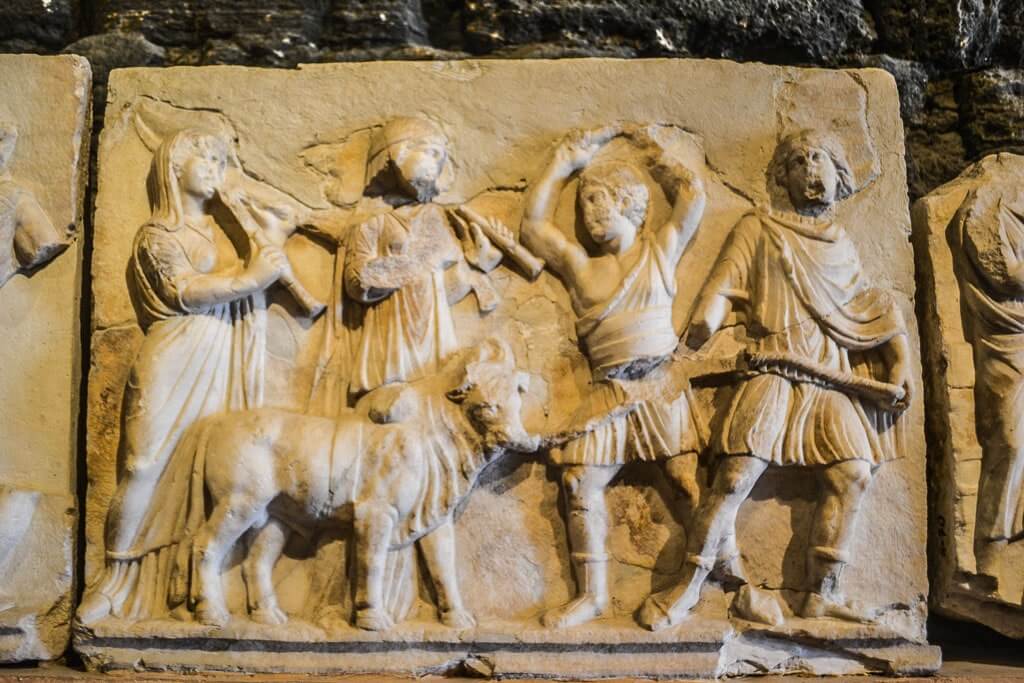 Located near the antique pools in Pamukkale, the Archaeology Museum is a good place to learn about the ancient Roman ruins of Hierapolis.
Denizli Hierapolis Archaeology Museum is housed in the vaulted rooms of the ancient Roman baths and has several interesting galleries including an open-air one lined with sarcophagi.
3 different galleries exhibit artifacts that have been unearthed in Hierapolis, Laodicea, and Tripolis. Do not miss the Hierapolis theater ruins gallery that has several amazing reliefs from the Hierapolis theater. Coronation of Septimius Severus, delights of Dionysus, and the birth of Apollo and Artemis are a few notable ones.
The museum is open from 8:00am – 7:00pm every day and is included in the site ticket.
Paraglide over Pamukkale travertines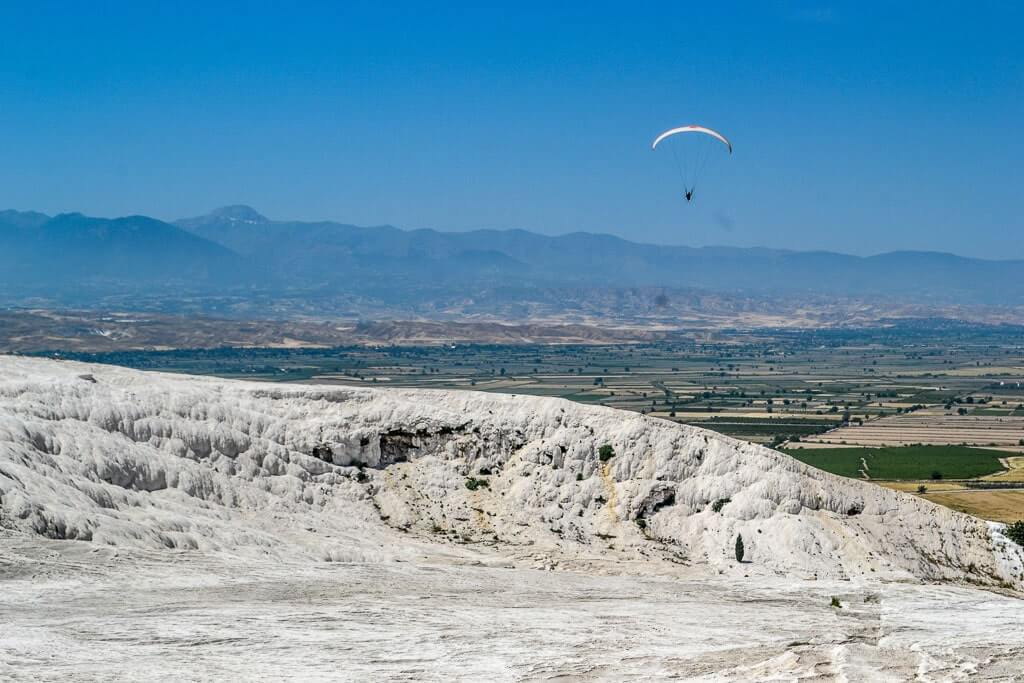 If you are looking for something adventurous when visiting Pamukkale Turkey, try tandem paragliding.
On this paragliding tour in Pamukkale, you'll soar high above Turkey's cotton castle and see the stunning blue and white landscape from above. It is, indeed, a wonderful experience to get a bird's eye view of Pamukkale's travertines and the ruins of Hierapolis.
The flight time is about 30 minutes and you'll be riding with an experienced pilot so that you can relax and take all the pictures you want to.
Ride a hot air balloon
If paragliding is not your thing but you are still keen to see Pamukkale's dreamy landscape from above, then try this highly-rated Pamukkale hot air balloon tour.
The balloon ride lasts about 30-45 minutes and shows you the best of Pamukkale from the air. You'll glide over the beautiful travertines, Hierapolis ruins, and the massive Roman theater at Pamukkale. Seeing this unique landscape from above especially by the orange hues of sunrise is a magical experience.
Balloon tours in Pamukkale are not as touristy as the ones in Cappadocia. However, balloon cancellations in Cappadocia are higher than in Pamukkale. So, it is actually easier to find a spot in Pamukkale.
Watch the beauty of Pamukkale at sunset
As much as you'll love flying over the travertines at sunrise, seeing Pamukkale at sunset is a divine experience too. The white and blue travertines turn different shades of yellow and orange as a setting sun casts an ethereal glow over the entire mountain. It is truly a sight to behold.
The archaeological site and the travertines are open from 6:30am – 9:00pm, so you should be able to catch the sunset if you plan to stick around till the closing time.
Visit Pamukkale Natural Park
At the bottom of the travertines, there is a pretty natural park with lakes and greenery all around. You can swim in the pools (there are 3) here or ride a boat in the lake. Apparently, this is a popular venue for weddings in summer evenings, so evenings may not be the best time to visit.
When we visited in May, the swimming pools were not that clean. I think the whole park was closed because it was right after the pandemic. So, you may want to check on the pools before entering.
The park needs a separate entrance fee and the pools are open from 10:00am to 7:00pm. The entrance to the Pamukkale Natural Park is located at the bottom of the plateau i.e. at the Town Entrance.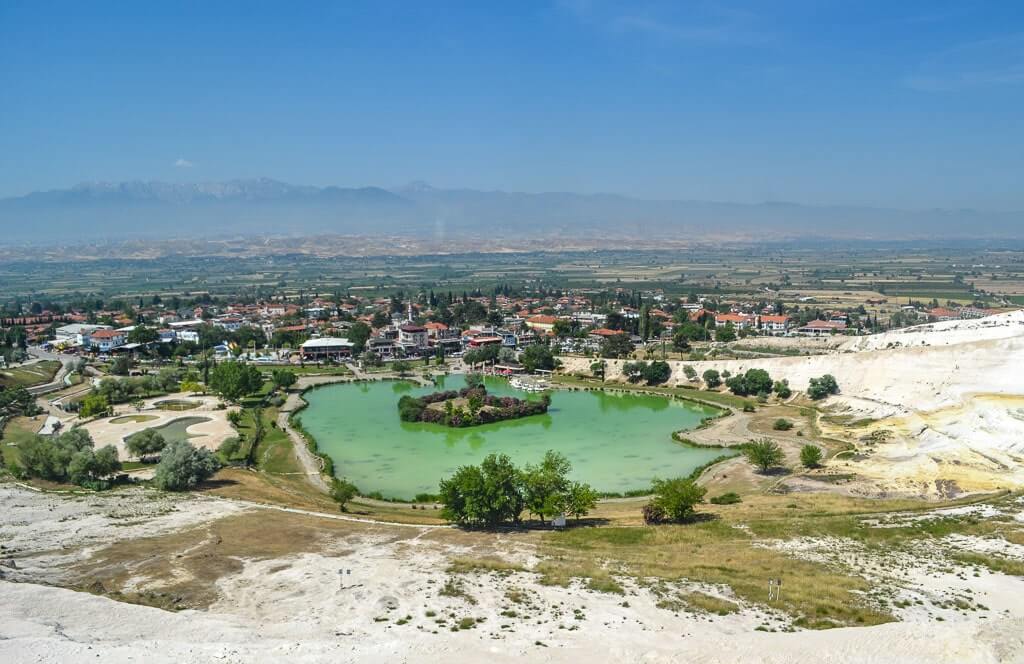 Explore the ancient city of Laodicea
Pamukkale Turkey is home to not just the ancient city of Hierapolis but also to the ruins of Laodicea on the Lycus, a prosperous Greek town dating back 2500 years. Laodicea was once a famous trading center and home to bankers and doctors.
There was a large Jewish community in Laodicea. Then, it quickly became an important seat of Christianity. The Church of Laodicea was named by St. John as one the Seven Churches of Asia in his Book of Revelation. No doubt, this ancient city has deep Biblical connects making it an interesting travel destination for Christians and history buffs. Ephesus is another place where Christian pilgrims flock to because it is home to the House of Virgin Mary and St. John's Basilica.
Highlights of Laodicea include the colonnaded street, the basilica church, the north theater, an agora, and remains of a public bath. Chances are that when you visit Laodicea, it will be pretty empty except for a few history buffs roaming around.
However, the thing is Laodicea isn't a great fit in a one day itinerary of Pamukkale because there is a lot to do around the Pamukkale-Hierapolis area itself. Laodicea is great stop if you are planning to spend more than a day in Pamukkale.
Head to the beautiful Salda Lake
From Pamukkale, you can do a day trip to the world famous Salda Lake, located in Burdur province in southwestern Turkey.
With its white sand coast and turqoise blue waters, Lake Salda looks more like a beach in Cancun or the Maldives. Actually, this lake is often referred to as Turkish Maldives even though it is nowhere near the coast but right in the middle of a valley.
In fact, the Salda Lake has some interesting geological phenomena going on. According to a report by Nasa Earth Observatory, the similarities between Salda and a crater on Mars are uncannily similar. Needless to say, Lake Salda is one of the most unusual but beautiful places to visit in Turkey.
Try some Denizli kebab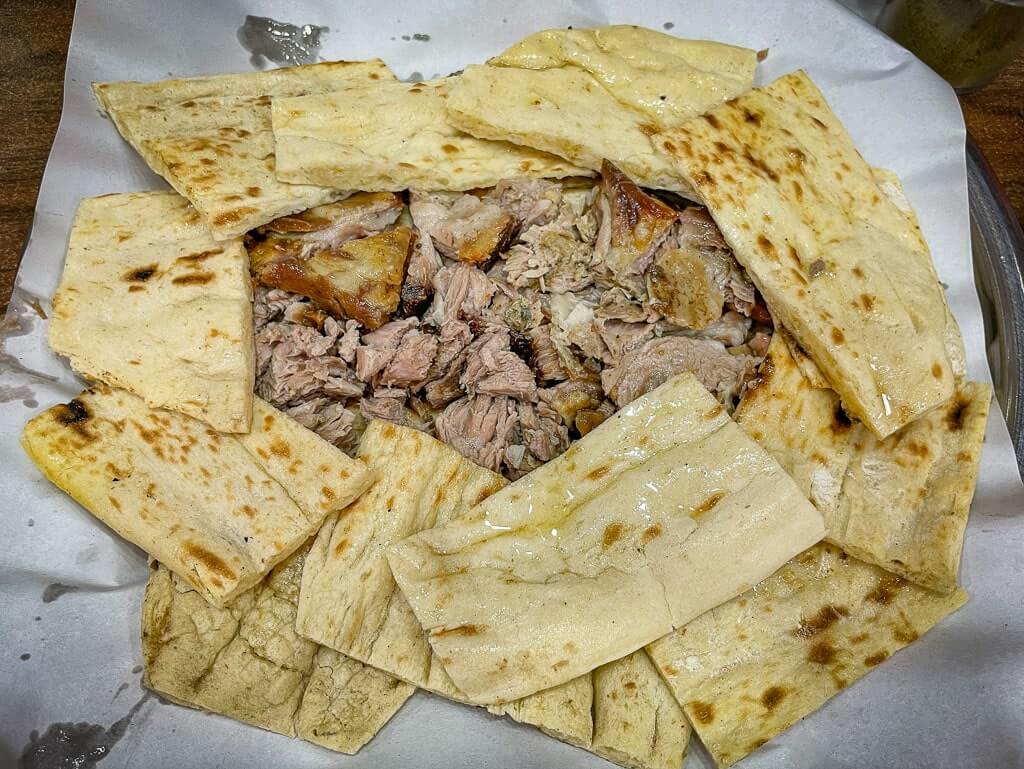 If you are going to stay in Denizli like we did, then you have to try some authentic Denizli kebab. Turkish cuisine is famous for different kinds of kebabs that hail from different cities. Denizli has its own version made of lamb.
Denizli kebab is a succulent meat dish that is made by putting lamb meat in skewers and cooking it in the oven for 3 long hours. It is served with traditional lavash bread and a side of onions and tomatoes. I paired it up with ayran, the local Turkish drink, and absolutely loved it.
Locals eat the dish with their hands instead of spoon and fork. So, get ready to dig in (literally with your fingers) into some yummy kebabs in Denizli. A great place to try it out is Meshur Denizli Kebapcisi.
Interactive map of Pamukkale attractions
Where to stay in Pamukkale Turkey?
There are many wonderful places to stay in Pamukkale Turkey. Here are a few that are located in and around the Pamukkale City Center and are within walking distance from the travertines.
Venus Hotel is a good, midrange hotel with nice and clean rooms, an outdoor swimming pool, and some great breakfast. Guests love the relaxed and friendly atmosphere at this family-run hotel.
Hotel Pamukkale is a more budget-friendly place with some great amenities and extraordinary hosts. Rooms are big and clean and the location is perfect. According to guest reviews, Hotel Pamukkale is excellent value for money.
If you are in a mood to splurge during your Pamukkale visit, stay at Pamukkale Whiteheaven Suite Hotel. Excellent location, an outdoor pool with a sun terrace, a peaceful garden, and guest rooms with balconies make this place an absolutely beautiful place to stay.
If you would like to stay in a bigger city and have no problems using the public transport, stay in Denizli, the town closest to Pamukkale-Hierapolis heritage site. Denizli is also easier to get to from the Denizli Airport and bus stop. Laodikya Hotel is a great choice with clean rooms, friendly staff, and a central location that is super convenient for people using public transport.
Best time to visit Pamukkale
The best time to visit Pamukkale is undoubtedly in spring (mid-Mar – May) and fall (mid-Aug – October). Temperatures are milder and the heat is not as scorching as in summer. It is warm enough to take a dip in the pools which you would not want to do in the winters, of course, when temperatures can dip below 32°F (0°C).
Summers (Jun – mid-Aug) are the busiest times in Pamukkale. Temperatures can go up 105°F (40-42°C). Even though this is a great time to swim and soak in the Pamukkale pools, it may not be the greatest time to explore the ruins. The heat can be gruelling, trust me. We were here towards the end of May and it was already getting pretty hot. Be sure to carry your hat, sunglasses, sunscreen, and lots of water.
How many days should you spend in Pamukkale?
One full day is enough for Pamukkale Turkey. In one day, you can see the ruins of the ancient city of Hierapolis, climb up to the Roman theater, swim in Cleopatra's antique pools, visit the Archaeological Museum, walk down the stunning blue and white travertines of Pamukkale, and catch a mindblowing sunset just before you leave.
If you wish to see the Biblical City of Laodicea, visit Salda Lake, or explore Denizli, then you'll need one more day.
Sample one-day itinerary for Pamukkale
Begin your day early and start by visiting the ruins of Hierapolis. The South Gate opens at 6:30am. If you can get here by then, you'll have the entire place to yourself. You'll need a good 2-3 hours to see the ancient city, the theater, and the necropolis.
Next, head to Cleopatra's antique bath and have a good swim in the mineral waters. The bath is open from 8:00am – 8:00pm in summer and 8:00am – 6:00pm in winter. If you are hungry after the swim, have an early lunch at the cafeteria by the pool.
After that, visit the Hierapolis Archaeological Museum and spend 30mins – 1 hour here.
Next, head to the Pamukkale Cotton Castle. There is a small cafe in this area if you wish to have a quick bite. Their ice creams and gozlemes are wonderful. At midday, the pools are filled with people because most tour groups have arrived by then. The pools down the hill are usually a little emptier than the ones on the top. Soak in the pools and wait as the day starts to wear off and the crowd starts to wean. Late afternoons are quieter in Pamukkale and if you stick around long enough, you'll be able to catch a stunning sunset.
I would not recommend visiting the travertines first thing in the morning because the pools do not have enough water in them in the morning. They start filling up only after the water source is opened around 8:00am in the day. It is best to reserve your travertine visit to the second half of the day both for the water and the sunset.
Practical information for visiting Pamukkale
Pammukale entrance fee
The entrance fee to Pamukkale is 200 TL (approximately 11 USD/EUR). This ticket includes the Pamukkale travertines, the ruins of Hierapolis, and the Archaeology Museum. For Cleopatra's bath, you'll need to purchase another ticket worth 100 TL.
Entrance (not including Cleopatra's pool) is complimentary if you have an Aegean or Turkey Museum Pass.
One quick thing to note is that prices for entrances and museum passes are going up pretty fast in Turkey. You may want to check the latest price on the official website here before traveling.
Entrance gates to Pamukkale
There are 3 different entrances to Pamukkale – the Town Entrance also called the Walkway, the South Entrance, and the North Entrance. Have a look at the interactive map for directions to each of these entrances.
From the Town Entrance (this is where our minivan from Denizli dropped us), you can climb up the hill (filled with pools and calcite walls) to get to the top of the plateau. The climb takes between 20-30 minutes. You'll have to remove your shoes before beginning your climb. So, be sure to carry a plastic bag or something to store your shoes. There is no dedicated parking lot at this entrance but you can park in the town. Pamukkale Town Entrance opens at 8:00am.
The South Entrance is the most popular entrance for visitors. It is closer to both the ruins and the travertine pools. There is a parking lot here. Parking charge per car is 20 TL. The biggest plus of the Pamukkale South Entrance is that it opens at 6:30am.
The North Entrance is closer to the Hierapolis Necropolis which means you'll have to walk a long way to get to the thermal pools. There is a parking lot here and charges are 20 TL per car. The North Entrance opens at 8:00am and sometimes at 8:20am! Check out Pamukkale opening hours for details.
Pamukkale opening hours
When I was researching for my visit to Pamukkale, I realized that there was a lot of confusion regarding opening hours of the Pamukkale – Hierapolis heritage site. The confusion is legit because every gate has a different opening time and every season has different hours!
So, instead of writing it all down here, I decided to put this image from the Pamukkale brochure that does a good job of explaining all the different opening and closing times at Pamukkale.
Opening hours of Pamukkale – Hierapolis Heritage Site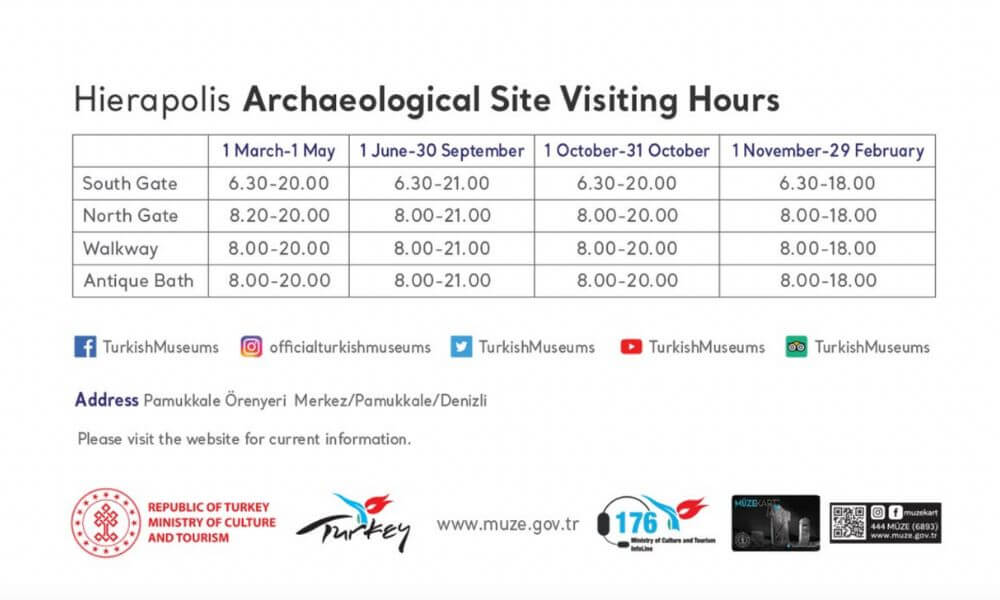 Getting to Pamukkale Turkey
The nearest airport to Pamukkale is the Denizli Cardak Airport (DNZ). If you are coming in from Istanbul, the flight to DNZ Airport is just an hour long. From the airport, you can take a taxi to your Pamukkale hotel or book an airport transfer.
You can also arrive in Denizli by bus from Izmir, Kusadasi, Antalya, or Istanbul. Buses are a cheaper option to get anywhere around Turkey. Bus rides to Denizli from Izmir, Antalya, and Kusadasi can take around 3-4 hours. From Istanbul, the ride is around 10-12 hours.
Kamil Koc is one of our favorite bus companies in Turkey and we rode them a lot during our Turkey vacation. You can book your Kamil Koc tickets here.
Getting from Denizli to Pamukkale
If you are staying in Denizli and wish to use public transport, take a minivan from the lower level (Peron 76 or Gate 76) of Denizli bus stop and ask the driver to drop you at Pamukkale. The Denizli – Pamukkale bus ride takes around 20 minutes and costs 9 TL per person. The driver will drop you at Turgut Ozal Cd which is just 10 minutes away from the Town Entrance of Pamukkale. Once you get down at Turgut Ozal Cd, take a right and keep walking on Ataturk Cd. until you see the white travertines. Have a look at the picture below to see where the minivan is going to drop you.
You can also rent a car and drive to Pamukkale from Denizli or Izmir. The drive from Denizli takes about 15 minutes. If you are coming from Izmir, Kusadasi, or Antalya, be sure to leave early in the morning so that you can reach by 9:00am and can spend a nice long day at Pamukkale. On an average, car journeys from these places can take a good 3-4 hours.
If you are not comfortable about driving in Turkey, then it is a good idea to join a full day tour to Pamukkale from any of these cities. Here are a few good choices.
Best tours of Pamukkale Turkey
Getting around Pamukkale Turkey
The best way to get around Pamukkale is by foot. On the travertines, you'll have to walk barefooted (shoes not allowed) – be careful sometimes the calcite floor can be slippery.
The ruins of Hierapolis are quite spread out. Walking is a great way to explore them because you'll be able to go closer to each and every monument and check it out in detail. However, it is true that the sun can be harsh here during the day. It literally sucks the life out of you.
If you are feeling tired, you can make use of the mini buses that run between the North Gate and the museum (not so frequently though) or hire an electric bike (one of you will have to ride it and two people can sit behind). There's a bike rental kiosk right in front of Cleopatra's pool and you'll need to bring the bike back and return it at the same point. However, the cost for the bike was preposterous. I think they asked us for something around 300 TL for an hour. We chose to walk!
There are two places where you'll need to walk uphill – the walkway through the travertines and the road to the amphitheater. Rest is all level ground.
Travel tips for visiting Pamukkale Turkey
You are not allowed to walk on the travertine terraces with your shoes/slippers on. You have to walk barefoot. So, carry a plastic bag to store your shoes when you are at the terraces. We made a mistake of not carrying any bag and had to hold our shoes all the time. It, surely, reduces your mobility.
Please do not eat or drink when walking on the travertines and please make sure that you leave no trash behind.
The best time to be on the white cliff is later in the afternoon when the crowd starts thinning and the pools are filled with water. If you stay long enough, you'll be able to catch a mesmerizing sunset too.
Early morning is not a great time to photograph Pamukkale's travertine pools. That is because the sun rises behind the cliff and the pools are mostly in shadow. Because the pools face west, sunset is always a better time for photography here.
Tour groups start coming in around 9:00am and leave at 3ish in the afternoon. They usually start exploring from the top of the plateau which means you'll always find the lower pools relatively emptier.
If you want to come in at the earliest possible hour, enter through the South Gate which opens at 6:30am. The other two open after 8.
Toilets are available at several spots in the Hierapolis archaeological area. There is one in the Antique Pool compound too.
Pamukkale Turkey travel FAQ
Is Pamukkale worth visiting?
Yes, Pamukkale in Turkey is totally worth visiting. One of the most beautiful places in Turkey, Pamukkale is home to a unique landscape of travertine terraces and petrified waterfalls, the ancient Greco-Roman spa town of Hierapolis, a majestic Roman amphitheater, and antique healing pools from the times of Cleopatra.
Can you swim in Pamukkale?
You can swim at three different places in Pamukkale. First, the clear antique pools of Cleopatra which are said to possess medicinal properties. Second, the white, calcium-rich waters of the travertine where you can soak in – the pools are shallow, so not much swimming to be done. Third, the swimming pools at Pamukkale Natural Park which are at the bottom of the hill and artificially made.
Is Pamukkale expensive?
No, Pamukkale is not expensive. Except for the entrance fees which is 200 TL (11 USD/EUR) at the moment and goes up every month, everything else including food, accommodation, and commuting is pretty much affordable.
What is Pamukkale known for?
Pamukkale is known for its unusual landscape of white limestone terraces filled with mineral-rich waters. Thousands of years of volcanic activity below the earth surface and a special mixing of water with calcium has given rise to Pamukkale's remarkable scenery.
Is Pamukkale a day trip?
Yes, Pamukkale can be done as a day trip from several destinations such as Izmir, Antalya, and Istanbul.
How should I dress for Pamukkale?
You can dress in shorts, dresses, or light pants for Pamukkale. Anything that is made of cotton or breathable material works because it is going to be super hot during the day in Pamukkale (not in winters, though). Be sure to carry your swimsuit if you plan to get into the travertine pools or Cleopatra's antique pool.
Is Pamukkale the same as Hierapolis?
No, Pamukkale is not the same as Hierapolis. Pamukkale is a white calcite hill in southwestern Turkey that is filled with thermal springs, travertine pools, and petrified cascades. Hierapolis, on the other hand, is the name of an ancient Greco-Roman city that was built as a spa town on top of the Pamukkale hill.
Loved our Pamukkale Turkey bucket list? Pin it for later!