Last Updated on June 23, 2022 by Soumya
Planning to spend 10 days in Germany and looking for the best things to do? Wondering what are the most beautiful places in Germany? Clueless how to travel between various German destinations? I get you.
And that's why we have this epic 10-day German itinerary that will help you with everything you need to know . We will not only tell you what to see and do in Germany but also give you easy ways to get to your next destination & tell you what passes to use and when to use them – all based on our own experiences of traveling multiple times in Germany and after using their extensive rail network.
Germany is one of Europe's largest countries. From the storied history of Munich to the liberal vibes of Berlin, the serenity of the Alps to the fairytale castles of Bavaria, the medieval towns of the Romantic Road to the Rococo palaces of Potsdam – there are a zillion different things to do in Germany.
Trying to see and do all with just 10 days in Germany can be overwhelming! However, with this easy-to-implement 10 day travel itinerary for Germany, planning becomes a breeze.
We begin in Munich, travel all the way through Germany's Romantic Road, spend some time soaking in WW II history in Nuremberg, and end our Germany trip in the vibrant city of Berlin – all by train and public transport.
So, what are you waiting for? Let's get started with our ultimate train itinerary for 10 days in Germany.
Best Germany itinerary for 10 days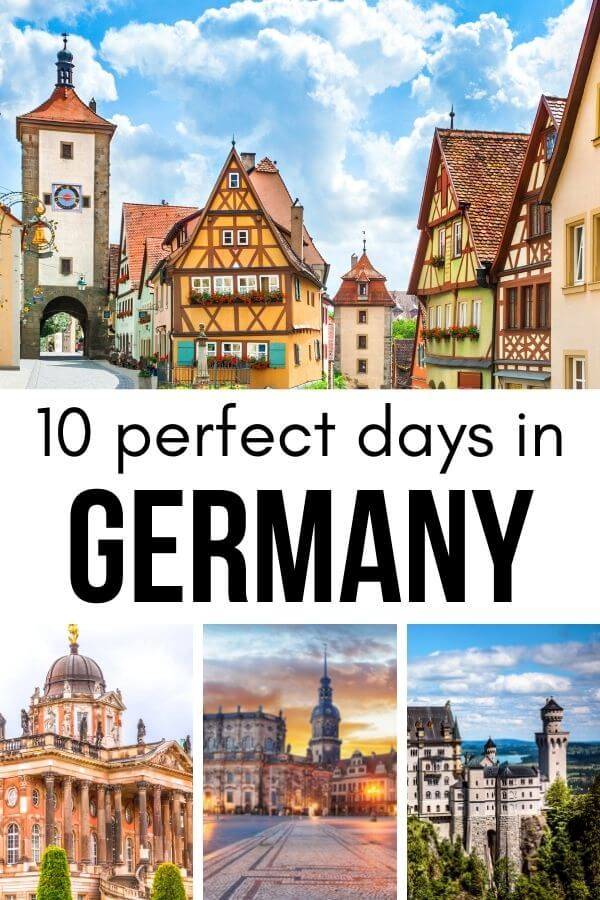 Please note: This post may contain affiliate links which means I may earn a commission if you make a purchase by clicking a link on this post. This will be at no additional cost to you. Affiliate links help me keep this website up and running. Thanks for your support!
Days 1-4 of 10 days in Germany: Munich + Day trips
Munich, the capital of Bavaria and one of Germany's largest cities, is filled with history. From being home to the glamorous royal Wittelsbach family for 700 years to being the hotbed of Nazism, Munich has seen it all.
Munich grew, prospered, and suffered pandemics, fires, & wars. It was destroyed badly during the Second World War. Needless to say, Munich has seen and experienced more history than I can even wrap my mind around.
In Munich, you can walk through a historic Marienplatz, check out stunning Munich churches, gaze at the splendor of Bavarian palaces, and take a Third Reich tour.
Not to forget, the city plays host to the uber-famous Oktoberfest every year. And don't even get me started on Munich's fairytale Christmas markets!
Munich is a also great place to do some beautiful day trips. Be it the magical Neuschwanstein Castle or the clear alpine lake of Konigsee, you will find tons of amazing places to visit around Munich.
Arriving in Munich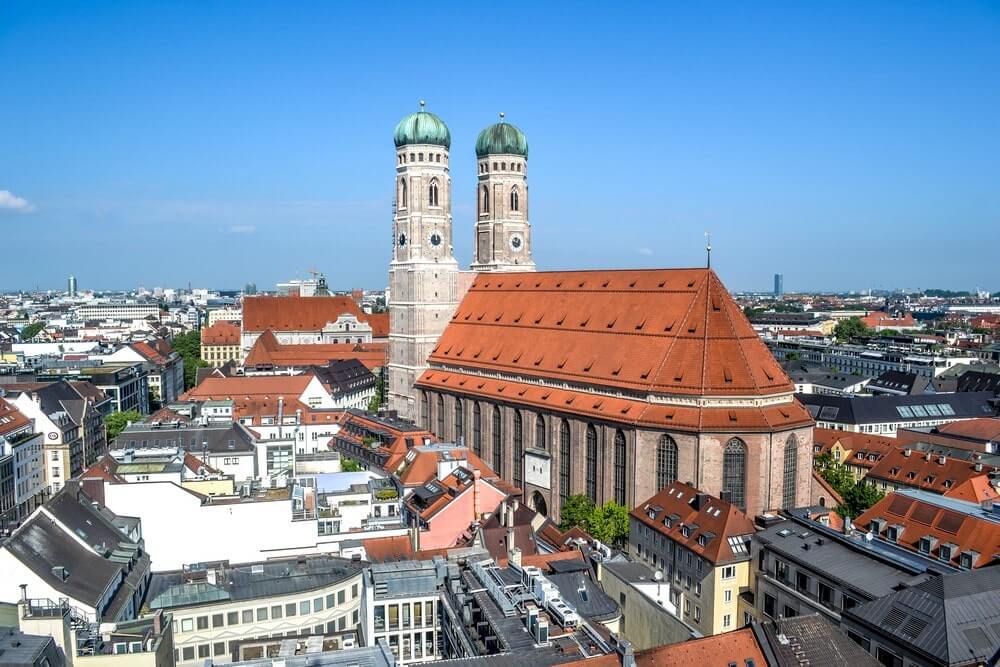 If you are flying to Munich, the closest airport is Franz Josef Strauss International Airport or Flughafen Munchen. Click here to check for a list of airlines that fly to Munich Airport.
Once you arrive at the airport, there are 3 different ways to get to Munich City Center – train, bus, and private taxi.
Trains are pretty convenient. Just hop on to an S1 or S8 S-Bahn to get to your destination. You can plan your journey here. The only issue is you will need to type in German names of places – for example Flughafen for Airport. Alternately, you can plan your trip on OMIO here.
If you like buses, there is Lufthansa Express for you. In case you are looking for a reliable taxi, try this private airport transfer with great reviews.
Days 1-2: Munich
Two days in Munich is a decent way to get started with this historical city. I am sure you will tell me that you need more but 48 hours is a good start. Here are some of the most amazing places to visit in Munich when you are here.
Explore Marienplatz and Munich Residenz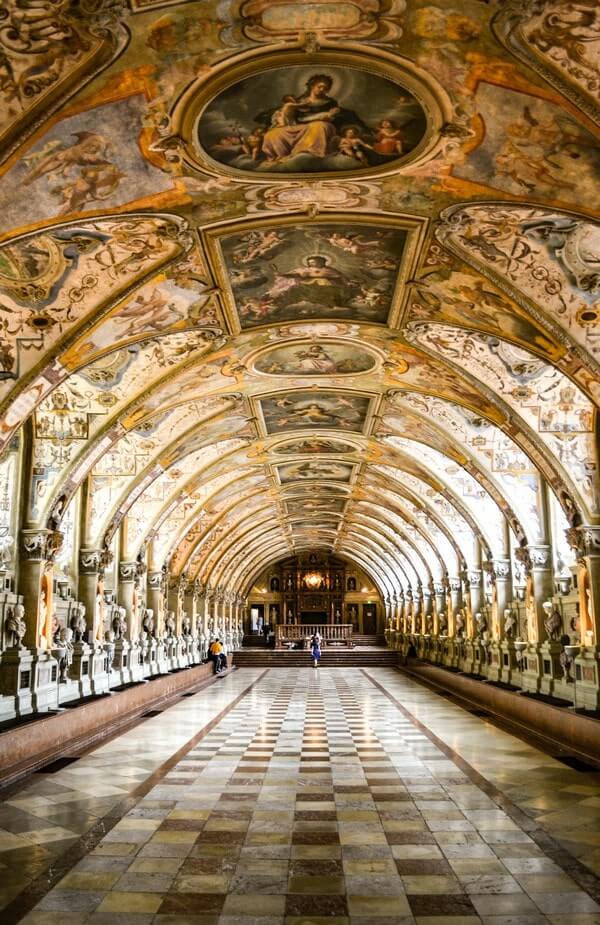 The Old Town or Altstadt is where most of Munich's history resides and Marienplatz is at the core of it. Here, you will find the Old and New Town Halls, St. Peter's Church – oldest church of Munich, and the impressive Munich Cathedral.
You can catch a free show of Munich's Glockenspiel right in front of the New Town Hall. Or stroll down the charming lanes of the historic Viktualienmarkt while sampling souvenirs.
Only 5 minutes away from Marienplatz is the stunning Munich Residenz, the official residence of the royal Wittelsbach family for more than 400 years. Be sure to catch a glimpse of the opulent Antiquarium. If you wish, you can spend the evening enjoying a classical concert at Residenz.
I suggest you also read our complete guide to Marienplatz and figure out all that what you do, see, and eat.
Spend some time at Englischer Garden
Englischer Garten is Munich's largest urban park and one of the largest in the world too. Can you believe it is bigger than the Central Park in New York?
Apart from running, jogging, playing, and picnicking in this green oasis of Munich, you can check out interesting monuments such as the Chinese Tower and the Japanese Tea House. A beautiful 19-century temple called the Monopteros provides beautiful views of the park and beyond.
Visit a beer garden
Well well! Munich and Bavaria! Synonymous with sunny beer gardens, aren't they?
You can find beer gardens literally every where in Munich. They provide the perfect place to relax, socialize, and simply enjoy the vibe. Of course, all with a mug of beer by your side.
There are 4 beer gardens right inside Englischer Garden and The Seehaus at Kleinhesseloher See is the most popular one. If you are visiting Marienplatz, do not forget to check out Hofbrauhaus Beer Hall which is just 5 minutes away. This brewery is more than 400 years old and satiates both the beer lover and history geek in you.
I am no beer sommelier, that's why I have linked to this super-awesome guide on How to beer garden by Munich Travel. Perfect for first-timers! If you are a pro, don't even bother.
Also read: 25 Most amazing things to do in Munich
Make a trip to Nymphenburg Palace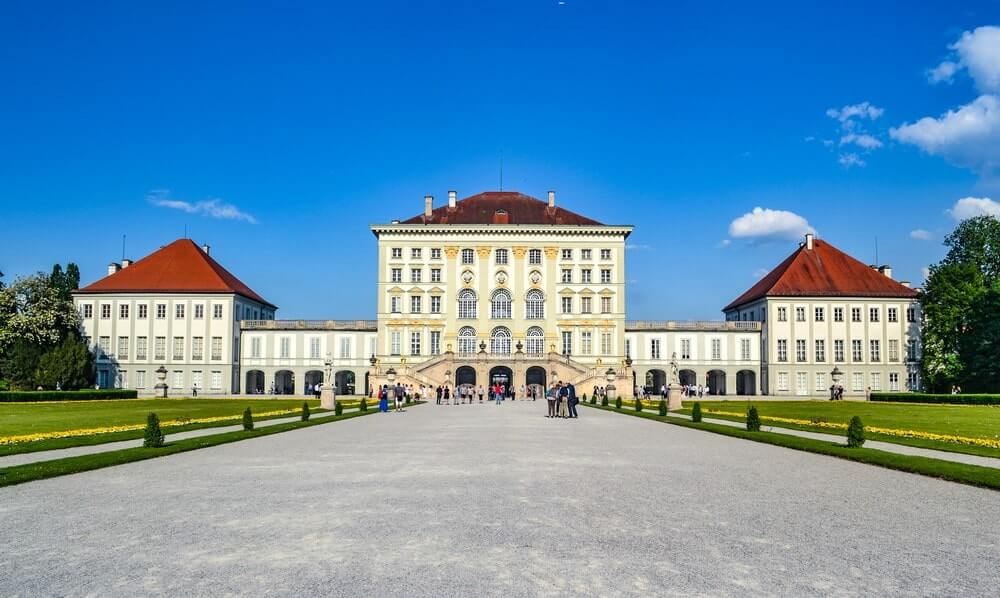 Looking to visit a Bavarian palace complete with parks, canals, and huge fountains? Make way to Nymphenburg Palace located on the western fringes of Munich city. It is easy to get to by U-Bahn/S-Bahn and makes for a great half-a-day trip from Munich.
Nymphenburg was the summer residence of the Royal Wittelsbach Family. Today, it is a wonderful deep dive into the lives of German royalty.
Be sure to check out the stunning Stone Hall – one of the grandest Rococo rooms in Bavaria and the Gallery of Beauties – a fantasy hall for King Ludwig decked with portraits of beautiful women.
Do not miss the Nymphenburg Park, walking through which will give you true regal feelings. It is huge and is home to several garden pavilions. A couple of my favorite ones are the Badenburg (a royal bathing house) and Amalienburg (a Rococo hunting lodge).
Have a look at our 2-days in Munich itinerary for details and lots more travel tips.
Explore Munich's beautiful churches
Munich is filled with stunning churches, some dating back to as early as the 12th century. You can find them in all styles – Renaissance, Baroque, Rococo, Gothic. Many of them have long, tumultuous histories.
Exploring the churches of Munich is like taking a course in German history and architecture. Only this is better because you get to experience all the beauty firsthand.
My top picks for your Munich church run would be – Frauenkirche for the Devil's Footstep, Asamkirche for beautiful frescoes, and Theatinekirche for its Mediterranean feel. Have a look at my article on 11 Beautiful churches of Munich for all details.
Tips for visiting Munich
Days 3-4: Day trips from Munich
Munich is not just a great destination in itself but also a good base for day trips in Bavaria. Some of the most popular day trip options are Neuschwanstein Castle, Eagles Nest and Lake Konigssee in Berchtesgaden, medieval town of Regensburg, and Dachau Concentration Camp.
It is super cheap and easy to do these Munich day trips if you have a Bayern Ticket. Read my detailed post on Bayern Ticket or Bavaria Ticket to find out more.
Neuschwanstein Castle & Linderhof Palace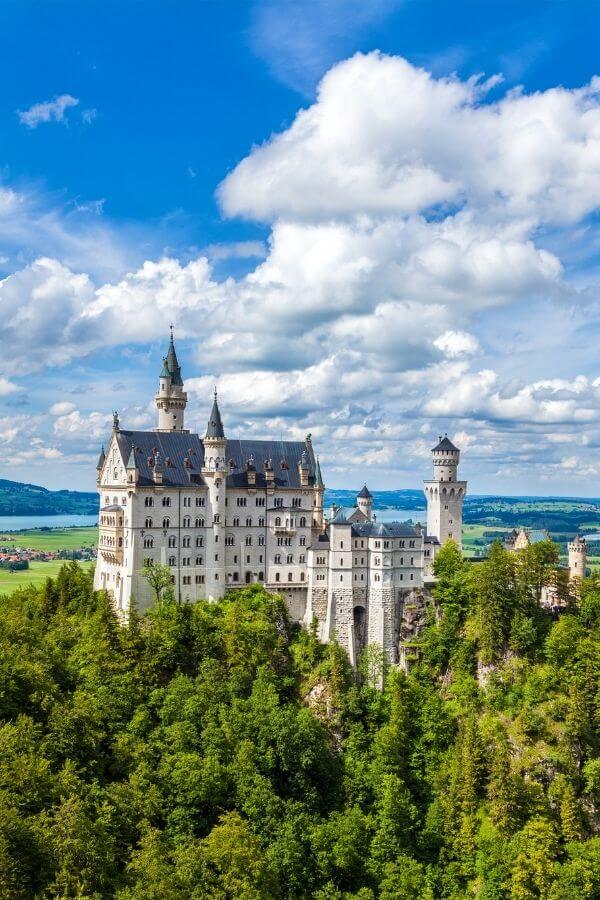 Plan a visit to the German fairytale castle of Neuschwanstein. Built in the 19th century by the shy King Ludwig II of Bavaria, Neuschwanstein is one of the most beautiful places to visit in Europe today and of course the inspiration for many new dreamy castles including the Sleeping Beauty Castle at Disney.
The location of Neuschwanstein is idyllic and the design is enchanting. Towers, turrets, and frescoes adorn this solitary castle in the Bavarian Alps.
Neuschwanstein Castle was meant to be a sanctuary for Ludwig II after he lost the war against Prussia in 1866. In other words, this was Ludwig II's fantasy land where he could be a true king even after losing his sovereignty.
To get to Neuschwanstein, you need to first get to the nearby village of Hohenschwangau. From there, you can walk, ride a carriage, or take a shuttle bus.
Remember that a visit to Neuschwanstein Castle is only possible with a guided tour. You can buy tickets to the castle on the Hohenschwangau website here. Or book yourself a highly-rated guided tour like this one. This highly-rated tour takes you on a wonderful tour of Neuschwanstein and Linderhof castles.
Add Linderhoff Palace to your day trip
You can add another fantasy palace of Ludwig II to your day – Linderhoff Palace in Ettal. By car or taxi, it takes less than an hour to get to Linderhoff from Neuschwanstein.
However, it is not very convenient to arrive here by public transport – the reason being the route crosses through Austria. The journey can take as long as 5 hours. I would not recommend Linderhoff if you do not have a car at your disposal.
Alternately, you can check out this extremely popular guided tour that covers both Neuschwanstein & Linderhoff.
Also read: 18 Most beautiful castles you need to see in Germany!
Berchtesgaden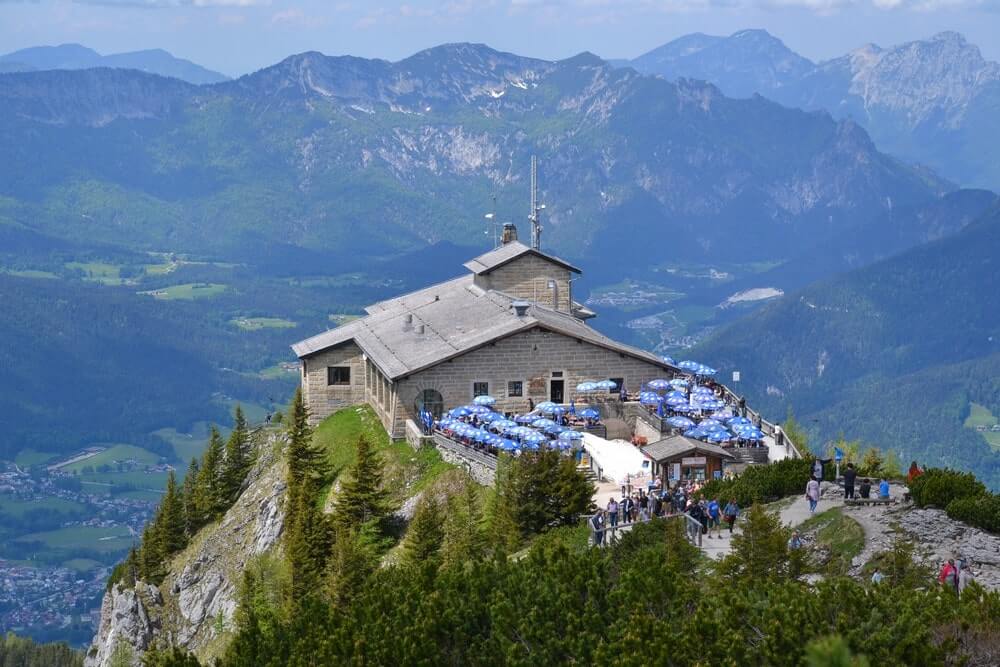 Nestled peacefully in the Bavarian Alps of southeastern Germany, Berchtesgaden is a picturesque town filled with scenic natural wonders. It is home to the stunning alpine lake of Konigssee which also boasts of a quaint Roman Catholic Church (dedicated to St. Bartholomew) on its shores.
Not very far away is the Berchtesgaden National Park which provides numerous hiking opportunities through scenic lakeside trails.
Additionally, Berchtesgaden is home to Kehlsteinhaus or Eagle's Nest, the famous or rather infamous mountain home of Adolf Hitler and a power symbol of Nazi regime. Eagle's Nest is located atop a sheer rock wall and can be reached via one of the steepest roads in Europe. The views from here are breathtaking.
There isn't much about Hitler on display at Eagle's Nest now. Instead, the place has now been converted to a beer garden and restaurant where you can enjoy some stunning views of the Alps. There are few snippets of Third Reich life too though if you wish to dig deeper, you need to check in at the Documentation Center at Obersalzberg (name of the town in the foothills).
Also read: 12 Best things to do in magical Berchtesgaden
Dachau Concentration Camp
Dachau was the first concentration camp of Nazis and went on to become the blueprint of hundreds of others. More than 200,000 Europeans were imprisoned here during the 12 years of its existence. Nearly 43,000 were murdered.
Now, there is a memorial site on the grounds of the concentration camp. It is open from 9am – 5pm daily (except 24th December) and entry is free. You can easily get to Dachau train station from Munich Hbf by S-Bahn. The journey takes only 20 minutes.
But remember, this day trip is not for the faint-hearted. If you are a family with small kids, I would recommend Konigssee/Regensburg over Dachau.
Regensburg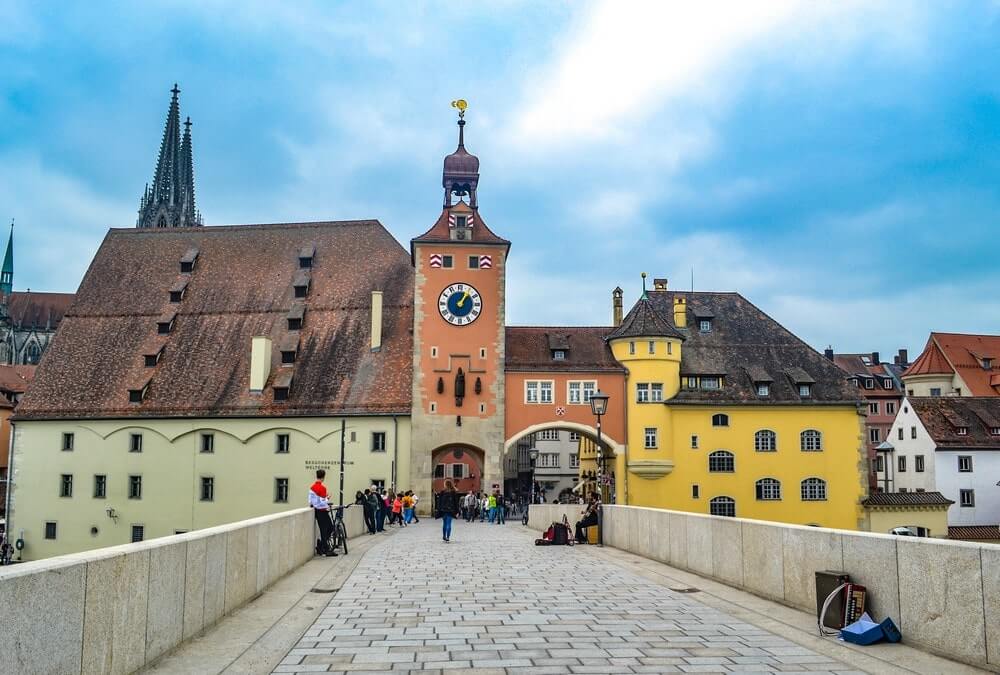 To the north of Munich (1.5 hours away) lies the medieval town of Regensburg. A UNESCO World Heritage Site, Regensburg's historical center is one of the oldest and best preserved ones in Europe.
Regensburg was the northernmost bastion of the Holy Roman Empire and is located at the confluence of 3 rivers – Danube, Naab, and Regen. It was an active trading center in the middle ages and therefore, home to rich traders and craftsmen. An old town replete with heritage buildings, churches, and mansions stands testimony to the rich and prosperous world that Regensburg once was.
If you wish to take a break from history, consider visiting the BMW factory nearby for a guided tour. So much fun watching robots produce hundreds of cars in minutes – this place is heaven for automobile-lovers.
Also read: Amazing things to do in Regensburg
Tips to plan Munich day trips
Days 5-7 of 10 days in Germany: Nuremberg + Romantic Road + Dresden
If you are visiting Germany for 10 days, you can easily make some time to venture deeper into Germany's picturesque south.
Be sure to stop at some charming towns of Germany's Romantic Road that starts from Fussen and ends in Wurzburg (or vice versa). Filled with timbered houses, rolling vineyards, and castle-studded valleys, this stretch is one of the most beautiful places in Europe.
Make a stop at Nuremberg, a quaint Bavarian town filled with Gothic churches, cobbled lanes, and half-timbered homes, which works as the perfect springboard for day trips to Romantic Road towns.
Day 5: Nuremberg
Head to Nuremberg from Munich. Nuremberg is one of the largest cities in Bavaria and historically significant because of the Nuremberg trials. But there's more to Nuremberg than just WW II as you will find out below.
Explore the majestic Nuremberg Castle
The Imperial Castle of Nuremberg was one of the most important palaces of the Holy Roman Empire. It was home to numerous Imperial Diets and was a favored visiting place for many Bavarian emperors.
Today, you can take a sneak peek at royal lives in the residential and state rooms of the castle. Highlights of the Nuremberg Castle include the double Imperial Chapel, the Deep Well, and a defensive tower called the Sinwell Tower. And of course, the beautiful castle garden. Find all practical details on the castle's website here.
Stroll through the charming street of Weissgerbergasse
Once home to several tanners, Weissgerbergasse now has largest collection of wealthy, half-timbered artisan houses. Blessed with attractive facades and balconies overflowing with flowers, these historic homes make for an amazing Instagram backdrop. Also a great place to sip on some coffee and watch the world go by.
Visit the Documentation Center
Head to the Documentation Center at the Nazi party rally grounds for a walk through one of the darkest periods in German history – the National Socialist (NS) regime.
Housed in an old, unfinished Congress hall, this museum offers deep insight into the horrors and crimes committed by the Nazi party. You can also view an exhibition that displays the Nuremberg trials that were held here after WW II.
Want to see and learn more? Take a tour of Nazi party rally grounds with a knowledgeable tour guide and listen to unbelievable stories.
Get wowed by Nuremberg's beautiful churches
Bavarian cities are filled with beautiful churches and same is the case with Nuremberg.
The city is home to St. Lorenz, a 14th-century Gothic church at Lorenzor Platz. Be sure to look out for the rose window above the arched doorway. Then, there is an impressive Roman Catholic Frauenkirche – another Gothic landmark at Nuremberg's Hauptmarkt. And a Protestant St. Sebaldus Church that dates back to the 13th century. You will be spoiled for choices.
Tips for visiting Nuremberg
Day 6: Day trip to Rothenburg ob der Tauber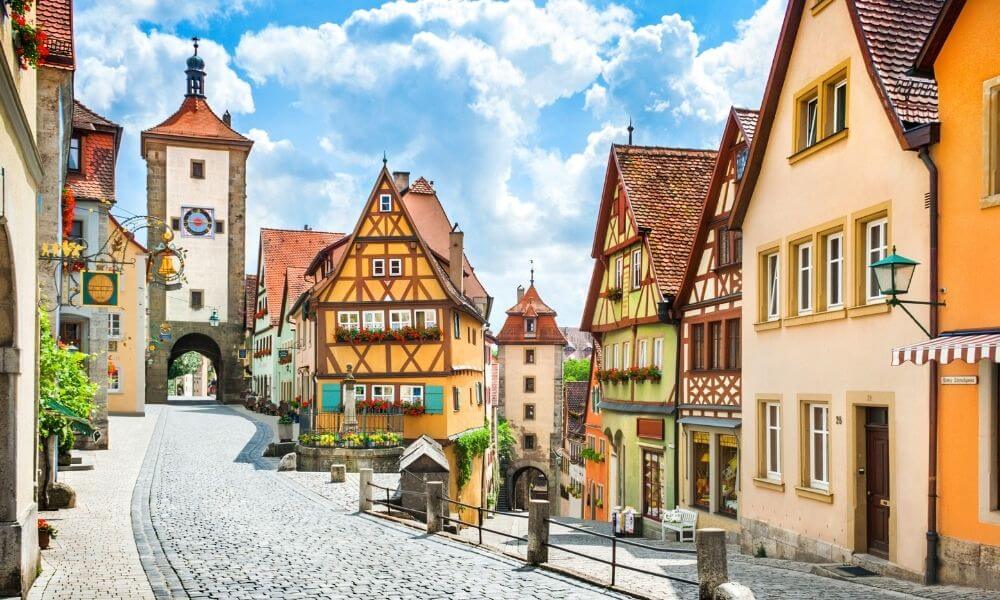 Looking for an endearing Romantic Road town with medieval town walls, cobblestone streets, and half-timbered houses? Visit the town of Rothenburg ob der Tauber.
Easily done as a day trip from Nuremberg, Rothenburg is one of the most beautiful medieval towns in Europe. It one of Germany's best preserved walled towns and is home to colorful houses and lovely squares.
Walk the medieval wall
The historic center is still surrounded by a medieval fortress wall from the 14th-century. 40 towers and several town gates are still in place.
Begin your day with a fun, self-guided walk of the ramparts and get splendid views of the old town, Rothenburg's timbered houses, and a beautiful countryside.
Click pictures of Little Square
I bet you have seen pictures of Rothenburg's Little Square (pictured above) – the famous fork road postcard that plops up every time you search for Rothenburg or Romantic Road online.
Locally known as Plönlein, the Little Square is one of Rothenburg's unmissable attractions. It is filled with wood-framed houses and has a medieval gate with a clock for the backdrop.
There are high chances that this place will be filled with people trying to click pictures and selfies. If possible , come here first thing in the morning to get some uninterrupted shots.
Check out the Medieval Crime Museum
Did you know that Rothenburg has a medieval crime museum? Only 2 minutes away from Plönlein, this historic museum has weird and horrific punishment devices on display. From humiliation masks to devices for physical torture, this museum chronicles a totally different side of dark German history.
Personally recommended by Rick Steves, the Medieval Crime Museum is one of its kind but definitely not for the fainthearted.
Visit Kathe Wohlfahrt Christmas Village
Rothenburg has a fascinating Christmas village that is open throughout the year. Kathe Wohlfahrt Christmas Village is where you will enjoy an authentic feel of German Christmas markets off-season.
Snow-covered houses, twinkling Christmas lights, and a giant white Christmas tree adorn the center of the village. This is a great place to buy traditional Christmas souvenirs such as glass ornaments, table linen, pyramids, and nutcrackers.
Tips for visiting Rothenburg ob der Tauber
Day 7: Dresden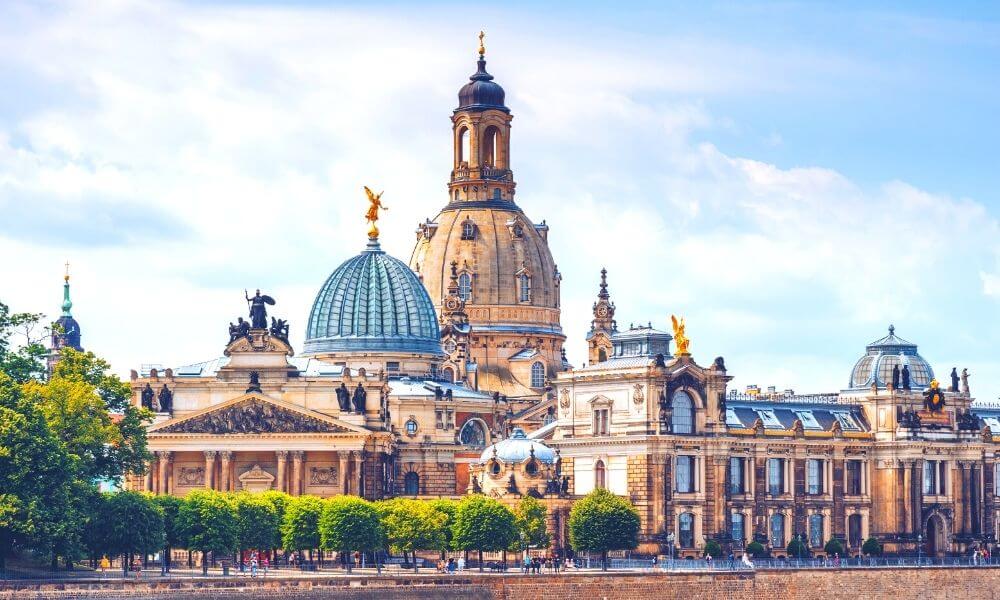 On day 7 of your 10-day Germany itinerary, head to the historic city of Dresden, capital of Saxony. Located midway between Nuremberg and Berlin, it makes for the perfect pitstop between the two illustrious cities.
Dresden is chock full of famous museums, stunning Baroque & Rococo monuments, and magnificent palaces. Did you know the Dresden is often called as Florence on the Elbe (name of river that passed through the town)?
You are definitely going to need more than 1 day to explore the city in full. But we will try and make do with 24 hours in hand.
A good way to maximize your time and see the best of Dresden is to take a historic walking tour of Dresden or a Segway tour along the Elbe and Old Town.
Discover Dresden's Old Town
A city of art and culture, Dresden Old Town has to lot to offer. Take a walk along the banks of Elbe River and discover impressive buildings in the Renaissance, Baroque, and Rococo styles.
One of Dresden's most prominent landmarks is Frauenkirche (Church of our Lady), a stunning Baroque Church that dominates the city skyline. Can you believe that this awe-inspiring church was just a pile of rubble after the Second World War?
Be sure to notice the grand New Town Hall, Dresden Castle, and Semperoper, a 19th-century opera house. Here's a highly-rated historical walking tour that shows you the best of Dresden Old Town.
Note that Dresden, owing to its location on the east German border, was bombed heavily during WW II. Yet, the city has managed to rebuild all its old buildings and restored them to their former glory.
Visit Zwinger Palace
Drop into the beautiful Zwinger Palace, often dubbed as paradise on earth, for a couple of hours to experience the riches of medieval times.
Not only is the palace a Baroque masterpiece dating back to 18th century, but is also home to some amazing museums and an elaborate armory. A couple of highlights are the Dresden Porcelain Collection, among the largest in the world, and the Semper Gallery which houses magnificent paintings from Renaissance times. Raphael's enigmatic painting of The Sistine Madonna is an unmissable attraction here.
Drop into one of Dresden's famous museums
Dresden is filled with museums of all kinds – modern & medieval art, military history, hygiene, transport – you name it.
The Green Vault is Europe's largest treasure collection, Albertinum is Dresden's collection of modern art, and Dresden Transport Museum displays all forms of transport. An interesting one is the German Hygiene Museum, a medical museum from the early 1900s.
Tips for visiting Dresden
Days 8-10 of 10 days in Germany: Berlin + Day trips
Days 8-9: Berlin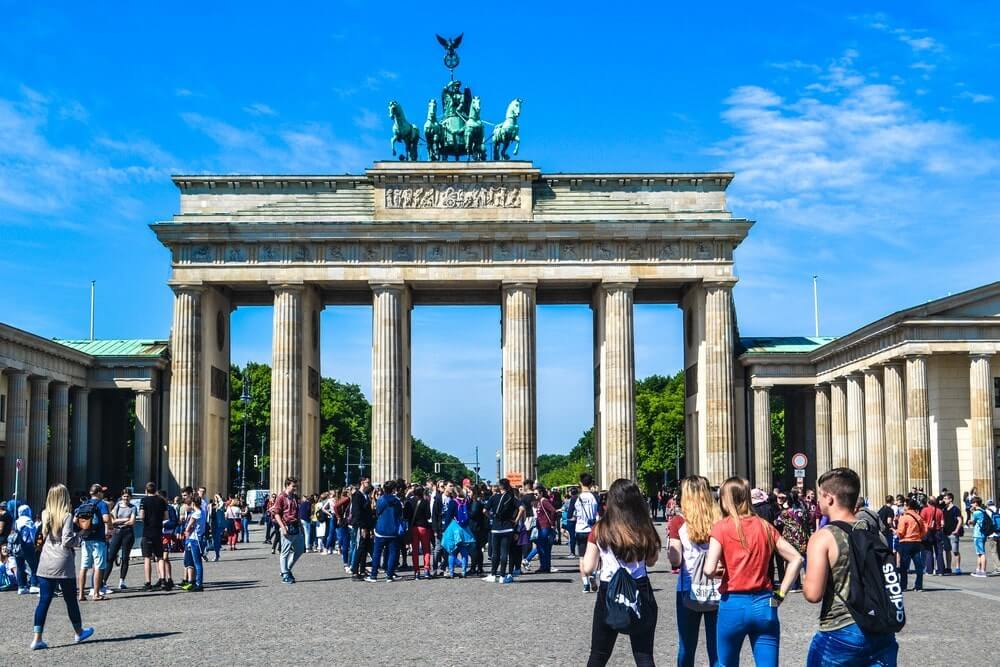 The last stop on our exciting 10 days in Germany itinerary is going to be Berlin, a city that was shaped by the horrors and destructions of World War II, yet is one of the liveliest and most vibrant cities in the world today.
From all my travels around Europe, I found Berlin to be extremely liberal and, maybe, the most welcoming too. Berlin is inspiring. If there is one place where you can break all your shackles and live the life you want, it is here, in Berlin.
Check out the impressive Brandenburg Gate
One of Berlin's most iconic landmarks is the Branderburg Gate. Locally known as the Brandenburg Tor, this iconic gate became a symbol of division of Berlin during Cold War. It stood between East and West Berlin thus, dividing the country into two halves.
When Berlin Wall fell and Germany was reunited in 1990, Brandenburg Gate became a symbol of peace and unity. People from both sides came here to celebrate the reunification.
If there is any German landmark that has seen the rise and fall of Germany and its rise to power again, it is none other than Berlin's Brandenburg Tor.
Spend some time at the Memorial to the Murdered Jews of Europe
5 minutes to the south of Brandenburg gate lies the somber Memorial to the Murdered Jews of Europe. Opened very recently in 2005, the memorial is a poignant reminder of war and the monstrousness of man.
The memorial is nothing fancy – just 2711 concrete slabs placed along multiple rows. Yet, that is what gives it a sort of sad, eerie feeling.
Right next to the memorial is Fuhrerbunker, the underground bunker where it is believed Hitler committed suicide. You can check out Berlin's underground tours here.
Visit the Berlin Wall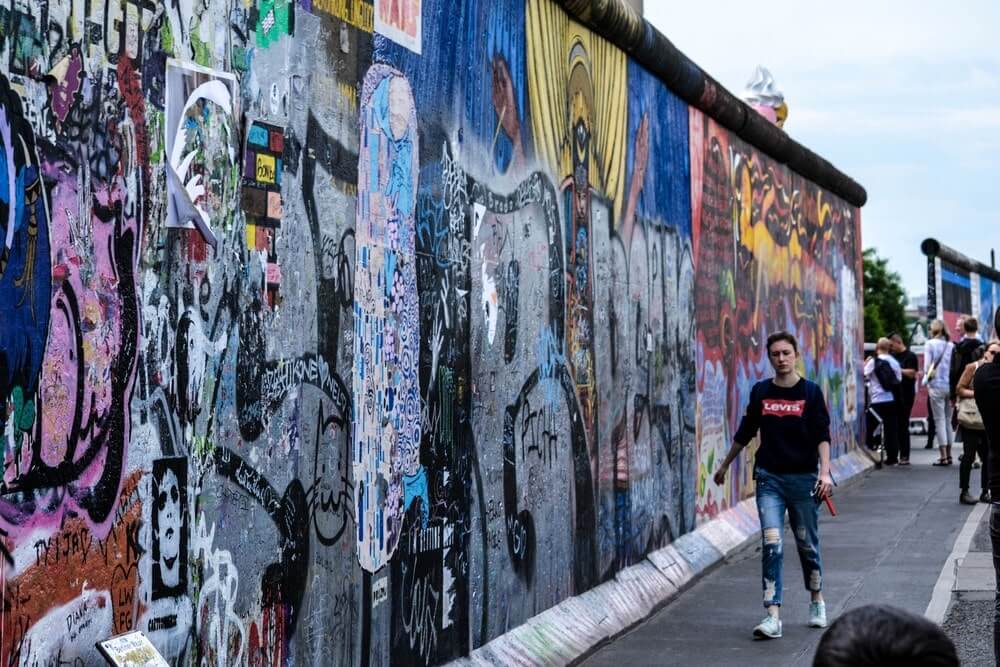 Nearby is a surviving section of Berlin Wall. Now known as the Berlin Wall Memorial, this site commemorates the division of Berlin and hundreds who died here.
Here, you will see the world's largest open-air gallery in the world. Between Ostbahnhof and Oberbaumbrücke, lies 1.3km of history and art. This is called the East Side Gallery. More than 100 paintings adorn the wall. One of the most iconic ones is The Kiss by Dmitri Vrubel.
Explore Museum Island
Moving on to a more cheerful face of Berlin, I really loved Berlin's Museum Island.
A recognized UNESCO World Heritage Site, Museum Island is an ensemble of 5 different museums located on the Spree Island in Berlin's Mitte district. These include Old Museum, New Museum, Old National Gallery, Bode Museum, and the famous Pergamon Museum. Many of them were built under the Prussian rulers in the 19th century.
A little bit about the museums
Old Museum is, obviously, the oldest one in the complex. It is home to many treasures such as Etruscan architecture, painted vases, and the famous sculpture of a "Praying Boy". New Museum has a lot of Egyptian artifacts including the well-known Bust of Nefertiti, the Great Royal Wife of an Egyptian pharaoh.
Old National Gallery looks like an ancient Greek temple and houses world-famous works of art such as The Monk by the Sea by Caspar David Friedrich. Bode Museum is located at the tip of the island and displays some really unique pieces of sculpture.
And last but not the least is Pergamon Museum which one of my favorite museums in the world. It is also Berlin's most visited museum. Pergamon has some wonderful collections including Museum of the Ancient Near East (highlight – Babylonian Ishtar Gate), Collection of Classical Antiquities (Roman Pergamon Altar) and Museum of Islamic Art (Mshatta facade from Jordan).
You need, at least, one whole day to see all the museums of Spree Island. If you are short on time, I would highly recommend spending some time at Pergamon. My second choice is Old Museum but if you are into paintings, then Old National Gallery.
Be sure to get your skip-the-line tickets for the museums beforehand.
Relax at Tiergarten
Like Munich has Englischer Garten, Berlin has Tiergarten – the perfect green space in the city where you can relax and rejuvenate.
But like everything else in Berlin, Tiergarten has its fair share of history. From being the Prussian Duke's favorite hunting ground to being a fighting zone during the Second World War, Tiergarten has seen it all.
Though I am so glad this park is full of life now. Whether you want to jog, spend some time with friends and family, or simply relax in the sun, Tiergarten is the place to be.
Discover Berlin's crazy nightlife
I am no nightlife expert but when I was doing my research, I did find out that Berlin has one of the best club scenes in the world. With innumerable pubs, bars, and events happening all year round, it is a great place for people who are looking to have a good time on their Germany trip.
Tips for visiting Berlin
Day 10: Day trip to Potsdam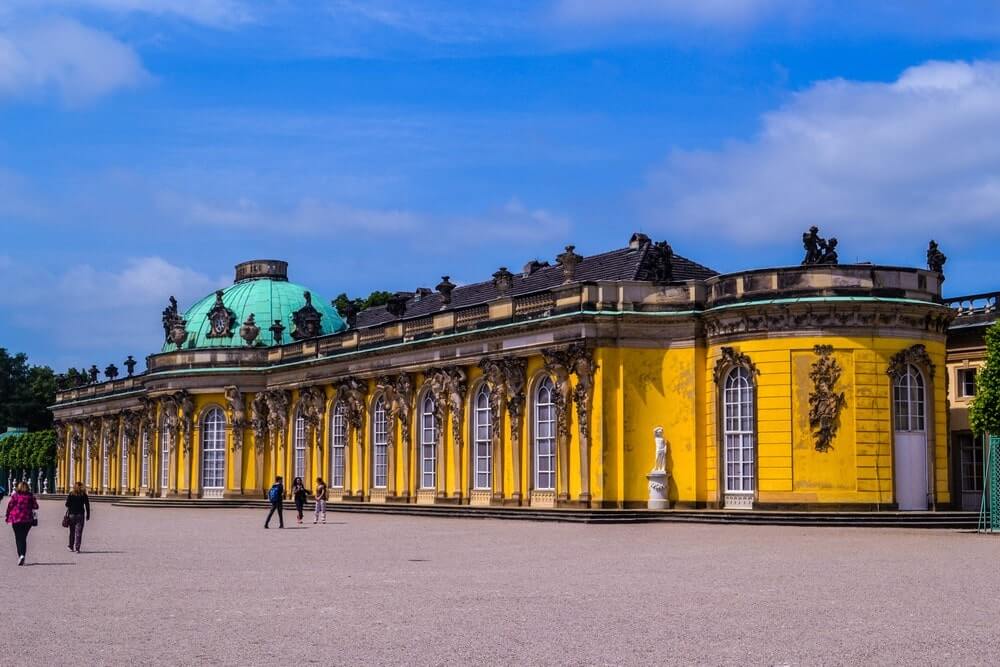 The last thing that we have on our 10-day itinerary for Germany is a day trip to the Palaces and Parks of Potsdam. Even though I have listed it at the end, I suggest you do this on Day 9 so that you have adequate time to get to the airport on Day 10.
Potsdam, less than an hour away from Berlin, is the perfect day trip destination. It is filled with stunning Rococo palaces, huge parks, an old Dutch Quarter, and so much more.
Visit Schloss Sanssouci
The first thing that you should do while visiting Potsdam is check out Sanssouci Palace. It was King Frederick the Great's summer residence and his favorite palace.
Find proof of it on the walls of Sanssouci in the art that adorns it. A new form of Rococo, a version that incorporated French, Prussian, and Dutch influences, took birth at Sanssouci. This was called Friedrichian Rococo after the King who had taken lots of time incorporating his own ideas into designing the palace.
Check out tickets for Sanssouci Palace here.
Walk through the resplendent Sanssouci Park
Schloss Sanssouci is located in the middle of a huge Sanssouci Park that is filled with its own temples and follies.
It is a terraced garden that includes several flower gardens, hedges, trees, and vineyards as well as a kitchen garden. Plus, there are marble statues, a Temple of Friendship, the Chinese House, and the Great Fountain to be gaped at. No wonder they call Sanssouci the Versailles of Prussia.
The park is free to enter and walk through.
Explore the Dutch Quarter
Here is a collection of 134, red-brick houses that were built for Dutch immigrants in the early 18th century. I had no clue that this was one of the largest living establishments of the Dutch outside of Netherlands.
Today, you will find several boutique shops, art corners, cafes, and restaurants in and around Potsdam's Dutch Quarter. You can be part of some exciting festivals depending on when you are visiting. April has the Tulip Festival, September has a Potter's Market, and Nov-Dec have the Dutch Christmas Market.
Tips for visiting Potsdam
Departing from Berlin
Berlin's international airport is called Berlin Brandenburg Airport [BER] and is located in southeast Berlin. This is Berlin's new airport which opened in 2020. If you have flown to Berlin earlier, you will remember flying in to Berlin Tegel Airport but that was closed in May 2021.
Here's a list of airlines that fly in and out of BER.
BER has 3 operational terminals at the moment – T1, T2, and T5. All of them are serviced S-Bahn trains, S9 and S45. Express buses and regional trains also ply to the airport. I love how BER has every single public transport detail written down on their website. Check it out here.
If you are looking for a private transfer to the airport, you can book one here.
Departing Berlin by train
If you have plans to travel to other cities in Europe such as those in Poland, Austria, Switzerland, France, and more, you can opt for train travel from Berlin Hauptbanhof.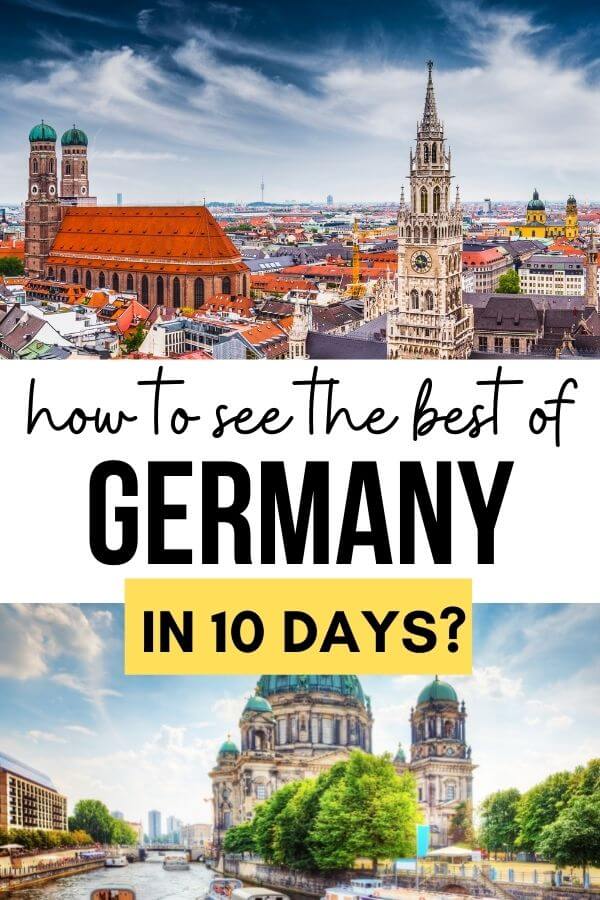 More than 10 days in Germany?
Practical information for visiting Germany in 10 days
Best time to visit Germany
The best time to visit Germany is between May – September (late spring, summer, and early autumn) because weather is pleasant and rains are scarce. This is when flowers bloom, days are longer, and Bavaria's white asparagus season kicks off.
July – September are the driest months with almost zero chances of rain. That's why summer is the ideal time to visit Neuschwanstein Castle. However, this is also the time when the country is packed with tourists, airfare and accommodation are expensive, and long queues are a norm. If you wish to avoid all that, travel in the shoulder months of April – mid June or the second half of October.
Mid September – mid October is also Oktoberfest season which implies expensive everything. If you wish to attend Oktoberfest in Germany, plan for it at least 6 months in advance.
Christmas is a great time to visit Germany because of the pretty German Christmas markets that are set up all over the country. The ones in Bavaria are especially beautiful. Munich, itself, has scores of them.
Germany's ski season in the Alps runs between December – March.
Getting around Germany
Germany has got a wonderful network of railways, metro, trams, and buses. It is simple and easy to plan your entire Germany itinerary by train without the hassle of renting cars.
Deutsche Bahn [DB] is Germany's official railway company. You can plan all your journeys on their website. Be sure to check out their Regional Day Tickets that allow you to make multiple, inexpensive, trains trips within a federal state. For example, getting a Bayern Ticket is super helpful in Bavaria.
I always get a Bayern Ticket when traveling in Bavaria. It is a regional day ticket for unlimited travel within the state and is valid on all public transport. The best part is a Bayern Ticket costs EUR 25 for one passenger and only EUR 8 more for every additional passenger up to 5 people. It is a real money-saver if you are planning to travel between towns and if you have a big group. Click here to find out how you can save hundreds of dollars with your Bayern Ticket.
Almost every big city has its own (and very effective) network of public transport. They usually have attractive day tickets which can save you a ton of money when traveling within the city and suburbs. I have linked to all of them under the respective cities.
Germany travel essentials
All information was correct at the time of publishing. However, things can and do change without notice. Please confirm directly with respective service providers.
Loved our 10 days in Germany itinerary? Pin it for later!