Last Updated on April 30, 2022 by Soumya
Tarquinia was never on our initial itinerary for Italy. It was only when we lost our passports in Venice and came back to Rome to get our work visas done that we did some really unexpected day trips from Rome. One of them was to the mysterious Etruscan tombs of Tarquinia.
I had not heard of the Etruscans before my visit to the Louvre in Paris (on the same trip). That is where I had been smitten by those reclining Etruscan sarcophagi. Even then, I had no clear idea where the Etruscans belonged. Italy had always been about Romans until then. Who, then, were the Etruscans? I was eager to find out.
So, we took a day trip to the mysterious Etruscan tombs of Tarquinia.
Equipped with my comfortable walking shoes and a bottle of water, must-haves on your Italy packing list, I set out to explore Tarquinia a small town in Lazio, Italy with medieval towers and a charming town center. Tarquinia's claim to fame is its Etruscan Necropolis (cemetery), a UNESCO World Heritage Site.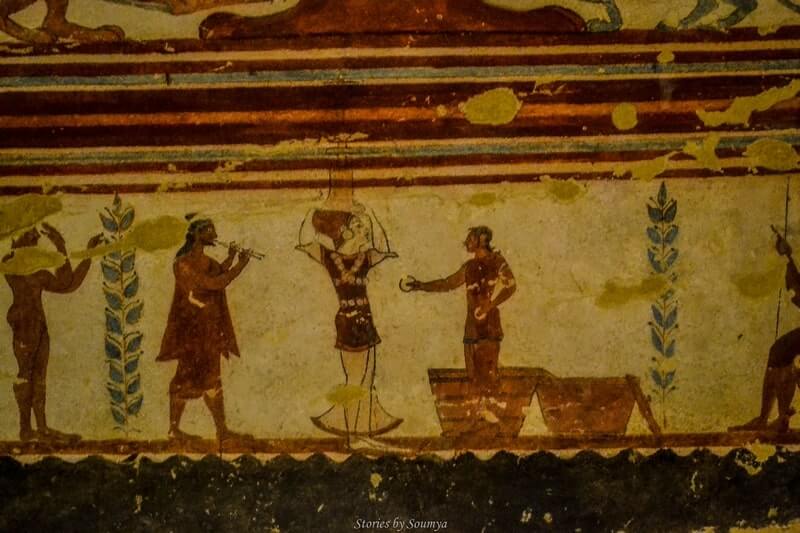 Let's begin with a small introduction on the Etruscans.
The Etruscans were a civilization that flourished in central-western Italy, between Tuscany and Lazio, from the 8th to the 3rd century BC. They predate the Romans and were an advanced civilization especially in the context of art and literature. However, we know very little of them. The Etruscan empire was finally assimilated into the Roman empire after the Roman-Etruscan wars.
Romans adopted and adapted a lot of things from the Etruscans including the Tuscan column, the victory parade which later became the Roman Triumph, and the Etruscan robe which finally became the Roman Toga. Interesting, isn't it?
Etruscans developed their own script that remains partially understood to date. However, the greatest contribution by Etruscans to the world of architecture and art is their burial tomb with a vibrant depiction of Etruscan art on the walls. The necropolises, a collection of these tombs, have drawn history and art lovers from far and near.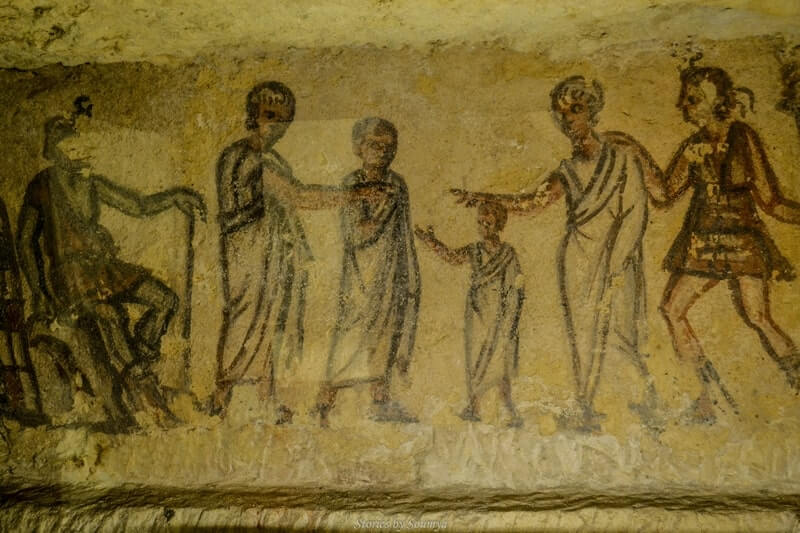 The Etruscan Tombs in Tarquinia
The necropolis of Tarquinia, also known as Monterozzi, is a collection of ancient Etruscan tombs. At first sight, you may not realize what lies here. Monterozzi looks like a barren land with low mounds scattered all over it. It is only after you start visiting the tombs underneath that you realize the importance of these tombs in a bygone era.
The tombs are intriguing because they lie deep under the earth and you need to climb down to visit the burial chambers. I wonder how they carried dead bodies down those claustrophobic passages. Only the mound is visible on top. It is almost like burying your ancestors in secret.
The frescoes
Monterozzi has about 6000 Etruscan tombs, 200 of which are adorned with beautiful frescoes. These frescoes depict daily life in those times including those of dancers, athletes, jugglers, fishermen, and hunters. Mythological scenes have also been painted. Like many other civilizations, the Etruscans also wanted their dead to have normal lives after death, surrounded by the most common daily scenes.
Interested in frescoes? Learn more about the frescoes of Tipu Sultan's summer palace in Mysore India.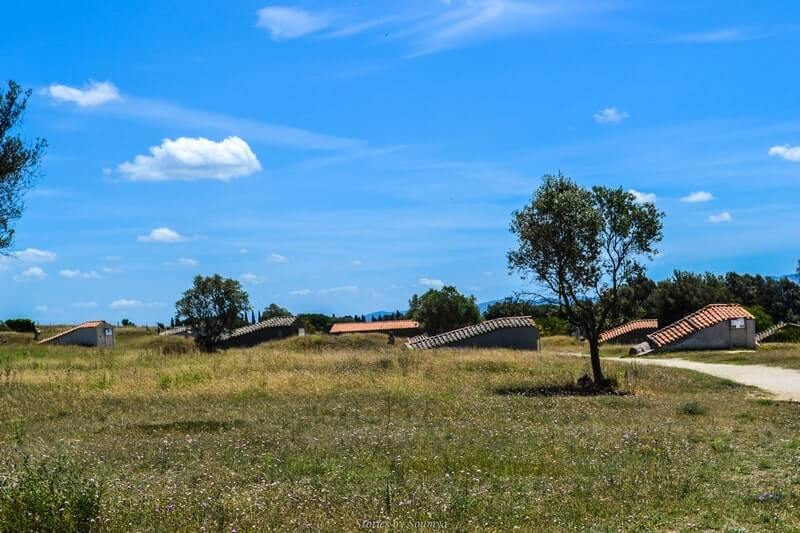 The sarcophagi
The sarcophagi were always carved with an image of the deceased person. The earliest ones did not have a reclining image, however. It was only in the later stages that the deceased was shown to be reclining and, sometimes, holding a scroll with his/her ancestry listed in it. You will not find the sarcophagi in the tombs anymore. You can see them at the museum at Tarquinia or at various other museums spread over the globe.
Some of the notable tombs
Very few of these 6000 tombs are actually open to the public. And the frescoes in a lot of them have peeled off. A few notable ones are listed below.
Tomb of Leopards/Lionesses: This is one of the most popular ones because it has some of the best-preserved frescoes. It is called so because of two leopards that were painted over a banquet scene.
Tomb of Hunting and Fishing: This tomb has an antechamber which opens up to the main chamber. On the walls are frescoes depicting hunting scenes, banquets, seascapes, and fishermen.
Tomb of the Triclinium: The tomb is so named because of the triclinium or the dining room that appears in the chamber's frescoes.
You can read about a few other tombs on the Wikipedia page here. The tombs bear unique testimony of life and art in the pre-Roman era. You can access them through inclined corridors or stairways.
Visitors are not allowed inside the burial chambers. You can only watch from behind a glass door. This is to address humidity issues that were causing deterioration of the paintings.
Tarquinia National Museum
After finishing your trip of the necropolis, you can spend a few hours at the Tarquinia National Museum which houses mainly Etruscan artifacts. The museum is located within the charming Palace of Vitelleschi which has had many owners since the 15th century.
The palace has three floors. You will find many of the original sarcophagi, restored frescoes from the tombs, and other Etruscan reliefs. The museum also provides much-needed relief from the heat outside, especially in summer.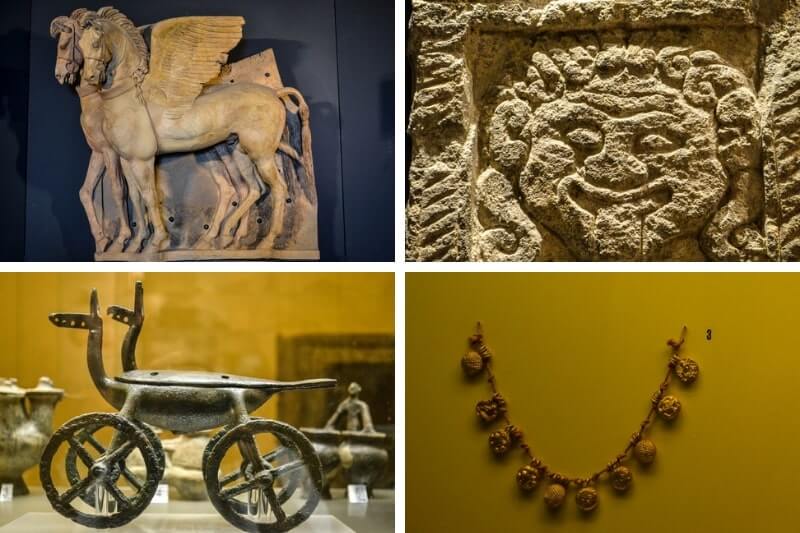 Opening hours
The Necropolis of Monterozzi is open from Tuesday to Sunday 8:30 am – 7:30 pm (summer) and 8:30 am – one hour before sunset (winter).
The museum is open from Tuesday – Sunday 8:30 am – 7:30 pm throughout the year.
Ticket offices always close one hour before the closing time.
Both are closed on Mondays, 1st January, and 25th December.
Please check for latest updates at the official site,Necropolis of Tarquinia before making plans.
Tickets
Full price ticket for either the Museum or the Necropolis – Euro 6; Reduced price – Euro 3 (See here for reduced price eligibility)
Combined ticket for both sites – Euro 8, Reduced price – Euro 4
Free admission is reserved
On the 1st Sunday of every month.
For kids under the age of 18.
For EU citizens with disabilities and their helpers.
Find more details on tickets and their variations here.
How to get to Tarquinia?
You can either drive to Tarquinia or do a combination of train and bus. A car drive should take you around 1.5 hours. We took public transport and it seemed pretty convenient. At Roma Termini, get into a train bound for Pisa Centrale and get off at Tarquinia after a 1-hour ride. From here you can take a free shuttle bus to the Necropolis and back. These buses leave every 20-30 minutes.
After enjoying our tour of the Etruscan tombs, we walked through the cobbled lanes of Tarquinia, had lunch at a rustic Italian kitchen, and went into the Tarquinia National Museum to experience some more of Etruscan history. It was terribly hot at the beginning of June. Always advisable to carry water and a hat.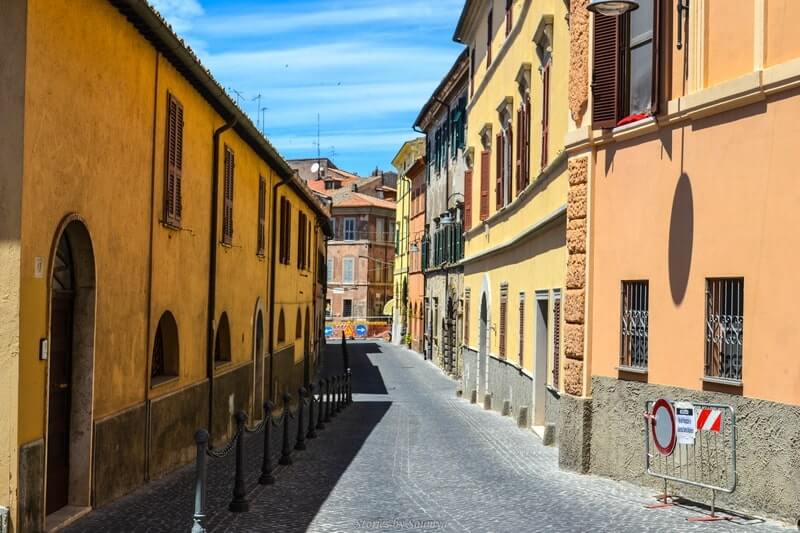 It is interesting to imagine what would have happened if the Romans had not won that war. How would have the ancient Etruscan empire panned out? Would it have had such a profound effect on the history of the world? I will leave you to ponder on those questions and encourage you to let your imaginations run wild. Let's breathe some life into this long-lost, underappreciated civilization.
Read more of our travels in Italy:
Must-do things in Rome
A complete travel guide to visiting the Colosseum in Rome
Spending a day in Ragusa, Sicily
And while you are doing that, don't forget to follow us on Facebook and Twitter to get regular updates on intriguing travel destinations from across the world. Any shares, likes, comments will be appreciated.
Pin It For Later!