Last Updated on April 7, 2023 by Soumya
Planning a trip to Berchtesgaden Germany? You have probably heard of the infamous Eagles Nest and a picturesque alpine lake called Konigsee but are you keen to find out if there are other interesting things to do in Berchtesgaden?
We have just the perfect Berchtesgaden travel guide for you – packed with not just the best things to see in Berchtesgaden but also lots of tips on how to get to places and where to stay.
Berchtesgaden is a picturesque Bavarian town located in the Alps, very close to the Austrian border. It was always a favored mountainous retreat among the Bavarian royalty but achieved sudden fame when Adolf Hitler chose the town for his summer home in early 1930s.
Thus began, what I would like to call, Berchtesgaden's tryst with history – its rise and fall from power. What was once a mountain resort turned into an important headquarter for the Nazi regime. Later, it was severely bombed in 1945.
Today, Berchtesgaden is an important stop on every history addict's German itinerary. However, there are several other amazing things to do in Berchtesgaden that are not just WW II such as taking a salt mine tour, exploring crystal clear alpine lakes, and checking out some beautiful Bavarian palaces and museums.
Please note: This post may contain affiliate links which means I may earn a commission if you make a purchase by clicking a link on this post. This will be at no additional cost to you. Affiliate links help me keep this website up and running. Thanks for your support!
Planning your Berchtesgaden trip last minute?
If you are booking your trip to Berchtesgaden, Germany last minute, don't worry. We have you covered. Here are some of the best tours and hotels in the area.
Top Experiences and Tours in Berchtesgaden
Top Hotels in Berchtesgaden
12 Best things to do in Berchtesgaden
In case you are wondering what to do in Berchtesgaden, be sure to read this Ultimate Berchtesgaden Travel Guide.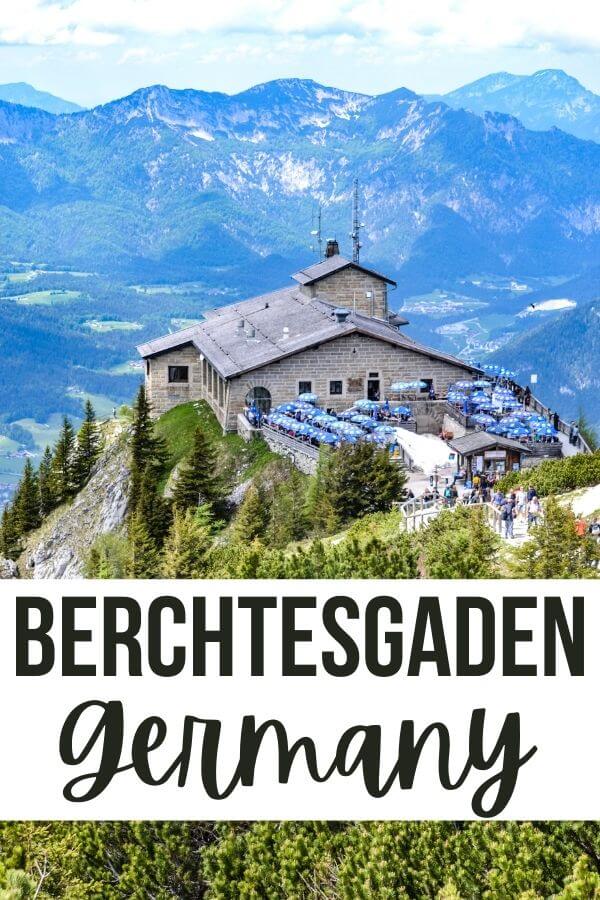 Visit Eagles Nest
As someone who loves history, my first stop in Berchtesgaden was the Eagles Nest. A small chalet perched atop a steep 6000-feet mountain, Eagles Nest (Kehlsteinhaus in German) was a gift to Adolf Hitler on his 50th birthday gift by fawning members of the Nazi coterie.
The cottage has now been converted into a restaurant where you can sit back, relax, and enjoy stunning views of the Alps with a mug of beer in hand. If you walk a little further, you will get gorgeous views of fjords below. Be sure to stop by and enjoy the soothing music emanating from the accordion of the local guy dressed in lederhosen.
Even though there isn't much to see at the chalet now, its unique location, the long and cold tunnel, a golden elevator, and the precarious road that leads up to it are all feats of German engineering. To stand in the very space where such horrendous decisions were made not very long ago is a bone-chilling experience!
You are not allowed to drive all the way up to Eagles Nest because the roads are quite unpredictable. Pay and board one of the special shuttle buses from the parking, walk through the tunnel and ride up the elevator to get to Kehlsteinhaus.
It is quite easy to plan a DIY tour of Eagles Nest by public transport. Read my complete guide to visiting Eagles Nest without a tour to find the details.
If you are looking for a guided tours, here are some great ones.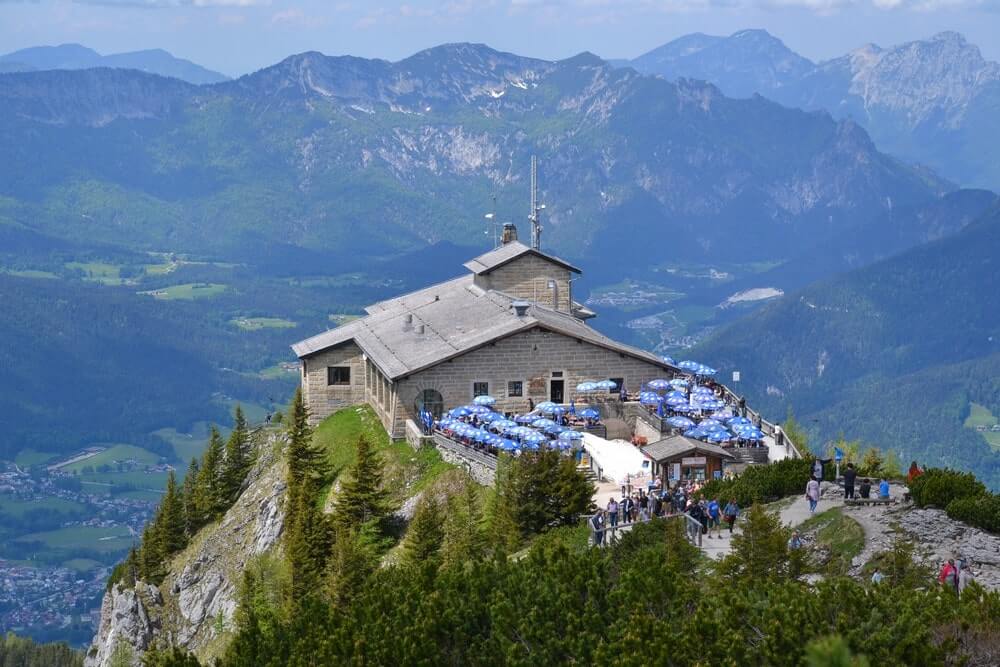 Dig into more WW II history at Obersalzburg which is next up on our list of best things to do in Berchtesgaden.
Dig into WW II history at Obersalzburg Museum
Even though there isn't much history on display at the Eagles Nest, there's lot to be seen and learned at the Obersalzburg Museum.
There is an amazing display of Nazi regime – manuscripts, photo albums, diaries, and other intriguing remnants from a period that turned the direction of German history.
The museum has multiple floors as well as leads to an extensive bunker system – a dark world of underground meeting rooms, apartments, and caverns. You can similar underground galleries in Berlin.
It gives me the shivers to think that bunkers were as essential a component of the Nazi regime as were the concentration camps. Only these were used by the bosses and the CCs were for prisoners.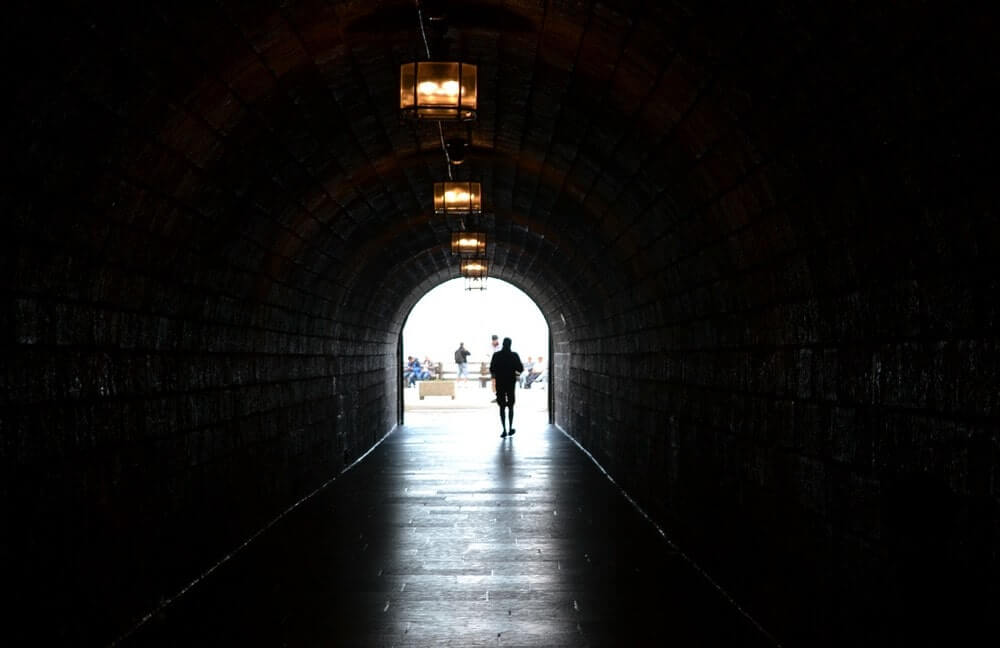 Check out the ruins of Hitler's Berghof
Not very far away are the ruins of Berghof, Hitler's summer residence for more than 10 years. Apparently Hitler spent more time at the Berghof than in Berlin making this an important decision-making center for the Third Reich.
Nothing much remains now – only some paths and walls. Most of it was bombed in 1945 and the remaining was destroyed later by the Bavarian Government. Yet, this remains a crucial stop for anyone who wishes to learn more about WW II history.
Take a scenic boat ride on Konigsee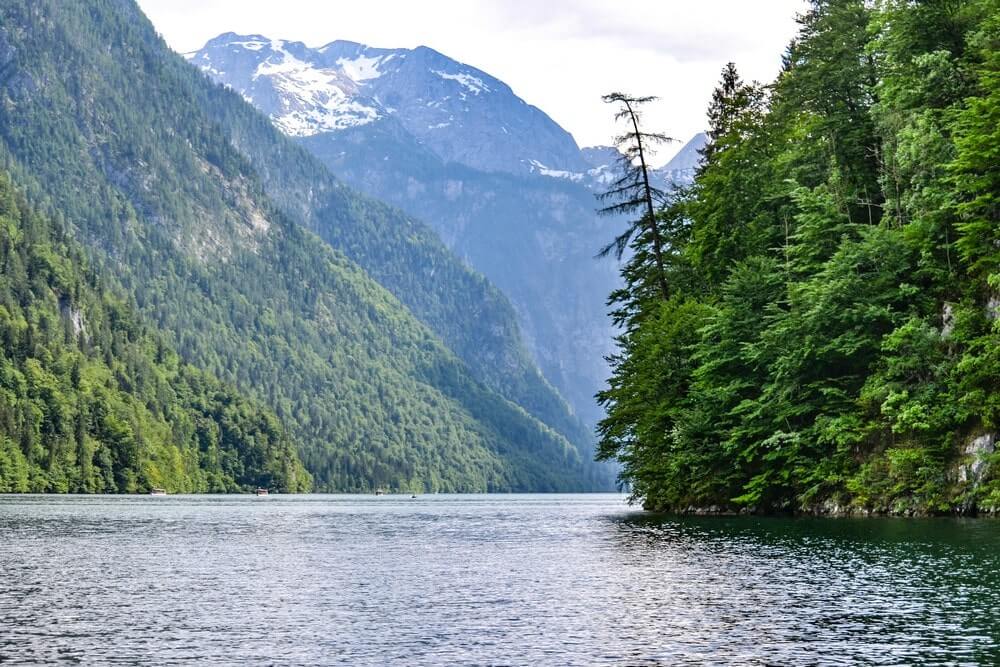 Only a few minutes away from Berchtesgaden, very close to the Austrian border, lies the beautiful alpine Lake Königssee (commonly spelled as Konigsee in the internet lingo).
Nestled deep within Berchtesgaden National Park, Konigsee is one of Germany's deepest and cleanest lakes. You can take an electric boat ride to traverse the clear waters. The ride is slow and peaceful giving you ample time to enjoy nature's bounty. The only time you will be jolted out of your reverie is when the oarsman starts playing his harmonica and you can hear echoes all around due to the presence of sheer cliff walls. It is a truly magical experience.
The ferry stops at two places – the picturesque church of St. Bartholomew and Salet which has gorgeous views of the Alps. I highly recommend getting off at both the stops. From Salet you can walk to Obersee Lake which is the clear, reflective lake that you may have seen in pictures. Come here in the morning for some gorgeous pictures.
Check here for ferry timetable and prices.
Also read: 10 Most beautiful places to visit in Bavaria
Drop by the beautiful St. Bartholomew's Church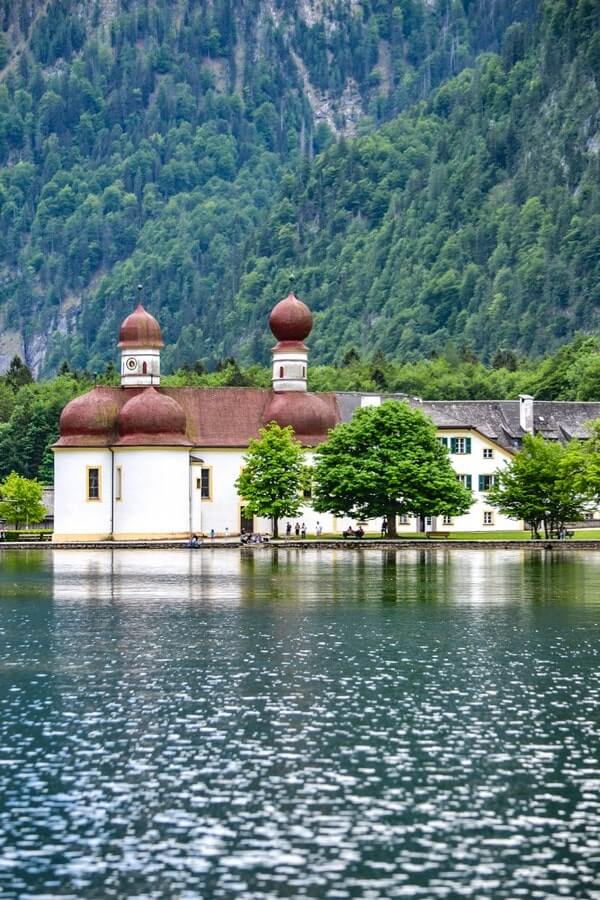 I could not help myself when I saw the charming church of St. Bartholomew and got off the ferry to explore more.
A Roman Catholic pilgrimage church, St. Bartholomew's is located on the western shores of Lake Konigsee and can only be reached by the ferry. The red onion domes of the church stand in stark contrast against the blue and green vegetation of the alpine mountains making it one of the most memorable sceneries of your Germany itinerary.
The church's interior is relatively plain when compared to its location. Right next to it is a restaurant and beer garden (formerly a hunting lodge) that serves amazing local delicacies including fresh trout and char. There's also a small play area nearby perfect for families with small kids.
Enjoy fresh fish and beer by the lake
The best place to enjoy a good meal and a mug of beer is of course at the restaurant by the Church of St. Bartholomew. The location of the restaurant in the middle of tall alpine mountains and the crystal clear waters of Lake Konigsee makes the experience absolutely memorable.
There are several other good places to have authentic German/Austrian food at the ferry boarding point. Sunny beer gardens line the lake.
Go hiking in Berchtesgaden National Park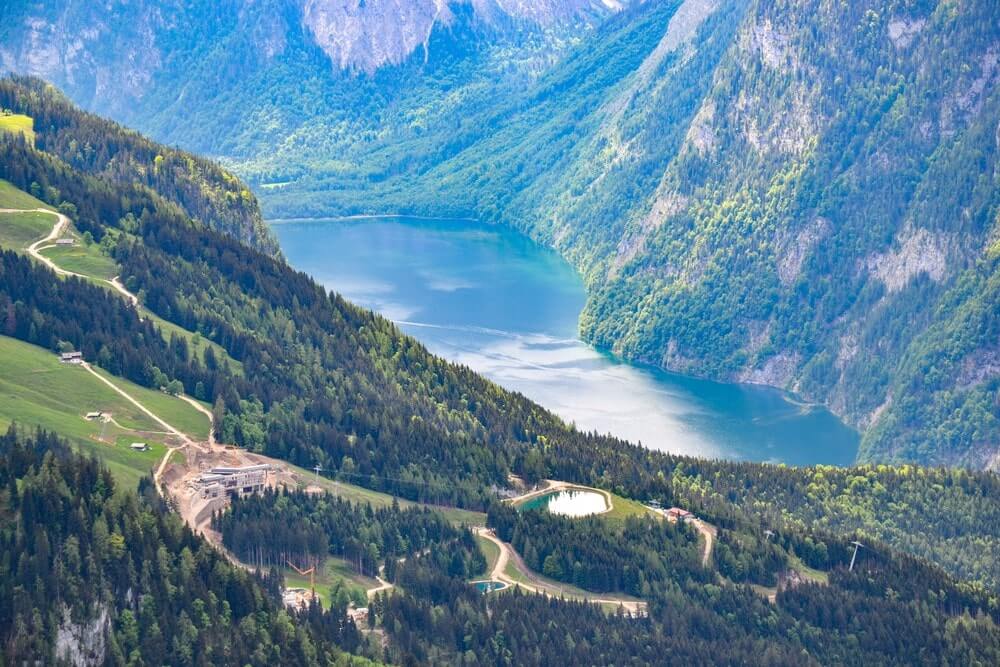 Berchtesgaden National Park, with its stunning mountainous landscapes, deep valleys, and gurgling streams, is every hiker's paradise.
I am no hiker but I am aware that the park has more than 260km of walking paths and mountain trails. From easy walks to challenging mountain hikes, Berchtesgaden has something for everyone.
Check out the official website for details on hiking trails, accessibility, and suggestions.
Ride the Obersalzbergbahn – Berchtesgaden's oldest cable car
Imagine floating above the surreal landscape of Berchtesgaden and getting a bird's eye view of the scenic landscape! Magical, right?
You can do that by riding the Obersalzbergbahn – Berchtesgaden's historic cable car built in 1949. It connects the valley with the mountains, opens up numerous hiking trails, and serves as a connection to Jennerbahn Cable Car.
Walk through Old Town of Berchtesgaden
Berchtesgaden is typically used as a base for exploring the famous Eagles Nest and beautiful Lake Konigsee. However, what people often miss out is the stunning old town of Berchtesgaden and walking through its quaint narrow alleys.
The small town has a historic town center complete with beautiful Rococo buildings. That includes town halls, a church, as well as a royal palace. There are cozy cafes and quintessential German shops to drop into.
Berchtesgaden's old town gives you a feel of authentic Bavaria, but this time in the middle of the lush environs of the Alps. Set against the towering Mt. Watzmann, this small alpine town makes for an idyllic getaway. No doubt, Berchtesgaden served as a perfect holiday destination for kings and queens for hundreds of years.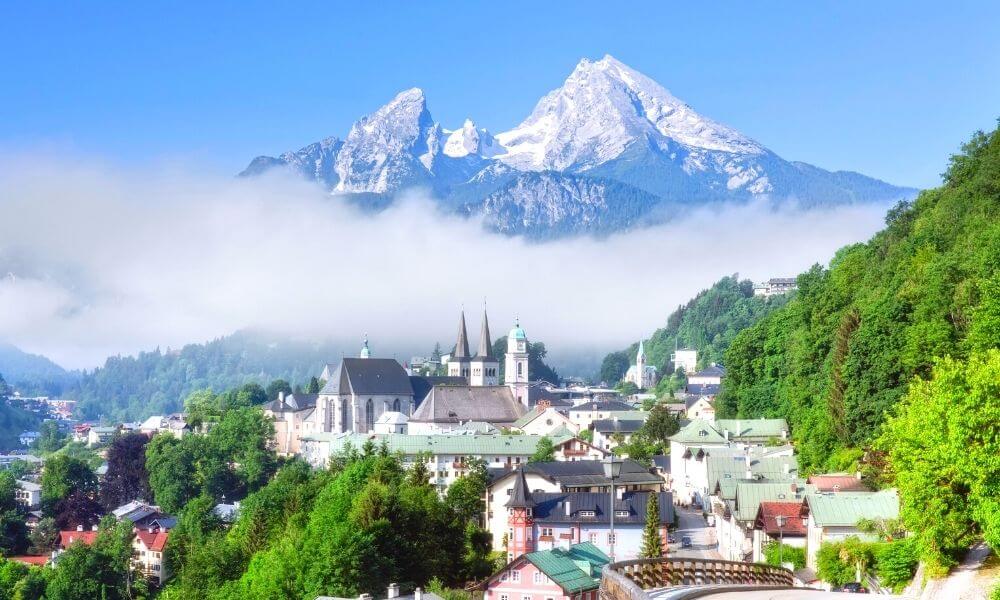 Step into Schloss Berchtesgaden
Who knew there would be such a beautiful palace in this remote little town! But there is. And it is gorgeous.
Once a monastery owned by Augustinian Canons and later lived in by the Bavarian Royal Family, the Berchtesgaden Royal Castle or parts of it have been around since early 11th century.
The palace has been rebuilt and renovated several times which makes it a treasure house of all kinds of architectural styles from Romanesque to Gothic, Baroque, and Rococo. You will also see exquisite furniture and delicate porcelain on display. Do not miss panoramic views of the valley from the Upper Rose Garden.
Entry into the palace is only possible with a guided tour. You can check for opening hours and tickets on the official website here. I am quite intrigued by their evening tours by candlelight and would love to do that the next time I am there.
Also read: 18 Stunning castles and palaces to visit in Germany
Do a salt mine tour
One of Germany's oldest active salt mines, Salzbergwerk Berchtesgaden is where you can see and learn all about the process of salt mining.
On a salt mine tour, you will ride a miner's train, use the slides that miners once used, and enjoy a boat trip across an underground salt lake. An enjoyable activity for both adults and kids, this is definitely a fun thing to do in Berchtesgaden.
You can combine a tour of the mine with a visit to Old Salt Works, one of the most beautiful salt plants in the world. Commissioned under King Ludwig I of Bavaria in 1837, Old Salt Works is a heritage monument. It has an extensive labyrinth of tunnels and grottos underground.
You can buy a combined ticket for both places here.
Appreciate local crafts at Schloss Adelsheim
Did you know that Berchtesgaden has a local heritage museum too? It is a small museum stacked with handicrafts, wooden and bone carvings, colorful wooden toys and boxes, and traditional clothing items. If you would like to pick up an authentic Berchtesgaden souvenir, make sure to look into the museum's gift shop.
Schloss Adelsheim is just 15-minutes walking distance away from the salt mines. This is a great place to explore if you have some time between your salt mine tours.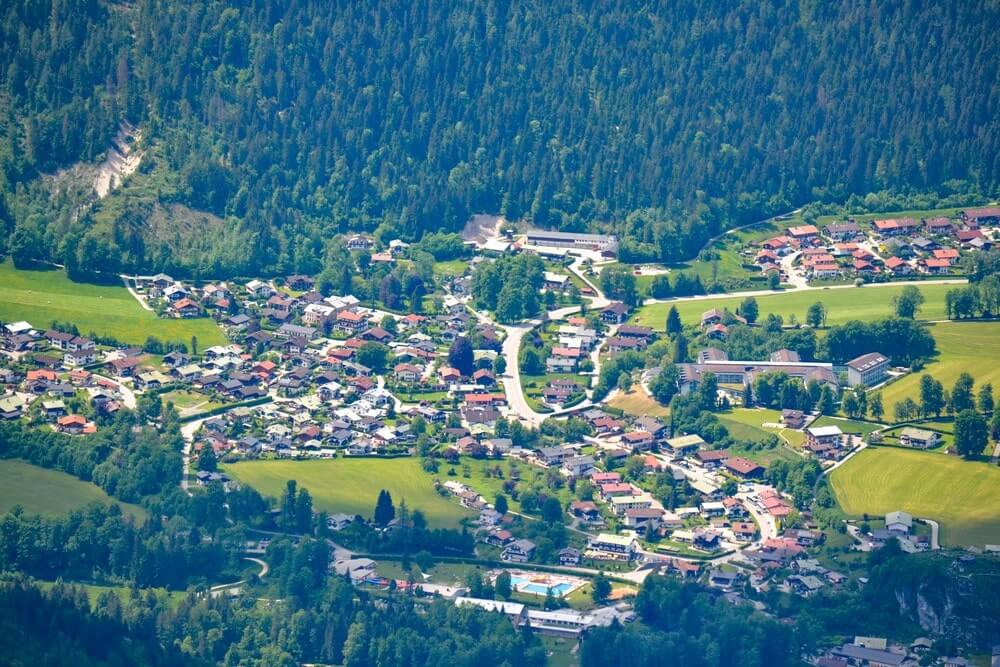 Practical information for visiting Berchtesgaden
Best time to visit Berchtesgaden
The best time to visit Berchtesgaden is undoubtedly in the spring and summer when temperatures are at an all-time high and weather is amazing. It is the best time for sightseeing in Berchtesgaden.
Eagles Nest is only open from mid May through October because snow makes the chalet inaccessible at other times. Most hiking trails in the Bavarian Alps also open up only after snow melts. So spring and summer it is!
However, if you are a skiing enthusiast, that's a totally different ball game. You will need to plan for the winters, of course. But remember that Eagles Nest will be closed as will be most hiking trails. I understand that boat trips on the Konigsee run throughout the year unless the lake freezes completely which is quite a rare occurrence.
Best places to stay in Berchtesgaden
Berchtesgaden is often done as a day trip from Munich or Salzburg. But there's no way you can all the wonderful things in Berchtesgaden in one day. If you wish to stay locally, here are some great options.
Find more hotels in Berchtesgaden here.
Getting to Berchtesgaden
It is easy to get to Berchtesgaden from Munich by train. You can plan your journey and book tickets on the German railway website Deutsche Bahn (DB). The journey from Munich Central Station to Berchtesgaden Central Station takes around 2.5 hours.
I highly recommend you to get a Bayern Ticket if you are doing a day trip from Munich. It saves you a ton of money.
If you are coming from Salzburg which is super close to Berchtesgaden (only 16miles), you can board Bus 840 or take a train. Both take around an hour to arrive. Buses are a little faster actually. You can plan your journey on DB website even though Salzburg is in Austria.
If you love guided tours, then here are a few great options. Do not forget to check them out.
Getting around Berchtesgaden
The most convenient way to get around Berchtesgaden is by car. However, if you do not want to rent one, seeing the best in Berchtesgaden is still possible. Here's are a few tips.
Once you get to Berchtesgaden train station, board RVO Bus 838 (covered with Bayern Ticket) to get to Obersalzberg Museum/Eagles Nest bus departure point. From there, board an Eagles Nest bus to get to Kehlsteinhaus. Personal vehicles are not allowed on the last leg of the journey.
If you want to get to Lake Konigsee, board Bus 841/843. If you are confused about which bus to get, just ask the driver.
If you are staying in the area for the night, do not forget to ask your host for a Kurkarte or Guest Card. In exchange for a small, refundable deposit, the Guest Card allows you access to free transport on buses in the region.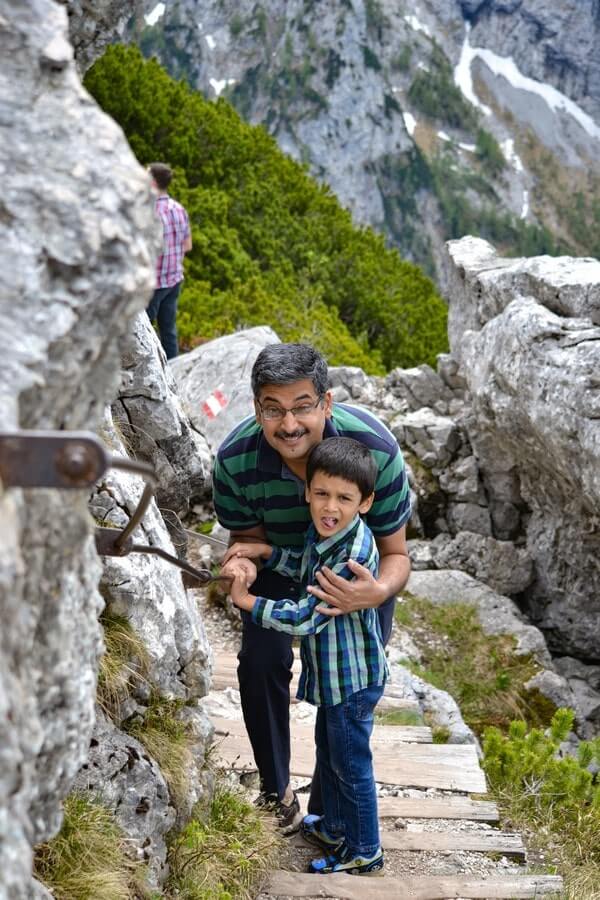 Berchtesgaden travel FAQ
Does Hitler's Eagles Nest still exist?
Yes, Hitler's Eagles Nest still exists on a hilly outcrop in the mountainous retreat of Obersalzberg near the Bavarian town of Berchtesgaden. However, the chalet has now been converted to a mountainside restaurant. You won't find much about Hitler or WW II here now but you will be rewarded to stunning views of the valley and Alps.
Where was Hitler's Eagles Nest?
Hitler's Eagles Nest is located on a steep hill that rises above the mountainous retreat of Obersalzberg near the town of Berchtesgaden. It is easily accessible from both Salzburg and Munich.
Can you visit Berchtesgaden?
Yes, you can visit Berchtesgaden. It is a historic and scenic, small town in Bavaria that is easily accessible from Munich and Salzburg. There are many wonderful things to do in Berchtesgaden including a trip to Hitler's Eagles Nest and a boat ride on alpine lake Konigsee.
How far is Berchtesgaden from Munich?
Berchtesgaden is around 115 miles (185km) away from Munich. A drive takes 2 hours and a train ride 2.5 hours.
How far is Berchtesgaden from Salzburg?
Berchtesgaden is only 16 miles (25km) away from Salzburg. A drive takes around 30 minutes and a train ride around an hour. Buses are quite frequent and can get you here from Salzburg in 45 minutes.
Loved our Berchtesgaden travel guide? Pin it for later!