Last Updated on July 20, 2021 by Soumya
Munich is a beautiful city. Filled with history, architecture, and great food, it was one of my favorite places to visit in Bavaria. However, the one thing about the city that had all my heart (and will probably have it forever) was its historic center: Marienplatz of Munich, Germany!
Marienplatz or Mary's Square is ancient and one of Munich's most iconic attractions. It has been the city's main square since 12th century and the venue for all sorts of markets, tournaments, and celebrations. Strolling through Marienplatz in old town Munich is like walking through 1000 years of history.
There is so much to do and see at Munich's Marienplatz that you can easily spend a day here. In fact, that was what we did during our 2 days in Munich – spent one entire day in Marienplatz. I would still not say that I saw it all!
If you are planning to spend just one day in Munich, I highly recommend exploring Marienplatz with this ultimate guide so that you do not miss out the best that Munich's central square has to offer.
Brief history of Marienplatz Munich
In a hurry? Pin this for later!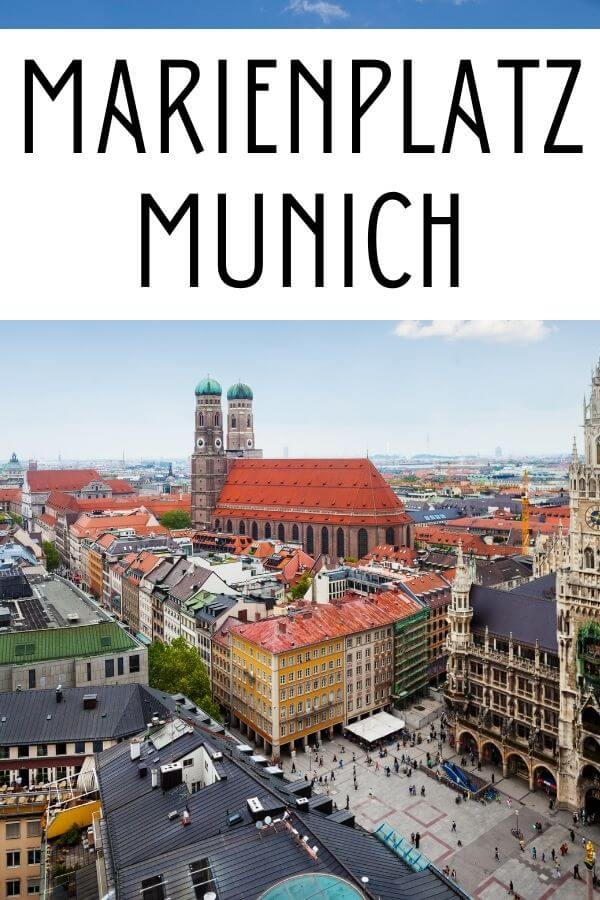 Please note: This post may contain affiliate links which means I may earn a commission if you make a purchase by clicking a link on this post. This will be at no additional cost to you. Affiliate links help me keep this website up and running. Thanks for your support!
Henry III, Duke of Saxony and Bavaria, founded the city of Munich in 1157. Marienplatz, which was the meeting point of many important streets, has functioned as the city's main square ever since.
Initially, the square was just called Markth (market) or Schranneplatz (grain market). It got its current name after a Marian Column was erected here to mark the end of Swedish occupation in 1638.
A good bit of Marienplatz was destroyed during World War II. Many medieval buildings were reduced to shambles. Some of them were rebuilt, others were lost forever. A few medieval buildings that you can still see today are the Munich Cathedral, Peterskirche, and Old Town Hall.
Today, this old but vibrant public square is one of the best places to visit in Munich and definitely, a must-have on every German itinerary.
Best things to do in Marienplatz Munich
New Town Hall – Neues Rathaus
Probably the most impressive building on Marienplatz, the New Town Hall or Neues Rathaus is a fairly new addition. Apart from being the seat of the city mayor, this is also where FC Bayern Munich holds its victory celebrations.
It was built between 1867 – 1909 in impressive Gothic-Revival style. The façade is tall and long, almost never-ending which makes it the most dominating structure of the central plaza.
It is a good idea to step into the courtyard of the New Town Hall during weekdays and explore some of its historic rooms. Be sure to check out the observation deck at the top of the tower that provides splendid views of Munich city and Marienplatz. There are elevators here to take you up and you will have to pay a fee. But the views are totally worth it. Click here for opening hours and admission fees.
Pro tip: Visitors often prefer the viewing deck at Alter Peter but if you do not wish to climb 306 steps there, be sure to check out this one.
Glockenspiel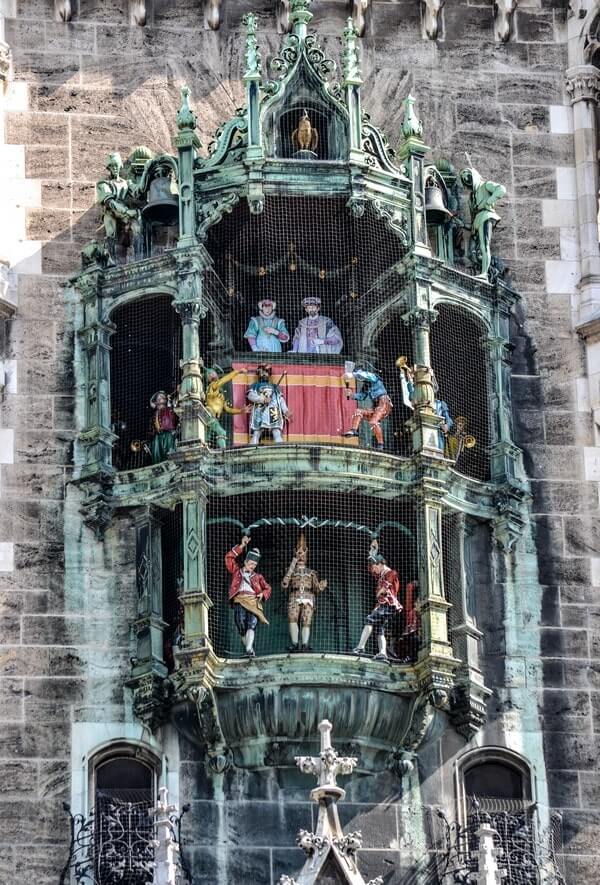 On the central tower of Neues Rathaus, you will find a 2-tiered carillon called Glockenspiel that bursts into life every day at 11am and 12pm. Also called the Rathaus-Glockenspiel, this mechanical clock is one of Munich's main tourist attractions.
Hundreds of visitors, tourists and locals alike, gather below the tower everyday to catch a Glockenspiel show at 11am and 12pm. In the summer months, there is also a 5pm show.
On the top half of the carillon, you will see the marriage of a Bavarian duke and a joust between knights. In the bottom half, you will see the Cooper's dance which symbolizes courage in the times of adversity.
Marian Column
Right in front of Neues Rathaus is the Marian Column that lends its name to the square. It was built in the year 1638 to celebrate the leaving of Swedish troops after the Thirty Years' War in honor of St. Mary, the patroness of Bavaria.
A black column (more than 35feet tall) stands in the middle of Marienplatz. The golden statue of Mary stands on top of it holding Christ child in her left hand and a scepter in her right. This spot is still a place of veneration for locals.
Fish Fountain
You will also notice a small water fountain here that is a popular meeting place. Apparently, in the olden times, there was a fish market at this spot. So the fountain is called Fish fountain. I could see also a puffed-up fish statue on top of the fountain.
Old Town Hall – Altes Rathaus
On the eastern side of Marienplatz, you will notice another impressive structure – the Old Town Hall or Altes Rathaus.
Constructed in early 14th century, the town hall has undergone several changes over its lifetime incorporating Gothic, Renaissance, Baroque, and neo-Gothic styles. The hall includes a medieval city gate called the Talburgtor and a couple of interesting statues – Ludwig of Bavaria on the western façade and Henry the Lion (the same duke who founded Munich) on the eastern façade.
Until 1847, Old Town Hall was the seat of city council. Then it fell short of space. Today, it houses a historic toy museum that is filled with model trains, stuffed toys, and doll houses.
Here's a not-so-savory fact. Altes Rathaus is home to the Grand Hall which was Joeseph Goebbels speech venue in November 1938 right before Kristallnacht – a pogrom against Jews – began.
Also see: 25 Unmissable tourist attractions in Munich
St. Peter's Church – Peterskirche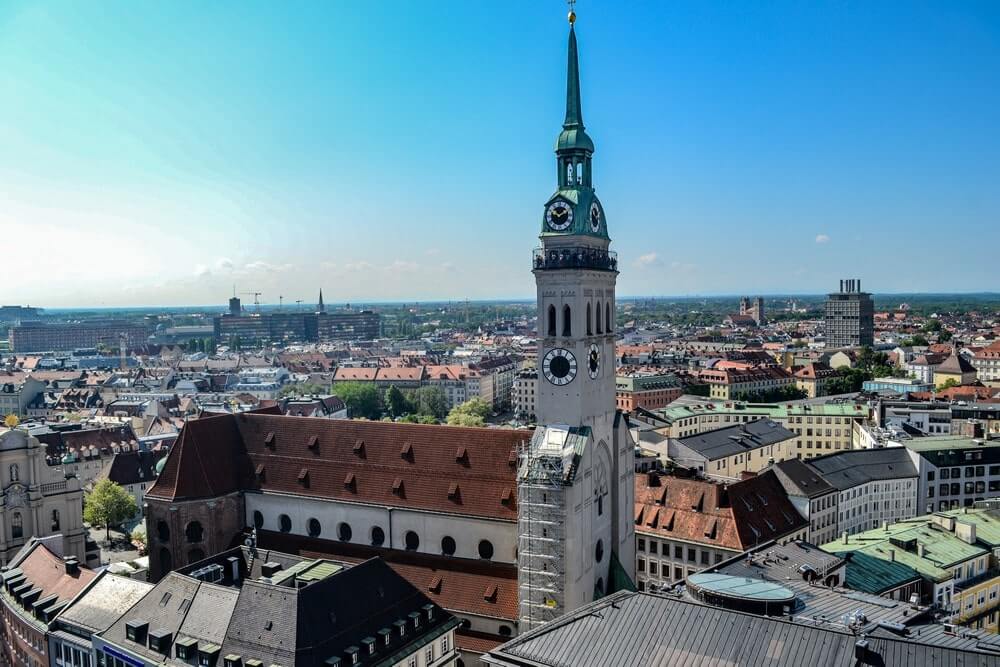 Next up on the list is the very iconic St. Peter's Church on Peterskirche. Many often say this isn't a part of Marienplatz in Munich but it is so teasingly close that I tend to disagree.
Just a min away from Marienplatz, lies Peterskirche, Munich's oldest church. It is a Roman Catholic Church from the 11th century that was rebuilt and redecorated several times. The last redesign was probably in the 18th century in the Rococo style after which it was badly damaged in WWII. Thanks to all restoration efforts, we can see this pretty church in all its glory today.
Be sure to step inside the church for some amazing frescoes on the ceilings, fascinating statues on the columns and walls, and a Baroque choir.
The church has a 300ft tower, fondly referred to as Alter Peter or Old Pete, that you can see from anywhere in the city. The best part is you can climb 306 odd steps to get to the viewing platform for some stunning views of the city.
Also read: Best things to do in Munich in 2 days
Christmas Market
Every year, Marienplatz is home to Munich's largest and oldest Christmas market. Whether it is for some fun Christmas shopping, to enjoy mulled wine and other Bavarian delicacies, or to simply look around, do drop by if you are visiting Munich in November – December.
Best things to do near Marienplatz Munich
Munich Cathedral – Frauenkirche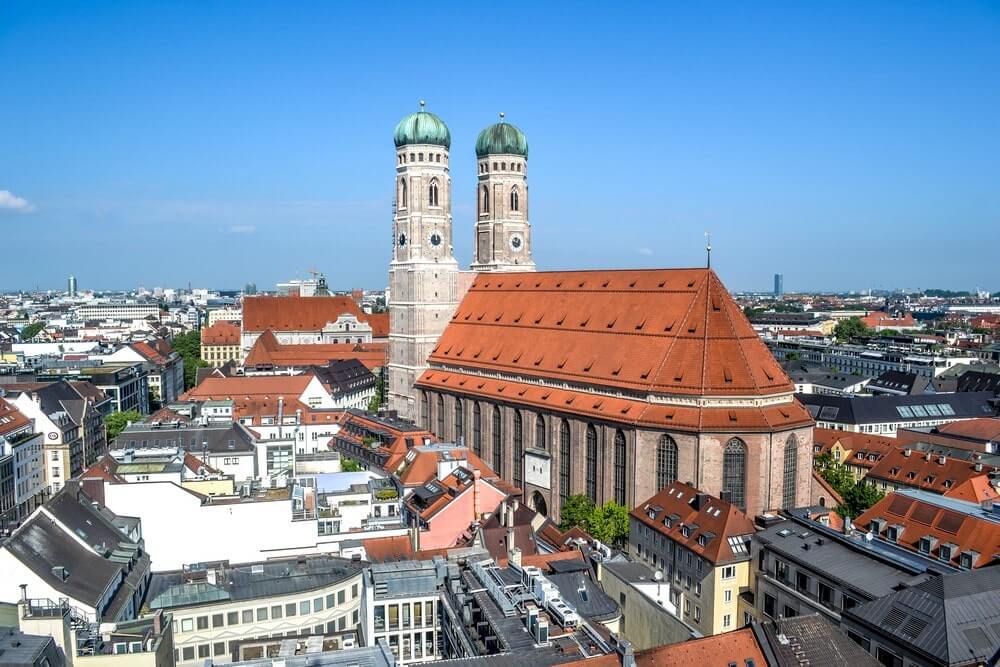 Frauenkirche or the Cathedral Church of Our Lady is one of the most famous churches in Munich. Its two towers topped by green domes are especially remarkable and make Frauenkirche one of the most iconic Munich landmarks.
This impressive late-Gothic cathedral was built in the late 15th century. It has more than 20 individual chapels and is the final resting place of many notable Germans including members of the royal Wittelsbach family.
One thing that you should not miss when visiting Frauenkirche is the Devil's Footstep or a black mark on a tile resembling a footprint. There are some interesting legends behind how this footstep came to be.
Also read: 11 Stunning churches of Munich that you need to visit
Viktualienmarkt
To the southeast of Marienplatz, you will find a huge local market specializing in fresh food and exotic delicacies. This is the Viktualienmarkt or Victuals Market of Munich.
Sausages, herbs, wine, spices, flowers, fruits, and non-food items abound at Viktualienmarkt. If you are looking to get some souvenirs from Munich, make a stop at this market. If not, you can simply look around, people-watch, and eat at one of the many amazing restaurants at the Victuals Market. Some of my favorite restaurants are The Munich Soup Kitchen and Sababa.
Hofbrauhaus Beer Hall
One of Munich's oldest beer halls, Hofbrauhaus Beer Hall is just 5minutes away from Marienplatz. Whether you are a beer enthusiast or a history geek, you are going to love this place.
Hofbrauhaus Beer Hall was built in 1589 by a Bavarian Duke which means this brewery is more than 400 years old. Come here for a sip of Hofbrau Original or some authentic Bavarian food, Hofbrauhaus will always be there for you. Yes, they are open 365 days a year, 9am – midnight!
Munich Residenz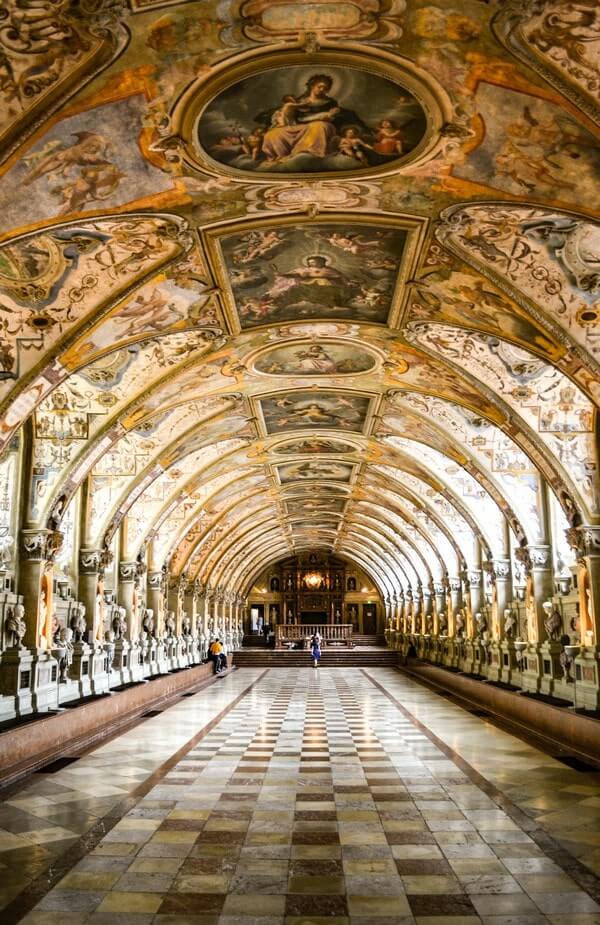 To the north of Marienplatz lies the beautiful 400-year-old palace of the royal Wittelsbach family called the Munich Residenz. Apparently, this is the largest urban palace in the whole Germany. Well, with 130 rooms, 10 courtyards, a church, and a theater – that statement sounds quite true!
Exploring Munich Residenz completely can take an entire day in Munich. If you don't have much time and want to see just the highlights, here are the 3 rooms you should be looking at.
The Antiquarium: This is the Hall of Antiquities and the prettiest room of Munich Residenz. Lavishly decorated with paintings, grotesques, and beautiful lunettes, this room is truly fit for kings. Feel opulence and luxury seep into your skin as soon as you step into the Antiquarium.
The Treasury: Visit the Treasury for a shimmering display of jewelry, crystals, porcelain, bejeweled daggers, and the stunning royal insignia.
Cuvilles Theater: One of the most stunning theaters that I have seen in Europe, this is where Mozart performed Idomeneo for the first time in 1781. If you wish, you can also enjoy a gala concert at Cuvilles. Make sure you reserve your space way ahead of the concert because seats get filled up really fast!
Medieval town gates
Medieval Munich had 7 town gates. 3 of them still survive. They are the Isartor (southeast of Marienplatz), Karlstor (northwest), and Sendlinger Tor (southwest). All date from the 14th century and are located within 10minutes walking from Marienplatz.
Practical information for visiting Marienplatz
Munich hotels near Marienplatz
It is a good idea to stay close to Marienplatz or somewhere in Munich Old Town because that saves a lot on commuting costs.
Find more hotels near Marienplatz here.
Getting to Marienplatz
Marienplatz is located in the heart of Munich Altstadt (Old Town). The exact address of the square is 80331 Munich.
The square is serviced by the Marienplatz station. Hence, it is easiest to get here by train. Both S-Bahn (S1, S2, S3, S4, S6, S7, and S8 local trains) and U-Bahn (U3 and U6 subway lines) trains make stops here.
If you need to get to Marienplatz from Munich Airport, you should be looking at S1 and S8 trains. From Munich Central Station, S1, S3, S4, and S8 are good.
Getting around Marienplatz
The easiest and best way to get around Marienplatz is on foot. Everything is at a walkable distance from the Marienplatz station and it is wonderful to experience the hustle and bustle of this old town square on your feet.
If you are looking for a guided tour, here are some great options.
Marienplatz FAQ
What is in the Marienplatz?
Marienplatz is home to iconic Munich attractions such as the Old and New Town Halls, Glockenspiel, Mariansaule, and St. Peter's Church. It is Munich's oldest public square and a great place to hang out with friends and family.
How old is Marienplatz?
Marienplatz is nearly 900 years old. It has functioned as Munich city's main square since 1157 AD.
Why do people visit Marienplatz?
People visit Marienplatz to spend good time with friends and family, watch enchanting Glockenspiel shows, tour medieval churches and town halls, and get stunning views of the city from the observation decks at Alter Peter and Neues Rathaus. Several restaurants, cafes, and beer halls also dot the space in and around Mary's Square, Munich.
When was Marienplatz founded?
Marienplatz was founded in the year 1157 when Henry the Lion laid the foundation of Munich city. Fiirst, it was called Schranneplatz or grain market. People started calling it Marienplatz only after a Marian column was erected here in 1638.
What is the city center of Munich?
Marienplatz or Mary's Square is the city center of Munich.
Loved our guide to Marienplatz Munich? Pin it for later!