Last Updated on July 28, 2022 by Soumya
Planning to spend 2 days in Munich but not sure what to do? Looking for the best two days in Munich itinerary that also suits your needs? Well, we have just the thing for you.
Here's a compact, easy-to-implement itinerary to see the best of Munich in 2 days.
You will wander through the happening Marienplatz, check out beautiful churches, walk through green relaxing spaces, and gaze wonderstruck at some grand Bavarian palaces. Yes, it is possible to do all that in Munich in just 48 hours.
Is 2 days enough for Munich?
Maybe not. There are so many wonderful places to visit in Munich that it is impossible to see all of them in a couple of days. But it is definitely possible to experience a slice of this beautiful Bavarian town in two days and come back for more later.
If you would like to read more about Munich, here are some related posts you will love.
Day 1 of Munich 2-days itinerary: Marienplatz + Munich Residenz
In a hurry? Pin it for later.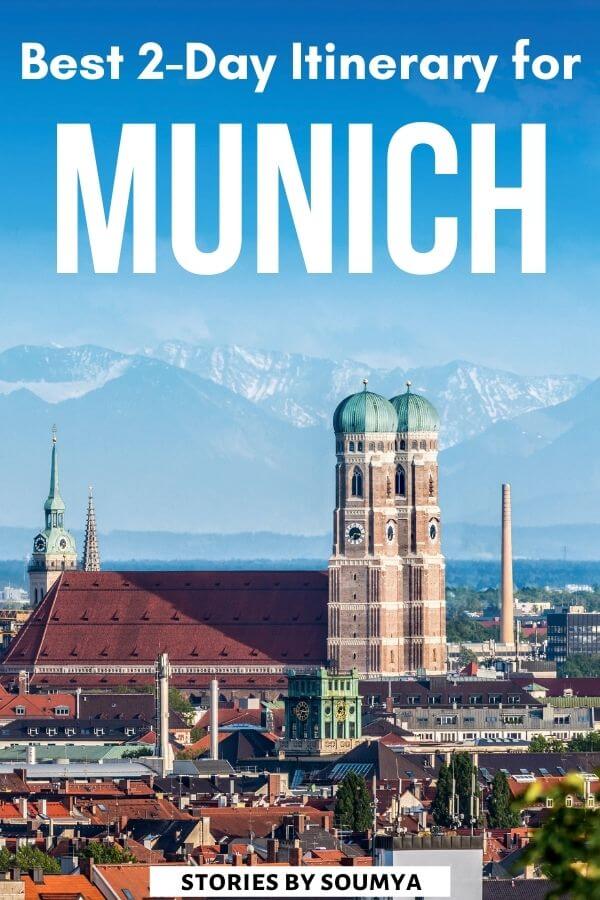 Please note: This post may contain affiliate links which means I may earn a commission if you make a purchase by clicking a link on this post. This will be at no additional cost to you. Affiliate links help me keep this website up and running. Thanks for your support!
When I last visited Germany for 10 days, I started my trip in Munich. It was the perfect beginning for the culture-vulture in me and it served as a great springboard for several day trips in Bavaria. Let's find out how I planned my 2 days in Munich.
Before you begin your first day at Munich, let me point out that you may want to buy a CityTourCard for Munich for free public transport. But that is worthwhile only if you are staying far away from Marienplatz. If you are staying within Marienplatz or close to it, you can easily explore everything on foot.
Begin the day at Marienplatz
Marienplatz or Mary Square has been Munich's central square for nearly a 1000 years.
A Marian column that was erected in 1638 to celebrate the ousting of the Swedish stands right in the middle of the square and lends its name to the plaza. Several other historic churches and town halls surround the place. A sprawling 200-year-old market lies to the south.
If you are visiting Munich in winter, you will find a beautiful Christmas market here at Marienplatz.
Basically, Marienplatz in Munich is where all the action is. In case you are visiting Munich only for a day, I would highly recommend spending it in and around Marienplatz.
Start the day with a delicious breakfast at Café Glockenspiel, a nice rooftop café with a view of the square. They serve nice bread, eggs, and fresh fruit.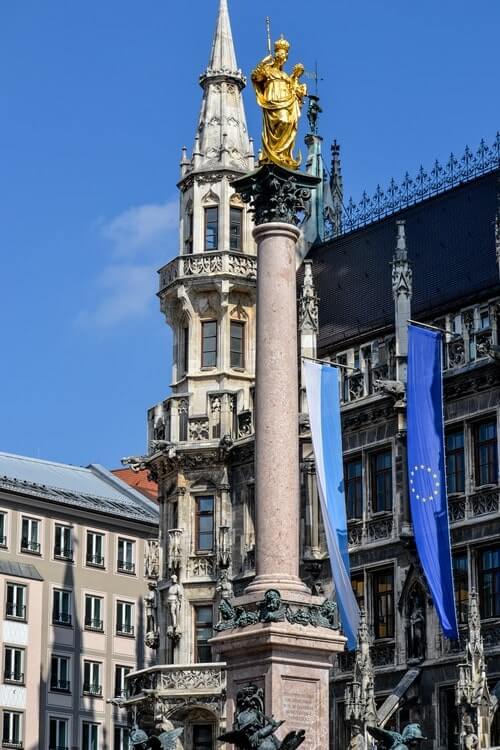 Visit the Old and New Town Halls
Right across from Cafe Glockenspiel is the impressive New Town Hall or Neues Rathus. It is the seat of the city mayor as well as the celebratory venue of FC Bayern Munich.
You can enter the New Town Hall during weekdays and explore some of its historic rooms. But make sure you take the elevator to get to the viewing gallery in the City Hall tower for some stunning views of the city center. Check out admission charges and opening hours here.
Not very far away is the Old Town Hall or Alte Rathaus on the eastern edge of Marienplatz. This was the city council's seat until 1847 after which it fell short of space. The Old Town Hall was completely destroyed during World War II and restored only in the 1950s.
Today, there is a historic toy museum at Alte Rathaus and it is filled with model trains, doll houses, and stuffed toys – a great place to visit in Munich with kids.
Also read: The ultimate guide to exploring Marienplatz in Munich
Stop for the miniature knight show at Glockenspiel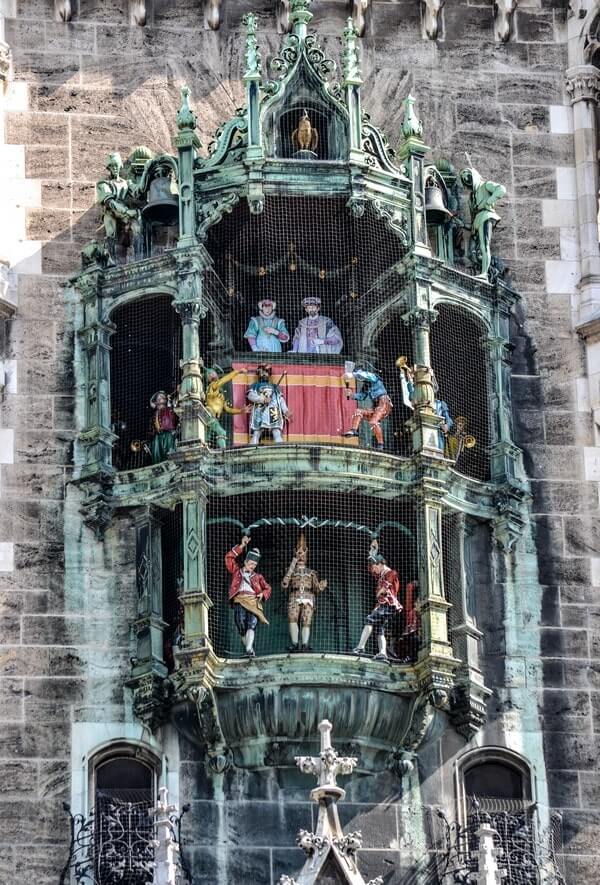 When you are visiting the town halls, be sure to catch a miniature knight show right outside the New Town Hall.
One of the top attractions in Munich, a 2-tiered carillon called Glockenspiel is located on the central tower of Neues Rathaus. Every day, at 11am and 12pm, the carillon comes to life with miniature depictions of a duke's wedding, a jousting match, and a traditional Bavarian dance.
Hundreds of people gather on Marienplatz to watch this delightful performance. Be sure to stop by if you are in the area during that time.
Head to Peterskirche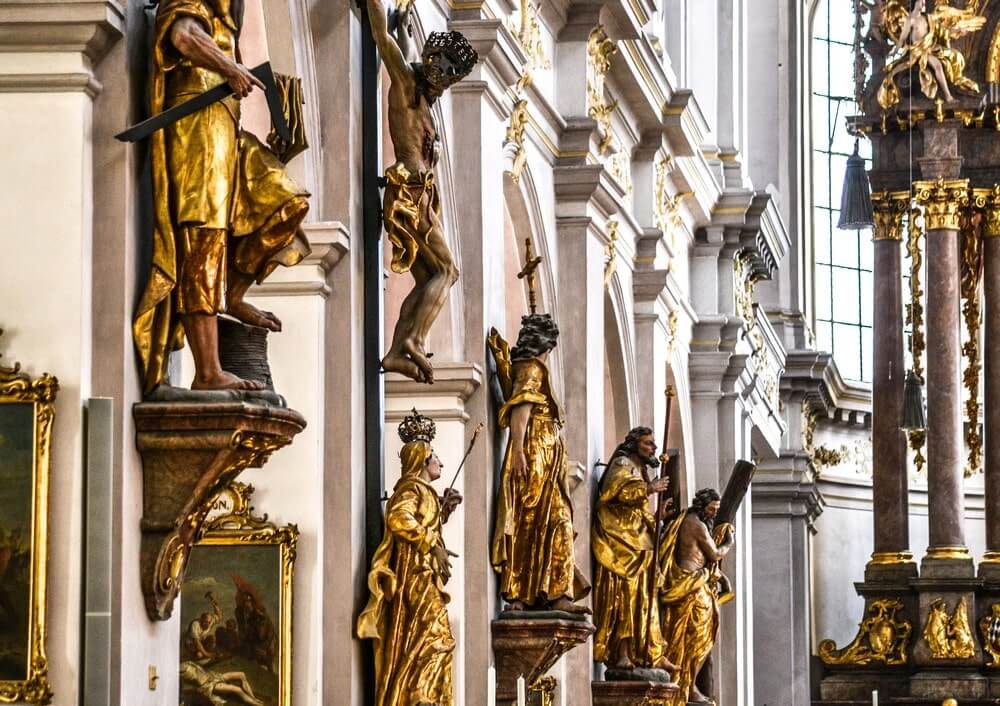 St. Peter's Church or Peterskirche is the oldest Catholic church in Munich. Originally built in the Romanesque style in 12th century, this church is an architectural delight with bits of Gothic, Baroque, and Rococo styles incorporated into it over time.
The 300ft tower of St. Peter's Church, commonly known as Alter Peter or Old Pete, is a symbol of historic Munich.
For a small admission fee, you can climb the 306 steps of this tower to reach the viewing platform from where you can enjoy some stunning views of the historic downtown.
Also read: 25 Best places to visit in Munich
Have lunch at Viktualienmarkt
Located very close to Peterskirche, Viktualienmarkt is a historic old market in the heart of Munich. Apart from housing some of the best restaurants in town, Viktualienmarkt also hosts traditional events and festivals such as the opening of the asparagus season, brewer's day, gardener's day, and the summer festival.
Here are some wonderful restaurants to have lunch at.
The Munich Soup Kitchen: For hearty soups and stews made from local ingredients.
Caspar Plautz: For lovely potato dishes and they feature great vegan options on their menu.
Sababa: For good Lebanese and Mediterranean food. I simply love their falafels and shawarma.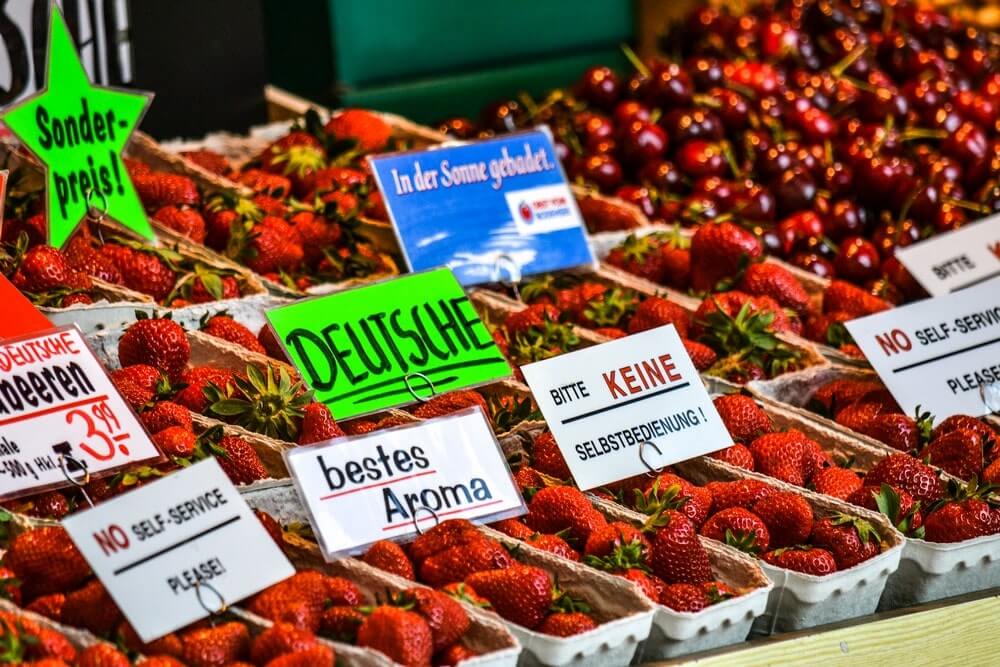 Visit the beautiful church of Frauenkirche
Munich Cathedral, or Frauenkirche, is the biggest church in the city of Munich. And according to me, it is one of the prettiest too.
Frauenkirche or The Church of Our Dear Lady was built in the late 15th century over the remains of a medieval Romanesque Church. The architecture is Gothic and features 2 tall towers with green onion domes, several stained-glass windows, and an impressive collection of medieval artwork.
You can enter the church for free and appreciate its history and architecture.
Also read: 11 Stunning churches of Munich that you need to visit
Get wowed by Munich Residenz
Head next to the fascinating Munich Residenz, the official residence of the royal Wittelsbach family for more than 400 years. It is the largest urban palace in Germany and exceedingly beautiful.
Can you believe the entire Residenz complex consists of 10 courtyards, 130 rooms, a church, and a theater?
It can very well take you a day to explore everything at the Residenz. However, if you are short on time and have only 2 days in Munich, I highly recommend checking out the following highlights.
The Renaissance Antiquarium: The Hall of Antiquities or the Antiquarium is the oldest and prettiest part of Munich Residenz. Opulently decorated with grotesques, paintings, and gorgeous lunettes that depict towns and makets, the Antiquarium is the most lavish Renaissance hall north of Alps.
The Wittlesbach Treasury: Catch a glittering display of jewels, porcelain, crystals, and ivory at the Treasury. The royal insignia and jeweled-daggers are especially striking.
Cuvilles Theater: Experience the splendor of the Cuvilles Theater draped in red and gold. This was where Mozart performed Idomeneo for the first time in 1781.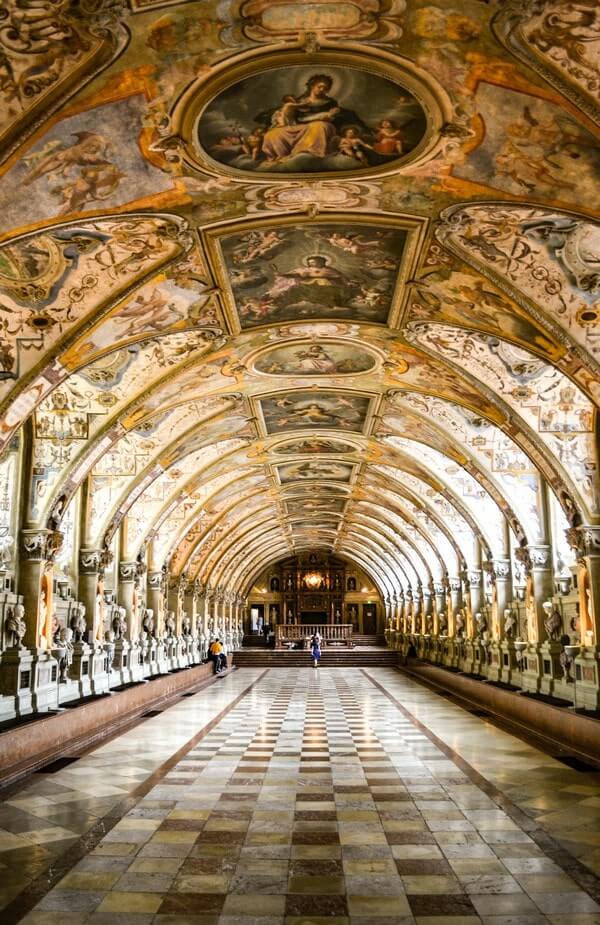 Enjoy a classical concert at the Residenz
Since you are already visiting the Residenz, I recommend ending the day with a classical concert at the Court Chapel (Hofkapelle). The Residenz Serenade plays every Thursday and Saturday at 6:30pm and lasts 1 hour.
You can also enjoy a gala concert at the Cuvilles Theater. However, these concerts are few and far in between, so make sure you reserve a spot before you go.
Day 2 of Munich 2-days itinerary: Soccer/Food/History Tour + Nymphenburg Palace
Start the day with your favorite guided tour
If you are a fan of guided tours like I am, then I am sure you will love to do one of these special tours during your 2 days stay in Munich. Each of these tours is unique and shows you a different side of Munich city.
This Third Reich & WWII Walking Tour takes you through the historical sites associated with the Nazi Movement in Munich and into the life of one of world's most powerful dictators, Adolf Hitler. You have the option of reserving both private and non-private tours.
On this 2-hour gourmet food tour, you will taste regional delicacies and international cuisine at Viktualienmarkt, the oldest market in Munich.
This soccer arena tour will take you to Allianz Arena, the temple of football and the most spectacular home of FC Bayern Munich. If you are a soccer fan, you cannot miss this one.
If you have some time before or after your tour, be sure to check out Hofbrauhaus Beer Hall, one of Munich's oldest beer halls. It is more than 400 years old and was founded by the Duke of Bavaria, Wilhelm V. Come here to taste some of their original beers and enjoy authentic Bavarian cuisine. Munich Hofbrauhaus is open 365 days a year from 9am to midnight.
Or take a tour of Englischer Garden
If you are not keen on a guided tour, head to the Englischer Garten or English Garden – Munich's largest urban park.
Did you know that English Garden is even larger than New York's Central Park?
Here, you will find lots of green spaces, interesting monuments such as the Chinese Tower and aJapanese Tea House. You will get amazing views from Monopteros, a round temple-like structure. Plus, there are 4 beer gardens inside the park with The Seehaus at Kleinhesseloher See being the the most popular one. In short, Englischer Garten is the perfect place to spend a relaxing day in Munich.
Head to the beautiful Nymphenburg Palace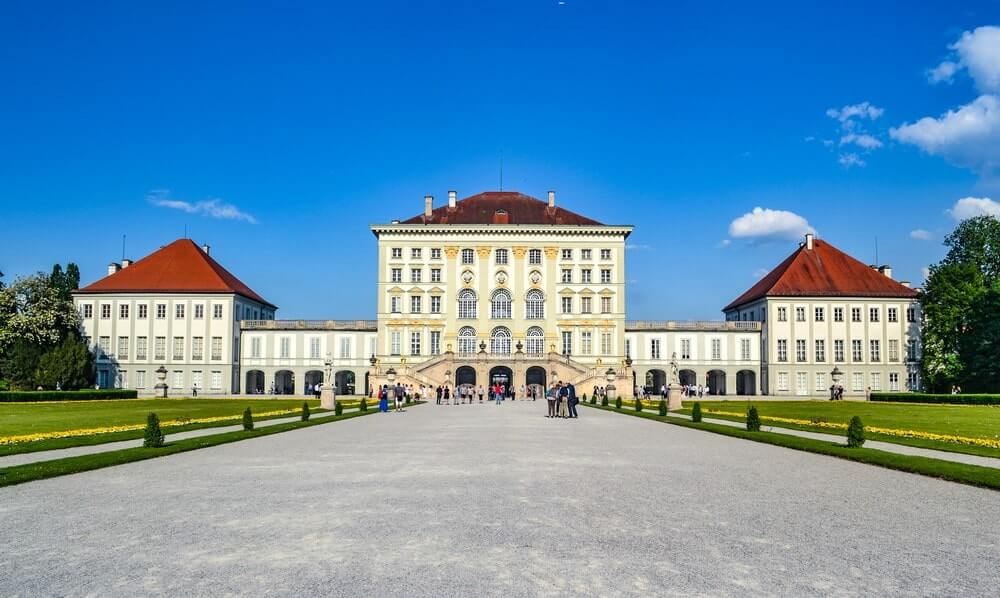 Head to Nymphenburg Palace on the second day of your Munich trip. It is a beautiful Bavarian palace located on the western outskirts of the city and easy to get to.
Hop on the S-Bahn to Laim and take a bus to Schloss Nymphenburg. Or take a U-Bahn to Roktreuzplatz and take a tram to the palace.
Nymphenburg Palace, beautiful Nymphenburg gardens, and several museums located on site can easily take up a day of your time in Munich. But if you are short on time, I highly recommend taking a look inside the palace to explore the Stone Hall and take a peek inside the Beauty Gallery of King Ludwig I.
Nymphenburg museums are good too. If you have kids with you, it is worthwhile to spend some time at the Natural History Museum in the north wing.
But most importantly, do not miss strolling through the beautiful parks which are themselves a work of art. They have been inspired by the French gardens of Versailles and have huge fountains, canals, bridges, and lakes to discover.
The palace is open from 9am – 6pm from April-mid-October and 10am – 4pm from mid-October-March. So, if you are visiting in fall or winter, you might want to come here early to be able to see it all. Check out updated hours on the official website before you go.
In love with German palaces? Check out our list of 18 most beautiful German castles and palaces you need to visit.
Interactive map for 2 days in Munich
More than 2 days in Munich?
Practical information for spending 2 days in Munich
Best time to visit Munich
The best time to visit Munich is in spring when temperatures rise, flowers bloom, and the Bavarian asparagus season kicks off. White asparagus is a big thing in Bavaria and is super delicious. Click here to see a picture.
Spring is also the best time to explore Munich on foot. Carry a light jacket for the evenings.
Summers are great weather-wise but almost all Bavarian destinations are crowded during this time and hotel prices soar sky high. If you are on a budget, you may want to avoid summer.
September – October is yet another pricey time in Munich. But if you wish to attend the famous Oktoberfest, be sure to make your hotel reservations well before time. And do not forget to get some warm clothes.
Finally, winter is also great time to visit Munich because of the pretty Christmas markets that dot almost every other Bavarian town.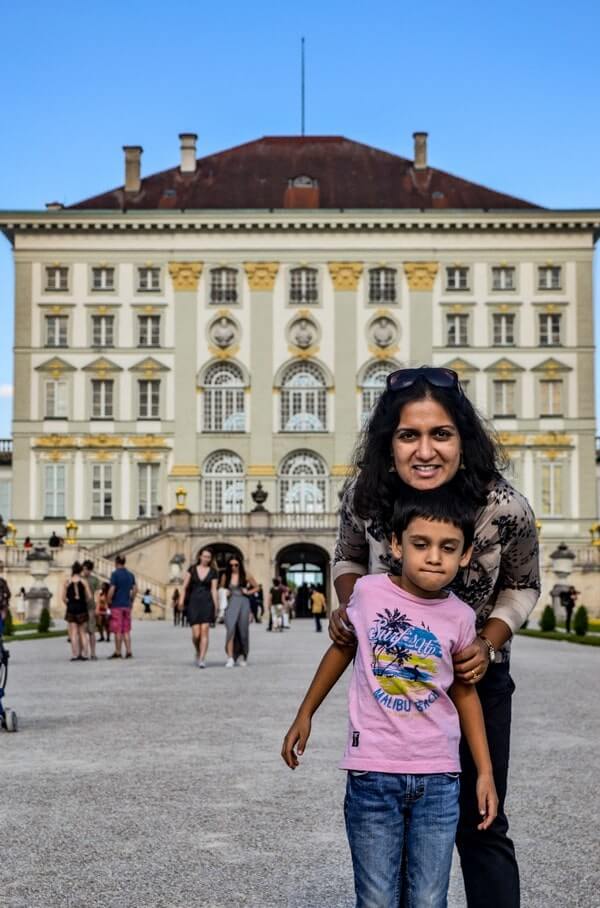 Best places to stay in Munich
Since you will be in Munich for only 2 days, I suggest you stay close to the city center. Munich Alstadt or the Old Town is ideal. However, please keep in mind that accommodation in the city center is often expensive especially if you book closer to your travel dates.
Here are some good places to stay in the Munich city center for all budgets.
Find more hotels in Munich here.
Getting to Munich
The closest airport to Munich is Franz Josef Strauss International Airport/Flughafen Munchen or simply Munich Airport. Here is the list of all airlines that fly into Munich Airport.
The easiest way to get to the city center from the airport is by the taking the S1 and S8 lines of S-Bahn Munich. Lufthansa Express Bus also takes you to the city center and back. Have a look at the schedule here.
If you are traveling with a lot of luggage, reserve your a private airport transfer to and from the Munich city center.
Getting around Munich
We have designed this 2-day itinerary for Munich in a way that you do not have to travel a lot between places. On day 1, you can walk to each and every attraction from Marienplatz. On day 2, you can use either the S-Bahn or the U-Bahn to get Nymphenburg Palace and Englischer Garten.
Here are some important points to remember.
Plan all your commutes on the MVV Journey Planner. MVV is the transit authority of Munich city. Fares on MVV are determined according to zones with Munich City being Zone M and suburbs going up to Zone 6.
Get a day ticket (single or group) if you are planning to make multiple trips within Munich and suburbs. It turns out to be much cheaper instead of getting single tickets for every ride.
On Day 2, when you travel to Nymphenburg Palace (included in Zone M) getting single tickets is tad bit cheaper (assuming you are only planning a return journey from Marienplatz to Nymphenburg Palace and no detours) than a day ticket. Have a look at the MVV journey planner to decide.
Children under 6 years of age travel free everywhere in Germany.
Munich Germany Travel Essentials
Loved our Munich itinerary for 2 days? Pin it for later!