Last Updated on January 7, 2023 by Soumya
Planning to visit Regensburg in Germany? Looking for the best things to do in Regensburg? We have just the perfect thing for you.
Here's an ultimate guide for the best things to see in Regensburg Germany with lots of tips to make your Regensburg memorable.
One of the most beautiful places in Bavaria, Regensburg is steeped in history. Apart from being a UNESCO World Heritage Site, it is one of the best preserved medieval cities in Europe as well as the northernmost city of the Roman Empire. Quite expectedly, Regensburg is chock full of historical places to visit.
But there are so many other interesting Regensburg tourist attractions such as a BMW factory tour or the oldest sausage kitchen in the world! Don't believe me? Read along to find out all the amazing things you can do in Regensburg including some hidden gems.
A brief history of Regensburg
In a hurry? Pin it for later!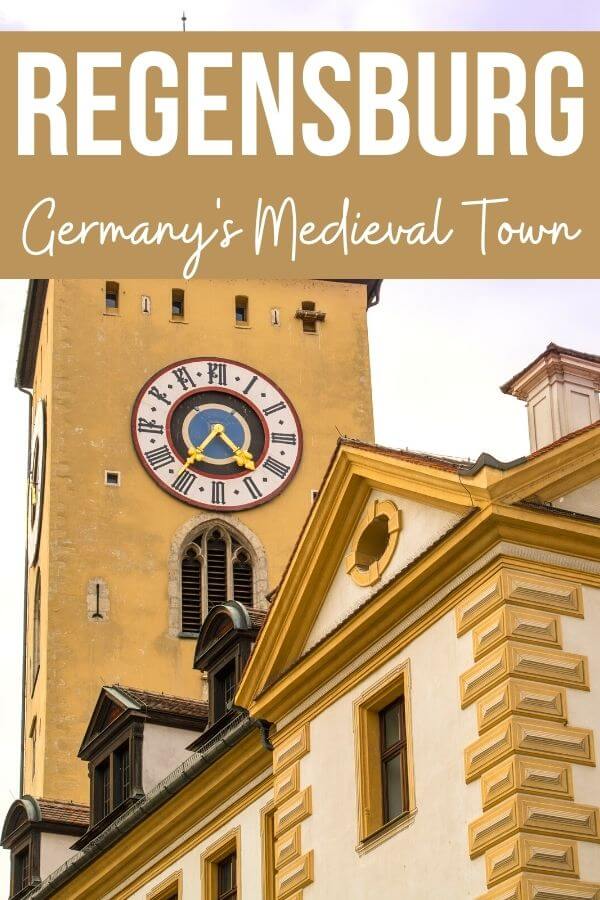 Please note: This post may contain affiliate links which means I may earn a commission if you make a purchase by clicking a link on this post. This will be at no additional cost to you. Affiliate links help me keep this website up and running. Thanks for your support!
Regensburg was an important city located on River Danube. To be precise, it sat on the confluence of the Danube, the Naab, and the Regen rivers. This strategic location made Regensburg an important center of economic and cultural development ever since the time of Romans.
Regensburg is believed to be the northernmost Roman fort in Europe. The Roman fortress of Castra Regina was built here in 179 AD during the reign of Marcus Aurelius. A bishopric was established here in 739.
Regensburg saw a lot of activity in the middle ages. It was between 1135 – 1146 that the iconic Stone Bridge across River Danube was built. This opened up major international trade routes and heralded an era of economic prosperity. Regensburg became a Free Imperial City and was later incorporated into the Duchy of Bavaria.
Surprisingly, Regensburg's medieval city center suffered little damage during World War II even though the region around it was completely destroyed.
Today, it stands as one of the most beautiful intact medieval cities in Europe and was listed as a UNESCO World Heritage Site in 2006.
If you are a history lover, the old town of Regensburg has many interesting things to do. Plus its proximity to the Bavarian capital makes it one of the easiest day trips from Munich.
Best things to do in Regensburg
Explore Regensburg Altstadt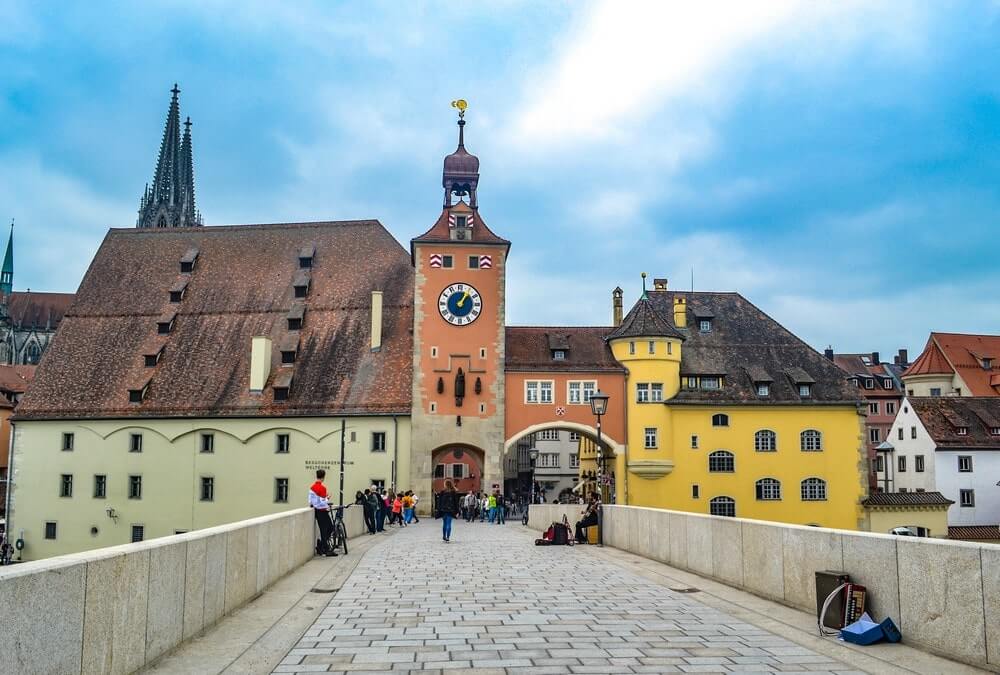 Regensburg's medieval city center remains one of the best preserved medieval cities in Europe. It is home to more than 1500 heritage buildings that showcase a beautiful transition of architectural styles over last two centuries.
Take a self-guided walking tour of Regensburg Altstadt or the Old Town where the architecture is a wonderful mix of Roman, Romanesque, and Gothic styles.
Walk through dark and narrow lanes, appreciate tall buildings, and gaze at strong fortifications to understand how a medieval center of trade within Europe looked like.
If you are a fan of guided tours, you will love this private walking tour with a professional guide. You can customize the entire itinerary or go by the guide's route. This tour teaches you all about the history of the city, the Old Stone Bridge, the Town Hall, Palace of Thurn and Taxis, and much more.
Explore the old town on a tourist train
If walking is not really your thing, then hop on to this cute little tourist train and see the best of Regensburg in just 45 minutes.
You will cruise through iconic Regensburg attractions and enjoy panoramic views from the comfort of your train seat. At the same time, you will discover the history of the city with the help of an informative audio guide.
Click here to book your Regensburg Sightseeing Train Tour.
Step into St. Peter's Cathedral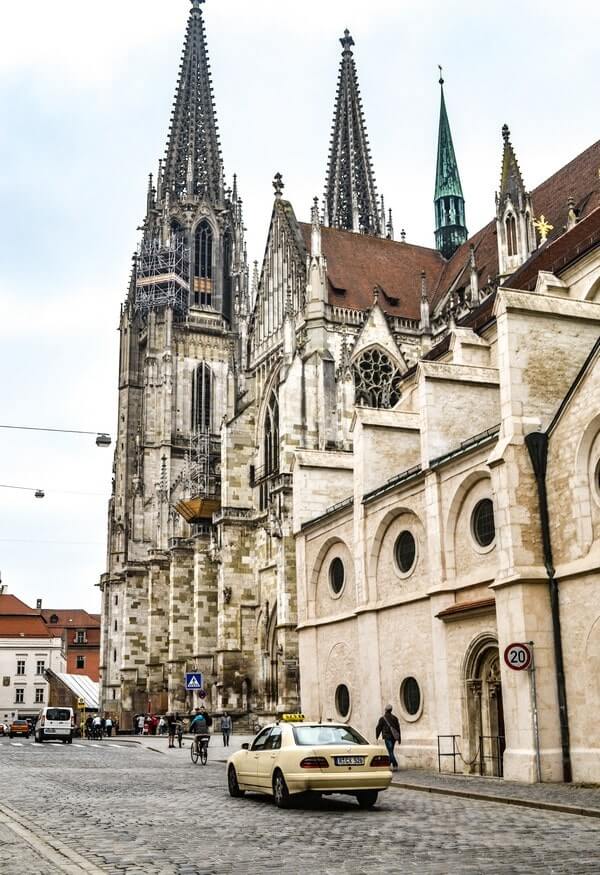 Visit the Gothic cathedral of St. Peter's, also considered to be Regensburg's most important landmark after the Old Stone Bridge. The spires of this historic building are tall and impressive. You can spot them from anywhere in the city.
A French architect oversaw the construction of the cathedral in the late 13th century and that's why, you will see an abundance of French Gothic elements. Buttresses and vaults are common. On the impressive facade, you will also notice several gargoyles, foolish virgins, and kings on horseback. Do not forget to step inside for a view of the pretty stained glass windows.
The cathedral runs guided tours throughout the year. You can find more details here.
Head to the Old Town Hall
One of the most interesting things to do in Regensburg is to take a tour of the 13th-century Town Hall and explore its many treasures. Locally known as Altes Rathaus, the Old Town Hall was the seat of Everlasting Imperial Diet from 1663 to 1806.
Three sections of the building that are open to public viewing now are the Town Hall Tower, the Gothic Imperial Chamber, and the Baroque Town Hall. Plus, you can also see an old interrogation room and a gruesome torture chamber where prisoners were tortured until they confessed!
Access is only by guided tour.
Have a sausage at the world's oldest sausage kitchen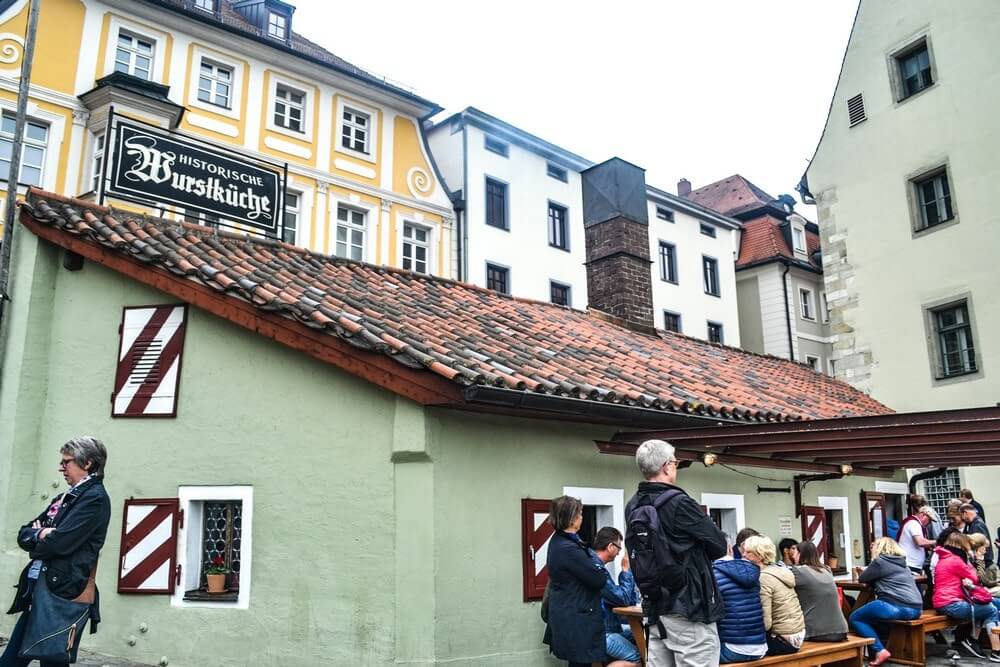 Did you know that you can have a sausage at the world's oldest sausage kitchen when visiting Regensburg?
This is the same kitchen that served sausages to Roman workers that completed the construction of the Old Stone Bridge in the 12th century. Well, technically not the same. But a kitchen existed at the same place nearly 900 years ago and it served sausages. That makes it one of the oldest public restaurants in the world.
Come here if you love sausages. You can enjoy them with sauerkraut, German mustard, and local beer.
Discover Regensburg's Roman & Jewish past at Document Neupfarrplatz
If there is just one museum that you can visit in Regensburg, then it has to be Document Neupfarrplatz. It is a subterranean museum that provides access to some really interesting excavations underneath the city.
In the 1990s, archaeologists uncovered Roman ruins of Castra Regina, remains of a Jewish ghetto and synagogues, and several gold coins under a large public square called Neupfarrplatz. It is believed that this place was also used as a air raid shelter during WWII.
You will need to take stairs underground to access the excavations. Access is only by guided tour which happen only few days a week. Find the details here.
Take a walk on the Old Stone Bridge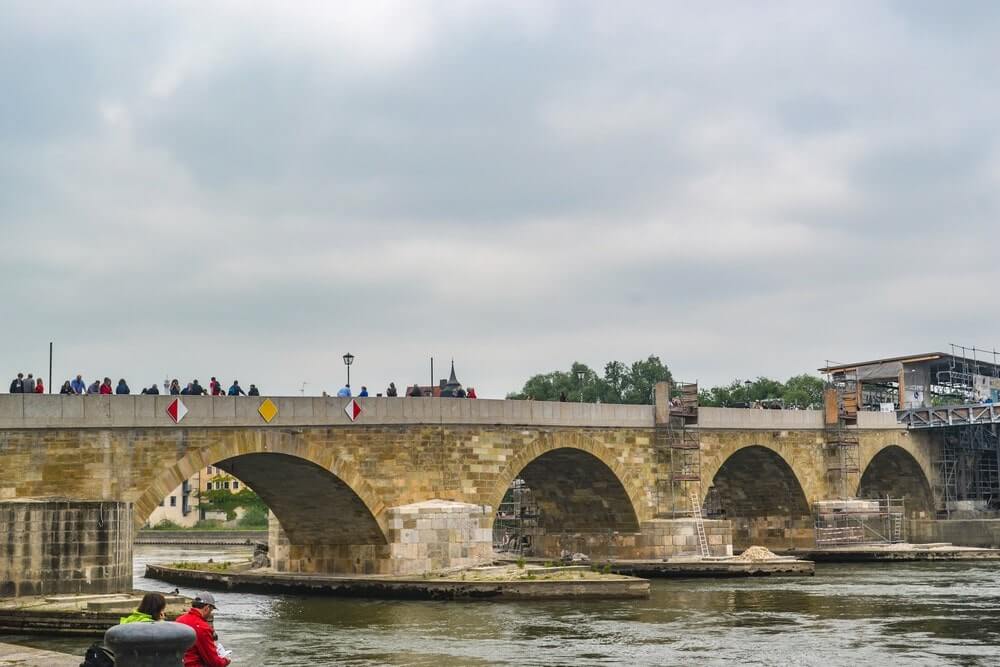 Walk on the Steinerne Brücke or the Old Stone Bridge that was built here in the 12th century AD. This bridge was a pathway to prosperity for many merchant families that lived in the old town and opened up trade routes between Northern Europe and Venice.
Take a moment to imagine countless boats ferrying below your feet, busy traders scuttling to get to work on time, and wealthy merchants smiling down from their decorative mansions. That was life in medieval Regensburg.
Step into Thurn and Taxis Palace
Fan of German palaces and castles? Step into Schloss Thurn and Taxis for a peek into the lives of German royalty.
Explore the neo-Renaissance architecture of the state rooms replete with Rococo furnishings. The Ballroom, also referred to as the Baroque Hall, is especially stunning and always the venue for great festivities. The room definitely gives out a cheerful, festive vibe.
Descendants of the royal family live in the palace even today. However, it is quite interesting to note that the palace was built at the exact spot where once a 8th-century Benedictine Monastery stood. Even today, you can view the cloisters, the chapel, and a Benedictus portal of the monastery that was dedicated to St. Emmeram.
You can access the cloisters and state rooms only by a guided tour that you can book online on the official website or on site.
Also read: 18 Beautiful castles and palaces in Germany
Look out for tower houses
Also known as patrician towers, the tall houses of Regensburg were a display of wealth and prosperity in medieval times.
Rich merchants flaunted their wealth and built really tall homes for themselves. Neighbors and competitors tried to outdo them and built even taller buildings. What resulted was a sea of Tall Patrician Towers that stood as status symbols and gave Regensburg a unique skyline.
Many of these, like the one pictured above, still stand today. Some of the most impressive ones are the Golden Tower on Wahlenstrasse and Goliath House on Goliathstrasse.
Cross over to the Stadtamhof side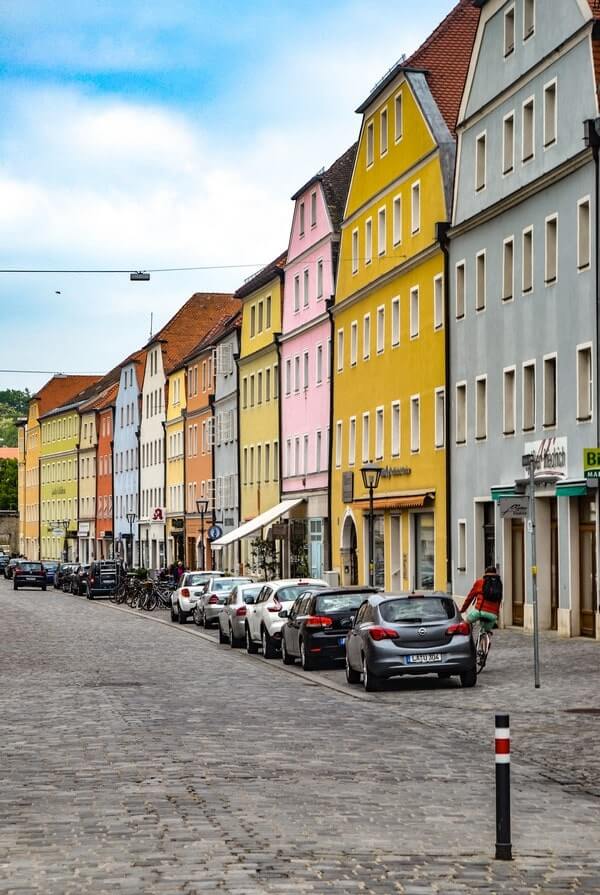 Right across the Old Stone Bridge is the colorful neighborhood of Stadtamhof which was an independent town for a long time. Now, it is part of the UNESCO Heritage listing along with the old town of Regensburg.
This side of the city is quieter with fewer tourists and more space. However, there is no dearth of charming houses, pretty clock towers, local markets, and great places to eat. You will also find the rococo church of St. Mang here.
On Stadtamhof Strasse, you will find pastel-colored houses adorning both sides of the road (reminded me of the Rainbow Row in Charleston!). This is a great place to get some amazing pictures.
Do a BMW Factory Tour
Regensburg has a large BMW plant which offers paid tours to car lovers. The tour lasts for about 3 hours and you can opt for either English or Deutsch tour guides.
You will get to see the body shop, press shop, paint shop, and assembly lines producing hundreds of BMW cars in a span of minutes. It is fascinating to see perfectly synchronous robots working in never-dying harmony.
Pictures are not allowed and the tour involves a good amount of walking. Be sure to wear comfortable walking shoes.
The team at BMW will provide you with safety glasses inside the factory. At the end of the tour, you will be allowed to pick a drink and a BMW poster!
Get details on how to book your tour here.
Please note that the factory is a little outside Regensburg town. Here's the complete address Herbert-Quandt-Allee, Tor 2, 93055 Regensburg.
You can get there by bus X9 which leaves from the bus station in Albertstrasse by Regensburg Hbf. The journey takes around 30 minutes and is covered by the Bayern ticket.
Visit the German Hall of Fame at Walhalla
Fancy a short half-day trip from Regensburg? Keen to see some Greek architecture in Regensburg? Visit the iconic Walhalla monument in the small town of Donaustauf overlooking River Danube.
Walhalla is a unique hall of fame dedicated to German-speaking men and women who have contributed greatly to history. It was commissioned by King Ludwig I of Bavaria in the 19th century and was constructed in the shape of an ancient Greek temple.
A drive to Walhalla from Regensburg takes 20 minutes and a bus ride takes around 40. Find all about Walhalla opening hours and tickets here.
Practical information for visiting Regensburg Germany
Best time to visit Regensburg
The best time to visit Regensburg is during spring and summer (between May – September). Comfortable, warm weather makes it the perfect time to visit. That said, summer is also the busiest season. So you may want to plan ahead if you are looking for a summer holiday in Germany.
Where to stay in Regensburg?
Regensburg is often done as a day trip from Munich. But there is plenty to be seen here that warrants at least a one-night stay. In fact, that is what I am going to do the next time I am in Bavaria. Here are a couple of hotels that have caught my eye.
Find more hotels in the historic center of Regensburg.
Getting to Regensburg
Regensburg is a popular day trip destination from Munich. And it is super easy to get here by train. The journey may take anywhere between 1.5 – 2.5 hours depending on the train you board. There are direct trains as well ones that need 1 transfer in between. Click here to plan your journey on the DB (Deutche Bahn) website.
One helpful tip that I would like to give you here is to buy a Bayern Ticket for your day trip from Munich to Regensburg.
Bayern Ticket is a day pass that is valid on all public transport in Bavaria for one day. This means it will cover your commute to Munich Central Station, journey to Regensburg, travel to BMW factory, and back. In short, it will save you lots of money.
Read my complete review of the Bayern Ticket (along with hard numbers for Regensburg) before making a decision.
Getting around Regensburg
One of my favorite things about Regensburg is that it is extremely walkable. Most attractions are located in and around the historic center which you can easily walk to. In fact, a walk on the Old Stone Bridge is highly recommended.
Apart from your feet, you can also take the help of sightseeing train to see the highlights of Regensburg. The tour lasts 45 minutes and shows you all the must-see tourist attractions.
The only point when you are going to need a vehicle is if you decide to do the BMW factory tour. Board the X9 bus which departs bus station in Albertstrasse by Regensburg Hbf and get to your destination in 30 minutes. The journey is covered under the Bayern Ticket.
Other Regensburg Germany FAQ
Is Regensburg worth visiting?
Regensburg in Germany is totally worth visiting. It is one of Europe's most well-preserved medieval towns and has a beautiful town center which is listed as a UNESCO World Heritage Site. The impressive Gothic cathedral, an old stone bridge, and the colorful neighborhood of Stadtamhof make Regensburg an attractive tourist destination.
What is Regensburg Germany known for?
Regensburg Germany is known for its well-preserved medieval town center which is also a UNESCO Heritage Site. The city has a majestic Gothic cathedral dedicated to St. Peter and an arched, old stone bridge that has been standing since the 12th century. Not only is the bridge an engineering masterpiece but also the exact place where knights of the 2nd and 3rd crusades used to cross River Danube on their way to the Holy Land.
What is in Regensburg?
Three most important landmarks of Regensburg include the mighty Regensburg Cathedral (an epitome of Gothic architecture in Bavaria), the old stone bridge (a medieval engineering marvel), and a historic sausage kitchen that has been serving sausages for the past 900 years.
How far is Regensburg from Munich?
Regensburg is around 77 miles (approx. 125km) away from Munich. Takes about 1.5 hours by car and 2 hours by train to get here from Munich.
What is the closest airport to Regensburg Germany?
The closest airport to Regensburg Germany is the Munich Airport which is just an hour away by car.
Loved the best things to do in Regensburg? Pin it for later!