Last Updated on June 10, 2020 by Soumya


A trip to any place on the earth today is incomplete without pictures. There was a time when my sister and I used to vie for the old Kodak camera that my father possessed. We had to use it very carefully if we got to use it at all. Everything just changed so suddenly with the advent of digital photography. And now with so many tools at our disposal, photography has become a hobby and passion for many of us. I like to take pictures wherever I go. And Germany was no different. I took more than 1800 pictures on my trip. But not many of them bring forth my feelings for Germany as strongly as these 10 do. These 10 pictures probably represent the best of my trip to Germany. The collection is almost like my own Germany in pictures.
So what are we waiting for? Come, let's explore Germany through my 10 pictures. Come, let's take a stroll through Germany.
A Memorable Trip To Germany in Pictures – A German Photo Gallery
The East Side Gallery
The East Side Gallery is the longest, continuous section of the Berlin Wall that still exists. It is a little more than 1.3 km long and was officially inaugurated as an open-air art gallery in 1990. Here, you can see paintings by artists from more than 20 countries as an enthusiastic attempt to celebrate the fall of the Berlin Wall.
It is definitely one of the most historic landmarks of Germany and a must-have on every European bucket list. The East Side Gallery is free for all and open at all times.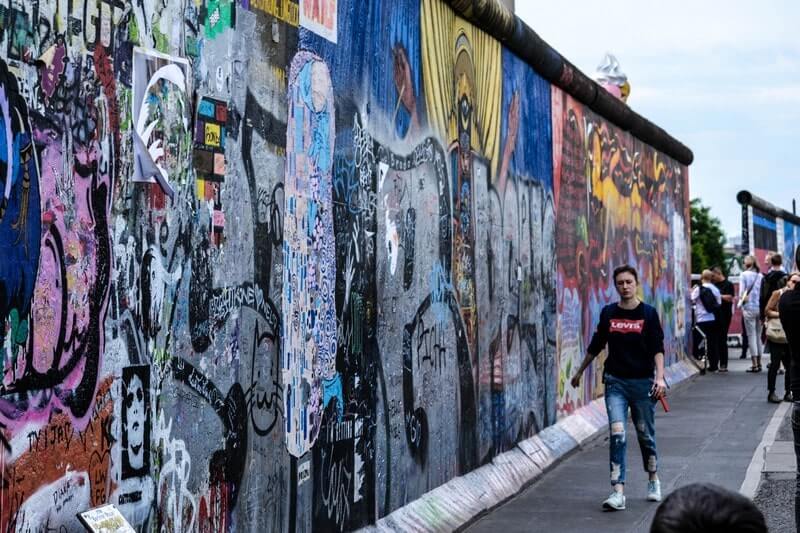 German Love For Football
Germans are crazy about football. And they are quite good at it. Of course, I am not dwelling on the recent disaster. I have a more holistic approach to things. According to Goethe Institute, more people in Germany know the name of the national football coach than they do that of the Federal President. And when we are talking of German Fußball, how can we not talk about FC Bayern Munich, the most successful club in German football history. Our first day in Munich and the whole city was painted red for a Bayern Munich game. This picture was taken at Marienplatz in Munich.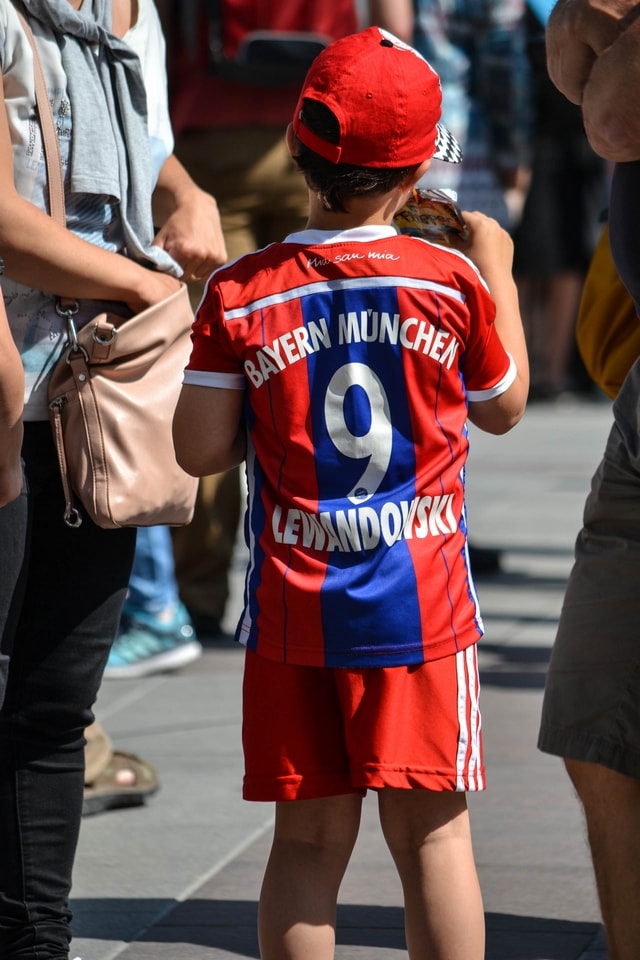 Old Town of Regensburg with Stadtamhof
I was lucky to spend a day at this beautiful world heritage site in Germany, the Old Town of Regensburg with Stadamhof. The city is home to a medieval city center with ancient Roman, Romanesque, and Gothic buildings. Regensburg has a history of 2000 years and remains the only intact historic city in Germany. It is also believed to be the northernmost city of the illustrious Roman Empire. With so much history on offer, the Old Town of Regensburg definitely makes a great destination for travelers. But that is not it. Regensburg has a lot more to offer to all kinds of travelers starting with a BMW factory tour or a plate full of fried sausages from the Oldest Sausage Kitchen in the world. Read all about it here.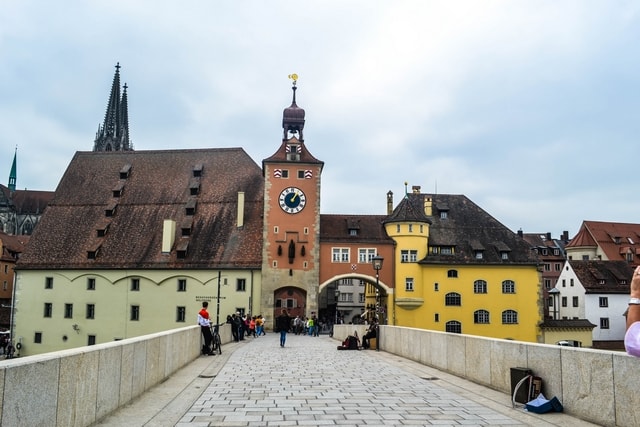 Introduction To Friedrichian Rococo
On this trip to Germany, I got introduced to a unique style of art, the Friedrichian Rococo. Friedrichian Rococo developed in Prussia in the 18th century when King Friedrich, The Great imposed his own style on the rococo designs at the Palace of Sanssouci. What resulted was an extremely beautiful and exuberant variant of the usual rococo; an amalgamation of French, German, and Dutch art. Below you can see golden rococo flowers and leaves on the ceiling of the Sanssouci Palace in Potsdam.
Related Post: Potsdam In A Day: Here's What You Should See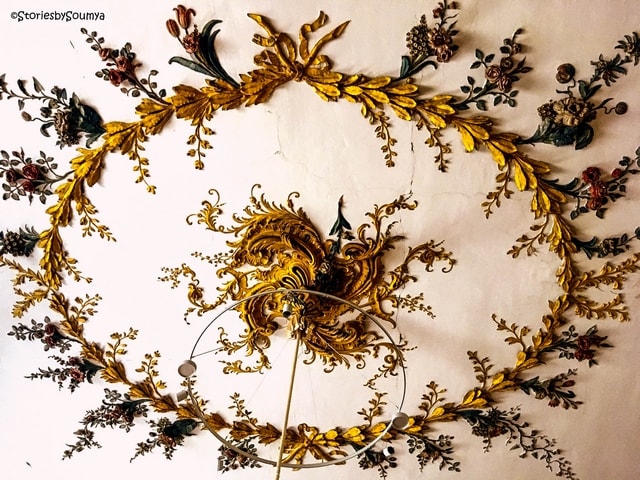 Eagle's Nest High Up On The Bavarian Alps
The Kehlsteinhaus or the Eagle's Nest built high up on the Bavarian Alps was Adolf Hitler's summer retreat. It is believed to have been a tea house where Hitler received and entertained his important guests. An important seat of power in the Third Reich era, the Eagle's Nest was witness to many crucial decisions for the regime. The journey up to the Kehlsteinhaus was an interesting one: a bus ride on a very steep, single lane road, a walk through a dark and damp tunnel that can send shivers through the spine, and then a ride up to the house on an ornate, shiny elevator that speaks volumes about Nazi power. However, once you get to the top, the view is breathtaking. You can stand and adore the mighty Bavarian Alps, touch a bit of snow here and there, and appreciate the Kehlsteinhaus as it stands alone on top of that hill dominated by pristine blue on all sides.
For other Bavarian points-of-interest, click here.
A Taste of German White Gold
I had no idea (that was until I visited Germany of course) that there existed a vegetable called the white/pale asparagus let alone it being called the German White Gold. Germans have quite a love affair with the pale asparagus or spargelzeit. I got curious when I saw this vegetable at all street-side vendors. And I was really excited when I got to taste it in Potsdam.
The picture below is a pasta dish with green peas, radish, and pale asparagus. A traditional German food, the white asparagus was quite the gold in the dish. Further research tells me that Germany has white asparagus-themed gourmet trails, asparagus queens, and a museum dedicated to the famed vegetable in the Bavarian town of Schrobenhausen. Asparagus season is short and runs from mid-April to the 24th of June. I was lucky to be there in May to catch a glimpse of the cult vegetable.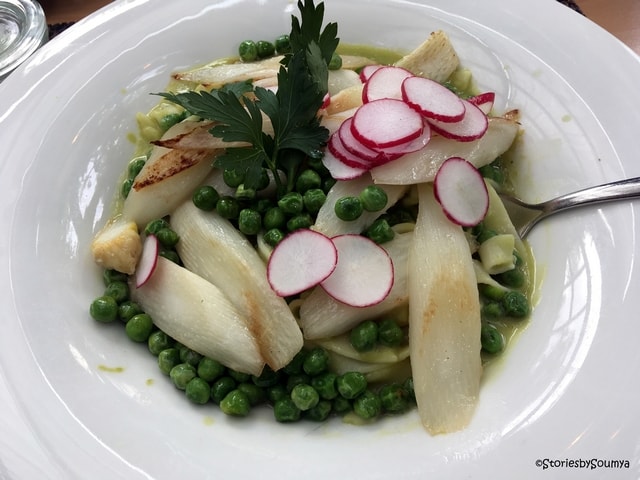 Delicious Food from Around The World
German culture of welcoming or "Willkommenskultur" has made the country a popular destination for immigrants, more so in the recent years. This has definitely added to the food scene in bigger cities and helped enhance the food culture. When we were in Berlin/Munich we made sure we tried food from a different country at every meal. I have a thing for food from the Middle East as well as for unexplored cuisines of Africa. So food was definitely a big highlight for me on this trip. I enjoyed some really delicious food from all over the world: Arabic, Mediterranean, Ethiopian, Vietnamese, Chinese, Mexican and much more.
Related Post: Nutritious, Slow, and Communal: It's All About Ethiopian Food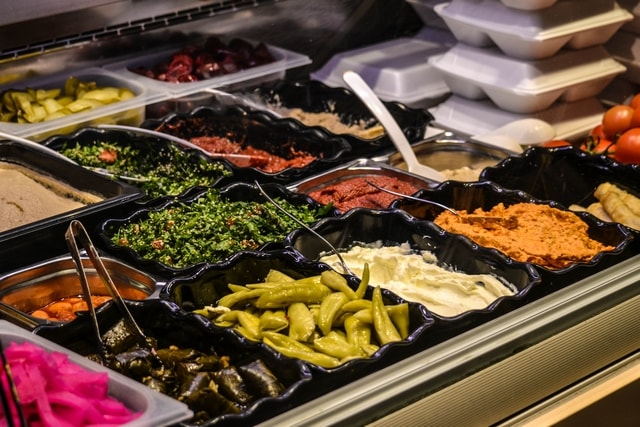 The Quintessential Biergarten
Germans love their beer and they love their Biergartens. A Biergarten or "beer garden" is not just a place to have a beer, it is an institution in itself. A post on "Germany in Pictures" would not be complete if I did not include a picture of this institution. Biergartens open all over Germany as soon as spring steps in. They last until the end of autumn. They are usually open-air places where you can have a beer and enjoy some local food mostly on communal tables. Here you can find what to expect at German Biergartens and a list of some of the best in the country.
Deutsche Bahn and Butterkuchen
The picture below is that of my favorite dessert in the whole of Germany: the butter cake or Butterkuchen. With just the right mix of sweetness, flavor, and softness, butterkuchen melted my heart the first time I had it on a train trip. I could not find it anywhere except the train pantries, so the Butterkuchen came to symbolize Deutsche Bahn for me. Every time we boarded a train in Germany and we did that quite often, we would run to the kitchen to get our slices. I have many fond memories of the Deutsche Bahn: a memorable night when it went all dark inside the train, those German-language freebies for my little one, and an interesting bilingual chat with a staff. A slice of Butterkuchen was witness to all of them.
Related Post: A Memorable Train Journey Through Germany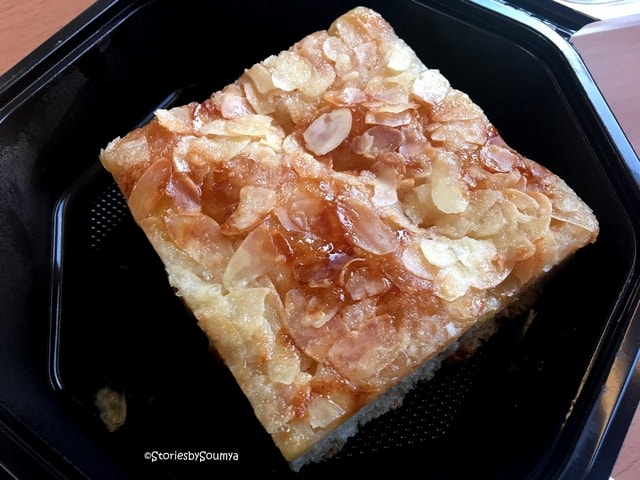 My Favorite Garden Dolls
I found these really cute garden dolls at a local market in Munich and needless to say, I was charmed by them. I wanted to bring back a couple but I live in Mumbai and I do not have space for a garden. Moreover, the five of them made such an attractive team I did not really want to split them up. So I brought back memories and a number of pictures from Germany. I could not really find any connection between these dolls and German culture/routines. But somehow they perfectly expressed my connection with Germany. It was CUTE and INTERESTING!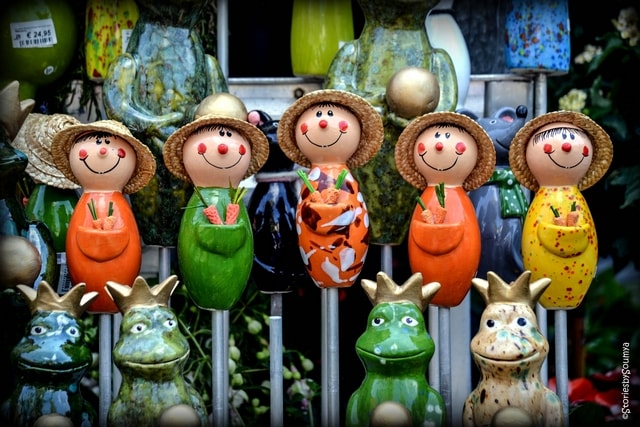 Have you been to Germany? What was your favorite destination/food/piece of art in the country? Do you want to see more of Germany in pictures? Do some of these photographs remind you of your own trip? Feel free to drop me a line below and let's get the conversation going.
Like It? Pin It!