Last Updated on June 12, 2022 by Soumya
Planning a trip to Bavaria and looking for the cheapest, easiest, and best way to travel between Bavaria's beautiful cities and tourist attractions? The answer to that is simple – get a Bayern Ticket!
A Deutsche Bahn (DB) Bayern-Ticket or Bavaria Ticket is a day pass that allows you unlimited travel on Bavaria's public transport in one day. It takes out all the stress from your planning and offers you amazing flexibility. But that's not it.
The best part about a Bayern Ticket is that it helps you save a ton of money when traveling within Bavaria. It costs EUR 25 for 1 traveler and only 8 euros more for every additional traveler that you add to it. Up to 5 adults can travel on one pass.
If you are a team of 5, you can literally see all of Bavaria for just EUR 11.40 per day per person.
That's incredible, right? I thought so too until I started using a Bayern Day Ticket almost every day on the Bavaria leg of my 10-day Germany trip. And it was insane!
We ended up saving hundreds of euros with a family of just 3 members (2 adults + 1 kid). You can do the same or even better with your Bayern Pass. Read below to find out how!
What is Bayern Ticket?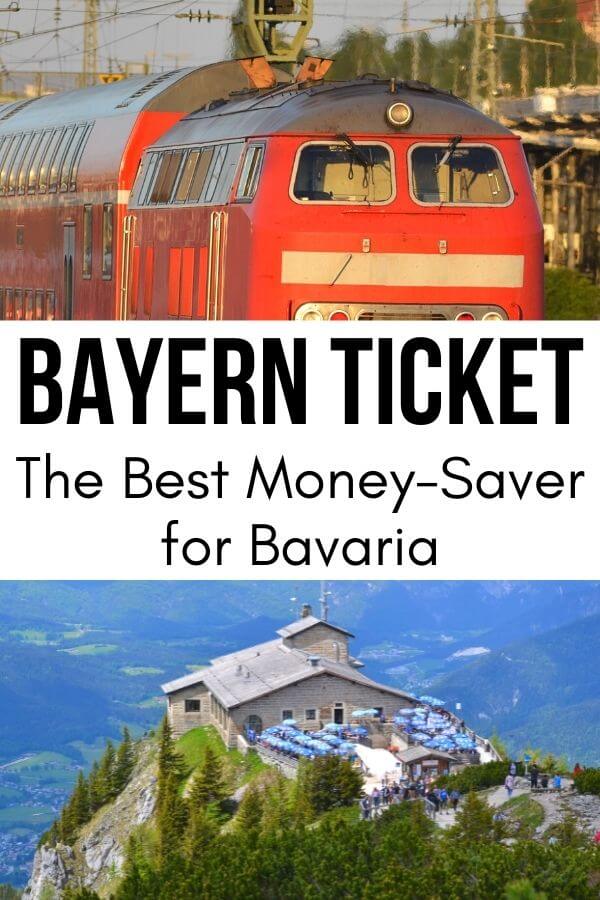 Bayern Ticket or the Bavaria Ticket is a day transportation pass that allows you unlimited travel within the German state of Bavaria. It covers travel on all local trains including DB's RE (Regional-Express) and RB (Regionalbahn) trains, S-Bahn, U-Bahn, trams, and buses.
You can purchase Bayern Ticket for an individual or a group of up to 5 people. The best part is the the ticket is just EUR 8 more for every person you add which means it gets progressively cheaper! Plus, you can take up to 3 kids (aged 6-14 – they usually travel half in Germany) for free! Kids under 6 are not even counted.
I found the Bavaria Ticket extremely helpful and economical for all my Munich day trips as well as transits within Bavaria. I am sure you will see the benefits too after this little walk through the nuances.
Please note: This post may contain affiliate links which means I may earn a commission if you make a purchase by clicking a link on this post. This will be at no additional cost to you. Affiliate links help me keep this website up and running. Thanks for your support!
How does Bayern Ticket work? [In a gist]
There are two versions of the Bayern Ticket – the usual one which is valid from 9am to 3am the following day & Bayern-Ticket Nacht (Night) which is valid from 6pm to 6am the following day. The hours are even better on weekends and public holidays [see table below for details].
| | | |
| --- | --- | --- |
| Ticket Type | Weekdays | Weekends + Public Holidays |
| Bayern-Ticket | 9am – 3am | Midnight – 3am the following day |
| Bayern-Ticket Nacht | 6pm – 6am | 6pm – 7am the following day (except 8th Aug) |
Bayern Ticket validity
I was really curious as to what was special about 8th August and found that this day is celebrated as Peace Festival and is a public holiday only in Bavaria. A helpful tip if you are planning your Germany trip around this time – most businesses may be closed.
Once you purchase your Bavaria regional ticket or Bayern Ticket for a particular date, you can make unlimited trips on Bavaria's public transport (including REs, RBs, S-Bahn, U-Bahn, buses, and trams). Remember, the day pass is valid only for the day you pay for. You can buy a Bayern ticket online or at a vending machine [detailed process below].
You can board any local train (RE or RB), S-Bahn, U-Bahn, trams, buses at any time of the day with a Bayern Ticket. Convenient, right?
Also read: How to see the best of Germany in 10 days by train?
Which trains can I take with a DB Bayern Ticket?
With a DB Bayern Ticket, you can travel on all local trains in the Bavaria region. This includes RE (Regional-Express), RB (Regionalbahn), and IRE trains. You can also ride the S-Bahn (suburban trains) and U-Bahn (underground metro trains).
However, you cannot take high-speed and long distance trains with this ticket. Examples include ICE, IC, EC, and Railjet trains.
Here's a quick way to find out which ones.
Go to DB Website, enter your "from" and "to" destinations within Bavaria, click search, check the box that says "local transport only" and then search again. You will get the best way to get to your destination using local transport in Bavaria and that is included in a Bayern Ticket.
What destinations does Bayern Ticket include?
Bayern Ticket covers every possible city, town, and village in Bavaria provided there is some form of local transport available at that place. Apart from that, it also goes as far as some border stations such as Salzburg Central Station and Kufstein in Austria, Ulm Central Station, Lauda, & Crailsheim in the German State of Baden-Wuttemburg, and Sonnenberg in Thuringia.
Click here for free-to-download map (in German) of destinations included in Bayern Ticket. You can find a more detailed map here.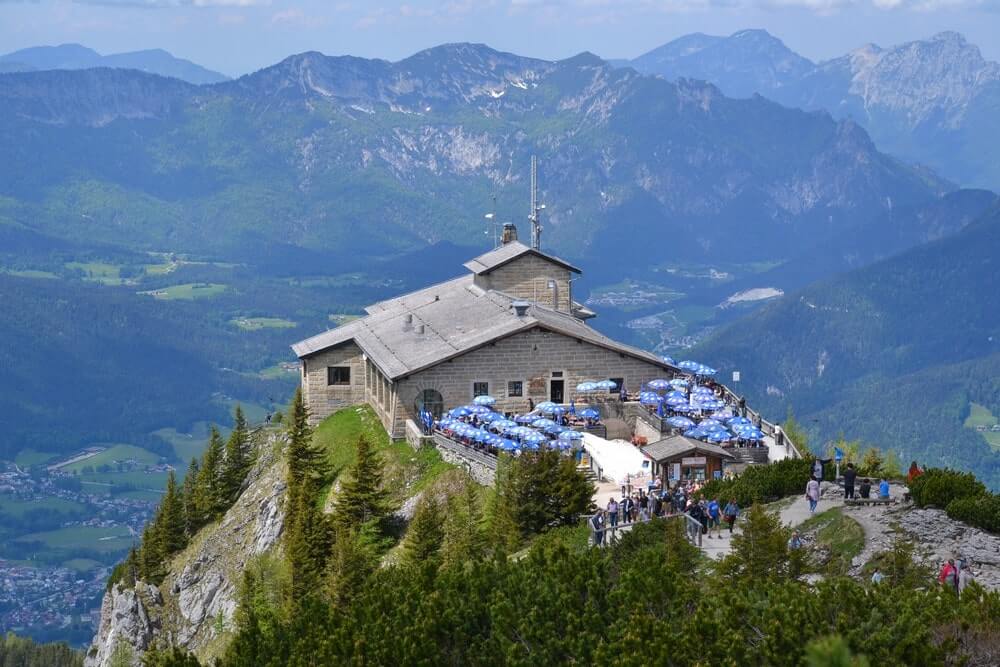 Does Bayern Ticket include Salzburg?
One of the best things about Bayern Ticket is that it does include Salzburg Central Station even though Salzburg is located in Austria. You can go all the way up to Salzburg Central Station with your Bayern Pass.
Does Bayern Ticket include Innsbruck?
Bayern Ticket does not include Innsbruck in Austria. With your Bayern Pass, you can go as far as Kufstein in Austria or Mittenwald in Bavaria. From there, you can take Tyrol S-Bahn trains to Innsbruck (roughly 1hour from each place).
Bayern ticket price
Now after all this discussion, you must be wondering how much does a Bayern Ticket cost? Let me assure you, a Bavaria ticket is quite cheap when compared to single tickets and is an efficient use of your money especially if you are using Bavaria's public transport multiple times a day.
It starts making even more sense when you are a couple/family or a group of up to 5 adults. Bayern Ticket gets only EUR 8 more expensive every time you add another person to it.
Take an example here. A 2nd Class Bayern Ticket costs EUR 25 for one person. For 2 people, it costs only EUR 33 (25+8) instead of EUR 50 (25+25). For 5 people it costs a mere EUR 57 instead of EUR 125. See the magic? We delve deeper into savings in the next section.
Bayern Ticket is available in both 1st Class and 2nd Class. Since we already discussed that there are two versions of the ticket (usual and nacht), there are, in total, 4 types of Bayern Tickets. I have listed their prices below for your easy reference.
Bayern-Ticket prices
| | | | | |
| --- | --- | --- | --- | --- |
| No. of travelers | 2nd Class (total cost) | 2nd Class (per passenger cost) | 1st Class (total cost) | 1st Class (per passenger cost) |
| 1 | 25 EUR | 25 EUR | 37.50 EUR | 37.50 EUR |
| 2 | 33 EUR | 16.50 EUR | 57.50 EUR | 28.75 EUR |
| 3 | 41 EUR | 13.67 EUR | 77.50 EUR | 25.83 EUR |
| 4 | 49 EUR | 12.25 EUR | 97.50 EUR | 24.38 EUR |
| 5 | 57 EUR | 11.40 EUR | 117.50 EUR | 23.50 EUR |
Bayern-Ticket Nacht prices
| | | | | |
| --- | --- | --- | --- | --- |
| No. of travelers | 2nd Class (total cost) | 2nd Class (per passenger cost) | 1st Class (total cost) | 1st Class (per passenger cost) |
| 1 | 23 EUR | 23 EUR | 34.50 EUR | 34.50 EUR |
| 2 | 28 EUR | 14 EUR | 50.50 EUR | 25.25 EUR |
| 3 | 33 EUR | 11 EUR | 66.50 EUR | 21.70 EUR |
| 4 | 38 EUR | 9.50 EUR | 82.50 EUR | 20.63 EUR |
| 5 | 43 EUR | 8.60 EUR | 98.50 EUR | 19.70 EUR |
Bayern-Ticket prices and rules for children
Children under 6 years of age travel free.
Up to 3 children (6 -14 years of age) can travel free on one Bayern-Ticket regardless of whether the ticket is bought for 1 person or 5 people. The children need not be your own. This means kids can easily travel for free with grandparents/uncles/aunts.
How much can I save with a Bayern Ticket?
Short answer: A lot! Yes, you can save a lot by buying a Bayern-Ticket for your travels within Bavaria and a lot more if you are a couple, big family, or small group. Let's understand this with a couple of examples.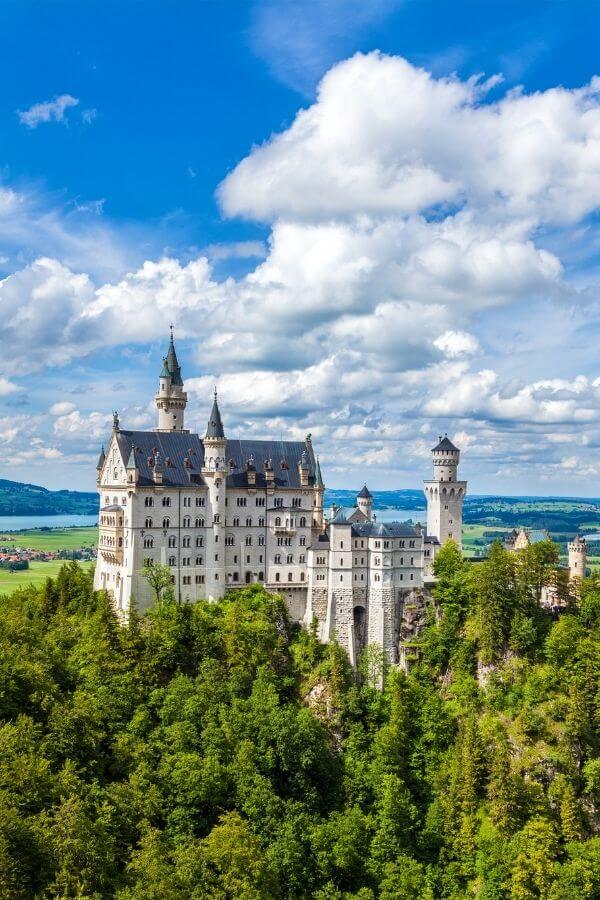 Example 1: Munich to Neuschwanstein Castle for a single person
Take the instance when you want to visit Neuschwanstein Castle from Munich.
To be able to do that, you will need to get to Munich Hauptbanhof or Munich Pasing station from where you are staying, take a train from Munich Hbf to Fussen Railway Station, hop on bus 73/78 from Fussen to Hohenschwangau, and then hike up or take a shuttle bus to the castle.
If you buy single tickets for every ride, this is what the one-way cost will turn out to be.
EUR 34.40 = EUR 28.70 (cheapest train ticket from Munich to Fussen valid at any time) + EUR 3.40 (single ticket within Munich) + EUR 2.30 (bus from Fussen station)
Multiply that by 2 to get the total fare for a return trip.
Getting to Neuschwanstein Castle from Munich and back can cost as high as EUR 68.80 for 1 person whereas with a Bavaria Ticket or Bayern Ticket, the entire journey will cost only EUR 25. Total savings = EUR 68.80-25 = EUR 43.80.
If you are a group, you will save even more. For example, a couple can save a whopping EUR 104.60 by buying a Bayern Ticket for 2 people.
Ticket cost for 2 people without Bayern Ticket = EUR 137.60
Cost of Bayern Ticket for 2 people = EUR 33
Savings = EUR 104.60
Also read: 18 Fairytale castles in Germany that you need to see
Example 2: Munich to Regensburg for a family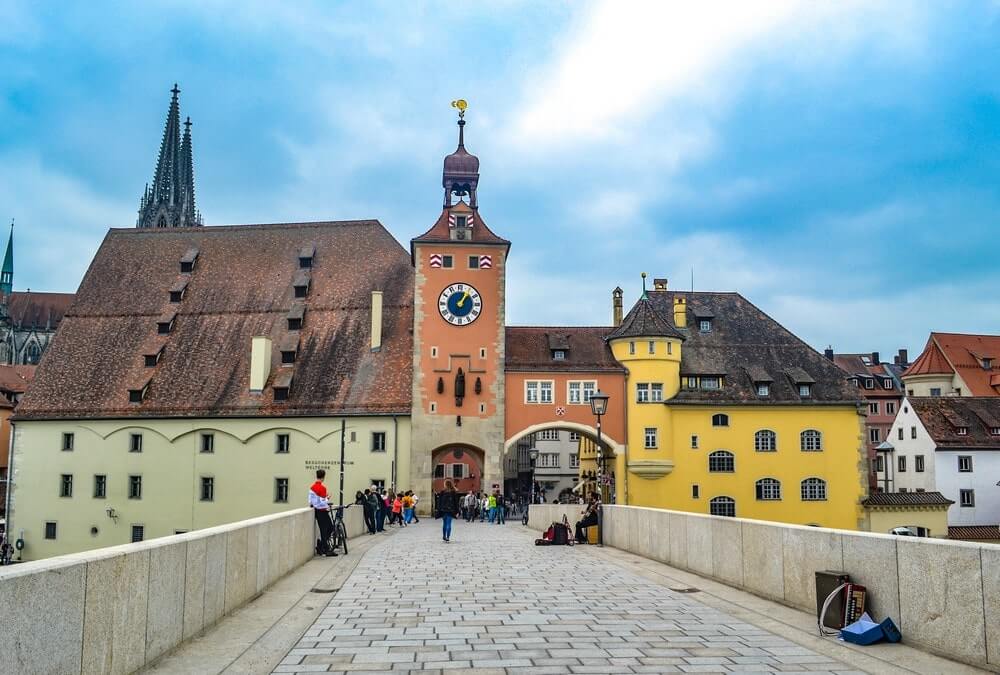 For a small family with 2 adults and 1 kid, the costs for a round trip to Regensburg from Munich will be as follows.
Train tickets for 2 adults from Munich Hbf to Regensburg Hbf = EUR 59.60 (children up to 14 years of age travel for free when accompanied by parents)
2 single tickets to get to Munich Hbf = EUR 6.80
Total cost (one way) = EUR 66.60
Total cost (round trip) = EUR 133.20
With a Bavaria Day Ticket, you can do all this for as low as EUR 33. That's savings of more than 100 euros we are talking about here.
Also read: 12 Best things to do in Regensburg Germany
How do you get a Bayern Ticket?
You can get a Bayern ticket online, at a DB vending machine, or at DB sales kiosks [an extra surcharge of EUR 2 at the kiosks].
Note that once decided and booked, you cannot change the names of passengers on your Bavaria Ticket. Therefore, I suggest you book the ticket as close to your journey date as possible so that you are pretty sure who is traveling. Ticket prices do not change – so, you won't lose anything.
Buy Bayern-Ticket online
You can buy the Bayern Pass online on DB website here. This is honestly my preferred method of booking because prices are the same as getting it from a ticket vending machine.
The process is fairly simple and I have listed the key steps below.
Click on Book your ticket now or Select now.
Choose the ticket you want: Bayern-Ticket or Bayern-Ticket Nacht.
Pick your Date of validity or journey, select number of passengers and class.
Click To book and proceed to the next page where you can either login or check out without a customer account.
On the next page, you need to enter your personal address and select a method of payment. There is paydirect, direct bank transfer, credit card, and Paypal. I prefer the credit card option. You can choose whatever you are comfortable with.
There is an option to collect BahnBonus points – don't bother if you don't live in Germany.
You can also book your Bavaria ticket on the DB Navigator App on your phone. Tickets are available under Regional Offers in the menu. I have never used the app before. Let me know if you have used it and if it is more convenient than the website.
Buy Bayern-Ticket offline
You can buy a Bayern-Ticket offline at any DB ticket vending machine at Munich stations or any station in Bavaria. You can also buy it at a person-operated kiosk but they charge EUR 2 extra. I suggest you try the vending machine and save on those precious 2 euros!
Here's how you can buy from a ticket machine.
Head to a red ticket vending machine. They have Fahrkarten written over them and DB printed on top left.
The welcome screen is in German. Select English (British flag) to continue.
Select Bayern-Ticket and choose the number of passengers. Up to 3 children (6-14 years) and unlimited (less than 6years) can travel free on one ticket.
Select your class and travel date.
Pay by cash or card and you are done. Your ticket will be printed.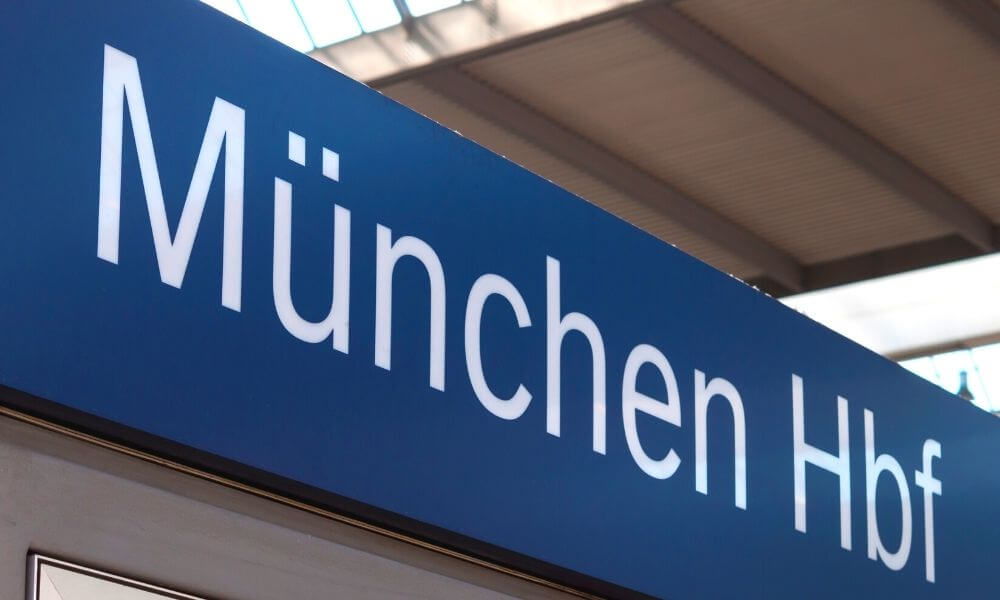 Is the Bavaria Ticket really so awesome?
Yes, it is. And you should definitely use it when planning for your day trips from Munich or getaways within Bavaria. The only catch that comes with using a Bayern Ticket is that you can use it only after 9am on weekdays. On weekends and public holidays, it is available throughout the day.
Who should get a Bavaria Ticket?
Anyone who uses Bavaria region's public transport multiple times in a day and wishes to save money while traveling.
A big family or small group with up to 5 adults + 3 kids (6-14 years) + more kids under 6 years.
Anyone who needs flexibility while planning their day trips from Munich or commutes between Bavarian places of interest.
Anyone who wishes to avoid the hassle of booking single tickets for every journey and validating them.
When is the Bavaria Ticket not very helpful?
When you are only using local transport within cities such as Munich or Nuremberg. Get a city day ticket instead – that is much cheaper.
If you need to travel earlier than 9am on weekdays – a Bayern-Ticket is not valid. You will have to purchase a single ticket.
When you need to travel longer distances such as Munich to Bamberg in shorter times. If you opt for an ICE train (not covered in Bavaria Ticket), you will get to Bamberg in 2 hours whereas the same journey will take 3 hours by regional trains.
More Bayern ticket FAQs
Does Bayern ticket include U-Bahn?
Yes, the Bavaria day pass includes U-Bahn and S-Bahn in all Bavarian cities where they are present.
Does Bayern ticket need validation?
No, a Bayern Ticket does not need validation because it is only valid for the day that it is purchased for.
Where can I use Bayern ticket?
You can use the Bavaria ticket on all local and regional trains in Bavaria including RE and RB trains, S-Bahn, and U-Bahn. It is also valid on all trams and buses. Click here to see a map of all the destinations where you can use a Bayern pass in.
Found this helpful? Pin it for later!