Last Updated on July 4, 2023 by Soumya
Churches in Munich are stunning. Their frescoes and facades are some of the most beautiful that I have seen in the world. Plus, they are steeped in history.
Some of Munich's churches are nearly a thousand years old! They have seen multiple royal families, epidemics, fires, wars, and so much more. Many were severely damaged during WW II. Yet, what we see today is a enviable collection of churches that could put any other European city to shame.
Gothic, Baroque, Rococo, Renaissance – Munich's churches come in all styles and kinds. Here, you can stand right where the Devil stood, view remarkable ceiling frescoes, catch a gorgeous view from a tall observation deck, and do so much more.
In this article, you will find a list of the 11 most beautiful churches in Munich and a map with directions. You can easily see most if you are staying in Munich for 2 days or more. I suggest you add at least a 3-4 in your Germany itinerary. However, if you are strapped for time, I suggest you check out the churches in and around Marienplatz. Some of the most incredible ones are there.
Best churches in Munich
Please note: This post may contain affiliate links which means I may earn a commission if you make a purchase by clicking a link on this post. This will be at no additional cost to you. Affiliate links help me keep this website up and running. Thanks for your support!
St. Peter's Church – Peterskirche
Location: Rindermarkt 1, 80331 Munich
Style: Gothic
Highlights: Spectacular view of the city from Alter Peter + 300-year-old High altar with a golden statue of St. Peter
Peterskirche or St. Peter's Church in the historical center is one of my favorite places to visit in Munich. Rightfully so, because this is one of the prettiest churches in Munich.
St. Peter's is the oldest Roman Catholic parish church of Munich. We can trace back its roots to 12th-century when a Romanesque church existed at this site. In the 14th century, it was expanded in the Gothic style. The church was rebuilt and renovated several times following the fire of 1368 and WW II.
Inside, you will find a Baroque high altar which is almost 300 years old. On top of it stands an impressive golden figure of St. Peter. The church is also home to the relics of St. Munditia, a saint who lived in Rome around 250.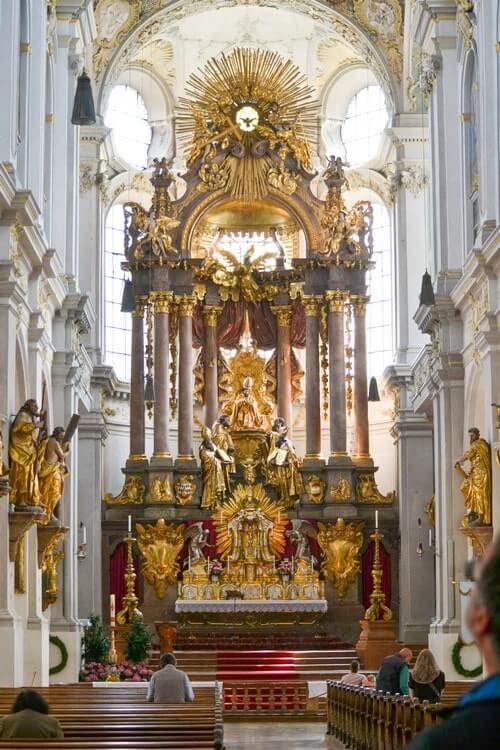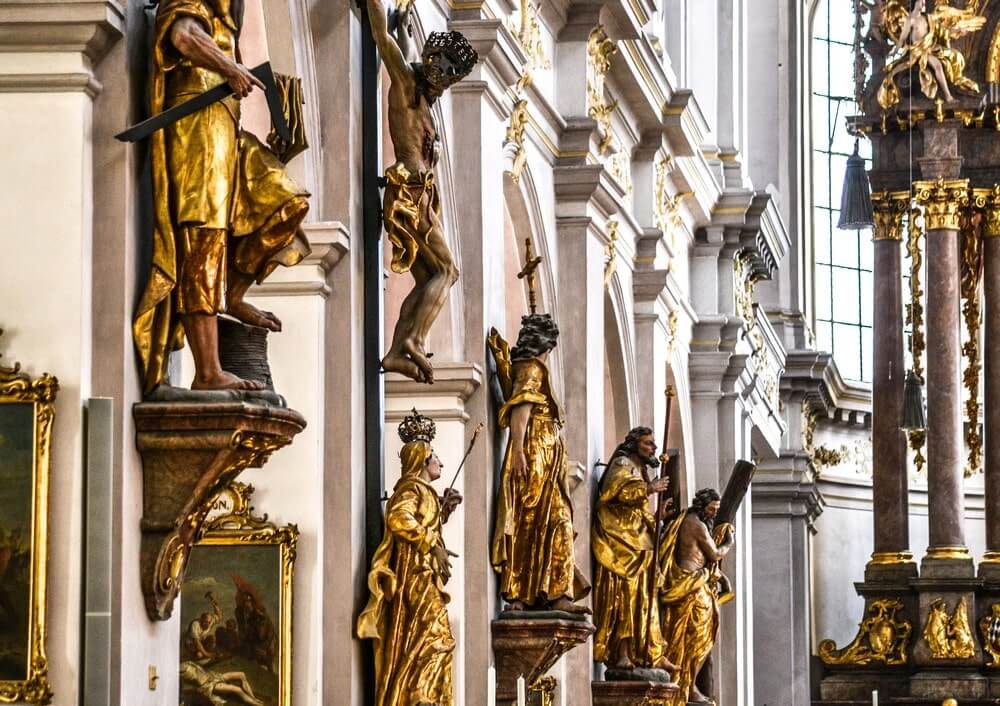 Peterskirche has a 300ft tall tower that you can spot from anywhere in Munich. Locals fondly refer to it as Alter Peter or Old Pete. You can climb 306 steps of Old Pete to get to the observation deck where you will be rewarded with stunning views of the city.
Trivia: The tower clocks and bells of St. Peter's are the oldest documented ones in Munich.
The best part about Peterskirche is that it can be easily included in your Munich itinerary because it is right by the side of Marienplatz. A 1-minute-walk from Neues Rathaus will get you here.
Also read: 12 Attractions of Marienplatz that you should not miss
Munich Cathedral – Frauenkirche
Location: Frauenplatz 12, 80331 Munich
Style: Late Gothic
Highlights: Devil's footstep + Wittelsbach Monument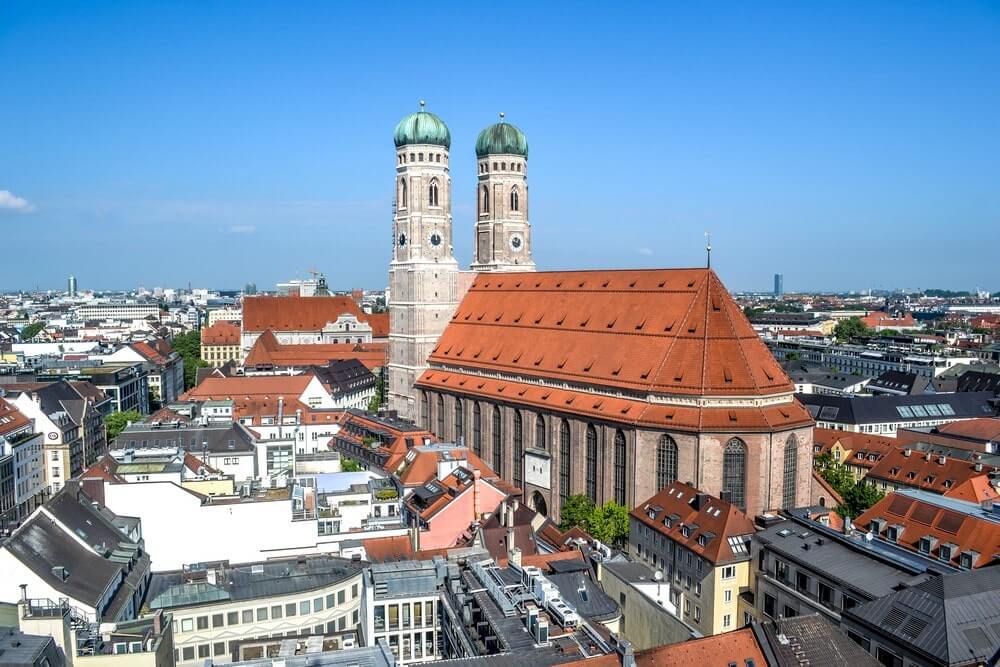 Officially known as Cathedral Church of Our Lady, Frauenkirche is also called Munich Cathedral and is one of Munich's most unmissable sights. It was constructed in the second half of 15th-century in late Gothic style. Today' it dominates the city's skyline by its sheer size and two tall towers that are topped off by distinct, green domes.
Frauenkirche is one of Germany's largest hall churches. The interior has 22 octagonal pillars and can hold more than 20,000 people at the same time. Additionally, there are 20 chapels inside dedicated to saints, apostles, and trade guilds.
Some of Munich Cathedral's unmissable highlights are the Wittelsbach Monument (many from the royal Wittelsbach family are buried here) and a Devil's Footprint. According to an interesting legend, Satan himself visited this cathedral hundreds of years ago and left the print of his foot.
Be sure to check out panoramic views of the city, especially of Neues Rathaus and Peterskirche, from the southern tower. An elevator can take you up there.
Theatine Church – Theatinekirche
Location: Odeonplatz, 80333 Munich
Style: High Baroque
Highlights: Bright yellow Rococo facade + High Baroque architecture style from Italy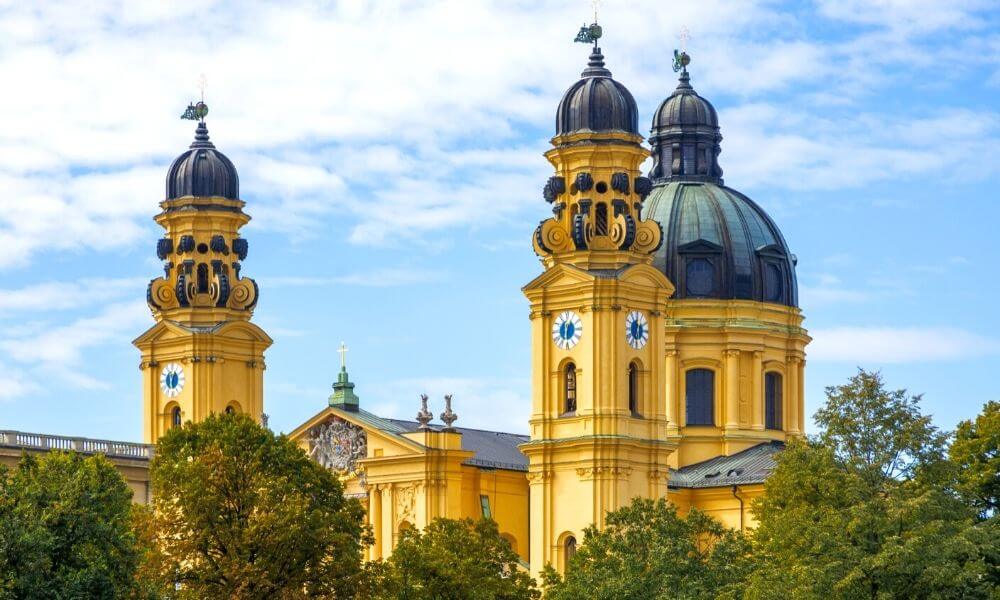 Theatinekirche is an unmissable, yellow-colored Catholic church right in the middle of Munich. It is located just 5 minutes away from the glamorous Munich Residenz.
Built in the 17th century, Theatine Church of St. Cajetan is said to be inspired by Sant 'Andrea della Valle, a minor basilica in Rome, Italy. That is why, you will see the High Baroque style from Italy amply reflected in the architecture. In fact, this was the first religious building north of Alps to be designed in this style.
Two towers, each 66 meters high, were added later. The façade was designed much later in the 18th century by a Belgian architect in the Rococo style. Bright yellow color and a typical Mediterranean appearance (have a look at my article on Sicilian Baroque to see the similarities) make the Theatinekirche a unique landmark in Munich.
Also read: 25 Amazing places to visit in Munich
Church of the Savior – Salvatorkirche
Location: Salvatorstrasse 17, 80333 Munich
Style: Gothic
Highlights: A unique interior with yellow ribbed vaults complementing the white walls.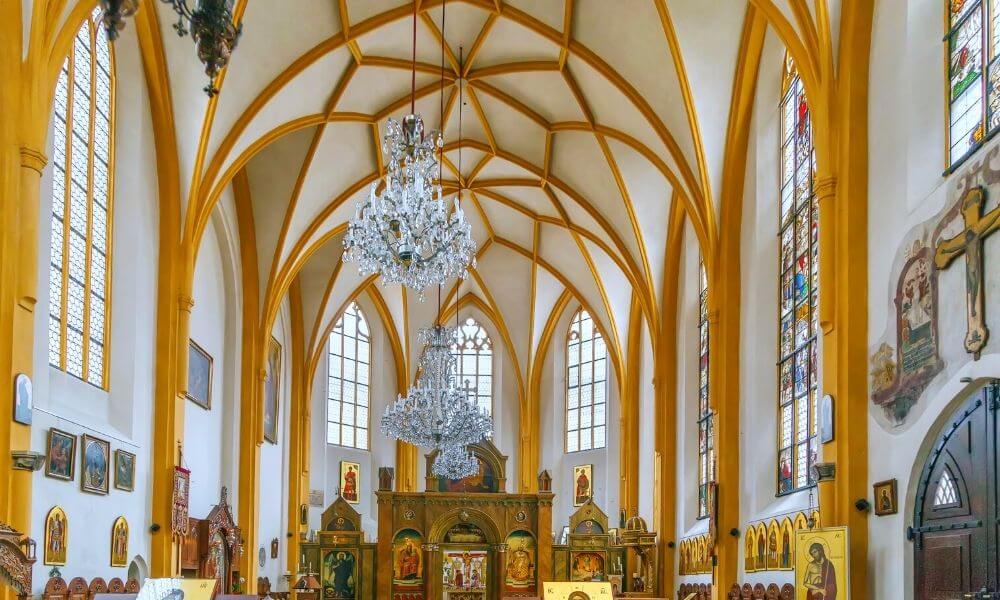 Formerly a cemetery for Frauenkirche, this small Gothic church is now used by the Greek Orthodox community of Munich. It was built way back in 1493 and even served as a storage unit for sometime.
The church has a modest Gothic exterior and a typical Greek Orthodox interior. Be sure to check out the yellow ribbed vaults inside the church which look remarkable against the white walls.
If you are in search of offbeat churches in Munich, then this is one you should be visiting. Located just a minute away from the Theatine church, it is not very difficult to get to either.
Asam Church – Asamkirche
Location: Sendlinger St. 32, 80331, Munich
Style: Late-Baroque – Rococo
Highlights: Ceiling fresco + A variegated interior showing 3 different stages of life/world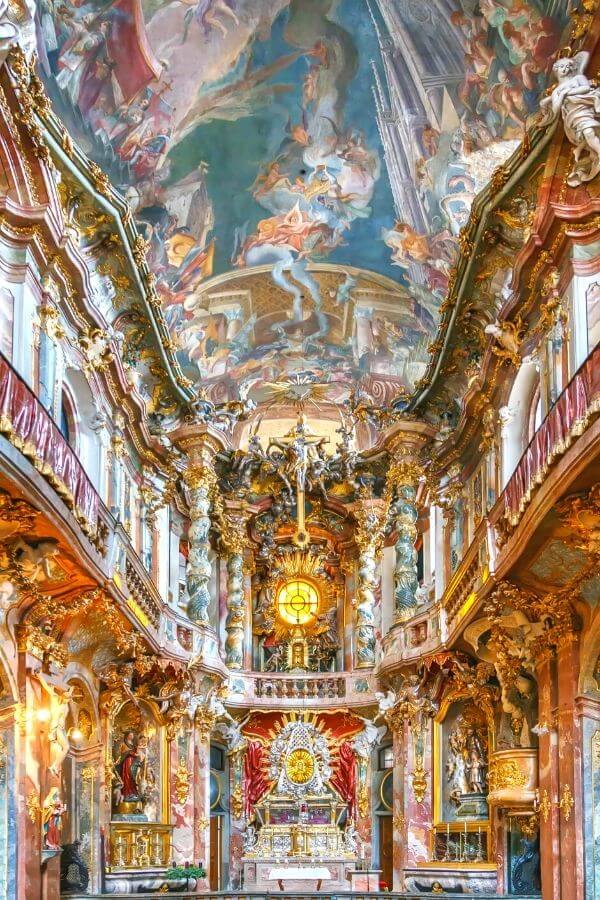 Asam Church is a beautiful Late-Baroque church on Sendlingerstraße that was built by the Asam brothers in early 18th century. It was meant to be a private chapel for the brothers but was thrown open to the public in 1746.
Two brothers, Egid Quirin Asam (sculptor) and Cosmas Damian Asam (painter) built the stunning Asamkirche as a means to achieve salvation. They chose to dedicate it to St. John of Nepomuk who is believed to be the Protector of Bavaria. A ceiling fresco depicting the life of Saint John Nepomuk is an absolute masterpiece.
One of the highlights of Asamkirche is the stunning interior divided into 3 different layers by the varied intensity of lighting. The lowest layer which includes church benches is dark and symbolizes suffering. The middle layer, which is reserved for the king, is white and blue. The third and topmost layer which includes the ceiling is well lighted and represents God and eternity.
St. Ludwig Munich – Ludwigskirche
Location: Ludwigstrasse 22, 80539 Munich
Style: Romanesque
Highlights: Huge frescoes of the Last Judgement, Nativity, and Crucifixion & round arches called Rundbogenstil.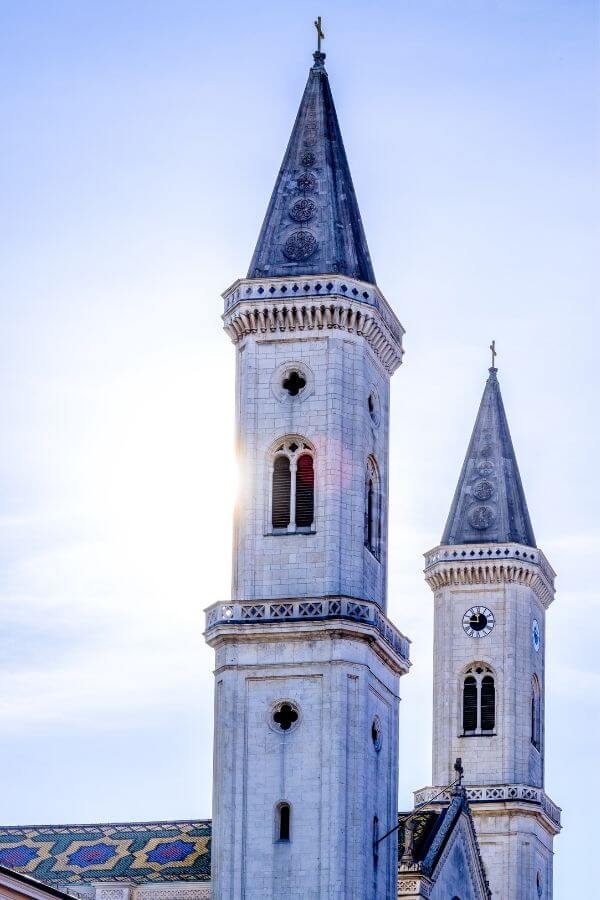 Ludwigskirche of the University Church of St. Ludwig was built under the patronage of King Ludwig I of Bavaria. It was built in the early 19th century in the neo-Romanesque style because of King Ludwig's love for Italian architecture.
Highlights of this beautiful white-washed church on Ludwigstrasse include the second-largest altar fresco in the world and a series of round arches called the Rundbogenstil. Rundbogenstil is said to have influenced the architecture of many churches, synagogues, and train stations in both Germany and the USA.
Be sure to check out the large fresco of the Last Judgement behind the high altar. Frescoes of the Nativity and the Crucifixion are also huge. They were created by German painter Peter von Cornelius, one of main representatives of the Nazarene movement.
St. Michael's Church – Michaelskirche
Location: Neuhauser St. 6, 80333, Munich
Style: Renaissance
Highlights: Impressive façade with statues of Bavarian kings in the niches almost appearing like a family tree.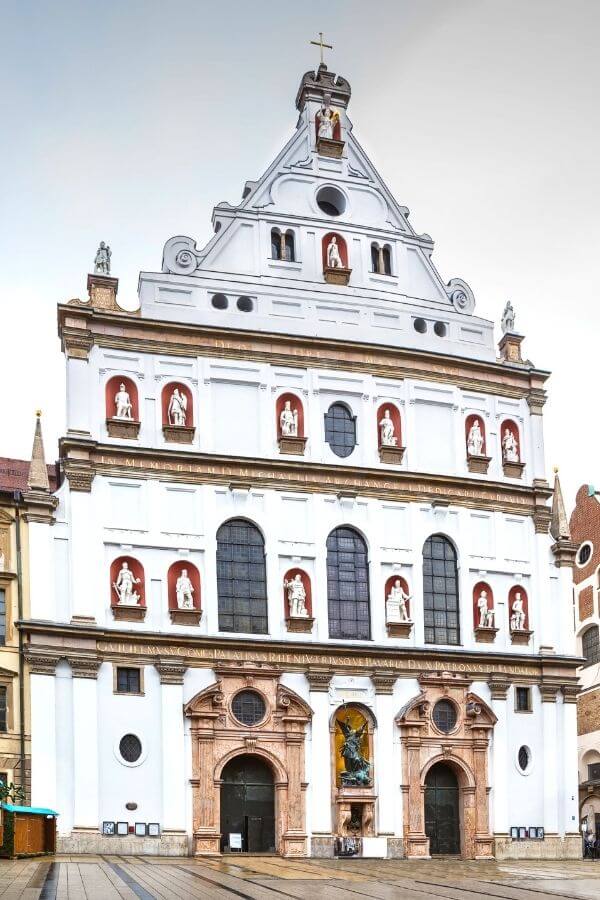 The Jesuit church of St. Michael was built by William V, Duke of Bavaria, between 1583 – 1597. Apparently, this is the largest Renaissance church north of Alps and has its fair share of history and controversy.
William V built Michaelskircke as center for Counter Reformation. In the process of building it, he demolished 87 houses in the neighborhood without paying any heed to protests by residents.
Well, if you can get past that unpalatable truth and decide to enter the church, you will notice a high altar and enormous vaulted ceilings adorned with frescoes. The church crypt contains the tombs of several important members of the royal Wittelsbach family.
However, what really caught my eye was the impressive white and gold façade of St. Michael's Church. 13 niches on the façade contain standing statues of Duke Wilhelm and other Bavarian rulers. This makes the church unique and very different from the usual medieval churches in Munich.
Heiliggeistkirche – Church of the Holy Ghost
Location: Pralat-Miller-Weg 1, 80331 Munich
Style: Gothic followed by Baroque
Highlights: Beautiful ceiling frescoes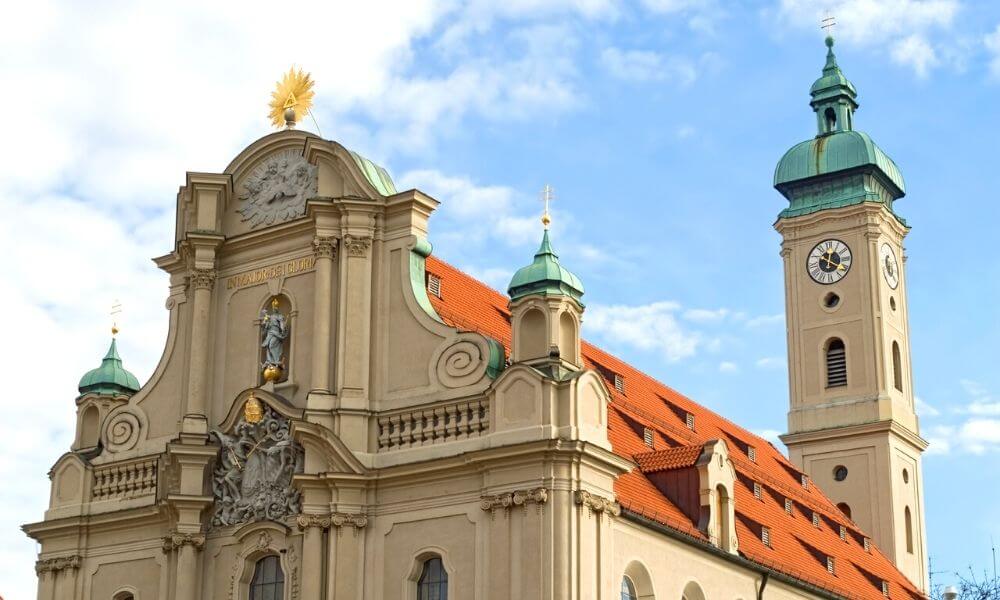 This one was definitely the most difficult one to pronounce. But you know what? You can break it into pieces to pronounce and understand it better. Heilig-Geist-Kirche or the Holy-Ghost-Church!
Located just 2 minutes away from Viktualienmarkt, this smaller but pretty Holy Spirit Church has an interesting history, a Baroque facade, and some stunning frescoes created by the Asam brothers.
A hospice and a Romanesque chapel stood at the same spot in the 13th century. After a fire in 1327, they were replaced by a new hospice and a Gothic church in late 14th century. The church got a new look in the 18th century when its façade was redone in the Baroque style and its interiors received a fresh Rococo makeover complete with beautiful frescoes.
Heilig-Geist-Kirche, according to me, is one of the most eclectic churches in Munich. After having lived through so many eras, it is the perfect place for a tour of 800 years of German architectural history.
Holy Trinity Church
Location: Pacellistrasse 6, 80333 Munich
Style: Baroque
Highlights: Remarkable dome fresco + The only church to remain undestroyed in WW II
The Church of Holy Trinity is Munich's first church to be built in the late Baroque style. It was constructed between 1711 – 1718 and is known for its stunning dome fresco created by Cosmas Damian Asam.
The Trinity Church is special because it is the only church in Munich that suffered no damage during WWII. Here, you can still see the original features from 300 years ago.
St. Paul's Church – Paulskirche
Location: St. Pauls Platz 11, 80336 Munich
Style: Gothic – Revival
Highlights: Gargoyles on the façade + Splendid views from the observation tower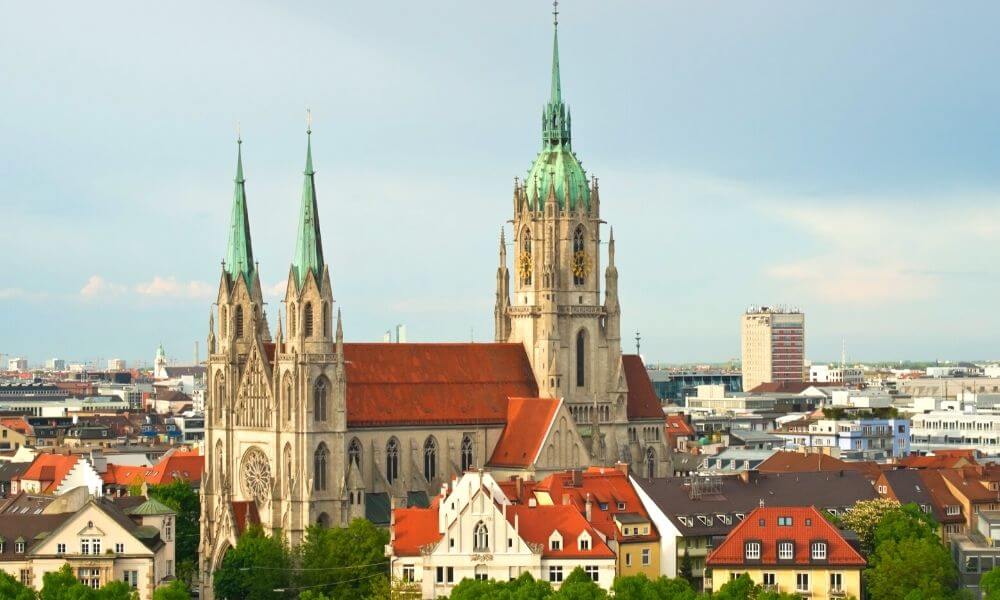 Built between 1892 – 1906 in Gothic-Revival style, St. Paul's Church with its massive central tower of 320 feet is one of the most dominating landmarks on Munich's horizon. The church also has two Western towers, 250 feet in height.
The Gothic facade of the church is decorated with carvings, turrets, and interesting sculptures such as gargoyles – some of them really scary. Be sure to spot the rose window right above the arched entrance. Unlike other Munich churches, St. Paul's has a more austere interior bereft of Baroque designs and Rococo frescoes.
Paulskirche is located near Theresienwiese, the grounds that host Oktoberfest every year. So if you feel like heading to an architectural masterpiece on your way to Oktoberfest next time, just drop by. The church has a small observation deck from where you catch splendid views of the city as well as of the Alps on a sunny bright day.
Abbey Church of St. Anna
Location: St. Annastrasse 19, 80538 Munich
Style: Rococo
Highlights: Opulent Rococo interior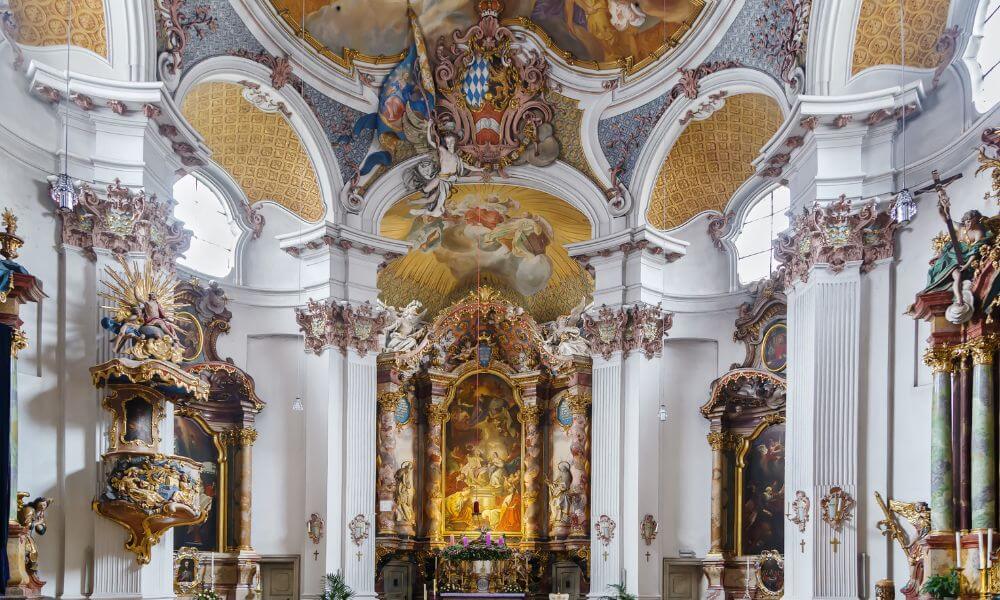 This is one of Munich's smaller churches yet, it has a rich history. It was Old Bavaria's first Rococo church and has one of the most lavishly decorated interiors.
Behind the simple white and yellow façade, you will find an opulent Rococo church interior. Ceiling and wall frescoes created by the Asam brothers adorn every nook and corner. It is easy to spend an hour here appreciating the beautiful frescoes and altars.
Interactive map for churches in Munich
Munich churches FAQ
What is the Frauenkirche in Munich?
Frauenkirche is Munich's largest church and one of the most impressive ones. It houses the tombs of many members of the Royal Wittelsbach Family and also features the intriguing Devil's Footprint.
What is the name of the oldest church in Munich?
The name of the oldest church in Munich is Peterskirche (St. Peter's Church). It was built in the 12th century.
Where is the cathedral with the Devil's Footprint?
The cathedral with the Devil's Footprint is located at Frauenplatz 12, 80331 in Munich, just a few minutes away from Marienplatz. It is called Frauenkirche or the Cathedral Church of Our Lady.
What is the name of the cathedral in Munich?
The name of the cathedral in Munich is Frauenkirche or Cathedral Church of Our Lady.
How many churches are in Munich?
There are more than 25 churches in Munich many of which are located in and around Munich's historic city center.
Loved our Munich churches guide? Pin it for later!