Last Updated on December 19, 2022 by Soumya
On my last trip to Sri Lanka, I had an interesting addition to my Sri Lankan itinerary – the tiny Nagadeepa Island or "Nainativu" as it is locally referred to in Tamil.
I had small expectations from Nainativu – probably some palm-fringed beaches and fresh coconuts. However, what waited for me when I got there took me by surprise. Completely!
Located just a ferry hop away from Jaffna, Nagadeepa Island is one of Sri Lanka's numerous islands in the Palk Strait. But, what makes it different from the others is it's unique religious history and ethnic diversity.
On the teeny weeny Nainativu island that literally measures 4 square km, you will find a Hindu Shaktipeetha, a Buddhist Solosmasthana, and a revered Muslim mosque – all within minutes of walking from each other. If nothing else, the presence of so many sacred shrines in a tiny space such as the Nagadeepa Island indicates the cultural richness of the people of Jaffna Peninsula.
No doubt, Nainativu functions as an important pilgrimage center but it also makes for a great destination for culture-vultures like you and me who love to parse the nuances of human evolution.
Nagadeepa Island in Jaffna is essentially a microcosm of modern Sri Lanka. A visit here yields interesting insights into the rich cultural heritage of this island nation.
A brief history of Nagadeepa Island in Sri Lanka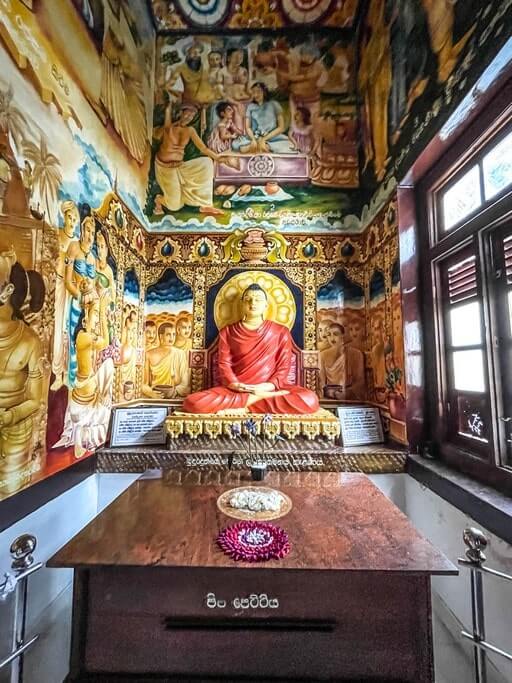 There is a small island off the northwestern coast of Jaffna Peninsula. Modest in size but big in history, this tiny speck in the Indian Ocean is called Nainativu or Nagadeepa. Nainativu means the island of Shiva in Tamil – Nayinaar translates to Lord Shiva. Nagadeepa translates to the island of the Naga people in Sinhala.
Once upon a time, the Naga tribe of Sri Lanka inhabited Jaffna's islands, Nainativu included. That is why, this small isle often finds mention as Naga Nadu or Nagabhumi (the land of the Nagas in Tamil) and as Nagadipa (the island of Nagas in Pali/Sinhala). We see references to it in ancient Tamil literature from the 6th century and in the Buddhist epic of Mahavamsa. Even Ptolemy, the Greek geographer, talks about the islands of Nagadipoi in Taprobane (Greek name for Sri Lanka) in his historical accounts from the 1st century CE.
It is quite possible that the Nagas were an indigenous tribe that lived in a large part of Southern India and Northern Sri Lanka. In mythology, they are often presented as mythical humans who could take the form of serpents.
According to some accounts, Nagas assimilated themselves into local Tamil culture around the 3rd century BCE. We can never really be sure but this is another case when a tribe or race literally disappeared from the face of the earth much like the ancient Teotihuacanos of Mexico.
Today, the island of Nagadeepa has close to 3000 people – about 2500 Sri Lankan Tamils and the rest Sri Lankan Muslims. What is left of the Nagas is an intriguing collection of stories and anecdotes, particularly in Nainativu's temples and shrines.
Traveling to Jaffna? Check out my Ultimate Jaffna Travel Guide.
Sacred shrines on Nainativu Island
Nagapooshani Amman Kovil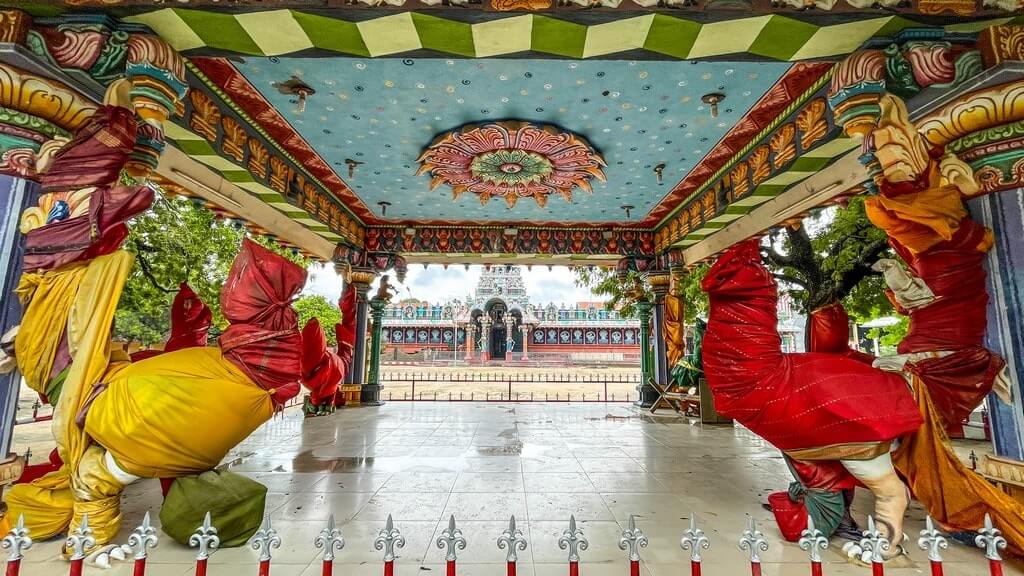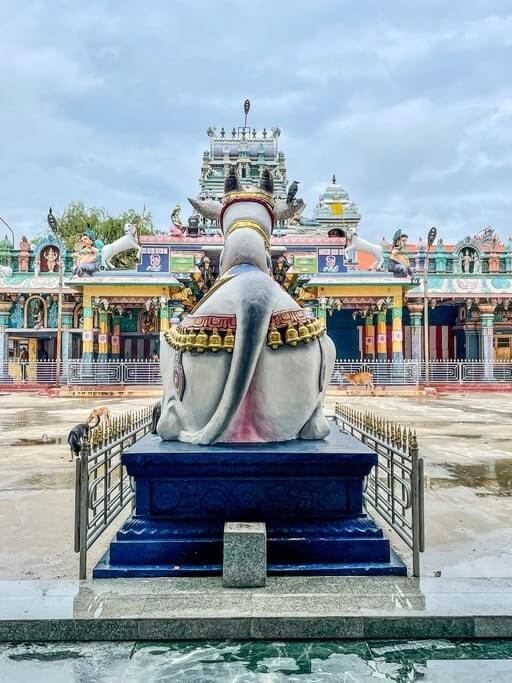 On the island of Nainativu, you will find the revered Nagapooshani Amman Kovil or Temple. It is a Hindu Shaktipeetha – a very significant shrine where a female goddess is worshipped. There are 64 Shaktipeethas all over the Indian subcontinent. There are 2 in Sri Lanka – Nagapooshani Amman Kovil in Nainativu and Shankari Kovil in Trincomalee.
An interesting legend surrounds the formation of these Shaktipeethas. According to ancient Hindu scriptures, Sati or Parvati immolated herself in a sacrificial fire when her father insulted her husband, Lord Shiva. This made Shiva very angry and he started performing tandava which wreaked havoc on the world. In order to control Shiva, Vishnu intervened and severed the dead body of Sati into 64 pieces with his Sudarshan Chakra. These 64 pieces fell all over the South Asia and 64 Shaktipeethas were born.
The anklets of Sati fell on Nainativu. And thus, was born the Nagapooshani Amman Temple.
As you must have guessed by now, Nagapooshani Amman Temple is dedicated to the Hindu Goddess Parvati and her consort, Lord Shiva. Locals here refer to Parvati as Nagapooshani (adorned with snakes) and Shiva as Nayinaar.
Historical evidence suggests that the people of Nainativu worshipped serpents. The presence of a temple where we worship a Goddess and a God who adorn themselves with snakes stands testimony to that. Of course, there are tales that suggest the Nagas were superhumans who could turn into snakes. But isn't that how folk tales are born?
Impressive architecture of Nainativu Temple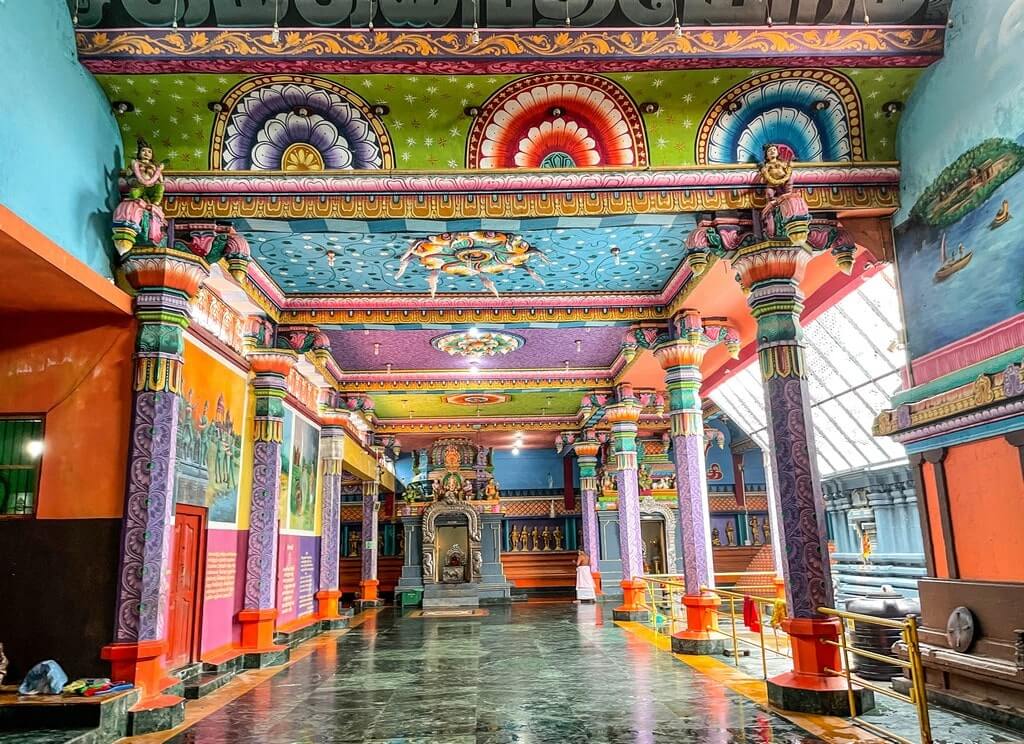 Nainativu's Amman Kovil is not just a religious destination but also draws architecture-lovers from far and wide.
With its soaring gopurams (entrance gates) studded with intricate colorful sculptures, the temple looks very similar to the Dravidian Hindu shrines of Tamil Nadu in India. Its vibrant Raja Raja Gopuram, which can be seen from afar, is the most impressive. There are 3 other gopurams in the south, east, and southeast directions.
The central shrine contains an image of Nagapooshani Amman (Parvati) and Nayinaar (Shiva). The hallway around the central shrine is adorned with colorful murals depicting floral patterns and scenes from ancient scriptures.
Within the temple complex, you will find an impressive stepwell. Here, Nagapooshani Amman stands alongside a Shiva Lingam under the open fangs of a five-hooded serpent over a pedestal on Ravana's head. Colorful niches and brackets surround the sculpture.
Nagadeepa Purana Viharaya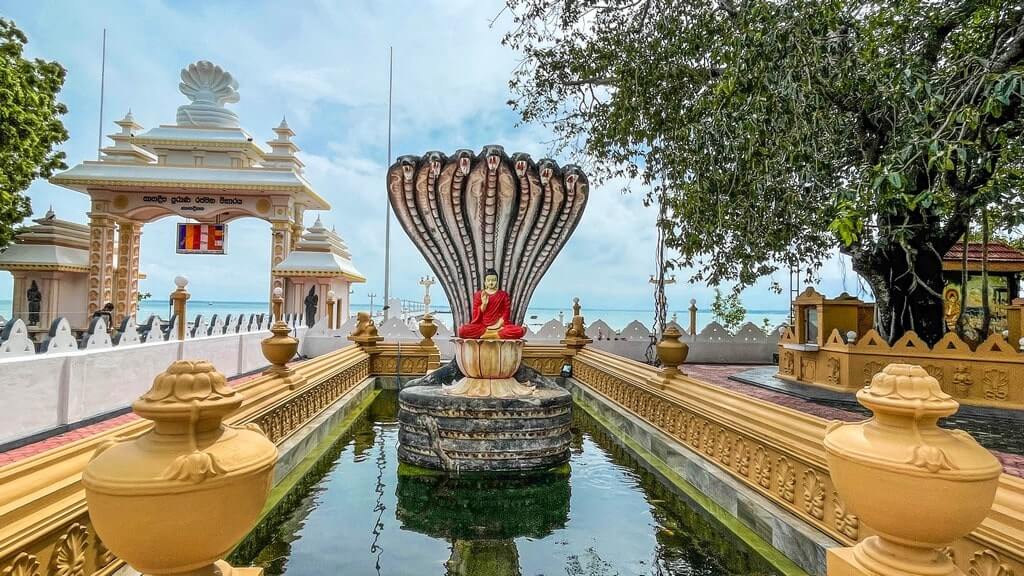 The other sacred site on the island is an ancient Buddhist temple called Nagadeepa Purana Viharaya. It is one among the 16 Buddhist Solosmathanas in Sri Lanka. Solosmathanas are places that have been blessed by visits of Buddha himself.
The legend behind Purana Vihara is about 2 Naga kings, Chulodhara and Mahodara who were at loggerheads with each other. They were fighting over a precious throne when Buddha arrived and resolved things between them. He explained how fighting would lead to darkness and non-violence to light.
Buddha's presence and his teachings calmed the kings down and a bloody war was avoided. The Naga kings saw their folly and offered the throne to Buddha, instead. He gave it back to them as his relic. Consequently, the people of Nagadeepa Island decided to enshrine the throne at the temple.
Apparently, Buddha came to Nagadeepa from Jetavanarama in the Kingdom of Anuradhapura. Legend has it that Samiddhi-sumana, a tree-spirit, uprooted his banyan (Rajayathana) tree and carried it like a parasol over Buddha during the entire journey. The Naga people considered the tree holy and planted it right next to a Bodhi tree in front of the temple.
You can imagine how holy this place is for Sri Lankan Buddhists especially because of the hallowed visit by Buddha and the presence of two holy trees. No doubt, it is one of the holiest places in Sri Lanka attracting thousands of pilgrims every year.
Stunning murals at Nagadeepa Purana Vihara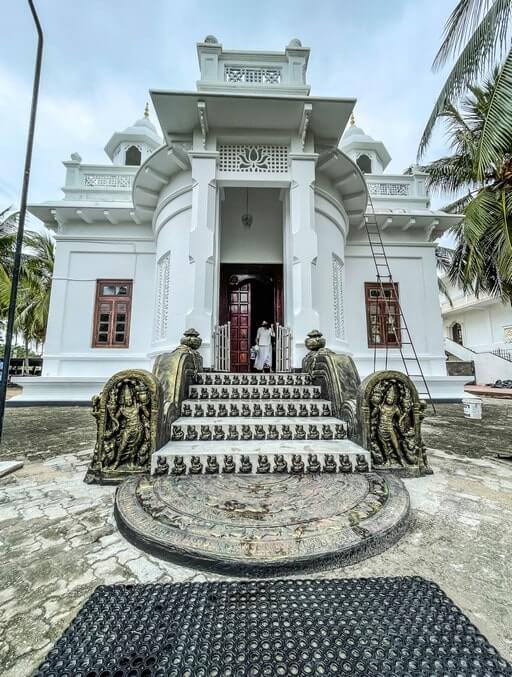 There are several temples within the ensemble as well as a small museum. The museum is Brahmanawaththe Dhammkithithi Thissa Mahanayaka Memorial Museum. It home to numerous interesting artefacts. Sadly, most of them are not labeled.
The main shrine is an austere, white temple that has several images of Buddha. It also has a pretty impressive staircase. If you look closely, you will see that the stairs are flanked by a balustrade that is made to flow from a serpent's mouth. At the bottom of the stairs, you will see an intricately carved moonstone very similar to the ones that you see at Polonnaruwa and Anuradhapura.
However, the most magnificent thing about the temple is its collection of murals. Colorful frescoes dot each and every corner of the main shrine's interior. On one of the panels, you will notice the entire sequence of processes that led to the enshrinement of the gem-studded throne. Even though we can cannot see the original throne anymore, these murals give us a good insight into the happenings.
There are a couple of other smaller shrines, one of which also houses the statue of reclining Buddha.
Right outside the main shrine, you will see a fascinating silver stupa where the contentious gem-set throne was enshrined. This is one of the most sacred spots in the complex and locals offer prayers here.
Mohideen Jumma Mosque
Unfortunately, I did not have a chance to check out the Mohideen Jumma Mosque of Nainativu. But it is a smaller structure than the Hindu and Buddhist shrines.
But with a minimalistic blue and turquoise exterior, the mosque is a pretty addition to the island's landscape. Add to that a breezy view of the sea in front and you probably have the most stunningly-situated mosque in the world.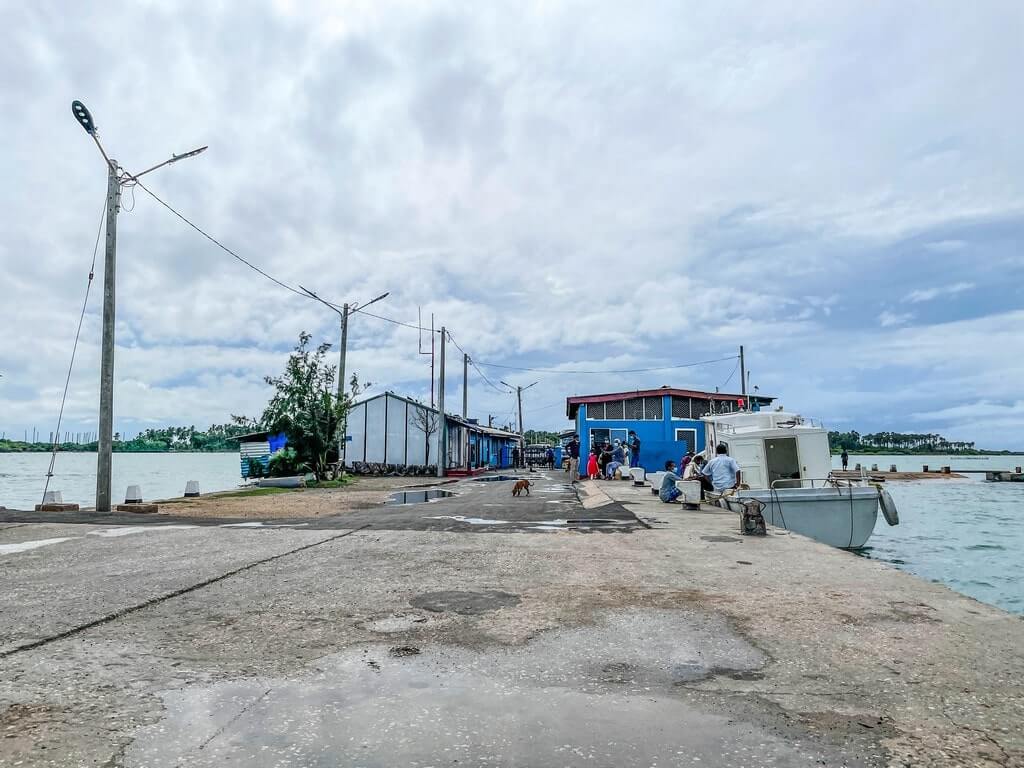 How to get to Nagadeepa Island from Jaffna?
To get to Nagadeepa Island from Jaffna, you need to first get to Kurikadduwan Jetty from Jaffna. You can get there in a private car or bus. There are buses that run from Jaffna. You would have to enquire at the local bus stops. A more convenient option is hiring a car or tuk-tuk.
From Kurikadduwan jetty, you can get a ferry to get to Nainativu or Nagadeepa Island. The ferry ride takes about 15 – 20 minutes and costs 40 LKR per person. Ferry opening hours are from 7am – 6pm and they run every 30 minutes.
I would urge you to be a little careful when boarding the ferry because waters can be choppy here. Plus, try not to touch the roof of the ferry because it can be itchy. Some of my friends and I did get rashes when we got off the ferry. We were trying to get on the ferry top for good shots. Sane advice: Get your shots from the deck below.
FAQ about Nagadeepa Island or Nainativu
Where is Nainativu?
Nainativu is located off the western coast of Jaffna Peninsula in Sri Lanka. It is one of Jaffna's many islands that you will find in the Palk Strait.
How to get to Nainativu?
You can get to Nainativu by taking a ferry from the Kurikadduwan Jetty. To get to Kurikadduwan from Jaffna, you will need to hire a cab or tuk-tuk and ask your driver to take you there. For details, please refer to my transport section.
Who is Nagapoosani Amman?
Nagapoosani Amman is a female Hindu deity to whom the Nainativu temple is dedicated. She adorns herself with serpents which is why we know her as Nagapooshani (the one clad with snakes).
Where is Nagadeepa located?
Nagadeepa is one of Sri Lanka's many islands located off the coast of Jaffna in the Indian Ocean.
Why did Buddha come to Nagadeepa?
Buddha came to Nagadeepa in order to stop two Naga kings from fighting each other and causing bloodshed. The kings, Chulodhara and Mahodhara were an uncle-nephew duo who were fighting over a gem-studded throne.
Who built Nagadeepa Temple?
Maniakkitha, the Naga king of Kelaniya, built the ancient Nagadeepa Temple. That, however, was destroyed over time. Later, the kings of Anuradhapura, Dutugemunu and Devanampiya Tissa developed it into Purana Viharaya. The temple again suffered damages during the Sri Lankan Civil War. Many of the shrines were rebuilt after the civil war ended in 2009.
What is enshrined in Nagadeepa?
The gem-set throne that the Naga kings were fighting over in enshrined in Nagadeepa Purana Vihara. After Buddha intervened, the Naga kings stopped fighting and offered Buddha the precious throne. Buddha gave it back to them as a relic which was then enshrined in the temple.
Loved our Nainativu culture and travel guide? Pin it for later!