Last Updated on January 10, 2023 by Soumya
Are you planning a trip to Sigiriya rock fortress in Sri Lanka? Wondering what to do in Sigiriya when you get there? Need to brush up on some Sigiriya history before planning your trip? Don't worry. We have got you covered.
The rock fortress at Sigiriya has always been a dream destination for me. It is one of Sri Lanka's most visited UNESCO World Heritage Sites and an integral park of the Sri Lankan Cultural Triangle. Needless to say, Sigiriya is an important part of every Sri Lankan itinerary. Whether you are visiting for 10 days or just 2, you have to see the mighty Sigiriya rock.
I have been to Sigiriya twice and experienced several amazing things on every visit. I have climbed the Lion's Rock, done a Sigiriya viewpoint tour, gotten smitten by the frescoes, and clicked pictures at the famous lion paws. The Sigiriya rock fortress has surprised and inspired me every time I have been here.
Here's an ultimate travel guide for Sigiriya Sri Lanka that includes the best things to do in and around Sigiriya, history, where to stay, and lots of tips from my personal experiences of traveling here.
Quick tips for visiting Sigiriya rock fortress
Alert: This guide to Sigiriya rock fortress is going to be a long one. You know how I love getting into the depths of every historical site in the world! If you are looking for some quick tips before planning your Sigiriya visit, have a look at the list below.
Please note: This post may contain affiliate links which means I may earn a commission if you make a purchase by clicking a link on this post. This will be at no additional cost to you. Affiliate links help me keep this website up and running. Thanks for your support!
History of the rock fortress of Sigiriya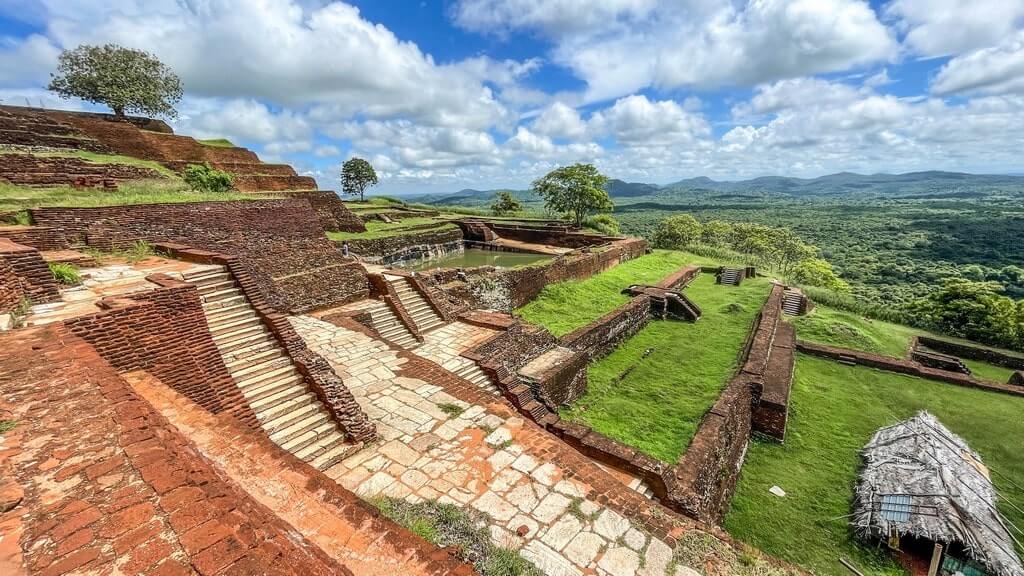 The history of Sigiriya rock fortress goes something like this. King Dhatusena, from the Moriyan Dynasty, had two sons – Moggallana I (legitimate heir) and Kashyapa I (illegitimate). Both of them had royal ambitions.
In 473 AD, Kashyapa I (locally Kassapa I) rebelled against his father, imprisoned him, and took charge of the throne. Eventually, he killed his father by burying him alive. His half-brother, Moggallana I fled to India. Kashyapa became the second king of Moriyan Empire and ruled from 473 – 495 AD. As you can guess, he was not a popular ruler. People often referred to him as Pitrughataka Kashyapa which meant "Kashyapa who killed his father".
Kashyapa shifted his capital from Anuradhapura to Sigiriya amidst the fear of a rebellion. He chose this 600 feet, rocky outcrop in the middle of Sri Lankan jungles to construct his safe haven. He ruled from there for 18 long years, between 477 – 495 AD. And, that is how the Rock Fortress of Sigiriya came into being.
Prince Moggallana came back from hiding in 495 AD and defeated Kashyapa. The use of Sigiriya as a royal fortress ended in 495. Moggallana donated the rock to the Sangha (Sri Lanka's Buddhist monastic order). It went back to being a Buddhist monastery for several years after that. Between the 6th and 14th centuries, many devotees, monks, and local people visited Sigiriya. Graffitti on the Wall of Mirrors stands testimony to the fact.
There is archaeological evidence to suggest that King Kashyapa I and his retinue were not the first inhabitants of Sigiriya. People, very often monks, lived in the caves and niches of Sigiriya rock, starting 3rd century BC.
The monumental rock was finally abandoned in the 14th century and was overrun by forests. Swallowed by the deep jungles of Sri Lanka, the Kingdom of Sigiriya was lost to the world for several centuries, only to be rediscovered by British archaeologists in the 19th century.
Sigiriya – An architectural masterpiece
Constructing an entire fortress on a massive rock column would not have been an easy task, especially in the 5th century. Add to it an interesting array of gardens, several layers of moats, walls covered with frescoes, galleries, staircases, and a rock face that looked like a lion's – you are probably looking at one of the greatest creations in human history.
The ancient city of Sigiriya was declared a UNESCO World Heritage Site in 1982 for its mighty contribution to the world of urban planning.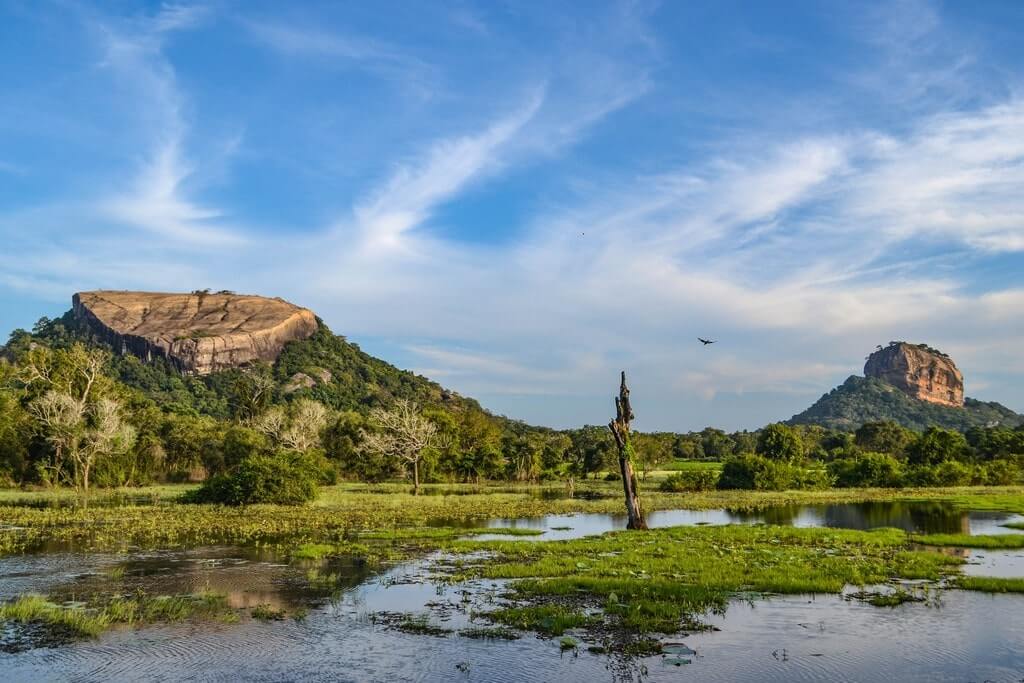 Sigiriya and Ravana – Truth or Myth?
There's a legend that says Sigiriya was home to Ravana, the prime antagonist of Ramayana, a Hindu epic. This was more than 5000 years ago. There are theories that suggest that Ravana and his court used a wooden elevator to go up and down the rock.
As fancy as this might sound, there is no empirical evidence to back this theory. However, there is ample scientific research that tells that the rock fortress of Sigiriya was a 5th-century creation. Unfortunately, the connection between Ravana and Sigiriya still remains a mere speculation.
Interesting facts about Sigiriya rock
Sigiriya rock has always been a source of intrigue and conjecture as is always the case with lost historical sites. Take the case of the Lost City of Teotihuacan or the Ancient Mayan Pyramid of Chichen Itza – each has interesting facts associated with itself. Needless to say, there are some intriguing facts about Sigiriya rock that you need to know before you visit.
In the olden days, you had to enter a massive lion's mouth to get to the royal quarters in Sigiriya. Don't worry, it wasn't a real lion but a huge brick lion structure that formed the northern face of Sigiriya. Even though much of it has been destroyed now, the paws of the lion still remain. This is the reason why Sigiriya is often referred to Lion's Rock or Sinhagiri.
Behind its powerful façade, Sigiriya hides a history that is stained by murder and betrayal. King Kashyapa of the Moriyan dynasty constructed the rock fortress as a sanctuary for himself after he had killed his father and usurped the throne from his half-brother. Read more in the history section here.
Sigiriya rock was used as a Buddhist monastery before the reign of Kashyapa. It continued to be used for similar purposes after Moggallana defeated Kashyapa and moved the capital back to Anuradhapura.
The royal citadel of Sigiriya stands on the top an enormous rock column that juts out 600 feet above the jungles of Central Sri Lanka.
Things to do in Sigiriya
Visit the museum
As soon as you enter the Sigiriya complex through the western gate, you will see a museum on your right. This is the Sigiriya Museum, a 2-storey building that you can access before entering the Sigiriya rock entrance gate.
I strongly recommend that you drop into the museum because it is really good despite having a rather plain exterior. The gallery contains really interesting displays that take you through the history of Sigiriya right from the prehistoric times to its restoration. You will get a good view of the fresco gallery too.
Dropping by will help you understand the ancient city of Sigiriya much better and appreciate various spots during the climb.
Walk through water and boulder gardens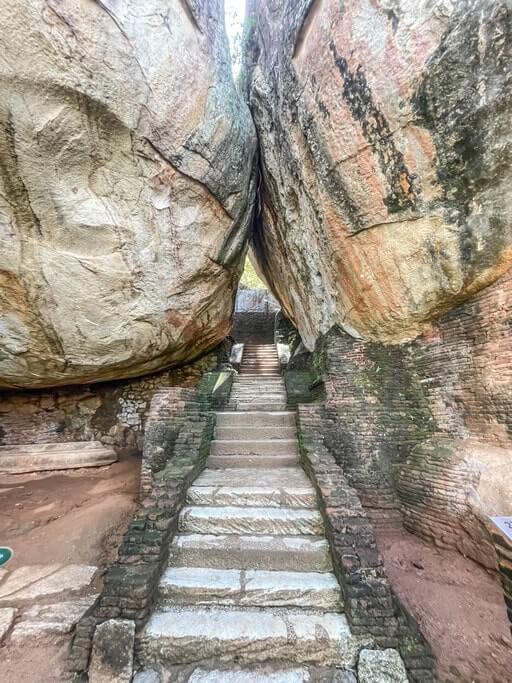 As you enter the gates of Sigiriya rock fortress, you will notice a huge swathe of green gardens between you and the rock fortress.
Look around to see the beauty of the green spaces that surround you. There are miniature water gardens filled with pavilions, bathing pools, courtyards, and water courses. You will also see fountains which once used to work through the twin principles of gravity and pressure. Apparently, they still do but the moat needs to be quite full for it to happen.
Do not miss the octagonal pond at the end of the lane which is yet another impressive sight.
Check out Sigiriya's caves and boulder gardens
Closer to the rock, you will see caves and boulder gardens that further add to the beauty and eccentricity of Sigiriya. You will see caves, boulder arches, and several rocks with drip-ledges to allow the passing of water.
Many of these caves were used by the monks that inhabited the complex before and after Kashyapa's reign. You will see inscriptions in some and faint remnants of colorful frescoes in others. The Cobra Hood Cave and the King's Audience Hall Rock are especially striking.
Be sure to notice small niches on outmarks on each of these boulders which are believed to have held other rocks/wooden platforms in position. It is quite possible that these boulders had other buildings on pavilions set up over them.
The boulder gardens almost feel like a transition from the water gardens to the bouldered-surface of Sigiriya rock.
Explore Sigiriya's terraced gardens
Next up are the terraced gardens which once housed several wild and domesticated trees. Even though there isn't much to see here, I would suggest enjoy your walk through this forested area until you get to the Lion's Paw.
Get wowed by the Lion's Paw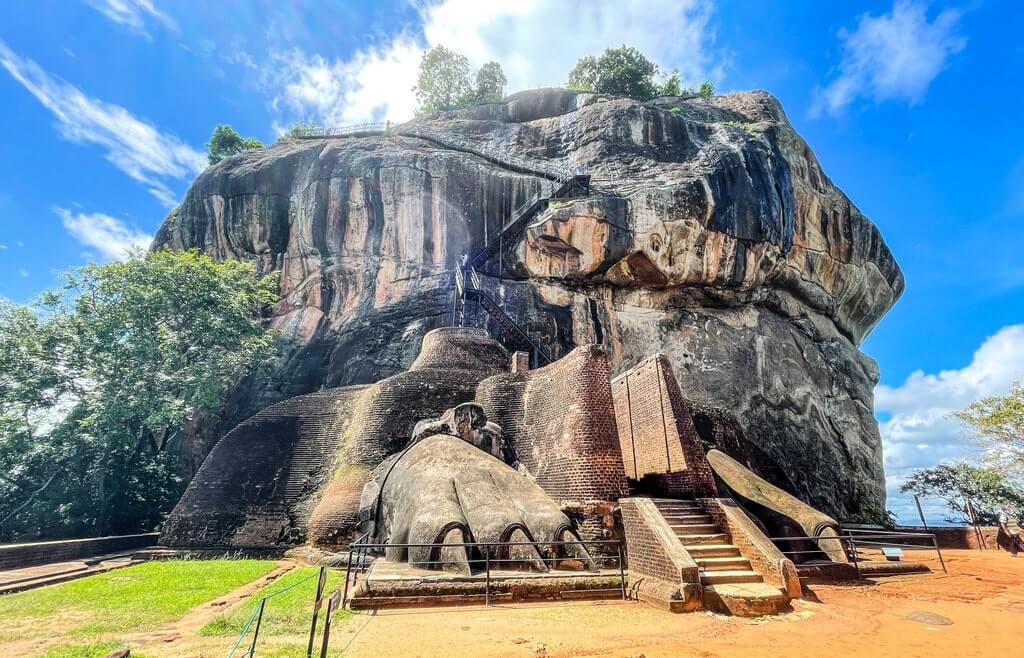 After climbing a steep flight of stairs from the terraced gardens in Sigiriya, you will get to the iconic Lion's Paw. Remember the enormous lion sculpture that I spoke to you about? That begins here.
Located right before the summit, the Lion's Paw is one of the most photographed locations in Sigiriya. It is believed that a full-fledged brick lion once sat crouching at this spot. You had to walk right up to the paws, climb the stairs into the lion's mouth, and then begin your ascent into the Sigiriya citadel. The lion was colossal and could be seen from far away.
Visualize a huge lion staring out of a mountain – that's how Sigiriya rock appeared to people centuries ago. Clearly, the rock was called Sinhagiri or the Lion's Rock.
You can still climb the stairs but nothing other than the beast's paws remain today though they are mighty impressive too!
Explore the ruins of a lost kingdom on the top
Once done with the Lion's Paws, head straight up to the ruins on the top of the rock. The stairs to get to the top are numerous but not very steep.
On the top, you will find the ruins of the lost palace of King Kashyapa I. There are the remains of an Upper Palace, a large pond which was probably used for bathing purposes, a stone seat dubbed as the throne, and several living quarters. The place almost mirrors the ruins of Machu Picchu in Peru, albeit on a much smaller scale.
One thing that I did not quite enjoy up here was the general lack of information panels about the royal quarters. That made it literally impossible to understand what was what. Helps to get a guide up here who can explain.
From the top, you will also get stunning views of the Sri Lankan jungles as well as a bird's eye view of Sigiriya's gardens and the walkway. You will also find a plaque that describes the gardens as one of the oldest surviving ones in Asia.
Plan to spend at least 30 minutes on the top of the Sigiriya rock fortress.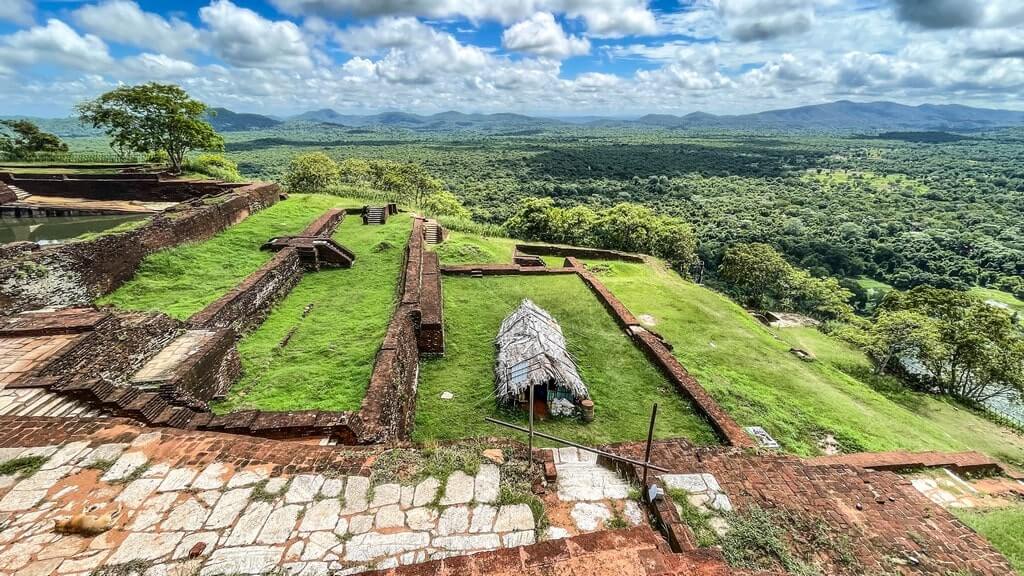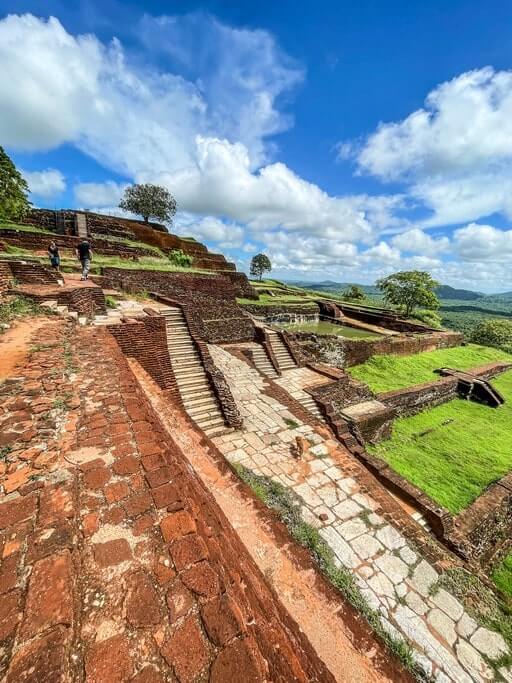 Check out the Mirror Wall
Next up on the Sigiriya bucket list is the Mirror Wall which once used to be polished and shiny. It was almost like a mirror where the king could check out his reflection and appreciate himself.
It is hard to say what material the wall was made of because nothing remains of the original wall today. Instead, we now have a wall covered with graffiti not from recent times but from the 6th – 12th centuries.
Remember when I told you that after Moggallana donated Sigiriya rock to the Sangha, monks and devotees thronged the place? They left their mark on the place by writing on the mirror wall which eventually came to be called the Sigiri graffiti. People usually wrote about the beauty of the damsels in the Fresco Gallery which is right next door.
Today, the wall has become an important piece in the research of medieval Sinhala language, phonetics, and literature.
Appreciate the damsels at the Gallery of Frescoes
After crossing the Mirror Wall, climb the spiral stairs that take you up to the Frescoes Gallery.
Here you will find paintings of the beautiful Sigiriya maidens that have been much talked about around the world. Almost 500 paintings once adorned several walls, caves, nooks, and corners of the Sigiriya rock fortress. Only 17 paintings remain today in the Frescoes Gallery.
These frescoes are one of the most valuable pieces of ancient Sri Lankan art. Photography is not allowed in the gallery.
Some say these women were King Kashyapa's concubines. Others say they represent unearthly spirits called Apsaras or even Goddesses. It is hard to say for sure because there are no written records about the Sigiriya maidens.
End it with the Sigiriya viewpoint tour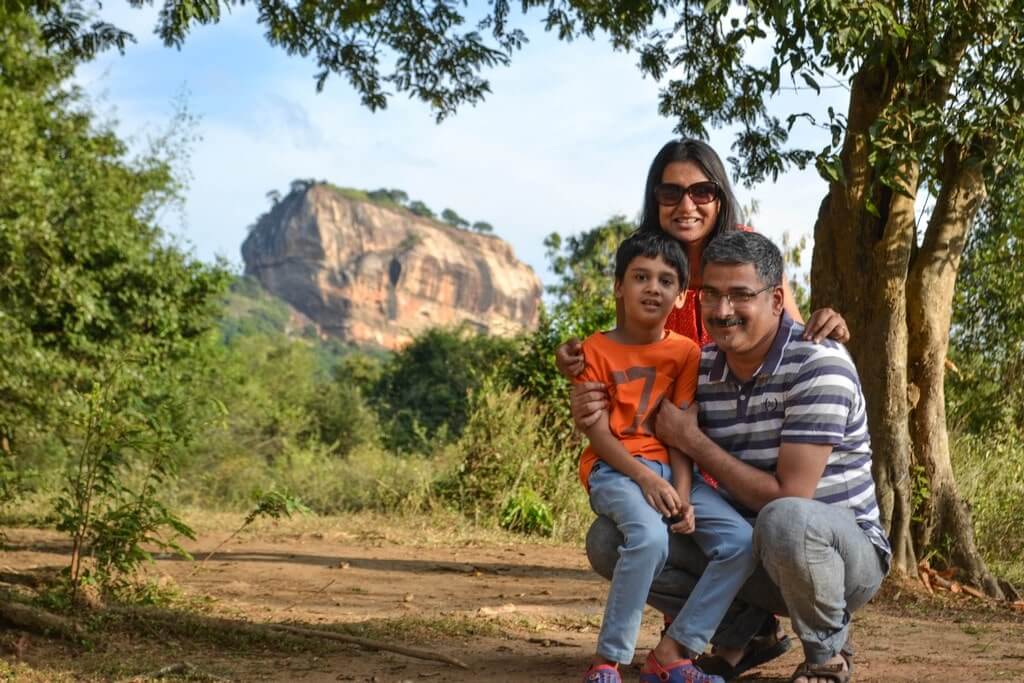 Now this is something unusual that I did when I first visited Sigiriya. I had just finished exploring the Ancient City of Polonnaruwa and reached Sigiriya around 4 pm. I had no energy to climb the fortress.
What I instead did was take a tuk-tuk tour of the 10 best views of Sigiriya.
At the entrance to Sigiriya, you will find tuk-tuk drivers ready to take you on the tour. They charge something around LKR 2500 – 3000 ($12-15). There is a big poster right at the gate showing you the 10 best viewpoints of Sigiriya.
The driver will take you to these points and will also click your pictures if you want him to. Some of these points are quite inaccessible but are well worth it. Always good to have a local with you.
Things to do after visiting Sigiriya rock fortress
Visiting Sigiriya usually takes half-a-day of your time. Once done, you can spend the second half of your day relaxing one of the amazing hotels near Sigiriya or make a short trip to one the of three locations below.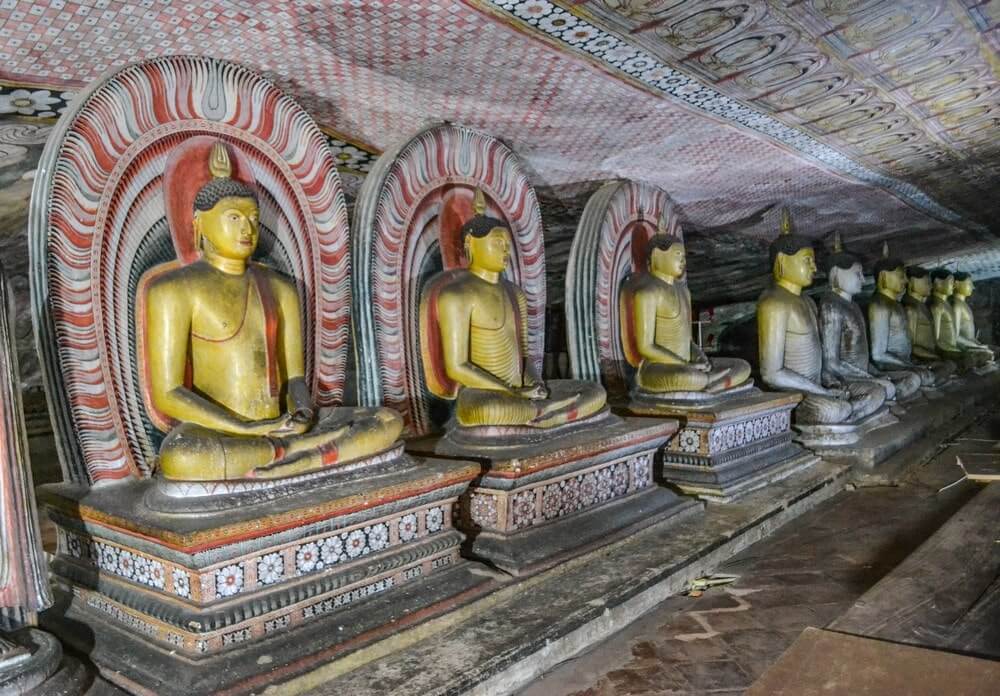 Visit the rock-cut caves of Dambulla
Distance from Sigiriya: 11 miles (18 km) – Takes 30 minutes to get here
The rock-cut cave temples of Dambulla are yet another UNESCO World Heritage Site that totally need to be on your Sri Lankan bucket list.
There are 5 caves in the Dambulla complex of which the first 3 are the most impressive. The 2nd cave, called Cave of the Great Kings, has 56 odd statues of Buddha. The cave is covered with colorful frescoes that depict the life and teachings of Buddha. These frescoes are nearly a 1000 years old.
Also read: Ultimate guide to visiting Dambulla Cave Temple in Sri Lanka
You will need to climb around 350 steps to get to the Dambulla caves. If that sounds a little too hectic after the long Sigiriya climb, pick any one of the options below.
Enjoy an afternoon safari
There are several national parks near Sigiriya where you can enjoy an afternoon safari. Minneriya, Kaudulla, and Hurulu Eco National Park are some of the famous ones. They are all closeby and reachable within 30 – 45 mins from Sigiriya. Kaudulla is probably a little further away.
This area is especially popular for its collection of Asian elephants that you will spot in herds. Sometimes, they number up to hundreds.
I did a safari at Hurulu Eco Park the last time I visited Sri Lanka in November. However, it was raining most of the time and we barely saw any elephants. Just a couple of them here and there. My two cents – don't do a safari in the rainy season.
Head to Pink Quartz Mountain
A lesser-known but interesting place to visit near Sigiriya is the Pink Quartz Mountain. Locally referred to as Jathika Namal Uyana, this place is an absolute delight for nature lovers and naturalists.
Here, you will find Sri Lanka's largest ironwood forest (a species unique to this region) and pink quartz hills. Apart from that, Namal Uyana also has a historical significance because it was once a sanctuary for Buddhist monks.
Practical information for visiting Sigiriya rock fortress
Sigiriya rock opening hours
The rock fortress at Sigiriya is open between 7 am to 5:30 pm. The ticket office closes at 5 pm.
Sigiriya ticket price
Tickets to Sigiriya are on the higher side, especially for foreigners. They are priced at $30 (6090 LKR) for foreigners. This includes Lions Rock and Sigiriya Museum. Children, 5-12 years of age, need to pay half, $15.
In case you wish to do only the museum, you can buy a ticket at $5.
Good news for citizens of SAARC countries – you need to pay only half of the ticket price. That means Sigiriya ticket for adults is $15 and for children is $7.5.
Please note that the ticket office does not accept cards. They only do cash, either in LKR (Lankan Rupees) or USD. LKR is preferred.
Best time to visit Sigiriya rock
The best time to visit Sigiriya is early in the morning. Come here at 7 am, right when the gates open. You will not only avoid the midday heat but also get the entire citadel to yourself. No bobbing heads in your pictures!
Climbing between 3 – 5pm is also great. However, you won't get a lot of time to explore the citadel because climbing up and down can take up to 1 hour each way. I would prefer morning over late afternoon.
All about climbing the mighty Sigiriya rock
Sigiriya rock fortress in Sri Lanka has more than 1200 steps. I was quite apprehensive if I could do the climb myself given my lack of fitness. However, I completed the climb in less than 1 hour with lots of breaks in between.
The best part about the Sigiriya climb is the fact that it is not one monotonous hike. There are several interesting things to do on the way such as wandering the gardens, checking out boulder arches, ancient caves, the Fresco Gallery, and the Lion's Paw. I
Recommended guided tours for Sigiriya rock fortress
If you are staying in and around Sigiriya, I recommend you do the rock fortress with a local guide. Ask for a guide at the hotel reception and they will happily arrange for one.
If you are staying either in Colombo or Kandy, I would recommend taking a tour. You will cover more ground and see things that you might otherwise miss. Day trips usually include one more attraction along with Sigiriya. I would be wary if they have more than one because that would be just touch-and-go. I definitely don't recommend that for Sigiriya.
Here are some highly-rated guided tours of Sigiriya. Note that these tours do not usually cover admission charges.
On this day tour from Kandy, you will visit both Sigiriya and Dambulla in your own private vehicle.
This full-day tour from Colombo takes you to two UNESCO World Heritage Sites – Sigiriya Rock Fortress and Dambulla Cave Temples.
If you are staying in Sigiriya or Habarana, this full-day tour will take you to Sigiriya and Minneriya National Park for a relaxed wildlife safari.
Where to stay in Sigiriya?
There are many wonderful places to stay in both Sigiriya and Habarana, suitable for all budgets. I stayed at Habarana Village by Cinnamon, a beautiful 4-star property featuring bungalow-style rooms, a picturesque swimming overlooking the lake, and a wonderful spread for breakfast. Totally loved my stay here – the food, the hospitality, the ambience – everything here was amazing.
If you are looking for a more affordable stay, try The Otunna Guest House, a sustainable property that is very close to the Sigiriya rock. Also have a look at il Frangipane that has spacious rooms, a beautiful garden, and delicious food.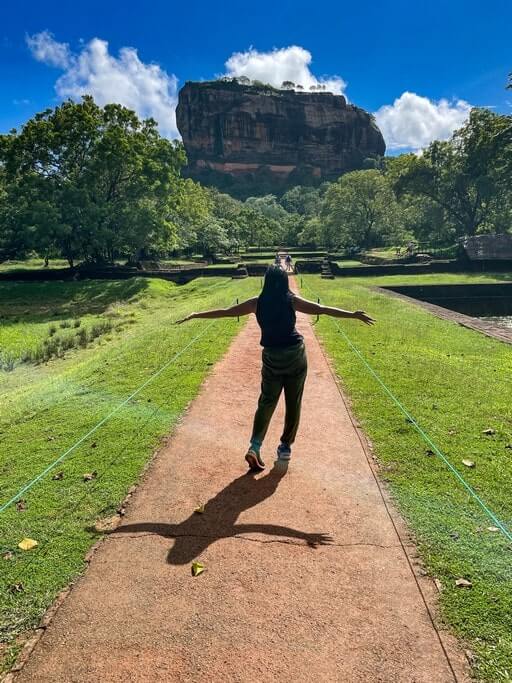 Sigiriya rock fortress FAQ
What is Sigiriya famous for?
Sigiriya is UNESCO World Heritage Site in Sri Lanka that is famous for the mighty citadel that King Kashyapa I built on top of it in the 5th century AD. It is also home to the majestic frescoes of Sigiriya maidens as well as a colossal set of Lion's Paws that once belonged to a crouching lion that adorned the rock's northern face.
Who built Sigiriya?
King Kashyapa I, from the Moriyan dynasty of Sri Lanka built the Sigiriya Rock Fortress in 477 AD. Even before that (since the 3rd century BC), Sigiriya had been used as Buddhist monastery for centuries.
Why did King Kashyapa build Sigiriya?
King Kashyapa built Sigiriya rock fortress because it was inaccessible and made him feel secure from his brother and the people of his kingdom. Kashyapa had achieved the reign by unlawful means only after killing his father, King Dhatusena and usurping the rightful heir, his half-brother, Moggallana. He was always scared of being thrown over. That's why he created the Sigiriya high castle from where he ruled for 18 long years.
When was Sigiriya fortress built?
Sigiriya fortress was built in 477 AD by King Kashyapa I of the Moriyan dynasty in Sri Lanka.
Is Sigiriya Ravana's palace?
No, Sigiriya is not Ravana's palace. There is no scientific evidence suggesting the presence of Ravana here.
How old is Sigiriya?
The Sigiriya rock, that was formed from a volcanic explosion, is billions of years old. However, earliest records of it being inhabited start showing up around 3rd century BC when it was used as a Buddhist monastery. Later, in 477 AD, King Kashyapa built the Sigiriya rock fortress over it. Therefore, Sigiriya rock is billions of years old, it has been inhabited for 5000 years, and it has been home to Kashyapa's palace for more than 1500 years.
How tall is Sigiriya?
Sigiriya is 1144 feet (350 m) tall over sea level and 600 feet (180 m) tall over the nearby jungles of Sri Lanka.
How do you climb Sigiriya?
You can climb Sigiriya through a series of 1200 steps that lead all the way from the water gardens at the bottom to the rock citadel at the top. There are several stops in between where you can take a break and appreciate frescoes, architecture, and the scenery. Refer to our exclusive Sigiriya climbing guide for all details.
What are the Sigiriya frescoes?
Sigiriya frescoes are impressive paintings of maidens created more than 1500 years ago. They were drawn using natural colors on the walls of caves in Sigiriya. Apparently, more than 500 maidens once graced the walls of Sigiriya. Many of them were vandalized. Today, only 17 remain in a small niche of the Sigiriya rock.
What can visitors see in Sigiriya?
The best things that visitors can see in Sigiriya are the Sigiriya frescoes, a Mirror Wall with Sigiri graffiti, humongous paws of a brick lion, and the fascinating ruins of an upper palace on the top of the rock. Apart from that, there are also water gardens, boulder gardens, frescoed-caves, pavilions, and a Sigiriya museum to spend time at.
Loved our guide to Sigiriya rock fortress? Pin it for later!