Last Updated on March 14, 2022 by Soumya
Why is it that we barely even add Negombo to our Sri Lankan itineraries? Even though this wonderful coastal city is filled with tons of interesting places (and I am not just talking beaches) to visit including the very vibrant Negombo Fish Market.
Negombo was a brief halt at the end of my last trip to Sri Lanka. I was here only to catch my flight when I decided to spend some time sightseeing.
Negombo Fish Market was my first stop. Boy, was I thrilled? I was ecstatic.
The fish market in Negombo was an absolute riot of colors, smells, and smiles. Filled with beaming portraits and delightful stories, it was just the perfect end to my 10 days in Sri Lanka.
What is the Negombo Fish Market?
Negombo has traditionally been a fishing town. Long before the city became a popular beach destination and scores of beach resorts lined its sandy coast, Negombo was home to Sri Lankan fishermen and women who indulged in traditional ways of fishing.
In fact, Negombo still has a fisherman's heart even though it has long metamorphosed into a vibrant beach getaway. Seafood forms an important part of daily diet and going to the fish market every morning is almost a ritual.
If you wander the streets of Negombo and venture closer to the shores, you will see Negombo's sandy beaches peppered with colored fishing canoes lugging under the weight of nylon nets. Each of these canoes brings in tons of fish that finds it way into our lunch plates, either fresh or dried.
At the western end of Negombo's shoreline, you will notice a huge fish market that is the hub of all morning activity. This is the Negombo Fish Market, one of the largest in Sri Lanka that plays a big role in driving Negombo's economy.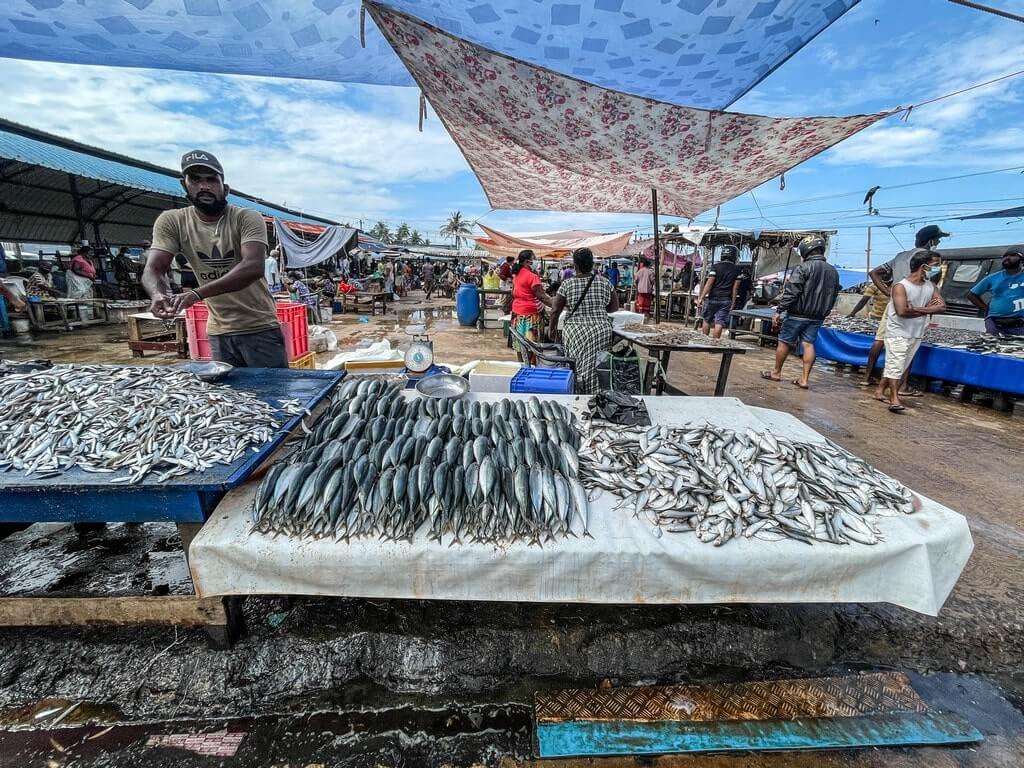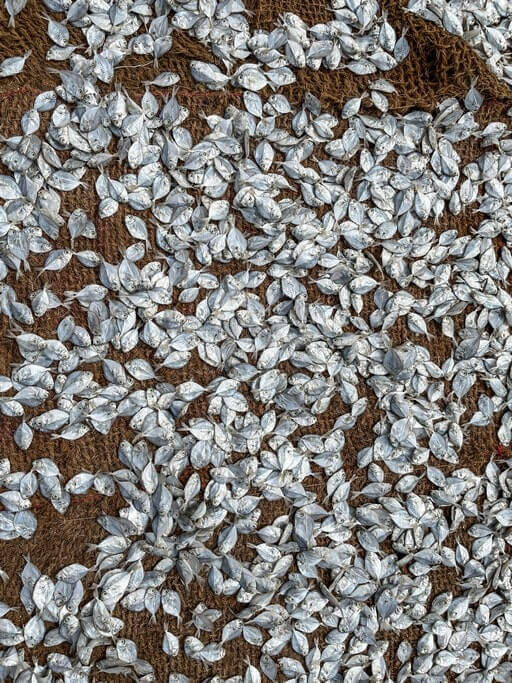 Close proximity to the Negombo Lagoon has helped fishermen thrive in this area. Shrimps, crabs, and lobsters abound in the estuarine waters. A long established method of netting called Kattudel still rules the roost.
Today, Negombo Fish Market is not just a means of livelihood for locals but also an attractive tourist spot. It is a great place to learn about Sri Lankan fishing types and the life and culture of local fishermen. Needless to say, Negombo Fish Market features on itineraries as a one of the must-do things in Negombo as well as forms an integral part of several guided tours.
Please note: This post may contain affiliate links which means I may earn a commission if you make a purchase by clicking a link on this post. This will be at no additional cost to you. Affiliate links help me keep this website up and running. Thanks for your support!
What to see at Negombo Fish Market?
Negombo fish market is divided into two broad sections: the dry fish area and the wet fish market. Both are out in the open and not recommended on a rainy day. Also please note, the place smells of fish like all fish markets do, of course. In case you have problems with the smell, please avoid visiting here.
Dry fish market in Negombo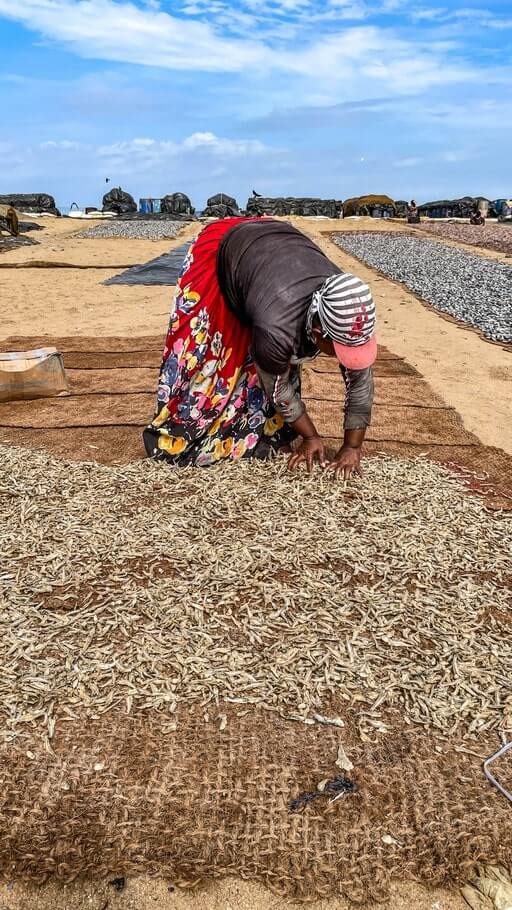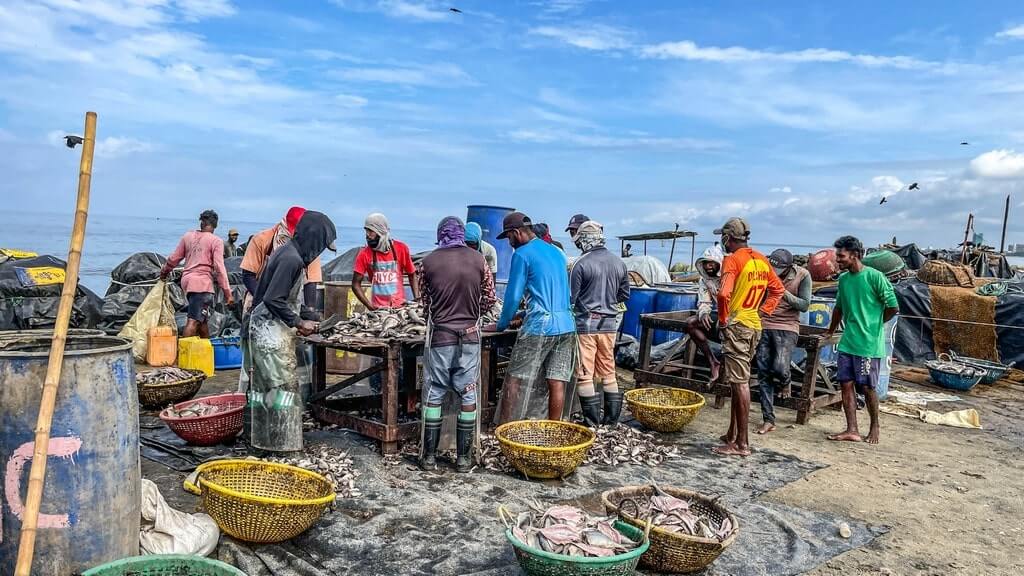 As soon as you arrive at the fish market in Negombo, you will notice a huge swathe of the beach covered with large hessian sacks. Over them lie thousands of fishes (in all varieties, sizes, and shapes), neatly arranged in lines and separated by categories. This is the dry fish market in Negombo.
The fishermen usually soak the fish in large brine tanks before taking them out, cutting them into 2 halves, and laying them on the sack to dry. If you venture beyond the hessian sacks, you will notice a row of colorful tanks filled with a milky liquid. That is the brine.
Here, you will also notice a team of fishermen working on the salted fish. They first discard the head and tail and then slit the fish into halves. Then, they pass it on to the womenfolk who arrange them neatly on their sacks. There's an unsaid division of labor about the entire process – I guess that is what makes the process quick and efficient for these people.
Beyond the hustle and bustle of dry fish sacks you will notice fishing boats on the coast. Some of them still come in at 9 am. However, much of the activity at the dock is usually over by 6 am when fishing boats throng the dock and fish is unloaded in heaps.
Also read: 14 Amazing things to do in Negombo, Sri Lanka.
Wet fish market in Negombo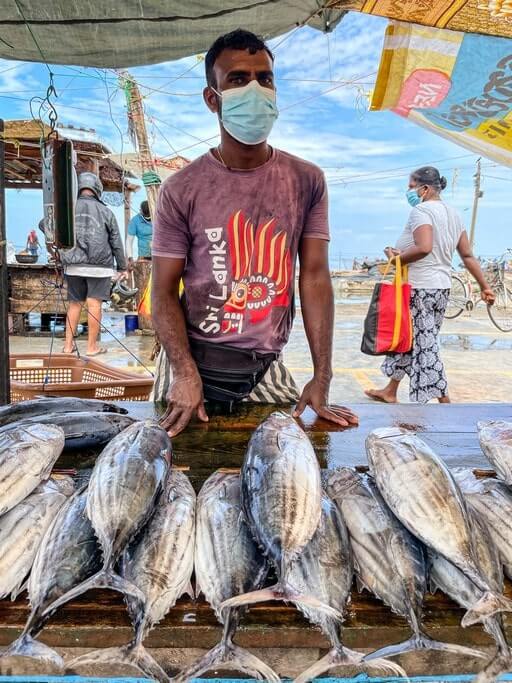 Negombo fresh fish market is where fresh fish is sold both on retail and wholesale. You can access it through a small entrance on the main road that is further cluttered with vegetable and spice vendors. There is also a tiny, yellow church here surrounded by plastic wares which makes the whole place even more scenic and vibrant.
Once you are inside the fish market, the experience is one of a cacophonous ride through a jungle of parakeets. Yet, there is a music in that cacophony – the regular beckoning by vendors which almost sounds like a sweet song of the lore.
Customers jostle around to get the best catch and sellers try to convince them that their stuff is pure gold. Neatly laid tables of fish in all kinds and varieties cover the market.
Vendors sport colorful t-shirts and flash continuous smiles. A few of them wave to me and ask where I am from. They are happy to pose for pictures with their catch. Some of them even prod me for more (better) pictures. They analyze every attempt of mine and are happy only when they get their best shot!
Negombo Fish Market is a true overdose of emotions.
Monuments in and around Negombo Fish Market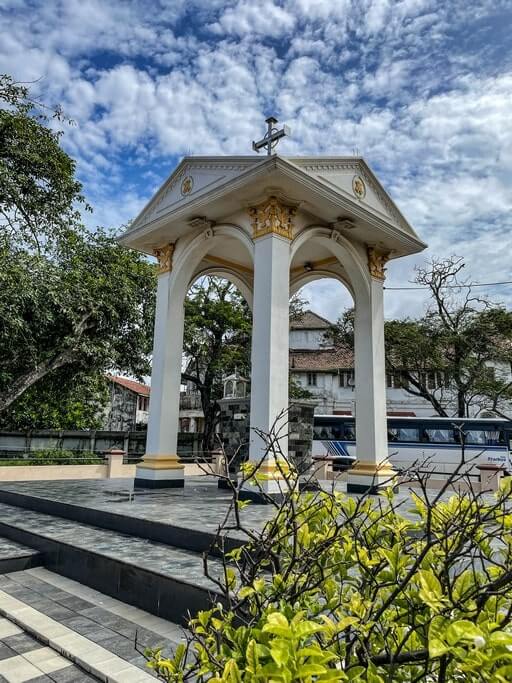 If you are an architecture fan, you cannot help but notice several tiny churches near the market. Almost the entire fishermen population of Negombo is Catholic which is why you will find small snippets of it even near the fish market. The pictures above are a testimonial.
In fact, Negombo has so many churches, it is often referred to as "Little Rome". But that's a story for another day.
Practical information for visiting Negombo Fish Market
Opening hours
The market opens as early as 6 am in the morning and is functional till noon every day. In fact, activity starts here around 4-5 am when fishing boats start coming in with their fresh catch.
Best time to visit
The best time to visit here is either early in the morning between 5-6 am when fresh fish gets offloaded from boats, sorted, and taken to stalls for selling.
If you are not an early riser like me, you would still want to check out the fish market between 9 – 11 am. This is when local customers visit the place for their regular purchases. The retail fish market is in full swing.
Additionally, the sun is out and dry fish vendors get busy. They sort and place brined fish on large hessian sheets for drying. Both the wet and dry fish markets are pretty active between 9 am – noon.
How to get there?
The best way to get to the fish market in Negombo is by car or tuk-tuk. Just ask your driver to take you to the main fish market in Negombo and they will happily do so. I stayed at Heritance Negombo and the fish market was a 10-minute drive from the hotel.
Alternately, you could take a guided tour of the market which usually includes pick-up and drop-off.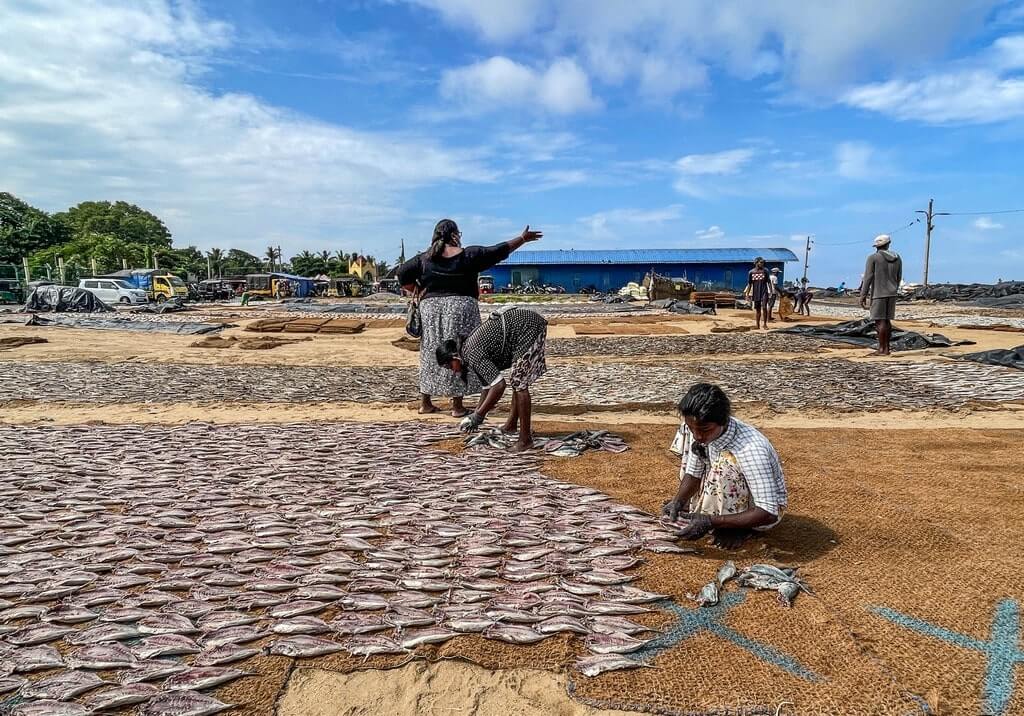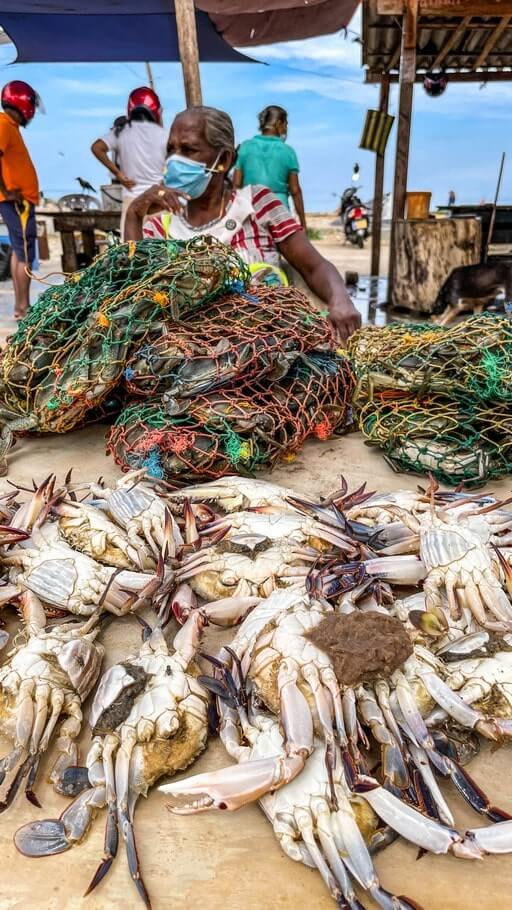 Recommended tours
Even though it is pretty easy to do a self-guided tour of Negombo Fish Market, a guided tour is highly recommended for those wanting to dig deeper into the nuances of Sri Lankan fishing. Here are a couple of the most recommended guided tours in Negombo.
Where to stay in Negombo?
There are several amazing places to stay in Negombo. Here are a few of my recommendations.
Negombo Ma Boutique Residence: This highly-rated property in Demanhandiya Negombo is known for its hospitality, delicious breakfast, and friendly hosts. All without burning a hole in your pocket. Reserve your stay at Ma Boutique Residence here.
Camelot Beach Hotel: Camelot is an excellent budget accommodation in Negombo that boasts of a beachfront pool, an Ayurvedic spa, and spacious rooms. Book your stay at Camelot Beach Hotel now.
Heritance Negombo: If you are looking for a luxurious stay when in Negombo, try Heritance Negombo. It features an outdoor pool and is located right by the beach. All the rooms open up to stunning views of the Indian Ocean. Best part – Heritance is just 10 minutes away from Negombo Fish Market. This is where I stayed when visiting Negombo and was totally floored by their hospitality and service. Click here to book your stay at Heritance Negombo.
Disclaimer: I was invited by Sri Lanka Tourism to experience Sri Lanka as part of their 10-day media trip. However, the opinions expressed in this post are solely my own.
Loved my Negombo Fish Market guide? Pin it for later!