Last Updated on March 8, 2022 by Soumya
Read why Kanha Jungle Camp is one of the best resorts to stay in Kanha National Park, India especially if you are looking for a luxurious stay in the lap of nature and an insight into local tribal culture. And of course, some great safari experiences!
One of the things that always excites me about travel is the prospect of experiencing local customs and traditions. More so, when it is about finding culture in the middle of a forest amidst scenic landscapes and unparalleled wildlife. When I heard of Kanha Jungle Camp Resort, I was totally sold.
The Jungle Camp resort at Kanha National Park is a beautiful property that strongly believes in the ethos of sustainable luxury. It is built on 40 acres of reforested land, grows its own food, and empowers the local community in several ways. Add to it a flavor of indigenous tribal culture (Gond and Baiga tribes are native to this region) and you have a holistic jungle stay in Kanha.
That's why I was so excited about my stay at Kanha Jungle Camp, a jungle resort that was unique in more than one way.
If you are planning a safari trip to Kanha National Park, your stay at Kanha Jungle Camp will give you an immersive experience of both nature and people. And that is something I would never miss. So, here's my review of Kanha Jungle Camp Resort.
Kanha Jungle Camp: A brief introduction
Kanha Jungle Camp Resort is the flagship property of the Jungle Camp group in Kanha, Madhya Pradesh. The resort is nestled deep in the wilderness of central Indian jungles. With an enviable location near the Mukki Gate of Kanha National Park, it makes for the perfect stay for your tiger safari getaway.
Jungle Camp owners acquired 40 acres of degraded land in the buffer zone of Kanha National Park in 2005. They decided to convert it into forests of sal (native Shorea Robusta that yields timber). In 15 years, the once-barren spot turned into a thriving jungle.
Today, you will find the rustic property of Kanha Jungle Camp enclosed in the middle of 40 acres of sal. They have 17 cottages, a villa, a restaurant, a swimming pool, and a spa. Rest is all forest, streams and ponds, a massive kitchen garden, butterfly parks, nature trails, and places to enjoy a tryst with the wild.
I always love Jungle Camp properties because of their deep focus on local community and sustainability. Plus, the fact that they are one of the very few jungle resorts in India that seriously respect the wild. A small example is the fact that none of their rooms/restaurants have television sets. Sounds from TV sets can agitate animals in the jungle. Yet, this is something not jungle resorts understand.
I had already stayed at Tadoba Jungle Camp in Maharashtra during my last jungle safari in Tadoba. After an amazing experience there, I was more than excited to explore what the Kanha property had in store for me.
Also check out: My review of Tadoba Jungle Camp
Rooms at Kanha Jungle Camp
Kanha Jungle Camp features 4 kinds of luxury cottages and 1 villa that has 3 bedrooms.
I stayed in one of their elevated luxury cottages with spectacular views of the jungle from my bed and private deck. Also, from the washrooms! Imagine a shower or WC with a view.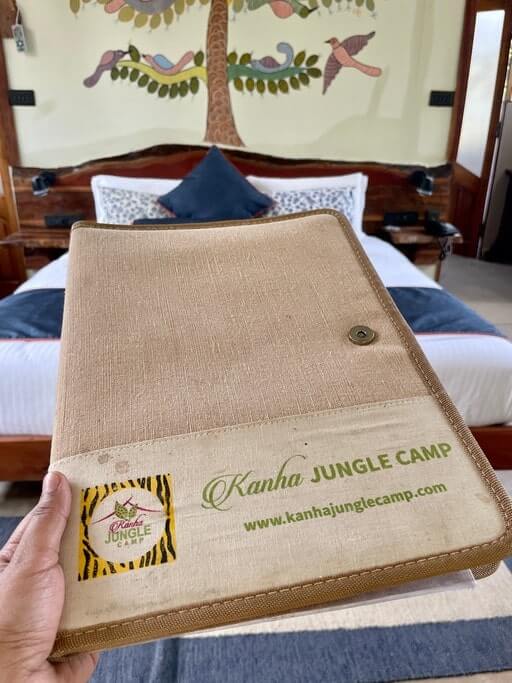 Here's what my cottage included.
My cottage comprised of a 600 sq. ft. space that was split into a room (1 king size bed + 1 single bed), two en-suite bathrooms, and a sit-out balcony.
I love the fact that every room in Kanha Jungle Camp has two WCs. It really helps when you are getting ready for an early morning safari and everyone wants to use the toilet at the same time. +1 to the brains that thought of this small thing which goes a long way.
There is an AC (for hot summer days) as well as a heater (for cold winter nights). A geyser takes care of all your hot water needs. Be sure to switch it on before you shower.
My room had tea and coffee making facilities. The bathrooms had organic toiletries – hand wash, body wash, shampoo, and body lotion. There were a couple of umbrellas in case it started raining (Kanha rains are heavy and unpredictable).
The resort is a strict no-no when it comes to single-use plastics. That's why you'll find glass and steel water bottles in your room.
One of the most eye-catching things every room has is a stunning Gond art mural that adorns the wall behind your bed. Painted in vibrant colors, this folk art form is more than 1500 years old. It is the signature painting style of the indigenous Gond tribe of Central India and mostly depicts nature and wildlife.
This is the gist of things and amenities that are included in each and every room at Kanha Jungle Camp.
Even though I did not get a chance to see the villa, I was able to do a brief tour of all other kinds of cottages. There are semi-elevated cottages, ground floor cottages, and twin cottages. Amenities in all of them are more or less the same.
Dining experiences at Kanha Jungle Camp
Eating at the restaurant
Kanha Jungle Camp Resort has a restaurant that serves amazing Indian food. It is located right next to the reception.
Usually, there is a buffet spread consisting of rice, daal, chapati, paneer curry, a couple of vegetable curries, and one non-veg dish (could be chicken or mutton since fish is hard to come by in this region). Poppadum and an assortment of salads and pickles also accompany every meal spread.
In case there are only a handful guests at the resort (usually middle of the week), there won't be a buffet. The menu stays the same but the waiters will serve you at the table.
If you need something special made, please ask at the reception or let one of the waiters know. They'll happily do it for free or a minimal charge.
On the last day of my Kanha safari trip, I got an upset tummy. It was pretty bad, so I literally survived on khichdi (rice and lentil porridge that is light on the stomach), fruits, and lime water. The kitchen staff was ever so helpful.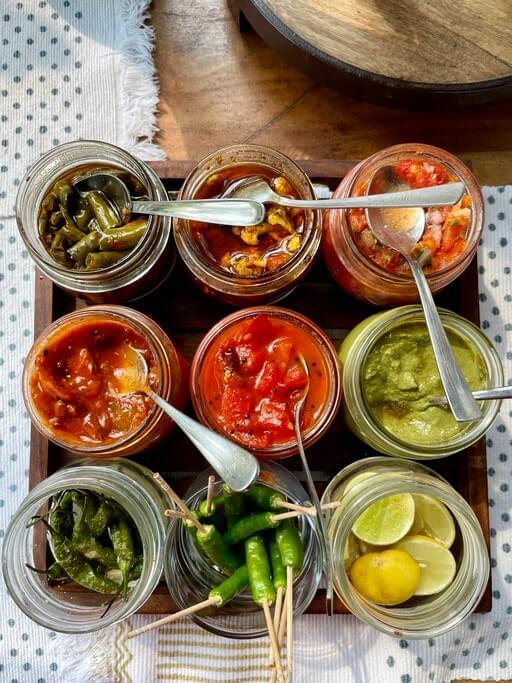 Bush dinner
Apart from the usual fare at the restaurant, you can also experience eating out in the wild – right under a million stars. Since the property is located in the middle of a jungle, it is not hard to find the perfect spot for a romantic dinner or some happy family time.
My family and I had a special bush dinner in a secluded spot within the resort. The entire place was lit with traditional Indian lanterns which gave the place an ethereal glow. We had an amazing 5-course meal in the middle of a thicket surrounded by chirping crickets, shining stars, and the silence of nature. At all times, the staff made sure we were comfortable yet they were not too nosy or interfering.
A bush dinner is a must-have experience when staying at Kanha Jungle Camp.
Safari facilities at Kanha Jungle Camp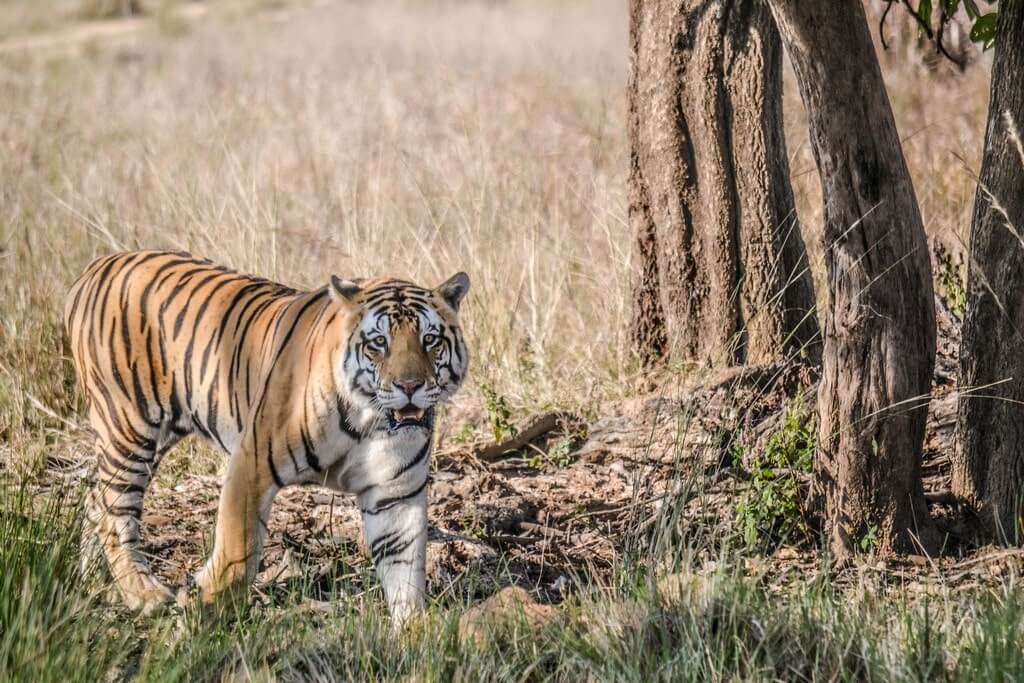 The team at Kanha Jungle Camp can do your safari bookings if you want. They will handle everything from beginning to the end – right from getting a permit for you and your family on your preferred day at your preferred gate to arranging for a gypsy to pick you up from the resort.
A government guide (randomly allocated) will accompany you on the gypsy. If you would like a naturalist guide too, please mention that beforehand so that the resort can arrange for that.
You can also book your own safari online (keep an eye out for my Kanha National Park safari booking guide that's coming up super soon).
Please note that Kanha Jungle Camp provides you with a lavish breakfast spread (includes sandwiches, parathas, fruits, juices, tea/coffee), drinking water, blankets, and hot water bags for all your morning safaris.
I recommend bringing along a jacket, a woolen cap or scarf, a mask to cover your face from dust, and sunglasses to stay comfortable during the safari. Check the temperature in Kanha National Park here when planning for your trip.
Other special experiences
Apart from the usual amenities, I like the fact that Jungle Camp properties provide guests with a plethora of other activities and special experiences. Here are some of my favorite experiences at the Kanha Jungle Camp.
Village tour
You all know how much I love delving into local culture on each and every trip of mine.
Staying at Kanha Jungle Camp was like a dream-come-true because of the amazing local experiences I had here. This luxury resort strongly believes in the local community and is committed to furthering their causes.
One of the best ways to do experience local culture is to take a village tour and check out one of the hamlets located right outside the resort. Members of the Gond tribe live here and still practice many traditional ways of growing their crops, gathering and storing food, and building houses.
We visited the closest village of Bhima where we were able to see locals building both mud and brick houses. It is interesting to note that the Gond people do everything on their own. Right from growing their own crops to building their own houses from scratch, these people are extremely self-reliant.
But it would also be prudent to add that these people are poor and cannot afford many luxuries that city dwellers like us can. Inclusive tourism is one way the tribes of Kanha can grow and I am happy that Kanha Jungle Camp has taken the right step in this direction.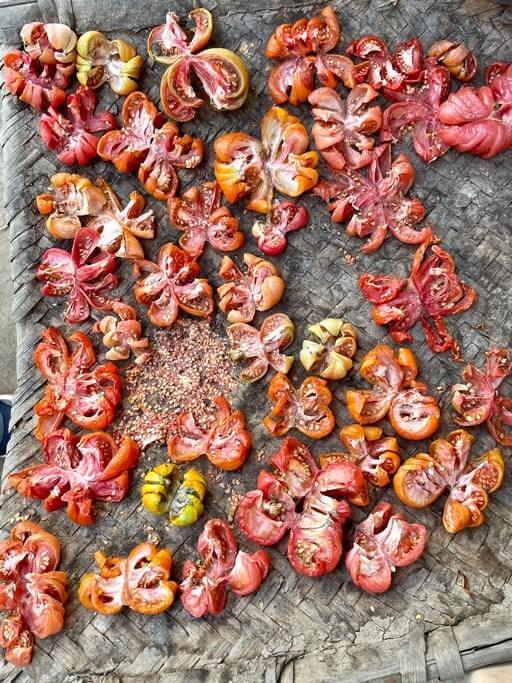 Baiga tribal dance
The Baigas are yet another indigenous tribe that reside in the forests of Central India. However, unlike the Gonds who are far greater in number, Baigas are only a few thousand. They still reside in deep forests and practice food gathering techniques.
It was a thrilling experience to watch a traditional Baiga dance at Kanha Jungle Camp. The Baiga troop danced around a bonfire and it was an energy-filled performance, much like the Bodo dance that I had experienced in Manas National Park in Assam.
The dancers were dressed in colorful costumes, elaborate headgear, and heavy metallic anklets. Men played drums and a wooden instrument called thiski. Dancers moved in circles to the tunes of Baiga songs which were mostly about nature, monsoons, and crops.
Nature walks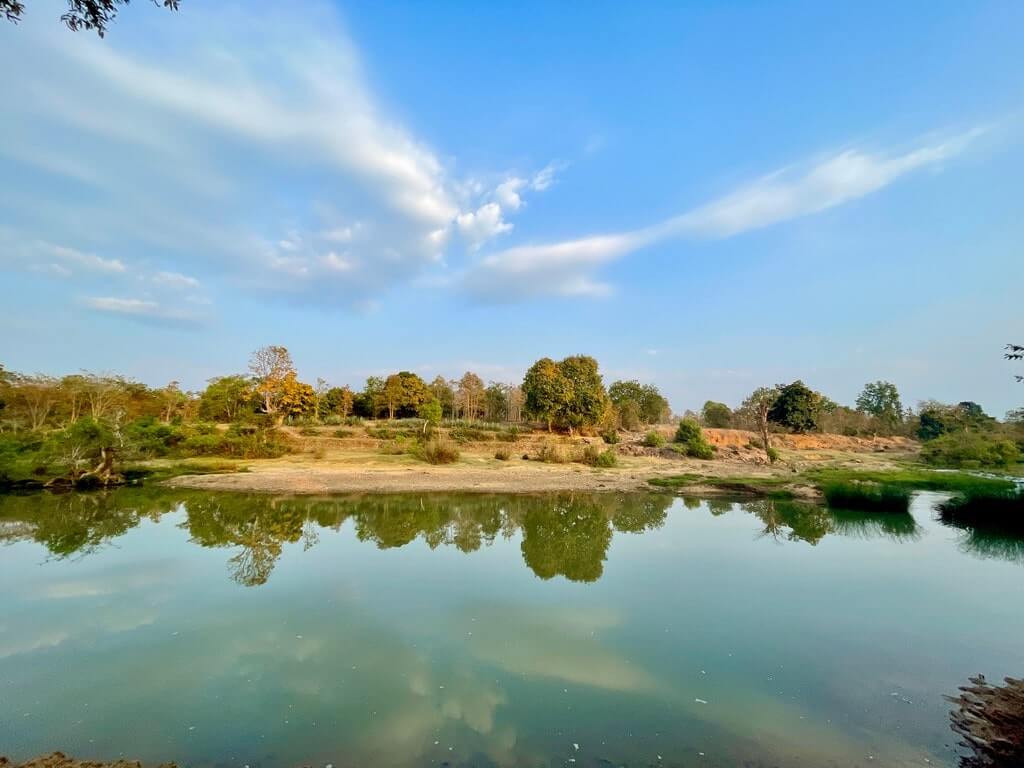 When staying at Kanha Jungle Camp, do not miss the opportunity of hiking on a nature trail and gasping at some of the most beautiful sceneries in India.
Accompany a wildlife expert on a predetermined nature trail and explore some amazing flora and fauna in the region. We took a trail with Mr. Mohan Moolepetlu, naturalist and General Manager at Kanha Jungle Camp and he was kind enough to show us some amazing flora while we walked by the Banjar River.
Among the many interesting things that Mr. Moolepetly showed us, I discovered the plant that was used to make sindoor (vermillion) in olden days and learned why the leaves of Sal plants had turned yellow in only one direction. It was quite an interesting session and totally worthwhile if you have an interest in nature and its creations.
There are many nature trails that you can sign up for. I did the shortest and easiest, 30-minute hike right behind the property. There is a longer one too which takes about 2-3 hours.
Sundowner
At the end of our nature trail, we came to a clearing on a small hill where our host had organized a sundowner party for us. It was the cutest spot on the mountains from where we could sit and watch the sun go down. The picture here truly reflects the magic of the moment.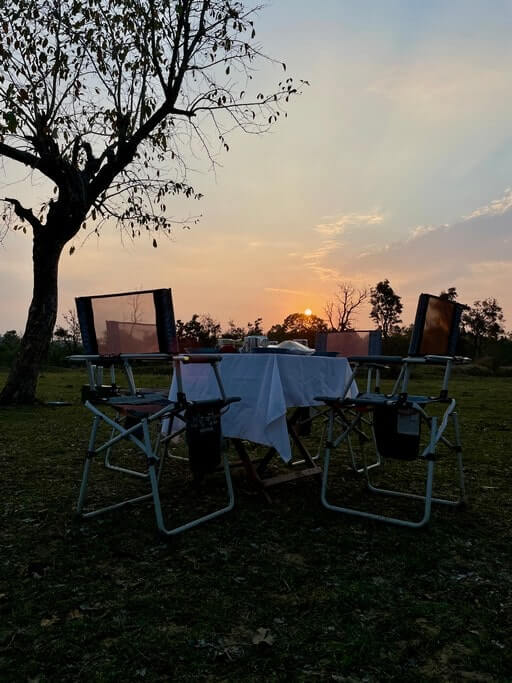 Bicycling
The best thing about this resort is that they have a good number of bicycles available for the guests to ride and explore the surroundings. There are so many amazing trails within the property that you could spend an hour cycling away.
My 9-year-old had the most amazing time with his bicycle. He rode it every day. I think this is a great thing to have for families with kids or anyone who wishes to burn some calories during the trip.
Unfortunately, there weren't any bicycles to fit my height or any with a step-through frame (the kind I use). I did put in a request for the management to source a couple and it would be great if they could do it.
Swimming pool & Spa
Kanha Jungle Camp has a large swimming pool along with a kid's pool, both of which overlook the jungles of Kanha. Next to it is a spa where you can avail some relaxing massages.
Location
Kanha Jungle Camp is located in the small village of Santapur in the Balaghat district of Madhya Pradesh. The resort is just 11 km (7 miles) away from the Mukki gate of Kanha National Park. A drive from the resort to Mukki Gate takes about 20-25 minutes.
The closest airport is at Raipur which is 180 km away. The drive takes about 4 hours. Jabalpur Airport is also located at a similar distance. Nearest railway station is at Gondia which is 125 km (3 hours) away.
I traveled from Mumbai and this is how my itinerary looked. I took a flight from Mumbai to Nagpur. Traveled to Gondia from Nagpur by train (1.5 hours) and then took a taxi to Kanha Jungle Camp from Gondia. I had pre-booked the taxi but did not have a great experience with the driver, so I will not recommend them here. But you can always ask the hotel to arrange for a pick-up.
On my return journey, I chose to fly back from Jabalpur Airport which is again 4 hours away from the airport.
Have more questions about logistics? Please feel free to drop me a message on my Contact Us page.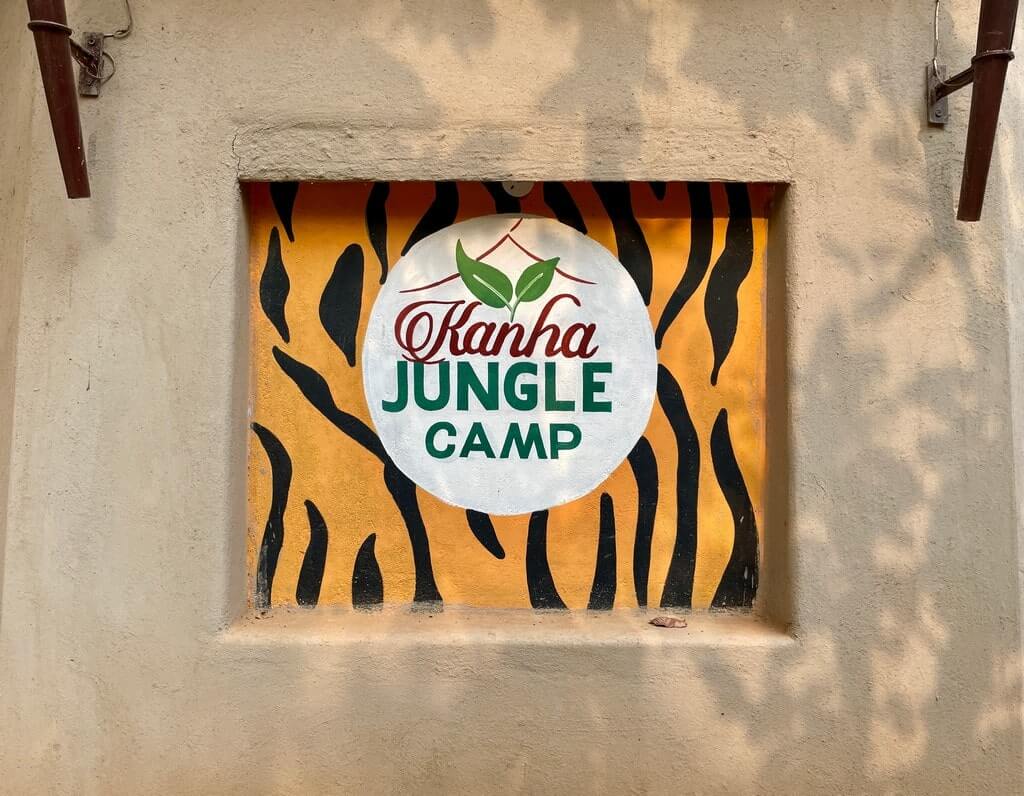 Conclusion
All in all, I had a great stay at Kanha Jungle Camp and I recommend it to anyone who is looking for the best resorts in Kanha National Park.
Here are the 4 best things that I loved about Kanha Jungle Camp.
Their respect for the wild. Kanha Jungle Camp has grown within the forest instead of the other way round. Plus, they have hired naturalists to run their camps. These people are deeply passionate about their jobs and that makes a stay here unique and very wildlife-friendly.
They are passionate about sustainability and giving back to the local community.
This is the best place to learn about Gond and Baiga culture.
Impeccable service and cozy rooms make your stay here totally stress-free. Add to that some incredible experiences like village tours and nature trails and you have the most holistic nature camp stay in Kanha.
Book your stay at Kanha Jungle Camp
If you are looking for a luxurious and sustainable stay near the Mukki Gate of Kanha National Park in India, then Kanha Jungle Camp is a great choice. You can check prices and availability here if you have some dates in mind.
Loved this Kanha Jungle Camp review? Pin it for later.