Last Updated on June 24, 2019 by Soumya
If you have been following my recent posts on Cambodia, you will know that this time around we did a trip of the lesser-known Cambodian temples instead of the mighty and more popular Angkor Wat. Angkor is beautiful, no doubt about that. But so are these unknown, lost temples – some literally in the jungles of Cambodia. Our trip started with the ruins of Beng Mealea, followed by a tour of the city of Koh Ker, a tour and hike up to Preah Vihear, and ended with an experience of sustainable tourism at the ruins of Banteay Chhmar. This post is dedicated to the temples of Koh Ker Cambodia.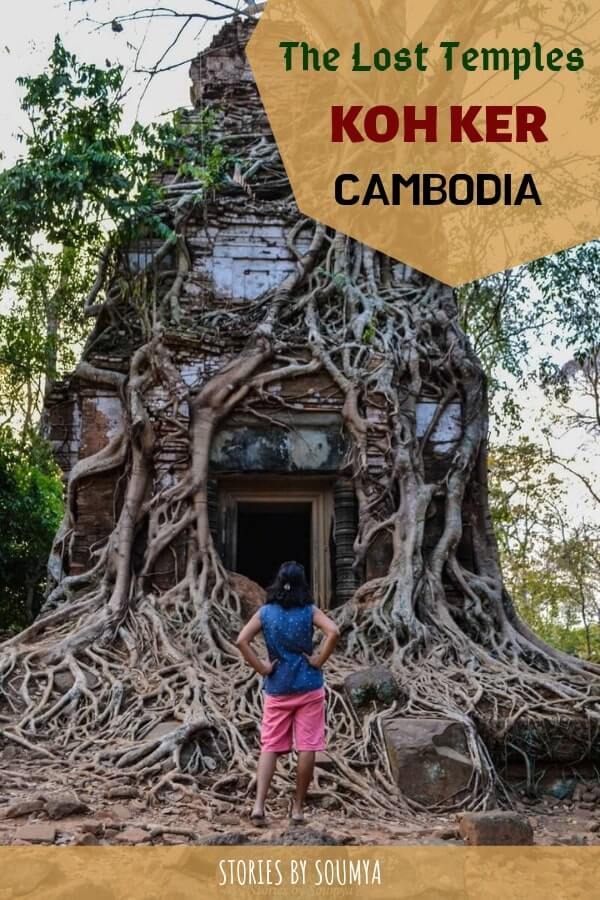 Here is how we spent a day among the temples of Koh Ker.
Why is Koh Ker unique?
Koh Ker is the modern name of an ancient city called Lingapura, an important base of the Khmer Empire. It also functioned as the capital for a while. Shiva was the cult deity in the city at the time. No doubt, many temples, big and small, dedicated to the worship of Shiva were constructed here during the 9th and 10th centuries.
Koh Ker is unique among temples of the Khmer era because its main temple complex possesses a shrine shaped like a huge pyramid not found anywhere else in the region. Once you get here, imagine staring at a Mayan pyramid in the middle of Yucatan, Mexico. Only this time you are somewhere deep in the jungles of Cambodia and not in Yucatan. If you wish to include something different in your itinerary for Cambodia, add Koh Ker to it.
It was this pyramid that drew us to Koh Ker. We were curious as to why a king would build something so different. But we discovered so much more when we got here.
If you wish to read about a Mayan pyramid from Yucatan, click here for an interesting post on the ruins of Ek Balam.
Layout of Temples of Koh Ker
When you run a search for Koh Ker Cambodia, you will usually land up on articles about the main temple or Prasat Thom (the temple with the pyramid). It is not only the biggest among all the temples of Koh Ker, but it is also one of the most impressive. On deeper digging, you will find that Koh Ker is actually a city of nearly 200 temples – many of them lost in the jungles and thick overgrowth.
About 10% of these temples have been adequately restored and are open to visitors now. They are all located around a ring road and can be easily covered in a day's time. That is why Koh Ker makes for such an interesting day trip from Siem Reap.
Below, you can see a map of Koh Ker with the prominent temples marked on it.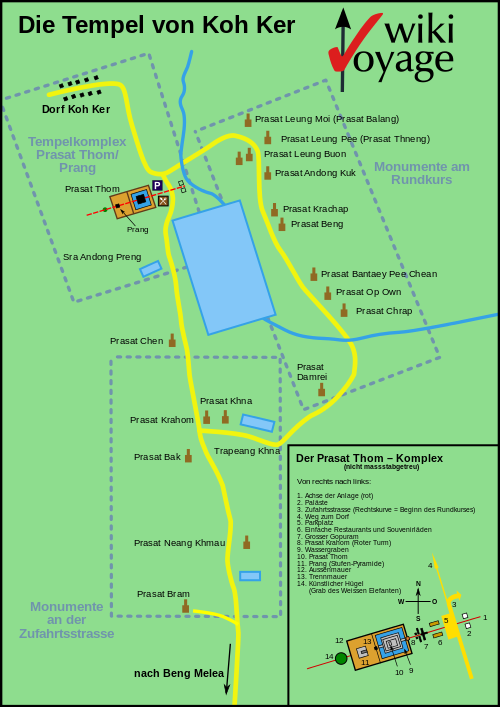 Many tourists do only Prasat Thom (the main temple) and skip the rest. I would strongly urge you to visit some of the other temples in the ancient city. They are filled with Instagram-worthy spots, engrossing tales, and perfect solitude. In this post, we will walk through some of these fascinating temples of Koh Ker.
Let's first look at the most important temple complex of Koh Ker
Prasat Thom
Prasat Thom is the grandest and the most significant of all Koh Ker temples. It is actually a temple complex which includes the huge pyramid, palace walls, and a number of other smaller temples and gopuras (entrance buildings).
You can see on the map that Prasat Thom is located on the northwest of Koh Ker's water reservoir called the Baray. The plan of Prasat Thom is linear along an east-west axis instead of the usual concentric rectangular layout of other Khmer temples. This makes Prasat Thom one among the very few Khmer temples with a linear layout.
The Temple of Preah Vihear, a UNESCO Heritage Site, is another Khmer temple with a linear layout. Click here to read all about it.
Prasat Prang
At the end of the axis, the stepped pyramid called Prasat Prang stands tall at a height of 36 m. The pyramid is seven-tiered at the top of which an imperial Shiva linga, about 4 m tall, was enshrined. This linga no longer exists. What remain are inscriptions that tell us that the linga was laid on top of the pyramid in 921 AD.
There is only one set of stairs on the eastern side leading up to the top. However, the set is in shambles at the moment and is unusable. Alternately, a flight of wooden, makeshift stairs (about 180 of them) has been constructed on the northern end. You can climb these to get to the top in order to get a panoramic view of the erstwhile Khmer empire. The stairs are sturdy and easy to climb. It's fun especially with kids who love scaling heights.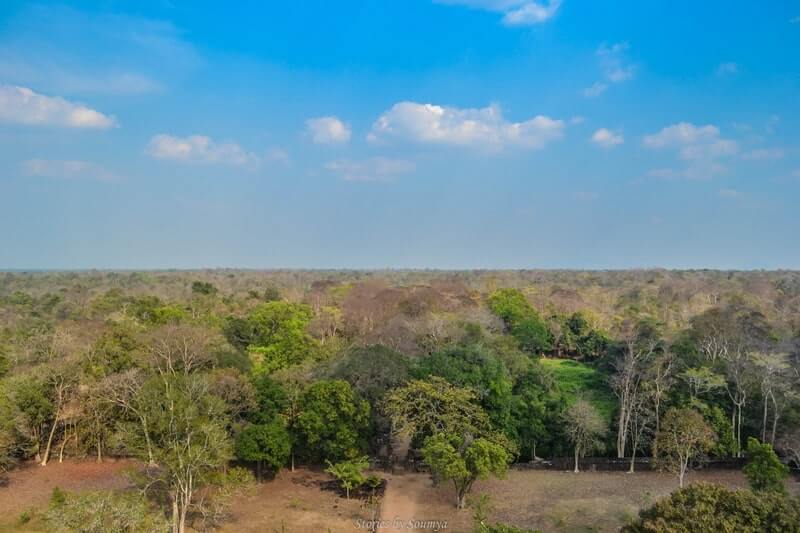 There isn't much crowd at Prasat Thom. You will probably see a couple of tourists and a few locals. Right in front of the entrance are two Cambodian restaurants that serve good food. They have separate English menus which are priced higher than the usual one.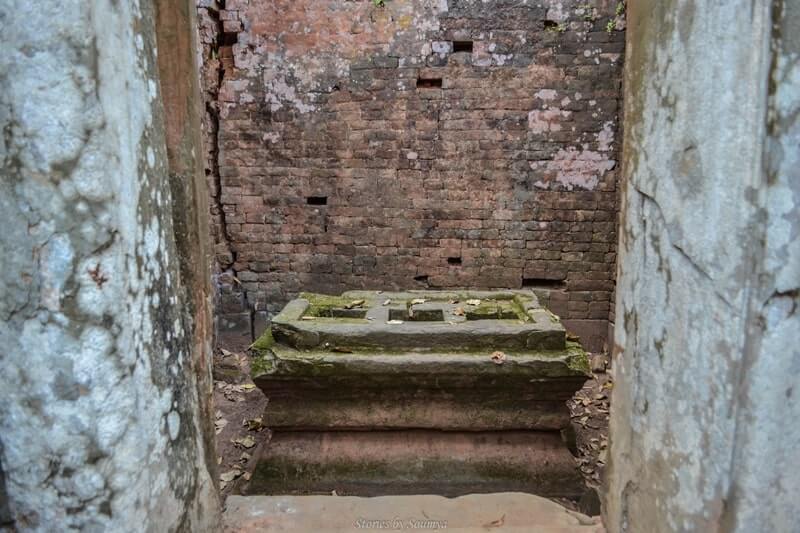 Prasat Krahom
Prasat Krahom or the Red Temple is one of the gopuras that lead to Prasat Prang within Prasat Thom. Many-a-time, it is considered as an independent temple. Once upon a time, it housed the only known Khmer sculpture of dancing Shiva, fragments of which are displayed in the Phnom Penh National Museum today.
Then we stop at smaller, independent shrines as we take a ride along the ring road.
Prasat Kra Chap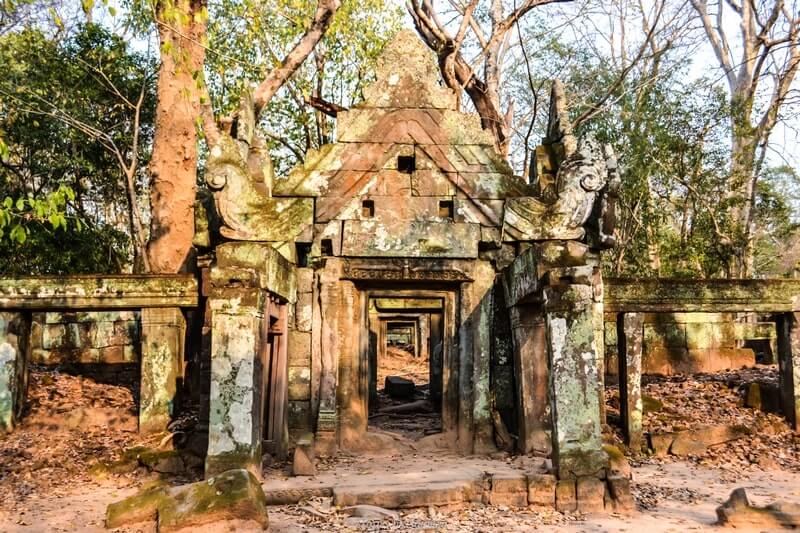 After exploring Prasat Thom, we move on to another interesting temple in the vicinity called the Prasat Kra Chap. It is one of the most prominent temples in the North Eastern group of temples of Koh Ker.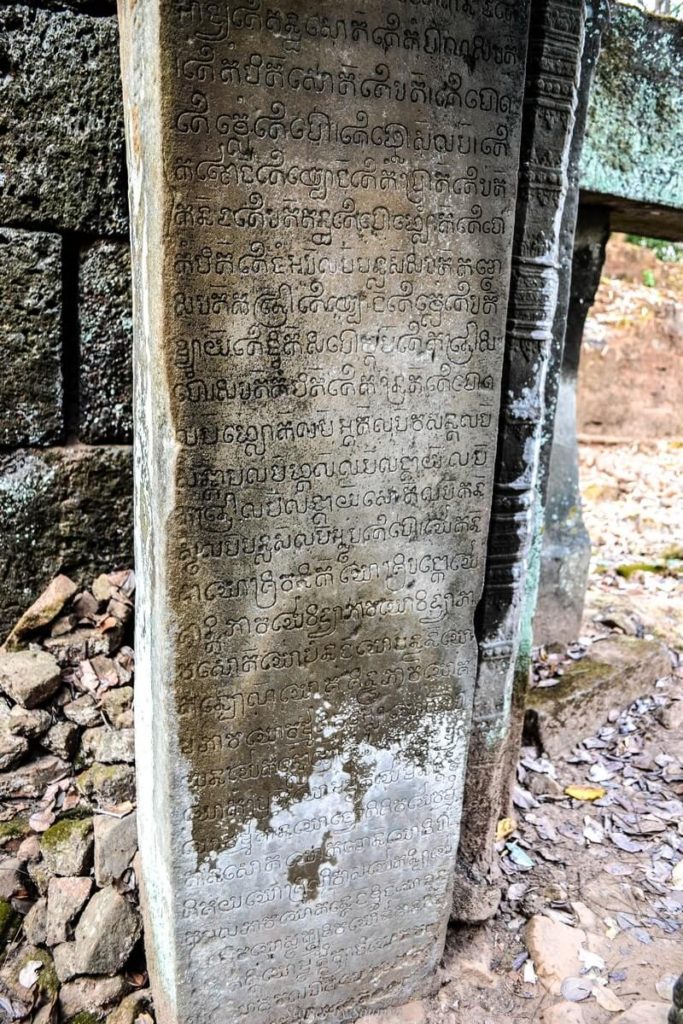 Kra Chap is often referred to as the temple of inscriptions. This is because of the umpteen number of inscriptions found on site. Look closely at doors and pillars at this temple for writings in Sanskrit and ancient Khmer language.
Linga Temples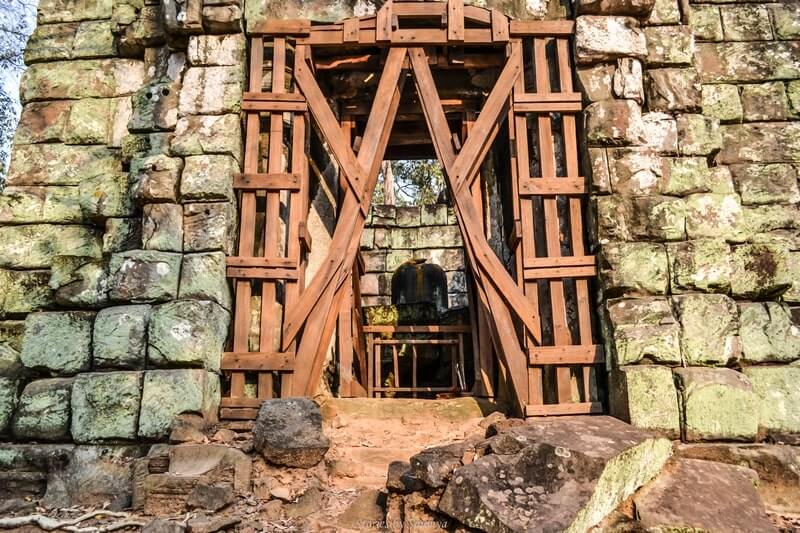 The Linga temples are a group of 5 temples in the northeastern part of Koh Ker. They are referred to as the Linga temples because all of them possessed huge monolithic lingas at one time. A few of the lingas are still well preserved. Many are in ruins. In the map above, are depicted three of the 5 Linga temples of Koh Ker – Prasats Leung Moi, Leung Pee, Leung Bon.
Prasat Damrei
Prasat Damrei is a temple on the eastern side of Koh Ker that is adorned by animal sculptures. Damrei means elephants. The temple has four elephants decorating its four corners – hence the name Elephant Temple. Lions stand tall on both sides of 4 staircases leading up to the temple.
So, there are 4 elephants and 8 lions here. Not all of them are intact. Some of the figures lie shattered on the ground. However, what remains is beautiful. Out of the many temples we visited, Damrei was the one that was not entirely deserted. We saw a few tourists climbing on it and walking around.
Prasat Neang Khmau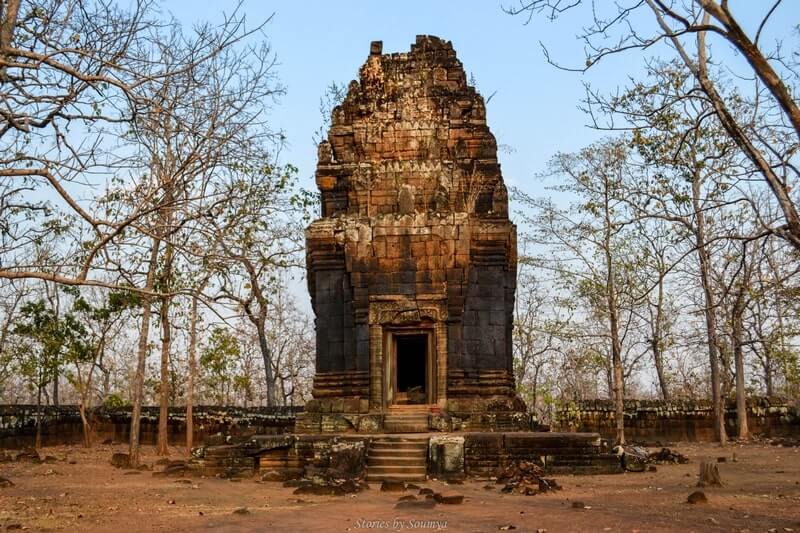 This is an impressive structure that we saw among the southern set of temples in Koh Ker. Neang Khmau means "Lady in Black". The temple has been so named because of its slender form and black color of its stone. Well, when I saw it I was quite convinced that the temple had suffered a fire. But further research told me that an oxidation process had caused the laterite used in this temple to turn dark. That has accentuated the beauty of the temple.
It is believed that the temple was dedicated to Shiva. However, the presence of a frieze with an image of Brahma could propose otherwise. Tales also suggest that it could have been dedicated to Goddess Kali, the Hindu goddess of destruction. Well! Mythology and confusion do go hand-in-hand!
Prasat Pram
Prasat Pram is an ensemble of five temples (three temples and two libraries) a little further away from Prasat Neang Khmau. The shrines are in various states of disrepair. What is remarkable about these temples is the fact that most of them are completely penetrated by the roots of strangler fig trees. Another example of peaceful coexistence of nature and sculpture after Banteay Chhmar.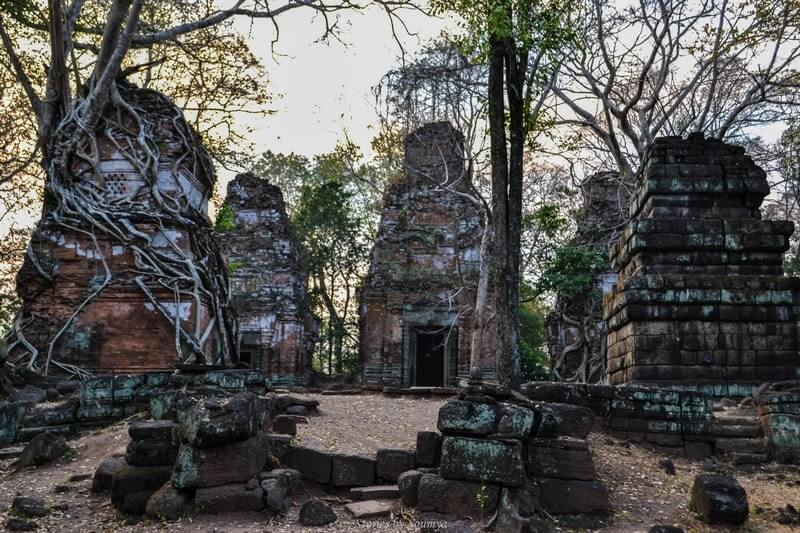 It is almost like seeing a smaller version of the famous Ta Phrom temple. Only here you can have your Tomb Raider Instagram moment in perfect solitude without any crowds hovering in the background.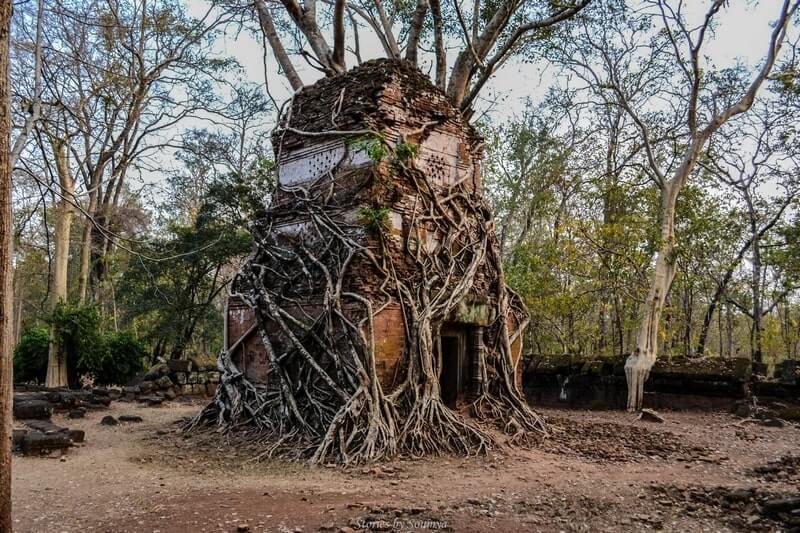 How and when to go to Koh Ker?
Koh Ker is usually done as a day trip from Siem Reap. The site is a little above 120 km from Siem Reap and the trip can take between 2-3 hours in a private taxi. A 4-seater taxi will cost around $100 for the return trip. This typically includes bottled water and a driver-cum-guide who speaks decent English. A trip to Koh Ker can easily be combined with Beng Mealea. However, you will need to leave pretty early in the morning to make the most of it. Also, early morning and late afternoon are the best times for getting some good photographs.
If you are looking for a place to stay in Siem Reap, I suggest you check out Pavillon d'Orient – with rave reviews it is undeniably the best boutique hotel in the city.
Best time to visit anywhere in Cambodia is during the winters between November – February. Temperatures are milder and humidity is lower than the summer months. It is not the wet season either which means the ruins are easily navigable and walking and climbing are not problematic.
---
This, in short, is what we saw at Koh Ker. Koh Ker is desolate today. Most of these temples are in ruins. Yet, what we saw when we went there was a thriving capital city of the Khmer empire boasting of untold riches and prosperity. We saw the fervor of kings who built temples for every need and whim. And we saw the lives of people closely intertwined with the beauties and complexities of religion. It was, indeed, the trip of a lifetime.
If you are interested in finding how to visit other lost temples of Cambodia, don't forget to check out our articles on the Disputed Temple of Preah Vihear or the Forgotten Temples of Banteay Chhmar.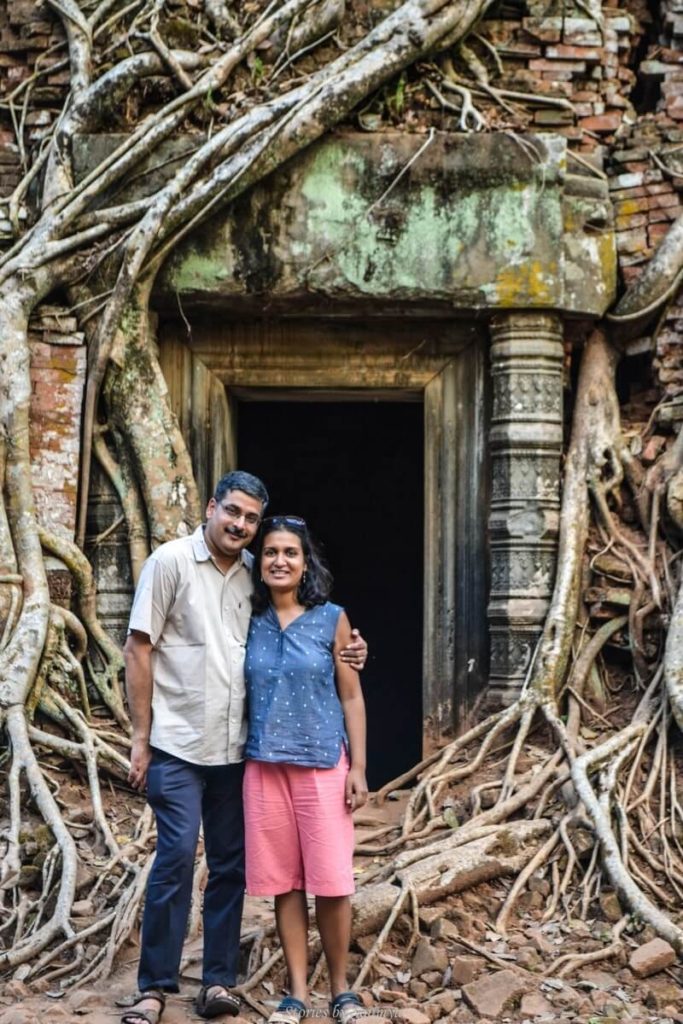 Did you like what you just read? Does this inspire you to visit the temples of Koh Ker in Cambodia? Please drop us a line below and we will be happy to get back.
And while you are at it, don't forget to follow us on Facebook and Twitter to get regular updates on hidden gems and lesser-known historical destinations across the world.
Pin It For Later!