Last Updated on August 4, 2023 by Soumya
Looking for some of the most unique things to do in Sicily Italy? Planning to visit some of the best places in Sicily and add the best sights to your Sicily itinerary. We have just the perfect list for you.
Here's a curated Sicily bucket list that will tell you all about
The best places to go in Sicily and the top things to do especially for culture vultures like you and me.
Offbeat and unusual things to do in Sicily that dig deeper into the eclectic history of the island.
We will learn that Sicily's location has always been strategic. Located right in the middle of the Mediterranean Sea, Sicily has been the point of confluence for ages. Today it is a beautiful treasure trove of unique Sicilian customs and traditions – food, art, people, history, and mind-boggling diversity.
There are tons of interesting things to do in Sicily. Of course, there are the Sicilian must-sees like the Valley of Temples in Agrigento and the Historic Center of Palermo. But there are also the hidden gems like the Sicilian Baroque architecture of Val di Noto and the wine train of Mt. Etna. Come, let's explore some of them.
18 Amazing things to do in Sicily for culture lovers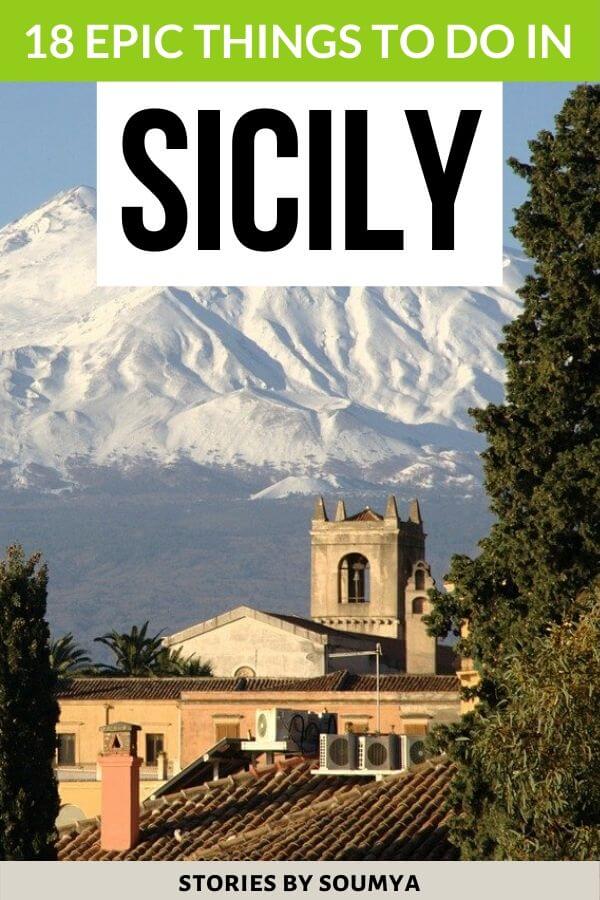 Please note: This post may contain affiliate links which means I may earn a commission if you make a purchase by clicking a link on this post. This will be at no additional cost to you. Affiliate links help me keep this website up and running. Thanks for your support!
Sicily was first inhabited 10,000 years ago. Indigenous tribes also known as the Sicani, the Sicels (Sicily derives it name from them), and the Elymians inhabited the island. Later, Sicily was conquered and lived in by Greeks, Romans, Arabs, Normans, and Bourbons.
And then, there was always the Mafia which controlled Sicily in the most inexplicable ways. The mafia took birth sometime during the Middle Ages. It was also one of the reasons Sicily remained isolated from mainland Italy for a long time.
As you can see, there were two very different forces at play in Sicily.
First, there was this fascinating diversity. Sicily was basically at the crossroads of many illustrious civilizations all of who left bits and pieces of their legacies. Second, there was the mafia-induced separateness from mainland Europe that caused Sicily to remain cocooned within itself for a long time. Both of them resulted in a distinctive Sicilian culture – unique dishes, special Sicilian dialect, and even an exclusive gene pool.
Sicily is an amazing cultural destination today. In this blog post, with the help of travel and culture experts from around the world, I delve into some of the most beautiful cultural experiences that you can experience when traveling in Sicily. So, let's get started.
Want to quickly check out our 5-day Sicily itinerary here?
Explore the Expressive Baroque Architecture of Val di Noto
Editor's Choice
Sicily is where Italian Baroque architecture got fused with local Sicilian elements giving rise to a more expressive Sicilian Baroque style. This happened when rebuilding efforts were undertaken after the devastating earthquake of 1693. Reminds me of the rich Pombaline architecture of Lisbon which was a direct consequence of the 1755 earthquake. But I digress! Cause art and architecture are such wonderful subjects.
Sicilian Baroque is unique. Along with the richly sculpted surfaces of traditional Baroque, the Sicilian style gracefully flaunts indigenous elements of the island such as grinning masks and winged cherubs. Stucco decorations are often extremely detailed and intricate. Colored marbles and mosaics are used with careful abandon. A combination of all of this makes Sicilian Baroque extraordinarily flamboyant and deliberately lavish.
You can literally walk through Baroque corridors and alleyways in the Late Baroque Towns of Val di Noto in southeastern Sicily, a UNESCO World Heritage Site. These towns include Caltagirone, Militello Val di Catania, Catania, Modica, Noto, Palazzolo, Ragusa and Scicli. Noto and Modica are my top picks for a Sicilian Baroque immersion.
Recommended: How to take a Sicilian Baroque Tour in Modica
Visit the Gorgeous Palermo Cathedral
Recommended by Chrysoula from Travel Passionate
Sicily's Palermo Cathedral is a stunning work of architecture located in the heart of Palermo. With a Duomo that rises above the building towards the blue Sicilian sky and the famed statue of Santa Rosalia standing proud out in the front, the cathedral makes for a pretty amazing sight.
Originally built in 1185 by Walter Ophamil, the Palermo Cathedral has seen many architectural iterations. It was a Byzantine basilica and a mosque in previous lives and later Renaissance, Neoclassical, Baroque and Gothic features were added.
Some of the architectural highlights of the Palermo Cathedral include the famous portico by Antonio Gambara, the arches connecting the Cathedral to the Archbishops' Palace, the geometric patterns on the apse, and the great dome designed by Ferdinando Fuga.
Inside the cathedral lie more interesting features such as the marble statue of the Madonna with Child by Francesco Laurana. There is also a sarcophagus of Emperor Frederick II of Hohenstaufen and an intricate font by Domenico Gagini.
Vising the Palermo Cathedral is free (although guests can pay extra to enter the tombs, treasury, crypts, and terraces). It is open Monday-Saturday 9 am-5.30 pm. Please note that only the Royal Tombs are open to the public on Sundays from 9 am-1 pm.
Ride the Mount Etna Wine Train
Recommended by Samantha from The Wandering Wanderluster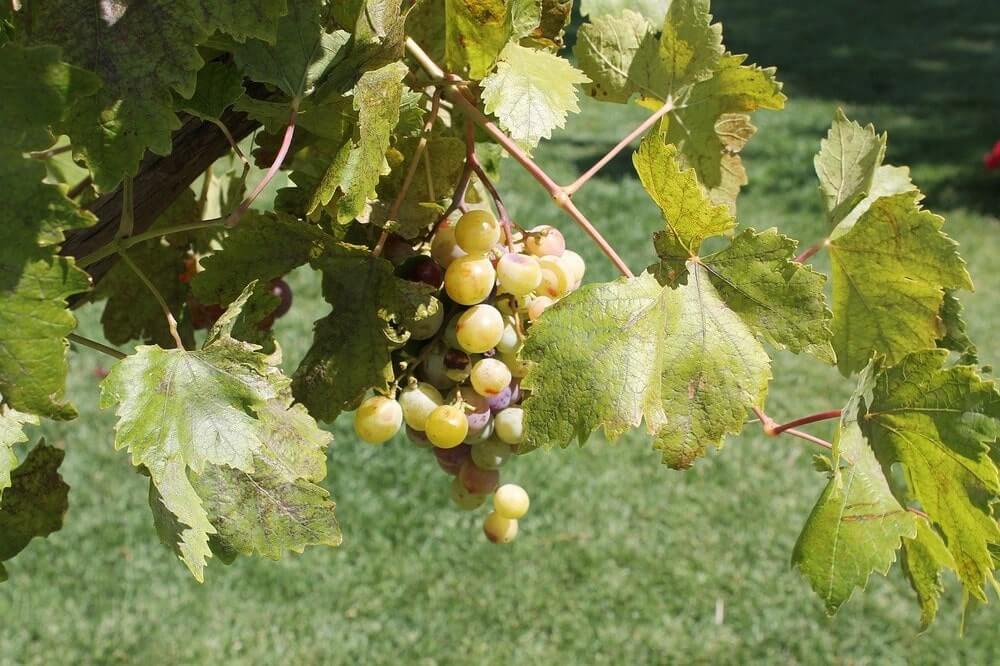 Among the many wonderful reasons to visit Sicily, Mount Etna is undoubtedly a big one. Mount Etna is a gigantic volcano that dominates the southeastern landscape of the island. Yet another amazing reason is another of Sicily's top attributes, its wine.
Most tourists who come to this beautiful island often experience these two highlights separately, but with tourism rising in recent years in Sicily, a new experience has emerged that now allows you to enjoy both Mount Etna and wine tasting onboard what has been dubbed "Mount Etna's Wine Train".
Climb aboard the narrow gauge railway of the Ferrovia Circumetnea at the town of Riposto and meander your way through the lava slopes and vineyards of Europe's largest active volcano before reaching Randazzo, a small medieval town hamlet located up on the slopes on Mount Etna. Then jump on the Hop on Hop Off Wine Bus that follows a winding wine route that stops at some of the regions most beautiful wineries and hilltop towns.
This 9 hour day trip which can easily be enjoyed for those staying in nearby tourist hotspots of Taormina and Catania can be booked independently. It excludes wine tastings and cellar visits. You can also join a private wine-tasting tour which tends to include 2 tastings at two wineries.
Tour the Greek Ruins of Agrigento
Editor's Choice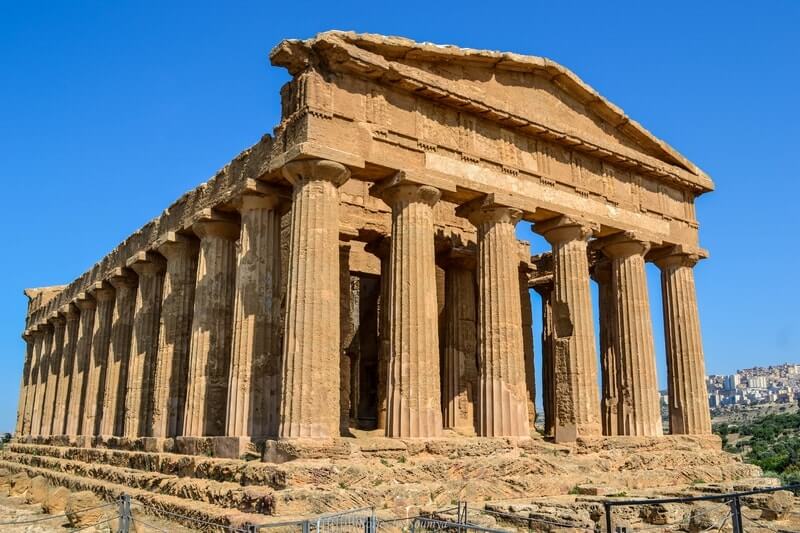 Honestly, there is so much Greek history in Sicily that it is sometimes hard to believe that this island is actually part of Italy. Greeks colonized Sicily around 800 BC and their influence prevailed for a long time even after the coming of the Roman Empire.
Some of the most iconic Greek archaeological sites outside of Greece are located in Sicily. A famous one being the Valley of Temples in Agrigento, a UNESCO Heritage Site. Agrigento is filled with impressive Doric temples and tonnes of ancient history. The Temple of Concordia here is one of the best preserved Greek temples in the whole world. And the Temple of Dioscuri is probably one of the most mysterious and intriguing.
If you are planning a trip to Agrigento, do not forget to check out our extensive guide on why and how to visit the Valley of Temples. If you prefer a guided tour, check out this highly-rated, fun, E-scooter tour of the historic site.
Other remarkable Greek sites in Sicily include the unfinished temple of Segesta (northwestern Sicily), the ruins of an acropolis in Selinunte (southern Sicily), and the ancient city of Syracuse (southeastern Sicily). And then there is the impressive Greek theater of Taormina which we are going to talk about next.
Recommended: How to visit the Valley of Temples in Agrigento?
Get awed by Taormina's Ancient Greek Theater
Recommended by Katy from Untold Italy
One of the most spectacular sights in Sicily, if not the world, is the view of the Greek theater in Taormina with Mount Etna smoldering in the background. The Greeks developed the site in the 3rd century BC in the time of Hiero II and they certainly had a sense of drama. In order to build the theater, over 100,000 cubic meters of rock had to be moved stone by stone so plays and musical performances could take place in the shadow of the volcano.
Later the Romans expanded the theater and added embellishments such as columns and statues. In its prime, the theater could hold over 5,000 spectators who came to watch gladiatorial battles in the custom built arena.
During the Middle Ages the Teatro Greco fell into disrepair. However, in recent times the people of Sicily have recognized its value as a concert venue. If you're lucky and visit during summer, arguably the best time to visit Italy, you can see concerts by some of the world's best artists. At other times you'll need to use your imagination as you wander the theater and enjoy the view just as many others did 2000 years ago.
Explore Victorian Follies at a Beautiful Garden in Taormina
Recommended by Jyoti from Story at Every Corner
To get to Taormina garden, you'll need to step away from the hustle and bustle of the top tourist attractions in Taormina. At the other end of town from the Greek theater is Florence Travelyan's beautiful garden.
Florence was a Victorian woman who arrived in Taormina in the late 1800s and made it her home. She and her husband owned many properties in the town including a villa of 50 rooms. Florence was a nature and animal lover. So she built this beautiful garden to enjoy with her animals.
The garden is still beautifully decorated with flowers but its distinctive character is reflected in its many rock structures that Florence called "the hives". They were built in 1897-98 with simple materials like bricks, tiles, columns and wood in an eclectic style. Florence often sat there to watch birds and have tea. More popularly the structures are called Victorian follies.
Florence lived her days in simplicity and peace in Taormina. She loved her animals so much that when she passed away she left a will for her many animals to be cared for. In particular her peacocks, parrots, crows, canneries, and pigeons.
We visited Taormina as a day trip during our 5 day trip to Malta. If you're in Taormina for any reason, step beyond the Greek theater, the restaurants and souvenir shops to the lovely and unique gardens that the Victorian lady created for generations to enjoy.
Island Hop in the Aeolian Archipelago
Recommended by Emily from Wander-Lush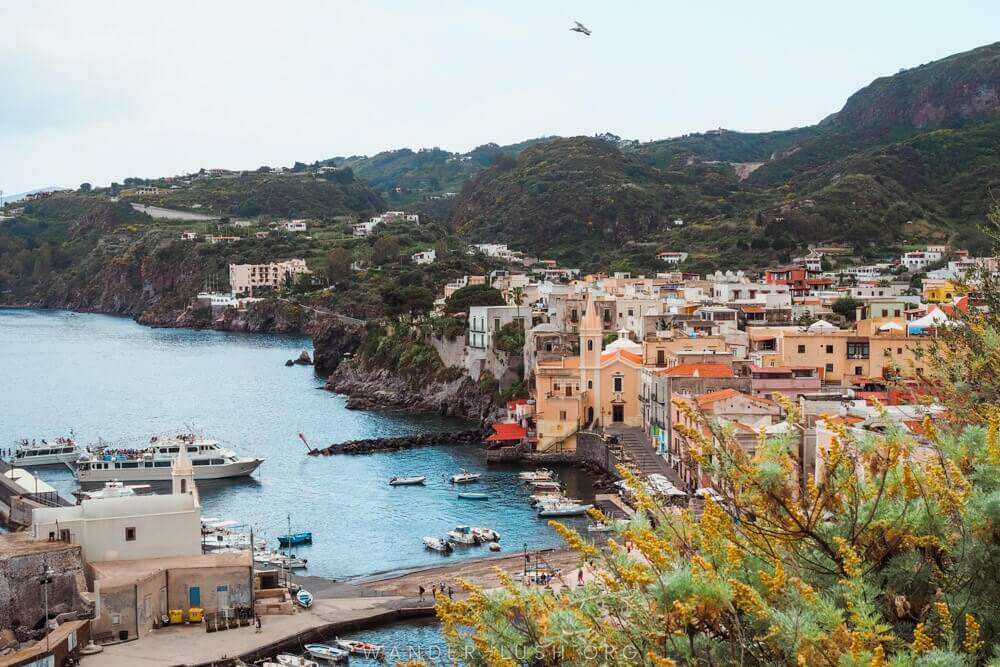 The Aeolian archipelago, located in the Tyrrhenian Sea off Sicily's northern coast, is known for its dramatic landscapes, black-sand beaches and adventure activities, including climbing Stromboli volcano. But some of the best things to do in the Aeolian Islands involve soaking up the local culture.
Like the rest of Sicily, the islands have a blend of Mediterranean, Northern African and Middle Eastern influences. In many respects, the Aeolian Islands are culturally distinct from the mainland, mostly because of their location. Local culture here is layered with Greek legend. The myth of king Aeolus, mentioned in Homer's Odyssey, gives the islands their name. You can see symbols referring to the Lord of the Winds all around.
Each of the seven islands offers visitors something different. Outside of summer peak season, it feels a bit like stepping back in time – especially if you visit the far-flung islands of Alicudi and Filicudi. Hopping between the islands by boat reveals a beautiful slice of Italian life.
Experiencing wine and food culture is one of the highlights. On Salina and Lipari, Malvasia wine is produced in small commercial wineries and on family estates, many of which welcome guests for tastings. The smaller islands each boast a collection of charming villages, each with its own churches and old-school restaurants that serve up island produce, including famous Salina capers.
You'll find ceramic workshops on some of the islands, where pressed tiles and Moorish heads are hand-painted. On Lipari, the largest island, there's an incredible archaeology museum that documents the archipelago's history.
Stroll the Historic Town of Catania
Recommended by Pauline from BeeLoved City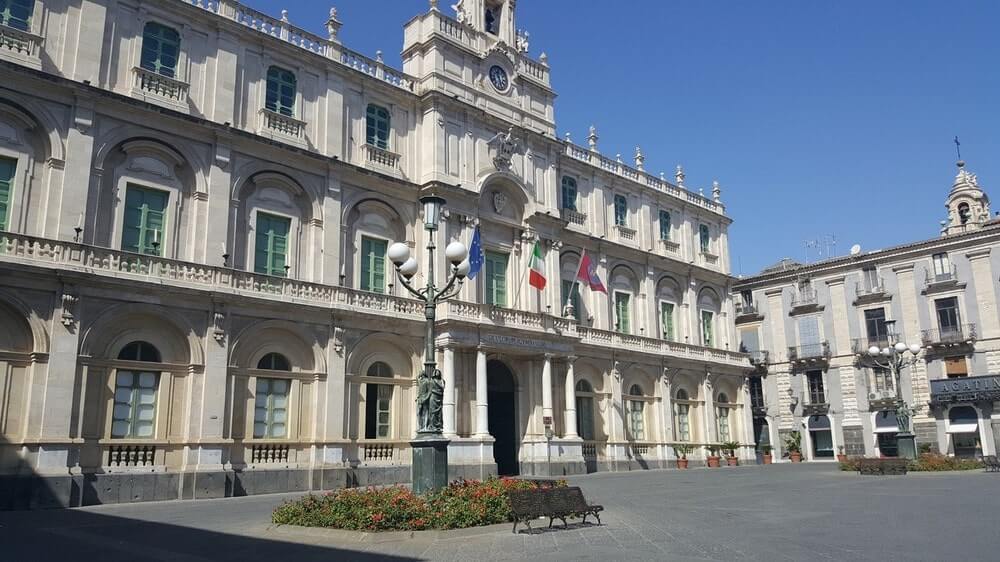 If you want to discover more about the history of Sicily, Catania is just the perfect place to do it. Roaming around the Old town of Catania is a truly amazing experience.
Piazza Duomo is where you can discover beautiful buildings such as the Duomo and Palazzo dei Chierici. You can then make your way to Castello Ursino while walking through the Pacini Gardens. The historic center is full of cute narrow streets. Make sure to also check out Via dei Crociferi. If you want to get the best out of it, you might want to consider going on a guided walking tour.
Catania is located by Mount Etna. During the eruption of 122BC, the entire city was covered by lava. The city you actually get to visit now is the new one as it was re-constructed right above the old one. Unfortunately, you won't be able to visit Catania Underground as it was closed to the public a few years ago.
Another great thing to do here is to taste the delicious food in Catania! Catanese cuisine is one of the best in Italy and that's something you shouldn't miss. Grab some street food such as an Arancino or a Cipollina. If you'd rather something refreshing, a Granita al Pistacchio will be perfect. If you really want the full experience, make sure to check out Catania fish market.
Taste an Almond Granita in Noto
Recommended by Veronika from Travel Geekery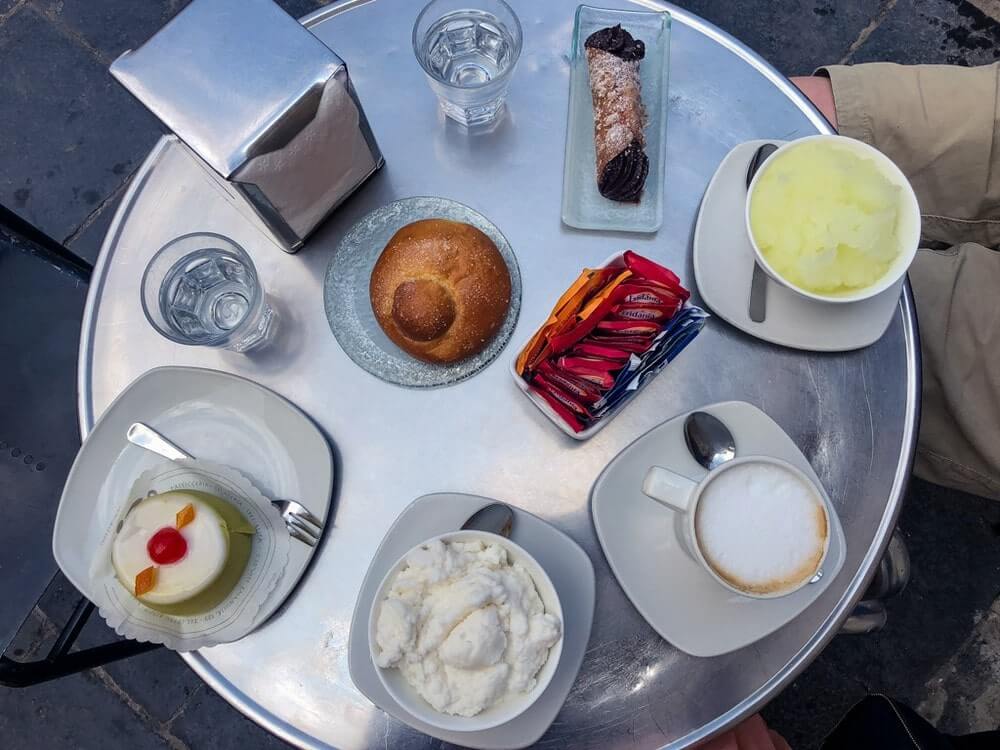 Granita is the most typical dessert of Sicily. The sorbet-like ice cream is typically eaten with a brioche for breakfast. The most common flavors of granita include lemon and almond. To have an all rounded experience of tasting the best granita, head to Noto, a beautiful Baroque town easily done as a day trip from Catania.
In Noto, you'll find Café Sicilia, an amazing family-run café, which has become famous thanks to a feature on Netflix. They use only local organic ingredients for their granitas. Plus, the family behind Café Sicilia has been instrumental in reviving Sicily's disappearing almond growing industry.
The delicious granita comes in several flavors at Café Sicilia. Apart from the typical almond and lemon, you can also taste strawberry, apricot, a mix of flavors and any other fruit that's currently in season. A must-have when you are visiting southeastern Sicily.
Experience the beauty of Ragusa Ibla
Editor's Choice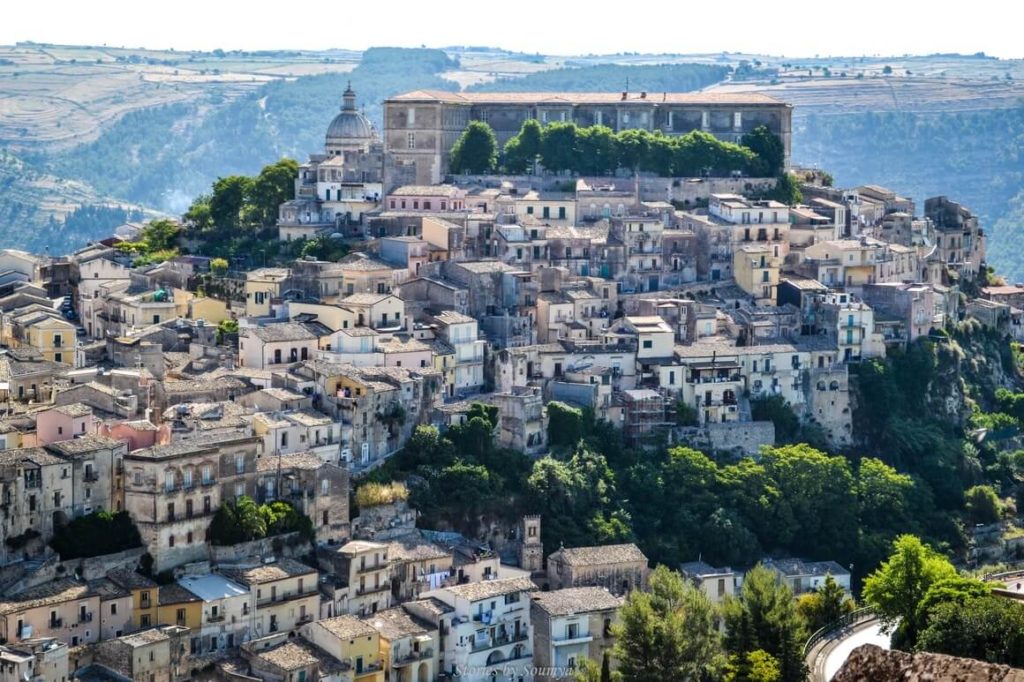 Ragusa is one of the most beautiful Sicilian Baroque towns of Val di Noto. There are a ton of historic things to do in Ragusa. But that's not the only reason you should visit here. Its extremely picturesque location is another.
Ragusa Ibla (the older town) rises like a dream from the top of a hill in the Hyblaean Mountains. It is separated from the newer town, Ragusa Superiore, by a deep ravine. Plus, the old town is replete with churches and palaces. I found it fascinating to simply watch and photograph Ragusa Ibla from the other side of the ravine in Ragusa Superiore.
So much history and art bundled into one single package on the top of a resplendent hill in the Sicilian countryside. That, my friends, was a sight to behold!
Read next: 16 Best things to do in Ragusa
Visit a Local Market in Siracusa
Recommended by Wendy from The Nomadic Vegan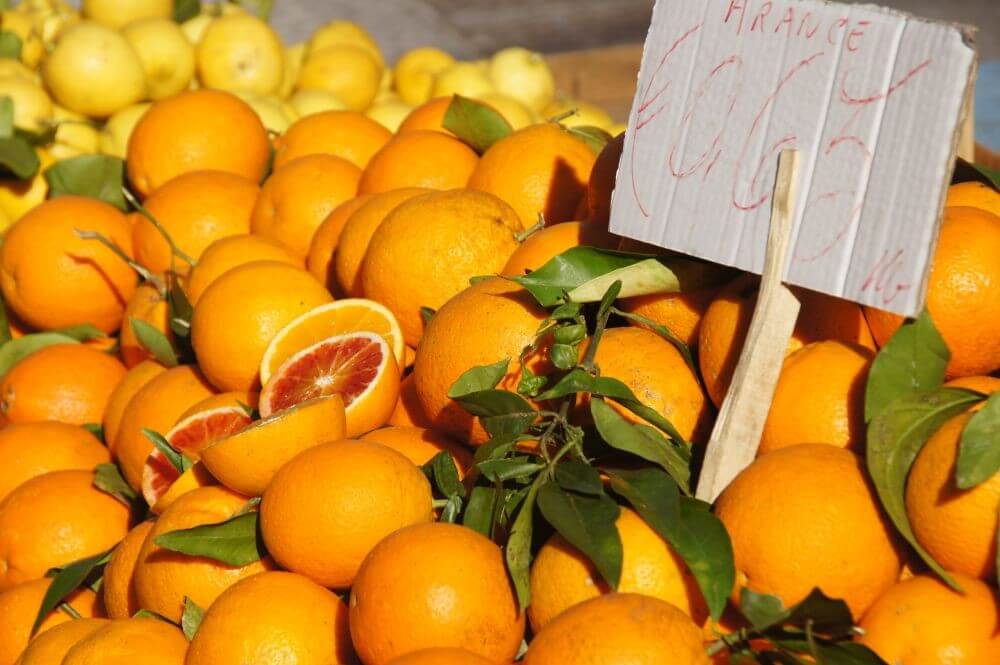 A great way to experience Sicily the way locals do is by visiting a local market. And one of the most vibrant Sicilian markets also happens to be very conveniently located right on the island of Ortigia in the historic center of Siracusa.
You'll find the market bustling every morning except on Sundays and it starts to wind down around lunchtime. Try to get there as early as you can, not only to get the pick of the best produce but also to have a more local experience before the tourists arrive.
The produce is all grown locally in the surrounding areas. One of the specialties of this region is citrus fruits. Tarocco blood oranges are popular and you might also see something that looks like a huge lemon. It is called cedro in Italian and citron in English. It contains very little juice. So instead of juicing it, Sicilians use its thick white rind to make various desserts as well as a popular soft drink known as Cedrata.
In addition to the fresh produce stalls, you'll also find small shops selling olive oil, pesto and other local products. Most people outside of Italy only know about Pesto alla Genovese which is from Genova. But there are many variations of this sauce and the ones from Sicily include Pesto di Trapani, Pesto di Taormina and Pesto Siciliano. Unlike Pesto alla Genovese, these Sicilian versions generally do not contain cheese or any other animal products, making them a great option for vegans visiting Siracusa.
Taste the Famous Chocolate of Modica
Recommended by Lori from Travelinmad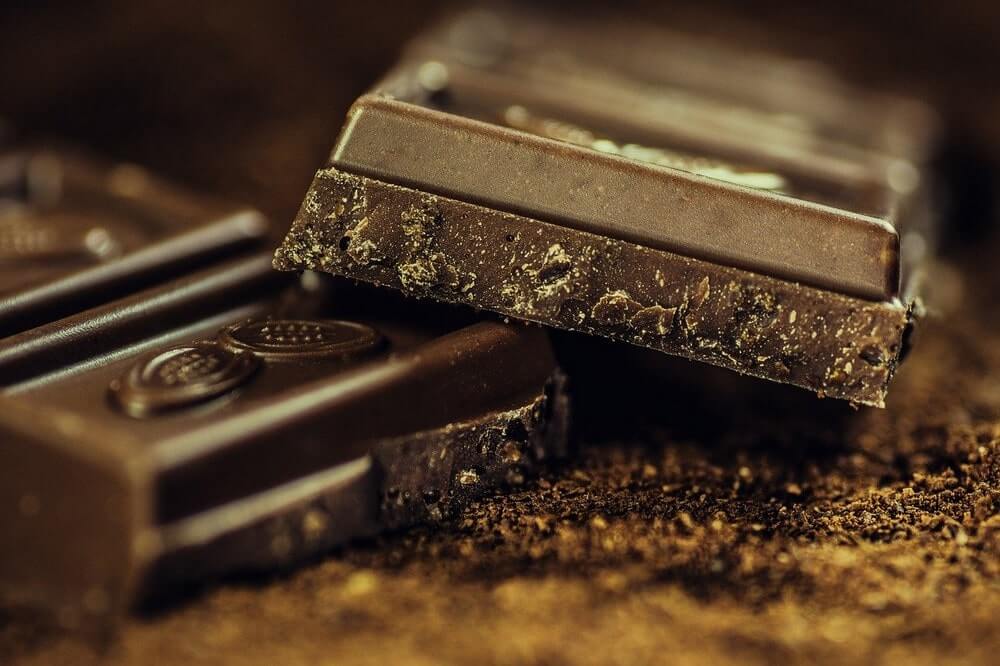 The town of Modica in Sicily may be small but it's rich with historic sites and known for producing one of the world's most beloved foods. Listed as a UNESCO World Heritage site along with eight other towns in the picturesque Val di Noto, this quaint town is famous for making the distinctive chocolate that bears its name.
Modica choclolate is one of Sicily's most unique foods, with a flavor and technique inspired by the traditions of the ancient Aztecs. The chocolate is quite delicious and healthy as well, and given the lack of dairy used to produce it, you can bring a ton of it home in your luggage without it melting.
Generations of Modica chocolate-makers still grind the chocolate with Aztec-style metates made from volcanic stone sourced from nearby Mt. Etna. The chocolate is often flavored with coffee, citrus, or cinnamon, and the bars are wrapped in beautifully designed paper — truly one of the best souvenirs from Italy.
Perhaps the most famous chocolate-maker in Modica is the Antica Dolceria Bonajuto. But there are several other good manufacturers in town you can visit on your own. There are several local chocolate tours you can take which visit a few local producers, but be sure and stop at the Caffè dell'Arte, a family-run cafe which sells its own brand of chocolate.
Besides eating chocolate, you should plan on seeing the historic Cathedral of San Giorgio, a fine example of the Sicilian Baroque architecture like we have already discussed. But for something unique, head to the historic Chiesa Rupestre di San Nicolò Inferiore, a cave that contains priceless Byzantine wall-paintings.
Take a Street Food Tour in Palermo
Recommended by Claire from Tales of a Backpacker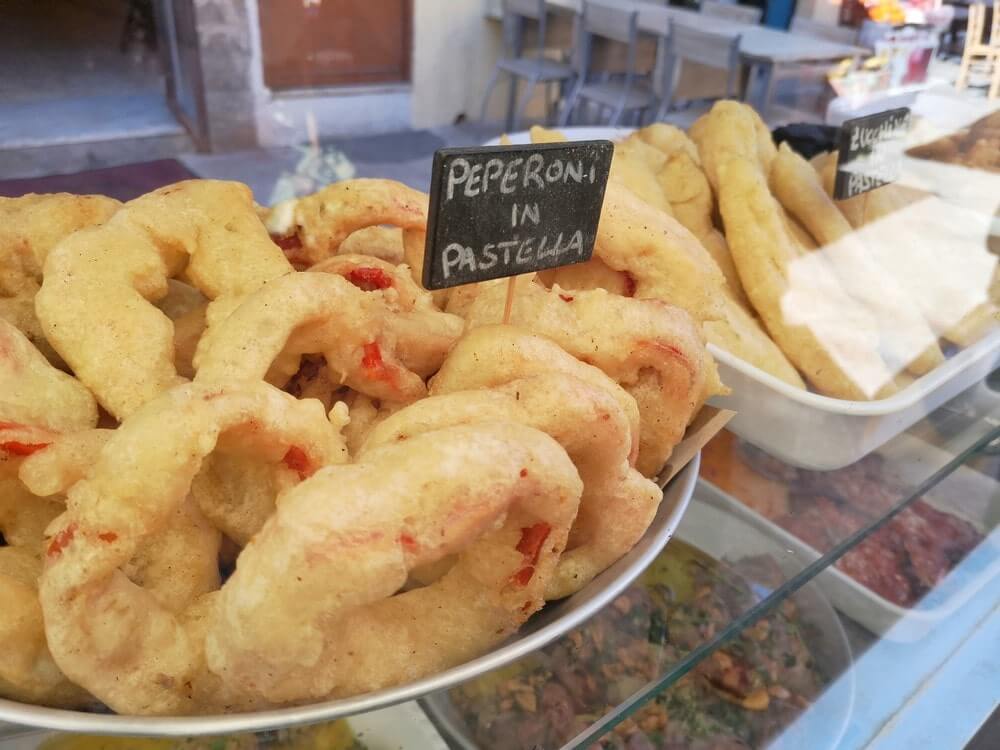 The street food in Palermo is arguably the best street food in Italy. And the best way to sample the local specialties is with a local tour guide. I took a street food tour with Palermo Street Food and was very happy to have local Giorgio take me around the Mercato el Capo market.
This food tour is unusual because you pay €30 for the guide and then you only pay for the food and drink that you try. The street food is so cheap that I had a really good lunch for €20, including wine and two desserts!
I tried some sfincione, a kind of street food pizza, and some delicious seafood with a glass of wine at the second place we stopped. Here, I had the chance to sit back and watch the market bustle around me. Continuing the tour, I tried verdure in pastella – deep fried vegetables in a thick dough like vegetable fritters, some incredible arancini risotto balls, and some pannelle – fried chickpea dough.
I decided not to buy food from the next two stops, partly because I was already quite full, and partly because they aren't for the faint-hearted. A spleen sandwich is one of the most famous street foods in Palermo but I really couldn't face it, and chilled veal feet didn't appeal to me either. We ended the tour at a bakery, serving up cannoli and other beautiful pastries and tarts. A perfect end to a wonderful tour!
E-Bike through Offbeat Sicily
Recommended by Becki from Meet Me in Departures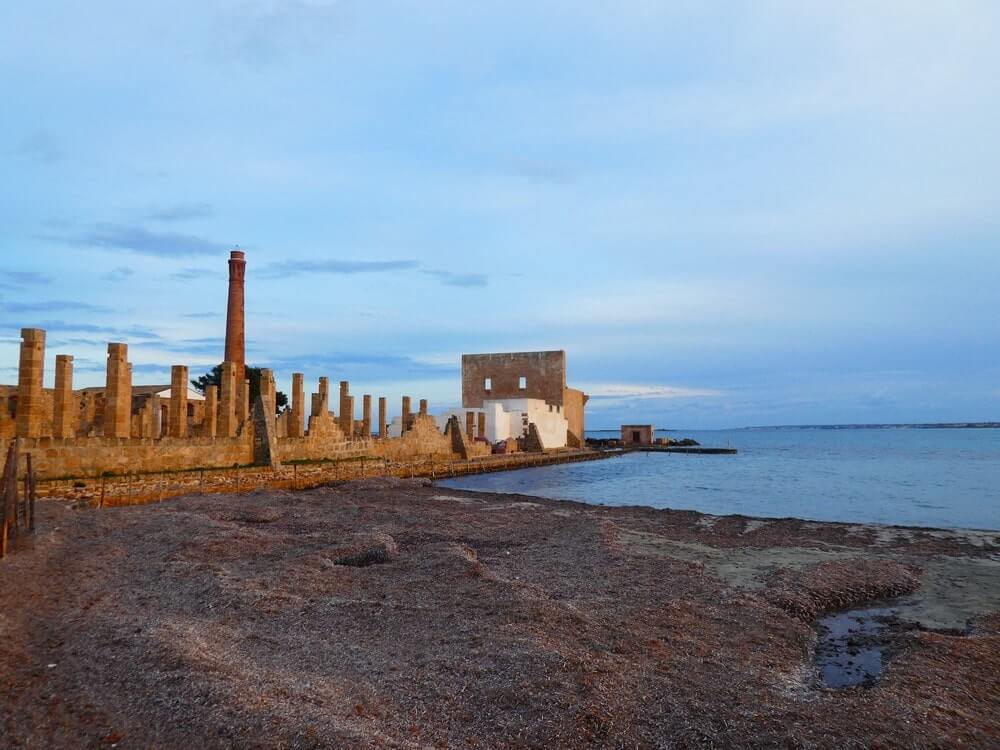 If you're looking to get off the beaten track and explore the beautiful Sicilian countryside, then I highly recommend hiking and cycling in Sicily.
This is a fully immersive tour, where you alternate the days with one day of walking and one day of cycling stopping off at numerous points of interest throughout the tour. Some of the highlights were seeing the ancient burial chambers at Necropoli di Pantalica where our guide talked about the region and the history, often stopping off to show us native fauna and wildlife.
With a cycling and hiking tour, the pace is much slower than if you were to visit these places as a big organised group. The groups are small (12 maximum) and you're given two specialist guides. One covers the cycling aspect and the other covers the walking aspect of the trip.
This really allows you to get under the skin of the region.
On the cycle section of the tour, we went through farmland without another person in sight stopping off at the UNESCO towns of Palazzolo Acreide and Noto. The tour stops overnight in farmhouse style accommodation, where food is produced on-site, so everything you eat is authentic Sicilian. You'll also get to see where a local lady produces the most delicious local sweet treat, the Sicilian Cannoli.
This is a phenomenal trip that covers so much of offbeat Sicily that I would have otherwise missed out on. I was worried about the fitness needed for cycling, but the company use e-Bikes, which took the hard work out of cycling for a whole day. If you want to experience the real Sicily and get off the beaten tourist track, joining this tour is a great idea.
Explore the lesser-known Enna
Recommended by Annabel from Smudged Postcard
Enna is located in the centre of Sicily, around two hours from Palermo and an hour and a half from Catania. Although Enna is not well known, it is definitely worth the effort to hop in a car and visit the city.
Enna is the highest regional capital in Italy, sitting atop a hill overlooking the wheat plains below. The best time to visit Enna is in the spring when the wheat fields are a vivid green unlike the parched landscapes later in the year.
The cathedral in Enna is a wonderful mix of Gothic and Baroque styles. If you visit the city during Easter, you'll witness traditional parades which culminate at the cathedral. Further up the hill, you'll find Castello di Lombardia which is the best place to take in panoramic views. If you like climbing towers in Italy, you're in for a treat. The views from Torre Pisano are impressive.
Enna is best reached by car as there are some lovely little villages in the surrounding countryside to explore. There's also a handful of characterful places to stay just outside the town center including Baglio Pollicarini which offers delicious authentic cuisine.
Drink Coffee the Sicilian Style
Recommended by Nicole from Travelgal Nicole
Italians have a thing with coffee and even in Sicily it is like a religion. Ordering coffee in Sicily is not too complicated as long as you know the lingo.
First, most Sicilians go to a bar for coffee, not a cafe. You will see these bars everywhere and you will not see the word cafe. Even more confusing is the fact that the word caffè means coffee! Second, most Sicilians stand at the bar to drink their coffee. If you order your coffee at the bar it is usually about half the price of sitting at the table. Third, you pay for your coffee when you order. You can walk up to the bar, order a cappuccino and then you pay for it before you receive your coffee.
Coffee in Italy is an espresso. Some places do a latte for tourists or an Americano but espresso is the most common. A cappuccino is an espresso with foamed milk. Like everywhere else in Italy, a cappuccino should only be ordered in the morning in Sicily.
My first cappuccino experience was in Trapani. I love nothing more than a strong coffee so I went to an espresso bar and ordered a cappuccino. This little bar was right below my hotel which was one of the best places to stay in Sicily.
Take a Commissario Montalbano Tour
Editor's Choice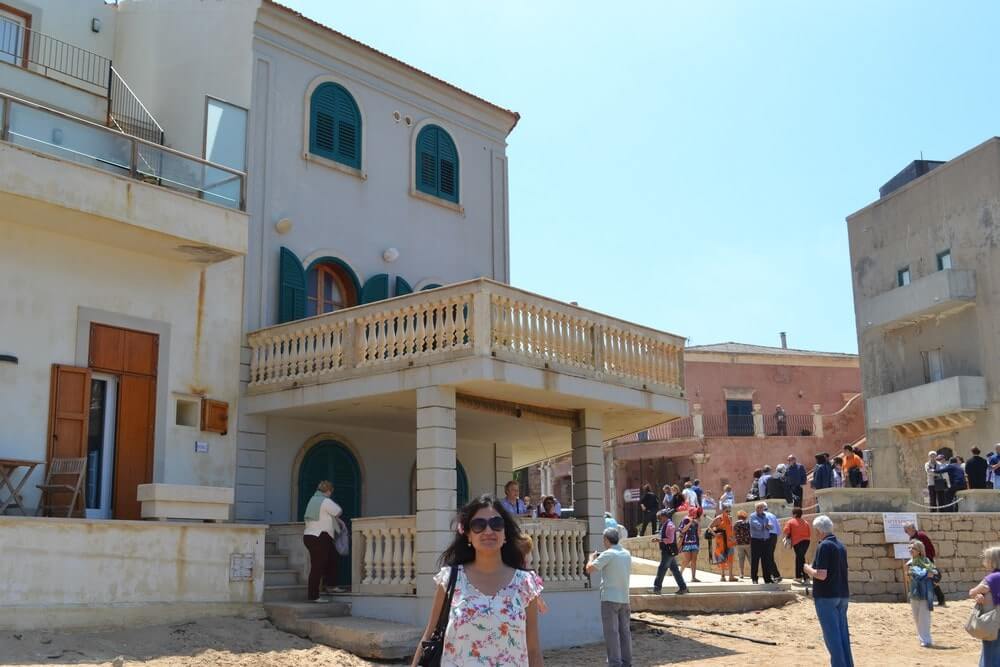 Yeah, I know. A surprise for the end. A Commissario (Inspector) Montalbano tour of the island.
Commissario Montalbano is an extremely popular Italian TV show based on the detective novels of Italian writer, Andrea Camilleri. It has been broadcast in the UK, the USA, Australia, and more than 60 other countries where people have appreciated it to no end. My husband is a big fan!
The story is set in the imaginary town of Vigata in Sicily. And revolves around the life of police inspector Salvo Montalbano and his tiffs with Sicilian crime. Quite an interesting plot, I must say. I have watched a couple seasons and I must say it gets you hooked.
A good part of the series is shot in the picturesque town of Ragusa Ibla. Then, there is Montalbano's house in Punta Secca located right on a sun-kissed beach. Plus, the desolate ruins of Mànnara in Sampieri that form the backdrop for many Montalbano scenes. An Inspector Montalbano tour is an absolutely great addition to your Sicily itinerary.
Visit the Capuchin Crypt of Palermo
Recommended by Kate from Our Escape Clause
Located underneath an unassuming street outside the historic center of Sicily's capital city, the Capuchin Crypt of Palermo is easy to miss unless you know what you're looking for. But without a doubt, a visit here is one of the most unique things to do in Palermo.
Between the 17th and 19th centuries, over 1,200 people were mummified in these catacombs. In the beginning, this was a natural process. But once monks noticed the mummification, it started to be done intentionally.
Today, you can tour the catacombs beneath the streets of Palermo. And truth be told, they are incredibly striking. Unlike in other Capuchin Crypts (like in Rome, for example), where the human bones are used to create a form of artwork, these people are preserved as themselves, with clothing intact.
There are separate sections for men, women, priests, children, and even virgins, adding to the incredibly strange mood of the catacombs. One mummy in particular is composed of the remains of a two-year-old child. It is considered to be the "most beautiful mummy in the world".
The catacombs are located within walking distance of Palermo's historic center. Visiting the Capuchin Catacombs of Palermo costs 3€. Understandably, no photos are allowed inside.
That brings us to the end of a really amazing cultural bucket list for Sicily.
Did you enjoy reading through these amazing things to do in Sicily and get to know the people and culture of Sicily a little more in the process? Was there something we missed? Your favorite place in Sicily that we did not cover? Let us know in the comments below and we will try to get there on our next trip.
Loved this Sicily things to do guide? Pin it for later!