Last Updated on February 15, 2023 by Soumya
A UNESCO World Heritage Site of exceptional beauty, Dambulla Cave Temple in Sri Lanka is an absolute must-visit when you are visiting the country. It is one of the oldest pilgrimage sites (as old as 2200 years!) on the island and forms an essential part of Sri Lanka's Cultural Triangle. A trip to Sri Lanka is incomplete without seeing the exotic Buddhist murals covering the Dambulla caves.
Please note: This post may contain affiliate links which means I may earn a commission if you make a purchase by clicking a link on this post. This will be at no additional cost to you. Affiliate links help me keep this website up and running. Thanks for your support!
History of Dambulla Cave Temple, Sri Lanka
Located in the Matale district, Dambulla Cave Temple is a set of more than 80 large rock-cut, cave temples in Central Sri Lanka. However, majority of the attractive murals and Buddha statues are concentrated in 5 main shrines which are the most impressive.
Dambulla Cave Temple Complex holds an important place in the history of Buddhism because of the fact that it has been continuously used as a place of worship for more than two centuries now. Another specialty is that the caves have been painted in such a manner that devotees can systematically move through the spaces and rituals at the same time.
Kings and their contributions to Dambulla
These caves are ancient. It is believed that prehistoric Sri Lankans lived in these caves after which Buddhist monks came to inhabit them around 3rd century BC.
In the 1st century, King Valagamba (also known as Vattagamani Abhaya) took refuge here after being driven out of Anuradhapura. When he regained his throne, he had these caves converted into temples. Later Nissanka Malla from the Polonnaruwa Kingdom added the murals and gilded the caves.
Dambulla caves have been continuously inhabited ever since and function as living temples even now. If you are lucky, you can catch a ritual or two.
Recommended: Visit the UNESCO heritage site of Polonnaruwa in Sri Lanka
Interesting facts about Dambulla Cave Temple
Best things to do in Dambulla
The best things to do in the cave temple complex of Dambulla, Sri Lanka include getting awed by the Buddhist mural paintings that cover the walls and ceilings of Dambulla caves and admiring 157 statues of Buddha in various sizes and poses.
Cave of the Divine King
As you enter into the complex, the first cave on your right is called the Cave of the Divine King. Built in the 1st century, this cave is smaller in size when compared to others and houses a 14-meter Buddha statue which almost fills it up.
The frescoes in this cave are believed to be the oldest in Dambulla. Do not forget to check out Buddha's feet here that have been painted too.
Right next to this cave is a small Hindu temple where you can experience some rituals.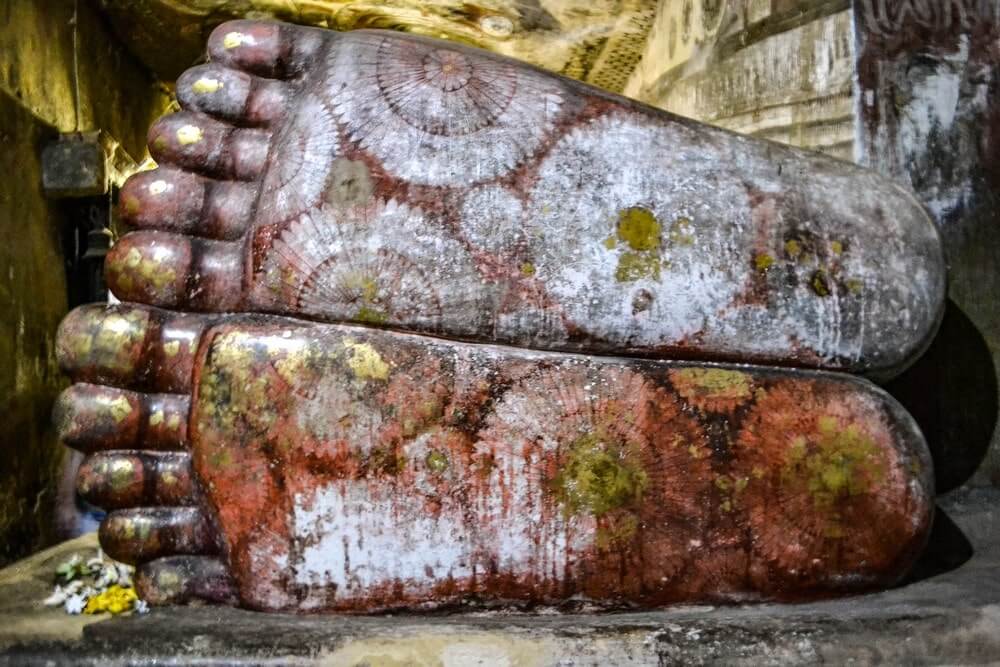 Cave of the Great Kings
The second cave is probably the most exquisite of them all. It is the largest and the most decorated. There are 16 standing and 40 seated statues of Buddha here as well as one each of the Hindu God, Vishnu and Sri Lankan deity, Saman. You will also see the statue of two illustrious Sinhala kings here: King Vattagamani and King Nissanka Malla from the ancient kingdom of Polonnaruwa.
Red and yellow are the dominant colors used in the paintings as well as for dressing up Buddha statues.
In this cave, you will see a spring in the cracks of the ceiling. Water drips through it and is considered to be holy. However, what is remarkable and totally unmissable is the cave's amazing collection of ceiling murals that depict scenes from Buddha's life. Quite unlike what I had seen at the Badami Cave Temples in India which are covered with intricate carvings instead.
If you wish to see the best display of Dambulla cave temple paintings, do not miss Cave #2. This is, by far, the most attractive shrine in the entire complex.
Recommended: How to visit the Badami Cave Temples in Karnataka, India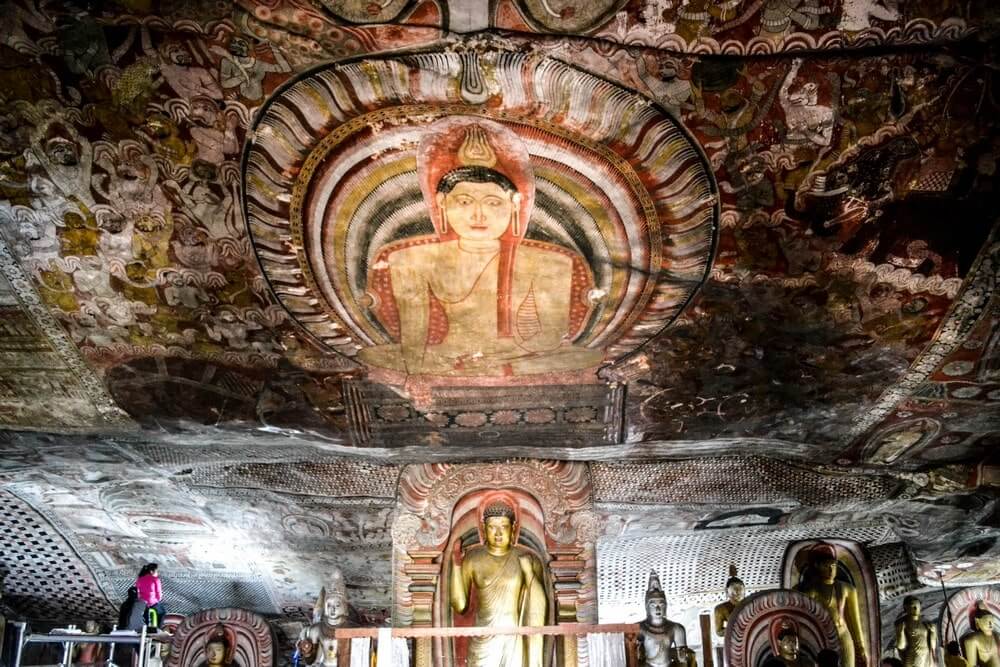 Great New Monastery
This cave is smaller than the second one and has paintings in the distinct Kandyan style. You will also see a statue of the king here.
Fourth & Fifth caves of Dambulla
The 4th and 5th caves of Dambulla are the smallest in the entire ensemble. There is a sleeping Buddha image in Cave #4. The fifth one has a small stupa surrounded by Buddha figurines.
Panoramic View of Sigiriya
One of the additional but unusual attractions about visiting Dambulla Cave Temple is the fact that you can get a panoramic view of the Sigiriya Rock Fortress from here. On your way down from the temple, almost at halfway, make sure you wait for a moment and catch a glimpse of the ancient rock fortress.
Dambulla Golden Buddha
Once you walk down the trail, you will greeted by a huge Buddha statue known as the Golden Buddha. This is a relatively new addition to the Dambulla landscape. Attached to it are a beautiful temple and museum that you can also visit.
Perhaps, the most interesting addition to the frame is a line of Buddhist monks that are so lifelike they give you an impression that they are all walking towards the temple. This took me back to my times in Southeast Asia where such sights are pretty common.
Dambulla Cave Temple Entrance Fee & Tickets
Entrance tickets to Dambulla Cave Temple in Sri Lanka are priced at LKR 1500 (approx. USD 8) per ticket. As far as I remember, the entrance fee for SAARC citizens is also the same which is not usually the case at other heritage sites such as Kandy and Polonnaruwa.
Pro Tip: This is very important. Note that no tickets are available at the temple entrance on top of the hill. So, you have to purchase your tickets before you start climbing the stairs. Otherwise you will have to come all the way down again to get them.
Getting to the right ticket office!
Earlier, the entrance to the cave temples used to be via the Golden Buddha Temple. But that is no longer the case. All tourists now need to buy their tickets from a ticket office that is a little further away from the Golden Buddha. Locals can still go via Golden Buddha.
Honestly, the ticket office is quite inconspicuous! No signs!!!
Feel free to ask any local for directions to the ticket office and they will help. If that is hard, get a tuk-tuk. In my opinion, the best way is to get a cab or tuk-tuk and ask the driver to take you to the right place.
Don't start climbing from the Golden Buddha entrance. That is the wrong entrance if you are not a local!
If you are driving yourself, make sure you go to the car park/entrance on Colombo Road/Kandy Road. Again, if you see a huge Golden Buddha from your car park, then you are at the wrong place.
Dambulla Cave Temple Steps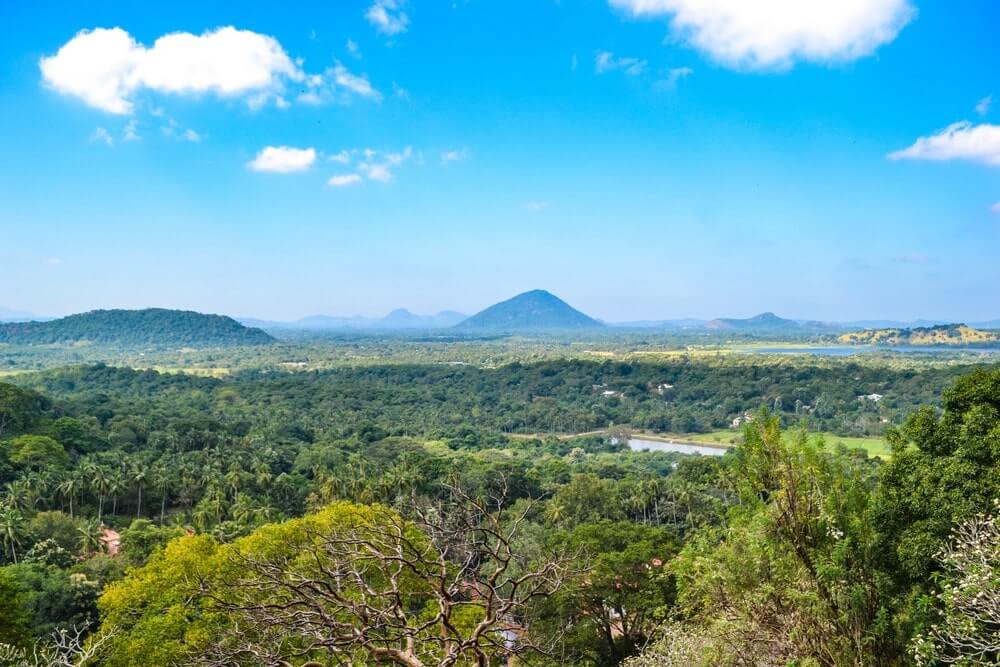 You have to climb 348 stairs (my son counted them all and I am pretty sure this is the right number!) to get to the Dambulla Cave Temple at the top of the hill. The trail is shaded for most part so you don't have to endure the sun much. But there are monkeys around. Don't hold food in your hands or leave anything hanging from your bags.
It is a steep climb up. I suggest you take water breaks in between and wear good shoes. Also do not forget to appreciate the beautiful scenery of the countryside from the stairs. There are some great photo ops here.
There are a few souvenir shops at the top of the hill. Nothing much in terms of food or drinks. So carry your own stuff. Definitely, a lot of water.
Once you are done with your cave temple tour which should take a couple of hours max, you can take the old walking trail that leads to the Golden Buddha. Don't take the stairs back. Just follow the locals.
This is the route where you can spot the Sigiriya Rock. Once you get down, you can visit the temple adjoining Golden Buddha, use the washrooms, and have some refreshments.
If you are riding a tuk-tuk or taxi, ask your driver to wait for you in the Golden Buddha car park.
Dambulla Cave Temple Dress Code
As with all the other temples in Sri Lanka, including the Temple of Tooth in Kandy and many sacred shrines in Polonnaruwa, you will have to cover your shoulders and legs when you enter the Dambulla Cave Temple complex. Get a scarf/sarong for the same.
Hats and shoes are not allowed. You can leave them with the rental guy right outside the entrance. Charges are minimal.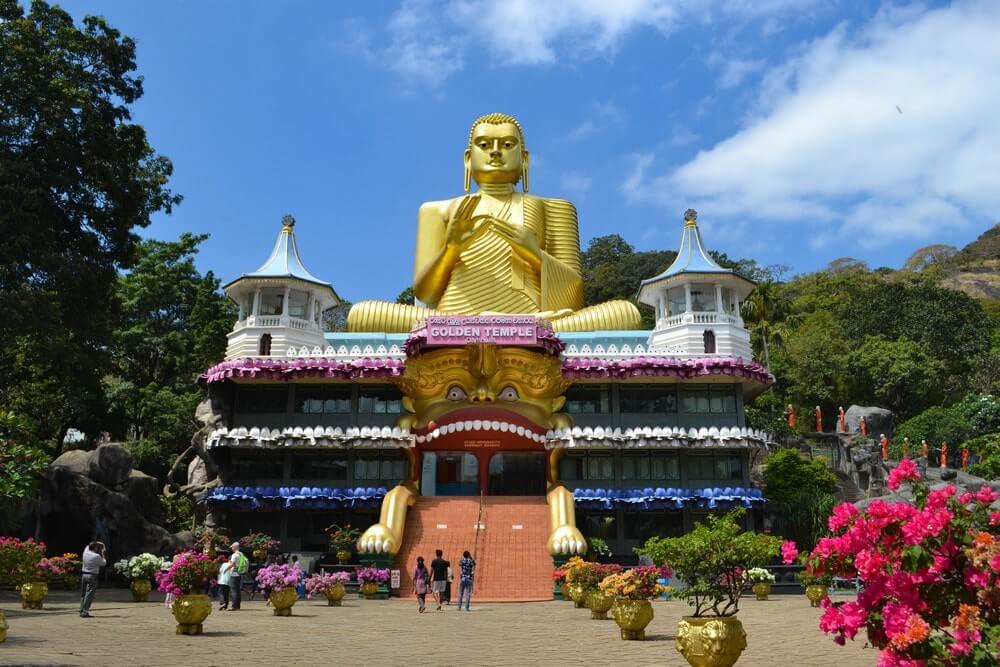 Dambulla Cave Temple Opening Hours
The cave temples of Dambulla are open between 7am – 7pm every day. However, the ticket office closes at 5pm. Get here before that, take your ticket, and enjoy a beautiful sunset from top of the hill.
Best Time to visit Dambulla Cave Temple
Honestly, the best time to visit any place in Sri Lanka is early in the morning or later in the afternoon (right before sunset).
Days are usually pretty hot. And it can get terribly hot and humid around noon. Add to that the fact that you will have to walk barefoot on scalding hot rock. That is definitely not a pleasant experience!
Mornings and evenings are far less crowded. I have also heard that the sunsets here are majestic.
During the year, between November – February is considered a good time because of lower temperatures and humidity levels.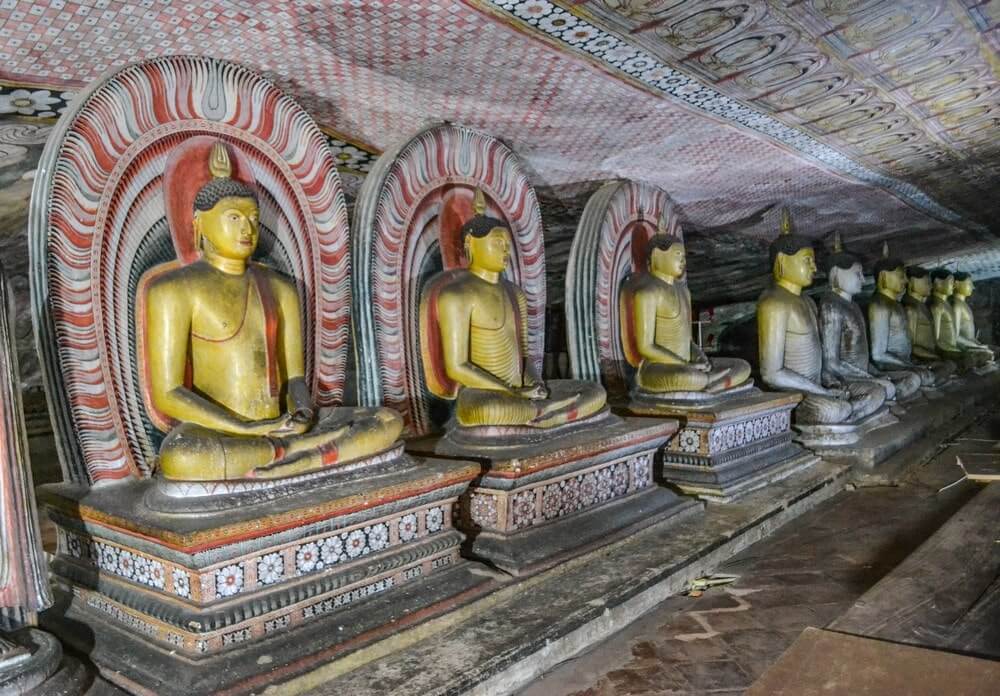 Hotels in Dambulla Sri Lanka
Many people often skip Dambulla and stay in Sigiriya or Polonnaruwa instead. However, staying in Dambulla can be a good idea especially if you are traveling on a budget. Accommodation here is cheaper.
Luxury accommodation in Dambulla
Midrange accommodation in Dambulla
Budget accommodation in Dambulla
Where to eat in Dambulla?
If you love trying local food and are keen to eat traditional Sri Lankan dishes, there are some great places to eat out in Dambulla. We had dinner at Bentota Bake House, one of the best places to have Kottu in the town. Their hoppers were excellent too. Plus, their Pol Sambol is lip-smacking good.
For lunch, we stepped into a Hela Bojun Hala (a community kitchen) right by the side of the Golden Buddha Temple. Eating at one of these community kitchens is a must-have cultural experience in Sri Lanka. We tried many during our 7-day Sri Lankan itinerary and were always pleased.
If you are looking to have a typical Sri Lankan rice and curry spread, try Rithu Restaurant and Athula Restaurant. Both of them have amazing reviews.
Recommended: Best Sri Lankan food to try when in the country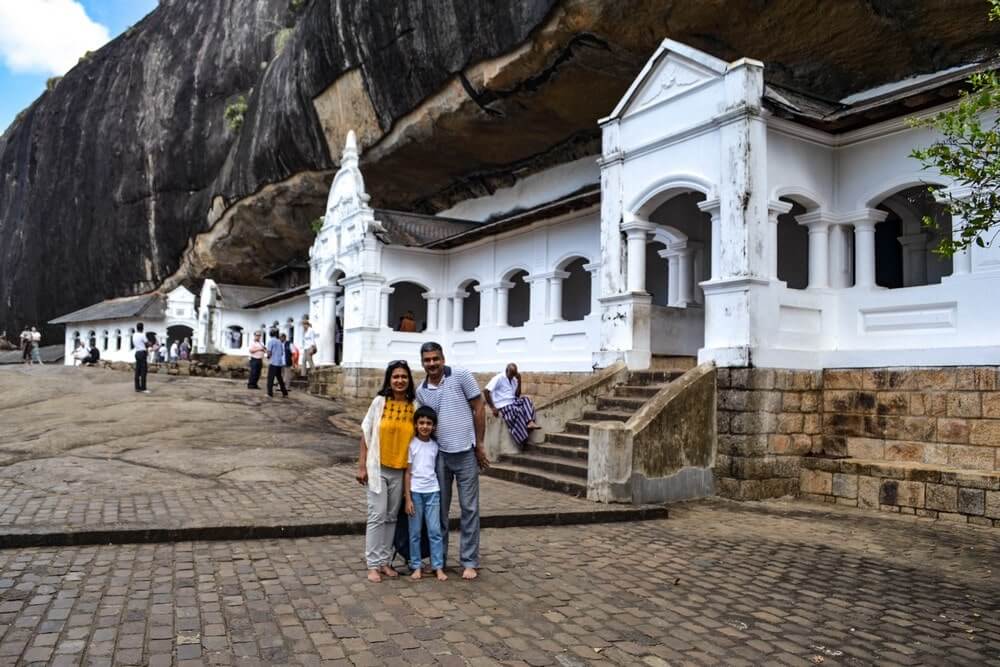 Getting around Dambulla
The easiest way to get around Dambulla is in a tuk-tuk, the most common three wheeler found everywhere in Sri Lanka. Tuk-tuks are cheap.
Alternately, you can also hire a private taxi and ask the driver to take you around. Taxi Dambulla and Dambulla Taxi Service have good reviews on Google.
Or you can do what we did. Hire a taxi for the entire trip.
We hired a taxi from Lankan Cabs in Colombo for our 7-day trip in Sri Lanka and they were pretty decent. Just make sure you keep a note of the distance you are traveling vs the distance the driver travels after dropping you off at the hotel. Sometimes, drivers can really take you for a ride!!
Spending a few days in Colombo? Check out our guide to the best things to do in Colombo.
Recommended guided tours
If you prefer a guided tour, here are a few good options. Note that Dambulla is usually paired with Sigiriya. So, you don't need to plan separately for Sigiriya.
You can also get a guide at the temple entrance. We did that but did not quite enjoy the tour like we had in Polonnaruwa. But it depends a great deal on which guide you get!
Is Dambulla worth visiting?
Absolutely! If you are a history buff, then you have to come here especially because the cave temples of Dambulla are one of the oldest not just in Sri Lanka but in the entire world. Plus, the murals here are stunning.
If you are neither a history addict nor an art connoisseur, come here for the views because you can get some really amazing ones here.
Loved our guide to Dambulla cave temple? Pin it for later reference!