Last Updated on August 26, 2023 by Soumya
There are hundreds of amazing places to visit and things to do in Yucatan Peninsula of Mexico. Yucatan is home to THE WORLD WONDER – CHICHEN ITZA! And so much more.
In Yucatan, you will find gorgeous white sand beaches, turquoise waters, teeming wildlife, and colorful colonial cities. Not to mention the thousands of years of history that the Mayans have left behind for us to marvel at! Yucatan Mexico surely makes for a wonderful travel destination.
There is an endless list of exciting and fun things to do in Yucatan including lounging on Cancun's beaches, taking historical tours to some of Yucatan's famous pyramids, swimming in natural cenotes, or roaming the vibrant streets of Valladolid and Merida. In my opinion, Yucatan is a very versatile travel destination with something for every traveler.
Just a small clarification before we get started. Yucatan Peninsula in Mexico comprises of 3 different states: Yucatan, Quintana Roo, and Campeche – each with their own set of attractions. However, the entire peninsula is often just referred to as the Yucatan. In this post, Yucatan will refer to Mexico's Yucatan Peninsula unless I explicitly state otherwise.
In this ultimate Yucatan travel guide, you will find everything you need to plan a trip to Mexico's most-visited coast including a list of top 18 things to do in the Yucatan Peninsula, best places to stay, amazing tours, and lots of travel tips.
18 Best things to do in Yucatan Mexico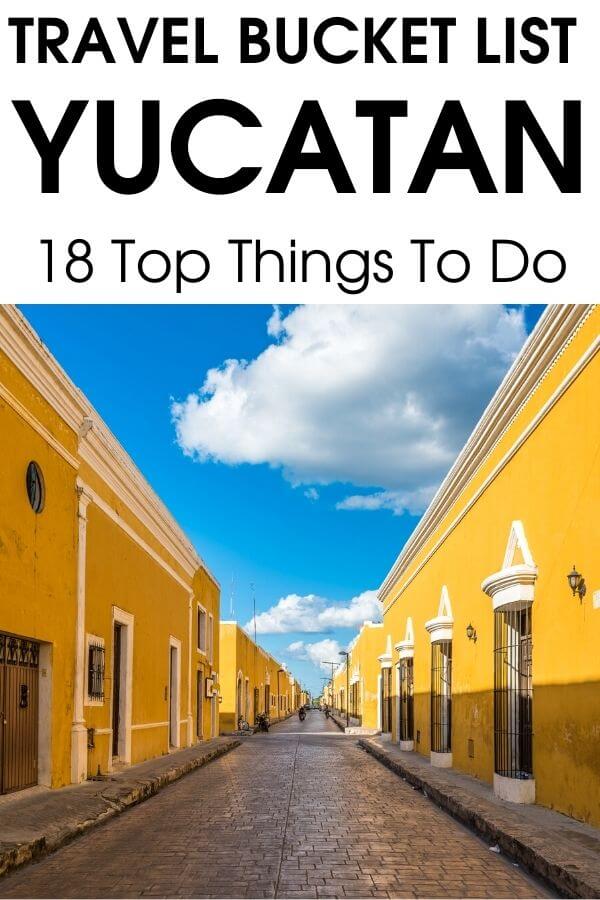 If you would like to read more about Yucatan, here are some related posts that you will love.
Please note: This post may contain affiliate links which means I may earn a commission if you make a purchase by clicking a link on this post. This will be at no additional cost to you. Affiliate links help me keep this website up and running. Thanks for your support!
Get awed by Chichen Itza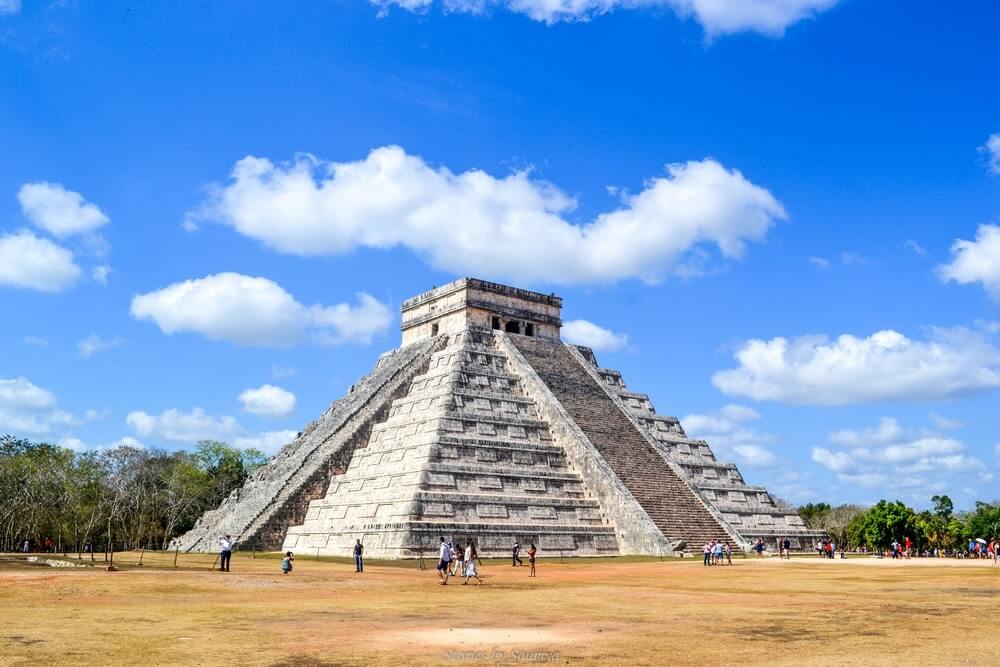 One of the best things to do in Yucatan Peninsula of Mexico is to visit the ancient Mayan city of Chichen Itza.
Chichen Itza is a UNESCO World Heritage Site and a World Wonder that speaks tons about the ancient Mayan civilization. Here, you will see the iconic pyramid Temple of Kukulkan (not open to climbing anymore), Temple of Warriors, a massive ball court, Temple of Skulls, and a market plaza with a thousand columns.
Interesting trivia: Every year, the Mayan Serpent God, Kukulkan, descends on the main pyramid twice. Want to know how that happens? Make sure you read my post on 11 intriguing facts about Chichen Itza before you head there.
It is easy to visit Chichen Itza on a day trip from Cancun (122 miles), Tulum (95 miles), or Valladolid (28 miles).
One of the most popular and best ways to explore this ancient city is with a knowledgeable tour guide who can also give rich insights into Mayan culture. Here are a couple of my favorite guided tours.
Remember to book your skip-the-line tickets for Chichen Itza here before visiting.
Experience the chilled vibe of Cancun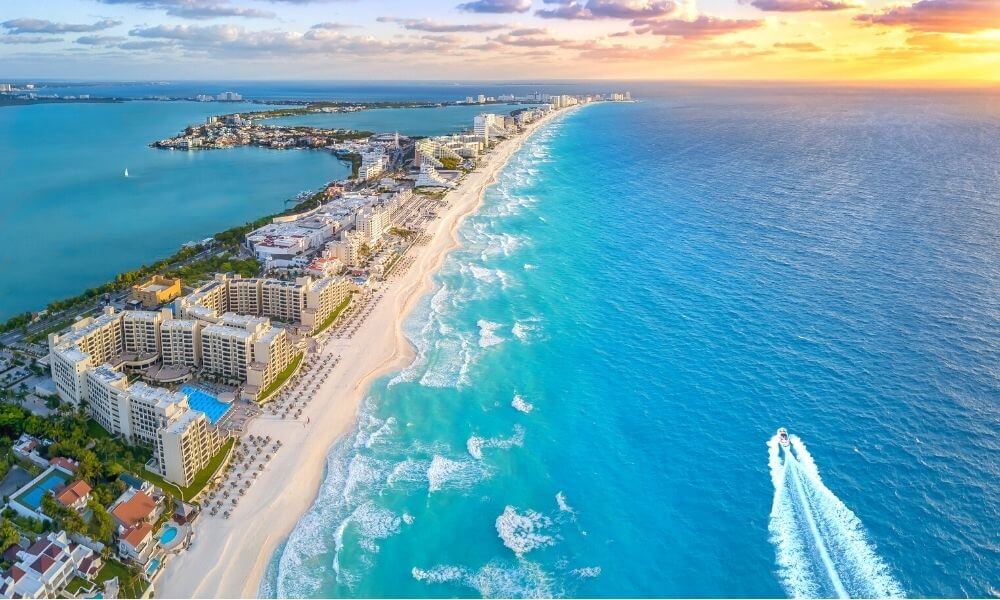 Cannot skip Cancun when we are in Yucatan, can we? A skinny island bordering the Caribbean Sea, Cancun is one of Yucatan's most famous tourist destinations. Beaches, high-rise hotels, shops, restaurants, and nightclubs – Cancun has it all!
But there are so many wonderful things to do in Cancun than just lounge at the beach. It is rich in history, culture, and nature. You can do a catamaran tour to Isla Mujeres, go snorkeling, zipline, and visit the Mayan ruins near Cancun such as El Rey, Chichen Itza or Tulum.
Be sure to head to downtown Cancun where you will get a more local feel in shops and restaurants. Mercado 28, in downtown Cancun, is a local flea market that is the best place to pick up souvenirs.
Also read: 17 Unmissable things to do in Cancun, Mexico
Recommended Cancun tours
Best places to stay in Cancun
Tour the ruins of Tulum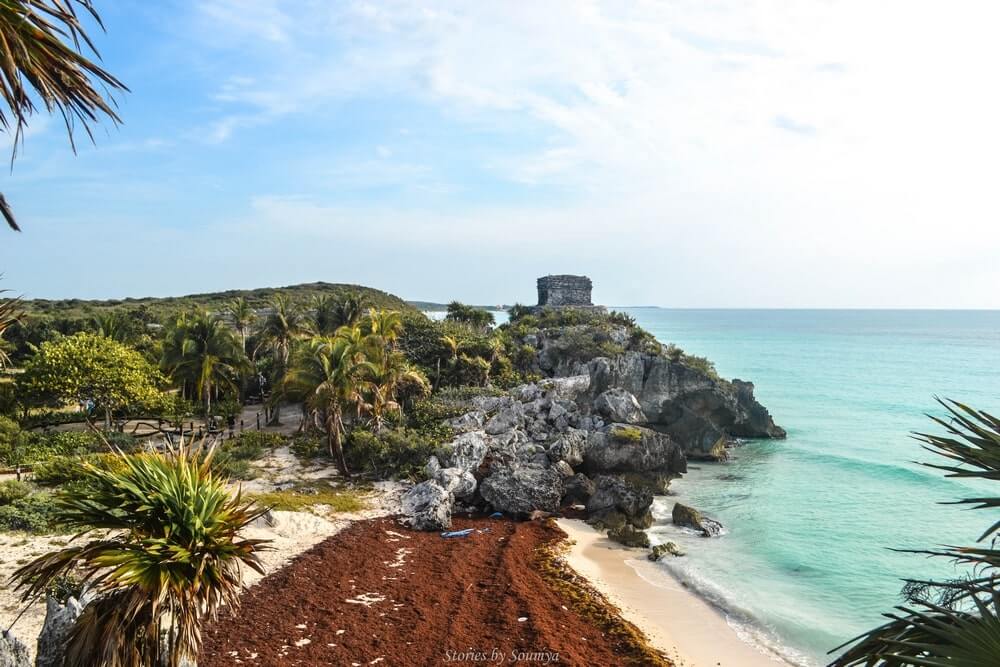 Not very far away from the beach city of Cancun lie the ancient Mayan ruins of Tulum. You can visit Tulum either as day trip from Cancun or stay here for the night and explore all the wonderful things that Tulum has to offer. Other than its majestically-placed ruins and stunning white sand beaches, of course!
I loved the ruins of Tulum especially because of their location. A strategic location right on the sea shows that Tulum was probably a port city in the Mayan times.
On a tour of the ruins, you will explore the El Castillo (a main pyramid which is probably the least impressive one I have seen in the Mayan world), Temple of Frescoes, and a Temple of the Descending God. This guided tour of Tulum and Coba is especially popular.
Also read: Best things to see at Tulum ruins
Spend a few days in Merida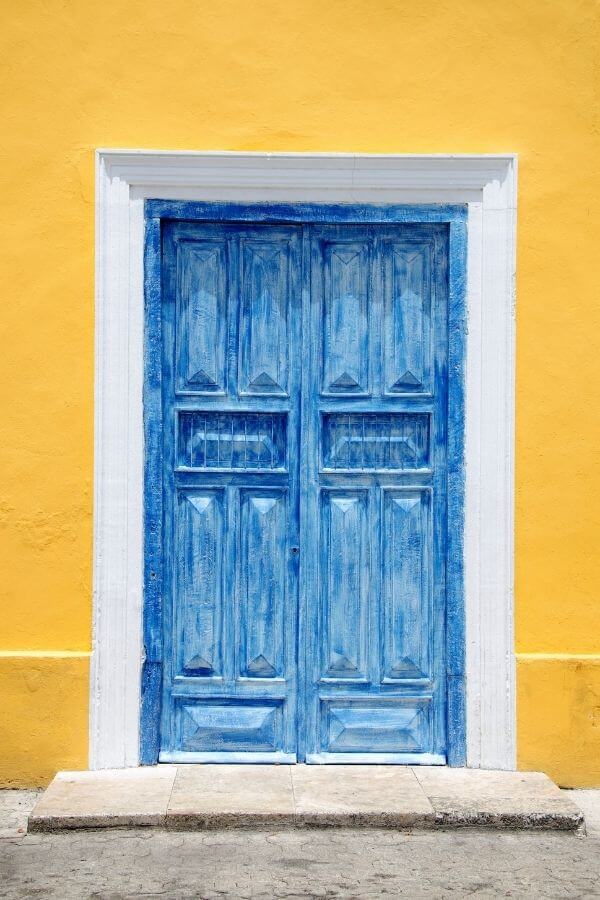 Merida, the capital city of Yucatan state in Mexico, has been named American Capital of Culture twice. It is filled with numerous museums, art galleries, cultural centers, and several historic sites.
Like the Historic Center of Mexico City was founded on the rubble of an ancient Aztec city, Merida was founded in 1592 on the remains of an ancient Mayan city. Merida's historic center is one of the largest in Mexico.
An abundance of white limestone walls all around gives Merida the nickname, "White City".
When in Merida, roam the colorful lanes and check into beautiful cathedrals and stately mansions. San Ildefonso Cathedral is one of the oldest churches in the region. Hop into Palacio Municipal for some great views of the central plaza.
Merida is also home to some amazing museums. Gran Museo del Mundo Maya offers rich insights into Mayan culture and history.
Being a capital of culture, Merida is the perfect place to experience traditional music and dance, discover local Yucatan cuisine, try your hands at a cooking class, and shop for guayaberas and hipiles.
Merida also makes the perfect springboard for day trips to Chichen Itza, Uxmal, Izamal, and Valladolid.
Recommended tours
Where to stay in Merida?
El Palacito Secreto Luxury Boutique Hotel & Spa (Affordable Luxury)
Hotel La Piazetta (Budget)
Visit the Magical Town of Izamal
Mexico's magical town of Izamal is located less than 40 miles from Merida. Travel east and you will get to Izamal in under an hour.
Izamal is a small, colonial town that is filled with yellow buildings. One of the most famous landmarks in Izamal is the Convent of San Antonio de Padua that also doubles up as a great photo op.
Right in the city center, you will also find the ruins of an ancient Mayan pyramid. It is a 10-tier pyramid called Kinich Kakmo and free to climb. Be careful while climbing because the stairs are steep and not well maintained. From the top, you will get some stunning views of the city and the Yucatan jungles.
End your day wandering through the yellow lanes of Izamal, trying local food, and clicking some great pictures.
Roam the colorful streets of Valladolid
Valladolid is yet another of Mexico's Pueblo Magicos with a laid back vibe, the most amazing Yucatan food, and friendly locals.
There are several amazing things to do in Valladolid including a visit to the impressive San Servacio Cathedral, praying in the fortress convent of San Bernardino, and spending some relaxing time at the Central Park.
Tourists often do Valladolid as a day trip from Cancun or Tulum. But Valladolid is so much more than just a day trip. It makes for a great place to stay. Plus, it is the perfect base to do some awesome day trips to nearby Chichen Itza (44 min), Rio Lagartos (1.5 hours), and Ek Balam (30 min).
Also read: Top things to do in Valladolid Mexico
Recommended tours
Best places to stay in Valladolid Mexico
Explore the Puuc pyramid at Uxmal
Uxmal is an ancient Maya city and UNESCO World Heritage Site located in the state of Yucatan, Mexico. Home to one of Yucatan's lesser-known pyramids, Uxmal is a delightful destination for every traveler.
The ruins at Uxmal are nothing short of extraordinary. It is one of the few remaining sites that showcase the Puuc architectural style complete with smooth walls and ornate friezes.
Uxmal was probably founded around 500 AD and reached its zenith in the late 9th century. It was during this time that many important buildings were constructed here. One of the most notable ones is the Governor's Palace which has one of the longest and most elaborately-carved facades in Mesoamerica.
The Adivino or the Pyramid of the Magician, a 35-meter tall structure with rounded corners – this is literally the symbol of Uxmal, stands right at the center dwarfing every other structure in its wake. A huge ball court and a nunnery quadrangle are other important structures.
Uxmal is located 52 miles (85km) south of Merida. The drive from Merida to Uxmal takes a little more than an hour. You can also ride a bus from the TAME bus station in Merida.
Recommended Uxmal tours
Also read: 8 Amazing Yucatan pyramids that you need to visit
Relax on the paradise island of Holbox
Looking to spend a few days on pristine white sand beaches while sipping cocktails and munching tacos, that too without the crowds? Try Isla Holbox, Mexico's car-free island located north of Yucatan Peninsula.
Isla Holbox is somewhere you can spend days on the beaches doing nothing and not feel guilty about it. Just soak up the sun and enjoy the colors of the sea and sand. Be sure to witness one of their stunning sunsets too.
Apart from the art of "doing nothing", you can check out several murals that dot the city, swim with whale sharks, see flamingoes, and observe bioluminescence of the phytoplankton on a dark night.
Swim in a cenote
Yucatan's landscape is filled with unique natural features called cenotes. Taking a dip in a cenote is one of the best things to do in Mexico.
Cenotes are large sinkholes (open-air or cave-like) that are filled with cool water. They make for the perfect swimming pools especially after a long, hot day of exploring Yucatan.
There are several Yucatan cenotes that you can swim in or simply visit. Most of them usually charge a small entrance fee.
Gran Cenote (between Tulum and Coba), Cenote Suytun (near Valladolid), and Cenote Ik'Kil (near Chichen Itza) are some of the most popular ones. Cenote X'Canche (adjacent to Ek Balam ruins), Cenote Yaxmuul (near Tulum), and Cenote Choo-Ha (near Coba ruins) are some of the less crowded ones. Take your pick and spend some relaxing hours in Yucatan's cool cenote waters.
Climb the Mayan pyramid at Ek Balam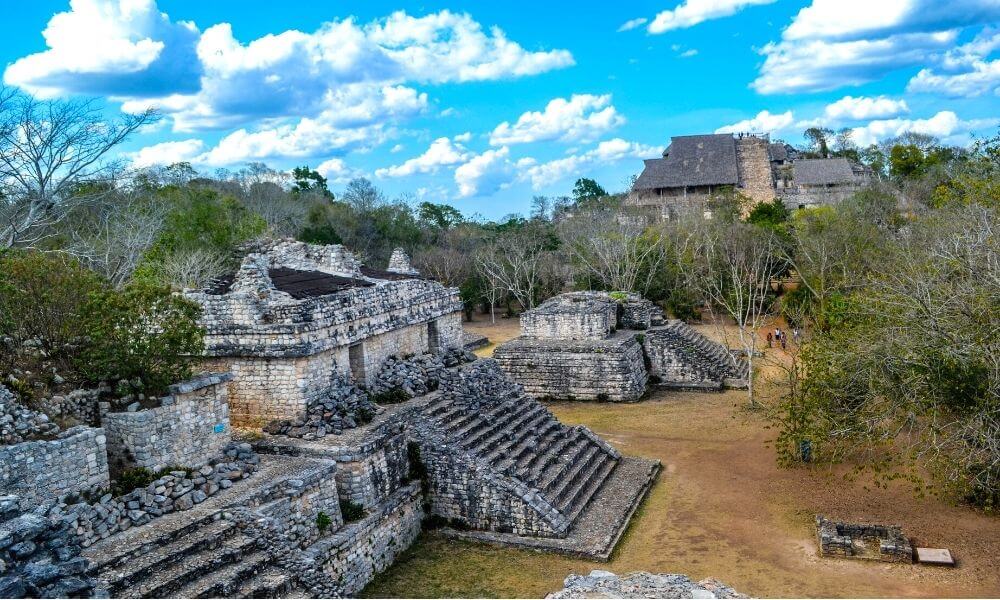 One of Yucatan peninsula's lesser-known Mayan ruins, Ek Balam is a great addition to your Yucatan itinerary.
Ek Balam was one of my favorite places to visit in Yucatan. Not only was this Mayan ruin less crowded but also had some great stucco designs to check out. Good news: It doesn't take very long to travel from Chichen Itza to Ek Balam. So, you can seriously do both the ruins on the same day.
The main pyramid at Ek Balam called the Acropolis is open to climbing. It is 95feet (30m) tall. The climb can be strenuous on a hot day. Be especially careful when climbing down because the stairs are steep and slippery.
On your way back from the top, be sure to stop at the palapa-covered rooms on both the sides. Here you will find original stucco sculptures preserved on site. The figures of winged Mayan warriors and a huge monster mouth (that was probably an entrance to the other world) are especially striking. In one of these rooms, also lies the tomb of King Ukit Kan Le'k Tok, first ruler of the Tlalol Kingdom which existed in the Late Mayan period..
Recommended: Complete guide to visiting the ruins of Ek Balam in Yucatan, Mexico
Spot flamingos at Rio Lagartos Biosphere Reserve
Rio Lagartos, a UNESCO Biosphere Reserve, is an absolute must-visit in Mexico's Yucatan Peninsula. The biosphere reserve consists of diverse ecosystems such as mangroves, forests, and estuaries. You will find several varieties of birds, fishes, mammals, and reptiles. But the most interesting avian beings for me were flamingos.
Rio Lagartos is home to more than 40k+ flamingos which are a vibrant Yucatan pink that is unique to this region. If you are in the mood for flamingo spotting when in Mexico, Rio Lagartos is the best place to see these birds in the wild.
Flamingo season is from March – June. You can just show up and hire a boat excursion to see the birds. Or book a guided tour here that will take you to Rio Lagartos, Las Coloradas, and Hubiku Cenote.
Get wowed by the colors of Las Coloradas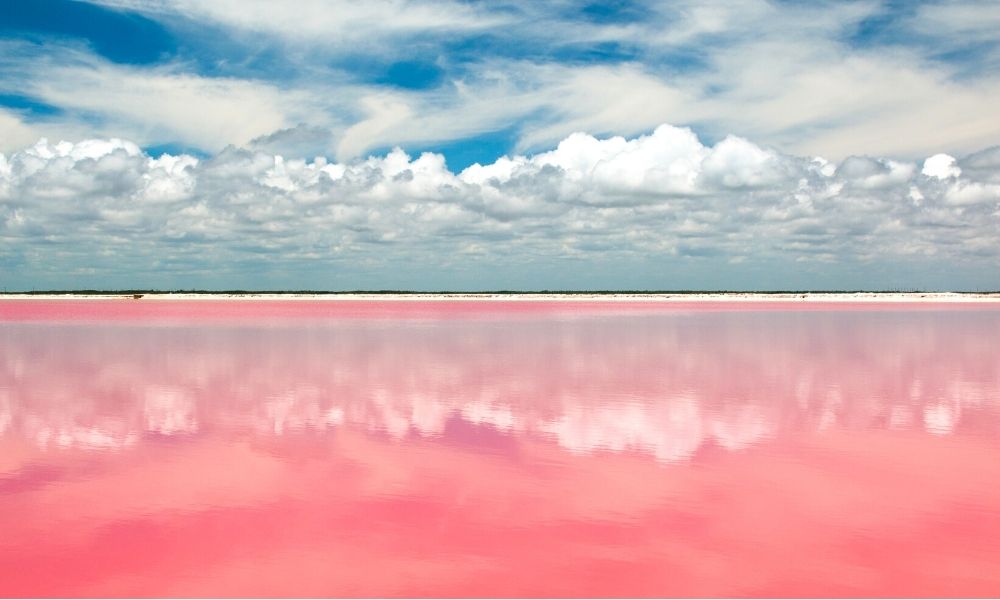 Need to see some more pink? Head to the pink lakes of Las Coloradas.
The lakes of Las Coloradas are part of the Rio Lagartos Biosphere Reserve. The lakes are pink in color because of the presence of colored algae and a special kind of crustacean called artemia salina also called the brine shrimp. Flamingos of Rio Lagartos eat the same shrimp and that's how they get their bright pink color.
The best time to visit these lakes is around noon – 2pm on sunny days when the lakes are at their brightest pink.
Once a Yucatan hidden gem, these bright pink lakes are now quite an Instagram sensation. And that means more tourists and tour groups! So, don't expect to find the lakes all to yourself.
Explore the history and biodiversity of Calakmul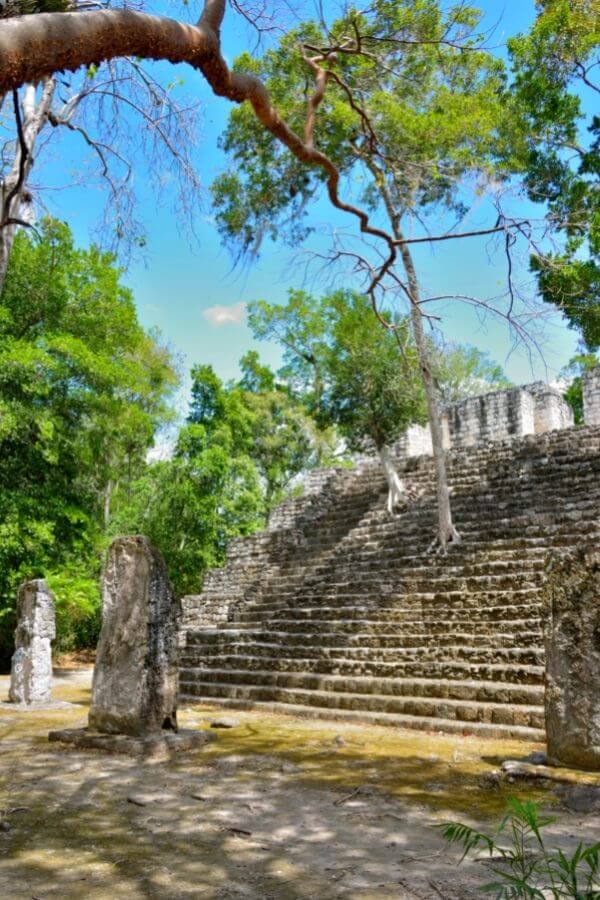 One of Yucatan's biggest hidden gems, Calakmul is an UNESCO World Heritage Site located deep within the Yucatan jungles in the state of Campeche. No doubt, visiting Calakmul is one of the most offbeat things to do in Yucatan Mexico.
Calakmul was a ancient Mayan capital and one of the most powerful power centers between 500 BC – 1000 AD. Simply looking at the scale and magnitude of the ruins gives you an idea of the power that this ancient city commanded.
There are two massive pyramids in Calakmul, Structure I and II plus several other structures such as the Lundell Palace, temples, and smaller buildings. Perhaps the most interesting find at Calakmul is a host of stelae, murals, and ceramics depicting life from the Mayan era.
Vacation in Playa del Carmen
One of the most famous Riviera Maya destinations, Playa del Carmen is a beach lover's paradise. Beaches, shopping, scuba diving, cenotes, wildlife, and historical tours – Playa del Carmen has something for everyone. No doubt, this place has turned into a bustling Caribbean paradise attracting tourists from every corner of the world.
La Quinta or the 5th Avenue is a great place to shop, eat, drink the perfect margarita, and watch the world go by. You can dive and snorkel right off the shore, hop on a ferry to Cozumel for a day trip, or visit the ruins of Tulum that are less than an hour away.
Recommended Playa del Carmen tours
Best places to stay in Playa del Carmen
✦ Pro Tip: Planning to spend a couple of days in Playa del Carmen? Remember to check out our epic 3-day Playa del Carmen itinerary.
Spend a day at Xcaret Park
Xcaret is a water park in Riviera Maya where you can get a wholesome Yucatan experience. Swimming, diving, aquarium, aviary, speedboat rides, dolphin interactions, splendid dining options, or cultural experiences – Xcaret Park has everything for you.
However, entrance fee at Xcaret Park can be quite steep. There are several ticket options that you can check on their official website here. You can also buy Xcaret tickets on Viator here.
Snorkel in Cozumel
The tiny island of Cozumel, located off the coast of Mexico's Riviera Maya, is the perfect place to snorkel and scuba dive. It is one of the most famous snorkeling destinations in the world and definitely one of the prettiest. For water adventure lovers, Cozumel is one the best things to do in Yucatan.
Here are a few Cozumel tours that you will love.
Visit the Biosphere Reserve of Sian Ka'an
Like I said Yucatan Peninsula in Mexico is not just history and beaches. It is so much of raw nature too. One of the strongest representations of that is the Sian Ka'an Biosphere Reserve in the state of Quintana Roo. It is a UNESCO World Heritage Site.
Sian Ka'an literally translates to "the origin of the sky" in the language of the Mayas. Home to a rich ecosystem of mangroves, marshes, tropical forests, and a long barrier reef, Sian Ka'an has been the breeding place of thousands of species of flora and fauna. It could, literally, be the place of origin of everything in the Mesoamerican world.
There are several interesting things to do in Sian Ka'an including fishing, snorkeling, birdwatching, learning about Mayan culture, or simply being close to nature.
Recommended Sian Ka'an tours
Sample delicious Yucatan food
If you need one more reason to visit Yucatan apart from the history, nature, and gorgeous beaches, then Yucatan food has to be it. I have been to different parts in Mexico, yet I always keep coming back to Yucatan simply for their delectable cuisine.
The region has a rich history and that shows in the Yucatecan cuisine. Inspired by the ancient cooking techniques of the Mayans and influenced by the Spanish, the Dutch, and the Lebanese, Yucatan food is full of flavors and unique tastes. From cochinita pibil (slow-cooked pork) to the flavorful sopa de lima (soup made from shredded chicken and sweet lime) and marquesitas (stuffed crepes), Yucatan has a lot to offer to foodies.
Almost every city in Yucatan features food tours. Some of my favorite ones are at Playa del Carmen, Cozumel, and Merida.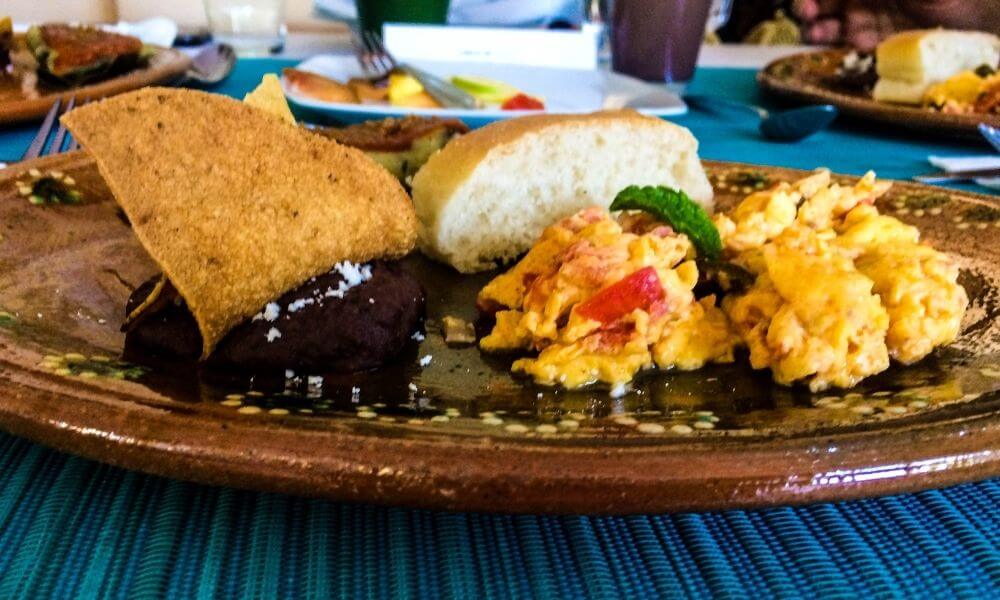 Practical information for visiting Yucatan peninsula in Mexico
Best time to visit Yucatan Mexico
Yucatan in Mexico has a tropical climate. That means, the peninsula has hot and muggy summers (temperatures can go as high as 105 deg F (40 deg C), wet rainy seasons, and cool winters.
It starts getting hotter in March with April, May, and June being the hottest months. June – October are rainy.
November – February is the best time to visit Yucatan. Weather gets pleasant but not too cold. In fact, daytime temperatures never dip below 82 deg F (28 deg C) here. Nights are cool with the mercury hovering around 60 deg F (15 deg C). This is also the best time for snorkeling and diving because seas are calmer and clearer.
However, please note that holiday season in December also translates to large crowds in Yucatan. Places like Cancun, Playa del Carmen, Tulum, and Chichen Itza are especially crowded. In case you are planning to visit Yucatan during the winter holidays, be sure to get your bookings done well ahead of time.
If you are fine traveling in the shoulder months, then October – November and February – March are good times to visit Yucatan. Temperatures are okay, crowds are less, and prices are low. I visited the Yucatan Peninsula both in December and March and love both my trips. March was definitely hotter but bearable. Make sure you carry lots of water with you when traveling.
Getting to Yucatan Mexico
There are several international airports in the Yucatan Peninsula. The easiest one to get to is Cancun International Airport (CUN). Here's a list of airlines that service Cancun Airport.
Once you arrive at Cancun Airport, you can either take a taxi or bus to your final destination. Find bus charges and schedules here.
I haven't really seen great reviews on taxi pick-ups at Cancun Airport. So, I will refrain from recommending an airport taxi pick-up in this article. I personally used ADO bus services and highly recommend them. However, if you are looking for a taxi be sure to check this page where you will find all details as well as taxi rates.
Other airports in Yucatan that you can fly to are Merida, Cozumel, and Villahermosa. However, these are mostly used for domestic commutes.
Another exciting way of getting to Yucatan is by ship. Several companies such as the Royal Caribbean and Carnival can cruise you down the Yucatan coast. If you are someone who doesn't get sea sick, then cruises are a great way to explore Mexico's Yucatan Peninsula.
Getting around Yucatan Mexico
The best way to get around Yucatan Mexico is by ADO Bus, one of Mexico's largest bus companies. We literally used them to get to all the bigger cities in Yucatan as well as in the rest of Mexico. Bus rides are comfortable with AC coaches and rest stops in between. You can buy your bus ticket at the bus station or online on the ADO Bus website. The only issue with the ADO website is that it is in Spanish but the translated English version works fine for me.
You may also use busbud for booking your tickets. But sometimes prices on busbud can be significantly higher. I would recommend cross-checking prices on both websites before booking.
Another great way to get around Yucatan or travel shorter distances is by colectivos. Colectivos are mini-vans that regularly run between cities and Yucatan attractions. For example, we visited Chichen Itza, Rio Lagartos, and Ek Balam from Valladolid – all by colectivos. Typically, local people use colectivos to get around but the drivers are happy to pick up tourists too.
In Riviera Maya, you will find AC colectivos. Rest of Yucatan, colectivos are plain and rough. However, the rides are enjoyable especially when they are accompanied by blaring local music and smiling faces. I remember, on my colectivo trip to Rio Lagartos from Valladolid, we even picked up cow fodder on our way and dropped the bags at their destination. Try a colectivo ride when in Yucatan. It is fun.
Yucatan Mexico Travel Essentials
Loved our Mexico Yucatan Peninsula travel guide? Pin it for later!