Last Updated on September 10, 2022 by Soumya
I have often heard the question – Chichen Itza or Tulum? Both are beautiful Mayan cities lost in somewhere in the pages of a history book. Waiting to be discovered! Chichen Itza vs Tulum is a tough choice to make.
They are both absolutely must-do if you are a history fanatic like me. And a strict no-no if you don't like anything about ruins. But if you are somewhere in between, then the answer is "It depends". On a lot of things.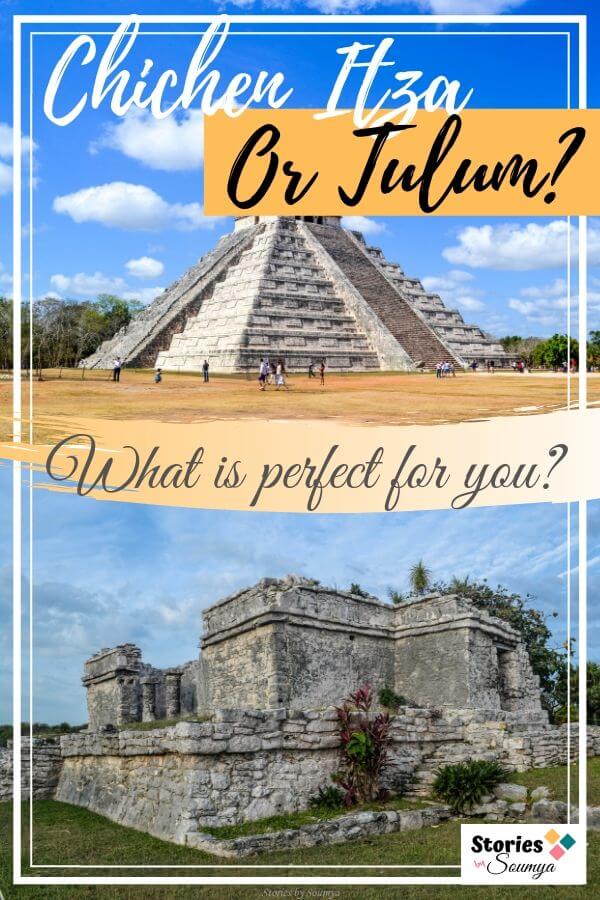 Please note: This post contains affiliate links which means I may earn a commission if you make a purchase by clicking a link on this post. This will be at no additional cost to you. Affiliate links help me keep this website up and running. Thanks for your support!
9 factors that will help you decide between Chichen Itza vs Tulum.
Here are a few points that I think you should consider before choosing between these two iconic Mayan sites. I say Mayan but let me assure you that both of them have had strong Toltec influences.
1. Which is the more popular destination? Chichen Itza vs Tulum?
Chichen Itza, no doubt, is the more popular destination. It was inscribed on the UNESCO World Heritage list for Mexico in 1988 and was listed as one of the Seven Wonders of the World in 2007.
You have probably seen tonnes of pictures of the Chichen Itza pyramid when researching for your Yucatan itinerary. If you wish to tick that off your Yucatan bucket list, then you must definitely visit Chichen Itza.
The ruins of Tulum, on the other hand, are lesser-known than those of Chichen Itza. Tulum is neither a UNESCO site or a World Wonder.
However, Tulum was the only port city of the Mayan Empire and held great strategic importance. It was here that tonnes of good were traded for the bigger cities of Chichen Itza, Mayappan, and Coba. Tulum is a wonderful place to dig deeper into Mayan history beyond the pyramids.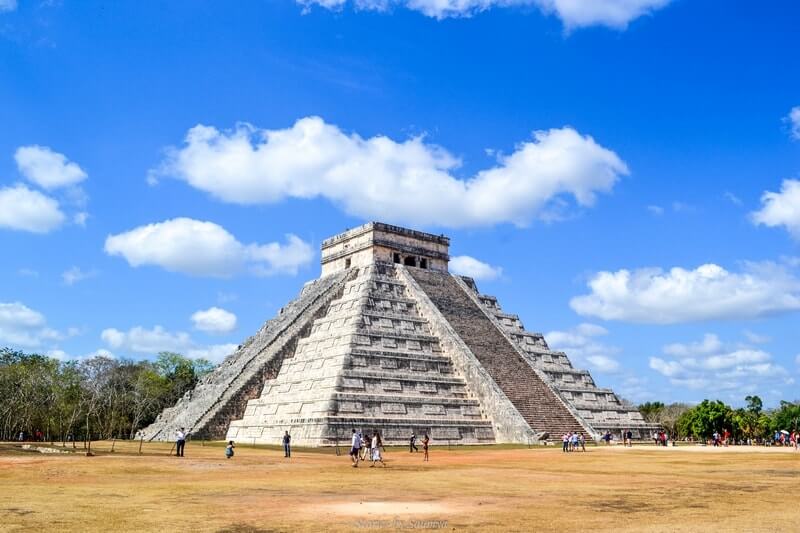 2. What do you want to see?
Tulum has got a very dramatic location. It is located right on the Caribbean coast. You can stand on the bluff and gaze at the turquoise-blue waters of the sea. Imagine all those ships that must have docked here once upon a time. Tulum is, definitely, the prettier place to be. And maybe the more Instagrammable one too!
Chichen Itza has better-preserved ruins. El Castillo here is much taller than El Castillo in Tulum. Chichen Itza houses the largest ball court in Mesoamerica. And the Temple of Warriors and the Platform of Thousand Columns are other intriguing parts of the complex. Plus, if you wish to see the yearly miracle of the Serpent God, Kukulkan, climbing down the steps of El Castillo, then you have to come to Chichen Itza.
If you wish to do both on the same day, then it is best to look at a tried and tested guided tour like this one. It will not only ensure that you see the best of both Chichen Itza and Tulum but also guarantee a hassle-free journey.
3. Do you wish to climb a pyramid?
Note that climbing on the pyramids is no longer allowed in either Tulum or Chichen Itza.
Climbing is allowed at some of the more remote Mayan sites such as Coba and Ek Balam though I would not really advise it. The steps are slippery because of years of wear and tear and it is not very safe.
Chichen Itza is often clubbed with Cenote Ik Kil and the ruins of Ek Balam into a full-day tour. It is a great option if you are looking forward to swimming in a cenote after catching up on some history. You can also climb the pyramid at Ek Balam (102 feet).
Tulum is done as a full-day tour with Coba and a cenote. You can climb the Coba pyramid (137 feet).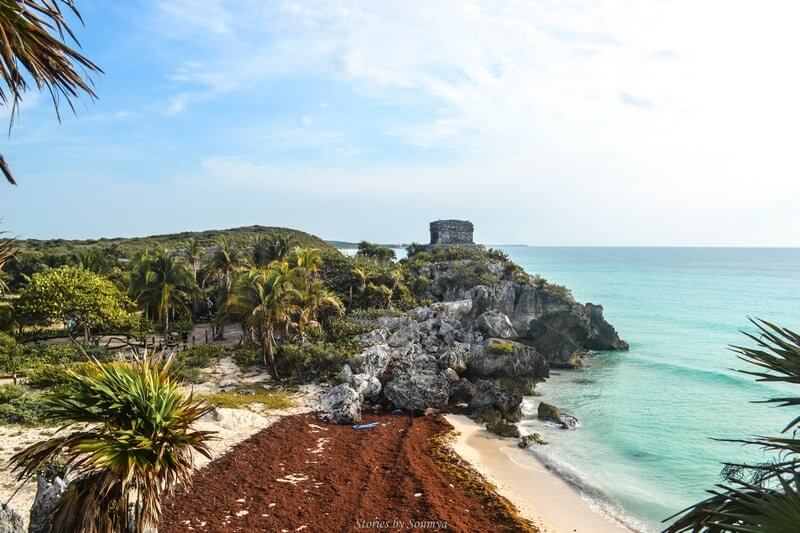 4. How much time do you have to explore Chichen Itza or Tulum?
If you wish to spend anywhere between 3-4 hours to an entire day exploring ancient Mayan ruins, then Chichen Itza is the best place to go. It is huge and visibly consists of two different sections of monuments – the older Mayan-styled and the newer Toltec-styled. Plus there are two beautiful cenotes nearby. Wandering around Chichen Itza can easily take a day. You can also enjoy a light and music show that begins at 7 pm in the evening.
Tulum, on the other hand, is smaller. You can finish up a tour of Tulum ruins within 1-3 hours. It serves best when you are already in the area and are looking to do something different than water sports or natural sights. By the way, you can also go down from the ruins and swim at the Tulum beach, provided there is no seaweed infestation.
5. What is your base location?
This is an important factor that will help you decide between Tulum vs Chichen Itza. If you are located in Valladolid Mexico, then Chichen Itza is an easy day trip from there. The journey takes about 50 minutes. Valladolid to Tulum takes a little more than 1.5 hours.
If you are located in Playa del Carmen for your beach holiday, then Tulum is less than an hour from here. Chichen Itza is more than 2 hours away from Playa del Carmen.
If you wish to avoid the hassle of planning your own logistics, here are 3 highly-rated Chichen Itza tours from Cancun which also usually include a cenote.
A brief idea on how long the day trips to Chichen Itza or Tulum from some of the major cities are going to take.
Chichen Itza from Cancun (3 hours), Tulum (2 hours), Playa del Carmen (3 hours), Merida (1.75 hours), and Valladolid (40 minutes).
Tulum from Cancun (2.5 hours), Chichen Itza (2 hours), Playa del Carmen (1 hour), Merida (3.25 hours), and Valladolid (1.5 minutes).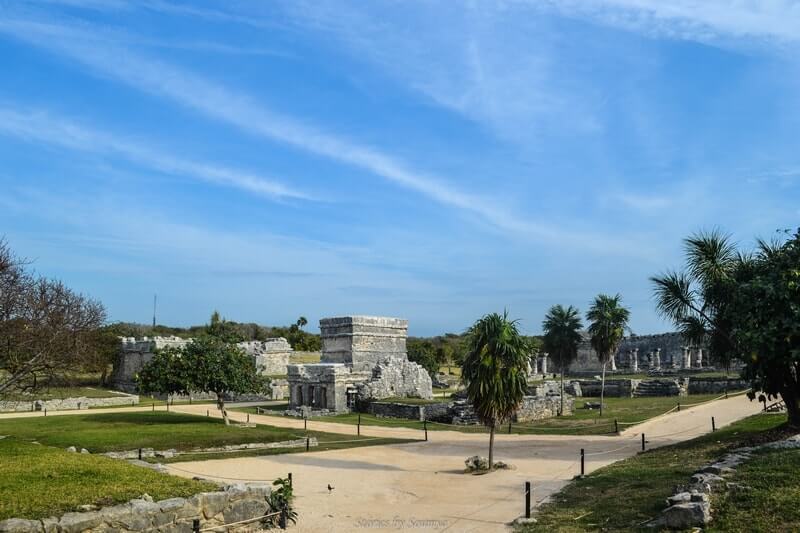 6. Are you intrigued by mysteries?
Mayan sites are filled with mysteries. And Chichen Itza is loaded with them. For starters, scientists have discovered two nested pyramids within the iconic pyramid of Kukulkan in Chichen Itza. And the Serpent God Kukulkan is believed to descend on Chichen Itza twice every year. You can watch the spectacle on two days of the year – the spring and autumn equinoxes. Find out more interesting facts about Chichen Itza.
Tulum is home to the Descending God of Mayan culture. You can see the carving of an upside-down god at the Temple of Frescoes and El Castillo in Tulum. The Descending God remains shrouded in mystery. It is believed that he was the God of Bees for Mayans and was their connection with the spiritual world.
According to me, a mystery-seeker will love Chichen Itza more than Tulum. And that is because the number of monuments in Chichen Itza is far greater than that in Tulum. Each has an interesting story to tell.
7. Do you wish to catch a light and sound show?
You can watch a light and sound show only at Chichen Itza. It begins at 7 pm on some evenings of the week and transports you to a world of thousand years ago. This includes a night tour of the site along with an audio guide.
Even Tulum had a light and sound show of its own. But it does not happen anymore, as far as I am aware.
Many visitors look forward to shows of this kind because it takes your imagination of the past to a very different level. Plus, they are quite entertaining for kids.
8. Which is cheaper? Chichen Itza or Tulum?
Tickets to Chichen Itza are priced at 481 pesos. Tickets to Tulum are priced at 70 pesos. Clearly, Chichen Itza is more expensive than Tulum.
Video cameras are charged for separately at both locations. Sundays are free for Mexicans to enter. Not the ideal day of the week to visit either Chichen Itza or Tulum.
9. Do you like crowds?
If you are okay with crowds, then you should be fine at Chichen Itza. By virtue of being a UNESCO site and a World Wonder, Chichen Itza is pretty crowded throughout the year. Especially more so during the equinoxes.
If you wish to explore Mayan ruins in some peace, then Tulum is a better option. Even better, go to Ek Balam or Coba.
The best strategy to visit Mayan archaeological sites is to go there early (as soon as they open) or really late in the afternoon (an hour before they close) to avoid crowds. Do not go on Sundays since they are free for locals.
Visiting Chichen Itza and/or Tulum is an experience of a lifetime. I would highly recommend doing both if you have the time, energy, and interest. If not, you can choose one based on the above factors.
I know "Chichen Itza vs Tulum" is not an easy choice to make. Hope these pointers aid you a little bit in your decision making. Let me know in the comments below if they did. If not, what else would you like to know about these two locations?
Planning a trip to Yucatan in Mexico? Don't forget to check out our posts on
18 Amazing things to do in Yucatan Peninsula of Mexico
Travel guide to visiting Chichen Itza
11 Amazing facts about Chichen Itza
Travel guide to visiting Tulum ruins
Top things to do in Valladolid
Travel guide to visiting Ek Balam
Loved our post? Why not pin it?