Last Updated on May 11, 2022 by Soumya
What are the best places to visit in Georgia, USA? Are there unique things to do and see in the state of Georgia? Is Georgia rich in culture or nature? Come, let's figure out all this and more before we head to the Peach State of USA.
Georgia, a Southern American state and a former English colony, was founded in 1732. Several pre-Columbian cultures (also known as mound building cultures) occupied Georgia before that. Important events such as the American Revolution, the Creek War, Georgia Gold Rush, and the Civil War dot Georgia's history.
The storied history of Georgia along with its diverse landscape and stunning beaches make it one of the best travel destinations in America. Be it the Antebellum architecture of Savannah, soft white sand beaches on its shoreline, or the prehistoric mounds of Macon, there are lots of interesting things to do in Georgia USA.
We often just think of Savannah when we think of Georgia. But Georgia is so much more than just that! Numerous charming cities, impressive historic centers, pristine beaches, cascading waterfalls, and even a mini Grand Canyon – Georgia USA has tons of amazing places to visit.
In this post, you will find a list of the 10 best places to visit in Georgia. It includes some of the best cities in Georgia, state parks, beaches, historic towns, and a couple of hidden gems as well.
Top 10 places to visit in Georgia USA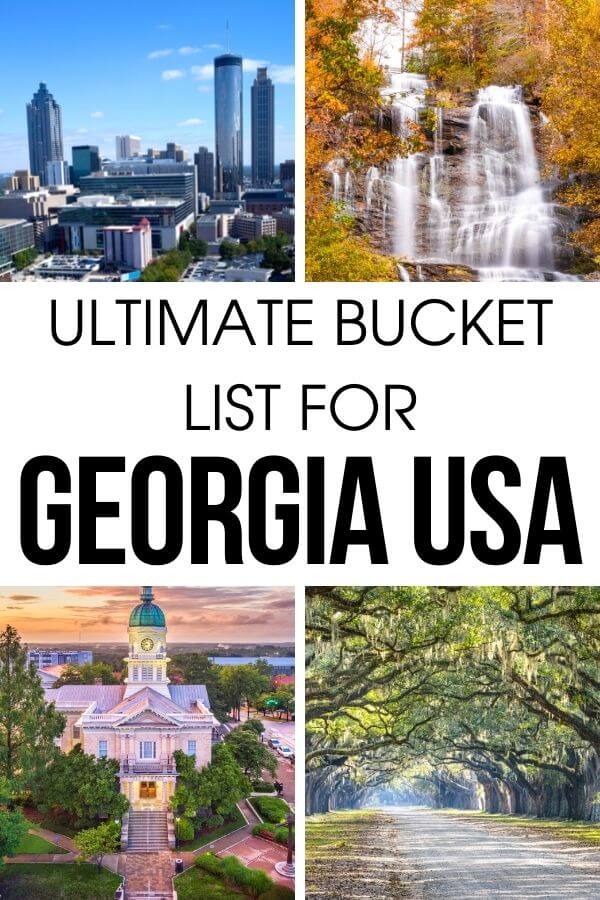 Please note: This post may contain affiliate links which means I may earn a commission if you make a purchase by clicking a link on this post. This will be at no additional cost to you. Affiliate links help me keep this website up and running. Thanks for your support!
Savannah
Editor's choice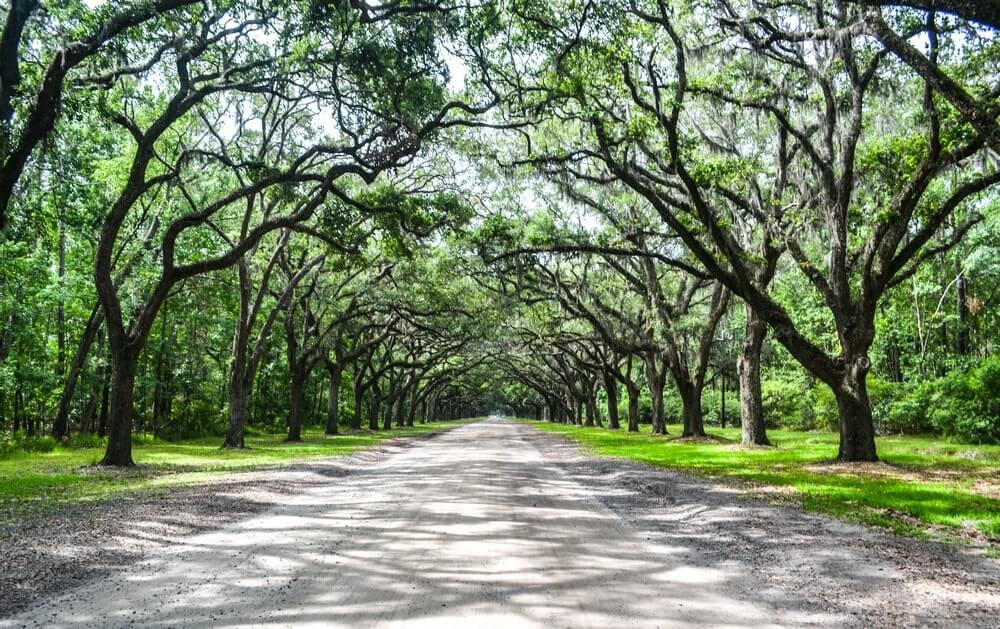 One of the best places to visit in Georgia (and one of my favorite historic cities in the USA) is the coastal city of Savannah. Also known as the "Hostess City", Savannah oozes architectural magnificence, unique culture, and mind-blowing southern hospitality.
Savannah is Georgia's oldest city and America's first planned town. Today, it is one of Southern USA's favorite tourist destinations.
There are various interesting things to do in Savannah. You can take a walk through its historic downtown, visit gorgeous religious spaces, or check out fine antebellum homes. Or maybe peep into one of Savannah's historic sites and learn all that the city has hustled through in the last 300 years.
Trivia: Savannah is one of America's most haunted cities!
Yeah, that's right. Savannah has a troubled past. It was not always this rich, prosperous port city that we see today. There were times when Savannah was raged by epidemics, fought wars, and traded in slaves. Tales of Savannah's haunting past still remain in old houses, cemeteries, and public squares. Exploring Savannah's haunted places on a guided ghost tour is probably one of the most epic things to do in the city.
Recommended: The perfect weekend itinerary to see the best of Savannah, GA
Atlanta
Editor's choice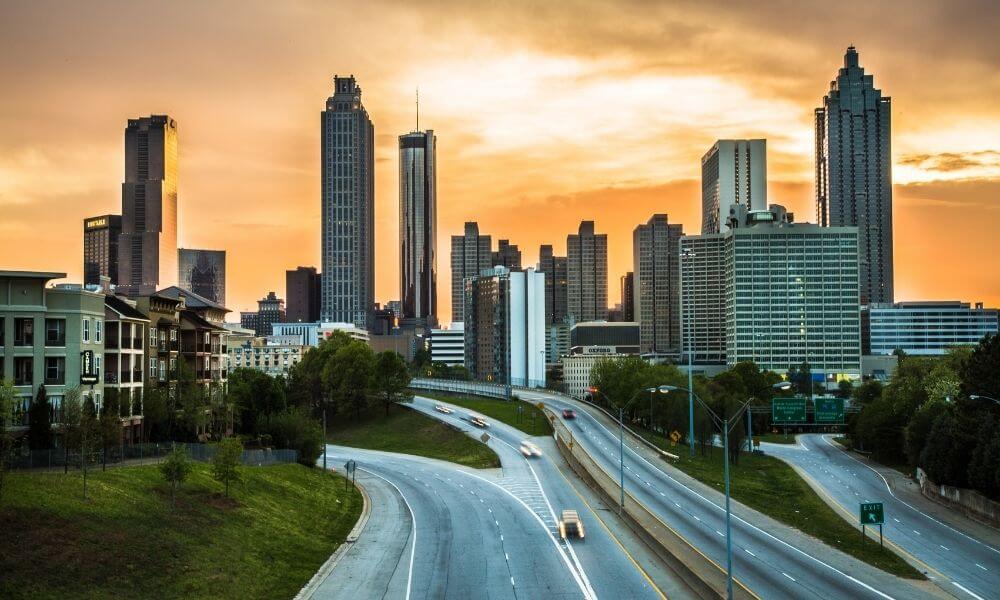 Atlanta is the capital of Georgia state and one of its largest cities. The city came into being in 1837 as one end of the Western & Atlantic railroad line. Today, it is home to the world's busiest airport, Hartsfield-Jackson Atlanta International Airport.
There are umpteen number of things to do in Atlanta. You can explore marine life at the Georgia Aquarium (one of the largest in the world), check into World of Coca-Cola museum, visit the Atlanta Zoo, or take a ride on SkyView Atlanta. Airplane enthusiasts will love a tour of the Delta Flight Museum.
If you are a history buff, be sure to visit the Atlanta History Center which is home to several interesting exhibitions, historic houses, gardens and trails. The place covers everything from Native American history to Atlanta's railroad past, Antebellum years, and the American Civil War.
Art and culture lovers will love the Center for Puppetry Arts that preserves and celebrates puppetry through exhibitions, movies, and hands-on classes.
Also read: 10 Most beautiful cities to visit in Southern USA
Jekyll Island
Recommended by Rachel from The Rx For Travel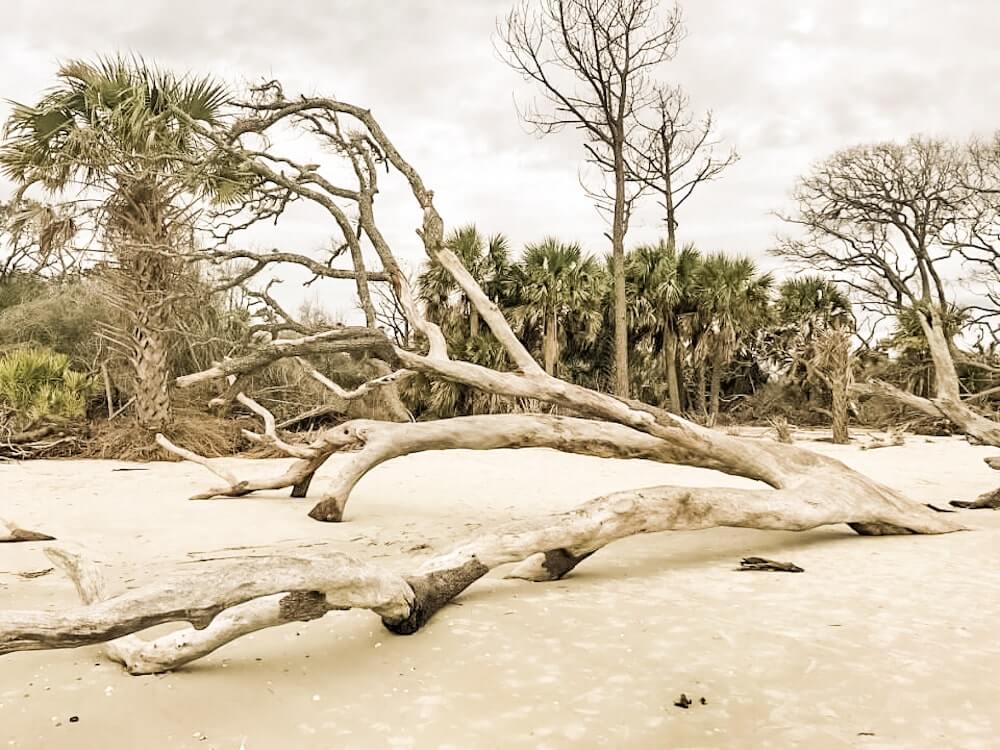 Jekyll Island is a coastal town located about 40 miles northeast of the Florida-Georgia state line.
While there are numerous small municipal airports around (in which you'll see low planes flying), Jekyll Island is located pretty squarely in between two large international airports. It's about an hour outside of either Jacksonville, Florida airport or Savannah-Hilton Head, Georgia airport. Also, important to note, there is a toll to get onto Jekyll Island and the cost varies depending on your length of stay.
Depending on what your interests are, you can find plenty to do here and something for everyone. For the beach lovers, there are plenty of sandy beaches to relax and enjoy. Or you can travel to the north part of the island to Driftwood Beach which is almost like stepping foot into a different world. Not your ordinary beach. There are excursions to learn about local history, or you can visit animals native to the island.
You can find something for everyone even in the small Georgia town of Jekyll Island. If this is a place you are interested to visit, then read more about all the things to do in Jekyll Island.
Providence Canyon State Park
Recommended by Victoria from Southern Trippers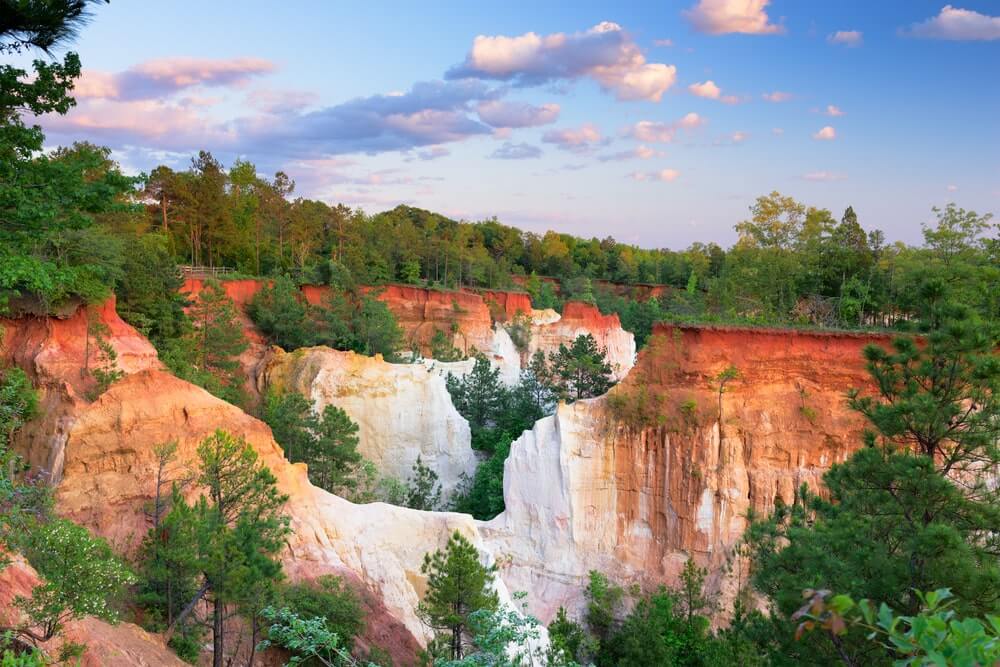 One of the best places to visit in Georgia is Providence Canyon State Park! It is truly one of the best hidden gems in the state!
Providence Canyon State Park is also known as the "Grand Canyon Of Georgia" and it really does look like a mini Grand Canyon. It is located 30 minutes away from Columbus, Georgia in the southern area of the state.
The state park is perfect for hiking, camping, and exploring. It only costs $5 to park when visiting, but other than that, visiting this amazing place is totally free. It is a great place to take your family for an outing that is unique and a good way to explore the outdoors. Make sure to hike down into the canyon as the views are totally worth it!
Athens
Recommended by Kelli from The Vanabond Tales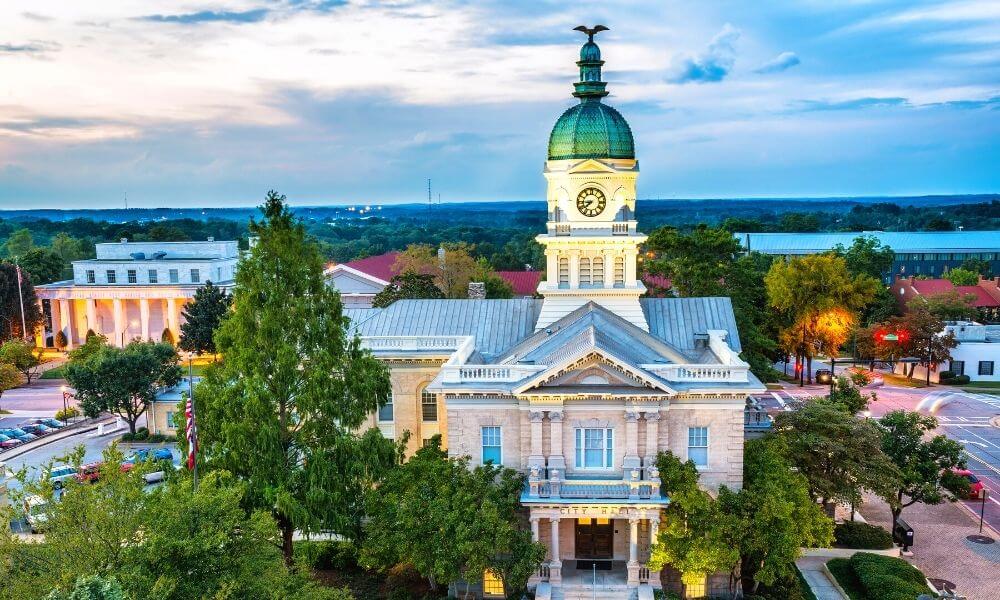 There are few towns in Georgia that rival the charm of Athens. Nicknamed the Classic City, Athens is best known for being the home of the University of Georgia, one of the oldest public universities in the United States.
A small town that's big when it comes to history, atmosphere, sport, and culture, Athens is regularly included on the list of Best College Towns in the United States. For the 40,000 students,125,000 permanent residents, and millions of tourists Athens attracts it's easy to see why.
The best time to visit Athens is during the fall season when college football reigns and the city explodes with life. But, a word to the wise, it is also the busiest time to visit. On game day Athens swells with football fans who flock to Sanford Stadium, the local bars, or to tailgate around the university campus.
College students add vibrant and youthful energy to the city and have been a major driver of Athens' development. A burgeoning downtown is filled with trendy shops, delectable restaurants, and more bars per capita than any other US city.
Music lovers flock to Athens. The city has an impressive pedigree listing REM and the B-52s as former UGA alumni. Live music venues such as the 40-Watt and the Georgia Theater regularly host local and internationally acclaimed acts.
History buffs will enjoy the historic buildings found throughout the city from the antebellum homes lining Milledge Avenue to the historic buildings found on Georgia's North Campus.
Athens is truly a spectacular place and one of the best cities to visit in Georgia.
Tybee Island
Recommended by Caitlin from The Country Jumper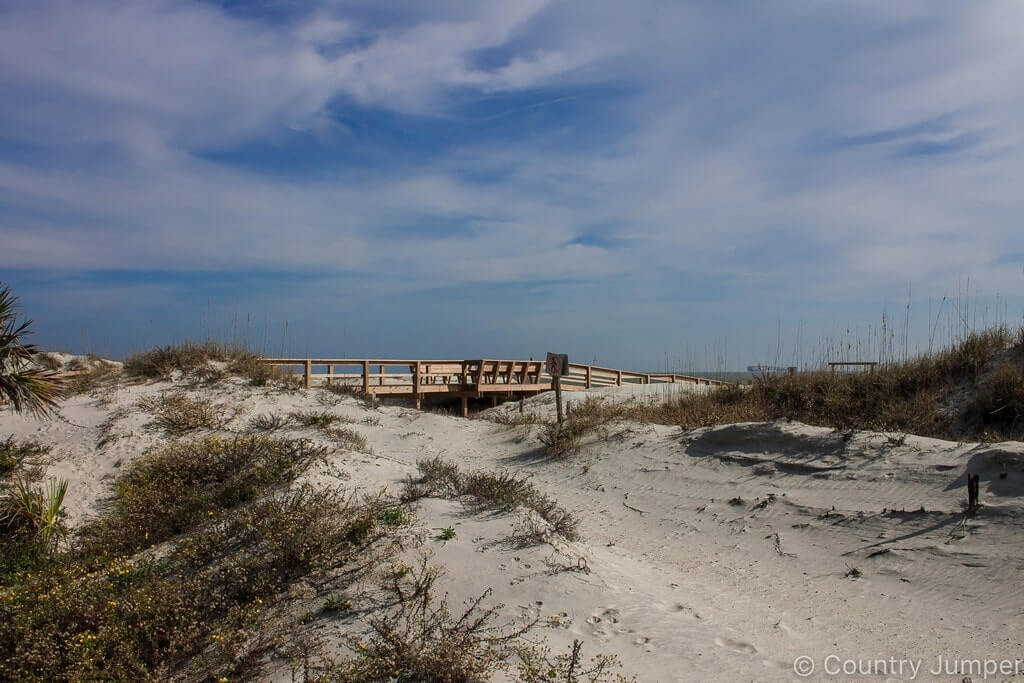 Tybee Island sits right on the Atlantic coast of Georgia. While it is not technically in the city of Savannah it is a great thing to add to your list of things to do there since it's so nearby.
Just about a 30 minute drive, you will need a car to get out to the island as there is unfortunately no public transportation. Uber could be an option, but will cost a bit and won't allow for much exploration unless you're willing to then get around the island by foot.
Since it's an island, Tybee has beaches, and lots of them. You can take any of the roads that reach out to the sea, find parking, and you'll have your toes in the sand in no time. Summer does get very busy here, but if you can time your visit for shoulder-season, or even off-season, when things cool down and the sea breeze picks up, you'll find fellow tourists sparse.
The Tybee Island Marine Science Center is educational for all ages about marine life from the area, and especially fun for science-minded kids. An absolute must out here is Huc-A-Poos which has a huge variety of to die for slices and a laid-back, the locals-eat-here-too, vibe.
Amicalola Falls State Park
Recommended by Jordan from The Homebody Tourist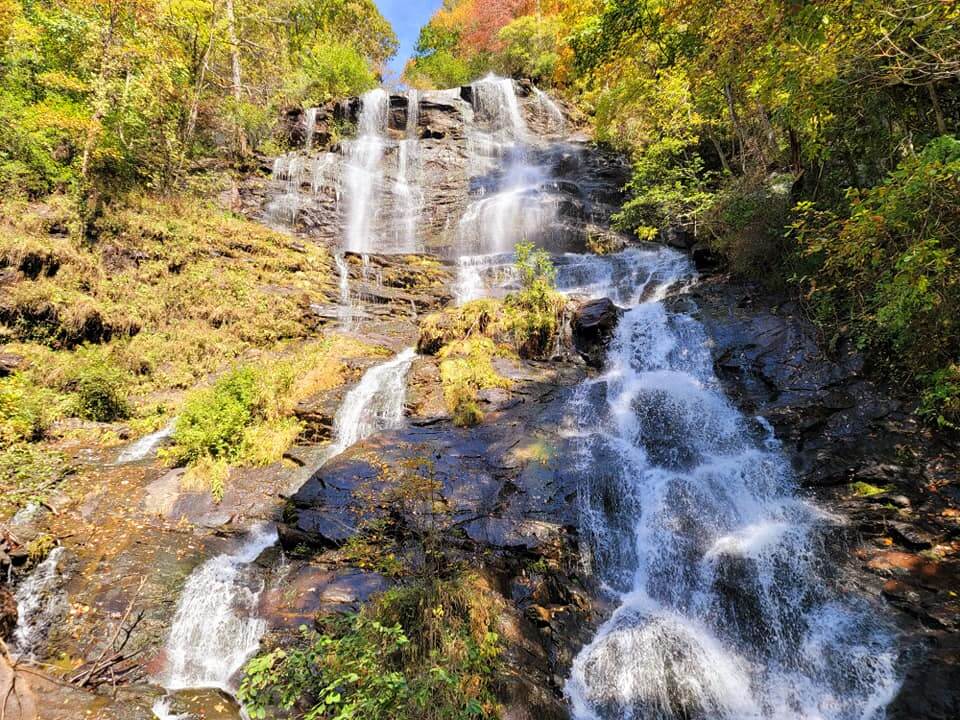 The state of Georgia is a true hidden gem in the Southeastern United States. With epic hikes, cascading waterfalls, quaint towns, and scenic drives, you could spend months exploring all Georgia has to offer. One stop to definitely add to your Georgia bucket list is the Amicalola Falls State Park.
Amicalola Falls State Park is home to the tallest waterfall in Georgia. I recommend taking the East Ridge trail, which is a moderate 2.1-mile hike. The first part of the trail gives you beautiful views of the North Georgia mountains.
After passing the visitor center at the bottom of the trail, you will soon find the stairs up to the falls. Start the journey up the 600+ stairs to marvel at the beautiful Amicalola Falls. There are several platforms to stop and rest and admire the view.
After viewing the falls, grab a room at the Amicalola Falls Lodge where you can watch a Birds of Prey show, zipline through the mountains, and partake in guided hikes and scavenger hunts.
If you have more time to explore, be sure to check out the other state parks, waterfalls, and stops along this jam-packed Southeastern USA road trip itinerary! Tip! Visit in mid-October for the best Fall colors!
Marietta
Recommended by Elizabeth from The Fearless Foreigner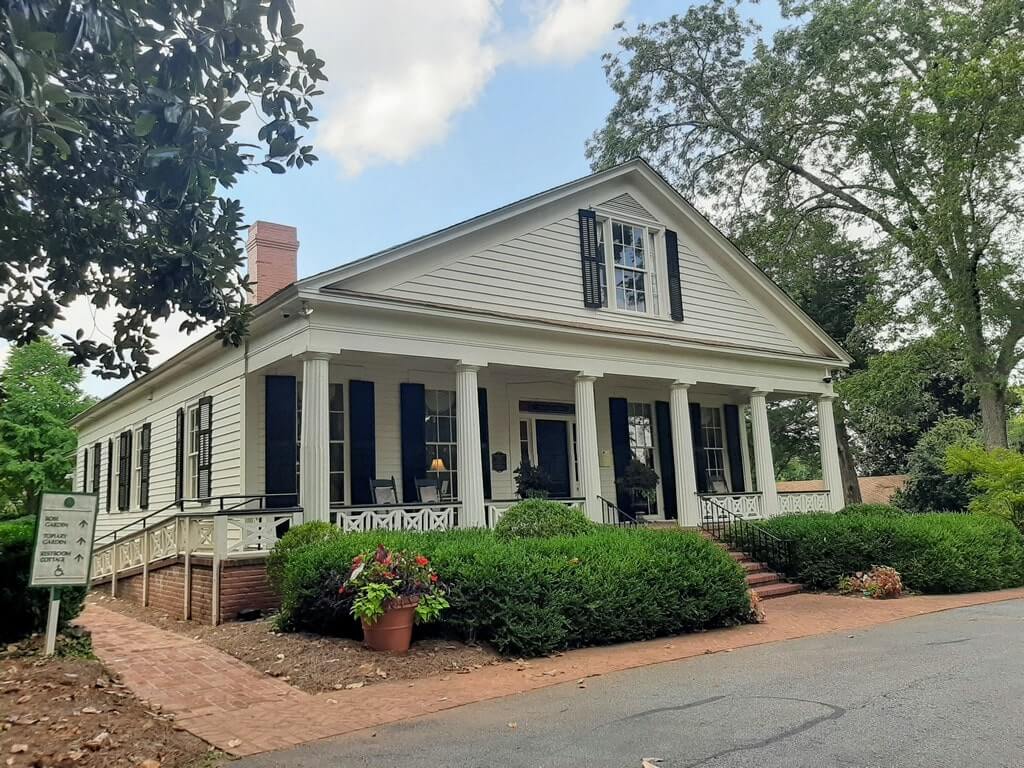 Marietta is a small city about 20 miles northwest of downtown Atlanta. For a small city there is a lot to see and do. And that makes Marietta one of the best places to visit in Georgia, USA.
Don't miss taking a stroll around the historic Marietta square. You'll find restaurants, shops, and museums around the square and surrounding streets. Check out the food hall, Marietta Square Market, for a variety of good food options. To learn about the city's local history head to the Marietta History Museum.
Marietta square is great to visit every day of the week, but on Saturdays it is home to one of the best farmer's markets in the area.
To explore more of Marietta take the Mountain to River Trail. It is a paved trail that will eventually run from Kennesaw Mountain, through downtown Marietta, and down to the Chattahoochee River. It currently ends near Marietta Confederate Cemetery just south of the square.
About a ½ mile away from the cemetery is the Gone With the Wind Museum. Any fan of this classic book and movie will love learning more about the author and making of the movie here.
Kennesaw Mountain, at the northern end of the trail is one of the best spots to hike near Atlanta. There are over 16 miles of trails in the park. The top of the mountain offers great 360 degree views.
Whether you are looking for a quaint city in Georgia to visit, museums, good places to eat, or great hiking, you can find it all in Marietta!
Helen
Recommended by Lara from The Best Travel Gifts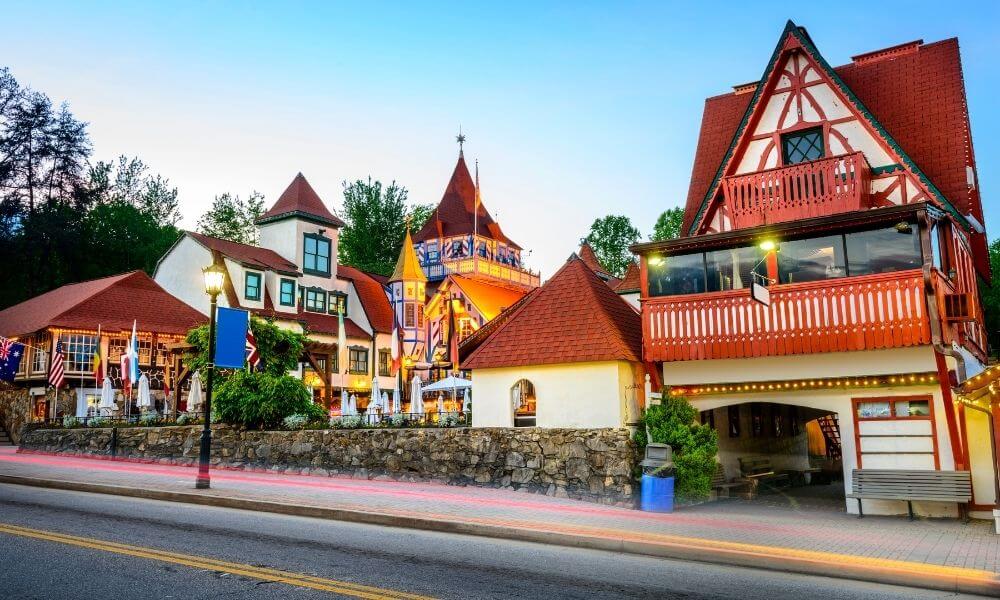 If you're looking for the best places to visit in Georgia, Helen has to be included. Helen is a cute German-style town in America. This picturesque little town is located about 90 miles from Atlanta and can easily be reached by car.
Unfortunately, there is no direct bus to Helen. If you are planning to travel by public transport, you would have to take a bus to Gainesville and take a taxi from there, which can be rather expensive. However, it's well worth the effort.
Helen is a charming mountain town. It is famous for Bavarian-style houses, waterfalls, vineyards, history, forest, and of course, the annual Oktoberfest that is held there from September until October.
Apart from ambling down Helen's streets, visiting a vineyard should definitely be on your list when visiting Helen. Besides that, Helen, and Georgia in general (no wonder books about hiking in Georgia are such great Georgia gifts), is also an excellent place for hiking and nature lovers. Many beautiful parks are only a short drive from Helen.
Some of the best places include the Chattahoochee National Forest, the Dukes Creek Falls Trail, Smithgall Woods State Park, and Unicoi State Park.
And lastly, simply strolling through this Bavarian town in the middle of the United States, is of course the most unique thing to do when in Helen.
In case this has got you thinking of Bavaria, do check out our post on the "10 Most beautiful places to visit in Bavaria Germany".
Macon
Editor's choice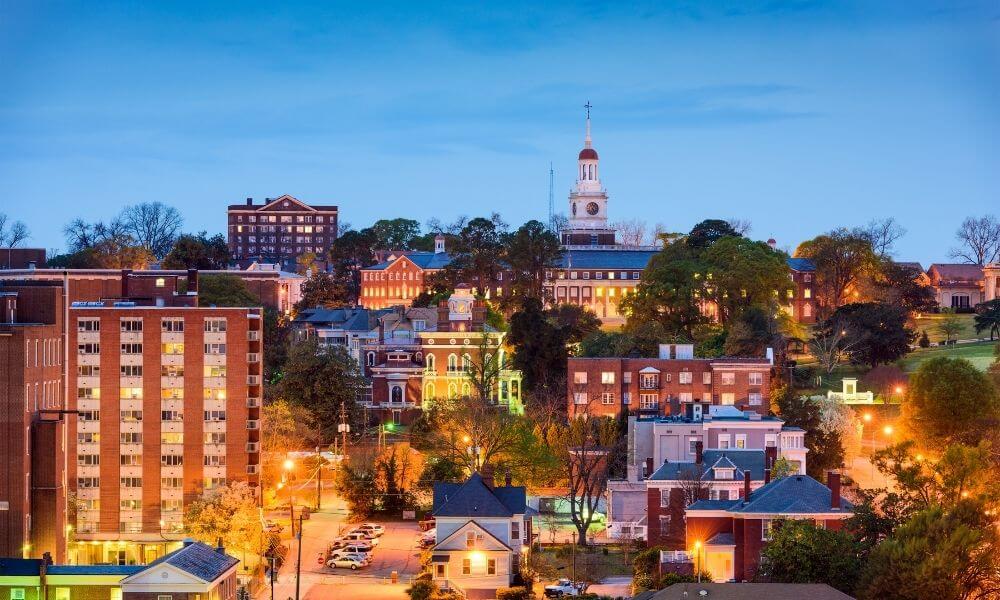 Yet another culturally-rich city in Georgia (and one of Georgia's lesser-known places) is the historic city of Macon.
Macon's history dates back to 1000 AD when people from the Mississippian Culture built a powerful empire here. They were followed by the Muscogee Creek Indians who inhabited the region until the 18th century. Europeans arrived around the same time. Macon went on to witness a cotton industry boom, the Civil War, and eventually became a transportation hub for the entire state. A rich history makes Macon one of the best places to visit in Georgia, USA.
When in Macon, visit Ocmulgee Mounds National Historical Park, a prehistoric American Indian site, which houses mounds from the Mississippian period. Drop by one of Macon's incredible museums such as the Hay House, Tubman Museum, and Georgia Sports Hall of Fame. Shop at Smiley's Flea Market or Mulberry Street Market for Georgia-grown products.
If you are someone who prefers the outdoors, Macon is the best place to be. Also known as the Park City, Macon has lots of walking trails, playgrounds, and community parks. Head to Amerson River Park for kayaking, canoeing, and hiking.
Loved the 10 best places to visit in Georgia USA? Pin it for later!