Last Updated on May 9, 2022 by Soumya
Savannah, haunted places, and ghost tours – all of them go together, don't they? Well, I had no idea until I started planning for my long weekend trip to Savannah GA.
And then I discovered that Savannah was one of USA's most haunted cities!
I am no brave soul. I freak out at the sight of a black cat even during daytime. But I am a history-addict and I loved the fact that many of these haunted places in Savannah GA had years of history behind them. Discovering Savannah's creepy spots was like adding another layer of curiosity to my collection of historic sites in Savannah.
If you have heard any of Savannah's haunted stories or read the novel "Midnight in the Garden of Good and Evil", then you know that there's a lot of paranormal going on here.
Savannah is not just filled with haunted houses and spooky cemeteries but is also home to old creepy hotels and restaurants. All of them have one thing in common – a troubled past that follows them till date. I don't know if Savannah's ghost stories are true but they surely feel so.
If you are someone who loves to explore the paranormal side of things, then you have got to read this Savannah haunted places guide.
Also looking for the best Savannah ghost tours?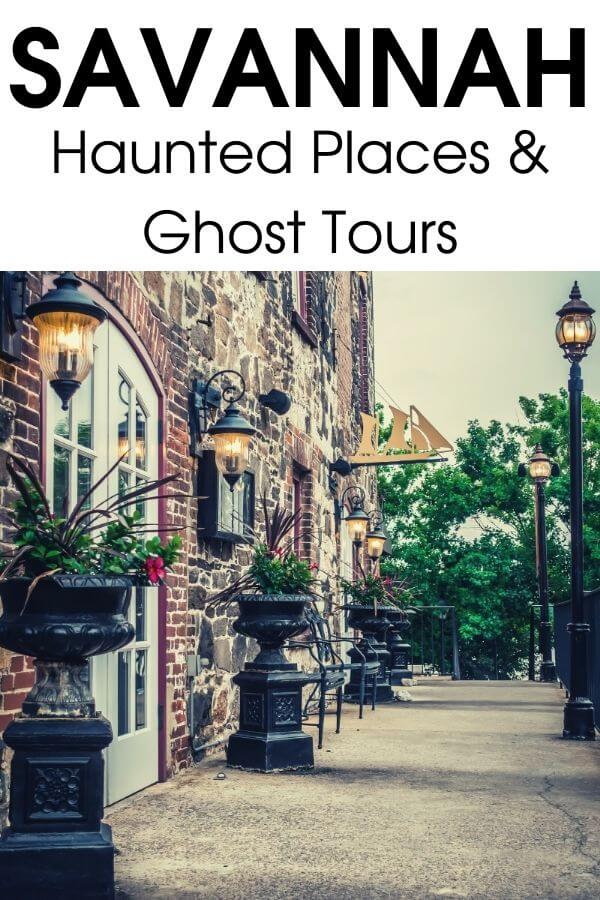 Please note: This post may contain affiliate links which means I may earn a commission if you make a purchase by clicking a link on this post. This will be at no additional cost to you. Affiliate links help me keep this website up and running. Thanks for your support!
Are you looking for the best ghost tours in Savannah to explore the haunted side of Savannah? Well, that's a great idea because on these tours, you will not just see the most haunted places in Savannah but also listen to local myths and be privy to insider stories.
Here are some of the most popular Savannah ghost tours.
Here are some more interesting historical tours of Savannah GA.
13 Most haunted places in Savannah GA
Bonaventure Cemetery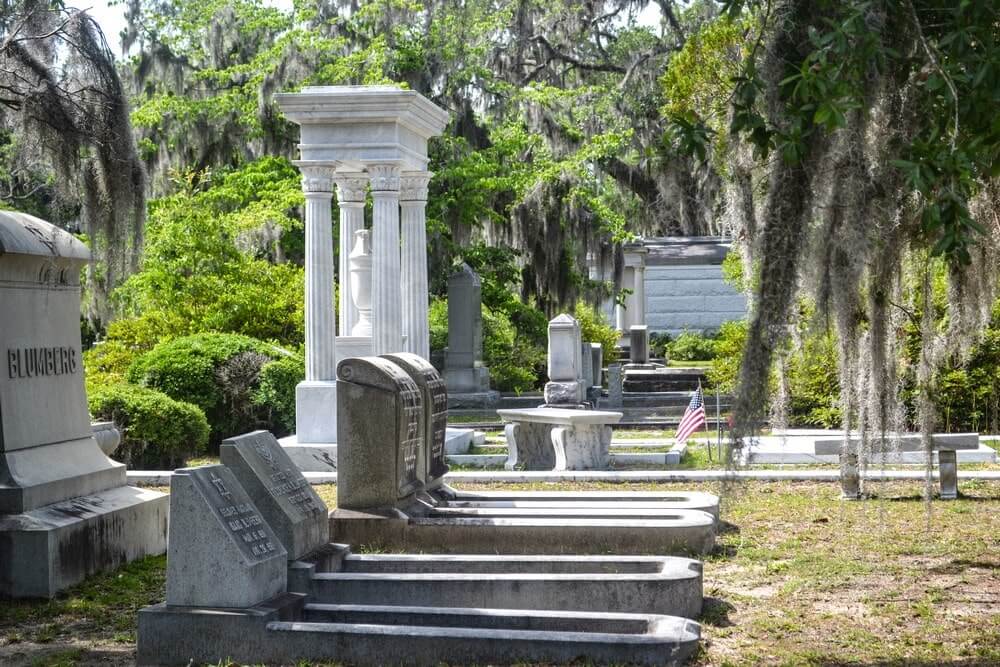 When we talk about the most haunted places in Savannah, there is no better place to start than at the Bonaventure Cemetery.
I got hooked to this famous Savannah Cemetery when I started reading the book, "Midnight in the Garden of Good and Evil" by John Berendt. You must remember the Bird Girl, a captivating sculpture that literally became the symbol of Savannah after the book was released. Unfortunately, the sculpture is no longer at Bonaventure but you can find many more that are equally beguiling.
Sidenote: If you are a big fan of John Berendt's book like me, then you will love this Walk through Midnight, a book tour organized by Savannah Walks.
At Bonaventure, you can do a self-guided tour of the cemetery where you will spot notable graves of Johnny Mercer, Conrad Aiken, and Little Gracie Watson. Little Gracie's is a famous and one of the most-talked-about graves here.
Remember to look around you when you are exploring the cemetery. Spanish moss-draped live oak trees give the place an eerie vibe that you won't feel elsewhere.
If you are not a self-guided-tour kind of a person, I highly recommend signing up for this exceptional guided tour of Bonaventure Cemetery with Shannon Scott. The tour is affordable, highly-rated, and takes you through the history and mysteries associated with Savannah's most haunted cemetery. Honestly, this tour is pure gold.
Colonial Park Cemetery
Can't miss this oh-not-so-famous cemetery right in the middle of Savannah Downtown with its fair share of history and intrigue.
Colonial Park Cemetery was established in 1750 and was used as Savannah's primary public cemetery for nearly 100 years. It saw the death of several thousand people including many hundreds from the Great Yellow Fever Epidemic of 1820.
The cemetery has a complicated past. The dead here were never allowed to rest in peace. When Union soldiers occupied the place in the 1860s, they plundered graves, moved bodies, and altered gravestones. Do not be surprised if you find a grave here that says a man lived 400 years!
Many ghost tours in Savannah start at the Colonial Park Cemetery because the graveyard is home to several prominent ghosts. One of the most famous ones is that of Rene Rondolier, a really tall guy who apparently killed two young girls.
Colonial Park Cemetery was also frequently the venue for duels and Voodoo ceremonies. Can't get creepier than that, can it?
Mercer Williams House
A plush Italianate house with a rather troubling history stands in the Monterey Square of Savannah. This is the Mercer Williams House
The story of "Midnight in the Garden of Good and Evil" begins at the Mercer William House. It was here where much of the movie was filmed too. This is literally the place where Danny Hansford was shot dead in 1981. Jim Williams, second owner of the house, who was tried several times for murder of Danny also died at the same spot.
Long before the Hansford-Williams drama unfolded at the Mercer-Williams House, a small boy called Tommy Downs fell to his tragic death while chasing pigeons in the abandoned house.
So, if there's one thing you will find in this house apart from great architecture and beautiful antique pieces, it is the presence of restless spirits. Some people even claim to have seen and heard of ghostly parties that still happen at the house, the same kind that Jim Williams used to host when he was alive.
The house is now a museum that is open every day of the week. Check for opening times and admission charges here.
Owen-Thomas House & Slave Quarters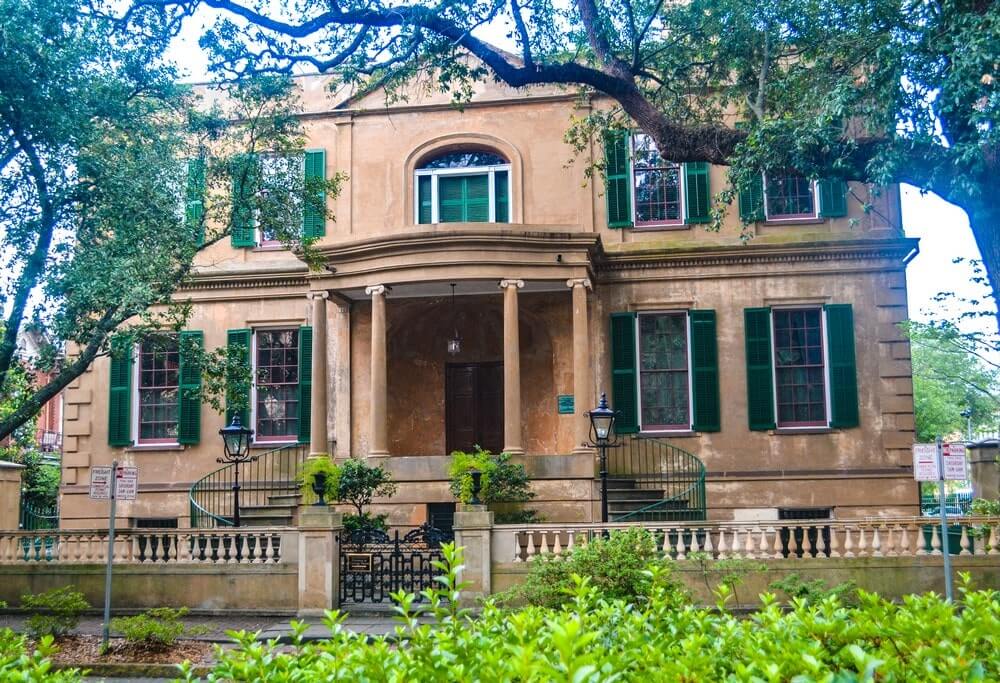 I have always spoken about Owen-Thomas House & Slave Quarters with great respect especially in the context of Savannah's troubled history of slavery. This is one of the few mansions where you get a balanced view of the lives of black slaves vs their white masters.
One thing that I did not know about Owen-Thomas House was its haunted past. Built in 1819, this Regency-style mansion has seen tons of mishaps and tragedies. Yellow Fever, Civil War, Slavery, The Fire of 1820, and what not! Needless to say, there are several spirits lingering around for salvation.
Moon River Brewing Company
Moon River Brewing Company on W Bay St. in Savannah GA is not just the best place to try hand-crafted beers but also the perfect spot to dig into the city's creepy past.
The building opened as the City Hotel in 1821 and hosted its last guest in 1864 right before General Sherman marched through Savannah. Then it closed its doors before opening up as a hospital during Savannah's yellow fever epidemics. The building debuted as a brew pub in 1999 and guests have claimed seeing the spirits of people who died during the epidemics.
One of the most famous Savannah ghosts is Toby who lives and moves silently through the basement of Moon River Brewing Company. On the 2nd floor, you will encounter paranormal activities caused by the killing of James Stark. A fleeting woman-in-white known as Mrs. Johnson will give you goosebumps on the 3rd floor.
Try this popular Haunted Pub Crawl for a ghostly experience of Savannah's famous pubs.
Wright Square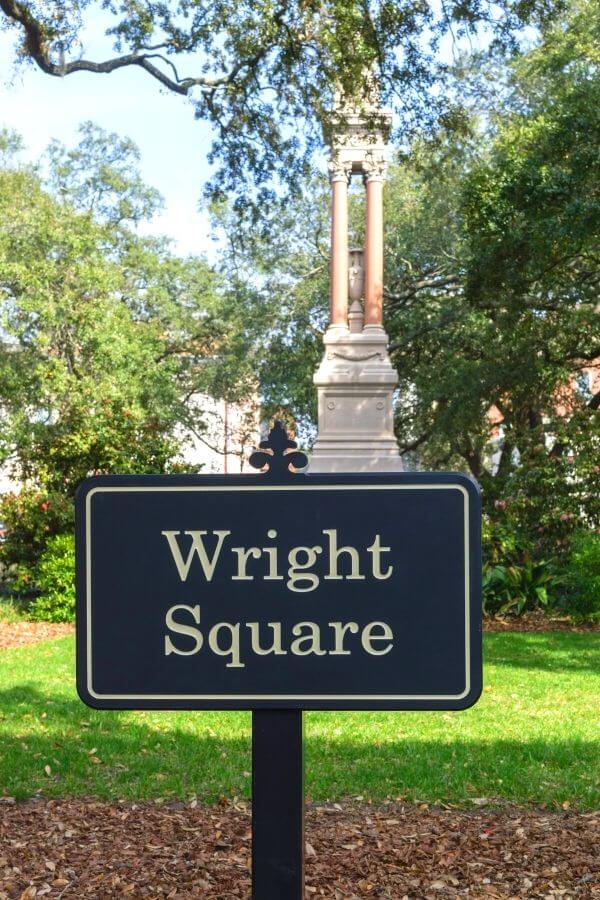 Have you heard of the ghost of Alice Riley? She is yet another famous ghost of Savannah who was possibly Georgia's first murderer. She was hanged right here in Wright Square and her spirit still roams the place.
Alice Riley and her husband arrived from Ireland and worked as indentured laborers on the farms of William Wise. It seems Wise was a cruel man who tortured the couple and passed lewd remarks on Alice. One fine day, the couple drowned Wise in a bucket of water and fled. They were eventually caught on the Isle of Hope and sentenced to death.
The authorities hanged the husband immediately but spared Alice for some time because she was pregnant. She gave birth and was hanged right after that, on Wright Square. Records tell us that Alice's baby died soon after. People believe and claim to have seen Alice's spirit come in search for her child. No doubt, this historic square in Savannah, also called the "Hanging Square", is one of the saddest and most haunted places in Savannah.
If you wish to catch up on stories about Alice Riley, here are a couple of tours that cover that. I especially like this 1-hour ghost tour which takes you through 8 cursed locations in Savannah, many of which I have talked about in this article.
Olde Pink House
Savannah's Olde Pink House is a great place to have authentic Southern food. Their crab cakes, fried green tomatoes, and collard greens are simply out of this world.
But who knew this old 18th-century mansion held such an intriguing and well, eerie past!
When this house was built in 1771 for James Habersham Jr., it was called the Habersham House and had white stucco walls. Soon after construction, the red bricks started bleeding through the walls and turned them a dull Jamaican pink. Habersham House was rechristened "The Olde Pink House" and has remained so ever since.
In 1779, Habersham Jr. died under suspicious circumstances. Some believe that he committed suicide after being distraught by his wife's betrayal! Today, the friendly ghost of Habersham Jr. frequents the restaurant, often drinking ale, lighting candles, and tidying up tables.
People have also spotted other spirits – war heroes, female ghosts, and former servants. When dining here, do not forget to ask the staff about the ghosts of the Olde Pink House. They will only be too happy to regale you with their stories.
River Street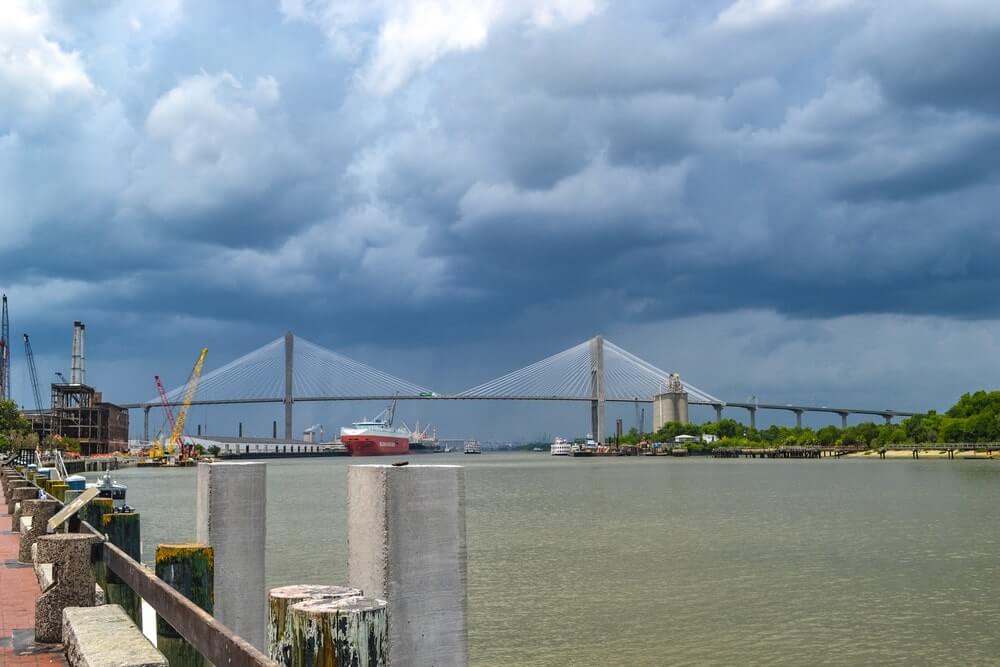 Not many people know this but River Street is actually one of Savannah's most haunted places. Try walking down the River Street alone at night and let me know how you feel!
Savannah was once a huge hub of slave trade. Slaves who arrived from West Africa were usually held in the warehouses on River Street. Many of them died or succumbed to diseases here. Visitors claim they often hear cries of these restless souls.
Pirate's House
The Pirate's House, located on 20 E Broad St. is an 18th-century building that first opened as a tavern for sailors. Very soon, it became a hub for notorious pirates who kidnapped and sometimes killed unsuspecting customers. Secret tunnels were dug from the inn to the river and people just vanished from the Pirate's House.
The atmosphere at the Pirate's House restaurant today is nothing short of eerie. Things fall off shelves, rum goes missing, dead sailors stomp their feet, and kidnapped souls yell repeatedly. A visit to this haunted spot is definitely going to send shivers down your spine.
4 Most haunted hotels to stay in Savannah
Savannah has quite a few haunted hotels for people who wish to experience the paranormal more closely than others. Here are my top picks of the best haunted hotels in Savannah.
The Marshall House
One of the most haunted places in Savannah is The Marshall House Hotel. Ask anyone for a paranormal stay in Savannah and they will recommend The Marshall House to you. In fact, it is so famous that it has been named as one of the best haunted hotels by USA Today several times.
The Marshall House is one of Savannah's oldest hotels. Built in 1851, the hotel has lived through many significant events such as the Civil War and numerous yellow fever epidemics. Several dead bodies and amputated limbs were buried under the house during these turbulent times.
Marshall House is one of the few haunted spots in Savannah that is home to numerous undead people – both friendly and scary. If you decide to stay here, you will hear children crying and playing, marbles rolling, faucets turning on and off, and door knobs wiggling. If there's one thing I can guarantee you, it is the fact that you won't sleep the night you stay here.
Click here to book your stay at the haunted Marshall House.
Kehoe House
William Kehoe, an Irish immigrant, built the Kehoe House in 1892 for his family. He had 10 children which included a pair of twin boys. Rumor has it that the twins fell into the house's fireplace and died. Even today, guests can hear the twins giggling and playing around in the hallways.
In the 1940s, Kehoe House was also the location of Goette Funeral Home. Wow! Now, that really gives me the creeps!
Click here to book your stay at the creepy Kehoe House.
Hamilton-Turner Inn
One of Savannah's famous historic inns, Hamilton-Turner Inn also boasts of a haunted past.
Built in 1873, Hamilton-Turner Inn was first home to Samuel Pugh Hamilton who was also known as the Lord of Lafayette Square. Then it was owned by Dr. Francis Turner who converted the house to a boarding home. John Berendt also mentions the house in his book, "Midnight in the Garden of Good and Evil" as the place where Joe Odom held his wild parties. A large fire ravaged much of the house in 1898.
Several people and 150 years later, Hamilton-Turner Inn is filled with stories of people that never really left. If you ever decide to stay here, you will hear strange footsteps, a billiard game in progress, and encounter the spirit of man with a cigar in hand.
Click here to book your haunted stay at Hamilton-Turner Inn.
17Hundred90 Inn
Another haunted place to stay and dine in Savannah is the 17Hundred90 Inn and Restaurant. At least 3 ghosts inhabit this place. 2 of them are quite friendly. If you are looking for a paranormal but not-so-jittery kind of experience in Savannah, 17Hundred90 Inn may be the best place to have it.
Anna is one friendly spirit who inhabits Room 204. She quite possibly committed suicide over lost love. Another friendly one is that of young Thaddeus who makes his presence felt on the ground floor.
Check out the official website of 17Hundred90 Inn for more details.
Things to know before visiting Savannah's haunted places
Read the book "Midnight in the Garden of Good and Evil" or watch the movie before your trip.
If you are not a very courageous one like me, try a guided tour of haunted Savannah. That is really the best way to experience Savannah's haunted past without losing your senses.
Two of the most spooky places in Savannah that you can visit for free are the Bonaventure Cemetery and Colonial Park Cemetery. Filled with unending rows of graves and Spanish moss-covered trees, these places gave me shivers even during day time.
Loved our Savannah haunted places guide? Pin it for later!