Last Updated on August 18, 2022 by Soumya
Wondering if it is possible to do Chichen Itza and Ek Balam in one day? Yes, it is. Totally possible.
If you are staying in Valladolid, then doing these two beautiful Mayan ruins + one cenote is an easy day trip. If you are in Cancun, you may be in for a long day but can still can see both Ek Balam & Chichen Itza in all their glory.
On my first trip to the Yucatan Peninsula, I did both together on one day – Chichen Itza in the morning and the ruins of Ek Balam in the afternoon. And I must say, it was an amazing day. Hectic but very fulfilling.
I toured the massive archaeological site of Chichen Itza during the first half of the day and enjoyed some breathtaking views at the Acropolis at Ek Balam in the afternoon. Had I planned the day a little better, I could have easily done a cenote too.
With this comprehensive travel guide, you will be able to plan your Chichen Itza and Ek Balam day tour efficiently. Whether you are staying in Cancun, Valladolid, or Playa del Carmen and wish to do it with a local tour guide or plan it on your own, you will find all helpful information here.
Chichen Itza and Ek Balam – One day itinerary
This guide is going to be a short one since I have already written lots about both Chichen Itza and Ek Balam. You will find all about things to do, interesting facts to know, tickets, tours, and best ways to get to Chichen Itza here. My complete travel guide to Ek Balam is here.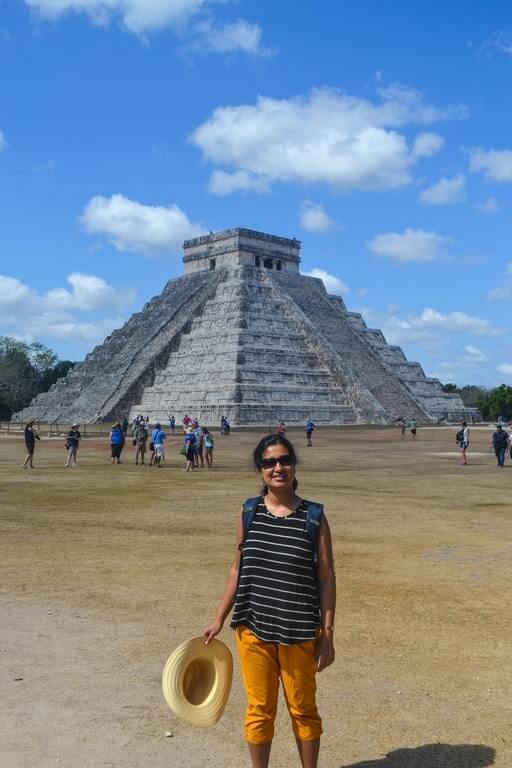 So, I am just going to stick to the planning part in this post.
Visiting from Cancun/Valladolid/Playa del Carmen?
It is easier to plan a Chichen Itza + Ek Balam combo day trip if you are staying in Valladolid, the closest town. That is because Chichen Itza is located 45 mins to west of Valladolid. And Ek Balam is 30 mins north of Valladolid.
If you are staying in Cancun or Playa del Carmen, you will need to come down to Valladolid first and then travel to each of these two Mayan ruins from there. That adds a couple of hours to your itinerary each way.
A drive from Cancun to Chichen Itza can take anywhere from 2.5 – 3.5 hours. Similarly for Playa del Carmen.
This means that your day trip from Cancun or Playa del Carmen will be 5-6 hours longer than your day trip from Valladolid.
Have a look at the map below (feel free to click on it for directions) for a better idea of the orientation of the places that I am talking about.
I do not intend to discourage you from staying in Cancun. It is a beautiful place with a ton of interesting things to do and several amazing Mayan ruins nearby. But please remember that a day trip to both Ek Balam and Chichen Itza from Cancun is going to be long one. If you don't mind that, then Cancun is a great option. The same applies to Playa del Carmen.
Please note: This post may contain affiliate links which means I may earn a commission if you make a purchase by clicking a link on this post. This will be at no additional cost to you. Affiliate links help me keep this website up and running. Thanks for your support!
One cool thing no one tells you
I am going to spill a small secret that nobody really tells you about visiting Chichen Itza from Cancun or Playa del Carmen.
Between October – April, the time in Cancun and Playa del Carmen (basically anywhere in the state of Quintana Roo) is an hour ahead of Chichen Itza or Ek Balam (the state of Yucatan). So, if you leave Cancun at 6:00am in the morning and take 3 hours to get to Chichen Itza, you will arrive at 8:00am instead of 9. Now, isn't that super cool?
You are literally saving an hour while traveling from Cancun to Chichen Itza if you are visiting between October – April.
During Daylight Savings Time (April – October), both the states are in the same time zone. Therefore, no such benefit.
If things gets a little confusing, be sure to check the time before you plan.
Head to Chichen Itza first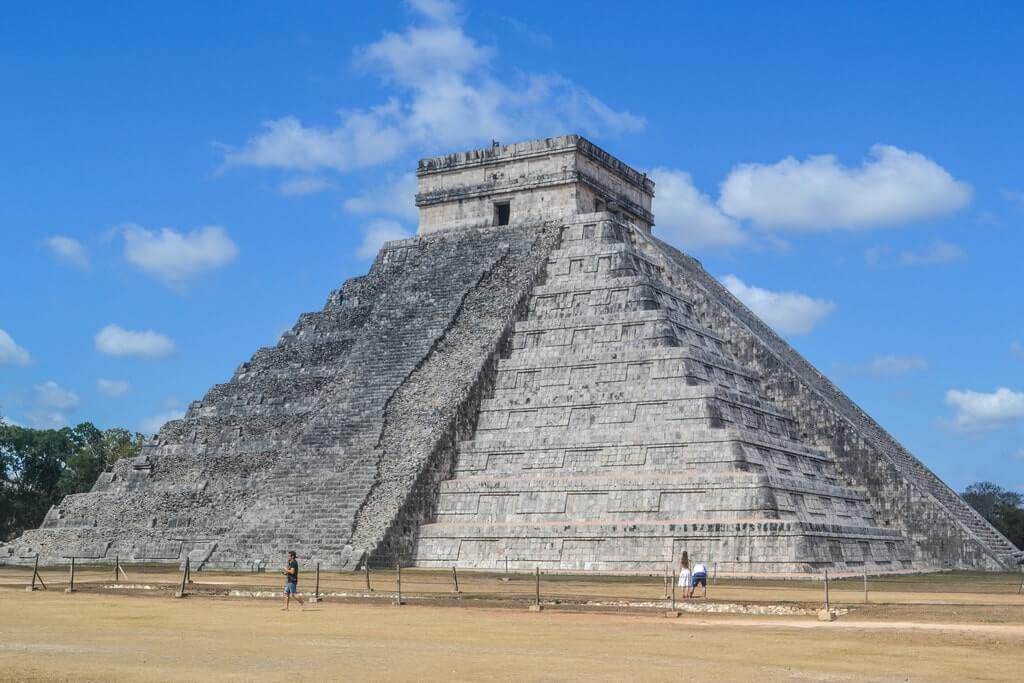 First thing in the morning, head to Chichen Itza. If you leave Cancun around 6:00am, you will arrive in Chichen Itza between 8:00 – 8:15am. Gates to the archaeological site open at 8:00am.
Chances are very high that you will have the entire site to yourself. No noisy crowds and no queues! Since it is early in the morning, you will also be able to beat the sweltering heat of Yucatan and take some good pictures without bobbing heads in the background. Now you know why Chichen Itza early access tours are so popular.
El Castillo or the main pyramid at Chichen Itza is closed for climbing. But you will easily need 2-3 hours at the ruins to see the entire site including the pyramid, Temple of Warriors, the observatory, ball court, Temple of Skulls, and the Plaza of a Thousand Columns. If you have a guide with you, he will tell you several interesting things about the ancient city of Chichen Itza.
Chichen Itza is open from 8:00am – 5:00pm. Last access at 4:00pm. Admission is 571 MXN ($28 approximately).
Also read: Ultimate guide for visiting Chichen Itza, a World Wonder
Getting to Chichen Itza
From Cancun: The easiest way to travel from Cancun to Chichen Itza is on a day tour with a certified tour guide. If you do not want to do that, you can take the ADO bus that leaves Cancun at 8:45am and comes back from Chichen Itza at 4:30pm. Bus journey takes 3 hours and costs around $25. I believe there is just one bus in this route.
From Valladolid: You can take a colectivo for Chichen Itza like we did. Colectivos are small vans that leave only when the entire van is full (which happens fairly quickly). Chichen Itza colectivos are available between Calle 39 and 44. You won't miss it because there will be signs and drivers will call out to you. The journey takes around 1 hour and costs $2 one way.
Take a dip in a Cenote Ik Kil
Looking for a quick dip after the Chichen Itza sojourn? Head to Cenote Ik Kil located only 10 minutes away from the ruins.
One of Mexico's most beautiful open-air cenotes, Ik Kil is quite popular among tourists. You will even find a couple of restaurants and small snack shops on site.
The cenote is open from 9:00am – 5:00pm everyday. You can rent towels and lockers.
But beware, Ik Kil can be quite touristy especially because of its proximity to Chichen Itza. If you wish to do an offbeat one and can wait till the end of the day, you can easily do the less-crowded Cenote Xcanche near Ek Balam.
A couple of other cenotes that you can choose from are Cenote Saamal and Cenote Hubiku. Saamal is close to Valladolid while Hubiku is closer to Temozon. Have a look at our guided tours section to find out which tour offers which cenote.
Getting to Ik Kil from Chichen Itza
Getting a taxi is the easiest and will cost you around $5.
Stop for lunch at Valladolid or Temezon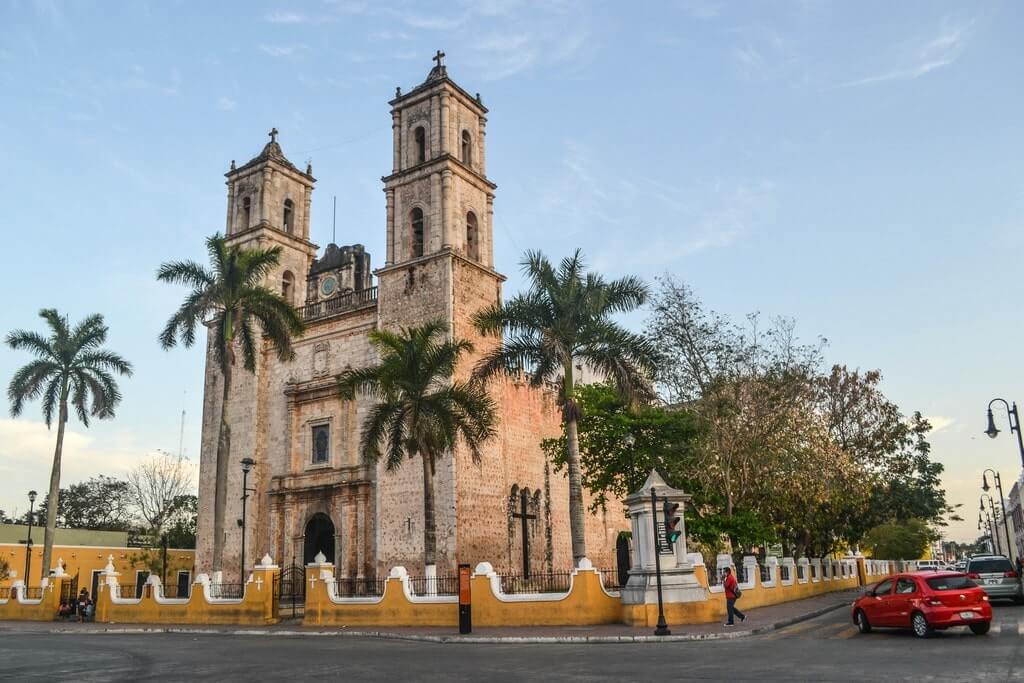 Since you will need to travel to Ek Balam via Valladolid, I suggest you have lunch here. Eating delicious Yucatan food in a local canteen in Valladolid is probably one of the best cultural experiences I have had in Mexico. Try some authentic Sopa de Lima and Salbut at El Bazar Municipal and you will not regret it. Find the shop with the longest queue of locals and there you have your best place to eat.
Alternately, you can head to Temozon for some smoked meat. Temozon is where smoked meat was born in Yucatan. Nearly 20 shops on the main street specialize in smoked meat (mostly pork) flavored with unique marinades that are closely-guarded family secrets.
Climb the pyramid at Ek Balam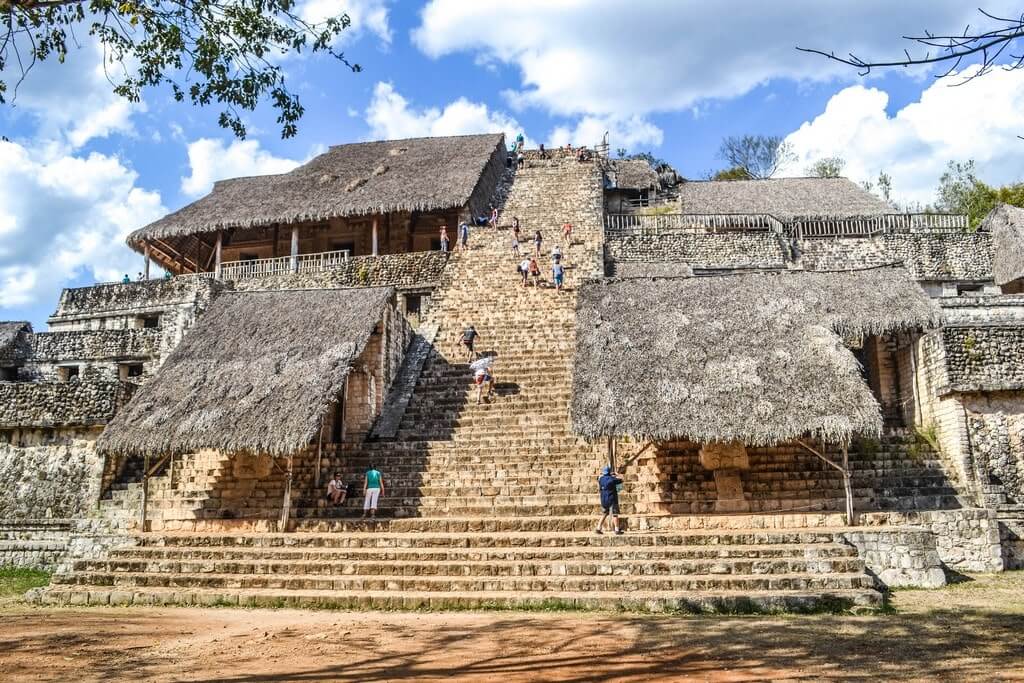 Once done with your sumptuous lunch, head to Ek Balam where you can still climb the acropolis and enjoy some stunning views of the Yucatan jungles. On a clear day, you might be able to spot Chichen Itza and/or Coba from the top.
The ruins are small when compared to Chichen Itza but impressive. Highlights include a large pyramid called the Acropolis, two smaller pyramids, an oval palace, and an arched gateway that connected several gravel roads (sacbe) in the Mayan times. One of them went as far as the ancient city of Coba.
Most importantly, Ek Balam is home to unique stucco sculptures that you won't find anywhere else. Figures of winged warriors and a huge monster mouth are absolutely riveting. This is what makes Ek Balam so special and totally worthy of a visit.
Ruins are open from 8:00am – 5:00pm. Admission is 494 MXN ($24 approximately).
Also read: Mayan ruins of Ek Balam: What makes them so special and how to visit?
Getting to Ek Balam
From Valladolid: Easiest is to take a colectivo from Valladolid between Calle 44 and 37. The ride takes a little more than 30 minutes and costs around $2 one way.
One quick thing to note, these colectivos aren't the big ones that you find at the Chichen Itza boarding point. Ek Balam colectivos are more like common taxis that wait for 4 passengers to board because almost always, there are fewer tourists for Ek Balam. If you do not want to wait for others to come in, you can book an entire taxi for around $10 one way.
End your day at Cenote X'Canche
Cenote Xcanche is also sometimes referred to as Cenote Ek Balam because of its proximity to the archaeological site. It is literally within the Ek Balam complex, so you don't have to spend any time traveling.
This is one of Mexico's least visited cenotes and therefore, extremely pristine. You won't find many tourists here even in the middle of the day, let alone at the end.
There is one cache, however. I understand that the last entry at Cenote Xcanche happens at 3:30pm. The cenote is open from 8:00am – 3:30pm. So, if you spend a lot of time exploring the ruins of Ek Balam, you may not get sufficient time at the cenote. In that case, you would want to reverse your itinerary and do Xcanche and then climb Ek Balam.
Getting to Cenote Xcanche
You can walk to the cenote from the ruins. The walk takes about 15 minutes. Alternately, you can rent bicycles at the entrance for about $4.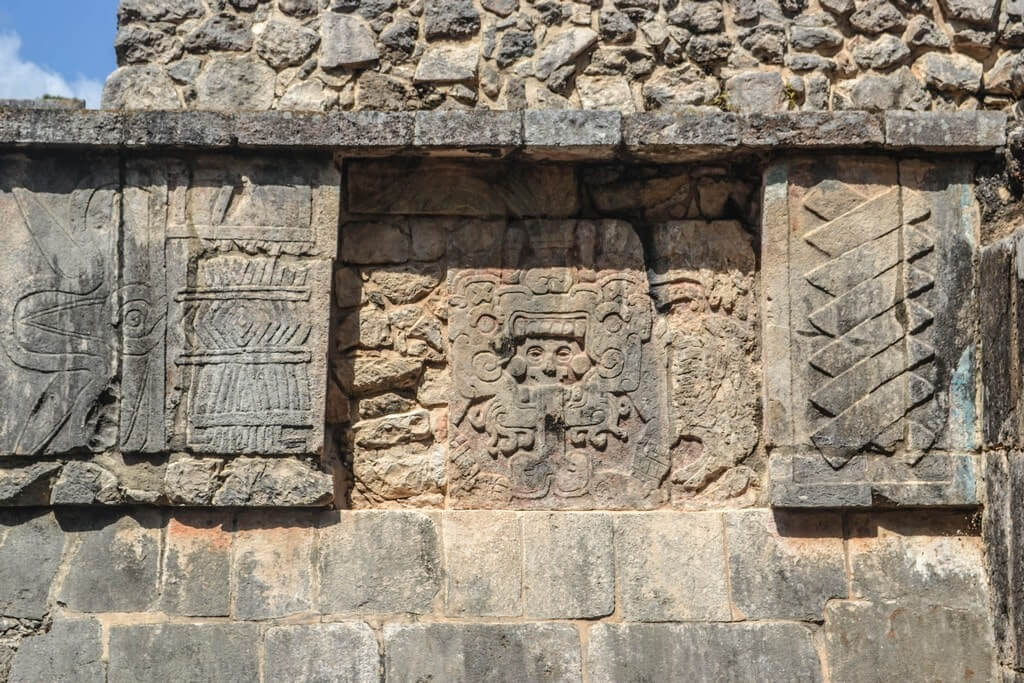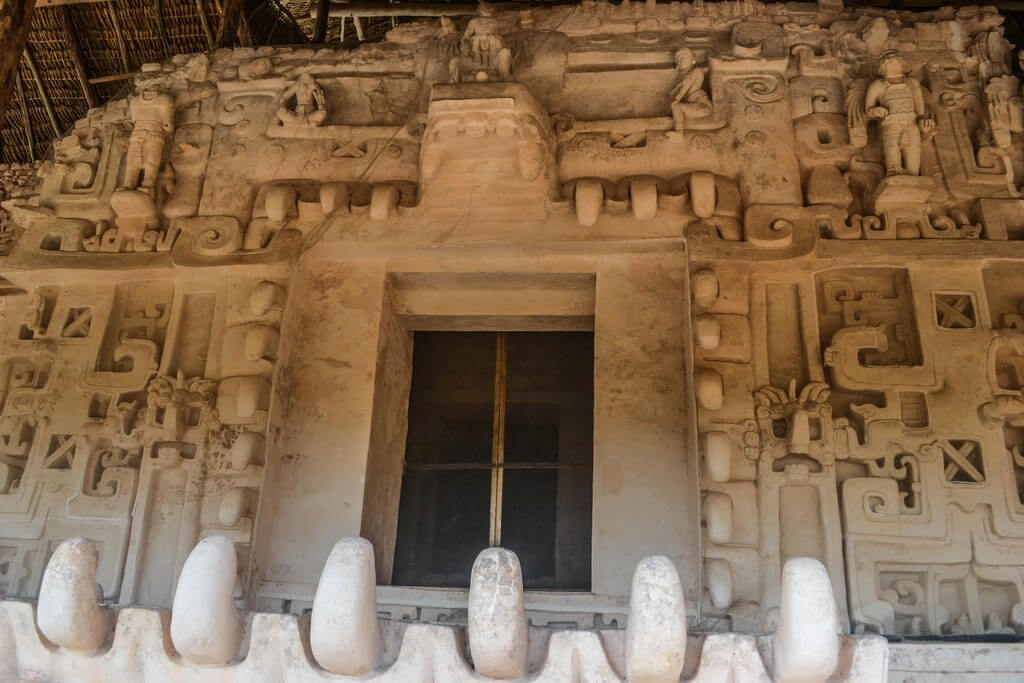 Best combo tours for Chichen Itza & Ek Balam
In my opinion, a guided tour is the best way to see Chichen Itza, Ek Balam, and one cenote together on the same day especially if you are coming in from Cancun or Playa del Carmen. You do not have to worry about transport or spend hours waiting for colectivos to fill in. Traveling in a colectivo is fun but not when you have so much to see in just one day!
So, here are some of my favorite tours that include both Chichen Itza and Ek Balam.
On this highly-recommended private tour from Cancun or anywhere else in Riviera Maya, a knowledgeable guide will take you through both Chichen Itza and Ek Balam ruins. Plus, you will have a chance to swim in Cenote Ik Kil. All admissions and lunch included. The best part – the itinerary is completely flexible and you can customize the tour according to what you want to see.
More amazing tours for Chichen Itza.
Is Ek Balam related to Chichen Itza?
Yes, Chichen Itza and Ek Balam are related by the fact that they were both ancient Mayan cities. While Chichen Itza flourished between 600-1200 CE, Ek Balam was active for a longer time between 500 BCE – 900 CE. However, Chichen Itza went on to assume greater prominence in the Mayan civilization and became an important economic and religious center. Ek Balam was much smaller than Chichen Itza and continued to remain the capital of the Kingdom of Tlalol throughout its existence.
How far is Ek Balam from Chichen Itza?
Ek Balam is located about 43 miles (69 km) away from Chichen Itza.
Getting from Chichen Itza to Ek Balam
To get to Ek Balam from Chichen Itza, you first need to get to the town of Valladolid by colectivo/taxi and then hire another colectivo/taxi from Valladolid (between Calle 44 and 37) for Ek Balam. The complete journey takes about 1.5 hours. Doing a guided tour is a more convenient way of traveling between the two ruins.
Loved our Chichen Itza-Ek Balam one day itinerary? Pin it for later!