Last Updated on September 1, 2023 by Soumya
Planning to visit the ancient Mayan ruins of Tulum in Mexico?
Wondering if a trip to the Tulum archeological zone is worth it? Does Tulum even have a pyramid?
You're at the right place because we have the perfect Tulum ruins visitor's guide for you. In this ultimate travel guide, we will answer all your questions and some more.
From the best things to do at the Tulum ruins (including a beach!) to the tiniest details about tickets, opening hours, and logistics, we cover everything in this best Tulum ruins travel guide.
And before you've any second thoughts, let me tell you that visiting the Mayan ruins of Tulum Mexico is absolutely worth it.
Of all the amazing Mexican pyramids that I have seen, the location of Tulum's El Castillo is the most dramatic.
It is unusual to find an ancient Mayan ruin perched on a bluff by a white sand beach. And that is what makes the Tulum Archeological Site so special.
---
Please note: This post may contain affiliate links which means I may earn a commission if you make a purchase by clicking a link on this post. This will be at no additional cost to you. Affiliate links help me keep this website up and running. Thanks for your support!
My Top Pick: Best Tour of Mayan Ruins of Tulum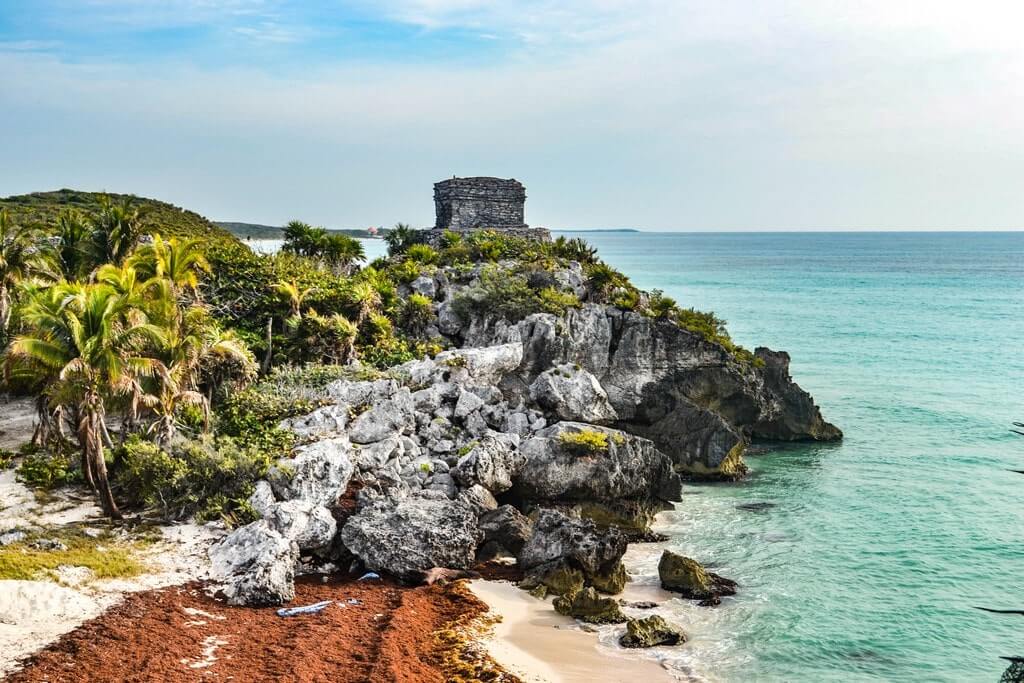 ---
How to get to the Mayan Ruins in Tulum Mexico?
Tulum is easily accessible from many cities in Riviera Maya. That's why it makes for an easy day trip from Cancun, Playa del Carmen, and Valladolid.
Here's a rough idea of how long a drive to Tulum takes from some of the major cities.
Cancun to Tulum – 2.5 hours
Playa del Carmen to Tulum – 1 hour
Valladolid to Tulum – 1.5 hours
Merida to Tulum – 4 hours
If you prefer, you can stay in the town of Tulum and drive, take a collectivo, or ride a bike or cycle to the ruins which are only 2 miles away from the city center.
Tulum is a great place to stay because of its proximity to the beach. With so many accommodation options available, including some great hostels in Tulum, I am sure you will not have any problems finding the perfect stay for yourself.
Now, let's look at some of the best ways to get to the Mexican ruins at Tulum from the nearby towns of Cancun, Playa del Carmen, and Valladolid.
Getting to Tulum Ruins by Public Transport
If you want to get to Tulum ruins by public transport, take the ADO bus from Cancun Airport, Cancun city center, Playa del Carmen Turistica bus station, and the ADO bus station in Valladolid.
ADO buses run every hour from Cancun and are quite comfortable. Book your ADO bus tickets on the Busbud website here.
Another option is to take a collectivo – a small van that is cheaper than the bus but has several stops in between. I would not recommend taking the collectivo from Cancun to Tulum but between Playa del Carmen and Tulum, sure.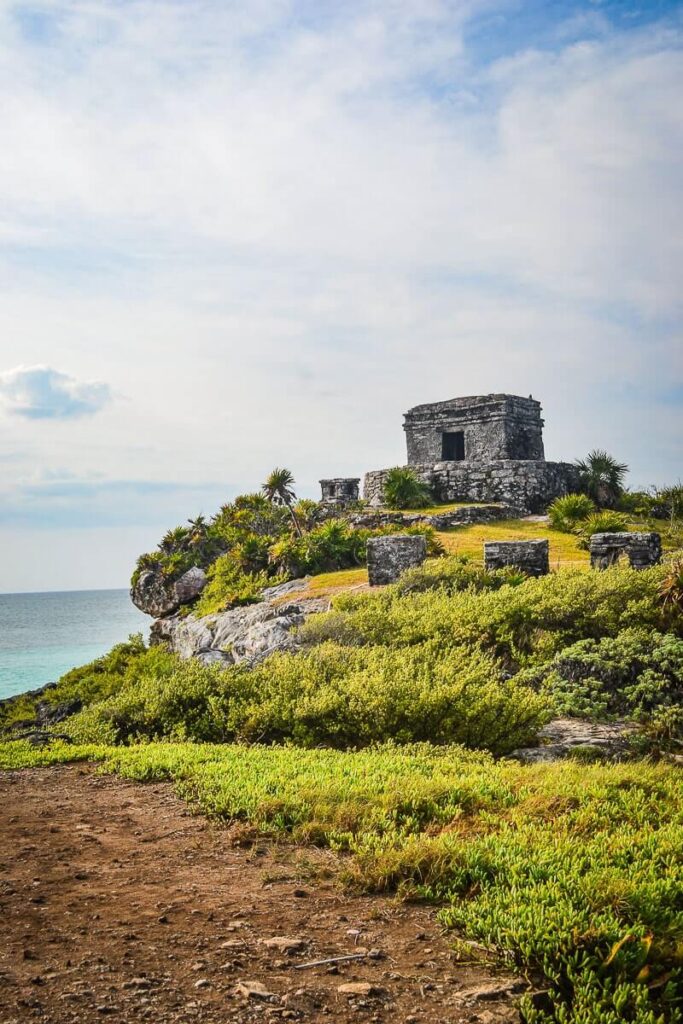 Getting to Tulum Ruins by Car
Renting a car and driving to Tulum is a great way to explore the ruins at your own pace.
Driving gives you the flexibility and freedom that no other means of transport can ever give. Go ahead and rent your car here.
Parking is available at the Tulum ruins and costs around 100 – 150 pesos.
Getting to Tulum Ruins by Guided Tours
Guided tours are the best and the most convenient way to visit the Mayan ruins of Tulum from Cancun or Playa del Carmen.
You do not have to worry about transportation and tickets. Additionally, a knowledgeable tour guide will take you on an immersive trip of the history and culture of this ancient Mayan city.
Some of these tours also include cenote swims, reef snorkeling, and traditional lunches. Isn't that fun?
Here are the best-guided tours for Tulum ruins.
About the Archeological Zone of Tulum Ruins in Mexico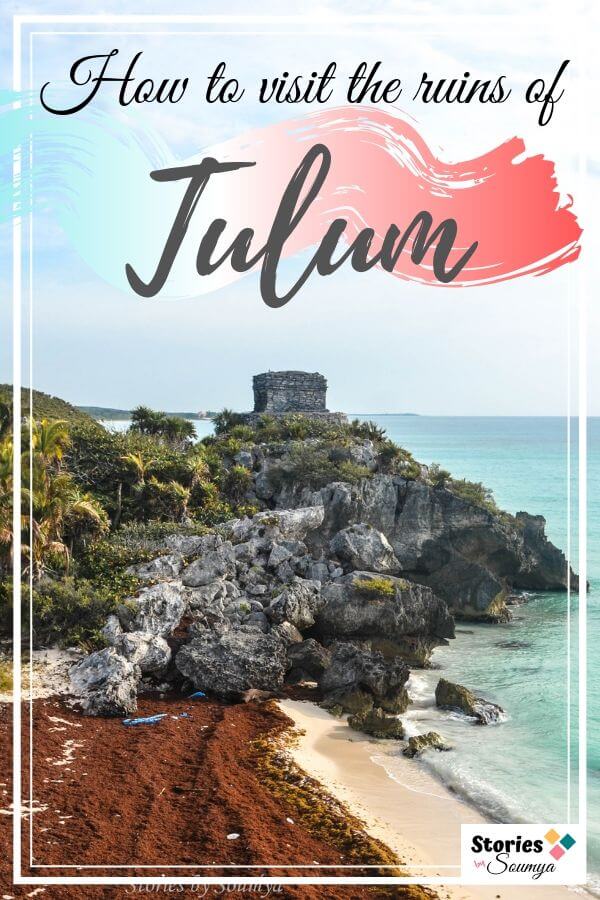 Tulum was an important pre-Hispanic city that had been first settled around the 6th century. It was influenced both by the Mayan and Toltec civilizations.
Tulum reached its zenith between the 13th and the 16th centuries as an important trading center because of its closeness to the sea.
If you are not keen on history, then you can visit the site for the sheer beauty of the place against a stunningly beautiful backdrop of the ocean.
Food items, metal objects, and cotton were traded here. Tulum was the only city that was built on the seashore. So, it is easy to imagine the strategic importance that it held during those times.
Today, Tulum is the third most visited historical site in Mexico after Teotihuacan and Chichen Itza. On busy days, more than 2,000 tourists visit the ruins.
The name "Tulum" means "the wall". It was named so by the Spanish conquerors. The original Mayan name of the city was probably Zama or "the dawn" since the city faced the rising sun.
The city of Tulum is a charming beach town located in the Mexican state of Quintana Roo. It has a wonderful Caribbean coastline with pristine white beaches. Some of Yucatan's best cenotes are also located here.
📖 Related Read: If you wish to read about another Mayan city that bore both Mayan and Toltec influence, head to our article on Interesting Facts about Chichen Itza.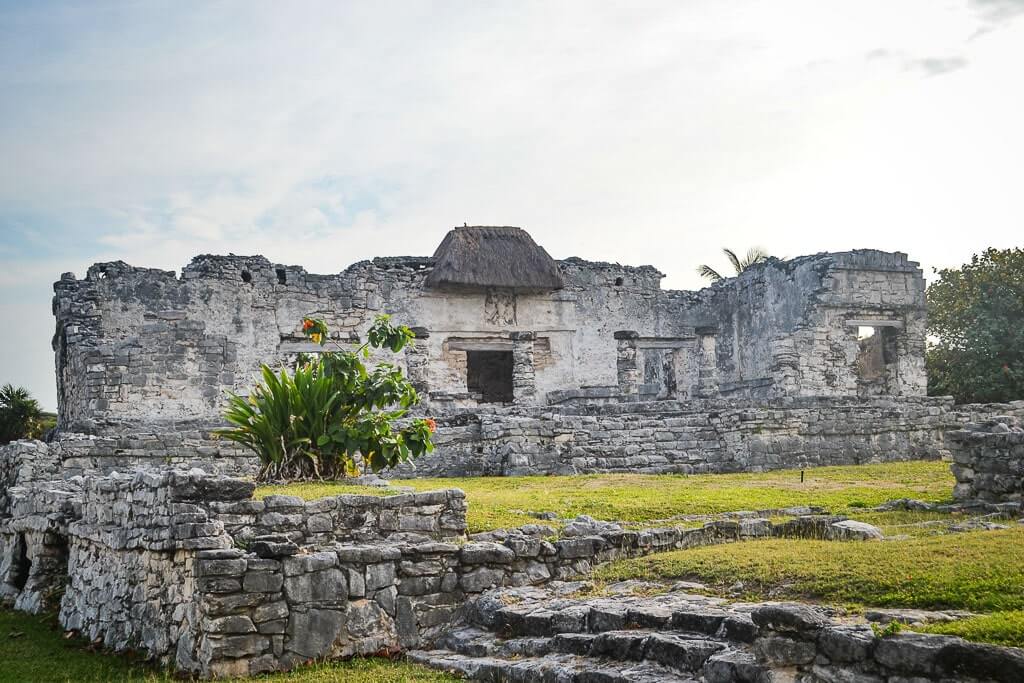 Best Things To Do at Tulum Archeological Site
Tulum was a walled city – surrounded by tall walls on 3 sides and by the Caribbean Sea on the 4th.
It was probably built as a fortress town in addition to being a trading port. Not the usual format of other Mayan sites like Chichen Itza or Coba which were inland.
That's probably why we see a smaller pyramid in Tulum and several structures facing the sea as if waiting for traders and enemies to show up!
Here are some of the main attractions at the Tulum Archeological Zone that you must definitely check out.
El Castillo or the Pyramid of Tulum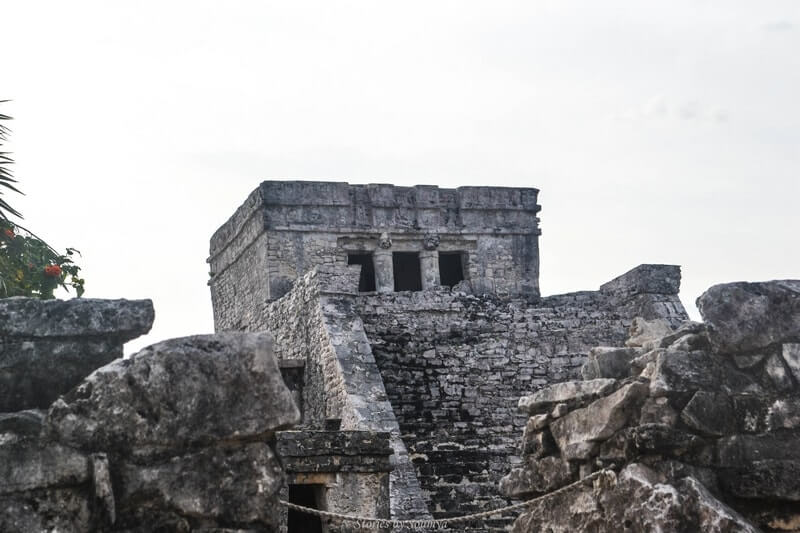 El Castillo or the Castle is the largest and the tallest structure in the Tulum archeological zone.
It is an ancient shrine and one of the most fascinating pyramids to visit in Mexico. That's because of its special location facing the vast expanse of the Caribbean Sea.
There's a small shrine on top of El Castillo that is believed to have served the purpose of a lighthouse.
Imagine hundreds of ships and canoes docking at the Tulum port thousands of years ago. Their first point of reference would have been El Castillo because that would've been visible from very far away.
Temple of the Descending God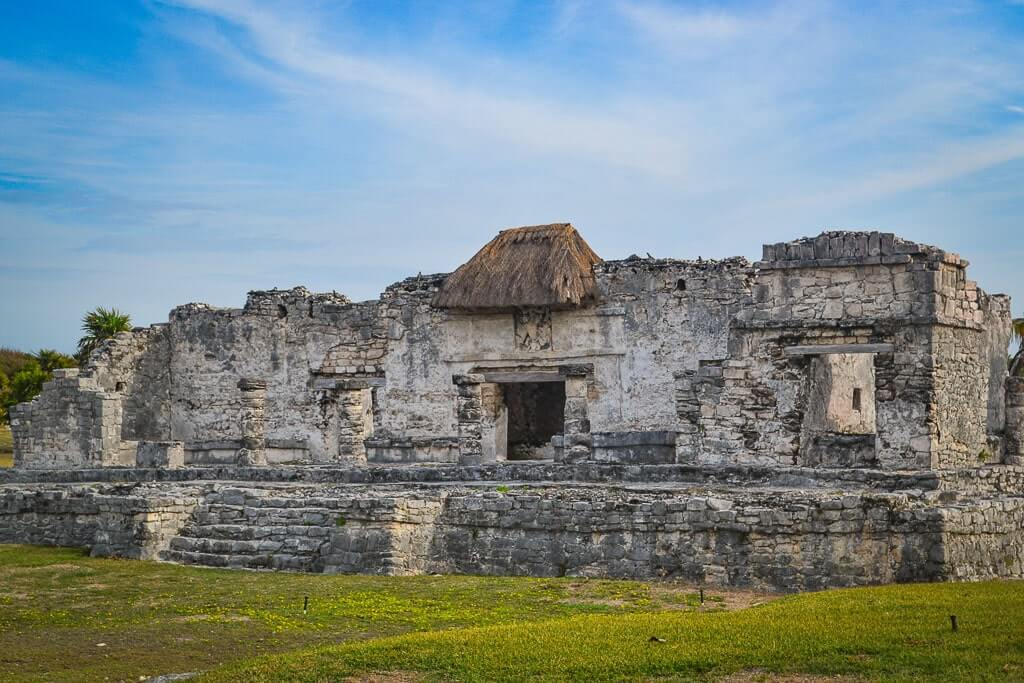 One of the must-visit attractions in Tulum is the Temple of the Descending God.
The Descending God (so named because of his upside-down image) is special to Tulum. It is believed that the Descending God is the Mayan God of Bees.
You can find his figure all over Tulum's structures but the Temple of the Descending God is the most important shrine dedicated to him.
✦ Pro Tip: Mayans have a long-standing culture of bee-keeping and honey extraction. No doubt, they had a deity dedicated to bee-rearing. If you're someone who enjoys learning about bees and what part they played in Mayan cultural practices, then you have to check out this Mayan Bees Tour from Valladolid.
Temple of Frescoes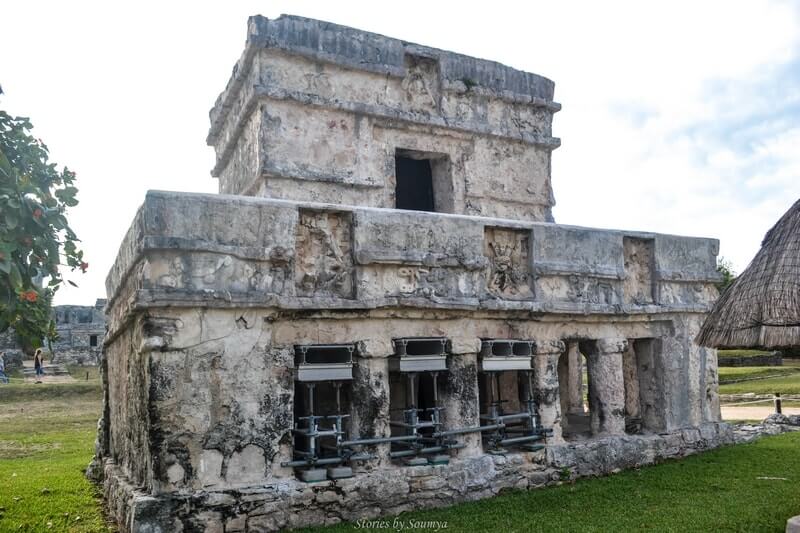 The Temple of Frescoes, situated right in front of El Castillo, is another important place to visit at the Tulum.
This temple is a two-story building and one of the most well-preserved ones in Tulum. It is called the Temple of Frescoes because it still possesses an intact mural painting in a room on the first floor colored in red, black, and green.
At this temple, you can also see niches above the columns featuring Tulum's Descending God, standing figures, and stuccoed masks.
The second floor of the temple has ancient handprints in red color.
Even though there's no way to access the rooms at the Temple of Frescoes, this shrine forms an important part of the Tulum historic zone because it is one of the best-preserved examples of ancient Mayan art.
House of Columns or the Tulum Palace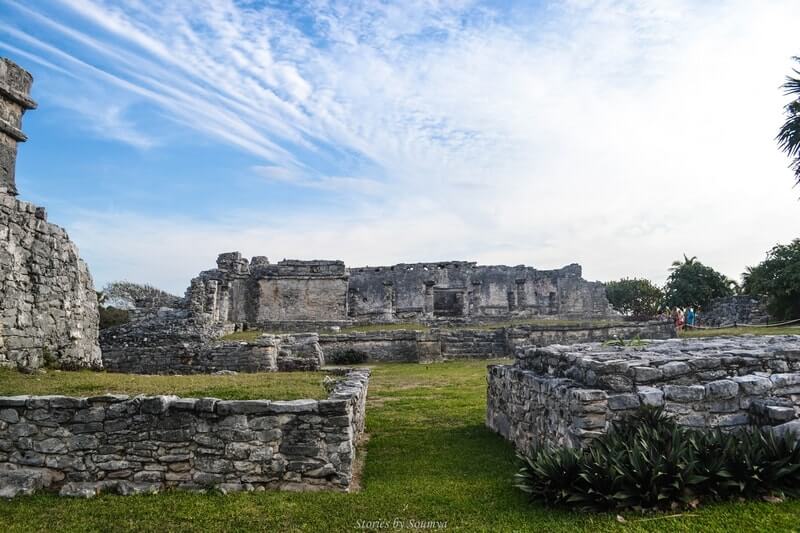 The House of Columns is an important attraction because this was once the home of the rulers of the Tulum's Mayan community.
Also known as El Palacio, this was a 3-story building with big rooms and utility areas.
It is called the House of Columns because of the numerous large columns that must have held up the roof.
Beach at Tulum Ruins
The beautiful beach right by the side of the ruin is absolutely unmissable. There is a flight of wooden stairs that will take you to the beach.
While climbing down, be sure to notice scores of iguanas in the rock crevices.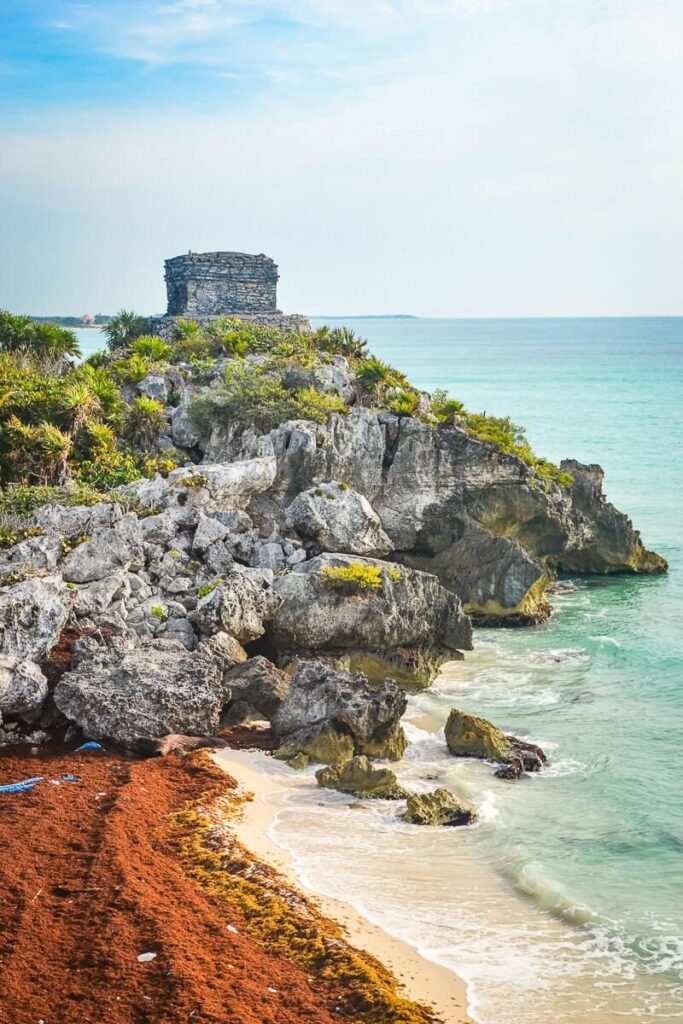 The beach opens around 10:00 a.m. and is usually a little less crowded till about noon.
The beach at Tulum is beautiful and inviting. So, be sure to pack your swimsuit and towels.
This is probably one of the most unique places in Mexico where history and nature go hand-in-hand. No wonder, the ruins of this ancient Mayan city are often called the Tulum beach ruins.
Sometimes the beach is closed because of Sargassum seaweed infestation. But the government is proactively cleaning them up. Be sure to check for an update on Sargassum seaweed in Mexico before planning your trip to the ruins at Tulum.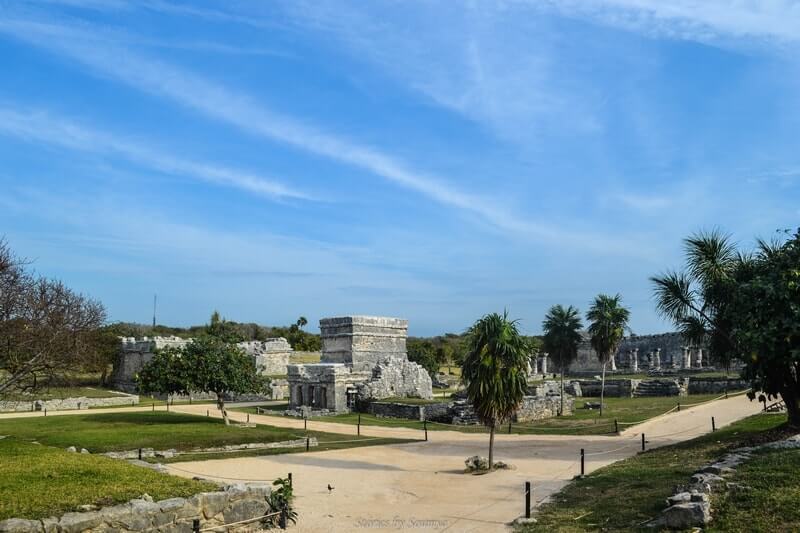 Tulum Ruins Tickets and Prices
Admission tickets for the Tulum Archeological Zone cost 90 pesos (approx $5.5) per person. Check the official website for the latest prices.
Since the ruins are part of a CONANP Protected Area, there's an additional fee of 58 pesos (approx. $3.5) per person. This fee does not apply to children
So, expect to pay an admission fee of 148 pesos (approx. $9) per person at the ruins of Tulum.
You can buy your tickets at the Tulum Ruins box office. Be sure to have cash on you because the box office does not accept dollars or cards!
Or get a skip-the-line ticket here. However, remember that online tickets may only include the INAH fee and not the CONANP fee. This means you will need to queue up to pay the CONANP fee anyway!
Also, I haven't seen great reviews of Tulum's skip-the-line tickets. So, it is best to buy them at the box office or book a guided tour that covers admission.
Here are a few more points that you should know about admission prices at Tulum ruins.
The entrance to the ruins is a 10-minute walk from the parking which is also where taxis and collectivos will drop you. If you don't want to walk, you can take the shuttle for 50 pesos.
In case you're planning to record videos on-site or have professional photography gear, there's an additional charge of 50 pesos.
Entrance is free on Sundays for Mexican citizens and residents of Mexico. So you can expect a bit of a crowd.
Best Guided Tours of the Mayan Ruins of Tulum
Guided tours are a great way to see the best of the ruins at Tulum, Mexico.
Tours usually cover round-trip transportation and include the services of a local guide which, in my opinion, is pretty helpful when exploring an archeological site as rich and complex as Tulum.
Here are a few great guided tours of Tulum ruins.
Tulum Archeological Ruins Opening Hours
The Archeological Ruins of Tulum are open from 8:00 a.m. to 5:00 p.m., Monday through Sunday. The last admission is one hour before the site closes.
Early morning (8:00-9:30 a.m.) or late afternoon (3:00-5:00 p.m.) are good times to explore Tulum ruins without the crowds. 10:00 a.m. – 2:00 p.m. is usually busy.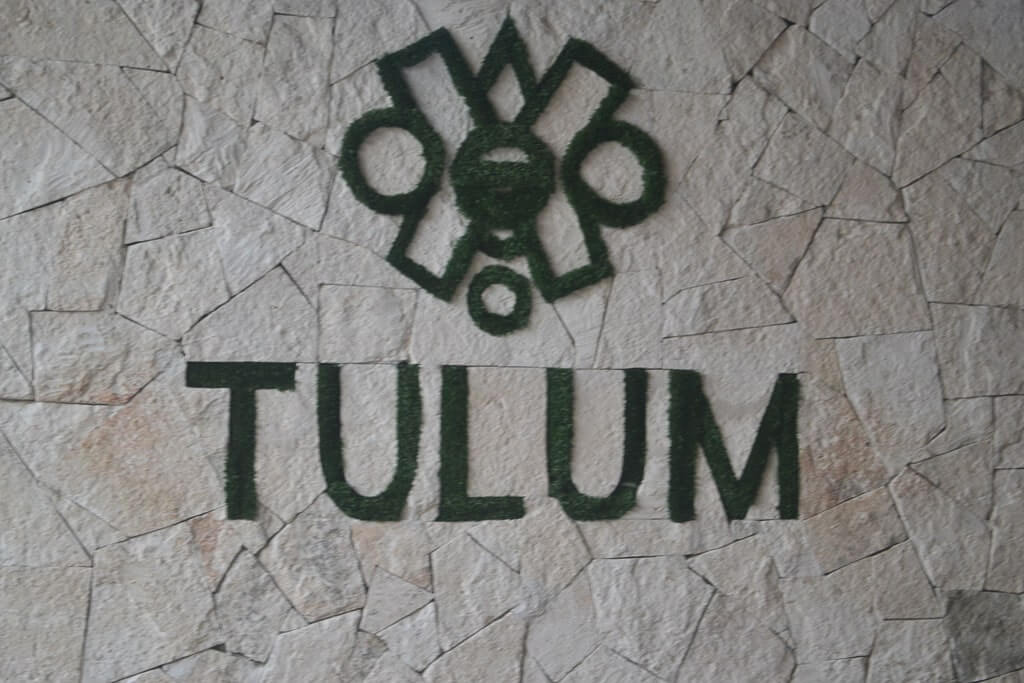 Best Time to Visit Tulum Ruins
The winter months, November to February, are the best months to visit the ruins or anywhere else in Tulum City.
Temperatures are lower and the weather is dry. Rains and hurricanes are over. It is the perfect time to be out exploring.
However, remember that December and January are the busiest months in Tulum. If you're planning to visit Tulum during this time, be sure to make your bookings in advance.
If you can be flexible with the dates, I highly recommend visiting in the shoulder months of November and February when crowds are fewer and accommodation and tours are more affordable.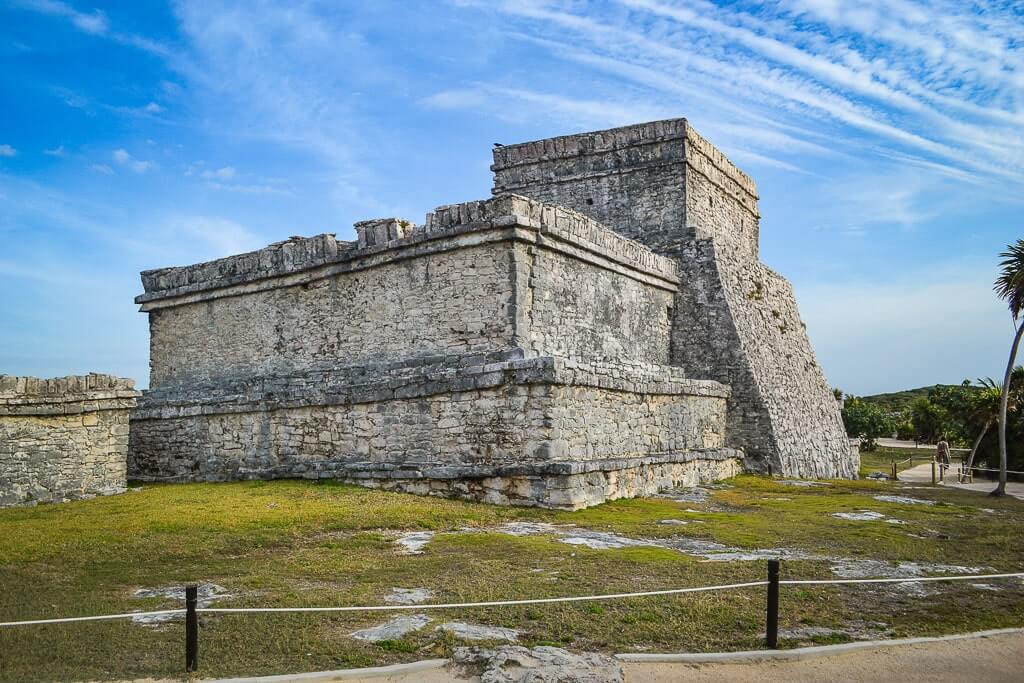 Tulum Ruins Travel Tips
Visit early at 8:00 a.m. or late after 2:00 p.m. to avoid crowds and the sun.
It gets unbearably hot during the day. Get a hat, sunscreen, and lots of water with you.
The ruins of Tulum are not as huge as those of Chichen Itza. You can see all of them in 1-3 hours depending on your interest in history and architecture.
Entrance to the site is free for Mexican citizens and residents on Sundays. So, avoid Sundays if possible. If not, go early.
The ticket counter accepts only cash. Even restaurants and bars deal only in cash. Good to have some pesos with you.
Be sure to walk the entire stretch near the sea while doing exploring the ruins at Tulum. And don't forget to take some wonderful pictures of the sea.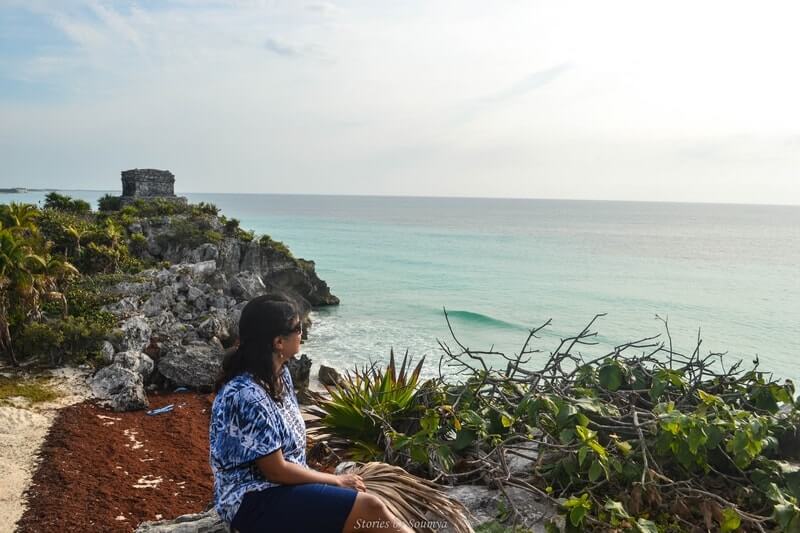 Tulum Mayan Ruins Travel FAQ
Are Tulum Mayan ruins worth visiting?
Yes, the Mayan ruins at Tulum, with their stunning location by the Caribbean Sea and an interesting history that dates back more than a thousand years, are absolutely worth visiting.
What is special about Tulum ruins?
Tulum ruins are special because they are located at a scenic location, on a cliff by the turquoise Caribbean Sea. In short, the ancient Mayan city of Tulum is a wonderful mix of history and nature.
Are there Mayan ruins in Tulum?
Yes, there are Mayan ruins in Tulum. Tulum was an important trading center and an ancient seaport of the Mayan civilization that controlled access to the sea. The Mayan ruins at Tulum depict quintessential East Coast Mayan architecture and even feature a lighthouse pyramid.
Are Tulum ruins and Mayan ruins the same?
The Tulum ruins are Mayan ruins located along the Caribbean coastline in the Mexican state of Quintana Roo. Mayan ruins, on the other hand, refer to all ruins of the ancient Mayan civilization. For example, the ruins of Chichen Itza, Uxmal, Coba, and Ek Balam are also Mayan ruins.
Do Tulum ruins cost money?
Yes, it costs money to visit the Tulum ruins in Mexico. You need to pay an admission charge of 90 pesos ($5.5) and an additional protected area fee of 58 pesos ($3.5) to enter the archeological site of Tulum.
Are there pyramids in Tulum?
Yes, there is a pyramid in Tulum. It is called El Castillo. The Tulum Pyramid is unique for its picturesque location by the Caribbean Sea and was once used as a temple as well as a lighthouse.
What are the pyramids in Tulum called?
The pyramid in Tulum is called El Castillo or the Castle. It was once an ancient temple and also functioned as a lighthouse due to its proximity to the sea.
Loved our Travel Guide for Tulum Mayan Ruins? Pin it for later!