Last Updated on August 26, 2023 by Soumya
Looking for the best things to do in Valladolid, Mexico? Planning your Yucatan Peninsula trip and wondering what are the most amazing places to add to your Valladolid bucket list? Well, we have just the perfect thing for you here.
Valladolid in Mexico is a charming town in the state of Yucatan. It is located near the state capital of Merida, about 40 km from Chichen Itza, and at a few hours drive from Cancun.
One of the reasons this pretty town is so popular is because of the never-ending list of exciting activities in Valladolid, Mexico. You can explore Valladolid's colonial heritage, visit several Mayan ruins, swim in cenotes, try authentic Yucatan food, and still not be done.
Additionally, Valladolid makes for such a perfect springboard for day trips. Whether it is ruins of Chichen Itza or Ek Balam, or the mangroves of Rio Lagartos, everything is just an hour away from Valladolid.
The best thing about Valladolid is that it is small and compact. You can easily cover all the top things to do in Valladolid in a day or two and then finish up your day trips.
Whether you're a first-timer or visiting again, this comprehensive Valladolid travel guide will give you the list of best things to do, worthy day trips to take, best places to stay and eat. If you think your favorite Valladolid attraction is missing, do let us know in the comments below.
Cultural things to do in Valladolid Mexico
Valladolid is full of amazing attractions both within the city and nearby. Even though many travelers visit it as a day trip from Cancun, I feel the cute town of Valladolid deserves at least a day or two.
Let's have a look at some of my favorite cultural attractions in Valladolid, Mexico.
Please note: This post may contain affiliate links which means I may earn a commission if you make a purchase by clicking a link on this post. This will be at no additional cost to you. Affiliate links help me keep this website up and running. Thanks for your support!
Visit the Cathedral of San Servacio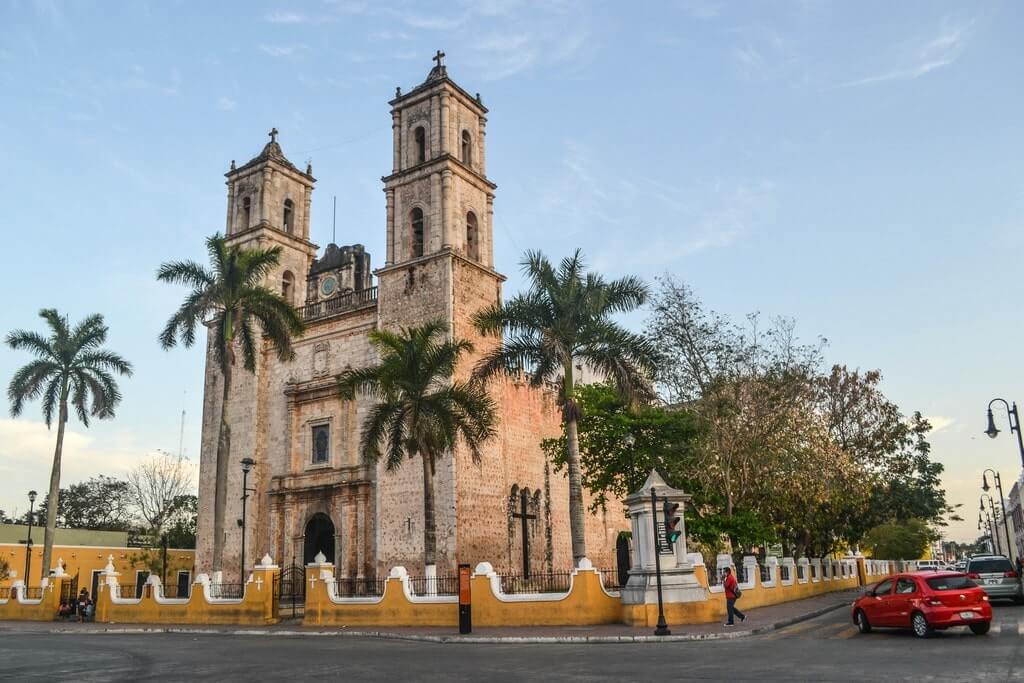 I am sure you'll find Iglesia de San Servacio in every Valladolid bucket list that you have scoured through the internet. And that is because it is one of Valladolid's most visited attractions.
The Church of San Servacio is a tall, impressive building located at the main square in downtown Valladolid. They have an interesting manual bell-ringing system that makes for an added attraction.
San Servacio Church was built by a priest in the early 16th century. It was demolished in 1705 after the tragic events of the "Crime of the Mayors" that happened right inside the church. It was restored in 1706 with a new position for the altar. The church now faces north whereas all other churches in Valladolid face east.
All this history makes Iglesia de San Servacio one of the most historical places to visit in Valladolid. You'll love visiting it both by day and night.
Loving this Valladolid bucket list? Pin it for later!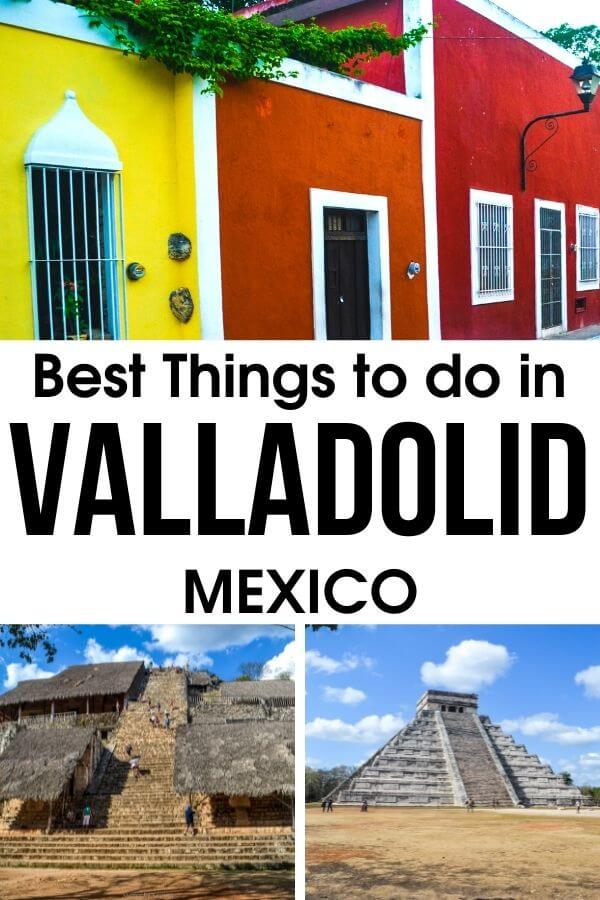 Appreciate ethnic art at Casa de los Venados
If you are a sucker for art, visit La Casa de Los Venados, a private house-museum that showcases more than 3000 pieces of Mexican Folk art.
This is not a public museum, but rather a couple's personal collection housed in a beautifully renovated estate. Ethnic murals, paintings, ceramics, and textiles are all available here. Visiting Casa de Los Venados is one of the most popular things to do in Valladolid.
Tours start promptly at 10:00am everyday. So, if you want to be on one, make sure you're on time. Suggested donation is 100 MXN (about $5).
Explore Sao Roque Museum
Step into Museo Sao Roque if you're seeking for something fun and free to do in Valladolid. They feature some beautiful murals as well as a large collection of shaman altars.
The structure itself is steeped with history. It began as a tiny chapel, then evolved into a hospital, and finally into a convent. Several Mexican revolutionaries were assassinated here.
Sao Roque opened its doors to the public as a museum in 1985 and they showcase the history of Yucatan wonderfully.
They are open from 9:00am – 9:00pm, Monday – Sunday.
Participate in the mystical Friars Walk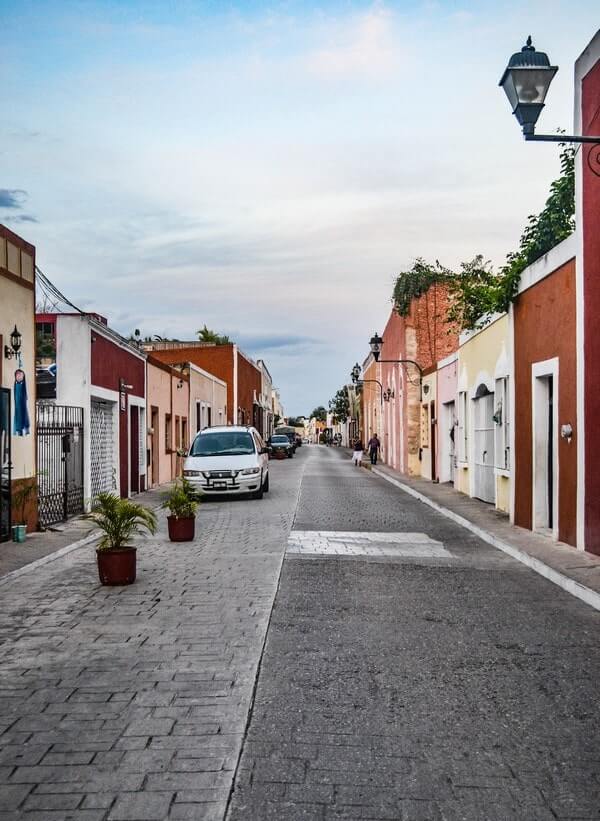 The Friars Walk is a new initiative that comprises a group of men costumed as Franciscan monks marching through Calzada de los Frailes every Friday and Saturday at 8:30 p.m.
The walk starts at Calzada de Los Frailes and ends at the Convent of San Bernardino. It is scheduled right before the light and sound show at the convent. The walk is free to attend.
Despite the fact that I have yet to see the walk, I am intrigued by it and hope to experience it on my next visit to Valladolid.
Pray in a fortress convent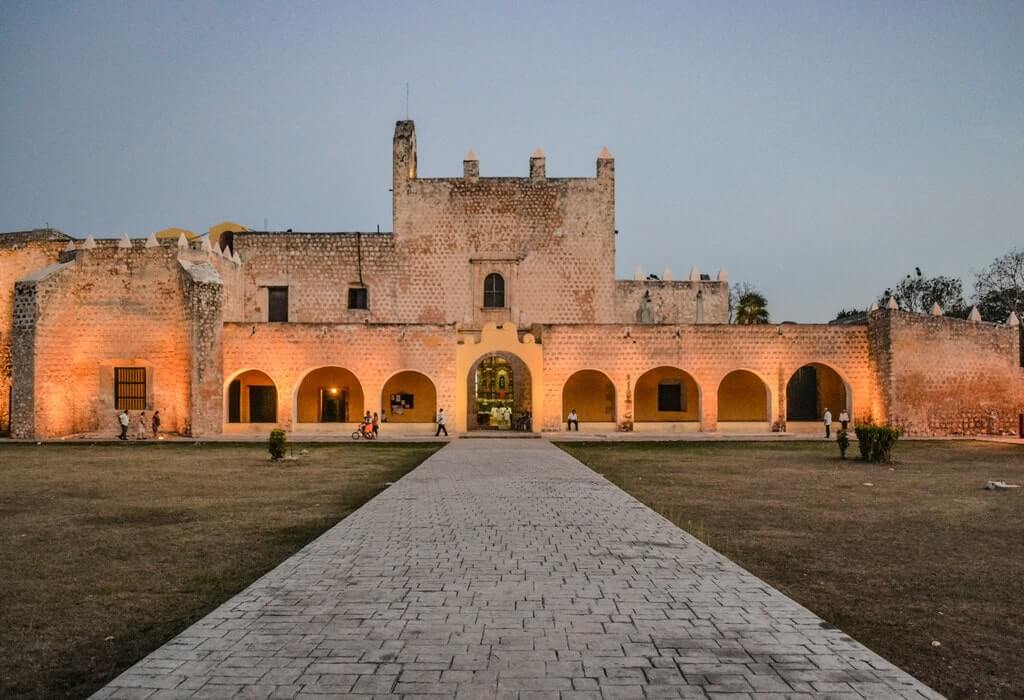 Imagine praying in a church that looks like a fortress. Well, Valladolid has just the perfect thing to feed your imagination.
San Bernardino Convent is a 16th-century church that was built to serve the dual purpose of a church and a fortress. It is the second largest Franciscan church in the Yucatan, next only to the Church of Izamal.
Constructed in the 16th century, the church features some exquisite frescoes, a main altarpiece painted in gold, arches, and rose-colored walls. It is really a complex of chapels, a former convent, the Temple of San Bernardino, and a garden. There's even an underground cenote here.
On some evenings there is a light and sound show that narrates stories from Yucatan history. It is free to watch. 9:00pm is the Spanish one and 9:30pm for English.
Watch a traditional Jarana dance performance
Head to the main square at Francisco Canton Park to experience a traditional Jarana performance.
Dancers dress up in ethnic Yucatan costumes (think ternos and guayaberas) and dance to the tunes of uplifting music.
The performance begins around 5:30pm everyday. The first time I visited Valladolid, locals and tourists joined in the dance too and the show went on till pretty late. You can check out this video above for a sneak peek.
Feel the pulse of Valladolid at Mercado Municipal
If you want to get a feel for Valladolid's real pulse, go to the Mercado Municipal, where locals shop for fruits, vegetables, meat, clothing, and tacos on a regular basis.
A stroll through the vibrant market is well worth your time. Handicrafts are also available for purchase.
Remember to get her early because they usually close by 4:00pm. Sometimes, even before that.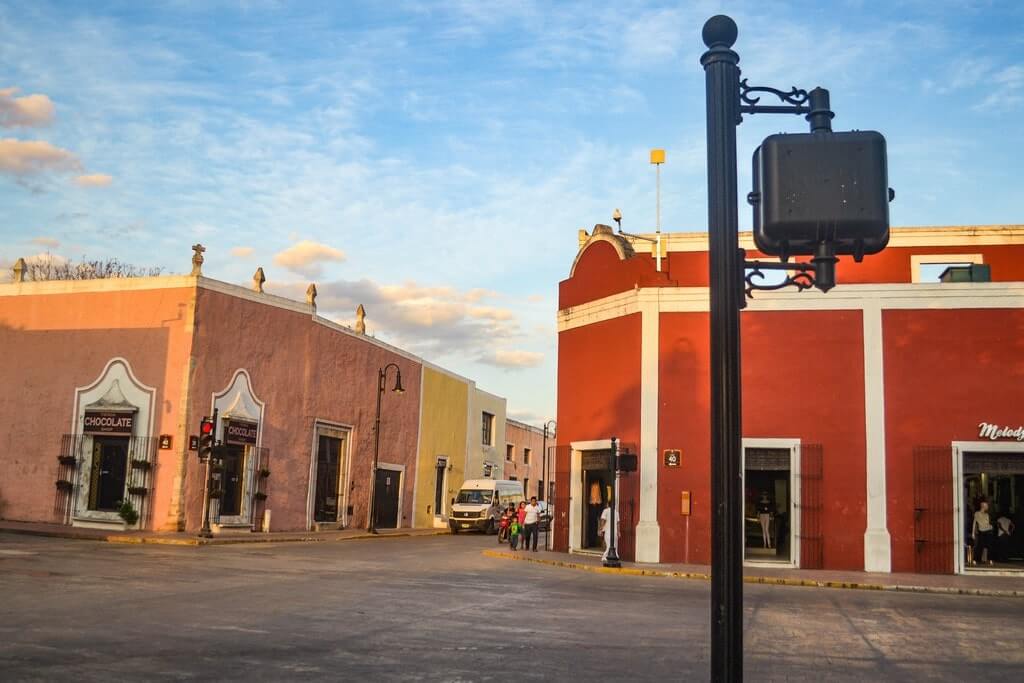 Visit Saint John Catholic Church
Yet another lesser-known but beautiful church is the Saint John Catholic Church or Iglesia de San Juan.
Built in old colonial style, the church overlooks a serene park by the same name.
See the murals at Palacio Municipal
Visit the colonial building of Palacio Municipal (or the City Hall) in Valladolid. Head upstairs to see some of the most magnificent murals of the Mayan world. As far as I recall, entrance to the building is free and the top floor gives you an epic view of the central square from above.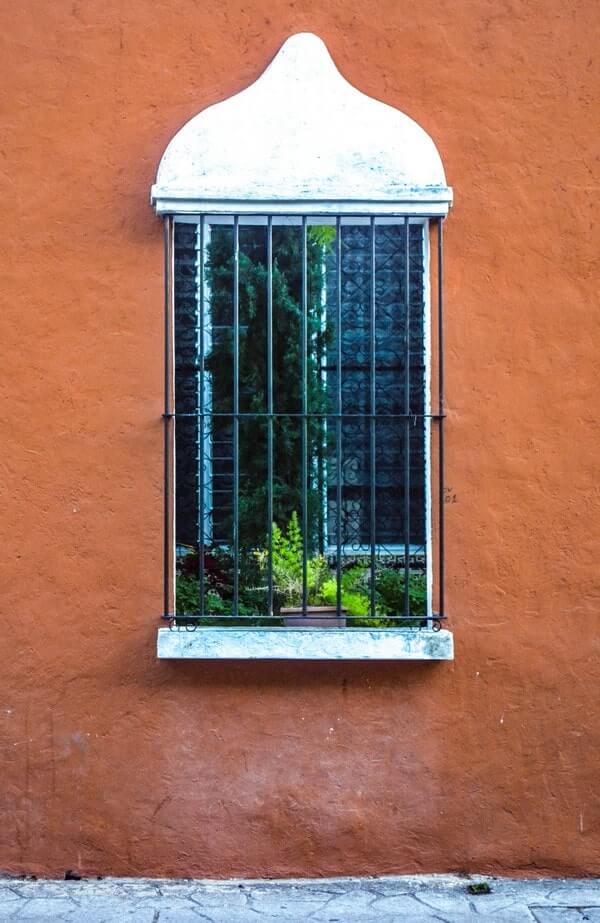 Step into Iglesia de la Candelaria
Head to the beautiful neighborhood of La Candelaria for a walk and step into the simple and beautiful Church of Candelaria.
The church faces a small park and has a pastel-red facade with pretty white borders. Locals have been worshiping Our Lady of Candelaria here for centuries now. It is believed the Virgin performed miracles and saved the people of Valladolid from epidemics and fires.
Every year, between the end of January and the beginning of February, Valladolid celebrates the Virgin of Candelaria with religious festivities and craft fairs. That is an extremely colorful time to visit Valladolid, Mexico.
Head to Murem Museum
The Murem Museum in Valladolid is an interesting place to understand the heritage of Mexico through pieces of clothing.
They have all kinds of clothing (traditional and contemporary) to showcase the diversity of Mexican communities from across the country. Plus, they run temporary exhibitions that let you explore things like Mayan embroidery and facemasks.
If you're looking for a very different experience in Valladolid, try the Murem Museum.
See some art at Kuxtal Cafe & Mexican Art
Looking for the best ethnic art collection in town? Plus some good coffee? Try Kuxtal Cafe & Mexican Art.
Located on Calzada de los Frailes, it is one of the favorite haunts of art and coffee lovers alike. Also, one of the best things to do at night in Valladolid, Mexico.
Explore Valladolid on a walking tour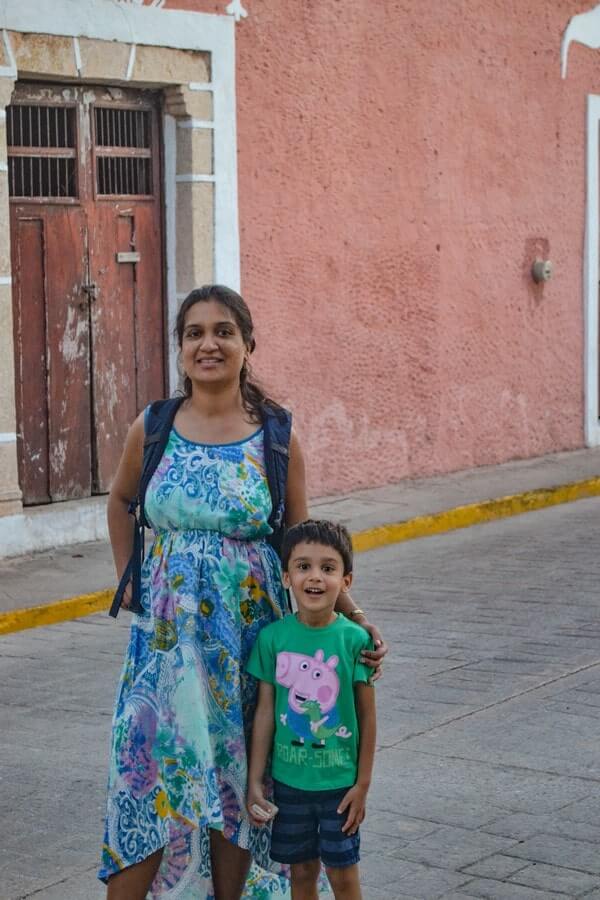 There's no better way to experience the charm and colonial architecture of Valladolid than on a walking tour with a local. And it looks like Valladolid has some really good walking tours lined up.
This delightful family-friendly walking tour that takes you through the city centre and architectural treasures while also telling you interesting stories and legends.
If you are looking for a free walking tour, try this one with the locals. These tours are run by Valladolid natives who'll meet you by the Mestiza Fountain at the central square. Find them with red umbrellas. Even though the tour is free, tips are highly recommended.
Fun things to do in Valladolid, Mexico
Swim in a cenote
Valladolid is a great place to visit if you enjoy Yucatan's cenotes. That's because Valladolid is the best site in the world to see multiple cenotes in a single day.
Cenote Zaci is located in the heart of the city. Cenote Saamal is located 15 minutes southwest of the city center.
You won't want to miss Cenote Suytun, Yucatan's most famous and instagrammable cenote. They are open from 9:00 a.m. to 5:00 p.m. every day of the year. To purchase a Suytun and buffet lunch ticket online, click here.
There are so many cenotes in and around Valladolid that you may go on an exciting cenote bike excursion such as this one. You'll get a chance to see and swim in multiple cenotes such as Oxmal, Samula, and Xkeken on the same day.
Relax at Francisco Canton Park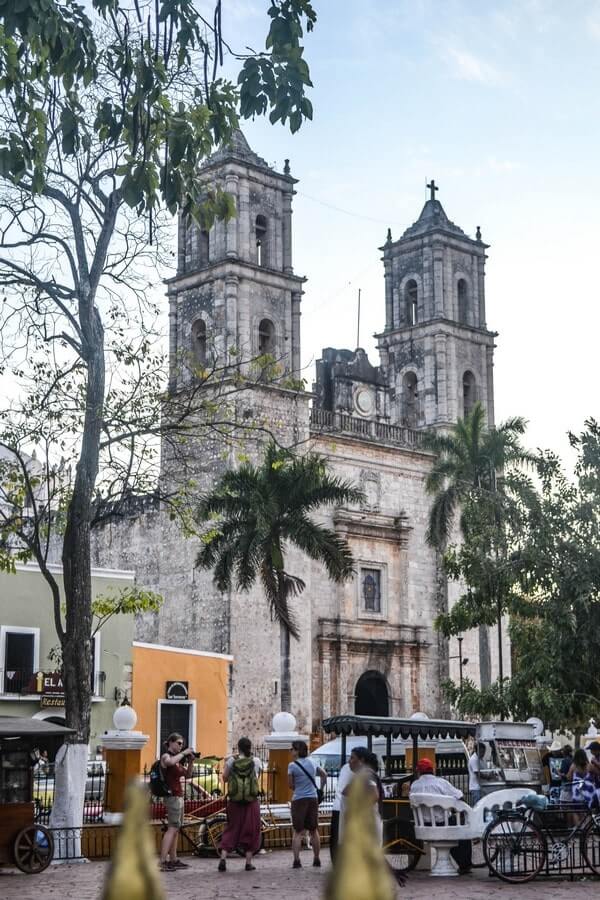 Facing the Church of San Servacio is a sprawling green park called the Francisco Canton Park. This is the heart of Valladolid and the hub of all activity.
It's worth noting that the park has a bit of a backstory. This was the site of a massive Mayan pyramid in ancient times. The pyramid was demolished by the Spanish conquistadors, who used the stones to construct churches and other colonial structures. (Reminds me of something very similar that happened in Mexico City!)
Today, the park is a great place to enjoy a leisurely stroll and people watch. Here, you'll also find the Fountain of La Mestiza, a mixed race woman that shows the coming together of Mayan and Spanish cultures.
Learn about Mayan bees at Xkopek Beekeeping Park
I had no idea Valladolid offered a bee tour. That will be added to my list of places to visit in Valladolid when I return because this is something that my child would enjoy.
You can learn all about Mayan beekeeping and honey collection at Xkopek Beekeeping Park. A tour through the park concludes with a honey tasting and a stop at the souvenir shop, where you can purchase indigenous Mayan honey, soap, and other items.
Stroll through Calzada de los Frailes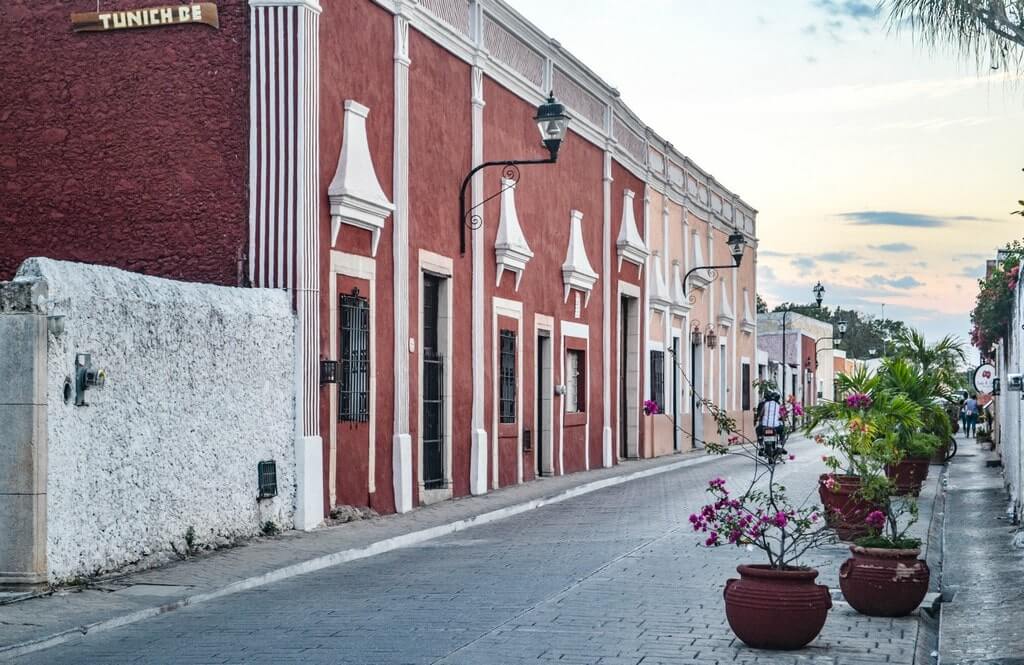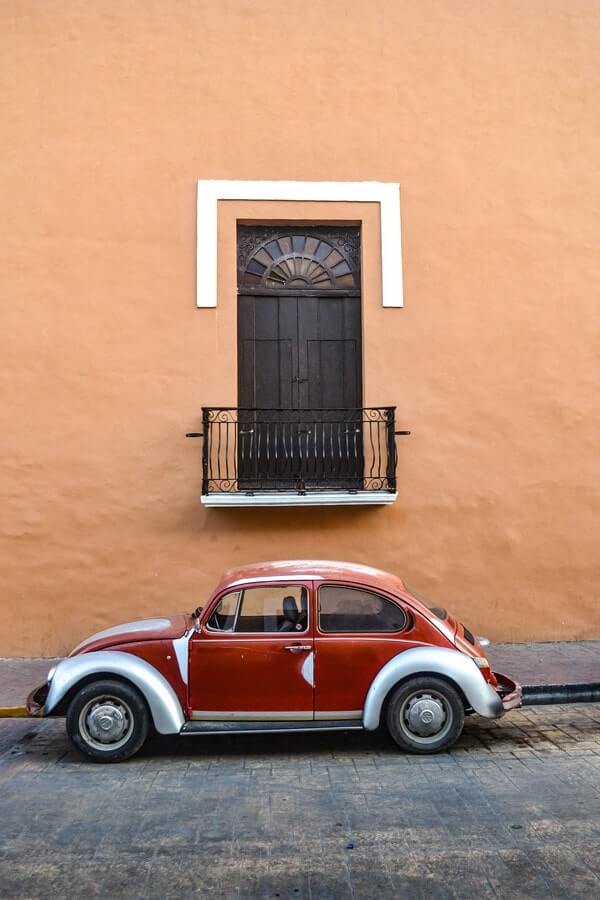 One of the best things to do in Valladolid Mexico is to take a walk on Calzada de los Frailes, the prettiest street of Valladolid and a must-see attraction.
Calzada de los Frailes is a cobblestone street that dates back to the 16th century. It once connected the settlement of Valladolid with the town of Sisal (where you'll find the Convent of San Bernardino).
Today, it is filled with colorful houses, boutique shops, window grills, flower boxes, and atmospheric cafes. This street is literally one of the reasons why Valladolid is a pueblo magico. It is the perfect place to get the best pictures in Valladolid.
Take a picture with the colorful Valladolid sign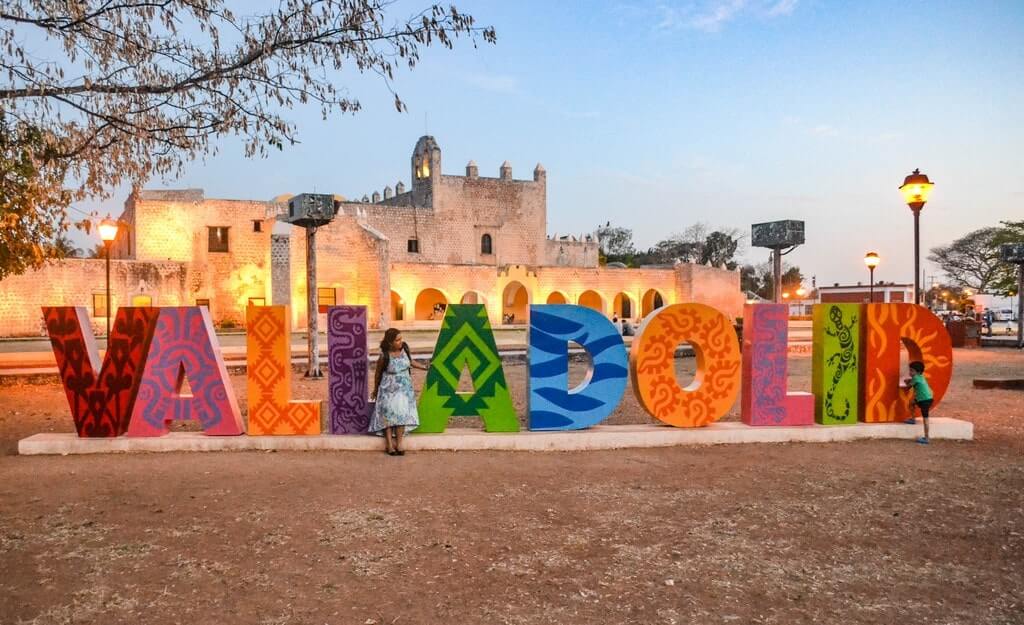 Head to the colorful Valladolid sign to get a picture for your album. They are located right in front of the Convent of San Bernardino in the neighborhood of Sisal.
When they were first installed in 2016, not many people were happy. The letters were considered an eyesore.
But today, they have come to represent the vibrant and happy spirit of Yucatecos in Valladolid and a must-have in your Valladolid itinerary.
See Valladolid on a bike
A bike tour like this one may be the perfect way to check out the best things in Valladolid in a short time.
You'll begin the tour at the local market, try some tamales, swim in Cenote Oxmal (and maybe one more – Xkeken or Samula), and end the day with a deep knowledge of the Mayan culture.
I am no biker but I like the fact that this tour company talks about supporting locals and investing in the local community. You can check more about the tour here.
Check out Cenote Maya Native Park
Cenote Maya Native Park is the place to go if you want to combine a cenote visit with a genuine cultural experience.
You'll descend by rappelling into one of the Yucatan's largest and most beautiful cenotes and witness an intense Mayan blessing ceremony led by a shaman.
Check out reviews on Tripadvisor here.
Foodie things to do in Valladolid, Mexico
Try marquesitas in Valladolid
Marquesitas are a street-food dessert that you'll find literally everywhere in Valladolid and Yucatan.
These are crispy crepes that are filled with sweet treats. You can opt for cream cheese, nutella, jam, and chocolate.
Best marquesitas are found with street vendors near the Francisco Canton Park in the evening.
Have some gelato at Wabi
Craving some ice cream on a hot summer day in Valladolid? Head to Wabi Gelato because their homemade gelatos are out of this world.
Whether you opt for classic delights such as chocolate or pistacchio or go for the more unusual pineapple + cilantro, you'll relish every bit of whatever you have at Wabi.
Take a cooking class with a local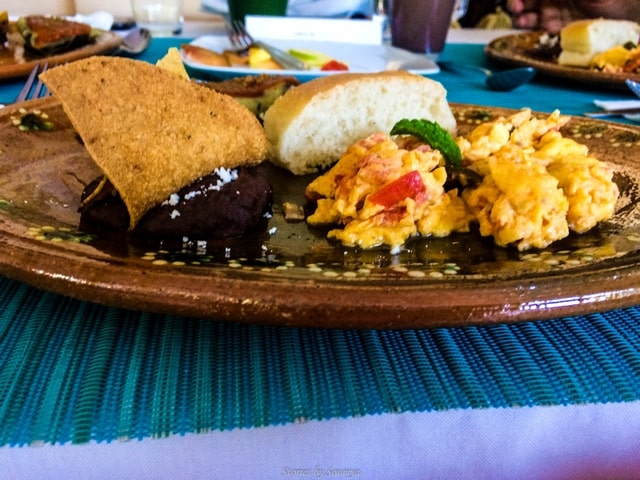 Learn how to cook traditional Mexican dishes in Valladolid in this small-group, Mexican cooking class. Includes a visit to the local market where you can pick your own fresh ingredients and then head to the kitchen and prepare the best Mexican meal of your life.
Try some cochinita pibil
One of the best foods to try in Valladolid is cochinita pibil, a pulled pork dish that traces its origins to the Mayan civilization in Mexico's Yucatan Peninsula.
Shredded pork is often served on tortillas along with roasted veggies, shallots, and pickles. The best place to try cochinita pibil in Valladolid, Mexico is at El Meson del Marques.
Head to Choco-Story Valladolid
The Choco-Story Museum, which has a fantastic collection of Mayan chocolate stories in all available languages, is yet another amazing museum (and definitely a Valladolid hidden gem).
The fact that everything is displayed by life-size mannequins who take you through various phases of chocolate history is fascinating. If you are looking for a fun thing to do in Valladolid, with kids or without, the Choco-Story Museum should be it.
Try Yucatan cuisine at Bazar Municipal
Did you know that Valladolid, Mexico is an excellent place to sample Yucatan cuisine?
Bazar Municipal is one of the best and cheapest venues to enjoy some real regional cuisine. This location resembles a local food court, with hundreds of food vendors serving Valladolid's best food.
The menus of individual vendors aren't too different, however I recommend going to the stall with the longest wait (of locals). Usually, that is the best option.
Bazar Municipal was, without a doubt, my favorite place to eat in Valladolid. We tried a variety of dishes, but my personal favorite was the Sopa de Lima. Other nice dishes to try are Longaniza de Valladolid (smoked pork sausage with achiote), Lomitos de Valladolid (Pork loin in tomato sauce), salbutes, and papadzules. Some restaurants also offer comida corrida at lunch time.
Best day trips near Valladolid Mexico
Some of the best places to visit near Valladolid can be done as easy day trips. For example, if you're staying in Valladolid, you get a chance to get to Chichen Itza and Cenote Ik Kil super early, long before busloads of tourists arrive from Cancun, Tulum, or anywhere else in Riviera Maya.
Here are some of my favorite day trip options from Valladolid, Mexico.
Chichen Itza & Cenote Ik Kil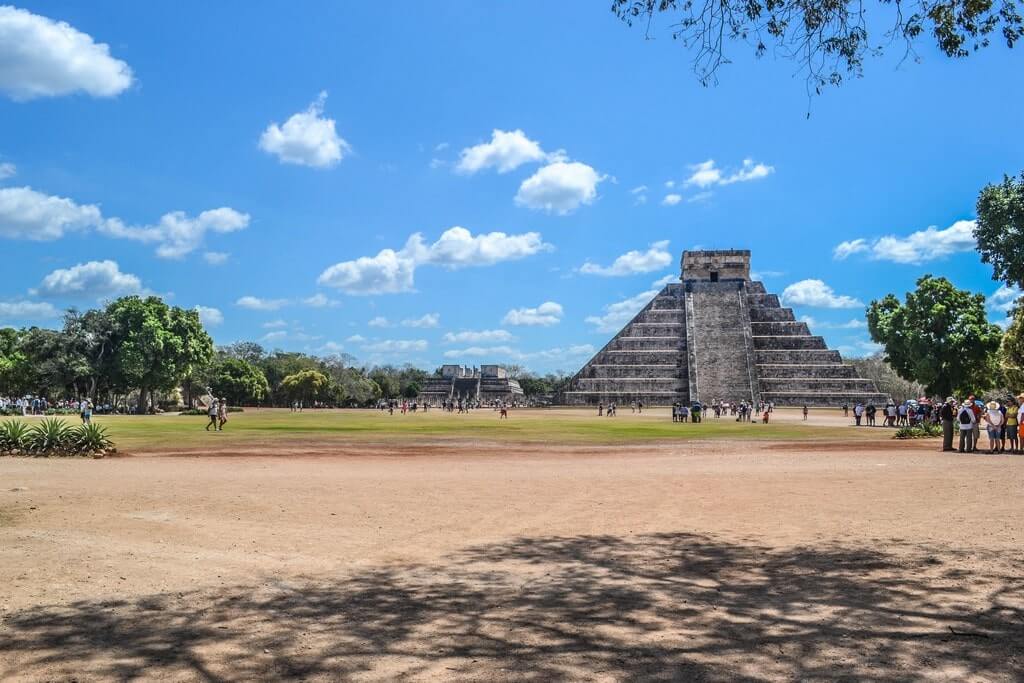 The best thing about Valladolid is that it is super close to Chichen Itza, one of the Seven Wonders of the World. If you stay in Valladolid, you get a chance to get to Chichen Itza earlier than the busloads of tourists arriving from Cancun, Playa del Carmen, and Tulum. 
I have written so much about Chichen Itza already that I don't think it is necessary that I write more about the beauty and historical importance of this place. You'll find all my Chichen Itza articles here.
If you need help with trip planning, check out my Chichen Itza travel guide and the 8 best Chichen Itza tours.
Ek Balam & Cenote Xcanche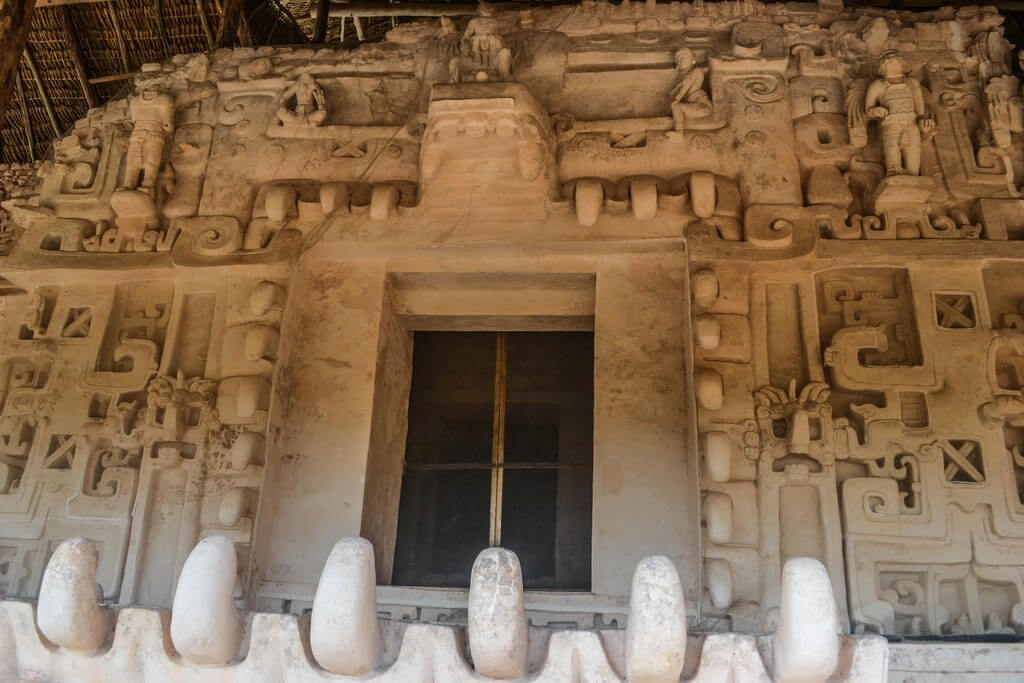 If you wish to check out a lesser-known Mayan ruin in Mexico, head to Ek Balam.
The archaeological site at Ek Balam is notable for its one-of-a-kind stucco sculptures that aren't found at many other Mayan sites. Keep an eye out for the winged warriors and the huge monster jaws.
Added bonus – you can still climb the Ek Balam pyramid and be rewarded with panoramic views of the Yucatan jungles.
Cenote Xcanche, which is less busy than many others, is located within the archaeological region.
Driving from Valladolid to Ek Balam takes roughly 30 minutes. There are colectivos that can take you there. In my Ek Balam travel guide, I discuss how to get to Ek Balam from Valladolid by colectivo.
Alternatively, a half-day excursion, such as this one, which includes both the archaeological site and the cenote, is a good way to see the ruins.
Short on time? See how I did Chichen Itza and Ek Balam on the same day on my first trip to Mexico's Yucatan Peninsula.
Temozon for smoked meat
Head to the small town of Temozon, the smoked meat capital of Yucatan. 18+ shops on the main street of this city produce smoked meat and have been doing so for years.
Smoked meat formally originated in Temozon in 1969 but it was there long before that, in family cuisines and secret recipes. Even today, the exact marinade that makes Temozon's smoked meat so delicious is a secret.
Located just 20 minutes north of Valladolid, Temozon makes for an easy getaway if you have a car. If not, getting a taxi is convenient. Temozon also makes for a good pit stop if you are visiting the ruins of Ek Balam.
Rio Lagartos and Las Coloradas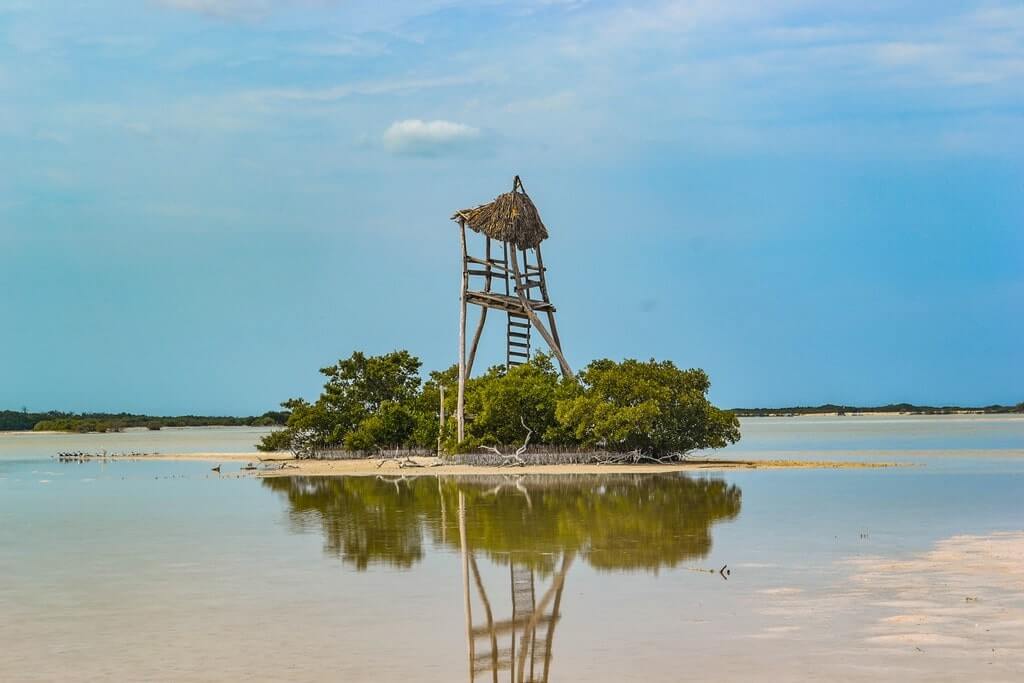 Nature seekers will love a day trip to the scenic Rio Lagartos and the Pinks Lakes of Mexico called Las Coloradas.
Rio Lagartos, a small fishing village, is full of exotic wildlife species. Be prepared to spot crocodiles and hundred different bird species (including flamingoes if it is the season).
Las Coloradas are pink lakes that get their blush pink color from algae and brine shrimp that thrive in the salty water.
Getting to Rio Lagartos from Valladolid was a tad bit difficult for us because we do not drive. We got into a local colectivo and honestly, did not know where we were heading until we got there. And there was no way we could go up to Las Coloradas from Rio-L because there wasn't any public transport available.
A good idea is to rent a car or get yourself a spot on this highly-rated combo tour from Valladolid that also includes a stop at Ek Balam.
Izamal
Head to the Yellow City of Mexico, Izamal, which is another magical city of Mexico. Highlights include the historic Convent of San Antonio de Padua and the very accessible Mayan pyramid of Kinich Kakmo which is still open to climbing.
A drive from Valladolid to Izamal takes 1.5 hours and a bus ride takes about 2.5 hours. Autobuses Oriente ply on this route.
If you are looking for a guided tour, here's a good one that combines Chichen Itza, Izamal, and a cenote.
Coba ruins
The ruins of Coba are located approximately 50 minutes away from Valladolid.
Uayma church
The municipality of Uayma is located just outside the city of Valladolid (20 minutes by car). The town is well-known for its beautiful 17-century church with a stunning facade.
Interactive map of Valladolid attractions
Best places to stay in Valladolid
We stayed at a pretty boutique hotel called Casa Marlene in Valladolid, Mexico. It is located on Calle #39 at walking distance from the central plaza. It is a 19th-century house with only 6 rooms on offer. They have a beautiful garden and their breakfast is delicious.
It is a great idea to stay in a hacienda when in Valladolid. They come in all sizes and budgets. And it is so much fun to stay in a historic building that comes with a private garden and a pool. Hacienda San Miguel Yucatan is a great choice.
Other wonderful boutique hotels in the city are Le Muuch Hotel Boutique and Hotel Fundadores. Check out more hotels in Valladolid here.
Practical information for visiting Valladolid
Best time to visit Valladolid
Valladolid has favorable temperatures throughout the year which makes it a great year-round destination. Winters are not very bad either.
Shoulder-season months of March-April and October-November make for a great time to visit Valladolid because of lower fares and fewer tourists.
We went in mid-March and the weather was great. We stayed here for 3 days and there was no rain or wind. It got pretty hot during the day sometimes. Therefore, carrying your hat, sunscreen, and a bottle of water helps.
Getting to Valladolid, Mexico
You can get to Valladolid from Cancun. We took a flight to Cancun and then opted for the ADO bus services from the Cancun airport.
There are no direct buses to Valladolid from Cancun airport. So, we first took a bus to the ADO Bus Station in Cancun (Address: Calle Pino., Super Manzana 2 Mzna 56 Lote 1 y 2 C.P.77500) from the airport (less than an hour). And then another one to Valladolid from the bus station (a little above 2 hours).
There are buses to Valladolid every hour. We actually missed our first connection because our bus from the airport got a little delayed and the ADO guy at the gate would not let us in. My husband had to spend quite some time explaining to them that it was their fault before we got our tickets substituted.
Getting around Valladolid
Getting around Valladolid is not difficult. You can simply walk and see the best attractions in Valladolid
For your day trips, you can hire a taxi or get into a colectivo. Collectivos are minivans that carry around 10 people each. They do not have fixed departure times and usually leave once they get filled up.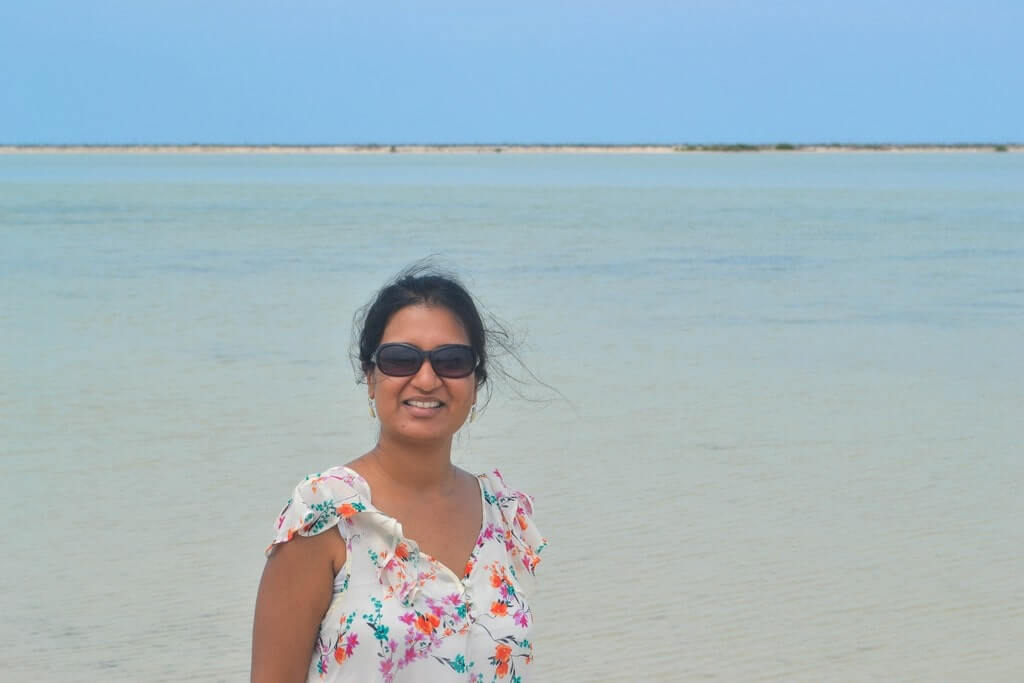 Valladolid Travel FAQ
Is Valladolid Mexico worth visiting?
Valladolid in Mexico is absolutely worth visiting because of its storied history, mind blowing cenotes, colonial buildings, quaint streets, and an exquisite mix of Mayan and Spanish cultures. Valladolid is also one of Mexico's pueblo magicos which makes it an amazing travel destination.
Is Valladolid Mexico safe?
Valladolid Mexico is as safe as any other place on this earth can be. In fact, Valladolid is one of the safest cities in Mexico. I never felt awkward during my visit here.
What is Valladolid Mexico known for?
Valladolid, Mexico is known for its picturesque streets, a large collection of cenotes, and of course its proximity to Chichen Itza.
What is there to do in Valladolid at night?
At night, you can watch the sound and light show at San Bernardino Convent, stop by Sao Roque Museum, enjoy the chilled vibes of the Central Square, and catch the Friars Walk over the weekend.
How many days do you need in Valladolid Mexico?
Even though many people visit Valladolid as part of a day tour from Cancun/Riviera Maya, I highly recommend staying a couple of nights to experience the true beauty of this magical town in Mexico.
Loved the best things to do in Vallaodolid Mexico? Pin it for later!