Last Updated on May 13, 2022 by Soumya
If you are looking for the best historic sites in Savannah Georgia, then you are at the right place. This is the blog of a history buff who loves everything Southern, especially Savannah. And guess what? I have just the perfect article for you!
History and Savannah go hand in hand. Perhaps, that was what always drew me to Savannah in the first place – its abundance of history and culture. Not only is the place oozing with Southern hospitality, good food, and music but also has years of history behind it.
In Savannah, historical sites are plenty. Savannah has 8 listed National Historic Landmarks and several unlisted ones. You will find many in the city center that you can easily add to your itinerary even if you are visiting Savannah for a day. I have an interactive map for you down there to make planning easy.
In this list of the 21 Unmissable Savannah Historic Sites, I take you through famous homes, old town squares, creepy cemeteries, and celebrated eating places. So, sit back and enjoy this read.
If you love Savannah, then you will enjoy reading through these posts too.
21 Best historic sites in Savannah Georgia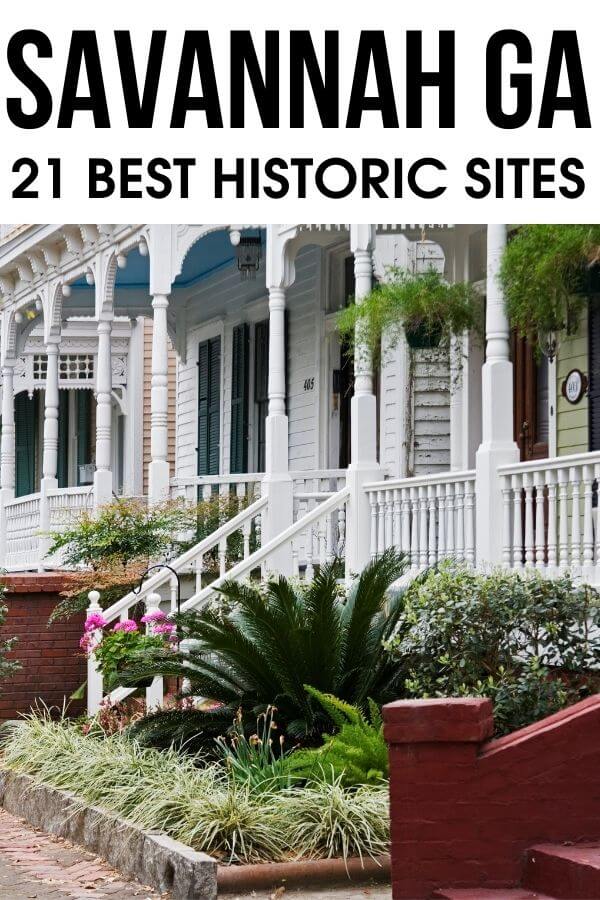 History of a place has always been the highlight of all my travels. No doubt, I went crazy when I landed in Savannah, Georgia. With so many old buildings and historical sites, Savannah was a dream destination for me.
In this article, I cover all the best historical things to do in Savannah including trips to Wormsloe and Bonaventure Cemetery. But keep your eye peeled for the hidden gems that are barely spoken about in other travel guides.
If you are looking for an awesome guided tour that takes you through the best historic sites in Savannah, here are a few really good options.
Please note: This post may contain affiliate links which means I may earn a commission if you make a purchase by clicking a link on this post. This will be at no additional cost to you. Affiliate links help me keep this website up and running. Thanks for your support!
Historic homes in Savannah, GA
Owens-Thomas House & Slave Quarters
If you have time for just one historic site in downtown Savannah, I recommend visiting Owens-Thomas House & Slave Quarters.
Built in the fine Regency style architecture, Owen-Thomas House is an architectural gem. However, what makes it unique is its open discussion on slavery that we don't see in many other places. An integral part of Telfair's Slavery and Freedom in Savannah project, Owens-Thomas House tells us some moving stories, of disparities and enslavement.
Here, you will visit rooms and galleries filled with exquisite art and furniture while learning about complicated relationships (between the powerful and the weak) at the same time. Owens-Thomas House, in my opinion, offers a more balanced view of the antebellum times.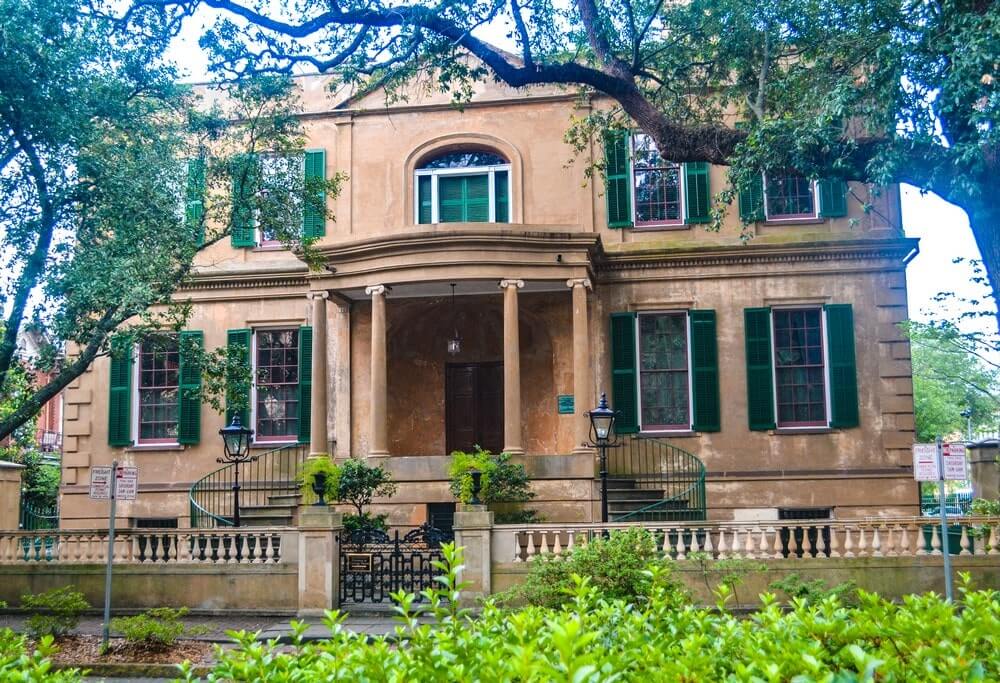 Andrew Low House
Andrew Low House on Lafayette Square is a historic home from the 1840s.
The house was home to a young Scottish immigrant, Andrew Low II, and then, became the residence of Juliette Gordon Low, founder of American Girl Scouts. Juliette was Andrew's daughter-in-law.
Andrew Low House is a wonderful example of 19th-century architecture. Everything here is tastefully curated including the entrance and the gardens. You will get a glimpse of several interesting collections such as portraits, porcelain, furniture, and silver. Check here for opening hours and admission.
Davenport House
Isaiah Davenport House was built in 1820 and was the first building to be saved from demolition by the Historic Savannah Foundation in 1955. Today, it is one of the most visited house-museums in Savannah Historic District.
Isaiah Davenport was an architect who created this house in the American Federal style. It was built of brick which was not a common construction commodity in the 1800s. Be sure to notice the impressive façade and the stairwell that are absolutely the highlights.
You can find all details about tours and hours on the official website here.
Juliette Gordon Low Birthplace
One of the most celebrated historic places in Savannah, Georgia is the birthplace of Juliette Gordon Low.
Juliette was the founder of Girl Scouts in the USA and was born in a Regency house that stands at Oglethorpe Avenue in Savannah. The house was also the first Girls Scouts Headquarters and was added to the National Historic Landmark list in 1965.
A lesser-known fact about Juliette, that I often mention when I about Savannah's interesting past, is that she started turning deaf when she was 17. She was completely deaf by the time she was an adult. Yet, she achieved so much – all by her grit and determination!
Do not miss this historic Savannah attraction when you are visiting. Check out their official website for all that you can see and learn on a guided tour.
Historic burial sites in Savannah, GA
Bonaventure Cemetery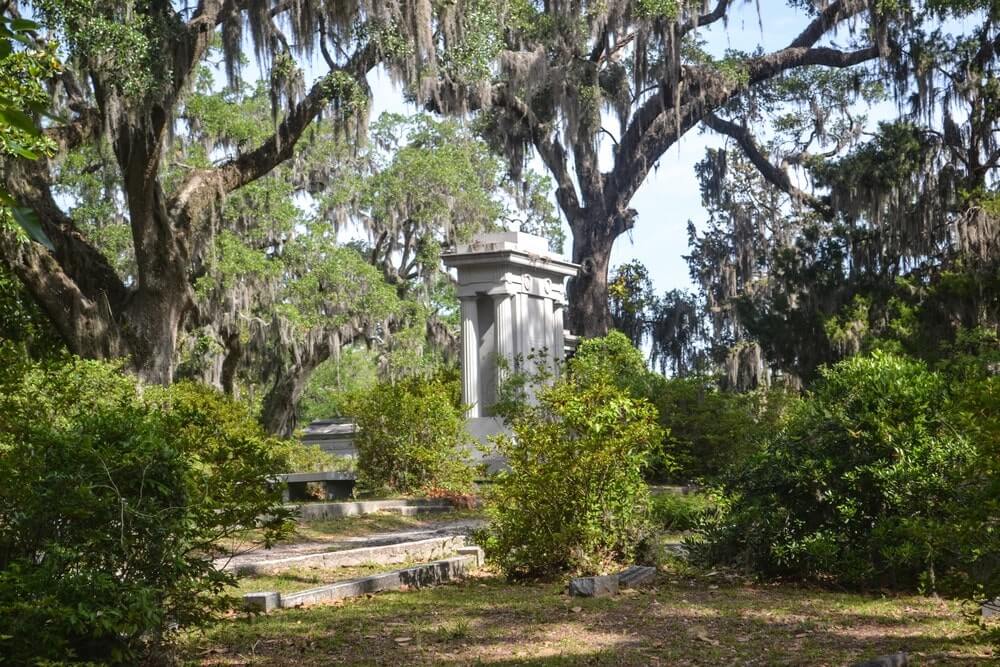 One of the most exciting and free things to do in Savannah is to take a walk around the creepy but famous Bonaventure Cemetery.
Bonaventure Cemetery, made popular by the book and movie "Midnight in the Garden of Good and Evil", is a true Savannah gem. Even though you will no longer find the haunting "Bird Girl" statue here, you can explore several famous graves and statues especially those of Mercer, Aiken, and Little Gracie.
Simply walking through the Spanish moss-draped, oak-lined pathways of Bonaventure Cemetery gives me the creeps. Yet, the place is so hauntingly beautiful that I make it a point to stop here on all my Savannah trips.
For history-seekers like us, Bonaventure Cemetery is one of the best historic sites near Savannah. I highly recommend taking this much-loved guided tour with Shannon Scott and learning all about the history, art, and architecture of Savannah's famous cemetery.
Book your Bonaventure Cemetery tour with Shannon Scott here.
Colonial Park Cemetery
The Colonial Park Cemetery is yet another historic cemetery in Savannah but this one is located right in the downtown area. So, if you are not keen to drive out of the city, stop by Colonial Park Cemetery and learn all about its nearly 300 years of history.
Established in 1750, Colonial Park Cemetery was Savannah's primary public cemetery. It was actively used as a burial ground for 100 years after which it became sort of a city park.
Here, you will find thousands of graves including those of the victims of the Great Yellow Fever Epidemic of 1820. For a brief period in the 1860s, Union soldiers occupied the cemetery and destroyed and altered a large number of graves and tombstones. Today, the cemetery is one of the creepiest places to visit in Savannah GA.
Historic offices & museums in Savannah, GA
Pin Point Heritage Museum
Located 12miles from the Historic Center of Savannah, Pin Point Heritage Museum is the best place to learn about Gullah Geechee culture.
Learn all about the history and culture of a community that originated in slavery and went on to grow and develop a successful crab and oyster industry. Find all about their unique arts and crafts, music, and creole language at Pin Point Heritage Museum.
Old Savannah Cotton Exchange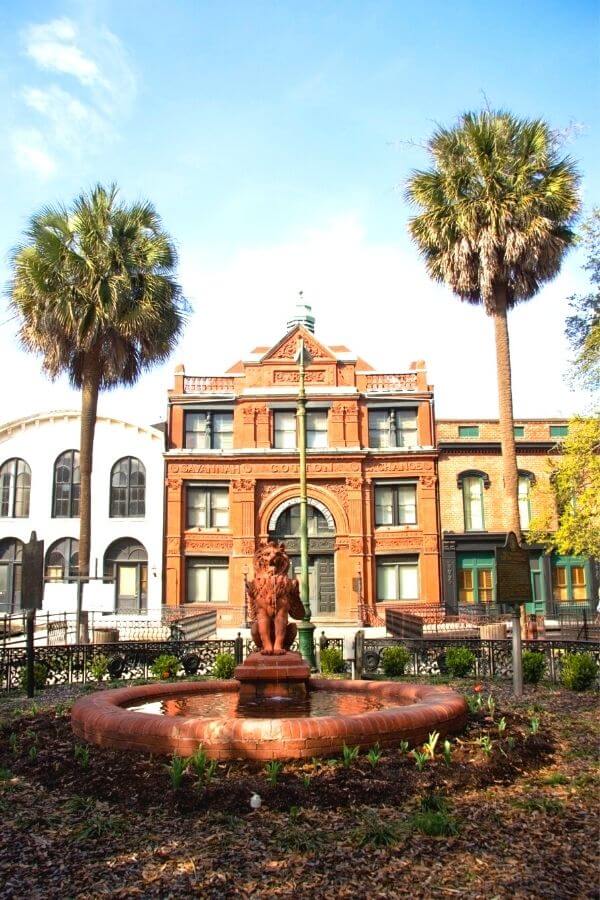 There was a time, in the 1800s, when Savannah was a major cotton industry hub. So big and important that Eli Whitney invented the Cotton Gin in a plantation right here in Savannah.
Built in 1887, the Cotton Exchange Building on Bay St. reminds us of Savannah's prosperous cotton era. It was, possibly, the headquarters of King Cotton and exactly where all the big decisions for cotton trading and pricing were made.
Today, this historic Savannah building is home to Solomon's Lodge, the oldest Masonic lodge in Georgia. However, you can always check out the beautiful Romanesque exterior and a mythical lion/griffin sitting right in front of it.
Massie Heritage Center
Located on E Gordon St. of Savannah, GA, Massie Heritage Center is the city's oldest public school. It was opened way back in 1856 by using funds bequeathed by Peter Massie, a Scottish immigrant to Georgia. There were 150 students and 3 teachers when the school started.
Massie started as a school for poor white children, went on to become a hospital for Union soldiers during the Civil War, briefly turned into a school for black children in 1865, and went back to being a white school until 1974.
Today, it is a well-curated museum showcasing the history and architecture of Savannah. You can check out a heritage classroom, learn all about Native Americans of Coastal Georgia, or get inspired by Southern architecture here. Visit their website for hours and admission.
Historic squares in Savannah, GA
When Savannah was established in 1733, it was a planned city complete with 24 public squares. 22 historical squares remain today. Here are the 3 oldest ones.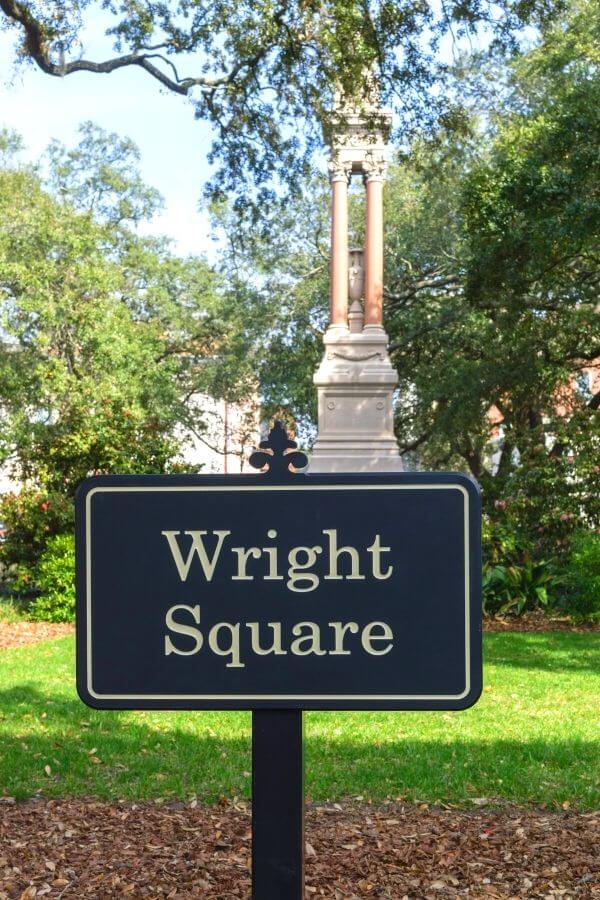 Wright Square
One of Savannah's most important squares, Wright Square is home to 2 historic monuments – the Gordon Monument and a huge boulder. The monument honors William Washington Gordon – the man who founded Central Georgia Railway.
The boulder honors Tomochichi, the chief of Yamacraw Indians who lived on the site of present-day Savannah. Tomochichi played the role of an effective mediator between colonists and natives. He helped Oglethorpe make inroads into Savannah and Georgia.
Apparently, Wright Square is also one of Savannah's most haunted spots. If you are a paranormal fan, you will regret not visiting this place.
Related: 13 Most haunted places in Savannah GA
Ellis Square
Ellis Square was built in 1733 but was soon lost to urbanization. Thankfully, it was restored in 2005 in all its historic glory.
In the olden times, Ellis Square was home to the city market where farmers sold their goods. It was also the site for a slave market before the Civil War.
Today, you will find, here, a statue of Johnny Mercer, the famous songwriter from Savannah. He gave the world so many hits including "Moon River", "Skylark", and "Laura". Mercer is buried at the Bonaventure Cemetery in Savannah.
Johnson Square
One of the largest and oldest public squares in Savannah, Johnson Square has been the place of celebrations, meetings, and religious festivities since a long long time.
Be sure to notice the Nathaniel Greene Monument under which lie the remains of American Revolution hero, General Greene.
Historic forts and defenses in Savannah, GA
Wormsloe Historic Site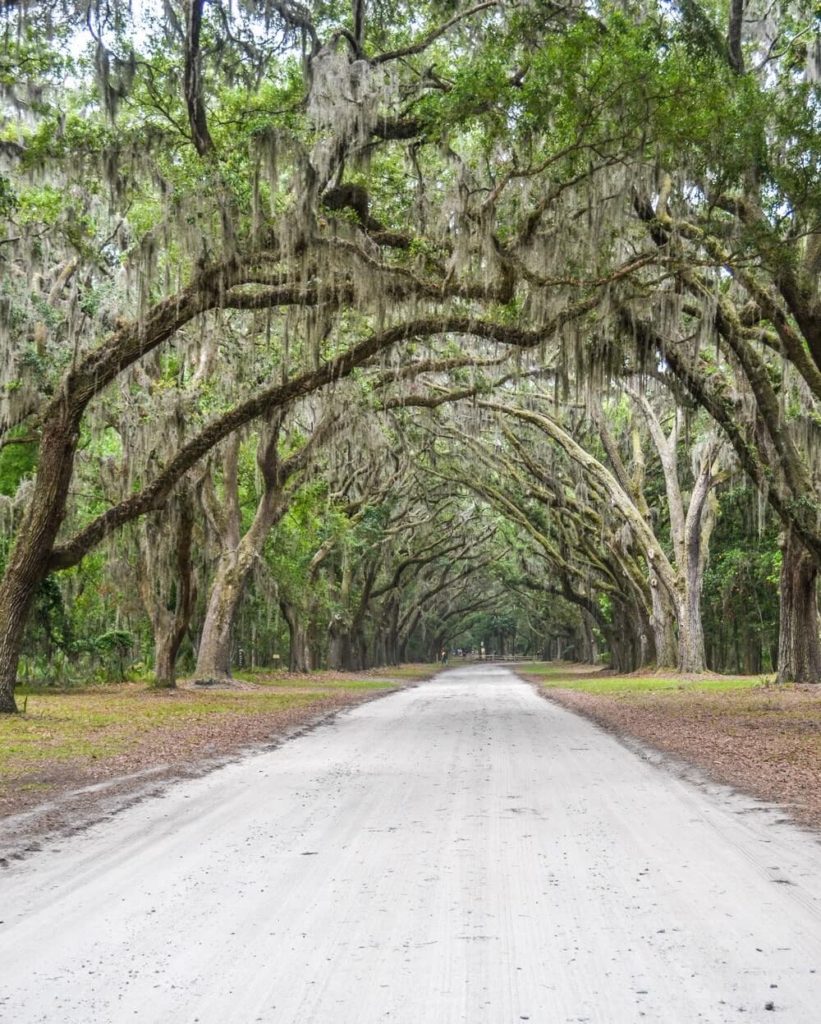 Wormsloe is well known for its stunning live oak avenue. However, not many people know that Wormsloe is a really important state historic site.
This was one of Georgia's first ever plantations outside the Historic District of Savannah. Noble Jones, a physician, lived here with his family. Apart from growing crops like corn, rice, and fruits, Wormsloe Plantation also served as a defensive post against coastal attacks.
I would also like to mention that Wormsloe was home to as many as 1500 slaves at a point in its history. However, we don't see much of this aspect at Wormsloe. If you wish to learn more about the Southern USA's slave history head to Owen Thomas's House in Savannah Historic District or the Boone Hall Plantation near Charleston.
Recommended Read: The ultimate guide to visit Wormsloe Historic Site
Old Fort Jackson
Whether you are visiting Savannah for a long weekend or spending only a day in the Hostess City, you cannot miss remnants and reminders of the American Civil War. One of them is Old Fort Jackson.
Located on the Savannah River, only minutes away from the Historic District, Old Fort Jackson is a National Historic Landmark. It was built in 1808 and served as a part of Savannah's coastal defense network. Confederate forces used it as their headquarters for a major part of the Civil War.
Fort Jackson is an important historical site in Savannah because it is the oldest standing brick fortification in the city. You can walk around the fort and explore its weapon displays as well as experience a canon-firing program. Plan your visit on their official website here.
Fort Pulaski National Monument
Fort Pulaski is a landmark monument especially because of its contribution to military science and invention.
It was here that the Union troops successfully tested rifled cannons against brick fortifications and rendered them obsolete. This marked an important milestone in American military history.
Fort Pulaski National Monument is located on a small island between Savannah and Tybee known as Cockspur Island. You can tour the fortress, watch an artillery demo, or combine your trip with some hiking and dolphin spotting around Tybee. This tour here is a good mix of dolphin and lighthouse spotting along with a tour of Fort Pulaski.
Historic religious sites in Savannah
Cathedral of St. John, the Baptist
Cathedral of St. John, The Baptist or the Savannah Cathedral is one of the oldest churches in Southern USA. Built in 1876, the cathedral is nearly 150 years old.
The best part about the cathedral is that it is stunningly beautiful and an absolute must-have on your Savannah bucket list. It is built in the French-Gothic style and features two tall spires and several pointed arches. The most striking element, however, is the cathedral's ceiling that is adorned with exquisite designs and surrounded by stained glass windows.
You can do a self-guided tour of the cathedral during permitted times (please note that tours and visits are not allowed during Masses and celebrations). Click here for opening hours.
Check out 16 must-do things in Savannah Georgia.
First African Baptist Church
Savannah's First African Baptist Church is one of the most revered and oldest African-American congregations in North America. Reverend George Leile organized the congregation for the first time in 1773. The place is now a National Historic Landmark. You can read all about the history of this fascinating place on their official website here.
Be sure to check out the church's original architectural elements that are still very well preserved. For example, the church still has its original baptismal pool, light fixtures, and solid oak pews. Do not miss the stained glass windows which have been around for a long time too.
Congregation Mickve Israel
Did you know that there was a historic synagogue in Savannah? Especially one that had been voted one the Most Beautiful Synagogues in the World by Conde Nast Traveler? Well, it was certainly one big surprise for me!
Congregation Mickve Israel was organized in 1733. That makes it one of the oldest Jewish congregations in America. Add to that stunning Gothic architecture and an exquisite sanctuary and you have the most beautiful and historic synagogue to explore. No doubt, this religious space was added to the National Register of Historic Places in 1980.
Historic hotels & restaurants in Savannah
No better way to end this illustrious list of the best historical sites in Savannah with my favorite eating places in town that are historic too!
The Olde Pink House
Imagine dining in an 18th-century Georgian Mansion complete with a portico flanked by Doric columns, Palladian windows, and expensive chandeliers right here in the middle of Savannah. Yes, that's the Olde Pink House for you!
Apart from serving some amazing Southern food, Olde Pink House is a treasure house of history. When it was built in 1771, the house was called Habersham House. Then, something strange happened here. The bricks started bleeding through Habersham House's white walls and changed its color to Jamaican pink! And that's how the name Olde Pink House came to be.
Creepy, isn't it? Reason enough for the Olde Pink House to feature in the list of Savannah's most haunted places.
When you are dining here, do not forget to ask the waiters for paranormal tales. They will be only too happy to regale you with their stories.
Leopold's Ice Cream
Now that you are done with main course at the Olde Pink House, how about some ice cream at Leopold's?
Leopold's Ice Cream is one of the oldest restaurants in Savannah. 3 Immigrant brothers from Greece established Leopold's in 1919 and more than a 100 years later, it is impossible to leave Savannah without trying a scoop of their Original Tutti Frutti or Butter Pecan.
Their ice creams are made right here in Savannah's Historic Downtown using recipes that have been passed down several generations.
Marshall House
If there is one place that screams history in Savannah, it is the famous Marshall House Hotel.
Mary Marshall established Marshall House in 1851 which makes it 170 years old. It started as a hotel, became a hospital during Yellow Fever epidemics and the Civil War, turned into an author's home, and was eventually reopened as a hotel in 1999. The history of this hotel is as storied as the people who have lived in it.
So, if you are looking for the perfect historic place to stay in Savannah Downtown, reserve your stay at The Marshall House. Bonus: The house comes with its own set of ghosts!
Map of historical places in Savannah GA
Savannah historic places FAQ
Is Savannah known for its historic landmarks?
Yes, Savannah in Georgia is famous for its historic landmarks such as Owen-Thomas House, Juliette Gordon Low's Birthplace, Bonaventure Cemetery, and Fort Pulaski Monument. Even the Savannah City Center is one big historic landmark.
Why is Savannah Georgia historic?
Savannah has a storied history. This was where James Oglethorpe landed in 1733, made friends with Yamacraw Indians, and created America's first planned city. Savannah became a British stronghold during the American Revolution after which it grew to become a major cotton hub as well as a center for Gullah culture and Antebellum architecture. The city assumed prominence again during the Civil War when the invincible Fort Pulaski was rendered useless by Union soldiers.
What is considered historic Savannah?
Everything about Savannah is historic – its grand antebellum homes, neatly laid out public squares, age-old cemeteries, schools, offices, and hotels. Read through my article above to get a glimpse of Historic Savannah.
Loved our Savannah historic sites post? Pin it for later!